How To Get a SIM Card in India
As with everything in India, getting a mobile phone and a local sim card is not so straight forward but with a bit of a persistence you can get connected and get yourself a local sim card in India.
And it's worth preserving too, outside the major cities wifi can be painfully slow or intermittent and, especially as a solo female traveler, I feel a lot safer with a phone and sim card in India and most of my work is done through my 3G hotspot as its often quicker and most reliable than wifi.
Google maps can be so useful for navigating to a location or checking if the rickshaw driver is taking me the right way, (they never seem to know where they are going and I end up having to direct them most of the time) If I have a phone I can call and book a taxi or book online through apps like Ola, I can call ahead to make a hotel booking, ask them to pick me up from the station and I can call for help if needed.
I feel a lot safer when I have a local sim card in India not to mention I want to call my friends and update my Instagram with all the amazing things I'm seeing!
Seriously, everyone is connected in India – apparently there are more mobile phones in India than toilets!
If, like me, being unconnected feels like you've lost a limb read on and I'll guide you through the process of getting a local sim card in India.
Pin Me 🙂
Documents needed to get a local Sim Card in India
Due to fears of terrorism, getting a sim card in India is not simply quickly picking one up in the shop, instead it requires a lot of documents before you can get connected and having a friend in India will help a lot for the address and reference parts.
Mobile phone networks in India
The main mobile phone networks in India are Airtel, Vodafone and Idea. If you're planning on being in one region a lot then it's worth asking around to see what the best network for connectivity and value is in the area that you are in.
For example, Idea is good in Goa and Kerala but the coverage by Airtel is poor. Idea is poor in North India where Airtel is better. Idea is cheaper but can be a bit hit and miss in some areas. Vodafone generally has a pretty coverage across India but when I was in the mountains in the north of India (Himachal Pradesh etc) Vodafone hardly works at all so I had to get a new Airtel sim card. In the North East only Aircell had service so you can see it pays to ask around before choosing the network.
If you are planning to spend the majority of your time in one state then it's also a good idea to buy a sim card in that state because you incur roaming charges when you are in a different state.
You will need to take the following documents with you to apply for a sim card in India:-
Original Passport
Photocopy of your passport
Photocopy of Indian visa
Local Indian Address (They may also ask for your landlords name and phone number, I've always rented an apartment or used a friend's address but it should work with a guest house or hotel just make sure you ask them first)
Proof of home address (Not always required but I took a photo copy of my UK driving license with home address of it)
Passport Photo
Local Reference Name and Phone Number (For example you can't apply for a Sim Card in Bangalore with a friend in Mumbai's phone number – it has to be a local number. You could ask your guest house if they are cool with you using them for the reference)
Once you're ready get your documents together then either go to the network's store or a post office, general phone shop or even just a street shack. Look out for the Idea, Vodafone and Airtel billboards to find a shop that sells sim cards in India. It's a good idea to go to one near where you are staying as chances are you may need to go back if it doesn't go through smoothly first time. Some travel agents will be able to help you with the process and make it simpler but they usually charge a couple of hundred rupees for the service.
How to apply for a sim card in India
It's best to go to a big Airtel, Vodafone or Idea store (whatever network you want, depending on which has better service where you are) to apply for the sim card. I found that sometimes the people who worked in the shops couldn't really be bothered to get a tourist connected so it helps if you are assertive and come with all your documents prepared.
Choose a number, submit the documents and then you will be presented with a pretty long form but you only really need to fill in a few sections with your name, local address and reference, firmly ask the sales person to point out to you with parts of the form you need to fill in before you start to get confused.
If you go to a phone store or travel agent they will probably ask you for a few hundred rupees fee for their time and efforts to help you get connected but the process is often easier and the sim card should come with a package of calls and data. I have known some tourists to be able to get a pre activated sim card that works in a day or so but these are only valid for 1 month and I prefer to do things the proper way as theres less chance of something going wrong or getting cut off in the long run.
Also, your sim card may expire when your visa expires or in 3 months, whichever is earliest and you may have to go through the process again to get another sim card.
Let your local reference know to expect a call
The person who sold the sim card will forward the paper work onto the network operator. Let your local reference know that the network provider will call them in about 24 hours after submitted the documents.
All your local reference needs to do is verify their name and that they know you. But the network provider will only call your local reference once, if your reference does not pick up the phone after a few days you will be frustrated that your phone still shows no signal and when you go back to the shop they will tell you that as your reference did not pick up the phone your application was rejected and now you need to submit a different number for a new reference and wait 2 more days again. So make sure your reference is expecting the call.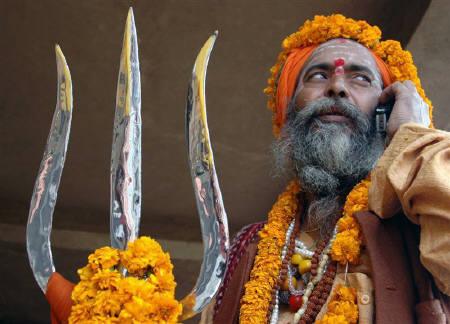 One they have done this your sim card should be activated. In theory it takes about 2 days to get the Sim Card activated and working but I was messing around with one of mine for a week, mainly because the reference did not answer the phone.
Verify and Activate
Once the network has called your local reference and your phone becomes active it should show a signal. You then need to call the activation line (the number should be in the sim kit) and make sure to confirm exactly the name and address details that you gave when applying for your sim card.
If you go through a travel agent they may sort out the local reference but for you and make the call to verify and activate the sim card making the process easier and simpler for you but you'll usually have to pay a few hundred rupees for the service.
Congratulations you're connected!
After 10 minutes of successfully verifying your details your sim card should be active, you can now go back to the shop and top up/ recharge your phone with the package of calls, texts and internet data that you choose.
You could also consider buying an internet dongle if you want to connect laptops to the mobile internet – wifi can be poor or non existent in budget guest houses and restaurants in India and I often find that the 3G is faster and sometimes more reliable than the wifi as long as you are in an area with a strong coverage.
Also, make sure that you make a call or use the dongle within 15 days and every 60 days or your line could be deactivated and you'll have to go through the whole process again.
Now, an easier way to get an Indian sim card
If you are only visiting India for a short time, or simply want to avoid the hassle of getting a local sim card there is now another way to get connected. Trabug is a new service that lets you rent a smartphone that is delivered to your address complete with a sim card and a package of local and international calling minutes, texts and data. Check out my review of the Trabug service – it's so much more than just a sim card as the phone is packed with handy sightseeing and safety features especially for travellers! Also, Global Gallivanting readers can get either 50% extra domestic minutes for free by quoting the code GG50EXTRA OR 1GB of data for free by quoting the code GG1GBEXTRA.
Tips for mobile roaming in India
Just be aware, as your traveling around India, if you go to a different state you will usually be considered to be 'roaming'. It costs a little more, and it will also cost you a small amount to receive calls.
You may find it difficult to top up/ recharge your phone credit when in a different state as the tariffs are slightly different and the guy most likely won't know the different tariffs. For example, I the Goa Vodafone tariff is 449 Rupees for 3 GB of internet but the tariff may be a couple of rupees different in another state and if I was to purchase 450 Rupees it would not work – the credit would just turned into talk time not the internet package. So I always take a photo of the tariff in the state where I obtained the sim card so that I can show this when topping up my phone outside the state.
Also, oftentimes when you enter a new state you may need to turn the phone off and on again and then in the settings manually search for select the network again. But don't worry, you should still be able to use your phone all over India but let the sales person in the shop know which state your number if from when you are topping up or recharging your phone in a different state as the price plans and process is a little different.
Also be aware that your sim will usually deactivate when your visa expires so you will need to get a new sim with a new number and go through the whole process when you visit India again.
By the way – this article was written from my experience of obtaining sim cards in India many times in the states of Goa, Karnataka, Kerala, Delhi and Himachal Pradesh with 3 different providers. But as always, terms, conditions and requirements can change and may vary depending on which state you are in but I hope this post can provide useful information for tourists applying for sim cards in India.