My Essential Khajuraho Travel Guide
Why Go:
Khajuraho, a small village in rural Madhya Pradesh in the center of India, is famous as the home of the Khajuraho Temples which date back to the 10th century and are now a UNESCO world heritage site.
The Khajuraho temples are a group of Hindu and Jain temples that are adorned with intricate details, symbolism and ancient Indian art but they are best known for the explicit erotic sculptures that adorn the ancient stone edifices and are regarded as some of the most fabulous temple art in the world.
The temples are the main reason not to miss visiting Khajuraho, but the small town also makes a nice escape from the cities and provides an interesting glimpse into life in rural India.
Pin Me 🙂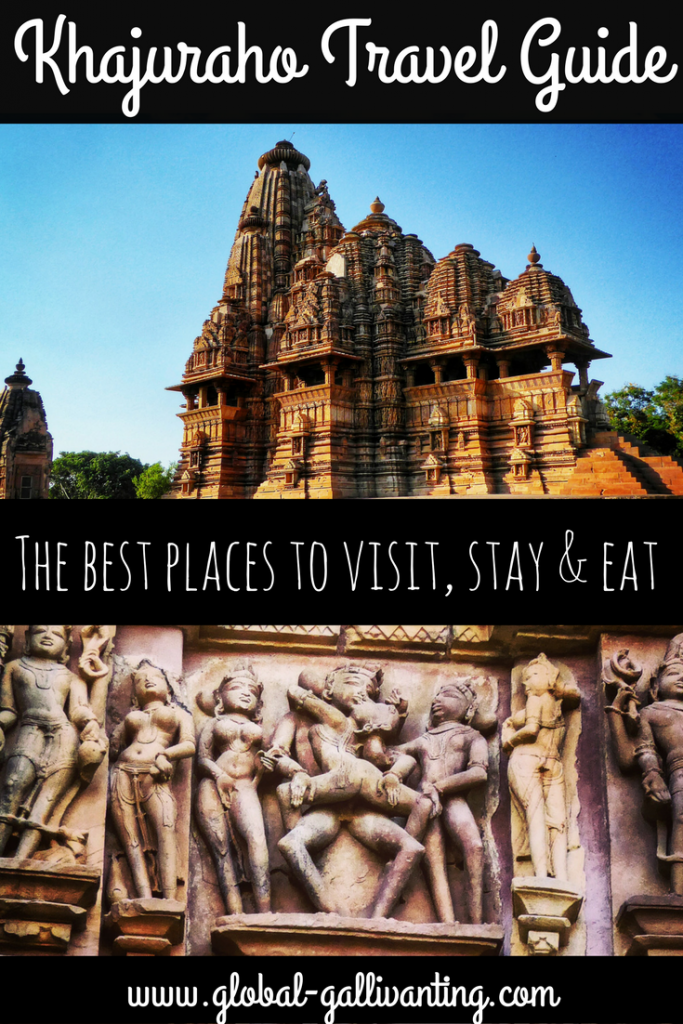 I've been to Khajuraho twice now – once on my first trip backpacking around India where the highlight was being randomly invited to a wedding anniversary party in a family home in the old village and also on my recent trip through North India with India Someday (see more about that here) and Khajuraho's fascinating history, culture, temples, museums and dance shows captivated me both times.
Khajuraho is quite small so 2 days should be enough to see the main attractions.
Top Things to do in Khajuraho
The Khajuraho Temples – There are several groups of temples spread across the countryside that make up the Khajuraho Group of Monuments UNESCO world heritage site.
The temples at Khajuraho were built in the 10th century by the Chandelas, one of the ruling dynasties that were prevalent throughout India in that time and often fought violent wars against each other or against invading parties. The kingdom was powerful and the temples in use until the end of 12th century, of the 85 temples built spread over 20 square kilometres, only 25 now still survive intact.
The temples of Khajuraho are amazingly, stunningly intricate in architecture, style and detail and freezes of detailed sculptures run all along and around the temples and up the flamboyant spires.
While the temples are most famous for their erotic sculptures, actually, these only account for 10% of the numerous sculptures. The majority of the Khajuraho sculptures depict every day medieval life with scenes depicting gods and goddesses, war, villagers, farming, journeys, elephants and other real or mystical creatures.
The level of detail and skill that you can see if you look close up is amazing, especially considering the age and weathering the sandstone sculptures have undergone. These are certainly some of the most beautiful temples in India.
The Western Group of Temples contains some of the best preserved, most interesting and most breath-taking sculptures situated in quiet, green gardens and are the only ones you have to pay an entrance fee for (500 rupees) There's an audio guide available which allows you to wander the temples at your own pace while listening to the guide and learning about the history and meaning behind the temples.
Highlights include the Lakshmana temple – circle the base to see some of Khajuraho's raunchiest artwork including orgies and even a guy getting very friendly with a horse! Kandariya Mahadev is Khajuraho's largest temple where you can the infamous handstand position on the South side. Outside the Western Enclosure are some other temples including Matangesvara, the only one still in use and the ruins of Chausath Yogini which make a nice sunset spot.
Rent a bike and pedal around the temple-dotted hills, and buffalo filled fields, observing traditional rural Indian life and explore the Old Village. The Eastern Group of Temples are scattered in and around the old village. There is also a group of Jain temples which are quite different from the others and more temples to explore further South.
Museums – There are two archaeological museums in Khajuraho, the old one is situated in front of Western Group of Temples and is quite small. The new museum is about 500 meters from the Western Group and is home to a good collection of sculptures which help to tell the story of Khajuraho. The museums can be viewed quickly and offer a nice mid-day break from the heat. There is also a Tribal and Folk Art Museum with paintings, sculptures and other artifacts which give a colourful insight into the tribal cultures of the area.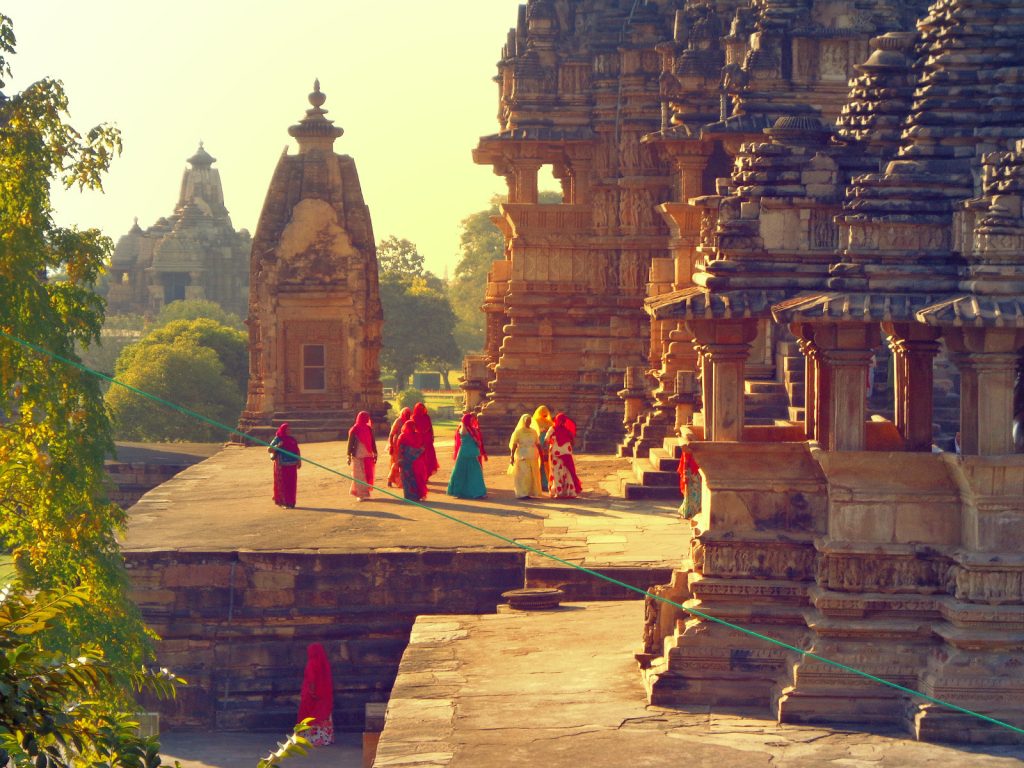 Sound and Light Show. Each evening the temples become illuminated for a super fun, if a little cheesy, introduction to local history. The Sound and Light Show features lights playing across temple facades as a narrator tells you about Khajuraho. Foreigners pay 500 rupees.
Panna National Park is a must-do day trip from Khajuraho. The park contains Pench Tiger Reserve, the setting of Rudyard Kipling's famous work, The Jungle Book. The tiger population has recently rebounded to 40 after taking a hit from poachers. Though not every visitor will see an elusive big cat, many do report tiger or leopard sightings along with many kinds of deer, antelope, crocodiles, hyenas, wolves, birds, and snakes. About 15km inside the park you can take in Raneh Waterfalls, best viewed after the monsoon.
Folk Dance Show – Khajuraho doesn't have much in the way of evening entertainment but the colourful folk dance show held every night at the Kandariya Art & Cultural Centre is a lively, feel-good performance takes you through many different folk dances from states all across India in an entertaining hour-long show in a modern air-conditioned theatre decorated with statues. If you can, time your visit to coincide with the Khajuraho Dance Festival held in the first week of February
Why are there such explicit and erotic carvings on a temple in a conservative country like India?
This is the question most visitors ask and there are a couple of different theories. One of the most popular theories connect the erotic carvings with the Karma Sutra but these have mostly been discredited. One of the beliefs is that the erotic sculptures were considered auspicious and protective. They were placed mainly in the most vulnerable area of the temple maybe to appease and ward off malevolent spirits.
Another is that as India was made up of warring kingdoms, kings wanted to increase their population to provide more men for their armies. Knowing that people would come to pray at the temple and walk around the outside, they put sexy carvings hoping that their subjects would be inspired to try the positions at home. It must have worked because India now has the 2nd largest population of the world!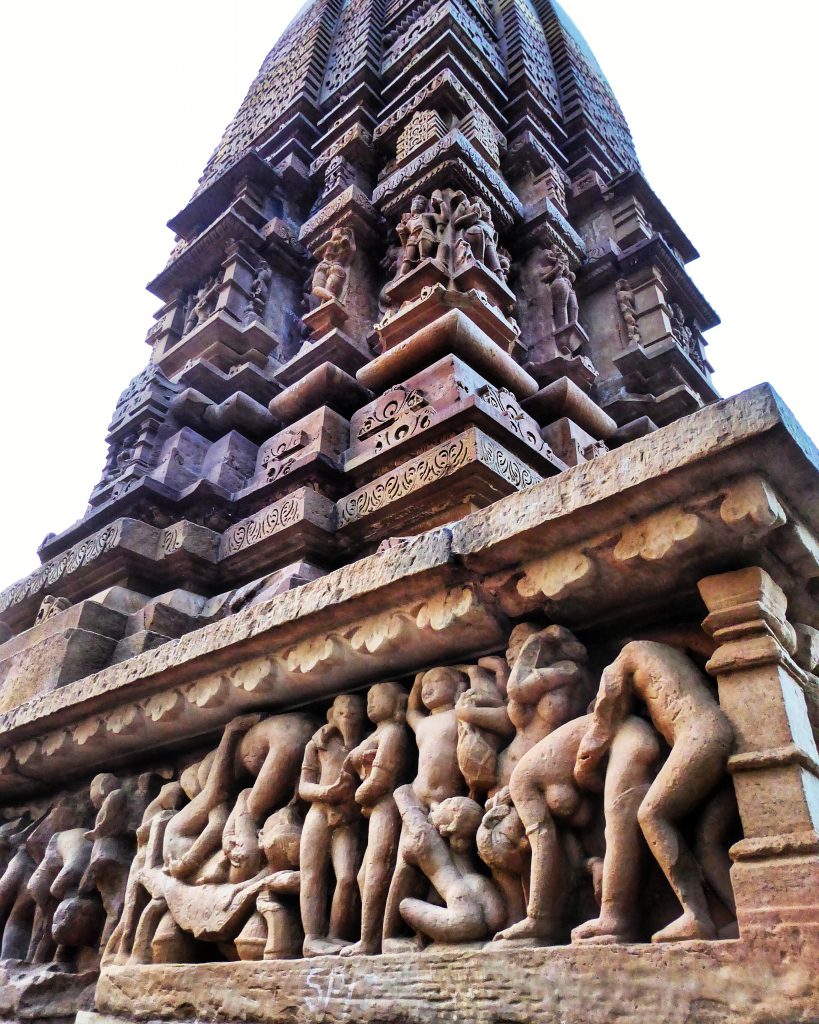 Where to stay in Khajuraho
Khajuraho is quite small and most of the accommodation and restaurants in Khajuraho are clustered close to the Western Temples.
Save: The best backpacker hostels and guesthouses in Khajuraho
Zostel Hostel is Khajuraho's' only backpacker hostel run by the popular Zostel brand. At the hostel you can enjoy the cheerful modern décor of the well-equipped common area with other backpackers. Both dorms and private rooms are offered, including AC, and the location is very convenient for exploring on foot and the common areas are good for meeting other travellers.
Friends in Khajuraho Homestay in the Old Village overlooking the Brahma temple and lake offers an intimate homestay experience. There are 2 guest rooms in this homestay operated by a blended Indian-French family. There is wifi and hot water in the shared bathroom and guests are offered home-cooked meals, personal guiding and a chance to hang out and get to know the family. I stayed here while on my North India trip arranged by India Someday.
Hotel Siddharth is a good-value budget hotel option located directly across from the main Western Temple. It isn't fancy but has all the essential travel amenities and is well-run, with a restaurant serving local food with nice views of the temples.
Yogi Ashram Guest house offers clean and comfortable private rooms within a large house set in leafy gardens about 2km from the Western temples. There is a terrace, restaurant and shared kitchen and yoga classes, massage, meditation and cooking classes are also available.
Hotel Isabel Palace. Just a small step up the price ladder will get you a room in Hotel Isabel Palace, a white colonial Raj era mansion, compete with a jungle-like courtyard surrounded by balconies and a rooftop restaurant. If you're on a budget they also have dormitory beds available for about 300 rupees.
Splurge: The Best Hotels in Khajuraho
The Lalit Temple View Hotel is the most luxurious stay in Khajuraho by one of the best regarded luxury hotel brands in India situated only 500 meters away from the temples. The architecture is quite bland but rooms are spacious and inviting. The Lalit has a huge clover-shaped swimming pool surrounded by palm trees and wicker chaise lounges and a spa, fitness center and also offers yoga classes.
Clarks Khajuraho is a good value for money five star hotel located near the airport in Khajuraho. Rooms are spacious and comfortable with all modern amenities and there is also a spa and fitness center. The highlight is the lovely swimming pool set within nice, spacious gardens.
Where to eat in Khajuraho
Raja's Cafe is one of the best bets for food in town. With an extensive multi-cuisine menu that includes Indian and many Western and Asian dishes, it stands out among such restaurants for across-the-board quality of food. It also boasts shaded rooftop seating and temple views, and has espresso drinks.
Agrasen is one of the more upmarket rooftop restaurant options in Khajuraho that serves good salads, pizzas and pastas as well as great Indian food.
Blue Sky Restaurant is a standard multi cuisine traveller orientated restaurant that serves decent enough food but the real attraction here are the views over the western group of temples from the terrace and the cute table in the tree.
Mediterraneo is a very popular Italian restaurant with house-made pastas and a wood-fired stone oven that produces delicious thin and crispy pizzas.
Bella Italia also makes its own pizza, and is somewhat cheaper and has a rooftop under a tree where hundreds of parrots gather at sunset.
Lassi corner is great if you want a quick and cheap breakfast or snack.
Top Tips/ Good to Know: Khajuraho is situated in a rural area where many local people do not have much income and so they can be quite persistent in hassling tourists to buy things or give money.
How to get to Khajuraho
Khajuraho is connected by bus, train, and a fancy new airport to several North Indian destinations.
Buses run to and from Chhatarpur, which is connected to Jhansi and Gwalior. A bus also goes to Madla for Panna National Park.
Trains connect to Delhi (11.5 hours), Varanasi(11 hours), and Jhansi (4-4.5 hours depending on the train).
There are daily flights to and from Delhi via Varanasi on Jet Airways, and three times weekly flights to Delhi via Varanasi and and from Delhi via Agra and Varanasi on Air India.
Where Next
Visit the holy city of Varanasi on the banks of the river Ganges.
Explore the little off beat gem of Orchha with it's many imposing historic forts and palaces
Check out more destination guides in my India Travel Guides page and subscribe to get all my best India travel tips and stories.