Where to Stay in Goa during Monsoon
Although the most popular season for tourists to visit Goa is in the sunny and dry months between November and March, more and more people are now taking advantage of the lush countryside, fewer crowds and lower hotel prices in Goa during monsoon. The monsoon, or rainy season, in Goa starts in June and lasts until September. There are advantages and disadvantages to visiting Goa in the rainy season and your choice of where to stay in Goa during monsoon will have a big impact on how enjoyable your visit is.
Advantages to visiting Goa during monsoon:
Lower Prices
Less Crowded
Lush, green, beautiful landscapes
Empty beaches you can often enjoy all to yourself
Experience a more local side of Goan life
The storms and rains can be quite dramatic and amazing to watch
The rains bring a relief from the heat, humidity and dust of the Summer and in breaks between the rains (especially towards the end of monsoon in Aug/Sept) can be wonderful.
Disadvantages of visiting Goa during monsoon:
The weather can be unpredictable and sometimes (in June/July) it can rain all day non stop – not the best weather for lazing on the beach
The water is sometimes too rough for swimming
Many restaurants, hotels, markets and nightclubs are closed (so make sure you book in advance)
Heavy rain can bring power cuts and flood roads making it hard to get around (pick a hotel with power backup!)
If you're looking to meet other people, perhaps if you are traveling or backpacking solo, you may feel a bit lonely as there are not so many tourists around, there are Indian tourists but very few International tourists. (choose one of Goa's backpacker hostels if you want to be sure of meeting other travellers)
Check out this post for more about what the weather is like and what to expect when visiting Goa in monsoon.
Where to stay in Goa during monsoon
Pin Me 🙂
One of the best reasons for visiting Goa off season is the fewer crowds although this also means that there are fewer places open. Because many places are closed and there are frequent power cuts it's really important to carefully consider where to stay in Goa during monsoon.
Don't worry, not everything is closed and you will still find somewhere to stay and something to eat but many hotels, restaurants, markets and night clubs will be closed. (See here for a list of what's open in monsoon)
However you can't just pick a place in the Lonely Planet and show up without booking a room as you can't be sure what it will be open so its important to book where to stay in Goa during monsoon in advance. I use Booking.com or Agoda as they have the best selection and best rates and you don't have to pay until your stay.
It's not much fun to stay in a beach shack during monsoon, and most of them are taken down anyway. You'll also want to make sure the hotel has power back up as heavy rain can bring frequent and sometimes all day power cuts and you might also want to hire a car instead of a scooter or motorbike as driving one of those in the rain is really not fun and not so safe either.
Also consider your location in Goa carefully, I love the backpacker/ hippie beaches of Anjuna, Vagator and Arambol, the quiet beaches of Morjim, Mandrem and Ashvem, and I love the colourful beach huts in Palolem and Agonda but all of the beach shacks have to be taken down for monsoon so these places are deserted like ghost towns (there are still a few places open in Anjuna (Curlies is still open) and Vagator but no beach shacks and the markets and most of the party places are closed too)
Best Places to stay in Goa during monsoon
So the question of where to stay in Goa during monsoon comes down to 2 areas – depending on if you want a more lively holiday or whether you want to escape from it all.
During monsoon season I would recommend either staying on the busy Candolim, Calangute and Baga stretch where you'll still find a lot of hotels and restaurants open and there are still some parties going on around the popular Titos Lane or taking advantage of one of the great deals offered by the luxury resorts in South Goa.
Best places to stay in Goa during monsoon on a budget (under 2000 INR)
For a budget stay in monsoon the popular areas of Baga, Calangute and Candolim are best. If you are backpacking in Goa during monsoon and looking to meet like minded travellers then it's best to stay at one of Goa's backpacker hostels (there won't be as many backpackers as there are in season time but you should still find a few people to hang out with)
You can also stay at a budget guesthouse or cheap hotel (often it's actually cheaper to split the cost of a private room between 2 people than pay for 2 dorm beds in a hostel) however not all budget hotels will have power back up. These hotels should be under 2000 Rupees in monsoon but check for your dates just to make sure.
Backpacker Panda are a new chain of hostels rapidly expanding across India and their first property was the Backpacker Panda Hostel in Candolim. This spacious and popular backpacker hostel is clean and has good facilities and nice common areas great for socialising. The best part is that the hostel is located only 100 meters ( 2 mins) from Candolim Beach and close to all the action on the Calangute/Candolim main road. Click here for prices and to book.
Also, check out the Zostel Backpacker Hostel in Calagute. Zostel is India's first chain of modern backpacker hostels. Their Calangute hostel is located in a Portuguese heritage home which has been converted into stylish, spacious and sociable hostel in the heart of all the action in Calangute which is probably your best bet for meeting other backpackers and partying in Goa during monsoon. Click here for prices and to book.
Hotel Bonanza is a popular guesthouse in Baga, just 2 mins walk from Baga Beach and 200 yards from the nightlife on famous Tito's Lane. Rooms are nicely furnished, staff are helpful and friendly and the hotel 2 restaurants and a bar. Click here for prices and to book.
More good and cheap guesthouse options for under 100 rupees in Calangute include Romaldo Guest House and Le Blanche Guesthouse. In Baga, Braganza Guesthouse is a good basic family run guesthouse option close to Baga Beach with rooms for 1000 rupees in monsoon.
Casa Cubo By The Beach is a stylish hotel that is situated right on the beach front in the centre of Calangute. Rooms are spacious with balconies that face out over the gardens to the sea. It's quite but close to all the action in Calangute. Click here for prices and to book.
Vailankanni Holiday Homes have spacious, comfortable and homely rooms for around 1000 Rupees in a good location in Calangute. The owners really look after the guests here and there is cable TV in the rooms and plenty of books and pets to keep you entertained and feeling at home on a rainy day. Click here for prices and to book.
Casa Almedia Guest House is conveniently located on Candolim Beach Road near to everything. Candolim is a little quieter and more upmarket area than Baga and Calangute. The staff here are helpful and the rooms are basic but clean and well equipped and great value for money with attached bathrooms, balconies, TV, Air Con, Wifi etc. There is also a swimming pool which is handy as often the sea is too rough for swimming in monsoon. Click here for prices and to book.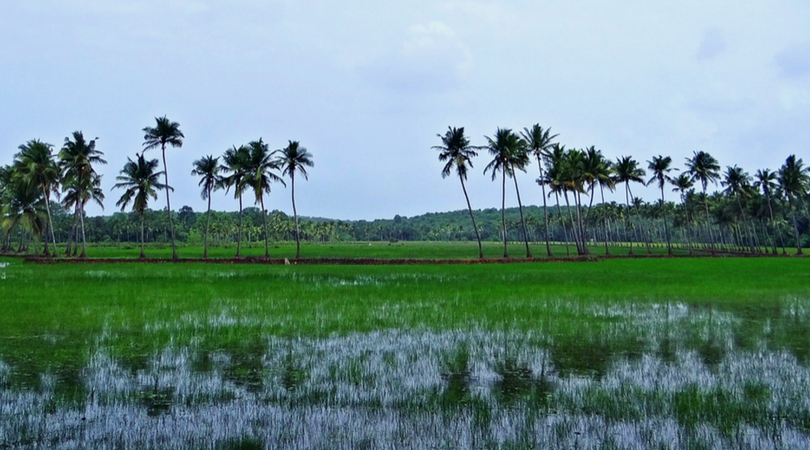 Best mid range places to stay in Goa during monsoon (2000 – 7000 INR )
Cavala Seaside Resort is a perfect pick for a great value mid range monsoon stay in Baga. The hotel has plenty of character and spacious and comfortable rooms. There is an onsite restaurant and on Fridays Cavala has a popular live music night. There is also a nice swimming pool across the road that you can use. The hotel is located in North Baga which is slightly quieter but it's only a 5 minute walk to Baga beach, Tito's Lane and all the nightlife and action in Baga. Click here to check prices and to book.
Lemon Tree Amarante Beach Resort in Candolim is a popular colourful boutique style hotel with a modern but also slightly medieval theme in the heart of Candolim. The resort has a nice swimming pool in leafy grounds and a spa as well as several restaurants and cafes including the award winning Republic of Noodles. Click here to check prices and to book.
WildFlower Villas in Candolim is a gorgeous family run boutique resort of 7 Goan style cottages complete with character furniture and large wooden verandas (perfect for sitting under to watch the rain) Wild Flower Villas are set in 8 acres of luscious gardens on a hill overlooking the Sinquerim river and Aguada bay. The resort is secluded yet within easy reach of Candolim beach and all the action in North Goa. There is an onsite restaurant and an amazing infinity pool with views over the Goan countryside. In season time Wildflower Villas would fall into the luxury price bracket but the one bed villas go for only about 5000 INR off season. Click here to check prices and book.
If you want to enjoy the empty beaches of South Goa without the luxury price tag then check out Karma Hatthi Mahal Resort in Cavelossim. This resort is only 5 minutes walk from one of the best beaches in Goa and is set in landscaped grounds with 2 swimming pools, a swim up bar, hot tub, spa and plenty of restaurants and activities for the whole family including a library, pool tables and play areas so you'll have plenty to do even if its raining alot. Monsoon offers are often under 5,000 INR per night Click here for prices and to book.
The Estrela Do Mar Beach Resort is a 4 star resort in Calangute with a private walk way to the beach, a swimming pool and 3 dining options. The rooms are funky and well appointed and they offer good monsoon discounts. Click here for prices and to book.
Goa's beaches aren't at their best during monsoon but it's the perfect time to explore the lush jungle and get back to nature. For something different stay at Dudhsagar Plantation Farmstay which has comfortable rustic rooms on a 50-acre property with a spice garden, natural water swimming pool and nature trail near to the famous Dudhsagar waterfall. The food is organic and the hosts are wonderful. Don't miss this chance to see another side of Goa. Click here for prices and to book and also check out Sonal from Drifter Planet's post about Dudhsagar Farmstay for more info.
Best luxury places to stay in Goa during monsoon (over 7,000 INR)
Many hotels offered greatly discounted monsoon rates, especially the luxury resorts in South Goa so this is a great time to come and escape it all, unwind on the empty beaches of South Goa and have a bargain stay at a fancy resort. I find that Agoda have the best discounted rates for luxury hotels.
For the best luxury stay in Goa look no further than The Leela in Cavelossim which is widely regarded as the best 5 star hotel and resort in Goa. You'll hardly need to take a step out of the sprawling Leela Resort with it's private beach, lagoon, and tropical riverside gardens. The resort is exquisitely decorated to reflect both the Indian and Portuguese heritage of Goa. The Leela's rooms are super plush with all mod cons and private plunge pools, a range of on site restaurants, lounges and a luxurious Ayurveda spa and fitness centre as well as a beach club. This is the best resort for a luxurious escape from it all. Agoda has 30% monsoon discount Click here for prices and to book.
The Vivanta by Taj in Candolim is the best luxury hotel in North Goa. The swish resort is located on Candolim Beach with great sunset views and within easy reach of the busy Baga, Calangute, Candolim stretch by Fort Aguada so you can enjoy a luxury stay as well as all the action. You can get over 40% monsoon discount on Agoda! Click here for prices and to book.
Next door is the slightly more laidback but still luxurious Vivanta by Taj Holiday Village which has cute, colourful and luxurious cottages spread across the tropical gardens. I prefer the atmosphere of this one actually. Agoda offers 55% monsoon discount! Click here for prices and to book.
The Alila Diwa in Majorda, South Goa is one of my favourite luxury hotels in Goa, it's a gorgeous Balinese style 5 star hotel. The rooms and the infinity pool has gorgeous views over the paddy fields which look at their best in monsoon! There are 4 dining options, one of which is open 24 hours the resort is stunning and the staff make you feel like royalty. They offer great monsoon deals – click here for prices and to book. Agoda has over 75% monsoon discount! Click here for prices and to book.
If you're visiting Goa for a quick break then the Park Hyatt or Marriot are perfect for a short luxury escape. The Park Hyatt Resort and Spa is an award winning, spacious beachside 5-star resort on serene Arossim only 15 mins from the airport with Indo-Portuguese village pousada-style rooms, a huge swimming pool, large selection of restaurants and an award winning spa. You can get 55% monsoon discount on Agoda! Click here for prices and to book.
The Marriott Resort is the best luxury stay in Goa's capital city of Panjim (Panaji) which combines a 5 star experience with many great dining options, great sea views from the pool and is on the beachfront but still close to all the city has to offer – great for exploring the city when rainy days when the beach isn't so appealing. Click here for prices and to book. Click here for the best rates and to book.