Thailand is one of my all time favourite destinations. From glittering golden temples to ancient ruins, buzzing cities to tropical jungle and some of the most gorgeous beaches and islands in the world – there's so much to see in the Land of Smiles.
In fact there's so many amazing places to visit in Thailand that you may be wondering how to plan your trip and create the best Thailand itinerary so that you can fit it all in.
This can feel especially overwhelming if it's your first time visiting Thailand, but this post should help you out a lot.
My Thailand Travel Guide
Don't worry, with 2 weeks in Thailand you've got enough time to explore the best of north and south, from the exciting metropolis of Bangkok, to the jungles and temples around Chiang Mai and also enjoy island hopping in the south – if you plan your 2 week Thailand itinerary carefully.
I've been lucky enough to explore this amazing country from top to bottom several times. I even lived on the island of Koh Phangan for a while, so I know Thailand better than most! I want you to have an amazing holiday in Thailand and love it as much as I do, so this post is a mini travel guide to Thailand to help you plan your trip. I last visited Thailand in Nov 2023 and have updated this post for 2024.
As well as the best 2 weeks Thailand itinerary, I'll also give suggestions for other timeframes if you have 7 days or 10 days in Thailand, along with all the practical Thailand travel tips you need to know when visiting Thailand.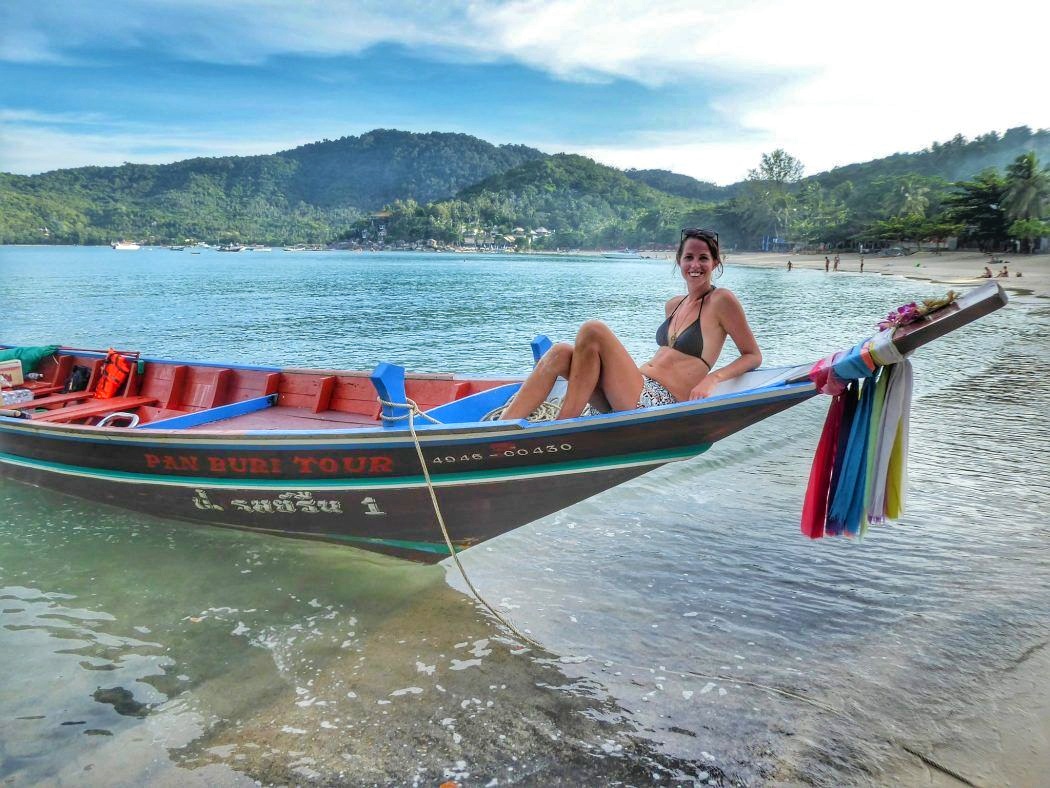 The Best 2 Week Thailand Itinerary
Tips for Planning Your Trip To Thailand
Two weeks is the ideal amount of time to see all the highlights in both northern and southern Thailand. But if you want to tick lots of things off your Thailand bucket list in just a few weeks then you're going to need to plan your 2 weeks in Thailand itinerary carefully.
You don't want to ruin your Thailand vacation by planning a trip that's too ambitious and end up exhausted and stressed from trying to see too many places, but you also don't want to miss somewhere amazing and regret it.
Many people only see Thailand's islands and miss out on northern Thailand's incredible sights and culture. It's such a shame because they've only seen half of what this amazing country has to offer so allow time for both in your Thailand itinerary.
Luckily with 2 weeks in Thailand you can see the highlights of both north and south.
Pin This For Later!
The north of Thailand used to be the Lanna Kingdom and has it's own distinct culture. Highlights include Chiang Mai and Chiang Rai, where you can experience temples like Wat Rong Khun, traditional Thai culture, night markets, jungle adventures, trekking and elephant sanctuaries.
The south of Thailand is home to some of the most beautiful tropical islands in the world. Famous for towering limestone cliffs and turquoise waters. There's excellent rock climbing and scuba diving, pampering beach holidays and easy island-hopping day trips through national marine parks.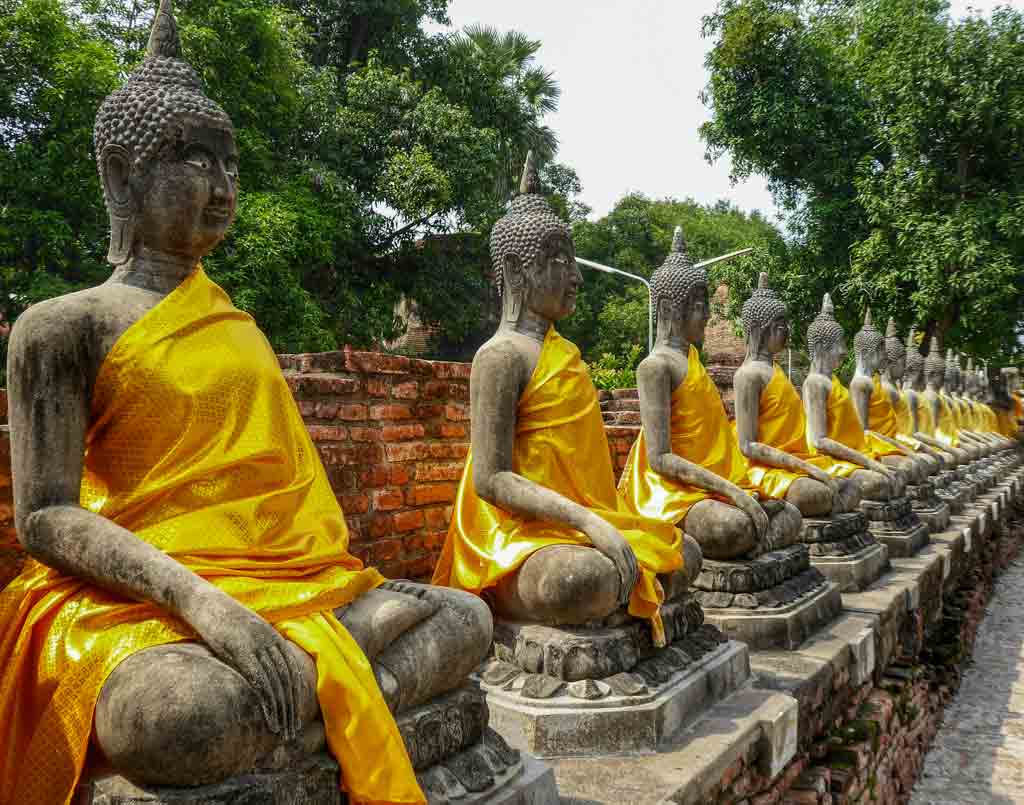 To enable you to see the most of Thailand in only 2 weeks there is a great network of low cost domestic flights which will save a lot of travel time. A more eco friendly way would be to take the night trains which will also save you a night of accommodation.
Another way to make the most of your time, and save yourself stress and energy, is to base yourself in places like Bangkok, Chiang Mai and Phuket or Koh Samui and take day trips from there instead of moving around too much.
I'd recommend booking your transport, accommodation and tours in advance so when you get to Thailand you can just relax and enjoy your trip. I use Booking.com for hotels and accommodation, Get your Guide for tours and day trips and 12 Go Asia to book flights, trains, buses and ferries in Thailand.
How to Spend 2 Weeks in Thailand
With 2 weeks in Thailand you can start in the capital, Bangkok and see the best of both north and south if you plan your itinerary well.
Thailand Map
Here's a map of Thailand so you can get your bearings and plan your travel route.
Start your Thailand trip with a few days exploring the exciting capital Bangkok with a day trip to the floating markets and the ancient temples at Ayutthaya.
Then head north to Chiang Mai and explore the temples, culture and natural beauty of northern Thailand. Chiang Mai makes a good base for day trips around northern Thailand.
The incredible temples like Wat Rong Khun in Chiang Rai, the nature around Pai and the Golden Triangle are all well worth a visit. If you only have 2 weeks in Thailand I'd recommend taking day trips from Chiang Rai to save time and hassle.
Fly down to the south for some island hopping. On the west coast popular islands include Phuket, Koh Phi Phi and Krabi, while on the east coast you'll find Koh Samui, Koh Phangan and Koh Tao.
It can be tempting to want to visit them all, but for a 2 week Thailand itinerary, you'll probably find it more enjoyable to pick one side and relax instead of trying to fit all the islands in.
Whatever you decide, don't forget to allow time in your itinerary to get back to Bangkok in time to catch your flight home!
Quick 2 Weeks in Thailand Itinerary Summary
Bangkok (3 days)
Chiang Mai (3 days including day trip to Chiang Rai or Pai)
East Coast Islands – Koh Samui (3 days) Koh Phangan (2 days) Koh Tao ( 2 days)
Or
West Coast Islands – Phuket (3 days) Koh Phi Phi (2 days) Krabi (2 days)
Bangkok ( 1 day)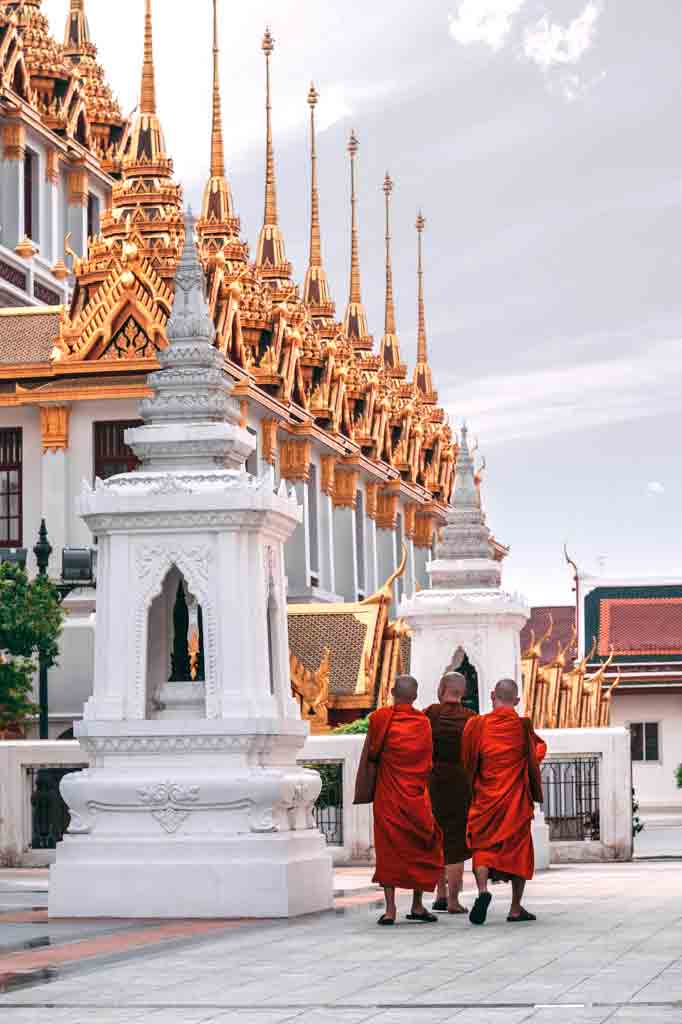 Ideas for a 7 – 10 Days Thailand Itinerary
If you don't have so much vacation time don't worry, you can still follow some of this itinerary just modify it depending on how many days you have.
Here's some suggestions for a 10 day Thailand itinerary and a 7 day Thailand itinerary too:
10 Days in Thailand Itinerary
Bangkok (2 days)
Chiang Mai (3 days)
Koh Samui (2 days)
Koh Phangan (2 days)
Bangkok (1 day)
7 Days in Thailand Itinerary
Bangkok (2 days)
Chiang Mai (2 days)
Phuket (2 days)
Bangkok (1 day)
If you've got more time to play with then check out this 1 month Thailand backpacking route.
Read on to find out more about each destination, the best things to do there, where to stay and how to get there plus more tips for planning your perfect 2 week Thailand itinerary.
By the way, I've used affiliate links in this article which allow me to make a small commission if you book which helps me to keep this site going, an unbiased, at no extra cost to you.
My Perfect 2 Week Thailand Itinerary – Best of North & South
Bangkok – 3 Days
The capital of Thailand is one of the most exciting cities in the world and has plenty of flight connections making it the ideal place to start your 2 week Thailand itinerary.
The streets of Bangkok are a truly fascinating mix of old and new, packed with temples, culture and a buzzing atmosphere.
Best things to do in Bangkok
The first thing I do in a new city is taking a guided walking tour as it's the best way to get to know the city in a short time.
Take a cruise along the Chao Phraya River for one of the most relaxing ways to see the city then climb Wat Arun, the temple of the dawn, at sunset.
Explore the spectacular Grand Palace, a gorgeous glittering masterpiece that is the former royal residence and home to Wat Phra Kaew, the Temple of the Emerald Buddha, and marvel at the huge, golden, reclining Buddha at Wat Pho.
Bangkok is also some of the world's most legendary, vibrant and fun nightlife. Drink buckets and party on the infamous Khao San Road and try the cheap and delicious street food stands that serve up fresh and tasty thai cuisine like pad thai.
Sip cocktails at one of the trendy rooftop bars of the luxury hotels that line the river and soak up the views of the Bangkok skyline and city below. The sky bar observation deck at Baiyoke Sky Hotel is one of the best.
Allow enough time in your Bangkok itinerary to take day trips to visit the impressive historic temples at Ayutthaya, an ancient city, former capital of Thailand and UNESCO world heritage site.
This day trip combines Ayutthaya with Ayothaya floating market.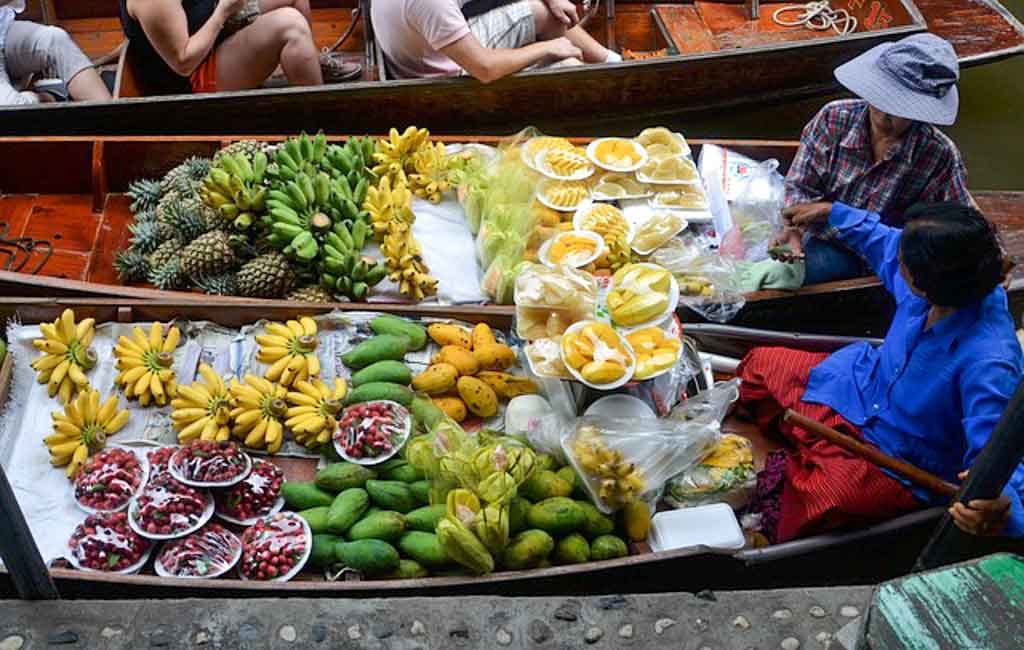 Another must see is the Damnoen Saduak floating market and the unique Maeklong railway market where you'll experience the vendors jumping out of the way as the train comes through the market. You'll also find bargains and souvenirs at the colourful Chatuchak weekend market.
A day trip to Kanchanaburi to see the Bridge over the River Kwai is also possible.
Allow at least 2 days to see Bangkok's highlights, but there's so many activities and temples in Bangkok to keep you busy for 3 days or more.
You'll probably want to stay one more night in Bangkok at the end of your 2 week Thailand itinerary for some last minute shopping before you fly home.
Where to Stay in Bangkok
Start your Thailand trip off in style with the amazing sweeping views over the Chao Phraya River and the city's skyline from the private balcony of your spacious and full equipped luxury suites at the 5 star Lebua at State Tower – one of the highest buildings in Bangkok.
There's a swimming pool, spa and restaurant serving fine Thai cuisine. It's also home to one of Bangkok's best rooftop bars with breath taking views. See if you can spot Wat Arun and The Grand Place glittering at sunset.
When you want to come down and explore the Grand Palace and the rest of the city this luxury hotel is conveniently located close to the Saphan Taksin stop on the BTS sky train.
The Lebua is one of the more affordable luxury hotels on the riverside, which is one of my favourite areas to stay in Bangkok, a far cry from the backpacker scene on Khao San Road. Check Prices
A great budget option in the popular backpacker area of Khao San Road. Recently refurbished and formerly known as the popular Rikka Inn, this is one of the best budget hotels in Bangkok.
The cosy and unique rooms are decorated with vintage Thai memorabilia and the rooftop pool is a real highlight after a hot day sightseeing.
The location on Khaosan Road means you only need to step out of the door to be in the lively and colourful backpacker district but the sound proofing means you'll still enjoy a good nights sleep. Check prices here
How to get to Bangkok and Get Around
Bangkok has some of the best flight connections in Southeast Asia and receives many international flights from around the world.
The city has two airports, Suvarnabhumi international airport (BKK) – which handles mostly long haul international flights, and Don Mueang (DMK), which handles low cost flights with carriers like Air Asia with domestic flights around the rest of Thailand.
You'll probably fly into Suvarnabhumi airport and start your Thailand itinerary there. The airport rail link that connects the airport to the BTS Sky train is the quickest and cheapest way to get into the city. It takes about 30 minutes to reach the Phaya Thai BTS station.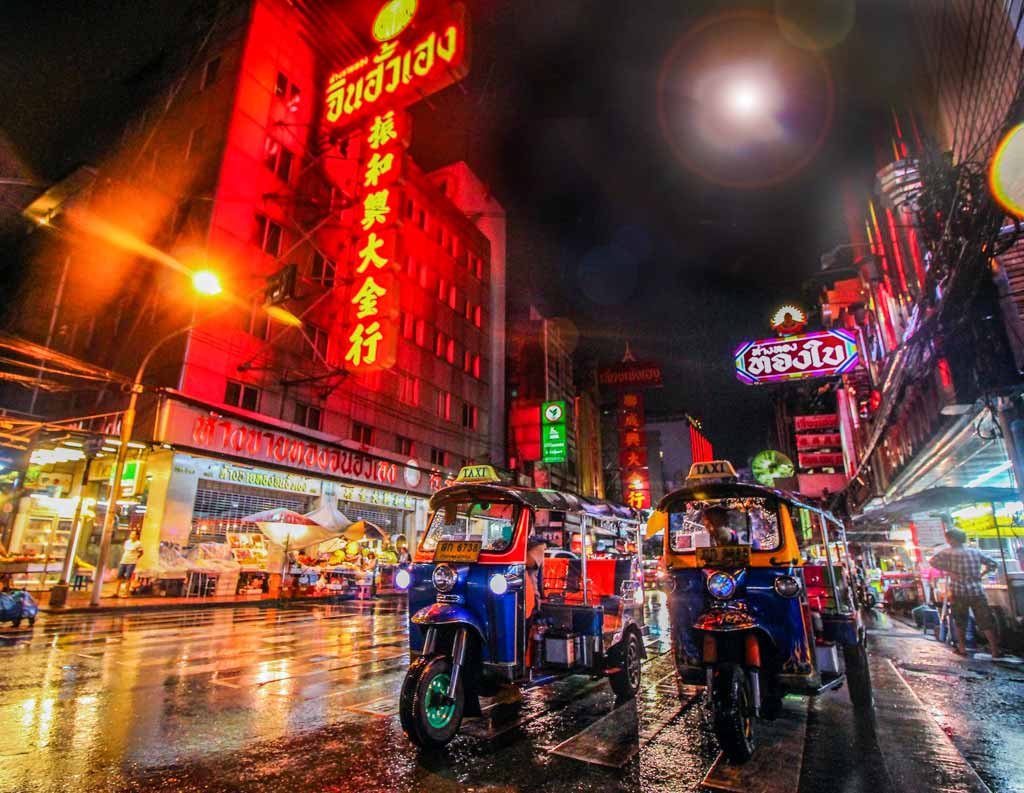 Taxis are available but will probably take longer if there is heavy traffic. Uber or Grab are easier if you don't speak Thai. You can also ask your hotel if they offer an airport transfer or shuttle service.
Once in Bangkok the super modern BTS Skytrain and MRT Metro are the quickest way to get around. Tuk tuks can also be a fun way to explore the city but agree on the price before setting off.
There's plenty of bus, train and flights from Bangkok offering easy onward travel around the rest of Thailand. If you only have 2 weeks in Thailand definitely consider taking a few budget flights as it will save you alot of time.
You can book your transport all around Thailand with 12 Go Asia.
Chiang Mai – 4 days
Chiang Mai is a beautiful city amongst the mountains of northern Thailand. It's the country's 2nd city but offers a much more peaceful experience than Bangkok so visiting Chiang Mai should not be missed from any Thailand itinerary.
Best Things to do in Chiang Mai
Explore the Old City. Chiang Mai was founded in 1296 and the temples, walls and moats from the Old City still stand today, making it a fascinating place to explore and learn about Thailand's history and traditional Thai culture. If you want to learn more about traditional Thai culture then the Lanna Folklore Museum is worth a visit.
Temple hopping is a popular pastime in Chiang Mai as the old city offers tons of gorgeous temples to explore such as Wat Chedi Luang, Wat Phra Singh, Wat Phan Tao and Wat Chiang Man. You can even chat with the monks at Wat Chedi Luang.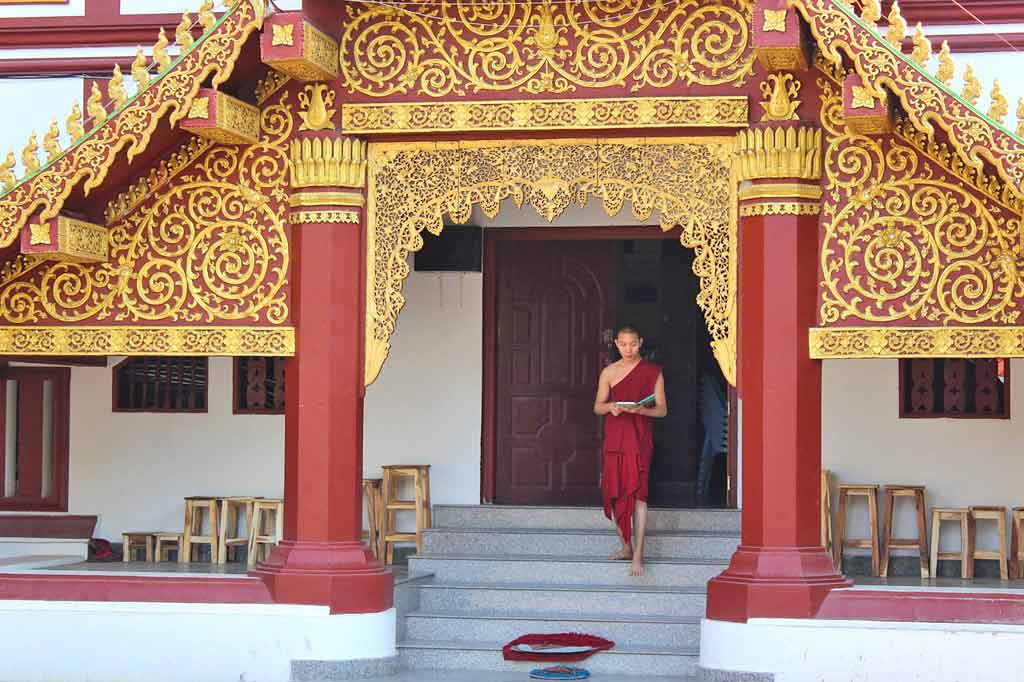 The city also makes a great base from which to explore the mountains and jungles of Northern Thailand with many trekking, mountain biking, rock climbing, white water rafting and kayaking trips on offer.
Nature and animal lovers should head to the Elephant Nature Park and Doi Inthanon National Park. For more adrenaline try the Flight of the Gibbon zipline.
Just outside the city, Wat Phra That Doi Suthep is a beautiful golden temple with equally as spell bounding views.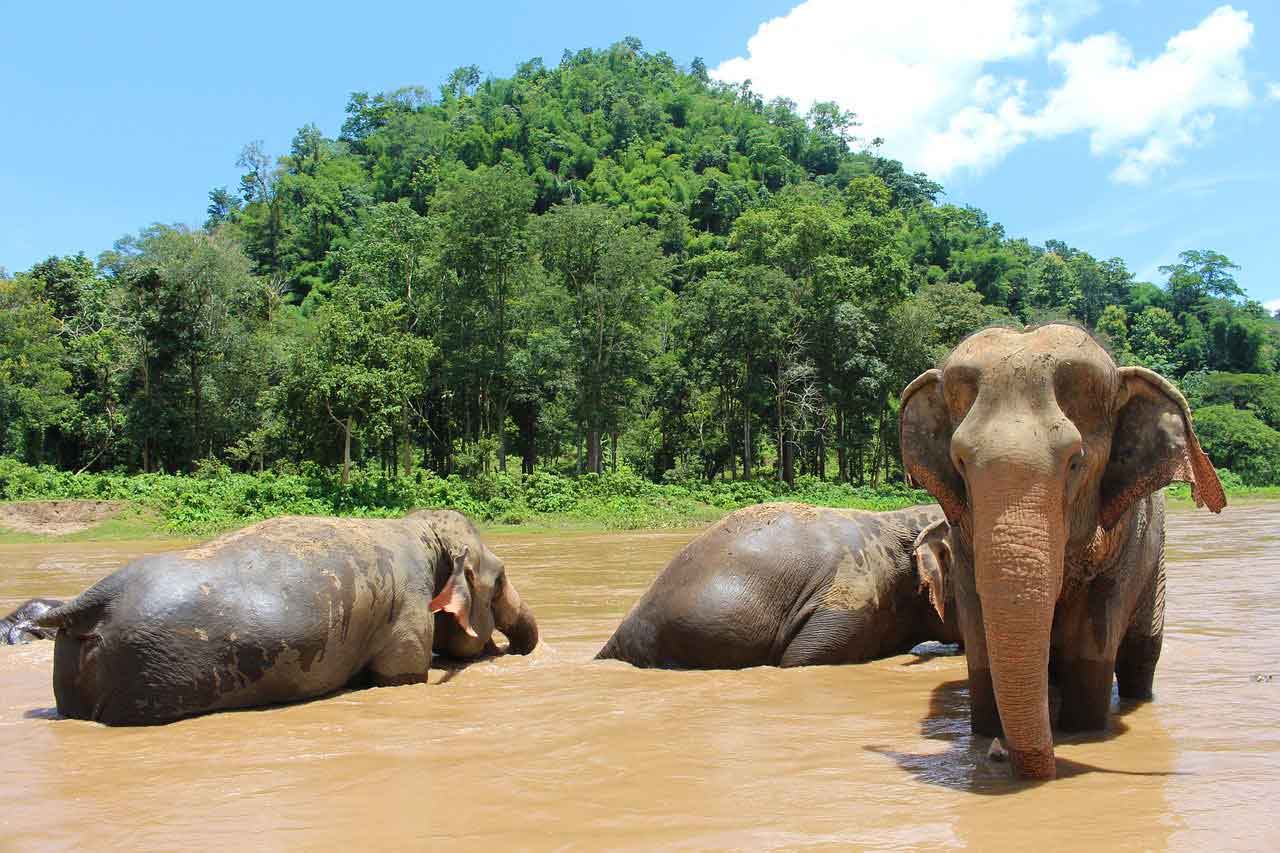 Chiang Mai is also a modern and fun city with plenty of trendy cafes, bars popular with students and digital nomads. Don't miss the night market and walking street where you can find street food bites, arts, crafts and souvenirs.
It's also a great place to learn something new. Take a traditional Thai cooking class, Muay Thai boxing lessons, Buddhist meditation and yoga. There's also plenty of places to enjoy a traditional Thai massage at cheaper prices than you'll find on the islands of southern Thailand.
Read my full article about the best attractions, activities and things to do in Chiang Mai for more.
Day Trips from Chiang Mai
Chiang Mai is a great base to do day trips to explore the rest of northern Thailand. If you had more time I would recommend spending a few nights in these places but if you only have 2 weeks in Thailand the best way is to take an organised day trip.
Chiang Rai is home to some of the most amazing temples in the world, including Wat Rong Khun (the White Temple) which shouldn't be missed from any Thailand itinerary.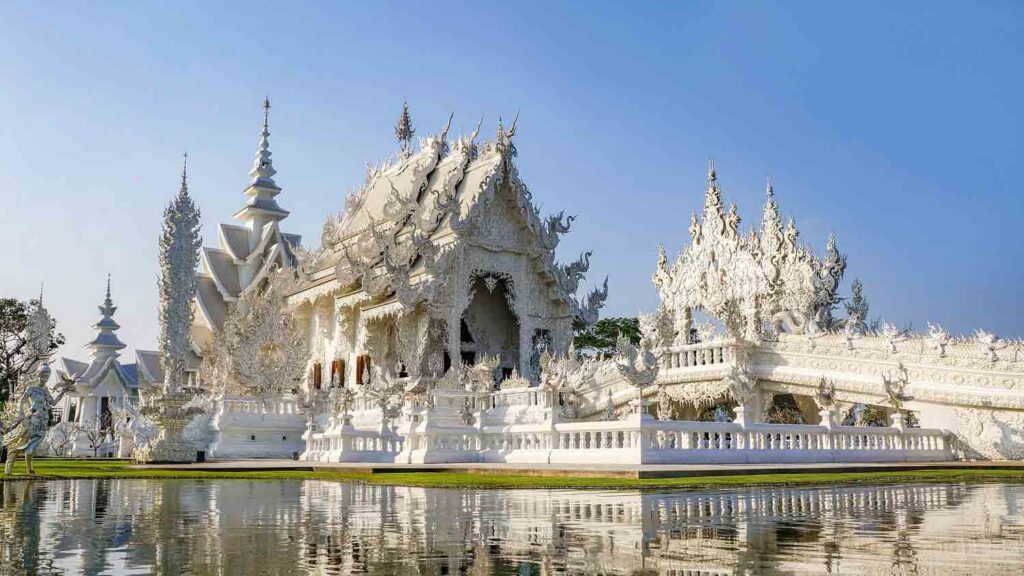 Wat Rong Khun is one of the most amazing temples and sights I've ever seen (and I've seen lots of temples!). It's more like an art exhibit than a temple, with intricate and interesting designs that you might not expect to see in a Thai temple.
Also in Chiang Rai is Baan Dum (the Black House), Rong Suea Ten (the Blue Temple) and Thailand's biggest Guan Yin statue. The Hilltribe Museum and Education Centre are also worth a visit.
If you've only got 2 weeks in Thailand then you can visit the highlights of Chiang Rai on a day trip like this one from Chiang Mai. Chiang Rai is about 3 hours from Chiang Mai so it makes for quite a long day trip but it's still the quickest way to see the highlights.
Even if you only have two weeks in Thailand you really must see the White Temple, Wat Rong Khun, it's my favourite temple in the world!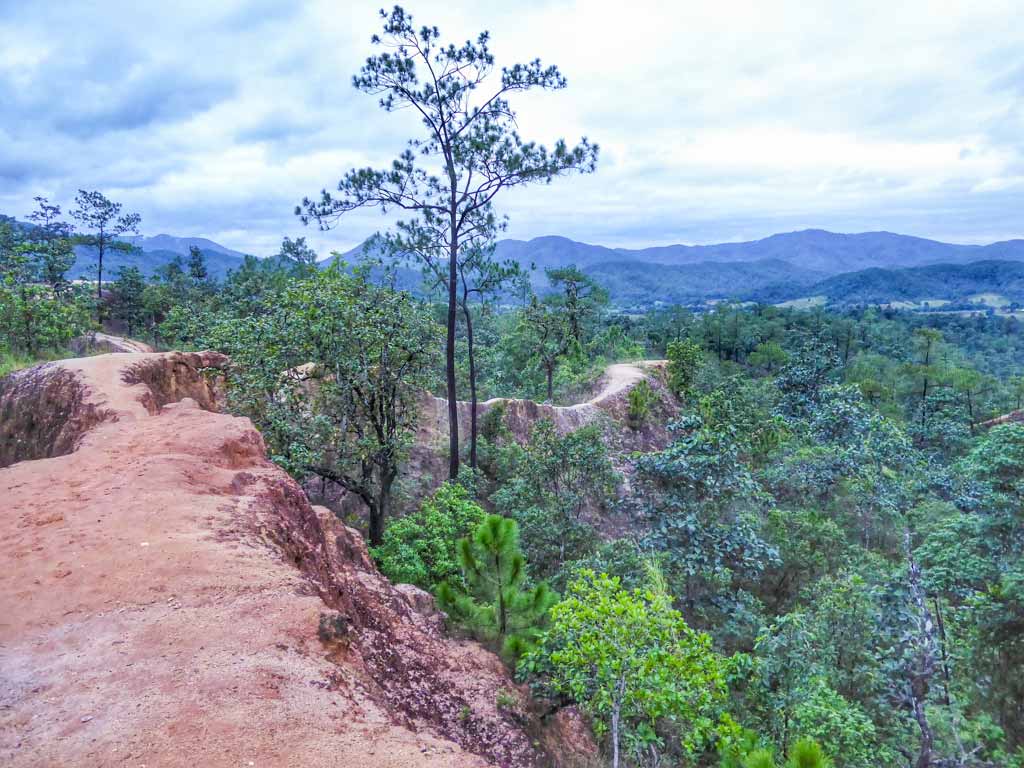 Another popular place to visit is Pai, a small, laid back town nestled on the banks of the river in one of the most beautiful valleys in Thailand from where you can explore the surrounding forests, hot springs, waterfalls, mountains and Pai canyon.
Pai's chill vibes and stunning nature have made it a popular hangout with relaxed, hippie vibes and plenty of cosy and colourful vegan and vegetarian cafes. There's also bars with live music, a night market and walking street with all the Thai street food delights.
If you have 2 weeks in Thailand you could visit Pai with a day trip from Chiang Mai, but if you have more time then it's better to stay at least 1 or 2 nights to soak up the relaxed, hippie vibes and gorgeous scenery of Thailand's most beautiful valley.
You could also take a day trip to explore the Golden Triangle. An area along the banks of the Mekong River that borders Thailand, Laos and Myanmar, famous for it's history of growing opium.
Check out all the activities and excursions from Chiang Mai here.
Where to Stay in Chiang Mai
The best area to stay in Chiang Mai for history and culture is the Old City but there's a diverse range of neighborhoods, from the nightlife in trendy Nimman to tranquil stays on the riverside. Check out my full guide to where to stay in Chiang Mai to find the perfect area for you.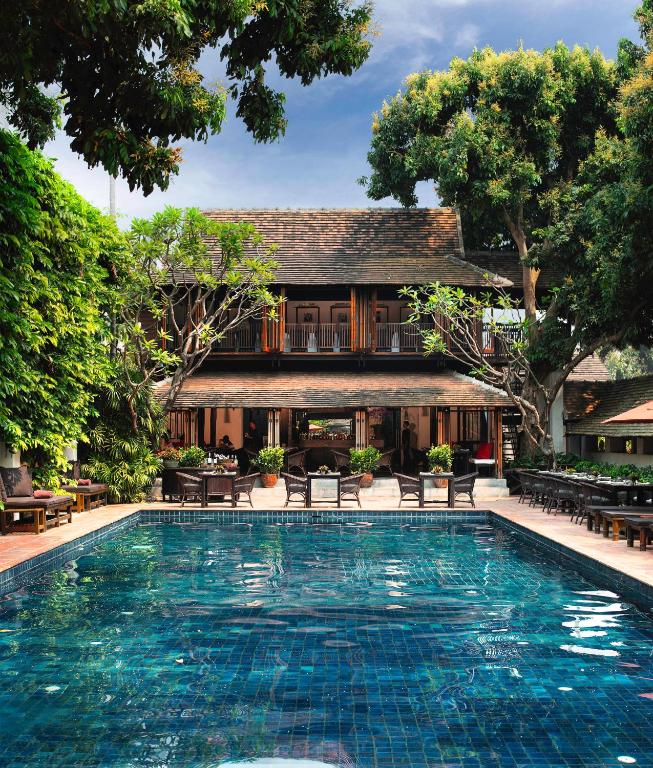 A wonderfully atmospheric traditional Thai style boutique hotel with super clean and comfortable rooms and plenty of teak features, heritage artefacts and gorgeous tribal fabrics.
A highlight is the serene swimming pool surrounded by luscious tropical gardens and majestic tamarind trees, and the super helpful staff.
The location is unbeatable, a hidden oasis conveniently situated in the heart of the Old City. The spa and restaurant are both excellent and the friendly tour desk makes planning trips and activities a breeze. This is my favourite place to stay in Chiang Mai and probably my favourite in all of Thailand. Check Prices
Chill Chill is a great budget apartment hotel in the trendy Nimman area of Chiang Mai. These clean and comfortable fully equipped studios and apartments have balconies with good views over the city and are convientyl located to explore the nightlife in Nimman and close enough to explore the Old City's temples during the day. Check prices here
How to get to Chiang Mai From Bangkok
The quickest way to get from Bangkok to Chiang Mai is by flight which takes about 1.15 hours. Chiang Mai's airport (CNX) has both international and domestic flights with regular connections to Bangkok.
Budget airlines like Air Asia, Nok Air and Thai Lion fly from Bangkok's Don Muang airport (DMK). Flights only take about 1 hour 15 minutes and will save you precious time if you only have two weeks in Thailand.
There are train services every day from Bangkok's Hualamphong train station to Chiang Mai but I would recommend taking the sleeper train as it will save you time and can be a fun and comfortable experience if you get a sleeper berth with air con.
The overnight train journey takes about 11 hours and there's a bar and restaurant car which sometimes turns into a bit of a party with the locals.
There are also modern buses which take about 10 hours from Bangkok to Chiang Mai, but if you're planning a 2 week Thailand itinerary then I'd recommend taking either the night train or a flight to save time.
Thailand Island Hopping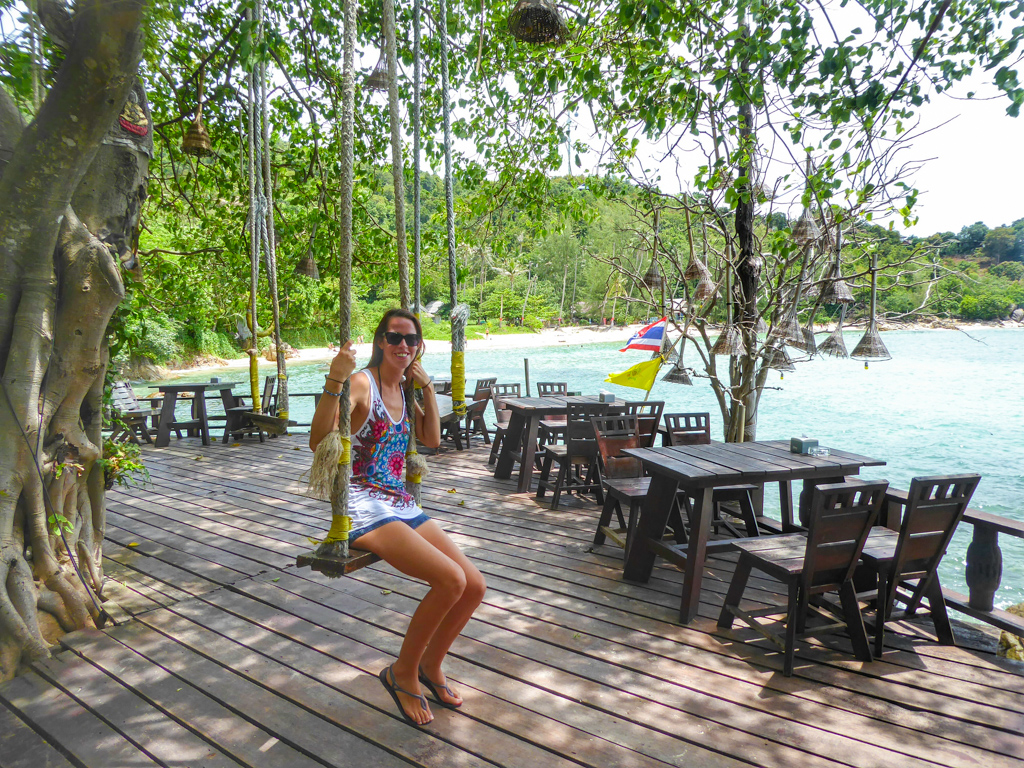 The beaches and islands in Thailand are some of the very best in the world and it would almost be a crime to not include any beach time or island hopping in your Thailand itinerary!
There are hundreds of beautiful beaches and paradasical islands in Thailand but if you're planning a 2 week Thailand itinerary you won't be able to see them all – but you can make a good start!
If you've got 2 weeks in Thailand then I'd recommend picking 2 or 3 neighbouring islands.
For diving, partying and relaxation head east to Koh Samui, Koh Phangan and Koh Tao.
For beaches, long tail boats, and iconic limestone cliffs head west to Phuket, Koh Phi Phi and Krabi.
A great way to see more islands in a short period of time is to join an island-hopping day trip. You can find them operating from many of Thailand's most popular islands, like Phuket.
If you try to squeeze all the islands that I've mentioned into 2 weeks you'll probably end up more stressed out than blissed out!
How to get to the Thai Islands from Chiang Mai
The quickest way to get from Chiang Mai to the Thai islands is to take a flight from Chiang Mai to Phuket or Koh Samui.
Bangkok Airways runs direct flights from Chiang Mai to both Koh Samui and Phuket which will take about 2 hours.
There's also airports at Krabi and Surat Thani. There are also many connecting flights through Bangkok, but that route will probably take nearer 5 hours.`
You could get the bus or an overnight train back down to Bangkok and then catch a connecting train or bus going south. Travel agents often sell a combined mini bus, bus and ferry package that will get you smoothly from door to door which is the best option if you want to avoid flying.
However, this will probably take you about 24 hours. So regardless if you are planning a 2 week Thailand itinerary I'd recommend taking the flight here as it will save you time and, if you book in advance with a budget airline, it's often not much more expensive to fly.
Remember to leave enough time in your Thailand itinerary to fly back to Bangkok and maybe spend another day or night there before catching your flight home.
The Gulf of Thailand
The Gulf of Thailand, on the East Coast, is home to three of Thailand's best islands – Koh Samui, Koh Phangan and Koh Tao.
All offer beautiful beaches with powder soft sands, azure waters and boat trips to the stunning Ang Thong Marine National Park, but each have a different vibe and are all worth exploring.
Their proximity to each other make for a fantastic and easy island hopping adventure.
Koh Samui – 2/3 days
Start off your Thailand island hopping adventure by flying to Koh Samui located in the east coast in the Gulf of Thailand.
Thailand's second largest island has everything you'd want from a tropical island – soft white sand beaches, clear turquoise oceans, swaying palm trees and plenty of resorts, eateries, spas, bars and healthy retreats.
Highlights of Koh Samui are it's natural beauty spots, relaxing beaches, warm tropical waters and the opportunity to take snorkeling or kayaking tours to sensational Ang Thong Marine National Park.
There's also plenty of temples to visit including Wat Phra Yai with its Big Buddha statue and the Secret Buddha Garden.
You can also trek to waterfalls, see the infamous phallic rock of Hat Lamai, visit the Ethical Elephant Sanctuary, take an off road jungle safari tour, ride an ATV through the jungle or splash about in the waterparks.
There's plenty of accommodation options to suit all budgets from luxury resorts to family friendly hotels and backpacker hostels, from gourmet dinning to street food stalls.
If you're looking for a party atmosphere head to busy and popular Chaweng Beach. If you just want to chill out, coconut in hand, better to head to the other beaches.
Where to Stay on Koh Samui
A beautiful secluded beachfront resort with luxe modern rooms, villas and suites, some with private pools or outdoor bath tubs and sea views. There's 2 swimming pools, 2 restaurants, 3 bars and a spa where you can indulge in a massage under a gazebo on the beachfront.
Melati Beach Resort is located in Choeng Mon – an area home to the most beautiful beaches on the island. It's only 15 minutes from the airport and the property provides airport transfers and shuttles to Chaweng Beach so you can relax in peace and still enjoy all the action in Chaweng. Check Prices
This budget hotel is amazing value for money. Located close to the airport, pier, several beaches and the big Buddha, the Summer House makes an affordable and easy base from which to explore the island.
The clean air conditioned rooms, suites and studio apartments are well equipped and many have sea views. There's also a nice restaurant, garden and really friendly and helpful hosts. Check prices here
How to get to Koh Samui
Koh Samui's airport (USM) makes getting to the island quick and easy.
Bangkok Airlines has a daily direct flight from Chiang Mai to Koh Samui which takes under 2 hours. There are also many flights via Bangkok that will take you about 4 hours in total.
You can also buy combined travel tickets with an overnight train from Bangkok, then bus and ferry rides to Koh Samui. An easy place to buy tickets online is 12goAsia.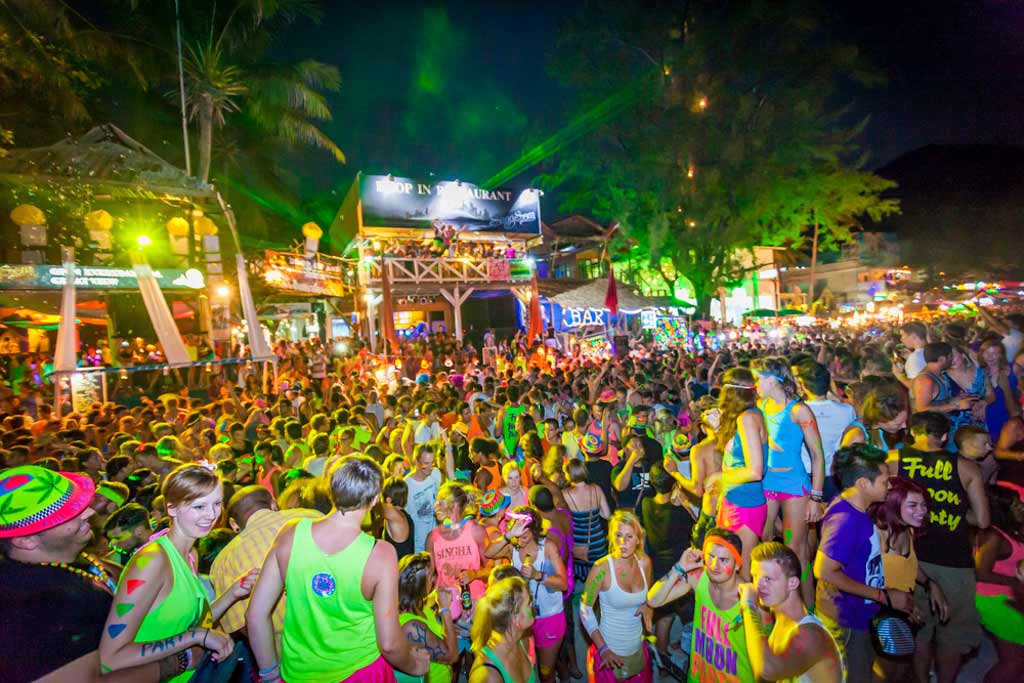 Koh Phangan – 2/3 days
If you are a party person then you'll want to plan your Thailand itinerary so that the dates you will be on Koh Phangan, also known as Koh Pha-Ngan, coincide with the date for the famous monthly Full Moon Party.
This massive party takes over the whole of Haad Rin beach and attracts tens of thousands of people every single month for a bucket list experience. Deck yourself out in UV glow paint, sip on buckets of booze and party on the beach until sunrise with loud dance music blasting from the many bars along the beach.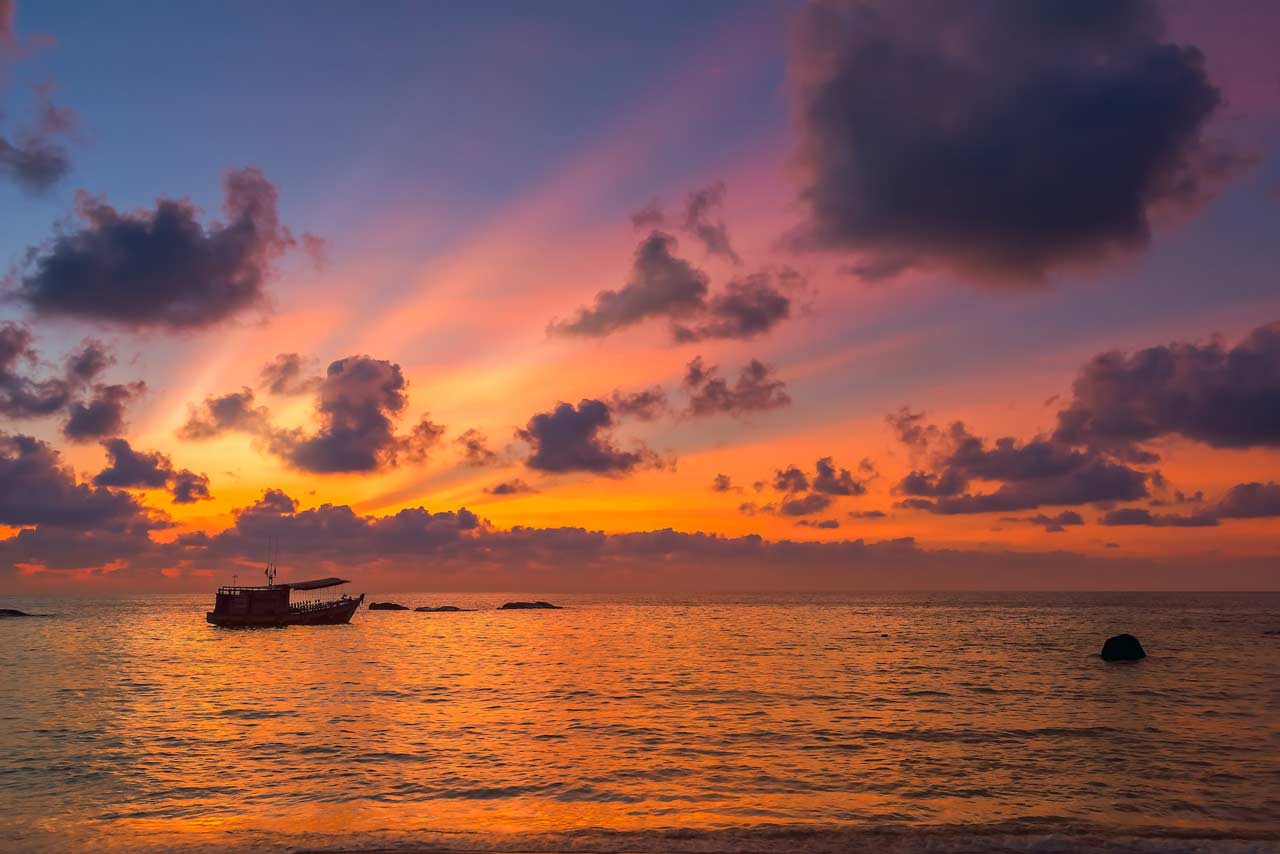 Many hotels in Haad Rin have a minimum stay of 3 nights around full moon. Make sure you book your accommodation well in advance if you'll be in Koh Phangan for the Full Moon Party.
If it's not full moon time when you visit don't worry as there are still lots of amazing parties like the Half Moon Party and the Jungle Experience, which are in many ways better than the Full Moon party anyway.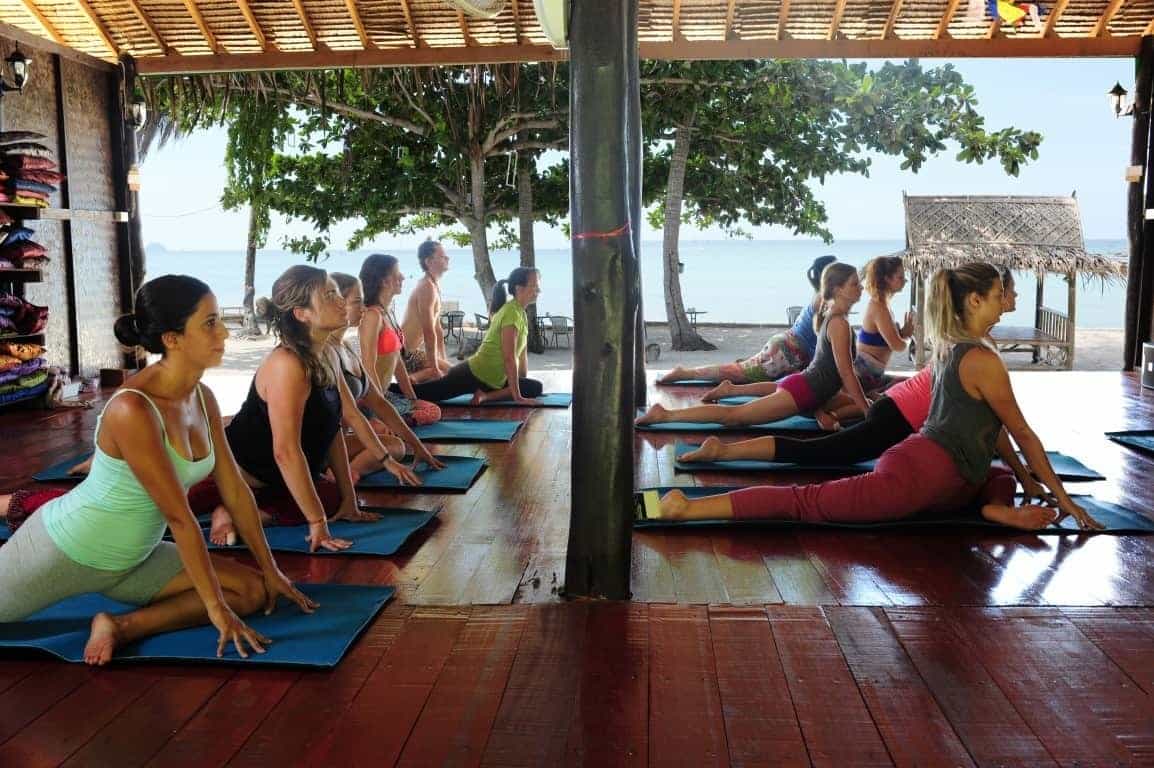 Koh Phangan also has a hippie, spiritual side with many yoga retreats and numerous meditation and tantra classes available on the other side of the island.
Nature lovers should head to Than Sadet Ko Phagnan National Park which has numerous waterfalls, secluded beaches, and gorgeous hiking opportunities. Phaeng Waterfall is a beautiful waterfall with a nice lookout point in the jungle. Also check out the pretty Chinese style Guanyin Temple.
Where to Stay on Koh Phangan
Koh Phangan has many different beaches and areas that will appeal to different people – whether you are looking to be close to the nightlife, yoga studios or just relax on a beautiful beach. Check out my guide to where to stay in Koh Phangan for more details.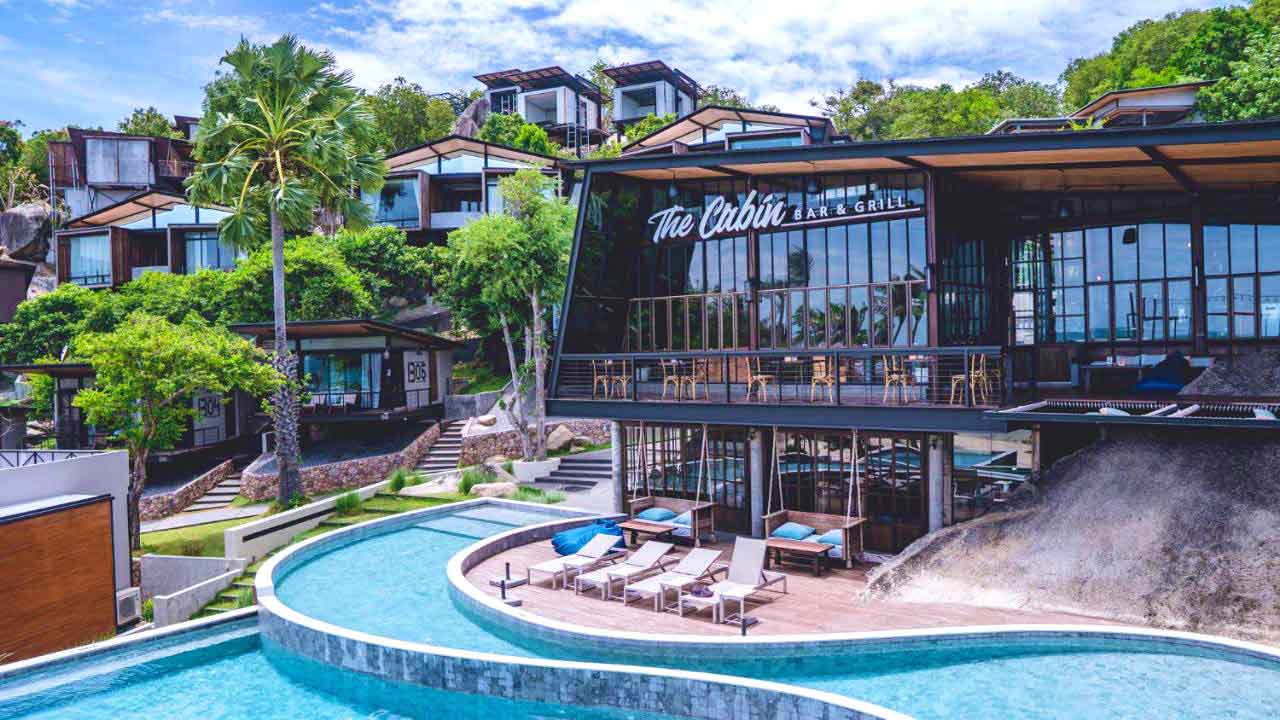 Located on the beach front of secluded Leela Beach just 700m away from Haad Rin Beach where the Full Moon Party takes place.
This means it's within stumbling distance from the epic party so, once you're done revelling, you can easily retreat to your luxurious room or the multi layer beach front pool to rest and recover.
The resort has a modern industrial style and rooms come with mountain or sea views. Some suites even have a private plunge pool overlooking the ocean. The property offers a free pick-up service from Haad Rin Pier for added convivence. Check Prices
These traditional wooden huts surrounded by coconut palms just steps from Hin Kong beach will immerse you in the tropical resort lifestyle for a budget friendly price. There's a small pool and the beautiful beach is just steps away.
The room prices are very reasonable, all the huts have a balcony, some with sea views. There's also a shared kitchen. The hosts treat guests like family and are very knowledgeable about the local area. Check prices here
How to get to Koh Phangan
Ferries from Koh Samui go regularly to Koh Phangan taking between 30 minutes and 1 hour, and then continue onwards to Koh Tao.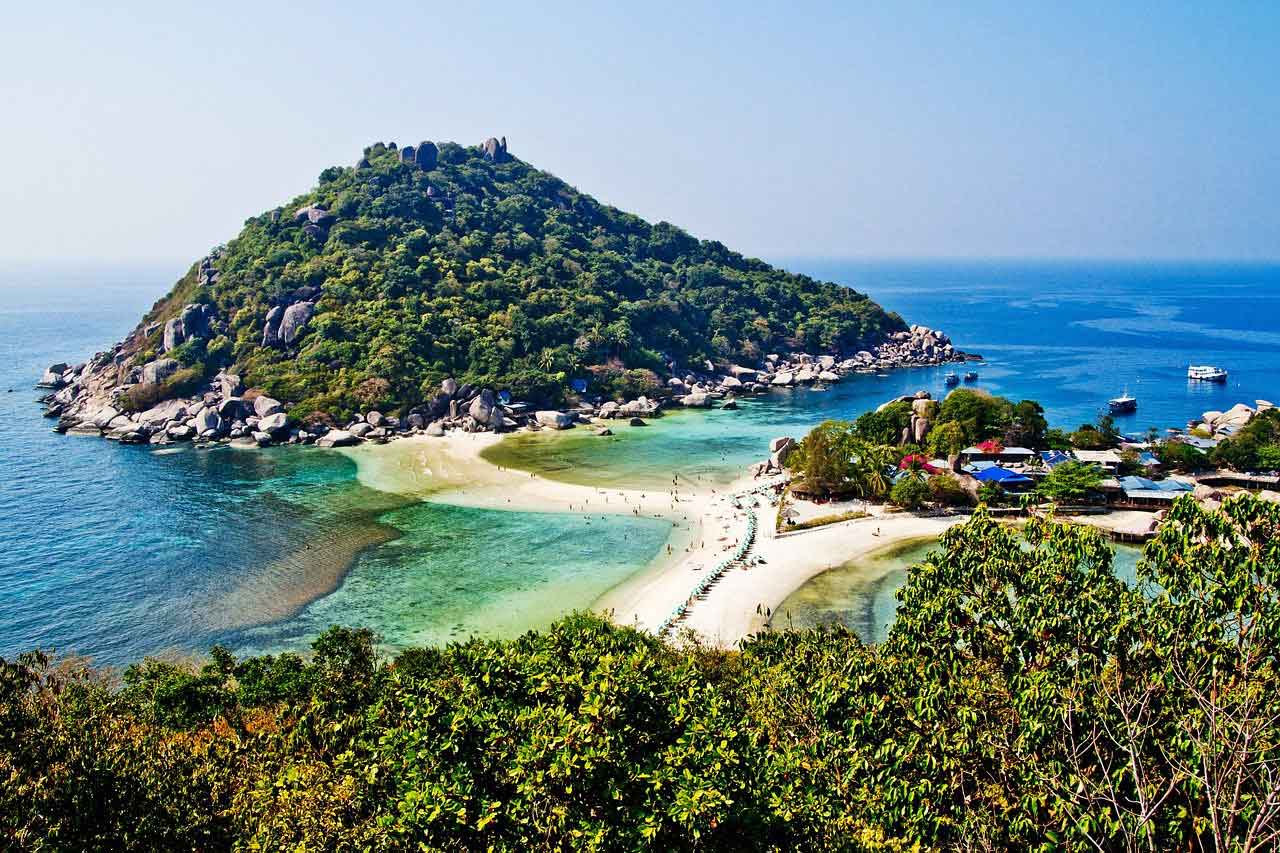 Koh Tao – 2/3 days
The tiny turtle shaped island of Koh Tao is one of the best places not just in Thailand but in the whole world for scuba diving due to its colourful and vibrant coral reefs and warm tropical waters.
Koh Tao is one of the best, and cheapest, places in the world to do your PADI open water course and learn how to scuba dive.
If you only have 2 weeks in Thailand and still want to give diving a try you can also do a 1 day discover dive, or just go snorkelling.
Under the water you have the chance to see turtles, rays, whale sharks, and numerous other species of fish and wildlife.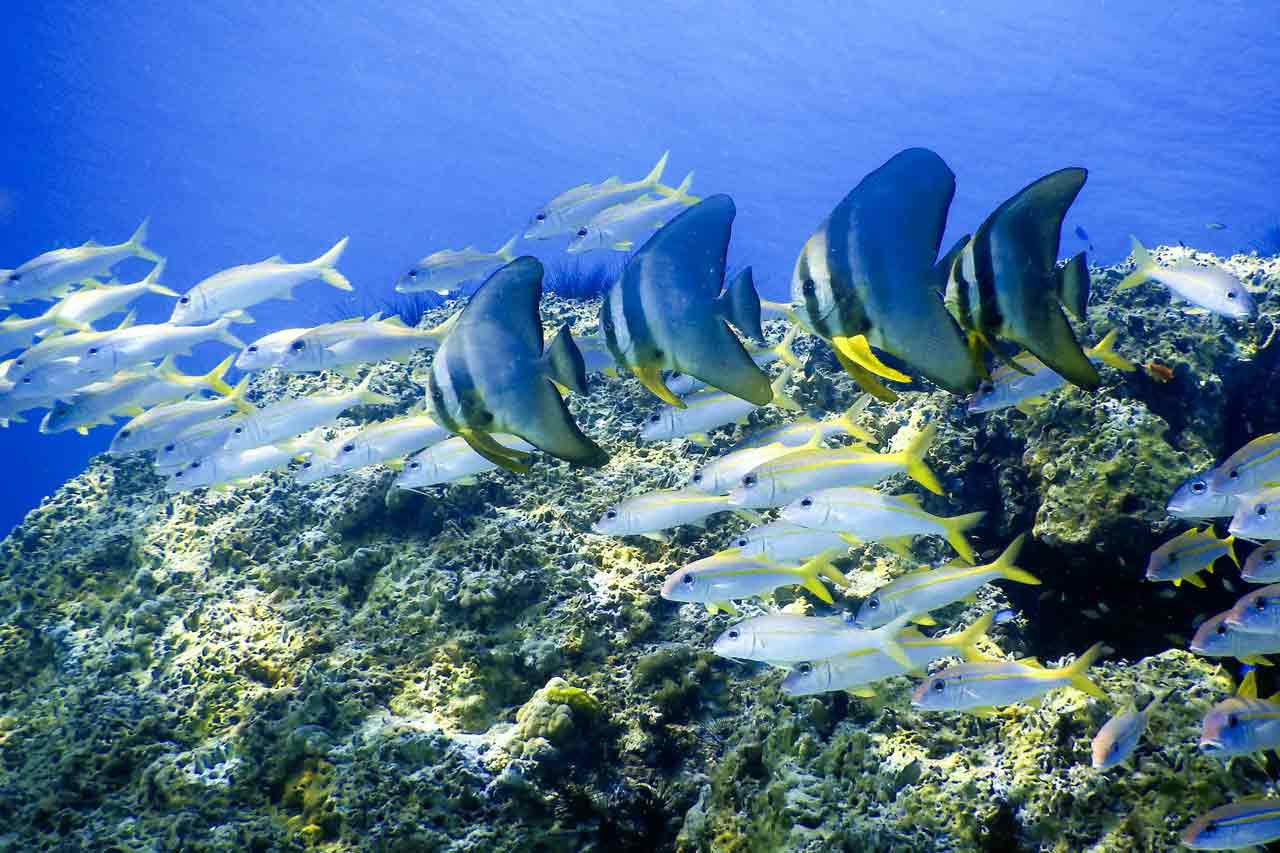 The island is also home to many beautiful bays, groves, and secluded beaches. Don't miss the trek up to the Koh Nang Yuan viewpoint to take in the gorgeous panorama.
Most diving courses take 3 or 4 days, so if you want to do both the Full Moon party on Koh Phangan and a diving course in Koh Tao you might want to spend less time on Koh Samui to fit it all in to a 2 week Thailand itinerary.
Koh Tao has a party scene too, Sairee Beach is where most of the amenities and nightlife are but can be a noisy place to stay.
Where to Stay on Koh Tao
Air conditioned wooden bungalows nestled in luscious gardens and tropical jungle with a lovely pool area and a restaurant overlooking the beach.
The property is conveniently located overlooking Mae Haad Beach, a good snorkeling spot. It's also within walking distance from the port and popular Sairee Beach but far away enough from the nightlife so that you can get some sleep! Check Prices
This beautiful resort has a huge variety of rooms so there's something to suit all budgets. The spectacular sea views allow you to soak up Koh Tao's beauty right from your accommodation.
Located near to popular Sairee Beach, the island's nightlife is close by and the hostess will always do her best to make your stay truly exceptional. Check prices here
How to get to Koh Tao
The ferry from Koh Phangan to Koh Tao takes about 1 hour. From Koh Samui it's closer to 2 hours.
After Koh Tao, head back to Koh Samui for better onward travel options. Take a ferry and bus or train combination or catch a flight from Koh Samui back to Bangkok to catch your flight home.
The Andaman Coast
Thailand's Andaman Coast is where you'll find the picture postcard beaches you've been dreaming of.
Hundreds of emerald, jungle covered islands with soft white sands, sparking turquoise seas, towering limestone cliffs and colourful long tail boats.
The Andaman Coast is home to some of the most famous spots in Thailand like Phuket and Koh Phi Phi and is where movies like 'The Beach' and 'James Bond – The Man With The Golden Gun' were filmed.
If you only have 2 weeks in Thailand, or less, then basing yourself in Phuket and taking island hopping day trips and tours will allow you to see the most in the time you have. This 7 day Phuket, Koh Phi Phi and Krabi itinerary shows you how to fit all the of the Andaman Coast into a 1 week.
Unsurprisingly it's one of the most popular tourist destinations in Thailand, but the beauty still exceeds the hype.
Phuket – 2/3 days
Phuket is Thailand's largest island and known as the Pearl of the Andaman Sea. Sometimes it doesn't feel so much like an island but it's the best destination for those who want to experience a bit of everything in one easy package because there's so many things to do in Phuket.
Phuket offers a huge range of beaches, hotels, attractions, restaurants, bars, spas and tour packages. From island hopping boat trips, water sports, diving, snorkelling, zip lining, and white water rafting to visits to temples, elephant sanctuaries and night markets, there's something for everyone in Phuket.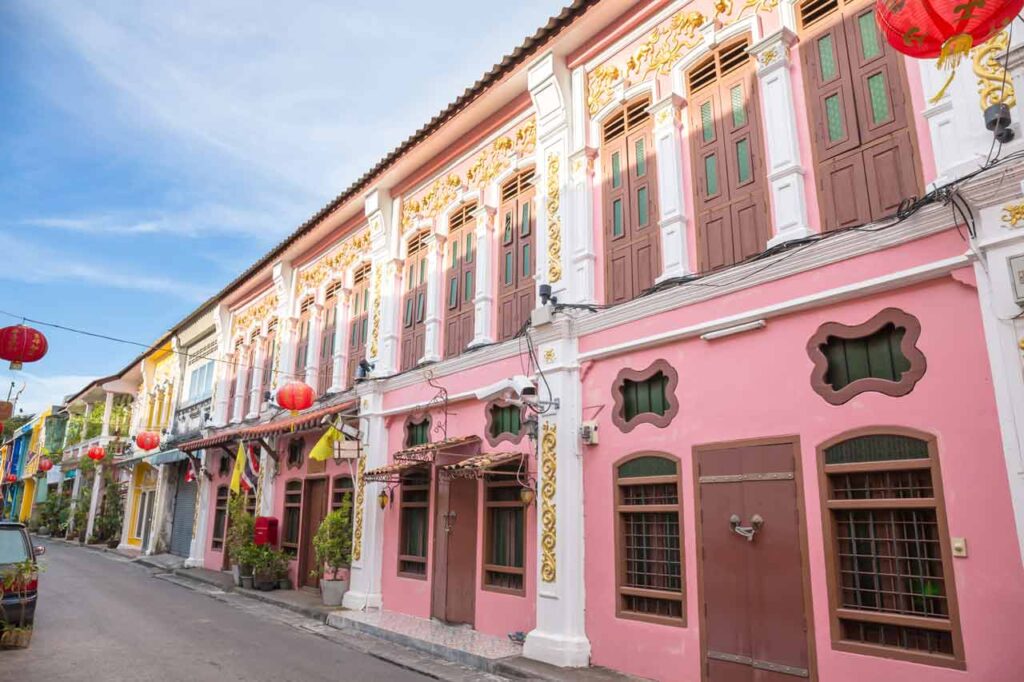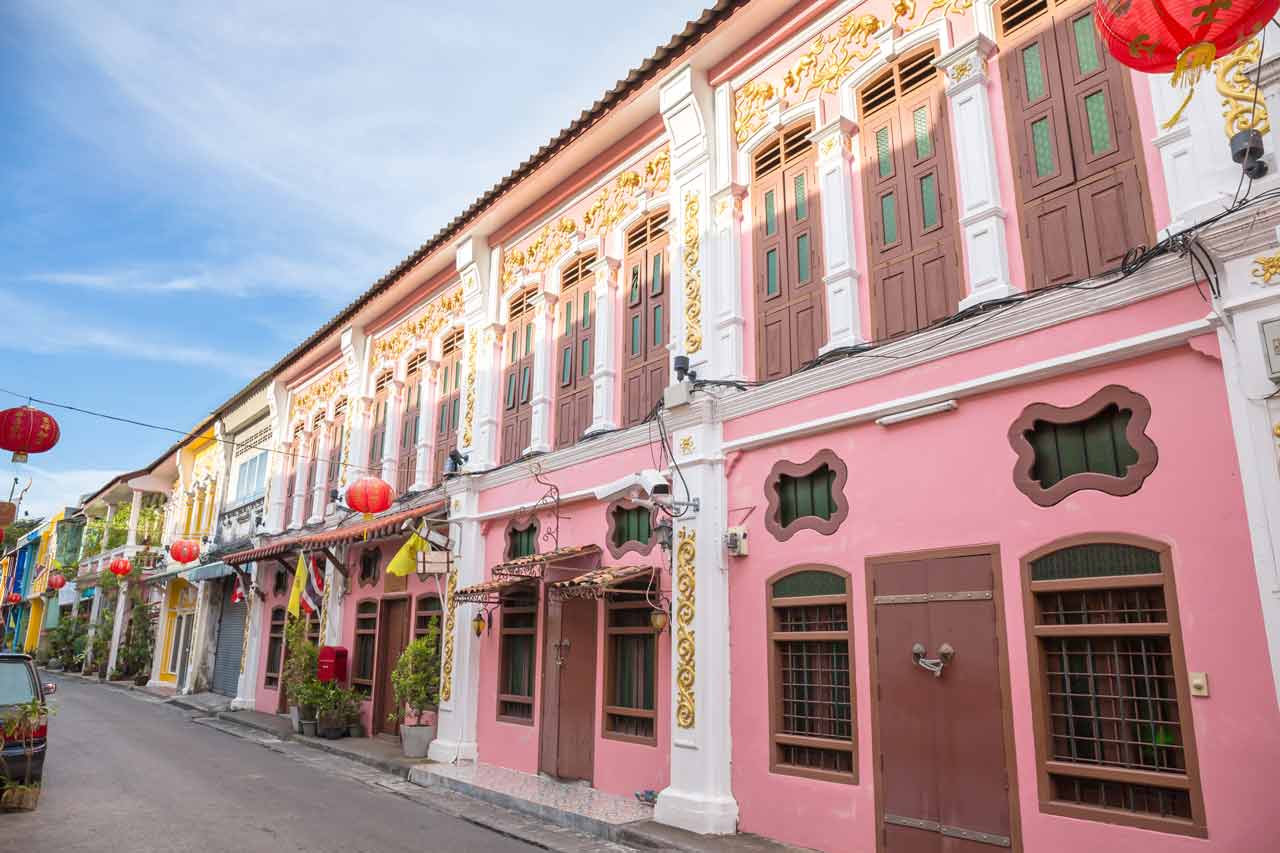 The legacy of Phuket's history as a rubber and tin trade post is seen in the colourful and pretty old Phuket Town which blends many cultural influences with arty coffee shops, boutiques and galleries. It's a delight to explore and very photogenic.
Nature lovers will enjoy exploring Sirinat National Park and Khao Phra Thaew Royal Wildlife and Forest Reserve, home to the Phuket Gibbon Rehabilitation project. Phuket is the best family holiday destination in Thailand and there's plenty of family friendly activities.
Another highlight is Wat Chalong and the Big Buddha statue which offers wonderful vistas from Phuket's finest viewpoint.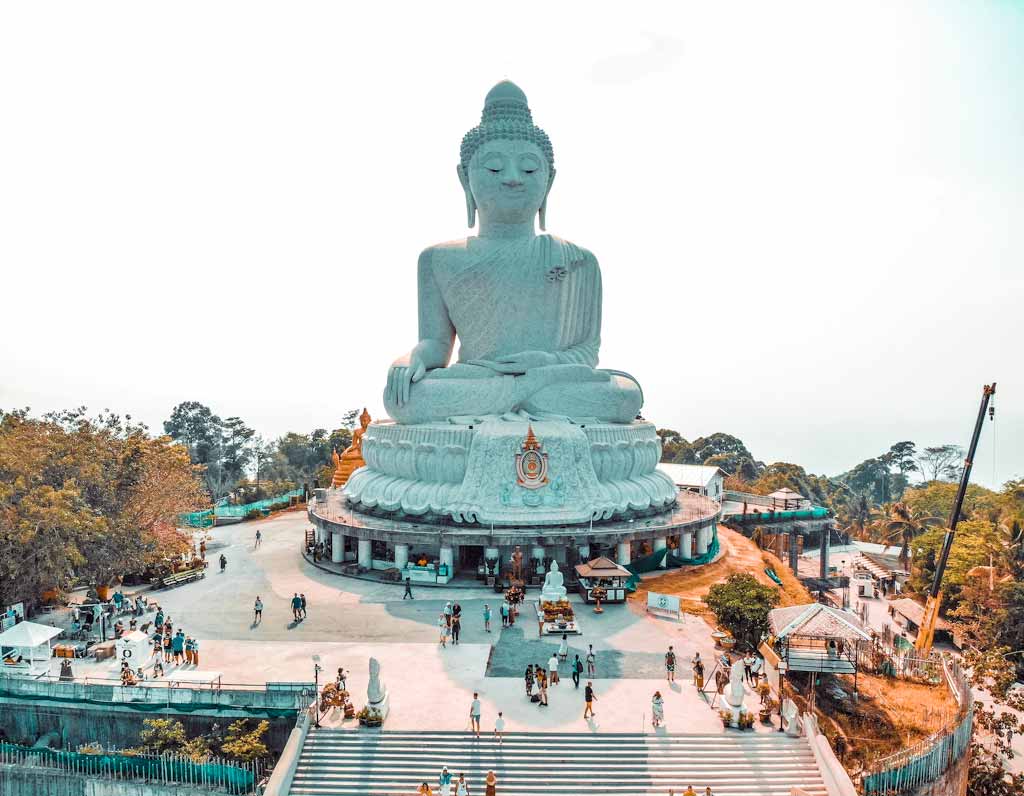 Phuket makes a great base for exploring the hundreds of other beautiful Andaman sea islands. Tha Rassada, 3km south of Phuket Town, is the main pier for boats, ferries and day trips to the Phi Phi islands, Krabi and beyond.
One of the best excursions from Phuket is to the insanely pretty (and popular) Koh Phi Phi islands and Maya Bay. For a more relaxing two weeks in Thailand itinerary I'd recommend just taking a day trip to Koh Phi Phi and Maya Bay, unless you want to party as Koh Phi Phi Don has become quite the party island.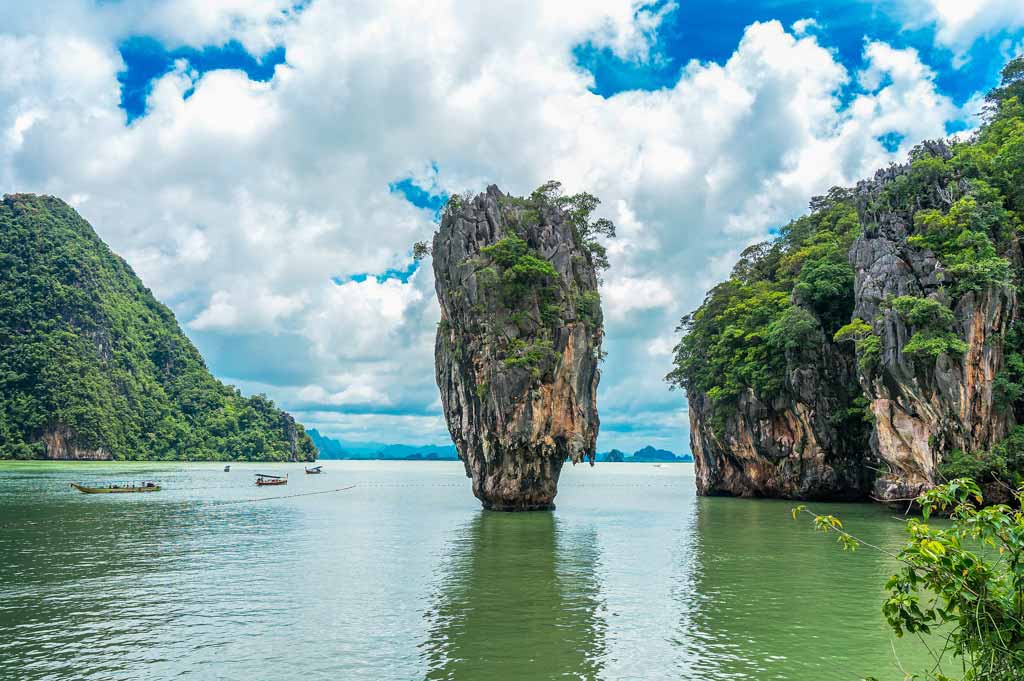 Another great day trip is to Ao Phang Na National Park, Phang Nga Bay and James Bond Island where you'll see some of Thailand's most spectacular sights, have lunch at a fishing village and have fun swimming and canoeing. Check it out here.
Where to Stay in Phuket
Simply stunning 5 star resort located on Karon Beach, a long sandy beach that offers a more peaceful stay than busy, and slightly sleezy, Patong Beach. Here you get the best of both worlds as the resort offers a free shuttle if you want to check out Patong's nightlife which only takes 10 minutes.
As well as the five swimming pools, each with a pool bar, and breath taking views from the restaurant, the highlight at Mandarava is the villas which feature a private, over water deck with direct swimming access to the main pool. Check Prices
This is a great value for money modern hotel complete with a swimming pool, light and spacious rooms with views over the city. The location in Phuket Town is a convenient base for exploring the rest of the island. Check prices here
As the largest island in Thailand, there's numerous beaches in Phuket, all with a range of accommodation options from fabulous luxury resorts to backpacker hostels. Read this guide to the best places to stay in Phuket which goes into much more detail.
How to get to Phuket
Phuket has some of the best transport connections to the rest of Thailand and abroad with an international airport and many bus and boat connections which make it quick and easy to visit even if you're short on time.
If you're coming from Koh Samui you can fly directly to Phuket airport with Bangkok Airlines in just 1 hour.
You can also take a ferry and bus combination ticket which takes between 6 and 8 hours.
Koh Phi Phi Don – 1 or 2 days
The small islands of Koh Phi Phi Don and Koh Phi Phi Leh are possibly the most beautiful islands in Thailand. These idyllic slices of tropical paradise shot to fame after the movie 'The Beach' was filmed in Maya Bay on Koh Phi Phi Leh.
The forested island still doesn't have any roads but boat rides and treks through the jungle will lead you to discover quiet bays away from the lively nightlife hub of Ton Sai Village and Ao Lo Dalam. The steep hike up to the Koh Phi Phi viewpoint is well worth it for the panoramic vistas.
There's no accommodation on tiny Phi Phi Leh, and due to the island's popularity you can no longer camp on Maya Bay, but long tail boat trips and sunset cruises around the islands are a great way to soak up the stunning scenery.
Snorkelling and scuba diving offer the chance to swim with reef sharks and you can also rock climb the limestone cliffs.
Where to Stay in Koh Phi Phi
Spacious air conditioned bungalows and villas with teak wood furnishings and private balconies, most with sea views. There's also a coffee bar, restaurant, beachfront cocktail bar, massage parlour and a swimming pool complete with sunset views.
The resort is situated in Hat Yao (Long Beach) which offers a gorgeous beach with good snorkelling and is a peaceful escape from noisy Ton Sai Village and Ao Lo Dalam. Take the free boat transfer service to Ton Sai pier or a 30 minute walk to enjoy the bars and clubs and then retreat back to the resort for a peaceful nights sleep in paradise. Check Prices
Affordable and simple yet still beautiful huts made from natural materials surrounded by lush, tropical vegetation on a private sandy beach. One of the best budget resorts in Thailand. Check prices here
How to Get to Koh Phi Phi
Ferries regularly run to Koh Phi Phi from Phuket and Krabi.
The speedboat from Phuket is the quickest way and only takes 1 hour. From Krabi it takes about 2 hours.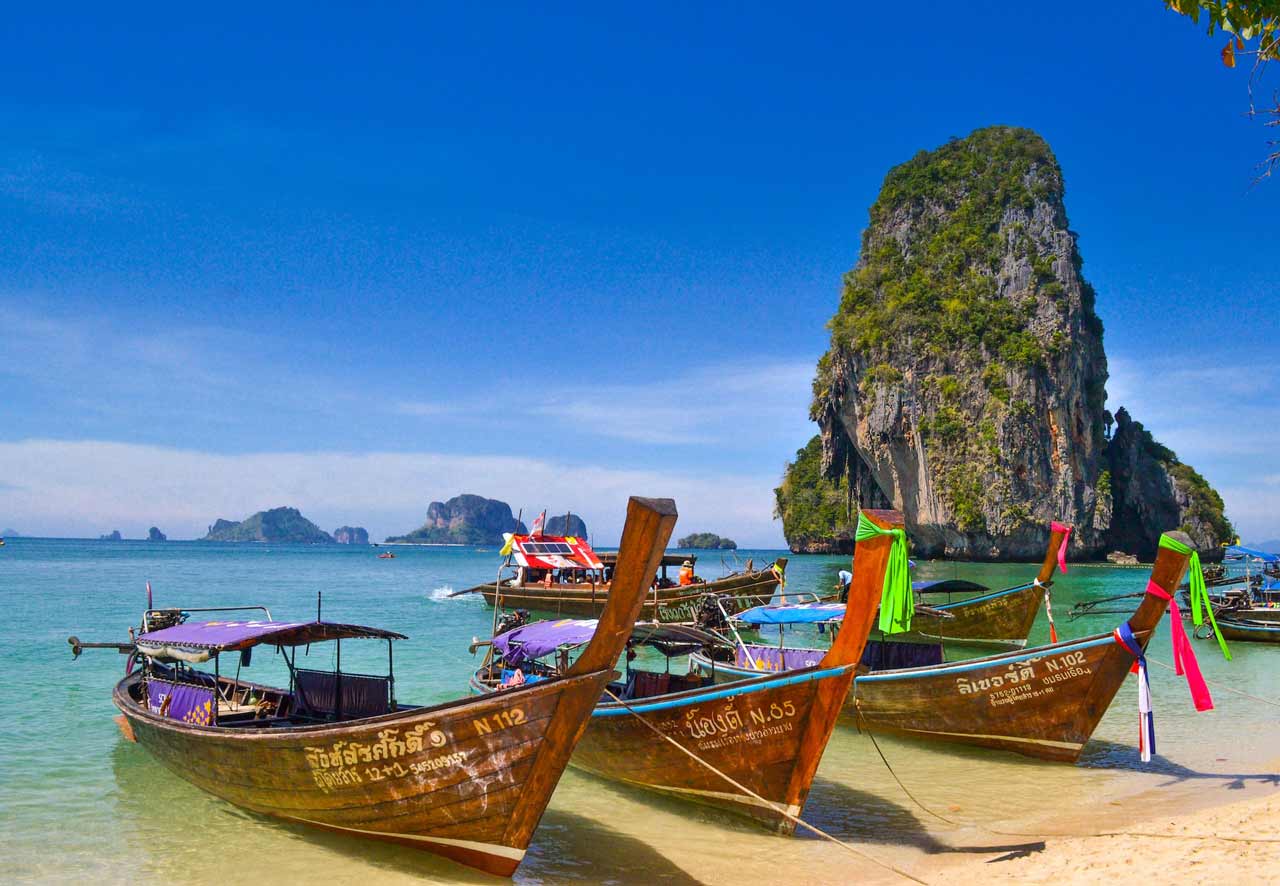 Krabi –  2/3 days
Krabi is home to spectacular limestone karst formations that tower over the ocean, dense forests, a 150-kilometer coastline, and tons of tiny islands just outside of its shores. For beachside stays in Krabi head to either Ao Nang or catch a long tail boat to Railay Beach.
The picturesque towering cliffs of Krabi's Railay Beach are a dream for rock climbing. As Railay is cut off from the mainland by thick jungle and rugged cliffs getting there is an adventure in itself – it's only accessible by boat.
Other things to do here include taking a long tail boat trip to visit five nearby islands in one day, sailing to penis cave – a shrine to fertility, visiting the night market in Krabi Town, taking a trip out to Wat Tham Seua – the tiger cave temple, and experiencing the hot springs and freshwater pools at Khlong Thom. Check out more excursions from Krabi here.
Krabi is more laid back than Phuket and less busy than some of the other spots in southern Thailand, but still one of the most beautiful places to visit in Thailand.
Koh Lanta is also a good option if you want to escape the crowds, but might be tricky to fit in to a 2 weeks in Thailand itinerary.
Where to Stay in Krabi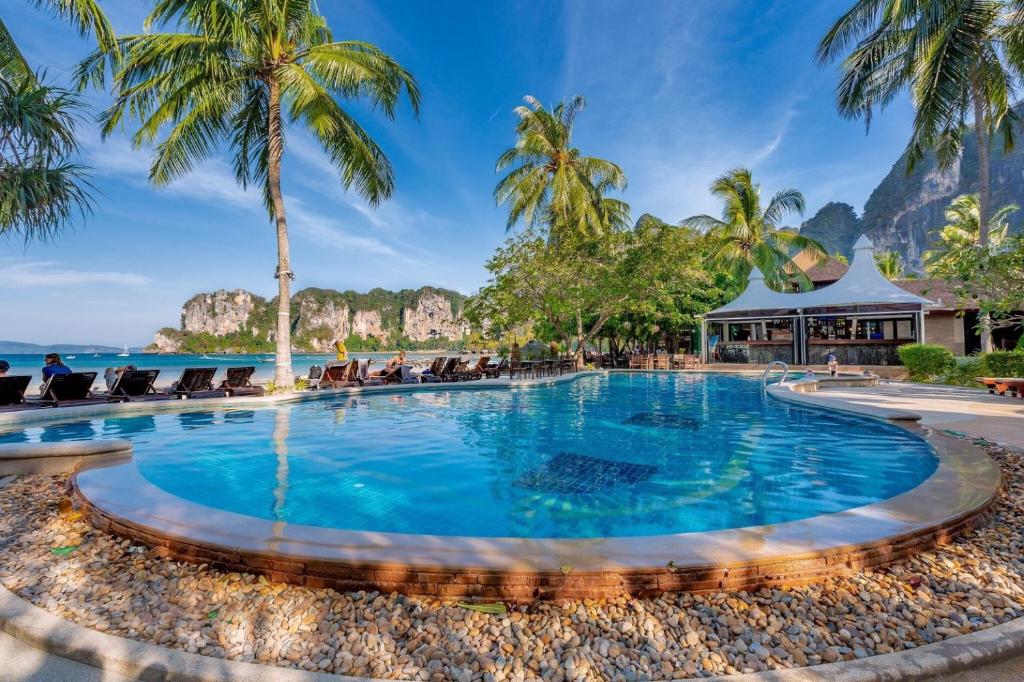 Tropical style luxury rooms and cottages are nestled in nature amongst the dramatic limestone cliffs offering the best accommodation in the area.
The stunning sunset views over the ocean from the beachfront swimming pool are a real highlight and the airport shuttle service makes getting to paradise a breeze. Breakfast comes included and the pizza and seafood restaurant, spa, tour desk and room service complete the package.
Go for a deluxe room or splash out and book a cottage with either a spa bath or private pool in the private garden for an extra special experience. Check Prices
This modern budget hotel with spacious rooms and helpful staff is located right in the centre of Krabi town and makes a convenient base from which to explore the area. Check prices
How to get to Krabi
Boats take about 2.5 – 3 hours from Phuket and about 2 hours from Koh Phi Phi.
You can also take a minivan or taxi from Phuket to Krabi which takes about 3 hours.
Bangkok Airways also has direct flights from Koh Samui to Krabi which take 1 hour if you wanted to explore both coasts.
Back to Bangkok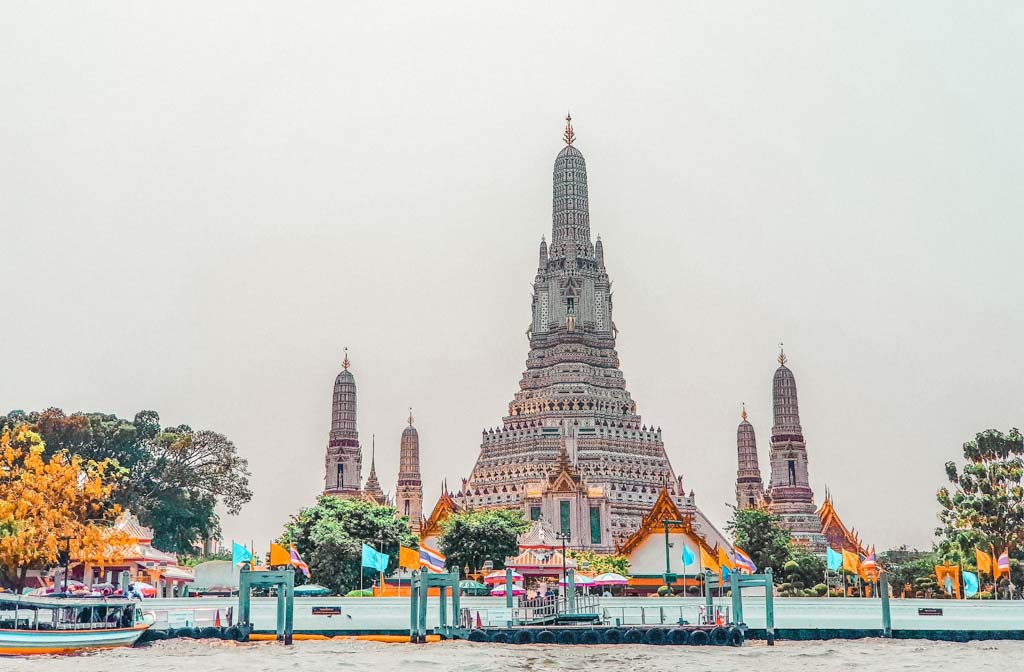 It's just a 1 hr 20 min direct flight from Krabi back to Bangkok to catch your international flight home.
I'd recommend allowing time in your 2 week Thailand itinerary to get back to Bangkok with plenty of time to make your next flight, maybe spending one more night in Bangkok to eat some last pad thai, visit one more temple, get one more massage and do some last minute shopping and bring a bit of Thailand back home with you.
Essential Thailand Travel Tips
Now you've got a better idea of how to plan your perfect 2 weeks in Thailand itinerary, here's all the other essential travel tips you'll need to plan your trip and start your adventure of a lifetime!
When to Visit Thailand
One thing that's really important to know before you plan a trip to Thailand is the best time to visit Thailand. Tropical Thailand is warm all year round but there are three different seasons in Thailand: hot, cool, and wet.
The best time to visit Thailand is in the cool season from November/December – February/March where sunny, clear skies and warm (not unbearably hot) temperatures are the most pleasant for traveling and sightseeing and beach days.
A highlight is the Loi Krathong festival. Celebrated in Northern Thailand in November where you'll witness hundreds of lanterns being released into the air.
This is also the peak tourist season so it will be busier and prices will be higher. So it's best to book ahead, especially in December and January and around Christmas and New Year.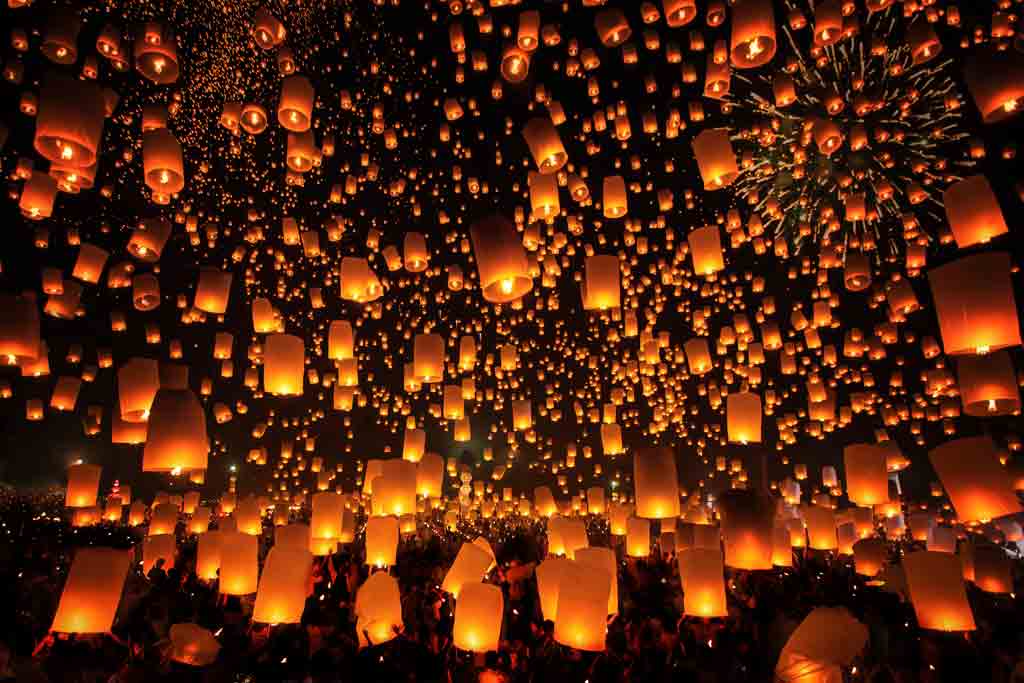 April and May are still dry and sunny but can be uncomfortably hot for sightseeing in the North but a good time for relaxing on the beaches. Celebrating Songkran, the Thai New Year on 13th April can be fun but book accommodation and transport well in advance.
June, July and August see the start of the rainy season, which increases in intensity as it progresses. At first it's usually just a short afternoon downpour that brings a welcome relief to the heat and humidity. See more about the advantages and disadvantages of traveling in the rainy season.
Phuket and the Andaman Coast experience the most rain in September – October, but the Gulf is still pretty dry at this time.
Koh Samui and the Gulf of Thailand witnesses downpours from November to December, but the Andaman coast has mostly dried up by now.
If you are looking for beach bliss just avoid those months or switch to the opposite coast.
Getting to Thailand
Bangkok has two airports and is well connected to the rest of the world which makes getting to Thailand easy.
Bangkok's Suvarnabhumi international airport (BKK) handles long haul international flights and Don Mueang (DMK) handles flights within Thailand and Southeast Asia.
Thailand's network of low cost domestic flights make getting around quick and easy with airports in popular destinations including Chiang Mai, Phuket, Koh Samui, Krabi and more.
Visas for Thailand
Getting in to Thailand is easy as the country offers 30 day visa free entry to most nationalities including U.K., U.S.A., Australia, Canada, New Zealand and most European countries.
You can only get the 30 days visa free if you arrive to Thailand via air with an onward ticket. If you arrive by land you only get 15 days visa free.
If you fall in love and want to stay longer you can extend your visa by another 30 days at an immigration office and paying about 2,000 baht. Or, apply for a longer visa at any Thai Embassy before you enter Thailand.  More visa info here.
Covid-19 Update: Thailand is now fully open! From 1st October 2022, Thailand no longer requires travellers to show proof of vaccination or a negative COVID-19 test result. The length of stay allowed with the visa exemption has also increased from 30 days to 45 days.
Be aware that this can change depending on the covid situation. Check the latest entry requirements and keep up to date with the latest news from the Thailand Tourism Authority.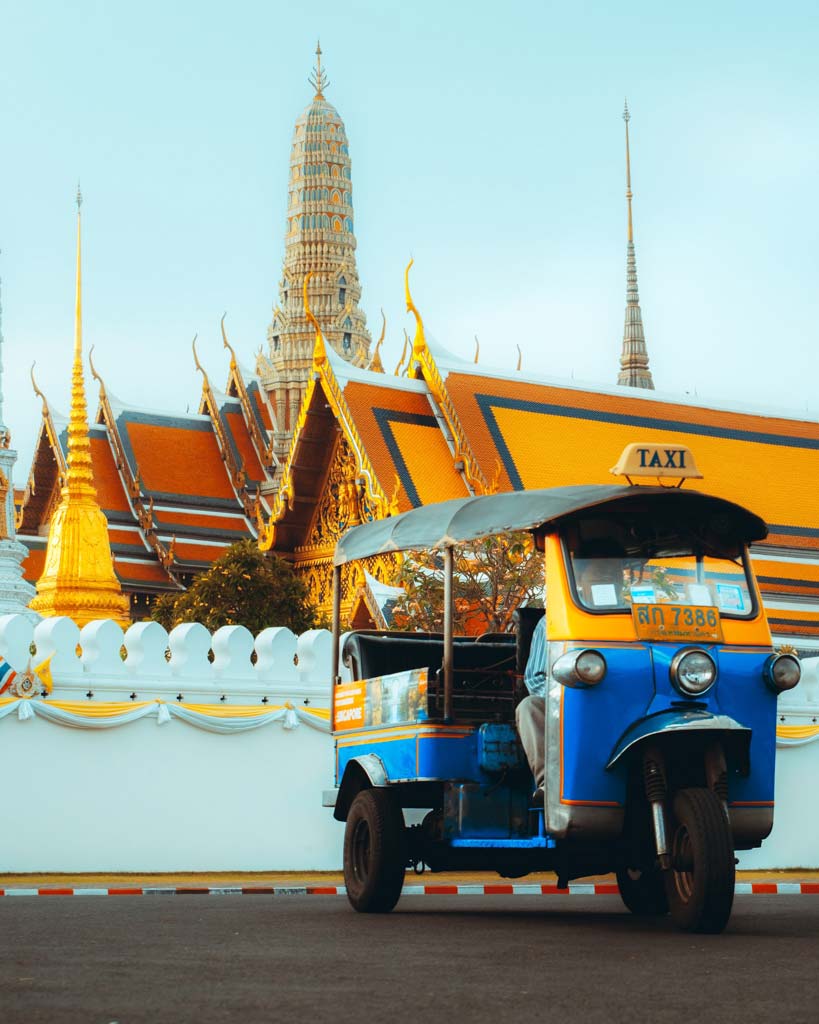 Getting Around Thailand
Thailand's transportation system is modern and efficient which makes getting around Thailand safe and easy. Trains, buses, flights, boats, taxis and tuk-tuks operate all over the country.
Trains are comfortable and can be a fun way to get to know some of the locals. Taking an overnight train can also save on a night's accommodation.
Thai Buses are mostly modern, convenient and comfortable, especially if you book one of the luxury air conditioned buses that run frequently between major towns and tourist destinations. Minivans are also an affordable way to travel but can be cramped for long distances.
When planning your 2 week Thailand itinerary in advance you can book your transport online easily using 12 Go Asia
Accommodation Options in Thailand
Thailand has all types of accommodation, whether you're looking for luxury 5 star hotels with spas and rooftop pools, yoga retreats, affordable guesthouses and backpacker hostels plus everything in between.
You're spoilt for choice when it comes to accommodation in Thailand and prices are often considerably cheaper than you'll find in Europe or the US.
In this post I've recommended mid range hotels and resorts for each destination that I feel represents both a great experience and great value for money without breaking the bank, but both ultra luxury and ultra cheap options are also available.
You can also find plenty of hotels including budget options on Booking.com and Agoda also offers great deals on hotels in Asia.
Thailand Tours
Thailand is quite safe and easy to travel independently but if you want to take the hassle out of planning and arranging your Thailand itinerary for yourself, or if you're a solo traveller and don't want to travel alone, then considering a small group multi day Thailand tour is a good option.
Taking a tour of Thailand will allow you to see all the highlights in a shorter period of time and are a good option if you want to fit as much as possible into a short trip.
If you pick the right tour you'll also be traveling with a group of like minded people and make plenty of new friends. Tours often include some more off the beaten track and less touristy experiences that you might not have known about or that might be harder to reach on your own.
My favourite tour companies are G Adventures or Intrepid Travel. You can also search through all the Thailand tours available from hundreds of companies on Tour Radar.
Taking guided tours are a great way to get to know more about the history and culture of country and can really bring a destination to life.
Day trips and island hopping tours are also a good way to see the highlights of other areas without the hassle and time spent switching hotels or organising it all on your own.
For guided tours and day trips I recommend Get your Guide where you can see all the activities and trips available, check out reviews and book them online in advance to save the time and hassle of organising it after you arrive, and the risk of missing out if the trip you want to take is fully booked.
The Lonely Planet Thailand Guidebook is packed with useful information for pretty much every tourist destination in Thailand. It's invaluable for both planning your Thailand itinerary and for taking on the road with you.
Travel Insurance
Thailand is generally a very safe and welcoming country to travel in but whenever you travel abroad you shouldn't leave home without travel insurance in case you fall ill, have an accident or have to cancel your trip.
It's even more important nowadays to get travel insurance that covers Covid-19 related illnesses, cancellations or delays.
I recommend World Nomads for shorter trips or, if you're a digital nomad or already traveling, you can get covered with Safety Wing. Both cover Covid 19.
Read more of my posts about Thailand here.
I hope you found this post useful and that it helps you to plan your own perfect 2 week Thailand itinerary.
Have an amazing trip to Thailand!