Why Byron Bay is a great place for backpackers
Magical Byron Bay is home of the hippies, the surfers and the free spirits. It's a place that's world famous for it's good vibes and relaxed lifestyle so it makes sense it's one of the most popular destinations for backpackers in Australia too.
On the streets of Byron Bay you'll find music artists playing on every corner, and gypsy sellers with their handicrafts. At sunset, people congregate by the main beach for a nightly drum circle jam session, with people dancing and twirling about freely.
There's a lot of awesome things to do in Bryon Bay, from surfing, to yoga, whale watching, skydiving, art, music and not forgetting the great cafes, restaurants and markets and soaking up the beautiful scenery.
Don't miss walking up to the famous Cape Byron Lighthouse, the most easternly point of Australia, where you can enjoy stunning views over the beaches. It's especially beautiful at sunrise.
Also try and make a trip out to explore the Hinterland, hang out in Nimbin, a creative hippie town just 1 hour away from Byron. Or get off the beaten track and explore the uncrowded beaches and other things to do in nearby Lennox Head.
Pin Me 🙂
Why you should stay in a backpacker hostel in Bryon Bay
If you've never been to Byron before, or even if you're a seasoned Byron visitor, staying at a backpacker hostel in Bryon Bay is always a great idea if you want an affordable and sociable place to stay.
Byron's eclectic, free-spirited people hang out in many various kinds of communal living arrangements, including the many backpacker hostels in Byron Bay, as community spirit is a value held true in this town.
This means that at Byron's backpacker hostels you'll be able to meet like-minded travellers and interesting people (even resident hippies who seem to be part of the furniture!) You'll also be able to find out the most up-to-date tips offs on where to eat, what to do, places to hangout too.
The many backpacker hostels of Byron Bay is part of what helps keep the hippie spirit of the town going and going so it's the best place to stay to soak up the unique Byron vibes.
5 Best Backpacker Hostels in Byron Bay
To help you get started planning your trip, here's my pick of the best backpacker hostels in Byron Bay.
If you're looking for those original Byron Bay hippie vibes then look no further, this is by far the best of the backpacker hostels in Byron Bay for that free spirited feeling.
The Arts Factory Lodge was created in the 70s by hippies and locals, and has a rather similar vibe to some of my favourite hang out spots and hostels in Goa.
The hostel is joined with the Buddha Bar Restaurant, where there's live music every night, performances and talent shows.
There are on-site workshops including things that are a little different like drumming and fire twirling. The hostel is also a handy 10-minute walk from the town centre and beach.
Click here to book your stay at the Arts Factory Lodge in Byron Bay.
Cape Byron YHA is one of the best backpacker hostels in Byron Bay for those really down-to-earth, relaxed, hippie vibes that draw people to the beachside town from around the world.
This place has a huge pool and BBQ area that's full of people hanging out all through the summers.There are surfboards for rent if you'd like to hit those famous Aussie waves, free daily walking tours to the lighthouse and lots of freebie giveaways and deals daily.
Facilities are well maintained and the free Wi-Fi reaches to all the dorm rooms too, which is always a plus point. Click here to book your stay at Cape Byron YHA.
Wake Up is by far one of my favourite backpacker hostels in Byron Bay and it's not hard to see why from the minute you walk inside! The hostel has a real beach bohemian vibe and a modern décor fit out.
There are both dorm rooms and private rooms available here with personal bedside lights, power points and USB ports included for every bed.
It's located just a short 2-minute walk from the stunning Belongil beach and there are bikes and surfboards for hire here too.
If you're wishing to read a book and have a quiet chill out day or you're a digital nomad like me, you'll love the beautiful courtyard and free high speed internet.
Click here to book your visit to Wake Up! Byron Bay.
Aquarius Backpackers is a great hostel if you're looking to meet people and party whilst in Byron Bay, with feel good music always playing, a large bar pool hang out area and good vibes all round.
There are activities and entertainment every night, a nice restaurant serving an extensive menu with generously sized meals, and you'll be served a free drink on arrival! There's even a free delicious dinner served every night!
Rooms and facilities are well-kept and the staff are also really tentative here to help ensure you have a great stay. This place is one of the must check out backpacker hostels in Byron Bay. Click here to book a stay at Aquarius Backpackers.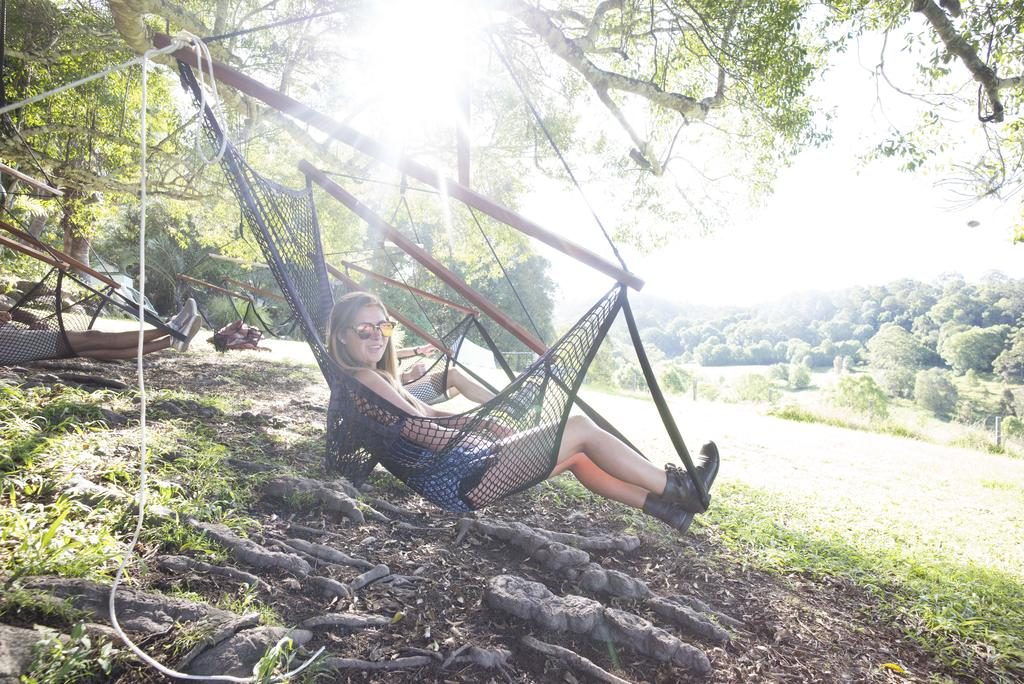 If you're thinking of taking a trip out to Nimbin, don't miss Nimbin Rox YHA, it's by far one of the best backpacker hostels in Byron Bay and Nimbin area. The location of the hostel is in a stunning, tranquil area, and they offer both dorm and bell tent glamping accommodation options.
The facilities are beautifully spread out so you can relax in peace, be in in the hammocks or under a tree somewhere. There's a pool and pool table in case you are looking for some social interaction though, all round this place has a lot of hang out spaces, and there's a long range Wi-Fi which is an added bonus!
Click here to book a bed at Nimbin Rox YHA.
So I hope you've found my tips and recommendations for the best backpacker hostels to stay in Byron Bay useful.
Check out my other posts on the best hostels across Australia and if you've stayed in a great hostel in Byron Bay let me know in the comments below and your recommendations can help out other travellers!
Read More Backpacking Australia Blogs :