India is well known as the birthplace of yoga and home to the most authentic and affordable yoga teacher training courses in the world – so where better to train to become a yoga teacher!
While there are many amazing places to do yoga teacher training in India, if, like me, you love the beach as much as you love yoga, then doing your yoga teacher training in Goa, India is the perfect choice!
Whether you're thinking of changing your career and becoming a yoga instructor or simply want to learn more and deepen your practice joining a Goa yoga teacher training course could be a really life changing experience!
But with so many yoga schools offering such a huge variety of courses it can be overwhelming trying to choose the best one for you.
I started my yoga journey in Goa, India and now I've been living and studying yoga here for over 10 years. So I wanted to combine all my tips into the ultimate guide to yoga teacher training in Goa updated for 2023 to help you on your yoga journey.
Pin Me 🙂
Reasons to do yoga teacher training in Goa
Doing a YTT in India will immerse you in authentic and traditional yoga teachings far beyond just the physical poses and asanas.
Not surprisingly there are many options, nestled at the foothill of the Himalayas, Rishikesh may be known as the yoga capital of the world, but the sunny, laidback beaches of Goa are also one of the best places to do yoga teacher training in India.
With miles of sandy tropical beaches, a lively nightlife scene, colourful markets, spectacular sunsets over the Arabian sea and a unique blend of Indian and Portuguese culture, Goa is the most westernised state of India and offers an easy introduction to India.
There's a huge variety of authentic and affordable yoga retreats and yoga teacher training courses in Goa to choose from in all styles of yoga with certifications ranging from 100 hours and 200 hours to 300 hours and even 500 hours!
All the best yoga schools in Goa are registered with Yoga Alliance so once certified you can be a registered yoga teacher and able to teach anywhere in the world. Most YTT packages include accommodation and meals.
Check out my complete Goa Travel Guide for more info on Goa, India.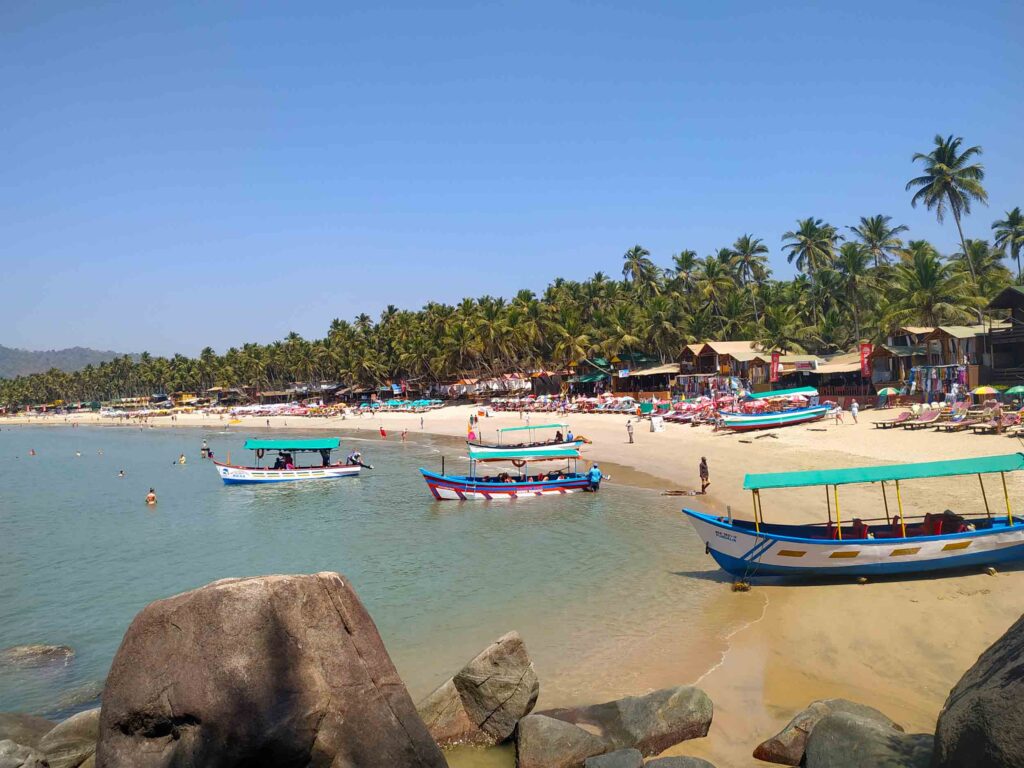 The best places to do yoga teacher training in Goa
North Goa is known for it's buzzing party scene but there are still quieter beaches and yoga schools on Mandrem beach, Arambol beach and in the lovely village of Assagao near Anjuna Beach.
If you want a more chilled out experience then the peaceful and uncrowded beaches in South Goa is the best place to do a YTT. The best yoga retreats and yoga schools in Goa are found on Agonda beach, Palolem beach and Patnem beach.
The average cost of yoga teacher training in Goa
India is one of the cheapest places in the world to do your YTT with prices ranging from $900 – $2000. The average cost of a Goa yoga teacher training is about $1,300.
Most packages include simple accommodation and vegetarian meals throughout the program. Some include airport transfers, massages and local excursions but don't expect luxury facilities though.
Tips for choosing a Goa yoga teacher training course
There's alot of things to consider when choosing a yoga school for your YTT like the certification you'll gain, the location, length and price of the program, the style of yoga taught, the instructors and facilities.
The most popular option is a Yoga Alliance certified 200 hour yoga teacher training course which gives you the skills and qualifications to start teaching yoga and become a registered yoga teacher. Courses usually take about 1 month and are pretty intensive with only 1 day off per week.
If you're not sure which style of yoga you want to learn and teach, go for a multi-style program or traditional classical Hatha yoga teacher training course. In order to be approved by Yoga Alliance all courses will also teach pranayama (breathwork) meditation, yoga philosophy, anatomy, alignment and teaching methodology.
If you don't have time for the full 200 hours some schools also offer a foundation 100 hour yoga teacher training programs but this alone is not enough to become a certified yoga teacher.
Once you've completed the 200 hours course you could further your knowledge with an advanced 300 hour yoga teacher training courses, or if you have time you could go for 500 hours and do them both together!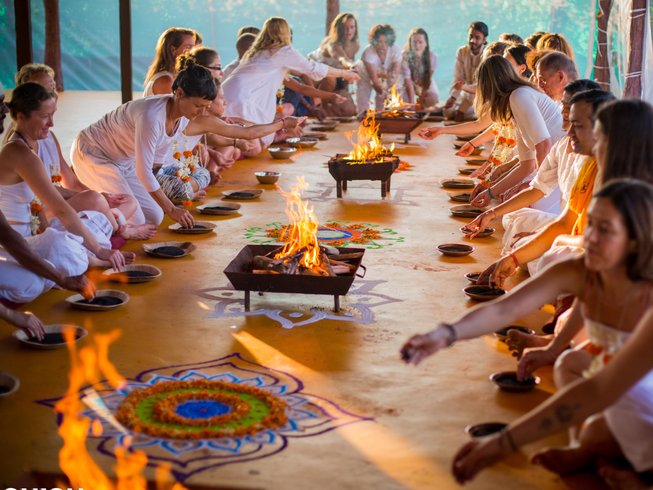 People from all walks of life do a YTT in Goa. Many courses in Goa will accept students without much previous experience but I'd recommend having around 6 months of regular yoga practice to have the best experience.
Even if you don't want a complete career change doing a YTT can be a transformative experience as it will allow you to really deepen your yoga practice, learn about yoga philosophy and anatomy, be immersed in the yogic lifestyle and take time out to find out more about yourself.
Yoga teacher training is physically, mentally, emotionally and spiritually challenging but also very rewarding and could really change your life!
Tips for choosing the best yoga school in Goa
Goa offers authentic and affordable yoga training but not the yoga schools in Goa are equal. YTT is big business nowadays and sadly some yoga centres are more about profit than anything else.
Just because a yoga school shows up high on a Google search it doesn't necessarily mean they offer the best and most authentic teachings – it just means they are good at SEO or pay money to Google ads.
So it's really important to do your research as your YTT is a big and potentially life changing investment. The first step to choosing a good yoga centre is to make sure it is a registered yoga school and approved by Yoga Alliance or the International Yoga Federation.
Facilities in India can vary in quality and sadly not all yoga gurus are the real deal. So check the schools and the teachers reputation and read real reviews from previous yoga students. Solo female travellers have to be especially careful as there have been cases of sexual harassment and sadly #MeToo in yoga is a real thing. I advise checking out the reviews on bookyogateachertraining.com to make sure your experience is safe and enjoyable.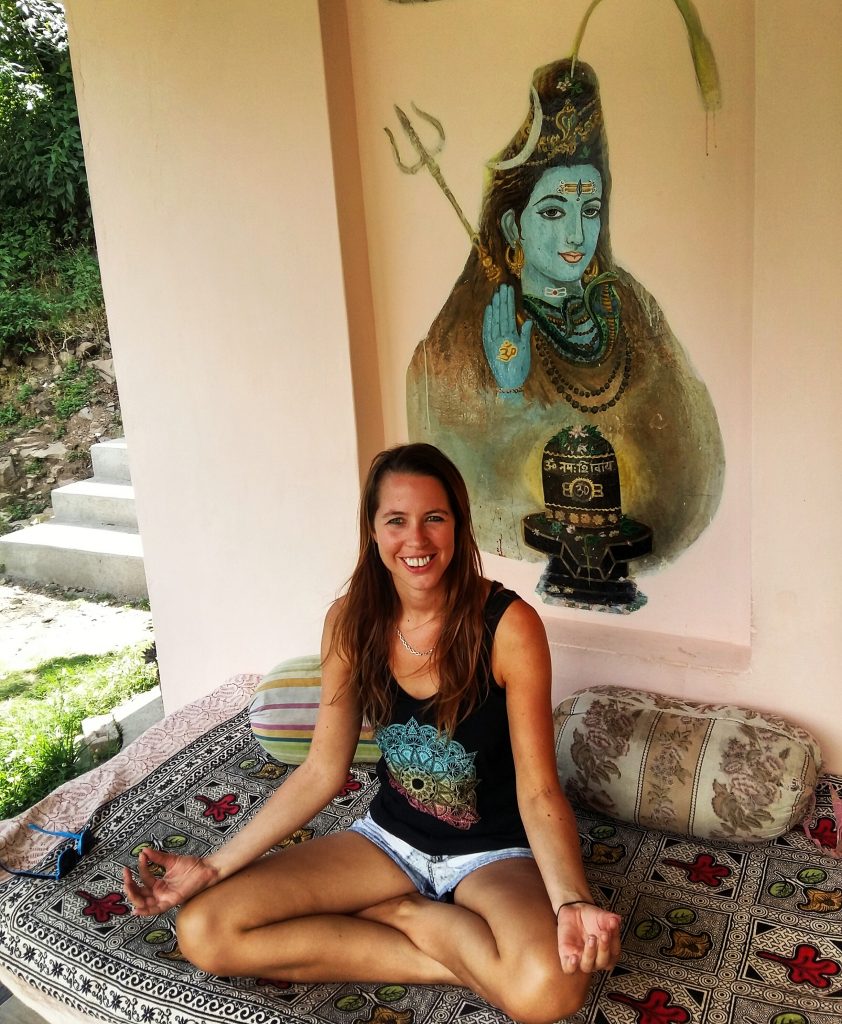 My Pick of the 5 Best 200 Hour Yoga Teacher Training Courses in Goa, India
There's so many options for YTT's that it can be hard to choose. To help you narrow down your search here's my recommendation of the best Goa yoga teacher training courses based on personal experience, recommendations from friends and reviews from other students.
200 hr Multi style YTT @ Sarvaguna Yoga, Agonda beach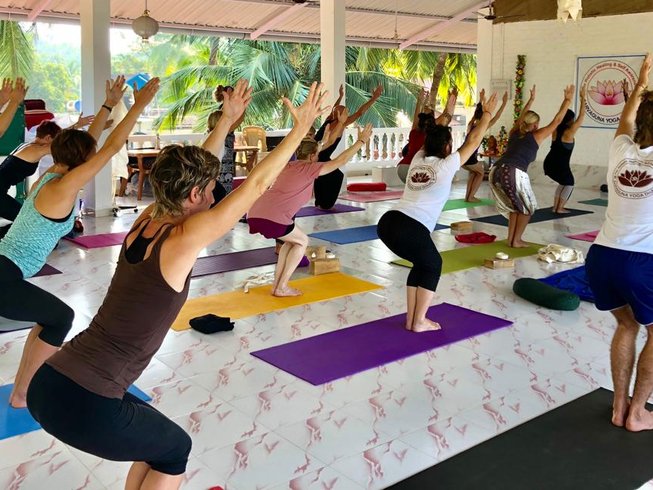 Sarvaguna's 28 day traditional 200 hour yoga teacher training course is one of the best in Goa. You'll take yoga classes in traditional hatha yoga as well as vinyasa flow, restorative yoga, yin yoga, pranayama and meditation with experienced and caring Indian yoga teachers. Dr Keshava Murthy is one of the most highly qualified and best yoga teachers in Goa.
You'll also learn all about yoga history, yoga philosophy, anatomy, alignment and adjustment and teaching methodology with plenty of practice teaching yoga too. At the end of the course you'll leave with a thorough understanding of yoga, the skills to teach others and be eligible to register with Yoga Alliance as a certified yoga teacher.
Sarvaguna is situated in a beautiful retreat centre full of tropical greenery and an open air yoga shala just steps away from the peaceful Agonda beach in South Goa. Accommodation in colourful beach huts, vegetarian meals and airport transfers are also included in the YTT package.
This 200 hour YTT doesn't require any previous knowledge and is also great if you just want learn yoga in depth. They also run a 300 hour YTT for advanced practitioners and a popular 100 hour meditation teacher training program.
200 hr Ashtanga & Vinyasa Flow YTT @ Kranti Yoga, Patnem Beach
Kranti Yoga school has been running one of the most popular courses for yoga teacher training in Goa for over 10 years right on the beach front of the beautiful and peaceful Patnem beach in South Goa.
This 200 hour YTTC takes place over 22 days and focuses on ashtanga vinyasa yoga concentrating on the correct alignment of the postures of the primary series to develop your own Mysore style self practice and be able to teach others. You'll gain a solid understanding of yoga philosphy and get plenty of teaching practice and you will start teaching on week 1. The centre is yoga alliance certified so upon completion you can register as a certified yoga teacher.
This course requires students to already have a regular yoga practice and a basic understanding of the Ashtanga primary series but they also offer 100 hour foundation courses for beginners. There's also the option for an advanced 300 hour YTT and a 500 hour YTT which combines the 200 and 300 hour courses together.
Accommodation in the beach front yoga village and delicious food from the onsite organic ayurvedic kitchen is included. The yoga shalas are open air with sea views, there's a large swimming pool and the best rooms have hammocks and swinging chairs on the balconies from where you can relax and soak up the sea views.
200 hr Multi style YTT @ Kashish Yoga, Palolem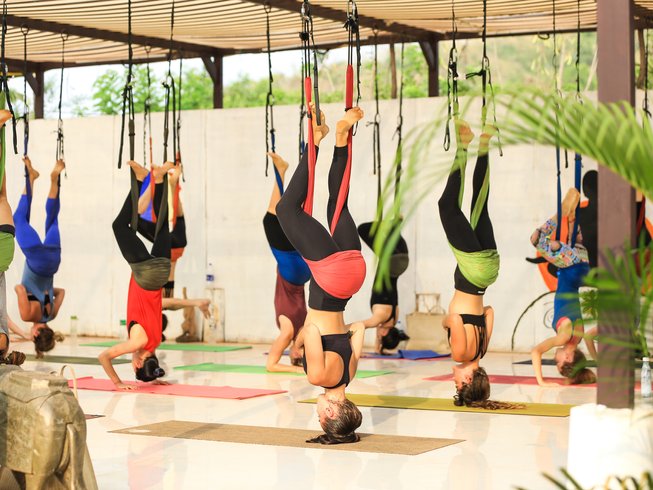 This is not only one of the most diverse and comprehensive yoga courses in Goa, it's also the quickest, taking just 21 days, and one of the cheapest so no wonder it's so popular!
During this course you'll get to experience all styles of yoga including hatha, ashtanga, vinyasa, aerial, yin and even acro yoga. You'll also learn all about meditation, pranayama, yoga philosophy, anatomy, physiology, teaching methodologies and get an insight into the Ayurvedic lifestyle from a diverse range of both Indian and international yoga teachers.
Kashish Yoga is located in a lush, jungle retreat with open air yoga shalas and swimming pool, near to Palolem beach in South Goa. Accommodation in cute bamboo cottages, vegetarian sattvic meals and an airport pickup are all included and the course is approved by Yoga Alliance. A 30 day advanced 300 hour hatha, vinyasa and ashtanga yoga teacher training course is also available.
200 hr Hatha & Vinyasa YTT @ Earth Yoga Village, Palolem beach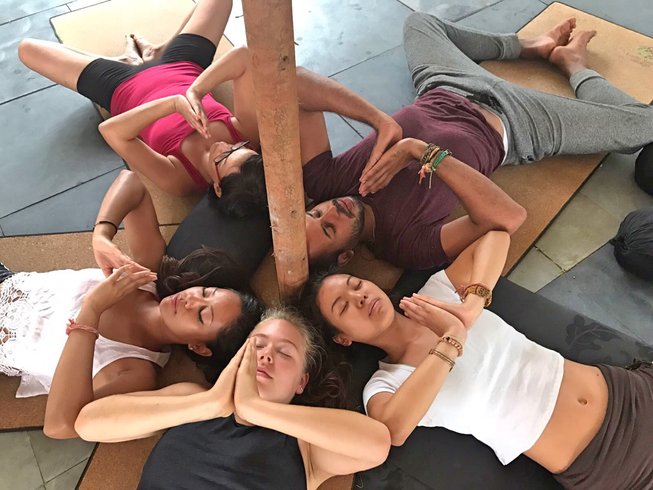 Beautiful and eco friendly, Earth Yoga Village is one of the best yoga retreats in Goa and also runs some of the most popular Hatha and Vinyasa YTTs. This is my favourite course if you are looking for an intimate, eco friendly experience with community vibes that will make you feel like part of the family.
The intensive and comprehensive 200 hour yoga teacher training courses take 2 7 days and are Yoga Alliance certified. As well as hatha, vinyasa and restorative asana practice you'll also learn all about yoga philosophy to help you on your spiritual journey and enable you to inspire your future students. Pranayama and meditation, anatomy, alignment, the art of teaching and the business of yoga are also covered as well as an introduction to Ayurveda, yoga Nidra and Yin yoga.
Earth Yoga Village is located at the quiet end of Palolem beach – the most beautiful beach in Goa. The eco village community and jungle beach hut accommodation is rustic but full of charm and love. Home cooked healthy food is included and you can choose from budget friendly dorm rooms to private huts. The staff and yoga teachers here are all super sweet and there is a great community vibe so you'll feel like you are part of one big family.
200 hr Ashtanga, Hatha & Vinyasa YTT @ Upaya Yoga, Arambol Beach
Upaya yoga school offers an amazing, all inclusive 22 days 200 hr YTTC package that covers the full spectrum of the yogic path with plenty of teaching practice. This is my top recommendation if you are looking for a lively atmosphere and to sample some of Goa's famous nightlife as it's situated in the most vibrant, hippie village of North Goa.
Focusing on Hatha, Vinyasa Flow and Ashtanga yoga you'll fuse together ancient teachings to make sense for the modern age. Alignment, adjustment, anatomy, philosophy, meditation, pranayama and chanting are all covered in this comprehensive course. The teachers are friendly, knowledgeable, patient and very inspiring.
Upaya is yoga alliance certified and located on Arambol beach near the vibrant hippie village of Arambol in North Goa. You'll stay in air conditioned rooms, many with ocean views, in the clean, newly built, beach front campus and enjoy 3 healthy vegetarian meals each day.
More Tips for Planning your Yoga Trip to Goa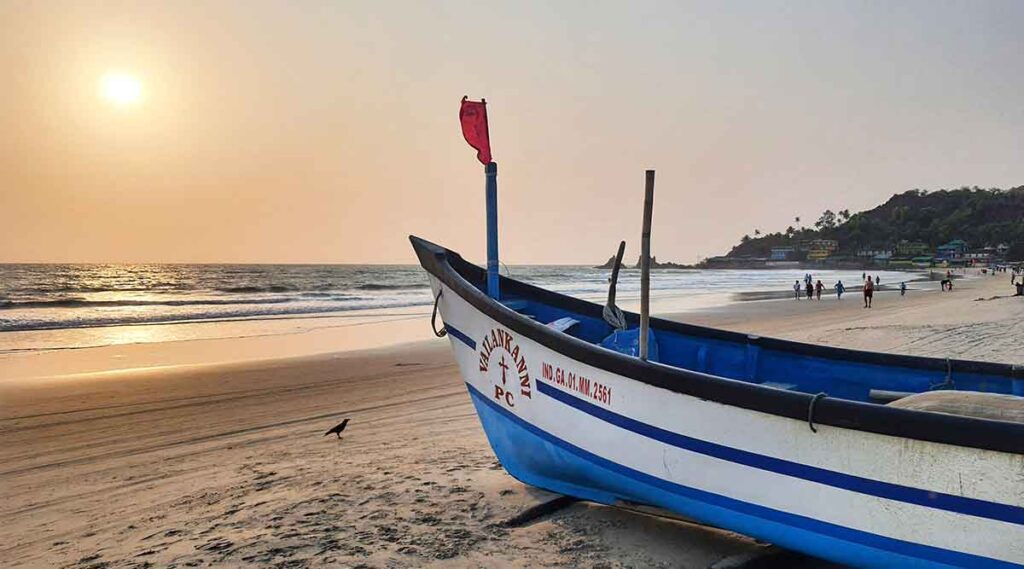 Best Time to Visit Goa
The best time to visit Goa for yoga teacher training is between Dec – March in the dry, cool (by Indian standards) peak season.
April and May is a bit too hot and many yoga schools move up to enjoy the cool mountain air in Dharamshala. The monsoon season runs from June – October and many yoga schools in Goa are shut during this time.
Getting to Goa
The easiest way to get to Goa is to fly into the Goa international airport (GOI) which is located in Dabolim, roughly in the middle of the state.
There are some direct charter flights from the UK, Europe and Russia to Goa's international airport in peak season time. Goa is also well connected with major Indian cites like Mumbai and Delhi, so if there's no direct flight available you can also fly into Mumbai or Delhi and connect to a domestic flight from there.
Many Goa yoga schools provide airport transfers as part of a YTT package, if not, the pre paid government airport taxis offer safe transportation all over Goa.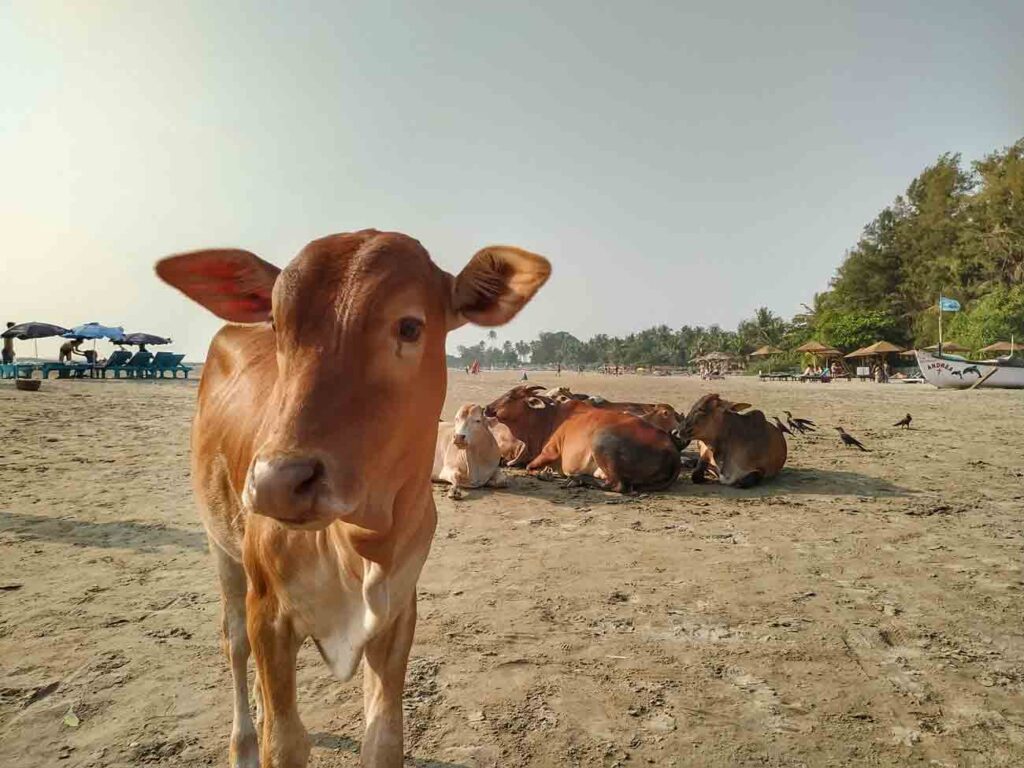 Visas for India
As Goa is part of India nearly all nationalities (apart from citizens of Bhutan, Nepal and the Maldives) will need a visa to visit Goa and you must apply for an Indian visa before travelling.
An E-Visa is available to 156 nationalities including the USA, Australia, New Zealand and most European countries, but you still need to apply online before you travel to India. Get your e-visa here.
Unfortunately E-Visas are currently not available for citizens of the UK or Canada. You need to apply online with VFS and attend an appointment in person to get a regular/paper Indian visa. However, the waiting time for appointments in the UK is currently about 1 month. So apply well in advance, but also be aware that the visa is valid from the date of issue, not the date of entry.
India has reopened for tourism but all international arrivals still also need to submit an online self declaration form and upload either a vaccine certificate or negative covid test. Check the latest covid news and arrival guidelines here
If getting an Indian visa is a problem why not consider a yoga teacher training in Bali instead.
What to wear in Goa
Goa is the most westernised state in India, it's safer for women and you don't need to dress so conservatively as you would in other parts of India.
Bikini's can be worn on the beach and shorts, tops and sun dresses are fine although being too provocatively dressed might attract unwanted attention. Bring light, loose clothes to cope with the warm, tropical weather. Read more tips for women traveling in India here and for more on what to pack check out my yoga retreat packing list.
Also make sure your travel insurance covers you for all the activities you plan to do on your trip and for any covid related cancellations or illness. I recommend World Nomads.
I hope this blog has helped to find your ideal Goa yoga teacher training course. If you need more tips or are still undecided then check out my other posts below or this article about yoga teacher training abroad for more tips and recommendations.
More Goa and Yoga Blog Posts: