Why I Love Backpacking Kerala
Travelers and explorers from all over the world have been drawn to Kerala for centuries drawn to this slice of tropical South India by spices.
Nowadays it's one of the best places for backpackers in India. Backpacking Kerala offers a much more laidback experience than backpacking in North India and there are so many beautiful places to visit in Kerala. From luscious landscapes, backwaters, beaches, wildlife and tantalizing cuisine – this is South India at it's most enchanting.
But let's no forget perhaps the most magical ingredient travelers encounter when visiting Kerala – the warmth of the Indian hospitality and smiles that linger long in the memory after leaving Kerala's tropical shores.
Pin Me! 🙂
India can be quite a culture shock for the first time visitor but it is also probably the most fascinating and rewarding place you could ever visit and laid back Kerala is a world away from the hectic, dirty, noisy streets of Delhi.
I always advice first time travellers to start with the South of India, because, generally speaking, I find backpacking South India a lot easier, cleaner and safer to travel in and a real gem and highlight of South India is Kerala!
Whilst all the colour and exoticness of India is found here in this tropical state also known as 'God's own Country,' Kerala is different from the rest of India and backpacking Kerala is a cleaner, less hassled, and laid back affair –  a perfect, easy introduction to Incredible India.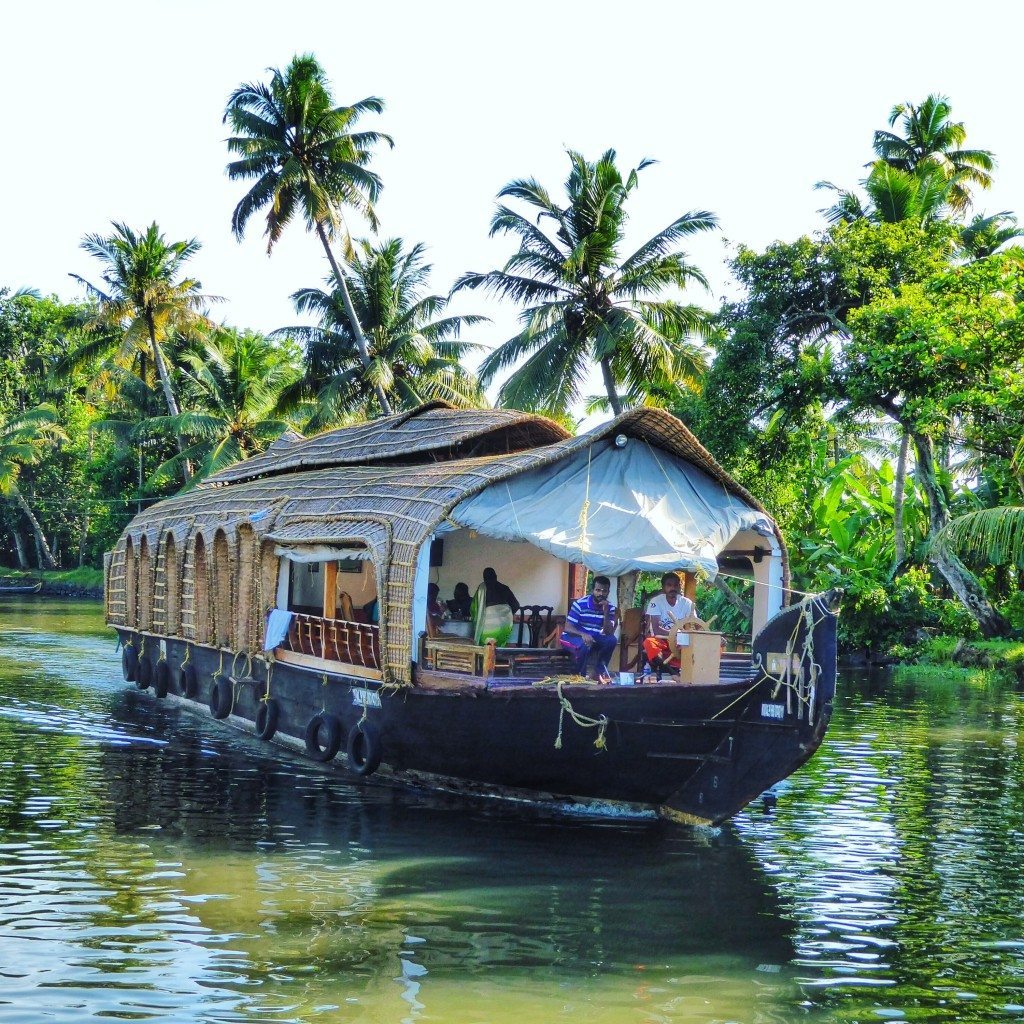 10 Reasons to Backpack Kerala
Cruise the Backwaters in a Houseboat
Explore the multicultural history of Fort Cochin
Enjoy the views and refreshing breeze at a hill station
Trek and search for wildlife
Top Places to visit when Backpacking Kerala
Fort Cochin (Kochi)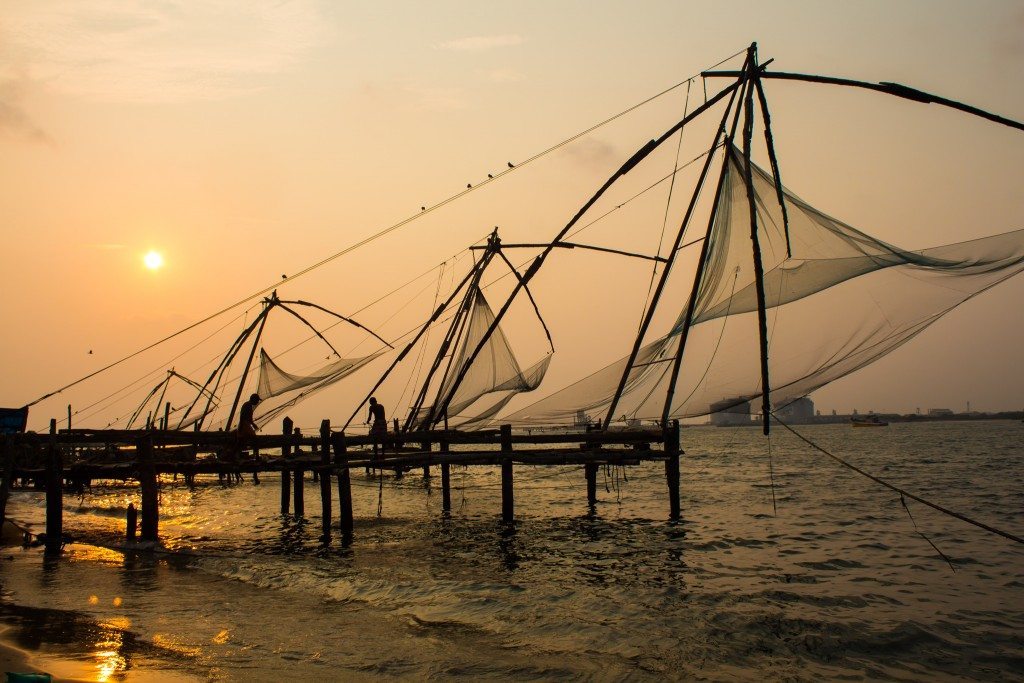 For most travellers the historic, atmospheric and multicultural port of Fort Cochin is the gateway to backpacking Kerala and the colourful, old streets of Fort Cochin and Jew Town are a delight to explore.
Fort Cochin is also home to the famous Chinese Fishing Nets, a 400 year old Jewish Synagogue, Mattancherry Palace (also known as the Dutch Palace), the fantastic Kerala Folklore Museum and several Portuguese Churches.
Fort Cochin also has many great restaurants, nice hostels and heritage hotels, chances to try Ayurveda, cooking classes, watch Kathakali dance shows and shop for souvenirs as well as chill out on nearby Cherai Beach.
Sure, it's pretty touristy but there's plenty to explore in Fort Cochin and it's easy to arrange onward travel around Kerala from here too.
Best Places to Stay for Backpackers in Fort Cochin:
There are also more budget guesthouses and homestays clustered around the Princess Street area in Fort Cochin where you can find cheap rooms from about 500 rupees
The Happy Camper Hostel is a cute boutique backpackers hostel close to the historic heart of Fort Cochin with bright comfy rooms and friendly staff.
There is also a Vedanta Wake Up Hostel in Cochin which has loads of facilities and good common areas in a good location not far from the Chinese fishing nets.
Read more: A Backpacker's Guide to Fort Cochin
Alleppey (Alappuzha) and The Kerala Backwaters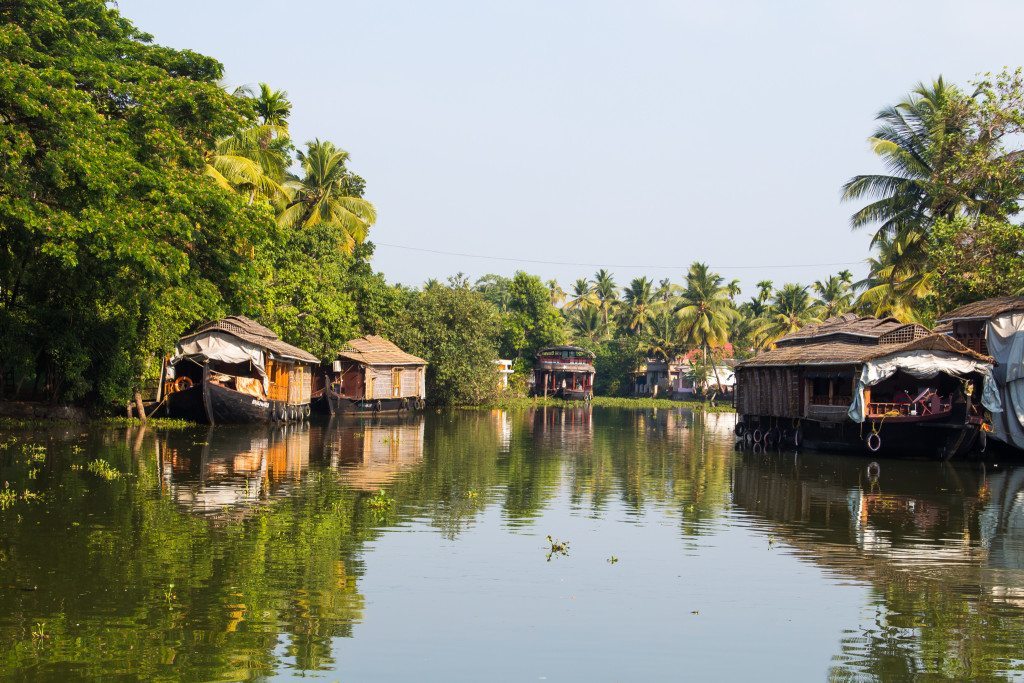 Cruising the backwaters of Kerala is one of the most serene, beautiful and peaceful things you can experience in India and something not to be missed while in India.
Alleppey is about 2 hours from Cochin and is the gateway to the famous Kerala backwaters – Alleppey has been called the Venice of the East but in truth it doesn't have that much to offer but is a good place to arrange a houseboat to take you on the backwaters. You can also board a houseboat at Kollam (Quilon) and Kottayam.
The Kerala backwaters is a system of canals stretching 900 km across Kerala lined by palm tress of a thousand shades of green, paddy fields and colorful houses and a way of life that seems romantically unchanged for centuries.
Originally the backwaters were busy as thatched barges called kettuvallams carried spices towards ports on the Arabian sea, but nowadays most of the kettuvallams have been transformed into house boats that carry tourists as they softly traverse these languid and beautiful backwaters.
There are many ways you can cruise the Kerala backwaters, from a luxury houseboat to a cheaper day tour perfect for backpackers on a budget.
It's best to inspect the houseboats in person before booking but you can you can also book houseboats on Booking.com and see photos and read reviews to help you decide and pick a good one.
Soma House Boat is a shared boat but its one of the cheapest (just over $100 per night in low season) that has a lot of good reviews.
Best Places to Stay for Backpackers in Alleppey:
There are lots of budget guesthouses, hotels and homestays in Alleppey around Punnamada and the boat jetty. Vedanta Wake Up along the dreamy Backwaters is the best backpacker hostel near the boat jetty in Alleppey. It's one of Vedanta's flagship hostels which set in nice lush green lawns with air conditioned dorms and private rooms and they help you organise backwater tours and boat trips.
Or for something different you can stay in the backwaters at Bamboostix an eco-friendly, rustic chic, backpacker-resort situated right on the waterfront of an island in the Kerala backwaters ( lake Vembanad near Alleppey ) with a restaurant, free boat pick up and drop off (3 times daily) upto 6 pm as well as loads of hammocks and chill out places.
Read more Kerala blogs:
Munnar
Munnar is a hill station and tea plantation famous for it's fresh, cool air and stunning views.
The dusty town of Munnar holds few attractions and, as the highlight of a visit to Munnar is the mesmering views over the rolling hills that are blanketed in a million shades of green, it's better to stay outside the main town.
Soak up the views, go trekking, take a jeep tour through the countryside and make sure to visit the Tata Tea Museum to find out how tea has been made here since colonial times and of course, you need to indulge in a cup or 2 while in Munnar.
Best Places to Stay for Backpackers in Munnar:
There are also many homestays and cheap guesthouses in Munnar but the actual town center of Munnar itself doesn't really have all that much to offer and its much nicer to stay out in the tea plantations.
The only hostel in Munnar is Vedanta Wake Up in Munnar. It's located in a serene space 7km from Munnar town amidst the gorgeous green tea plantations. They also have a restaurant and arrange activities and tours.
The homestays outside Munnar are also really nice, I've stayed at Misty Green View (also called Green Magic Home) and it lived up to it's name as the views were fabulous, you won't be able to tear yourself away from the balcony and the owner is really nice and a great cook.
Thekkady (Periyar Wildlife Sanctuary)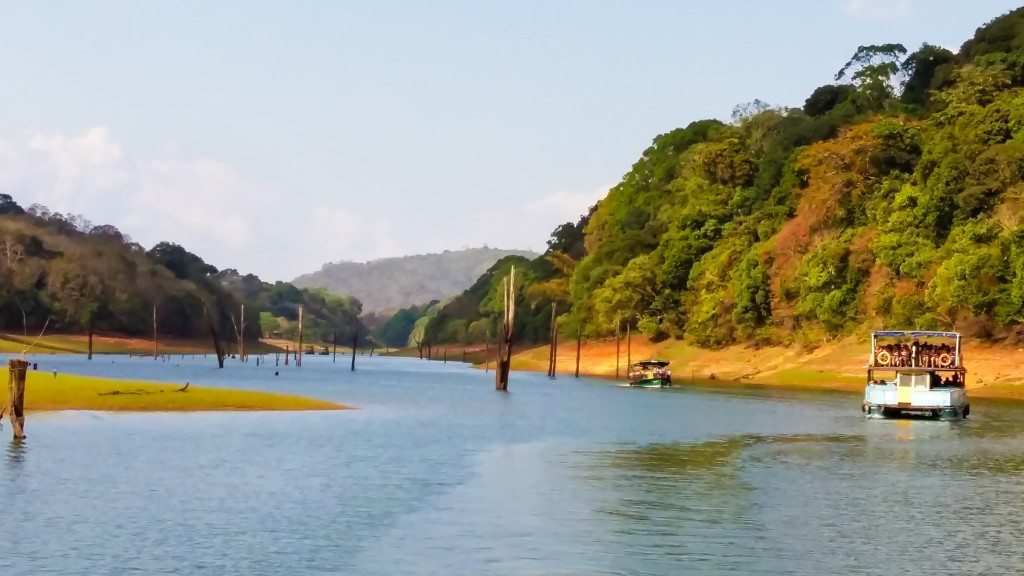 Thekkady, up in the luscious Western Ghats, is the base for exploring Periyar – South India's most popular wildlife sanctuary. Periyar is over 777 sq km and is home to bison, elephants, tigers, sambar, wild boar and many other animals.
Thekkady is quite a touristy place with it's strip of hotels and spice shops and there are numerous options for organising trekking, bamboo rafting, boat trips jungle safaris, cooking classes, spice plantation walks and other activities.
One of the most popular things to do in Periyar is taking a boat trip along the huge, scenic man made lake to spot wildlife but the KTDC boats are pretty packed and not great for spotting wildlife but if you take a smaller boat, or even better a bamboo raft, you may be lucky and spot some wild elephants.
Best Places to Stay for Backpackers in Thekkady:
There are lots of guesthouses, hotels and homestays in and around Thekkady town center. There is one hostel in Thekkady – the Vedanta Wake Up is a modern hostel located right in the middle of the town close to all the shops and restaurants and the hostel can provide easy access to all the activities available in the wildlife sanctuary.
Green Leaf Homestay is more expensive but worth it. It's really quite plush with beautiful rooms and a homely atmosphere in a peaceful location close to everything but off the main strip. The owner is also really helpful with sightseeing tips.
If you came to Thekkady for the nature then you might prefer to stay a bit outside the main town Dean Dale Cottages is clean, cosy, good value for money guesthouse rooms (not actually cottages) about 3km outside of the busy center. They offer a free transfer to town too.
Varkala Beach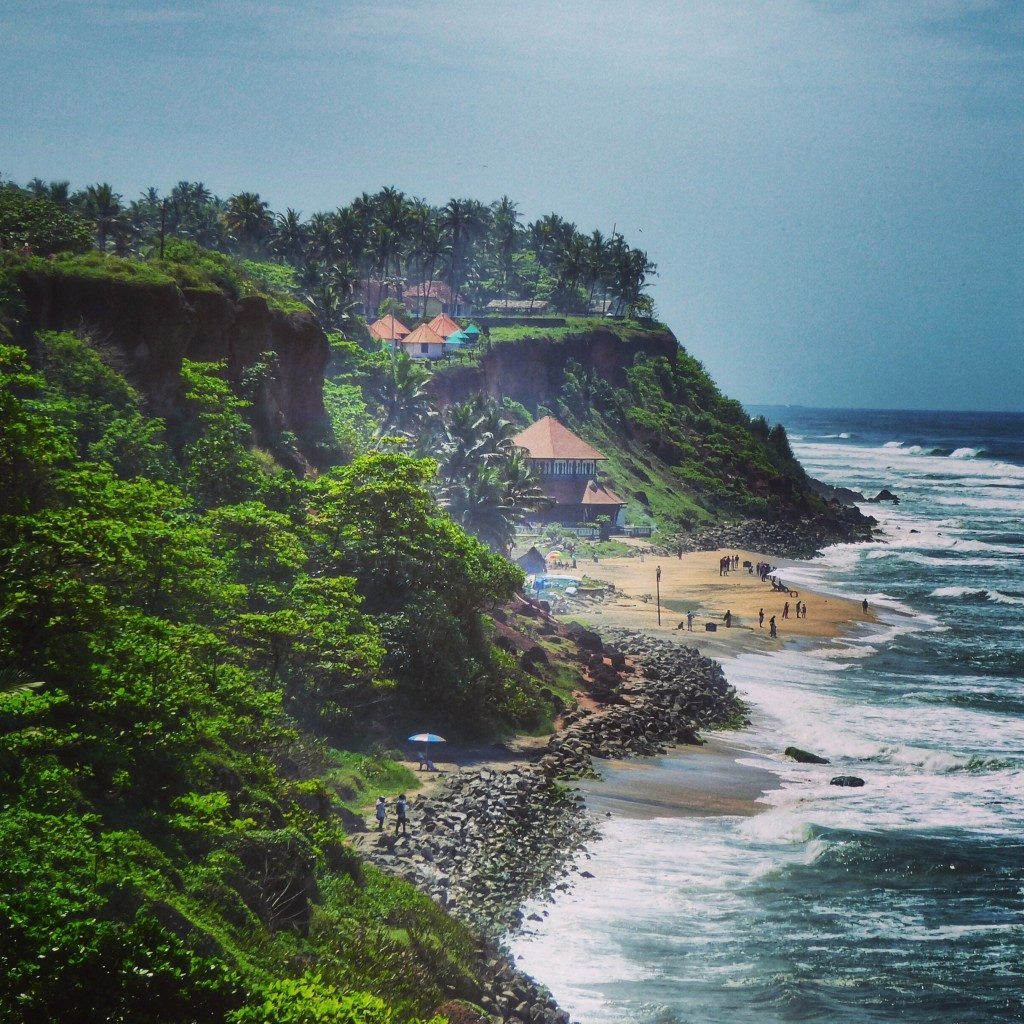 The coastal town of Varkala is perhaps the best backpacker hangout and place to chill for travellers in Kerala.
Varkala is essentially a temple town, the Janardhana Temple, popular with Indian pilgrims, dominates one end of the beach. But not far away the whole scene changes as the sandy strip of beach becomes popular with travellers and the towering red cliffs offer stunning ocean views, restaurants, shops and a real traveller scene.
Best Places to Stay for Backpackers in Varkala:
The nicest(and more expensive) rooms in Varkala are on the cliffside but if you search around further back from the cliffside you can find cheap rooms for around 400 Rupees.
The Mango House opposite the Vedanta Hostel is a cheap, nice and pretty popular option. Heavenly Breeze Beach Resort is only 5 mins from the beach and has large, clean and great value rooms situated in a nice garden area.
The only hostel in Varkala is the Vedanta Wake Up on the sunny cliffs is situated only 5 minutes walk from the cliff top and has dorms, private rooms in the main building and also in bamboo eco huts in the gardens and a sociable scene.
Read More: A Backpacker's Guide to Varkala.
Trivandrum (Thiruvanathapuram)
Trivadrum is the capital city of Kerala and, although the nearby beach resort of Kovalam is a more popular place to stay, Trivandrum is quite a pleasant city that offers some interesting sights that are worth a look.
Don't miss the impressive golden Shri Padmanabhaswamy Temple, believed to be the richest temple in the world (non hindus are not allowed to enter but it's still a spectacular sight from the outside) and nearby the historic wooden Puthe Maliga Palace.
There is also a large zoo and gardens complex that also houses the Napier Museum, Natural History Museum and art gallery.
Best Places to Stay for Backpackers in Trivandrum:
As it's so close, most people visit Trivandrum as a nice day trip from the beaches of Kovalam.  If you want to stay in town check out Vendata Wake Up Trivandrum a brand new, plush hostel in the centre of the city close to the train station.
Kovalam Beach
A stones throw away from Trivandrum is Kovalam, once a calm fishing village and now Kerala's most popular beach resort with a beautiful bay overlooked by the famous lighthouse and many touristy options for accommodation, eating and shopping.
Best Places to Stay for Backpackers in Kovalam:
Kovalam has many posh beach resorts if you want to splash out and one backpacker hostel. Vedanta Wake Up by the lighthouse. It's a new and modern hostel with an ayurvedic spa, a restaurant, good common areas and lots of sociable activities located just a few minute's walk to beautiful Lighthouse Beach in Kovalam.
If you want to treat yourself without breaking the bank and stay in a resort with a swimming pool the Ideal Ayurvedic Resort is really good value, only 5 mins from the beach and also offers yoga classes and Ayurvedic massages and treatments and the owners are really nice.
Wayanad
Tucked away up in the Western Ghats in the North of Kerala lies Wayanad, not so many tourists make it up here as its a good 8 hour journey from Kochi but those who do are rewarded with possibly the prettiest part of Kerala.
Wayanad Wildlife Sanctuary is one of the best places to see elephants in the wild, you can organise trekking, rafting and jeep tours and explore caves, temples and lakes.
Wayanad is also still home to some fascinating tribal people and you can organise a tour to take you to meet them or just relax and enjoy the unspoilt nature and  stunning views.
Best Places to Stay for Backpackers in Wayanad:
Vedanta Wake Up  also has a large hostel at Wayanad located near to the Edakkal Caves and Muthanga Wildlife sanctuary.
Devaki's Kitchen Village Guesthouse is a simple but charming family homestay run by an NGO with dormitory accommodation nestled in a luscious spice plantation. Activites like local village walks, plantation tours, cooking classes, yoga, ayurvedic massage and volunteering are also available.
More Tips for Backpacking Kerala
So now I've convinced you to visit Kerala here's all the practical info to make it happen!
Daily Budget for Backpacking Kerala – 1,000 – 2,000 Rupees per day (US$15 – $25)
When is the best time to visit Kerala?
The main tourist season in Kerala runs from November – February when the weather is dry and cool by Indian standards but still perfect weather for swimming, sunbathing and enjoying all Kerala has to offer.
By March the humidity rises and by April and May, Kerala, and most of India, is almost unbearably hot. The monsoon rains arrive in June and continue until September/ October.
Of course, you can still visit in the rainy season and Kerala will be even more green and luscious but the rain may hamper your travel plans a little and especially in the beach resorts, some restaurants and accommodation may be closed and the sea too rough for swimming.
Do you need a visa to visit Kerala?
Nearly all visitors to India need a tourist visa before arriving. Most people visit India on a 6 month visa obtained in advance. Luckily an E-Visa scheme is being rolled out which will make it easier to apply for a visa although it is only valid for 30 days.
Read more about how to apply for an Indian visa.
How to get to Kerala
Kerala has two airports – Kochi and Trivandrum which are well connected both domestically and internationally.
If coming from Europe or the US you will probably have to change flights in Mumbai, Delhi or Bangalore or somewhere in the Middle East but Kerala's airports are well connected to the rest of India and Southeast Asia with budget airlines.
Kerala is also easy to reach on the huge Indian railways network (just make sure to book tickets well in advance because seats sell out quickly) If coming to Kochi be aware that the train station is called Ernakulam. See more here about how to book train tickets and tips for traveling on Indian Railways. 
Getting around Kerala
The state of Kerala is well served by cheap local buses, fine for short journeys however, for long overnight journey you may want to book a Volvo AC bus for more comfort.
Taxis and Rickshaws also offer a cheap and convenient way to get around just make sure you agree on a price before commencing the journey to avoid being over charged or at large train and bus stations use the prepaid stand to avoid having to haggle with the drivers.
There are also many travel agencies that can arrange day trips or longer tours, taxis, buses or hire a car and driver for a days sightseeing for about 2000 Rupees. You can also rent scooters and motorbikes in Kerala. See this great post from ZeWanderingFrogs with itinerary and tips for a motorbike trip around Kerala.
Can you travel independently in Kerala or should you take a tour?
Kerala is one of the most easiest places to travel independently in India. Kerala is a world away from the chaotic streets of somewhere like Delhi and I actually think it's the perfect place to start traveling in India.
It's relatively easy to take public transport all around Kerala and there are many travel agencies to help you plan tours and travels.
However, if it's your first time in India and you are still feeling a little daunted (and I don't blame you) you could take a backpacker tour.
What are the best backpacker tours of Kerala?
Kerala is one of the most popular states to travel in India and so there are many great backpacking tours of Kerala and South India.
My favourite is the 7 day Kerala Beaches and Backwaters Tour by G Adventures.  This tour takes you through the highlights of luscious, tropical Kerala, from historic and multicultural Fort Cochin, to cruising along the famous Kerala backwaters to relaxing on the beaches in Varakala.
A homestay is also included which gives you a chance to experience local life and there's plenty of opportunities for yoga and Ayurveda. This is a 'yolo' trip so it's perfect for young travellers on a budget. Click here for more details and to book.
Also an awesome new hop on hop off tour (and off beat city day tours) has just started operating in Kerala run by goMowgli. As well as taking several day tours in Mysore and Hampi with goMowgli, I was lucky enough to go on the launch tour! You can see a full review of the goMowgli experience.
Where Next After Kerala:
Kerala is a great place to start an Indian adventure! For more inspiration and ideas check out my Perfect India Itinerary .
Read More Kerala Travel Blogs:
For more info to help plan your trip to India, and for practical information once you're on the road, a great guide book is the Lonely Planet.
You can either get a (pretty hefty) guide book for the whole country in the Lonely Planet India Travel Guide
 or there is also one that just focuses on South India & Kerala.
Even though sometimes the hotels or restaurants it suggests are sometimes out of date or a bit over hyped the maps and practical information regarding what to see, how to get around and prices to expect can be invaluable.