The UK is a land of many quirky traditions. While many of the country's seaside towns are now mostly paint peeling reminders of an era before cheap flights when Brit's used to holiday at home, Brighton manages to fuse traditional seaside nostalgia with one of the UK's best destinations and most hip and forward thinking modern cities.
If you only have time to visit one seaside town in the UK make it a weekend in Brighton – just don't come here for the beach itself!
A Weekend in Brighton – The UK's Hippest, Seaside City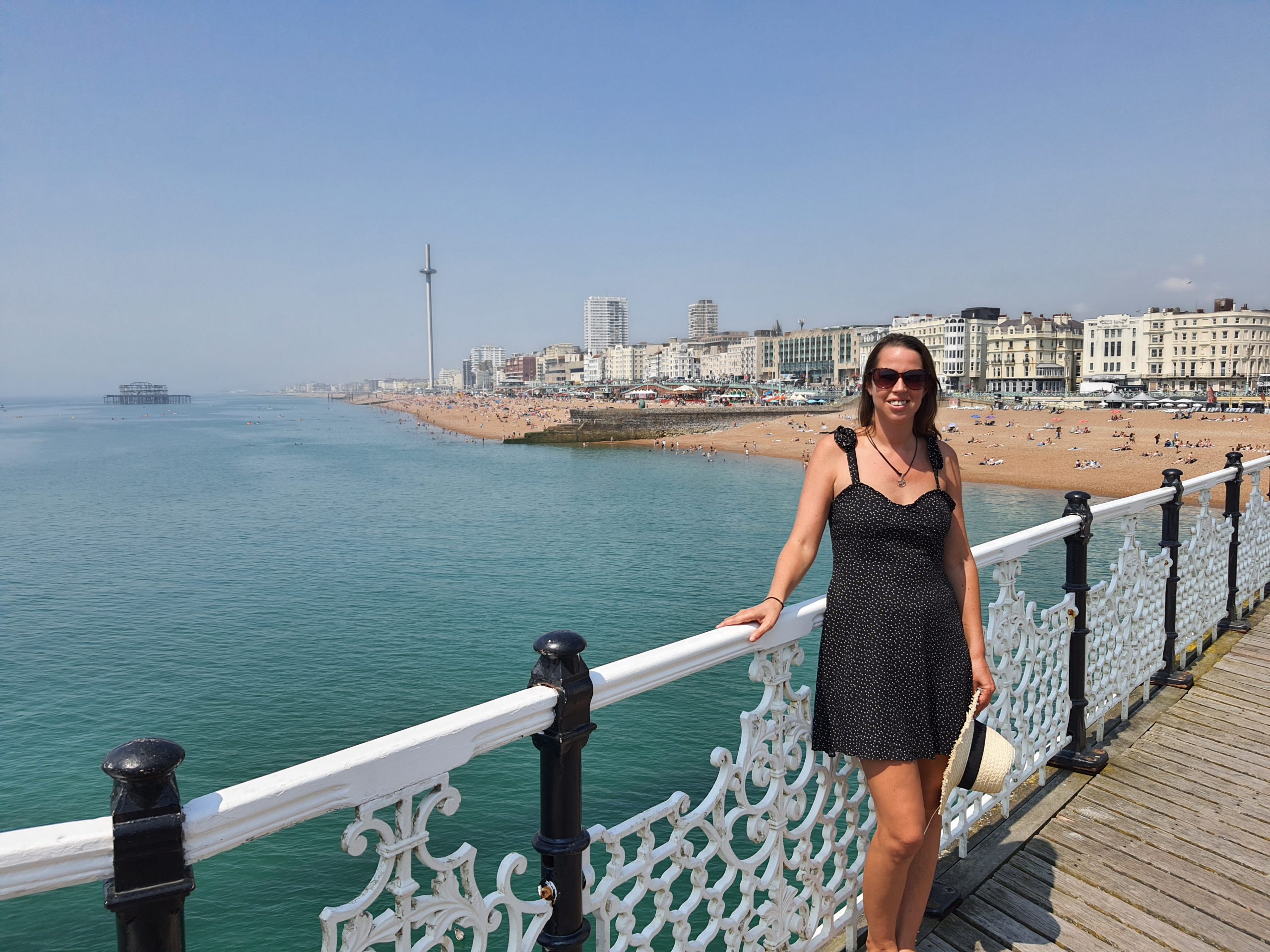 Things to do in Brighton
It probably seems a little strange that Britian's most popular seaside town doesn't even have a sand beach!  Brighton is built around a 7 mile stretch of pebble beach, but there is so much more to Brighton than just the beach, and spending a weekend in Brighton is an opportunity to experience all the quirky traditions of the British seaside holiday with a hip and modern twist.
Car parking is hard to come by in bike loving Brighton with it's plethora of turquoise rental bikes and bicycle lanes so I parked down by the marina and caught the cute, little, Volk's Electric Railway, up to the pier and the centre of Brighton. At 135 years old it's the oldest electric railway still in use in the world!
Britain was in the midst of a rare heat wave – it's yearly allowance of a week of warm temperatures and sunny, dry, skies that makes a marked change from the usual predictably unpredictable cold, grey and wet weather that forms the topic of many conversations and complaints that us Brit's are stereotypically but rightly known for.
But when the sun does make it's rare appearance in the UK the collective energy is infectious as everyone dons summer clothes, rushes out to buy beers and barbeque food to make the most of the rare sunshine and subsequently end up looking like lobsters. It's one of my favourite things about the UK – on a sunny day when everyone's in a good mood I realise what a pleasant place it actually is!
Rosy cheeked families licked ice creams as they ambled along the seafront promenade jumping out of the way as turquoise bicycles zipped past on the wide bike lanes, while on the beach front path below well heeled Londoner's sipped prosecco and glugged down oysters in the fancy seafront restaurants, while the traditionalists who hoped to find a fish and chip supper and have change from a tenner were disappointed.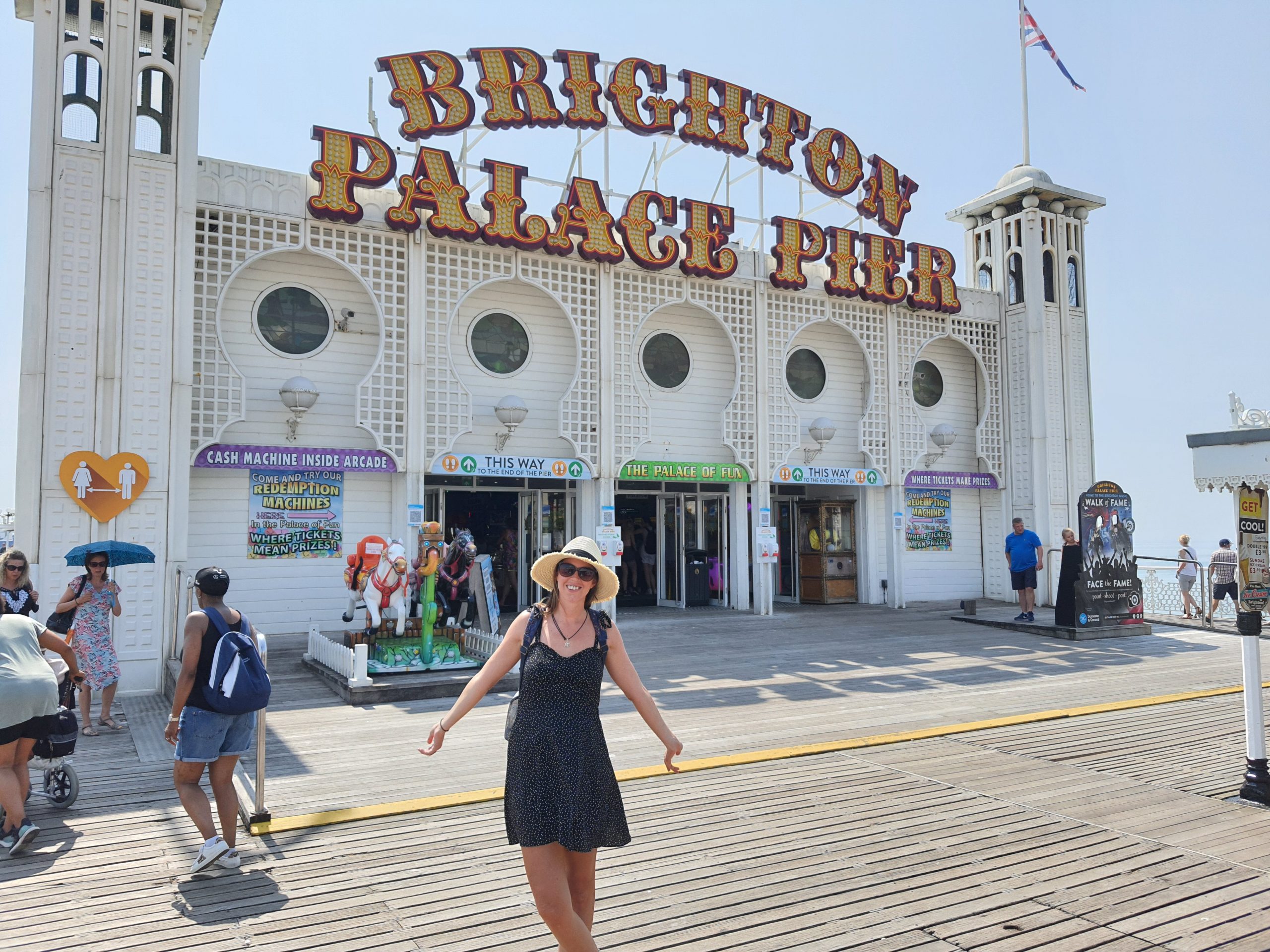 Brighton Pier
The landmark Brighton Palace Pier is a celebration of all things kitsch and nostalgic about the Great British seaside – the tinkle of arcade games, blue and white striped deckchairs over looking the sea, ice cream, candy floss and donut stalls.
Perched on the end of the pier is a fairground with traditional rides including the helter skelter, carousel and ghost train as well as a looping rollercoaster and rides that will keep thrill seekers happy.
Did you know there have been 3 piers in Brighton. The 1st pier was the Royal Suspension Chain Pier opened in 1823 and was popular until the West Pier opened in 1866. The West Pier was in use until it closed in 1975 and despite efforts to save it, after several storms and fires, all that remains is the now iconic skeleton.
The Palace Pier that is still in use today was opened in 1899 making it 122 years old. It's one of the most popular attractions in the whole of the UK and something that no weekend in Brighton would be complete without seeing.
Other Attractions in Brighton
Nearby the pier you can explore the underwater realm of the world's oldest aquarium at SeaLife Brighton. Or continue strolling along the beachfront path past souvenir shops, art galleries, increasingly upmarket bars and restaurants, crazy golf courses, volleyball and basketball courts and children's playgrounds to the alien looking gleaming silver disc of the British Airway's i360 observation tower, the upside down house, the elegant Victorian bandstand and the eerie skeletal remains of the old West Pier.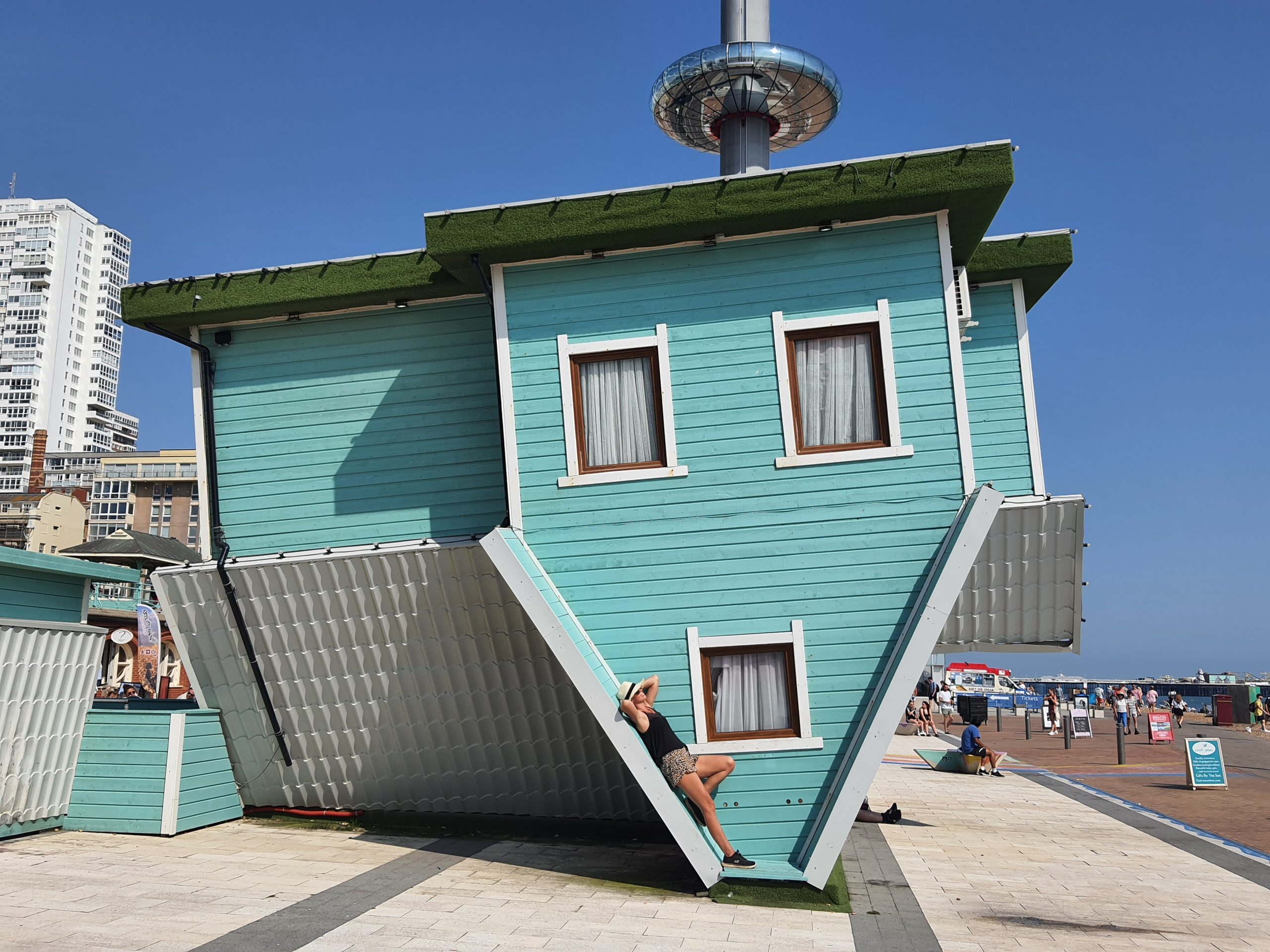 The Lanes
And the fun's not over once you've had your fill of the beach – there's so much to enjoy on a weekend in Brighton.
Head into town to explore the famous Lanes, the other (better in my opinion) Laines, Brighton's vibrant food and nightlife scene and to get a glimpse of an iconic building that will transport you all the way to India!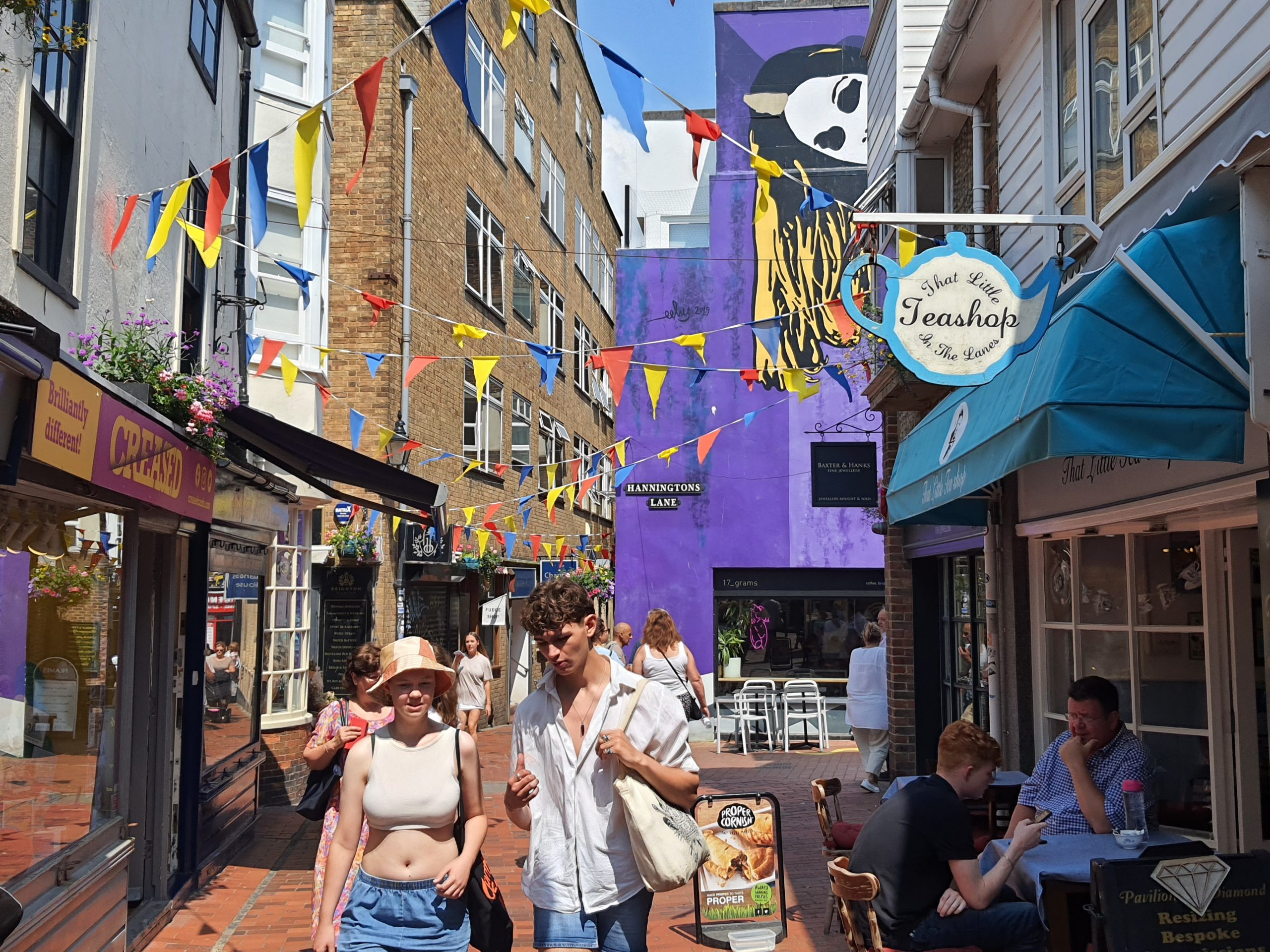 The Lanes are a narrow, cobblestone web of 17th century cottages that were Brighton's original fishing village and are now a gentrified but pleasant and interesting collection of boutique shops and cafes.
But, I much prefer the adjacent North Laines area, which reminds of London's Camden Town, with it's alternative vibe and funky, colourful unique shops including second hand stores, record shops and a flea market called Snooper's Paradise.
There's also many vegan and vegetarian shops and eateries and the Real Junk Food Project café with it's innovative mission 'to intercept food waste destined for land fill and use it to feed people who need it, on a 'pay as you feel' basis.'
The Royal Pavilion
After people watching outside a pub with a refreshing pint of cider, I picked up some takeaway Japanese food from Pompoko and settled down for lunch with a view of probably the most Indian looking place in the UK – Brighton's Royal Pavilion.
Gazing up at the Royal Pavilion on a warm, sunny day you have to pinch yourself that you are not in India!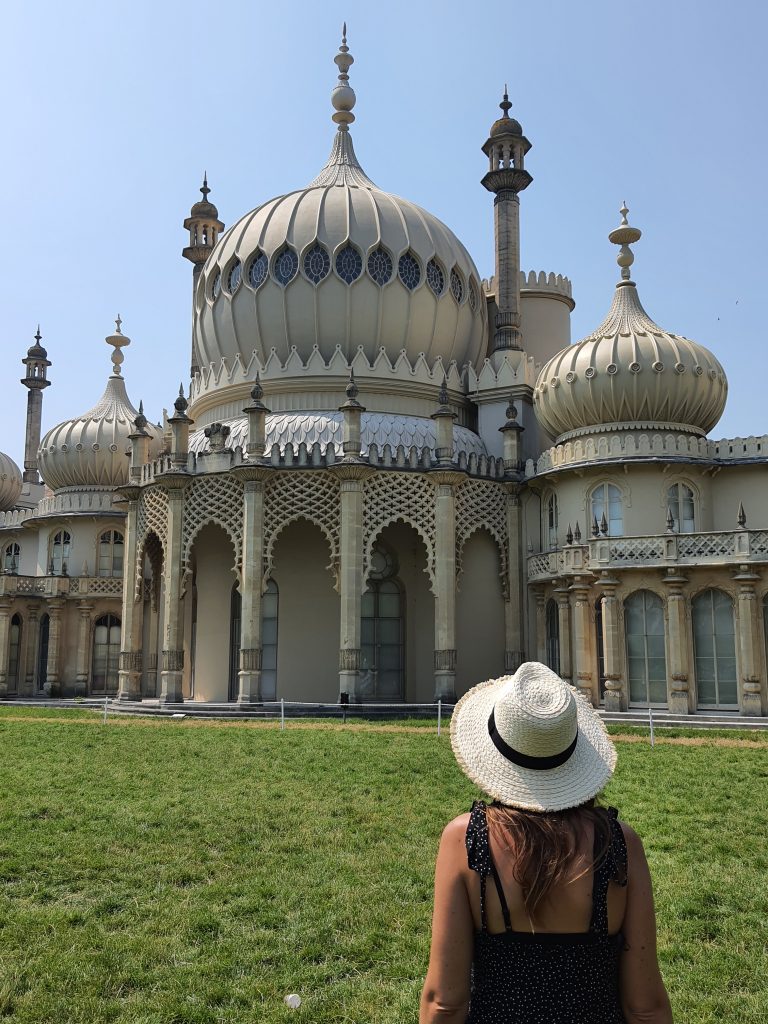 This flamboyant, onion domed, iconic sight was built in the early 19th century as a pleasure palace for the play boy King George IV. The association with the Royal family, proximity to London and the reputed healing properties of the seawater played a big part in increasing Brighton's growth and prosperity into Britian's most popular Georgian and Victorian seaside resort.
During World War I the Royal Pavilion was used as a hospital for Indian soldiers – I wonder if they thought they were back in India when they woke up here!?
You can go inside to look around but the best thing is that the gardens surrounding it are free for everyone to relax in and soak up the sunshine and the views. There's also a nice cafe in the gardens.
Brighton Pride
Brighton has a thriving alternative and LGBTQ+ scene, which centers around St James Street and Kemp Town. It's lead Brighton to be known as the gay capital of the UK and also the happiest place to live in the UK.
Brighton Pride is one of the best gay pride events in the world with former headliners including the likes of Britney Spears and Kylie Minogue and sees Brighton's streets erupt in colour, feather, music, parades and festivities during the Summer. Brighton Pride is definitely an unforgettable experience if you can time your weekend in Brighton to coincide with the festivities.
Nightlife in Brighton
Brighton is also home to one of the most lively and diverse nightlife scenes in the UK, no matter your sexual orientation.
This summer weekend in Brighton was also buzzing with it's new found freedom as the coronavirus restrictions had just been lifted. 19 and 20 year olds queued up, wobbling in high heels and skimpy dresses, to get their first ever taste of clubbing as the nightclubs brushed away almost 2 years worth of cobwebs after being closed throughout the pandemic and breathed a huge sigh of relief at the chance to finally make some money again.
Brighton Earthship
And for when you want to balance all the partying and fun of your weekend in Brighton with something that gives you that feel good factor head out of town to Stanmer Park and get inspired by the award winning Earthship.
This inspirational and innovative mud building was the first Earthship to be built in England. It's an off-grid building that heats, cools and powers itself from the sun, harvests it's water from the sky and treats it's wastewater onsite using plants. You can take a tour around the building and they also offer courses in how to build an earthship and permaculture.
A weekend in Brighton just isn't enough but it's a place everyone should experience at least once in their life. I wish I could afford to live in Brighton! It's one the most fun, most diverse and open minded places in the UK and one of my favourite places to visit in the UK
Practical Tips for a Weekend in Brighton
How to get to Brighton and get around
Brighton is easily accessible from London, trains only take 1 hour from London to Brighton or save money and take the coach in 2.5 hours.
For our weekend in Brighton we drove the scenic route from Canterbury to Brighton stopping at the picturesque, small, historic village of Rye for lunch at the Mermaid Inn. We also stopped to take a walk and soak up the views of the White Cliffs from Seven Sisters – the best place to see the White Cliffs.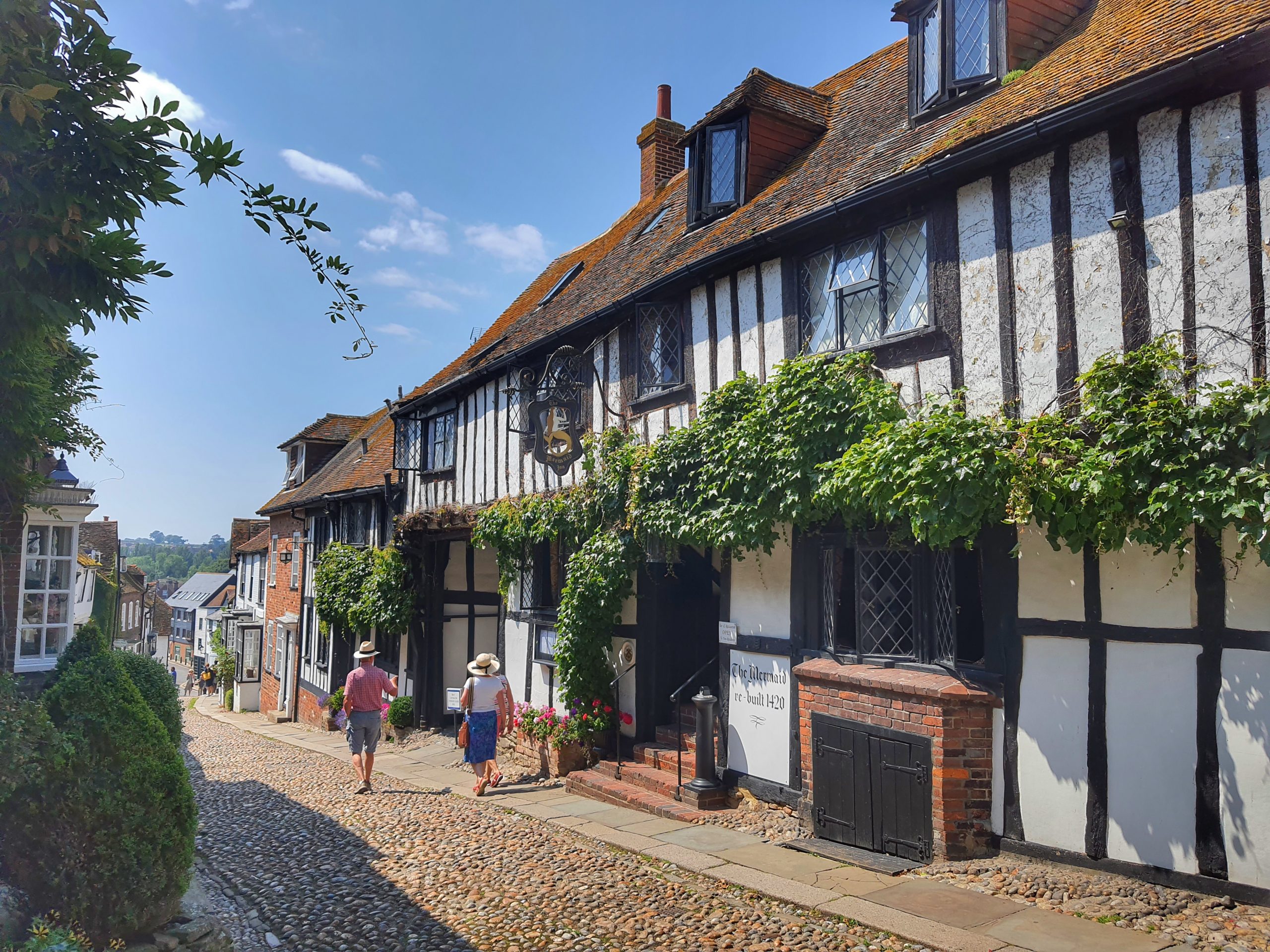 Brighton is one of the UK's greenest cities and you'll see wide bike lanes and cyclists whooshing all over town. You can rent an iconic turquoise Brighton bike and join them for the best way to get around the city. You can also take a ride between the pier and the marina on the Volks electric miniature railway.
Where to Stay in Brighton
As the UK's most popular seaside city Brighton has no shortage of places to stay. However if you want to spend a weekend in Brighton you'll be lucky to find anywhere for under £100. Prices reduce massively during the week so if you're on a budget try a mid week break if possible.
Backpacker: For such a cool, hip city Brighton has a shortage of backpacker hostels. My favourite is Seadragon Backpackers. It's a small, intimate hostel with clean and comfy dorms in a regency house just 5 minutes walk from the seafront and the heart of the city.
Midrange: Brighton's best value for money hotel is The Royal Albion Seafront Hotel. It's a large, historic 3 star hotel on the seafront opposite the pier. Don't expect luxury but do expect a great deal and a great location.
Luxury: If you want to splash out on the most iconic, luxury hotel for a special weekend in Brighton look no further than The Grand Brighton Hotel, a sumptuous and sumptuous Renaissance style 4 star hotel in a fantastic location on the seafront which has been Brighton's premier address since 1864!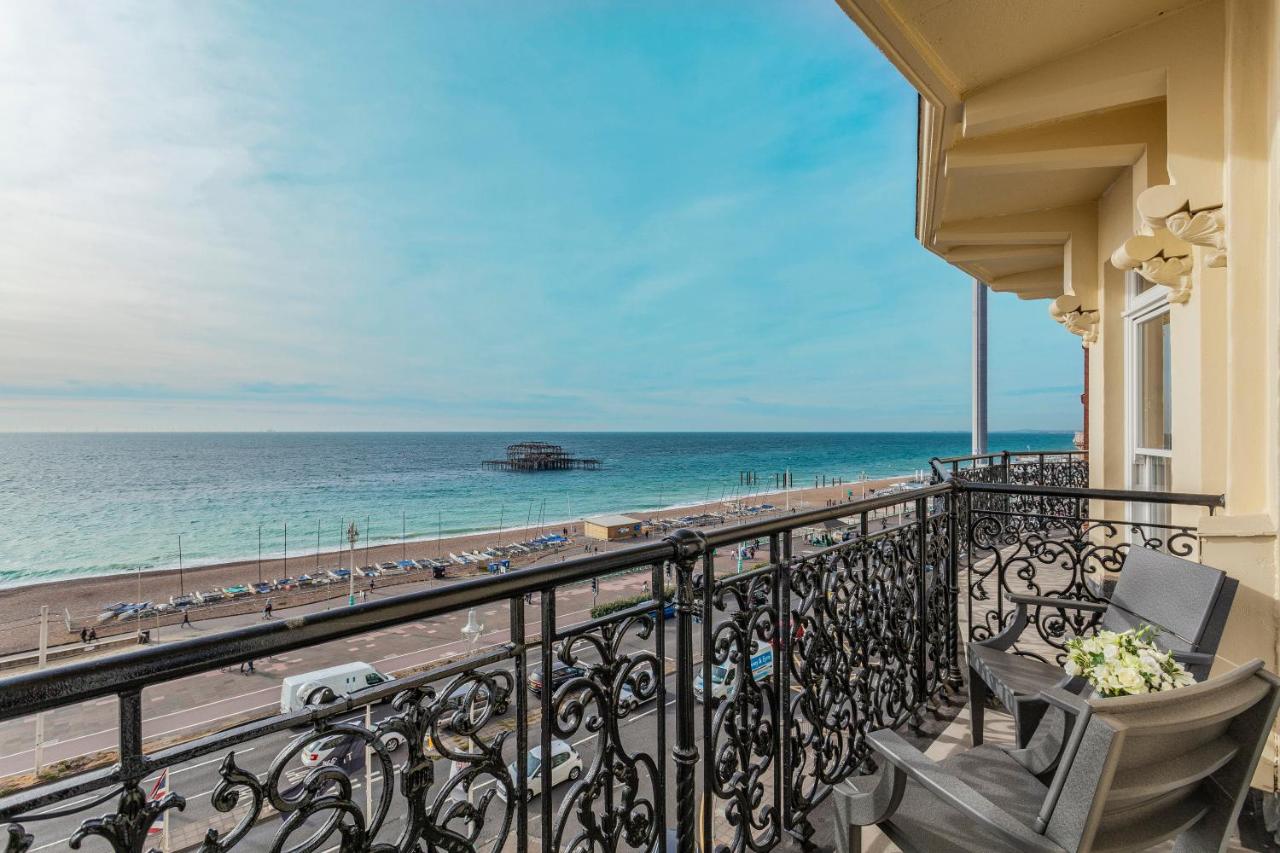 Where to Eat and Drink in Brighton
There's so many great cafes, restaurants and bars in Brighton and a thriving vegan and vegetarian scene  but, for me, when at the British seaside it just has to be traditional English fish and chips with tartar sauce and mushy peas followed by ice cream on the beach – it's tradition!
The pier and promenade is lined with food stalls and increasingly fancy restaurants and bars. We had a great fish and chips at Captains and then an excellent coffee and ice cream at The Pump Room. Wander along the seafront and take your pick! Just watch out for the cheeky sea gulls that will want to steal your food!
Brighton has vegetarian and vegan restaurants so tasty that you won't be missing meat at all. Don't miss the chance to try Food for Friends – Brighton's original award-winning vegetarian and vegan restaurant using concisely sourced produce, and Terre a Terre for innovative and indulgent dishes with a sense of humour.
I also loved just hanging out in the sunshine in the gardens of the Royal Pavilions at the nice café there, don't miss this if it's sunny on your weekend in Brighton. I was also inspired by The Real Junk Food Project and recommend Pompoko for great value Japanese food.
There's no shortage of English pubs in Brighton but the colourful and atmospheric Prince Albert Pub near the train station deserves a special mention for it's quirky and friendly atmosphere and live music. A great spot to start or finish your weekend in Brighton if you come by train.
Have you visited Brighton? What did you love the most about this hip and fun seaside city?
Read more about the UK: