Best Cultural Sites to Explore in Dubai and Abu Dhabi
You've heard about the luxury malls, the neck-craning skyscrapers, and the impressive artificial islands. Abu Dhabi and Dubai are famous as concrete jewels of UAE, and there are certainly plenty of modern glitz and glamour marvel at. However, that's not all they can offer.
Despite everything looking like they just rose up last night, Dubai and Abu Dhabi also host a wealth of art, culture, and history tucked all over the cities. Kick off your trip to explore Emirates culture in Dubai and Abu Dhabi by finding the best flight deals on Wego, top travel search website in the Middle East, and add these cultural sites to your itinerary, in case you need more excuses to stay longer in the two cities.
Sheikh Zayed Grand Mosque, Abu Dhabi
Named after the founding father and first president of the UAE Sheikh Zayed Bin Sultan Al Nahyan, the gleaming mosque in Abu Dhabi is one of the biggest in the world and it's a sight to behold with reflective pool surrounding the complex.
But incredible size aside, the mosque is a thing of beauty that gets even more impressive as you zoom in on the details inside. From the marble walls decorated with inlaid jewels to the Arabic calligraphy rendering 99 names of Allah on the Qibla wall, Sheikh Zayed mosque is a masterpiece bringing art and devotion together.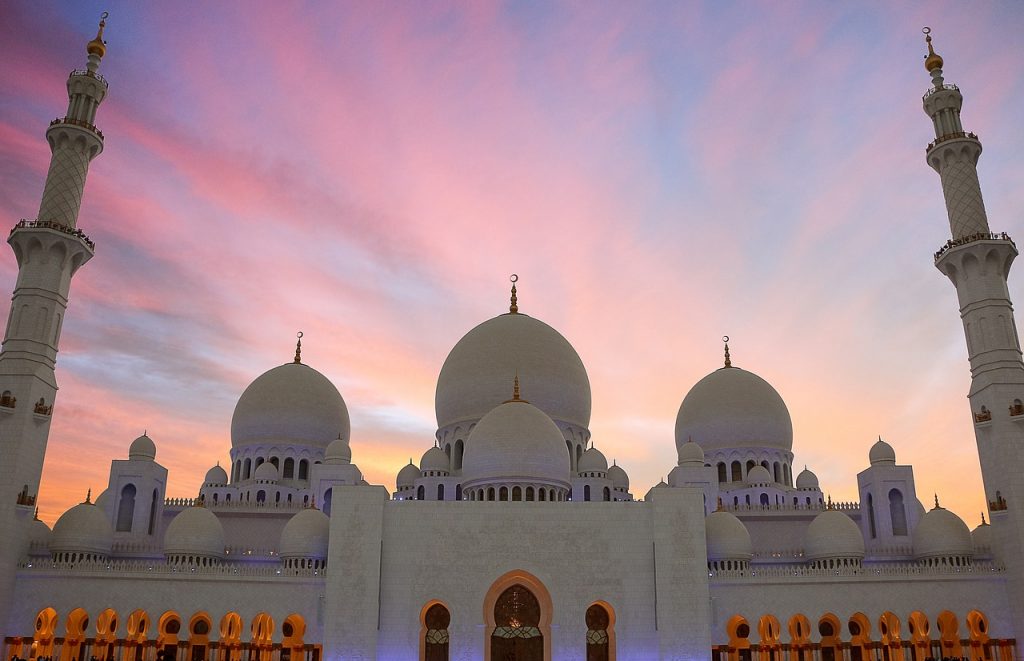 Sheikh Zayed Palace Museum or Al Ain Palace Museum, Abu Dhabi
The city of Al Ain is just two-hour ride away from Abu Dhabi and still retains a much traditional vibe culturally, which makes it a favorite for locals looking to escape the hustle and bustle of the metropolis. When you're here, find your way to the former home of Sheikh Zayed, now Al Ain Palace Museum.
The exhibition is free and includes access to the bedroom, kitchen, and other sections of the private residence. Items that would typically be used by the room owners in that time, such as kohl, comb, belts, are laid out to give a glimpse into the private lives of UAE's first family.
Etihad Antiques Gallery, Abu Dhabi
Previously only available for private viewings, this gallery in Al Bateen area was made open to the public several years ago. Even if you don't consider yourself an artsy person, there's a lot to marvel at here. You'll feel like you've stepped into an exquisite giant cabinet of curiosities showcasing paintings, swords, actual cabinets, and more, altogether a fine collection of antiques and art pieces dating as far back as 8th century.
The gallery wings are dedicated to different themes and it can feel like one day is not enough to truly appreciate each and every item. But when you decide to (reluctantly) move on, next to the Antiques Gallery is an equally delightful Modern Art Gallery.
Bastakia Quarter or Al Fahidi Historical District, Dubai
In the Al Fahidi district, the area's past life as a hub for merchants has been polished and restored to evoke the look of old Dubai, with narrow alleys and wind towers atop sandy-hued houses. These days, eateries, galleries, and museums nestled within the quarter greet travelers coming to see another side of Dubai.
Make a point to visit Sheikh Mohammed Centre for Cultural Understanding. Apart from offering guided tours to the city's prominent cultural spots, the centre also hosts indoor programmes that include workshops, traditional Bedouin-style meals, and Q&A sessions about Emirates and Arabic culture.
Dubai Museum, Dubai
Close to Bastakia Quarter, you'll find Dubai Museum, located in the Al Fahidi Fort. As the fort is the oldest in Dubai, the museum building is also its own piece of history.
Archeological findings and artifacts from nearby Africa and Asia are staples in the museum, as well as the display showing ever-changing Dubai over the centuries. Some of the most interesting features are the life-size dioramas depicting scenes from nature and life way back when, for example, craftsmen and artisans plying their trade, the recreation of souks and traditional Arab houses, as well as the rich marine and desert life.
Jumeirah Mosque, Dubai
Jumeirah Mosque is one of a handful of mosques in UAE that welcomes non-Muslims as a gesture of openness and for educational purposes. If anything, the mosque can be a peaceful haven should you find yourself overwhelmed by the heat and noises outside.
During an organized tour to this place of worship, operated by the aforementioned Sheikh Mohammed Centre, your guide will let conversations about Islam and Emirati culture flow. It's one way to get first-hand insight into the culture of the land.
Read More: Best places to Backpack in the Middle East and North Africa and Tips for traveling in the Middle East during Ramadan