Whether you want to improve your horse riding skills and learn more about horsemanship, or just want to explore the beautiful British countryside from a different perspective, there's no better way than with a horse riding holiday. Escape the stresses of daily life, feel the peacefulness that a connection with nature, animals and like minded people can bring when you join one of the incredible horse riding holidays in the UK.
Tips for Planning a Horse Riding Holiday in the UK
The United Kingdom is one of the best places in the world for horse riding, with miles of rolling, green countryside and scenic bridleways, picturesque towns and charming villages to explore and a long, historic relationship with horses.
Exmoor National Park, Cornwall, Wales and The Lake District are among the best places for horse riding. Some of my favourite horse riding holidays in the UK also include the opportunity to gallop along the beach and stop at horse friendly country pubs along the way.
Pin Me! 😉
The best time to go horse riding in the UK is between April and October. The winter months see cold, wet weather and the days get dark early, but the spring, summer and autumn months see the best weather conditions for horse riding. It's the UK though – so bring a rain jacket anytime of year and always expect the unexpected weather wise!
UK horse riding trips vary in cost depending on length and service levels but don't break the bank as much as you might think – some of these riding centres offer weekend packages  inclusive of riding, accommodation and meals starting from only £350.
While many horse riding holidays in the UK cater for all levels, and there are some horse riding holidays for beginners and children,  it's a good idea to have at least one horse riding lesson per week so that you don't spend your holiday aching from the new muscles that you use.
For your safety and sanity, it's important to choose a horse riding holiday that suits the level you are at and to check reviews to make sure the riding centre is treating both horses and guests with the utmost care. I like bookhorseridingholidays.com because it's kind of like the Booking.com for equestrian trips where you can check real reviews for the horse riding holidays in the UK and elsewhere.
To help you choose your horsey holiday here's my top picks and recommendations for the best horse riding holidays in the UK based on personal experience, friend's recommendations and guest reviews.
My pick of the top 5 horse riding holidays in the UK

Riders of all levels can enjoy 3 days in the beautiful North Wales countryside at Springhill Farm. Enjoy trail rides across the rolling green countryside with lots of off road horse riding on bridleways, moorland, and ancient drovers tracks with lovely views of the Welsh Valley.
The riding is suitable for novice riders to experienced riders as well as children as the terrain is gentle and you can ride at a pace to suit you with groups of a similar standard. You'll also have the opportunity to help groom, tack up and look after the horses if you wish.
You'll stay on a quiet family farm in a Welsh Valley in a private and well stocked self catering cottage at Springhill Farm which is a BHA approved horse riding and pony club centre offering lessons, hacking, trekking, and riding holidays for children and adults. This is one of the best horse riding holidays in the UK for families and all ages and riding experience.
Click here for more info, prices, reviews and to book

The fantastic horse riding holiday in Exmoor offers wonderful rides across beautiful countryside is definitely one of the best horse riding holidays in the UK. The 4 day horse riding holiday welcomes intermediate and advanced riders to enjoy three excellent 2.5 hour rides of approximately 10 – 12 miles over stunning countryside in Exmoor, an area of outstanding natural beauty.
One of the highlights of this experience is the emphasis on natural horsemanship and holistic horse-led approach of Cathy and her team. The Gentle Horse and Rider Workshop will teach you how to connect with the horse through energy connection, touch, voice control and grounding. You can also watch a hawk and owl display or try your hand at flying the birds yourself at the Exmoor Owl & Wildlife Sanctuary (for an additional fee)
You'll be accommodated in cosy B&B accommodation in a 15th century farmhouse National Trust farmhouse within Holnicote Estate in Exmoor National Park. Hearty English breakfasts, light sandwich lunches and cream teas are provided and for dinner you can try the pubs in the village.
Click here for more info, prices, reviews and to book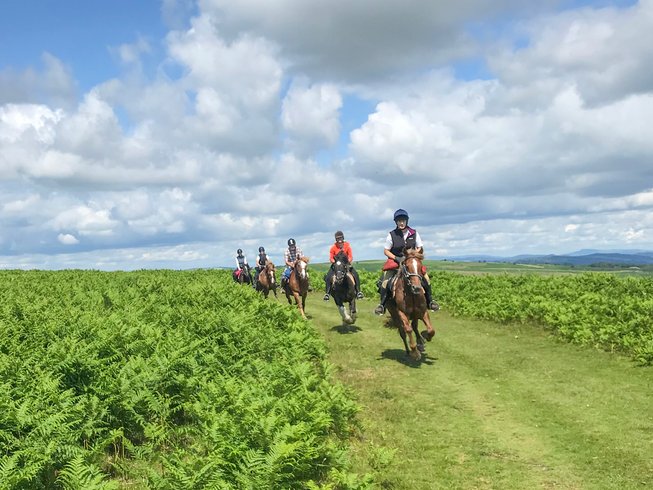 Freerein offers exciting horse riding holidays exploring the beautiful countryside of the Wye Valley on the English/ Welsh border for intermediate and advanced riders with 6 – 7 hours of riding each day on well trained, fit, forward and friendly horses.
Choose from a 3 day short horse riding tour package to the flagship 7 day border to coast horse riding adventure covers 100 miles across country from border to coast staying overnight at small inns along the way.
The epic week long horsey adventure starts in the Wye Valley and finishes on the sands of the Dovey Estuary in Ynyslas, Wales and includes scenic riding across remote hills and valleys, cantering along the beach and splashing in the sea. Accommodation, breakfast, packed lunch and dinners are all included.
Click here for more info, prices, reviews and to book
Enjoy trail riding, beach riding and carriage driving in Cornwall, undoubtedly one of the most beautiful places in England. Riders will enjoy many miles of rural bridleways, country horse riding and  carriage driving, as well as coastal and beach rides. What a way to explore the beautiful Cornwall countryside!
This is one of the best horse riding holiday in the UK for beginners as the Old Vicarage offers top class facilities and instruction that's individually tailored to suit your level and are especially skilled with helping novice riders and complete beginners build their confidence and skills on horseback.
They even offer individual, group and family 'Learn to Ride' packages. You can also try natural horsemanship, Equine Assisted Psychotherapy and Western horseback riding styles. Accommodation is included in spacious static caravans with self catering facilities. Full English Breakfast and lunch are included and served in the on site café.
Click here for more info, prices, reviews and to book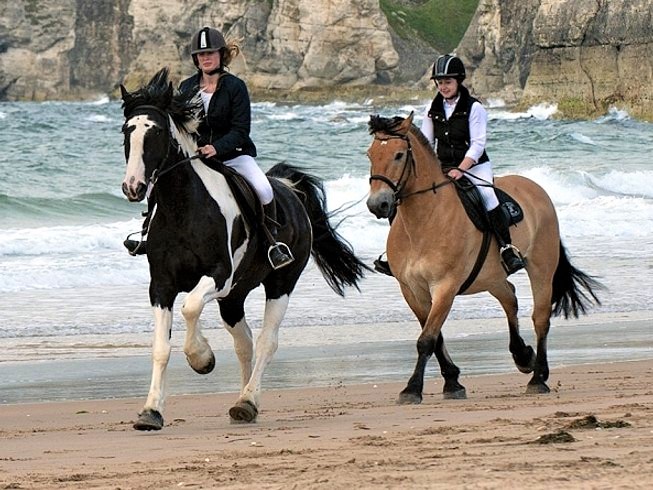 For epic equestrian escapes across the stunning and historic coast of Ireland check out Bespoke Equestrian Ireland. Choose from luxury riding holiday packages from 2 days to 1 week and enjoy expertly planned trips with quality accommodation, scenic rides across the beautiful and varied countryside and beaches and sightseeing. You'll even see some locations that you might recognise from the Game of Thrones and the famous Giants Causeway!
The 2 day Northern Ireland horse riding adventure package offers a great introduction to trail riding in County Antrim, Northern Ireland. Then work your way up to their signature 7 day North Coast adventure to explore the world-famous Causeway Coastal Route suitable for intermediate and advanced horse riders.
The meticulously planned routes and itineraries allows you to travel along the beautiful Irish coastline by horseback, enjoying varied and exciting 5 – 8 hours of riding every day with scenic rest spots and sightseeing breaks.
Accommodation, meals, luggage transfers and airport transfers all included. Some trips even include a days stay in Dublin city to start off your epic horseback tour of Ireland. (And, yes, technically some part of these trips are not all in the UK but this is such an amazing trip I couldn't leave it out!)
Click here for more info, prices, reviews and to book
Read More: