6 Best Yoga Retreats and Surf Camps in Tenerife, Spain for 2023 
Spain's most popular Canary Island, Tenerife, has something for everyone, from bustling resort towns with vibrant nightlife and exhilarating water sports, to peaceful, slow-paced fishing villages and stunning landscapes.
The Canary Islands are a great place to take a yoga retreat or active holiday. With year round warm, sunny weather and some of the best surf in Europe there are some fantastic yoga retreats and surf camps in Tenerife.
Pin Me! 😉
Reasons to go on a Yoga and Surf Camp in Tenerife
The Canary Islands are the best place to go for winter sun in Europe and you can enjoy a yoga retreat or surf camp in Tenerife any time of the year. 
Considered one of the best surfing spots in Europe, Tenerife surf camps are always epic. This Canarian island boasts all-year-round warmth and sunshine, along with world-class point breaks and reliable Atlantic swells.
What's more, Tenerife has lush nature, scenic mountain landscapes, and top-class hiking trails. Thus, Tenerife is a fab place to reconnect with mother earth and find inner peace on a yoga retreat.
To help narrow down your search, here are my top five surf camps and yoga retreats In Tenerife.
The Best Yoga Retreats And Surf Camps in Tenerife
If you dream of waking up in a beautiful villa overlooking the mountains, with a tranquil garden, pool, and rooftop to relax and enjoy the view, head to Bliss Adventure Yoga Retreats in South Tenerife.
Highlights include:
Twice daily yoga classes (Vinyasa, Yin, Restorative)

Guided hikes

Secret beach visit

Champagne sunset with live music
Unlike many other Tenerife yoga retreats, no surfing is involved at Bliss Adventure Yoga Retreats. Thus, it's perfect if you're looking for something more relaxing or want to just concentrate on deepening your yoga practice. 
You'll practice vinyasa yoga each morning before tucking into a delicious buffet breakfast. You'll then head out on an afternoon excursion, such as hiking, before returning for a relaxing yin class. They have two beautiful villa locations in South Tenerife.
Find out more about this luxurious retreat here.
If you and your friends are serious about surfing and want to learn from the pros, check out Secret Surf School in El Poris de Abona, a small fisherman town far from the tourist crowds.
Highlights include:
4 days of surf lessons

Private tuition 

Private beachside apartment with communal pool
This is a private retreat for you and your partner/friends, catering to 2 to 6 people, with one of the best Tenerife surf schools. Over the week, you'll have four 3-hour surf lessons with the highly experienced instructors Valeria and Gianfranco, with the rest of the time free to explore the island or soak up the sun. 
Note that food is not included in this retreat, but your apartment has an equipped kitchen, and many great local restaurants are nearby.
Learn more about this fun surf camp here.
Deepen your yoga practice while exploring the natural beauty of this stunning volcanic island on this hiking and yoga retreat with Wanderlust Yoga.
Highlights include:
2 daily yoga classes and yoga workshops
Guided hikes in stunning volcanic landscapes and national parks
Yoga excursions to the beach
5 nights accommodation in a historic villa
Retreat leaders Sarah and Constanze believe that being immersed in nature is the perfect balance between adventure an relaxation. So they created an amazing retreat complete with yoga classes on the beach, delicious meals, and a trip up Mount Teide. You're sure to return home feeling refreshed, revived and restored after this Tenerife yoga retreat.
Check out dates and more details here
If surf camps and yoga retreats in Tenerife interest you, but you're a bit of an introvert, why not book a private retreat with DHARMANAS instead. 
Highlights include:
5 days of surfing and yoga 

Organic, vegetarian brunch and dinner

Private apartment with balcony and sea view
You can book this private retreat solo or with a partner/friend and enjoy the relaxing non-touristy environment of Punta del Hidalgo in the north of the island. You'll stay in a private apartment a short stroll from the beach and enjoy private surf lessons each morning and tailored yoga in the evening (Hatha or Yin).
Learn more about this rejuvenating private retreat here.
If you want to spend a week finding your zen and learning how to surf in Tenerife without it burning a hole in your wallet, this yoga and surf retreat at Endless Summer House is for you.
Highlights include:
3 surf sessions

2 yoga classes

1 diving lesson

Surf theory lessons
As the schedule is pretty relaxed, this is ideal for anyone who wants plenty of free time to explore the beautiful island. You'll have one activity per day, with the rest free to relax or check out other activities. 
To keep the price affordable, you can stay in a shared dorm (there is also a female-only dorm). Or if you prefer privacy, private rooms are also available. Daily breakfast is included, allowing you to taste your way around Tenerife for lunch and dinner. 
See more details about this budget Tenerife surf camp here.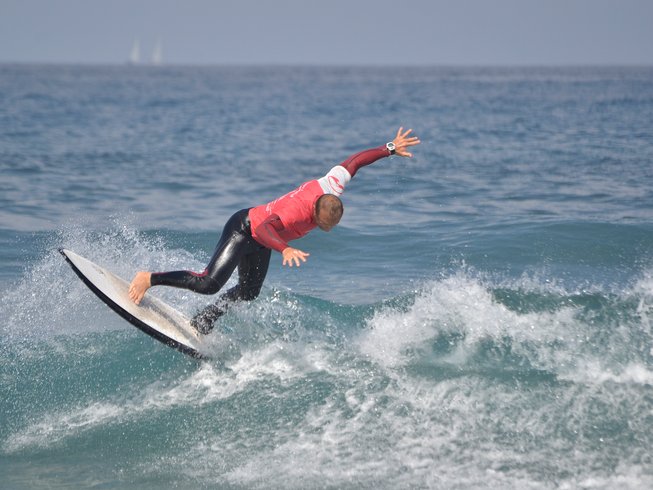 Volcano Surf Camp, located close to the bustling resort town of Playa de Las Americas, offers eight days of sun, fun, and adventure.
Highlights include:
6 surf lessons

3 yoga classes

Surf skate lessons 

SUP
This surf holiday is open to all levels, from beginners to advanced, and includes daily surf lessons, including theory. As one of the most jam-packed Tenerife surf camps, you'll also learn surf skating and SUP. Three yoga classes are also included to soothe sore muscles after all those watersports!
Volcano Surf Camp has options for all budgets, as you can stay in the shared dorm or upgrade to a private room. Note that meals are not included, but thanks to its central location, numerous restaurants are nearby.
Find out more and book your adventure retreat here.
More Tips For Yoga and Surf Retreats in Tenerife
You can practice yoga and surf all year round in Tenerife, but September to April is the official surf season. Booking a surf camp outside this time is also recommended as it is outside the high season, so there are fewer crowds and lower prices. 
It never gets super cold in Tenerife, but the water temperature from December to February can be a little chilly, averaging 20.3°C (68.5°F). Thus, for blissful weather and minimal crowds, go between September to October or March to April.
Tenerife is well connected to all European countries, thanks to its two international airports. Check where your retreat is located, as that will determine if you should fly into the south or north airport. Many retreat organizers will be happy to arrange a transfer from the airport if you ask in advance; otherwise, getting a taxi is easy.
Ensure your travel insurance covers surfing and all other activities you may do in Tenerife and emergency or covid related cancellations.
If you need more inspiration for a surf camp or yoga retreat in Spain check out:
Lastly, read reviews of yoga retreats on BookYogaRetreats and surf camps on BookSurfCamps before booking to ensure you choose the retreat most suitable for you.