How to Start your own Travel Magazine
If you're creative, the number of ways in which you can travel and work are endless. I'm really stoked to be interviewing Nikki Scott, the founder and editor of the popular SEA Backpacker Magazine about how she funds her travels.
An Interview with Nikki Scott from SEA Backpacker Magazine
About Nikki: Nikki Scott left her home country of England in 2008 on her first solo-backpacking adventure with a one-way ticket to Kathmandu.  After travelling for six months through South East Asia, she decided to turn her passion for travel into a permanent lifestyle and so, in June 2009, she founded SEA Backpacker Magazine – a fun and quirky free printed mag that was distributed in hostels, travel agents and cafés across Thailand, Laos, Vietnam, Cambodia and Malaysia and was such a hit that she soon had a team of writers and a HQ in Chiang Mai, Thailand. 
Nikki followed the success of SEA BackpackerMagazine with South America and Europe Backpacker magazines, as well as an adventure trip booking website for travellers, 'Backpacker Bookings'. This year, Nikki published a book about starting a business overseas and some of the more personal challenges she's faced along the way. Her book "Backpacker Business: One girl's journey from wide-eyed traveller to worldwide entrepreneur" is an honest and inspiring travel memoir that's been getting 5* reviews on Amazon. Nikki currently lives in Barcelona, Spain.
The work and travel lifestyle is a dream for so many people. So can you explain briefly how you make money while also being able to travel?
I run a series of websites, including SEA Backpacker Magazine that offer travel advice and inspiration for backpackers, which make income through affiliate bookings. For example, if someone books their travel insurance via a link on one of the websites, then the website makes commission. I also run a trip booking website called 'Backpacker Bookings' which makes a commission if someone books a trip. It's a collection of some of the most popular tried and tested backpacker adventures.
Sounds great. What made you decide to start these magazines and how did you make it happen?
After six months travelling in South East Asia, I was head over heels in love with backpacking and I wanted to discover a way that would allow me to continue exploring. After travelling in the islands of Thailand I had come across many free travel magazines, maps, guides about the local area etc.
I loved free travel magazines, but I was uninspired by what was on offer, as nothing spoke to a young backpacker like me. With a love of travel writing, art and design (and a huge desire to continue to travel rather than go back home and get a job!), I decided to create the first backpacker magazine for travellers in the region.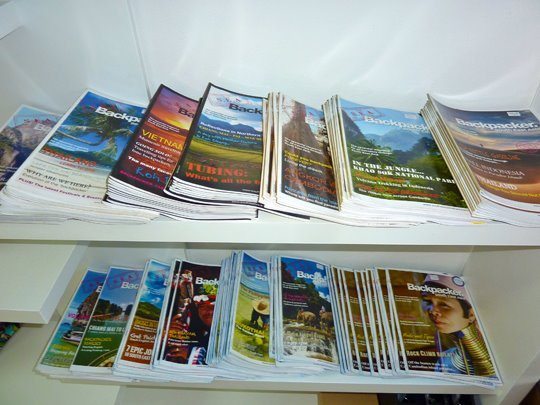 It took around six months to get SEA Backpacker magazine up and running. I knocked on thousands of doors of hostels, dive schools and adventure companies in an attempt to get sponsorship for the printing of the first issue, and I asked every traveller I met to contribute an article, funny tale, or travel tip to make up the pages.
SEA Backpacker magazine turned out to be a big success and as the years went by more and more people got involved in sharing their travel stories so that it became 'a travel diary for everyone'. We printed 30 magazines over six years and I had an incredible learning experience doing business in Asia and meeting so many different types of interesting characters!
My new book tells of my adventure, as I went from a bucket-drinking backpacker to the owner of a travel magazine – and all of the mishaps and challenges in-between!
That's amazing – really innovative and inspiring and I love reading SEA Backpacker magazine when I'm in Southeast Asia. So what do you like the best about this lifestyle?
As the magazines are now run solely online, it is easy for me to run the business from anywhere, as long as I have my laptop and decent WI-FI. I love the flexibility that this lifestyle gives me. I don't have to wait for my two-week annual leave to head off to a new destination. I set my own schedule and daily routine. In October, I am heading off to Sri Lanka and India and I'm taking my work with me!
But nothings perfect right? Are there any downsides?
As every travel blogger will tell you, the life of spontaneity can sometimes make you feel a bit unstable. You don't have the security of a regular monthly wage, and at times it can be difficult to keep self-motivated. Although I would struggle to go back to a life of 9-5 (which I did for two years back in England), sometimes I think I would like more of a routine to my days and a time when I 'clock-off'. When you run your own business, you never really switch off.
I can totally relate to that! So do you have one standout highlight, favourite destination or biggest achievement?
A moment that I will always remember is opening the SEA Backpacker Magazine office in Chiang Mai.
My vision for the office had been more of an inspiring 'travel hangout' than a stuffy office, and I wanted backpackers to wander in, chill out on the beanbags and feel comfortable asking me travel advice and browsing back-copies of the magazines.
Things had been hectic for months leading up to the opening, and I was also going through difficult personal times as my dad had just been diagnosed with cancer. I had put all of my passion into opening the office and it had been a good distraction for me.
Opening the doors on the very first day, I remember standing on the street feeling quite emotional, looking at the shiny sign and SEA Backpacker Magazine logo and feeling proud of myself at what I had achieved at that time in the face of such heartbreak.
What an achievement! So what has been the greatest challenge?
The greatest challenge of my life was keeping the magazine going through the illness and death of my wonderful dad. He was a huge inspiration for me as regards travel and starting the magazine in the first place. I kept it going during those times (and still do probably!) in order to make him proud.
What do you wish you had known before you started the magazines?
When I first started SEA Backpacker magazine, I worried so much about making mistakes and failing. I soon learnt that making mistakes is all part of the journey and it is necessary to make mistakes in order to progress and learn to do things better in the future!
So, what are your plans and ambitions for the future?
It was a very empowering experience to self-publish my book this year and from positive feedback, I feel encouraged to publish more books in the near future.
However, first I am heading off on a backpacking adventure with my boyfriend to Sri Lanka and India and I hope to take a break from writing whilst we do some exploring! I have never travelled as part of a 'couple' before and so I'm really excited about sharing the experience with someone special.
Cool! Glad to see you are coming to India! Finally, and perhaps most importantly, what tips would you give for people wanting to follow in your footsteps?
You can never underestimate the amount of experience that you gain from just giving something a go. If you have an idea for a business, book or adventure, grasp the day and just do it! You will never regret having tried something, but one day when you're old and grey, you might regret never having given it a go at all.
Going against the grain, from what your friends and family are doing, is a challenging, yet exciting and rewarding experience. People will admire and be inspired by you, no matter what happens. I promise you, you will look back and feel proud of yourself that you had the courage to follow your dreams!
Great advice Nikki, totally agree with you and loved hearing about your really interesting and inspirational journey! Thanks so much!
If you are working abroad or earning money while traveling and want to be featured here please contact me! 
Pin this 🙂