How to Work and Travel as an Au Pair: The perfect travel job if you love kids!
I love finding out about how people fund their travels and work around the world. In the latest of my working abroad interview series I'm talking to Alison about her experience working as an Au Pair in France and Italy.
Working as an Au Pair in France and Italy: An Interview with Allison Stacey
Allie is originally from Alaska in the US but has moved around alot since she was a kid and now calls Washington DC home. Allie has also studied abroad in Ireland, lived in Haiti on a Mission Trip for three months and lived in London for a summer and travelled through the UK and Europe but some of her best experiences where when she worked as an Au Pair in Lyon, France and Rome, Italy
The work and travel lifestyle is a dream for so many people. So can you explain briefly how you make money while also being able to travel?
The work and travel lifestyle is a reality anybody can have but like every other lifestyle, whether it is living in a small apartment in Thailand looking over the water or a flat in bright lights of New York City, one must have the passion to work hard to achieve life's desires.
The perception that travel is expensive keeps people from stepping out into the open path the world has for us. However, I was 20 years old! I had held no previous professional work placement. I was ready to tackle airfare, food, housing and travel insurance from what I saved working retail and food service.
However, travel is not as expensive as it appears and even if you cannot save thousands of dollars, it is possible to make money while you travel and to continue building your savings.  There are many opportunities out there for you: au pair, scuba diving, teaching a foreign language, bartending, travel writing, hospitality, seasonal work such as tour guide or ski resort, etc. There are chances to work on a cruise ship or be eligible for a Working Holiday Visa too. Take a look at your resume, see what skills are your strongest and you will find something!
Your totally right! So what made you decide to work as an Au Pair and how did you make it happen?
Now, I do not know whether people have this dream when they are little, when they are older or if it is in human nature to travel. There will always be an event or some experience that sparks the idea to put oneself in a new world. Well call it a tragic break up turned around, it was all because of a boy that "broke my heart" that convinced me I could do anything I wanted.
He was my first love and he decided to end things because I would never leave Washington D.C. "You are a home bound person" and "You want to go travel around the world but you are going to settle here, get married and you are not spontaneous enough", those were the words spoken to me. Well, it happened to be another year of college approaching and a week before I had to leave my family had to inform me that I could not attend university due to financial reasons. Well, what do I do now?
I had two options: continue to work at the retail store in the local mall along with a waitressing job for an entire year to raise up for tuition or prove my ex boyfriend wrong and make my terrible situation into a memorable moment in my life.
I decided to go back to the homeland: Italy. My mother and my grandparents are from Sicily, so the destination had always been on my bucket list!
I decided to become an Au Pair. Researching different Au Pair agencies, I wanted to go through the safest agency that gave me possibilities and chances to become acquainted with the family before committing. I chose the agency AuPairWorld and after several conversations by online, phone, Facetime/Skype and through background checks, I was hired!
I became an Au Pair for 6 months living in Rome taking care of two children, one girl (11) and one boy (7).
Wow, a really inspirational story! I love it how you completely turned your life around in what must have been a difficult situation! So what do you like the best about being an Au Pair?
What I enjoy best about this lifestyle is that I am comfortable. When someone just travels for one or two weeks at a time, finances are always the top priority. Am I spending too much or too little? Especially through a credit card, what are the conversion rates for my bank and the ATM fees?
Working abroad allows for an income to be expected and the currency to already be set. As an Au Pair, I had food and housing already covered. I was getting a weekly income that I would save on travelling and gifts.
But nothings perfect right? Are there any downsides?
There are downsides to being an Au Pair. I had the decision to leave my home, bed and family for an entirely new one! My mom thought I did not love her enough (that was not the case). But I had put myself in a foreign world through and through. I knew that I would be the only one speaking English along with the mother of the two children however walking into a foreign country; everything I learned in advance to prepare myself was melting in my brain. It went to mush.
For two whole weeks, I was terrified to walk out my door, scooters were flying by and people expected me to speak fluent Roman (not Italian but Roman…do not forget about different dialects). Many young waiters and retail clerks spoke English but the older generation does not.
In a nutshell, the first month was incredibly lonely, wifi was only offered in restaurants (a lot of families do not have it) and if you wanted anything, you had to swallow the lump in your throat, speak your rough Italian words to get anything at the local market. I was watching Italian movies, sitting at the kitchen table only listening to Italian, practicing Italian 24/7.
Italian women do not take anything lightly, they will make you practice and they will make sure you are well fed. As well, if you say "no" to a meal, Italians will never offer you that meal every again. When you say "no" they just want to be so hospitable that they will think the worst. The Italian drama is a very accurate stereotype.
Do you have one standout highlight, favourite destination or biggest achievement?
The best highlight: The Scavi Tour underneath St. Peter's Basilica. It was my last week in Rome so I made sure that each day I was awake and out the door by 8am. The children were not released from school until 4pm so I had the days to myself and nights and weekends with the kids. The Scavi Tour is an under ground tour of the original St. Peter's Basilica, the Necropolis. Here you will find the tombs of persecuted Christians by Nero, original Pagan/Early Christian art work and most beautiful of all, the tomb of St. Peter. One does not have to be religious to go on this tour, any body who has an appreciation for history would love it.
 Favourite Destination: Genoa Bay. Absolutely beautiful even during the winter. On the road from Rome to Genoa, the entire ride is along the Mediterranean and you pass by Pisa so you can see the Leaning Tower from your car. Later in the ride you will ride the Alps on your right. If you ever find yourself in Genoa, ask someone about Christopher Columbus (Christoforo Colombo), the Genoans will say that it was the Italians that founded the Americans. As well, eat some focaccia bread and have a plate of pesto pasta. The focaccia and pesto are originally from Genoa…delicious!
Biggest Achievement: After of month of listening and practicing Italian, I had become aware of what the subject of each conversation was, what the children needed for their homework (at that point I was really only helping them in their Math and English courses) and I was able to carry on conversations about myself with ease. As well, I had found a local Irish Pub that brought people from all over the world for a pint of Guinness. Through the pub, I made friends that spoke English, joined a football (soccer) club, and was able to feel at home in the foreign city.
And what has been the greatest challenge?
The greatest challenge was the language barrier and the feeling of being alone. I was not homesick but I did not recognize anything which made me miss home. However, if you have faith in yourself, you can do it! I knew I had overcome the greatest challenge when I took the kids on a tour through the Colosseum for a field trip. Caesar once said: "Veni, Vidi, Vici" (I came, I saw, I conquered) and that was what I had done.
What do you wish you had known before you started working as an Au Pair?
If you want contact with your family back home, have your phone set up before you leave. Living with the family, you are on duty 24/7.
Lastly, take in deep consideration before you Au Pair. Those kids will fall in love with you, they look up to you and they will become attached to you. When you leave, they will be heartbroken. I could only imagine how sad those kids would have been if I was only there for 3 weeks and gave up.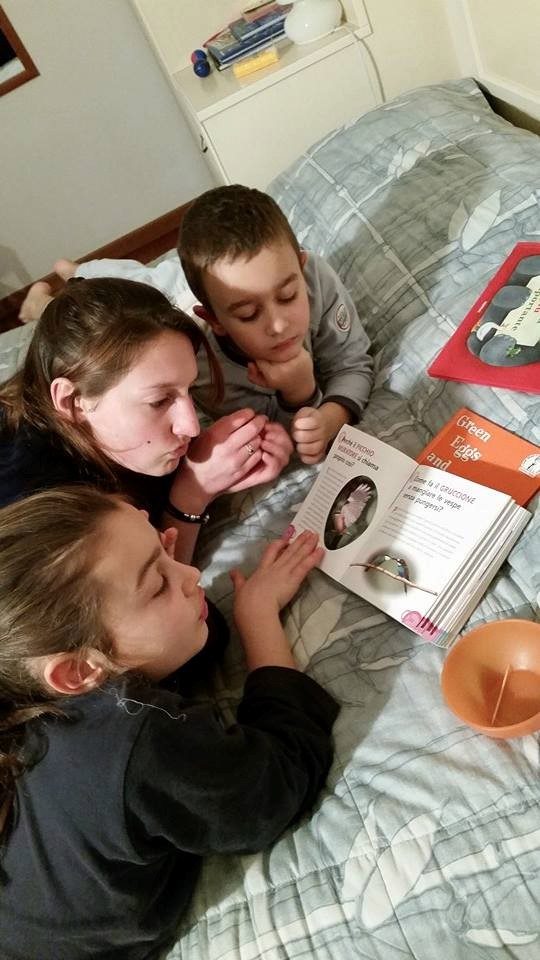 So, what are your plans and ambitions for the future?

My plans for the future: GO BACK! I am about to pursue my Master's in Museum Studies in London in 2017 and my goal is to find a job in Florence or Vatican City working as a curator/archivist.
Finally, and perhaps most importantly, what tips would you give for people wanting to follow in your footsteps?
Remember how I said that my ex boyfriend called me "not spontaneous enough." When two things went wrong in my life, I made sure I came out on top. Prove people wrong, prove yourself wrong. You can do anything if you set your mind to it.
So if you have the dream, then try! And when you tell yourself, "You Can't" remember Can't only stands for: Certainly, Absolutely Not Trying.
Go out there, have fun, make stories and take photos!
Thanks so much Ally! I love how you showed that ex boyfriend what for and what an interesting story you have to tell! 
If you are working abroad and wanting to be interviewed contact me!
You can also check out more tips on how to work and travel the world as an au pair here.