My Essential Backpacking India Packing List and Tips for What to Wear in India for Women
India is an incredibly diverse country, both geographically and culturally. It's also a conservative country so it can be difficult to decide what to wear in India and what to pack, especially for women travellers. When I first started backpacking I would get really stressed about packing so I thought writing an India packing list specifically for female backpackers in India would be useful. If you want more tips for traveling India as a female read about my experience backpacking India alone and check out my top tips for women.
India has it all, from some of the highest peaks in the world to beaches along the glistening sea, which is why it is such an amazing country to visit. Add to this the incredible history, iconic sights, food and spirituality, I think India is the ultimate destination – check out these 30 amazing experiences you can only have in India. But given it has so much diversity, it can be hard to decide on what to pack for a trip to India.
Essential things to think about before packing for India
Where will you be traveling? The climate of India is as vast and varied as the geography, the temperature can be zero degrees in one region to over 35°C in another, all in the same day! This makes it difficult to decide on your India packing list! What you pack depends alot on where you want to visit. So the first thing you will want to do is decide what region in India you will be visiting – check out my perfect India itinerary and route suggestions if your not sure. Will you be trekking in the mountains, lazing around on a beach, exploring the cities or riding camels in the desert or a bit of all!? 
What season are you visiting India? You will also want to check what season you will be visiting in and pack according to that. Again, this often depends on the region, but generally the hottest time of the year is from March until May, while the coldest is December to February – and that when most people travel in India. Let's not forget about the monsoon season, which runs from June to September. See here for tips for visiting Goa during monsoon and places to visit in India in July and August to avoid the worst of the monsoon. You can even take this one step further. For example, in the summer the mountains will be significantly cooler, while in the winter the south will still be very hot. So where you will be visiting will play a significant role in what is on your India packing list.
Pin me for later 😉 
What to wear in India for women
Women traveling in India should know that India is a conservative country and so even if the weather is hot its really best to cover up and dress conservatively to avoid unwanted attention and respect the local culture. This means its generally a good idea to keep legs and arms covered in loose fitting clothing – sometimes I even found that even Western tops and jeans got too much attention because they were tight fitting and too revealing. You do need to be aware that sometimes Indian men perceive foreign women as 'loose' so dressing conservatively is a good idea but I've been traveling India (mostly solo) for about 3 years all together in the last 5 years and I don't always cover up and I've not had any big issues with men. I'll explain more about what I wear in India through the post and make sure you read these tips for women traveling India too.
I tend to be more conservative about what I wear in India in North and Central India, but in the South and in the mountains I feel OK wearing less clothes. I like to wear Indian clothes as they are colourful, comfortable and light weight. This doesn't mean you have to wear a 5 foot long sari (although it is really fun to dress up in one while you're in India!)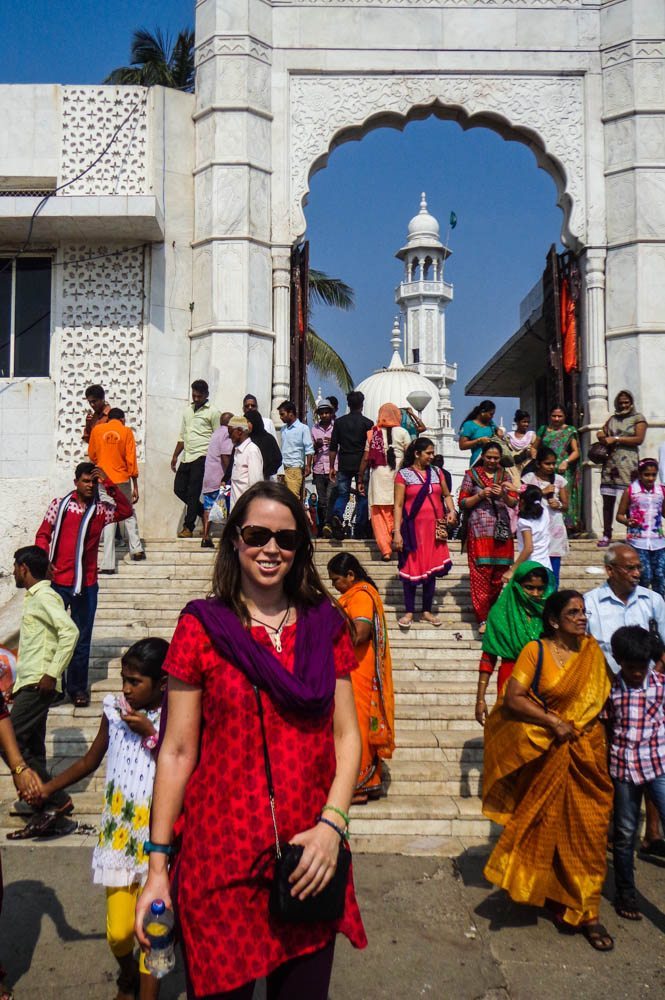 I usually wear a kurta (long top) or salwar kameez (loose fitting long top and pants) with a dupatta (scarf)  I also find a dupattas useful to cover my nose and mouth from pollution, dirt and dust if I'm in an auto rickshaw and stuck in traffic. If you have big breasts you might want to use a shawl or scarf to cover them like the local women do.
I often wear jeans and a t shirt/fleece in the mountains where its cooler and in the heat of South India I often wear baggy backpacker style 'ali baba' pants/trousers and a top – sometimes I'll wear a vest top if its hot but I'll carry a scarf or shawl incase I feel like I should cover up a bit more.
Of course, in Goa, Kerala and in affluent areas of the big cities women often wear Western clothes but as a Western women traveling in India you will get more attention than Indian women anyway so often its better to cover up and err on the safe side to avoid unwanted attention.
So if you are a female backpacking India your India packing list will be significantly different than that of a male's for cultural reasons as well as many other factors. Plus, sometimes a girl just has to have what she has to have! 
The last thing to consider before packing for India is space. There are many things, like Indian clothes, ali baba pants and scarves that you can purchase easily and cheaply once you are there, plus you'll probably want to buy souvenirs so don't come to India with your bag fully packed. 
Also, if your plans change and you end up trekking in the mountains without planning for it then don't worry because you can buy things like wool sweaters, scarfs, hats and gloves once you get to the North. These things take up loads of space so it is a good idea to buy them there but for things like backpacks and shoes where quality is really important its better to bring these with you.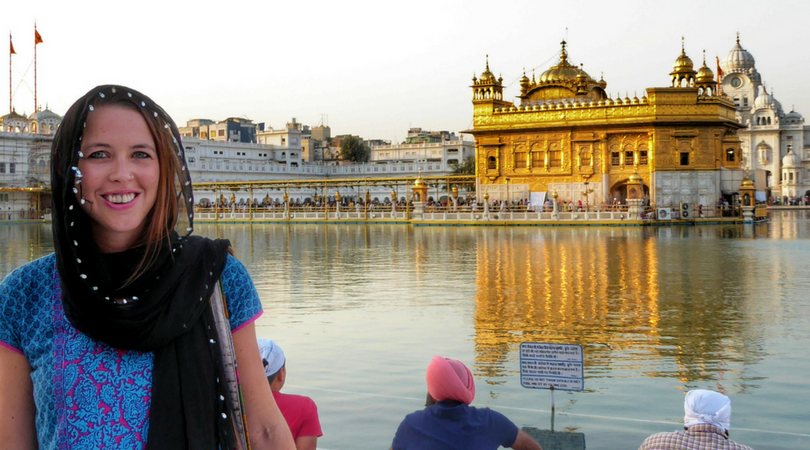 My Essential Backpacking India Packing List
I have been to India so many times I have lost count and I have made many packing mistakes (usually in order to save money) so you can learn from my mistakes by reading this post! On many visits I have gone to more than one region, which made things a little bit more difficult for packing. But with a little thought and planning, these issues are very easy to work around. Basically, I just go with a general list and work from there, adding things if needed.
Here is my general India packing list geared towards females travelling through India. I like to buy alot of stuff from Mountain Warehouse because its affordable and good quality and they have a good branch in my (small) hometown.
It's often cheaper and easier to buy a lot of this stuff on Amazon so I've included links to make it easier for you and if you find the packing list useful and want to support me then I can also earn a small commission, at no extra cost to you, which helps me to keep this site running so thank you so much! 🙂
Travel Essentials for Backpacking India 
Budget: At least £20/$25 per day. Approx £600/ $800 a month (more here on costs of backpacking India) You can't buy Indian Rupees outside of India but there are many money changers and if you plan to use your debit or credit card don't forget to notify your bank that you will be traveling so they don't block your card. I just joined Starling Bank – its a new bank in the UK which doesn't charge foreign transaction or withdrawal fees which saves money and you can manage your bank account right from your smart phone. This one is working out much better for traveling than my old bank account.
Visa: All visitors need a visa to visit India – you won't be allowed to enter the country without a visa so don't forget this! Citizens of 161 countries can now get upto 1 year tourist, business and medical Evisas for India online. Read this post for all the info and how to apply for an Evisa.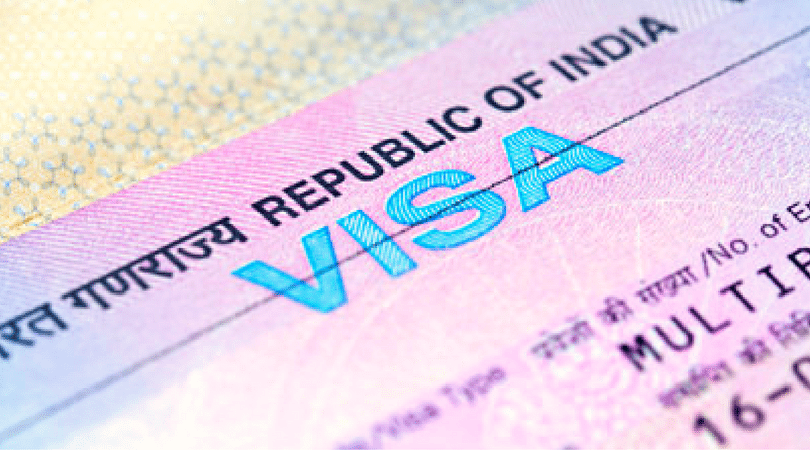 Travel Insurance: Also don't forget your travel insurance, essential in case of any medical emergencies, missed planes, lost backpacks. I use World Nomads. Also read this – do you really need travel insurance for India? for tips on travel insurance and staying safe in India.
Flights – When booking flights to India I always check Skyscanner first. If you can be flexible you can search for the cheapest flights over the whole month and to any airport then you can often find the cheapest and best deals. 
My India Packing List
Backpack – Your backpack is one of the most essential items you will need on your India packing list. The right backpack can make or break your trip so its important to take the time to choose a good quality one. Choosing the right backpack is not somewhere where you want to try and save money – its best to buy a good quality one that will last the trip and feel comfortable.
It can be hard to know which backpack to choose for backpacking India, not only do you need to get the right size backpack suitable for the amount of stuff you are packing and the length of time you will be backpacking India but you also need a backpack that fits your body comfortably and provides enough support for the weight you'll be carrying.
For trips longer than a couple of weeks, or where you are traveling through different climates and regions, I would suggest a backpack sized between 50 – 70 litres, for me 55 L or 60 L is ideal, traveling lighter is also better, much more than 60 L and the backpack is getting too heavy and cumbersome to carry comfortably, any less and you may struggle for space and have to limit your shopping. ☹
You'll need a day pack or smaller bag too, not just for sightseeing in the day time but also so you can split your valuables into a smaller bag when traveling on overnight buses and trains so its also really useful to get one with a detachable day pack too to avoid the pregnant turtle look!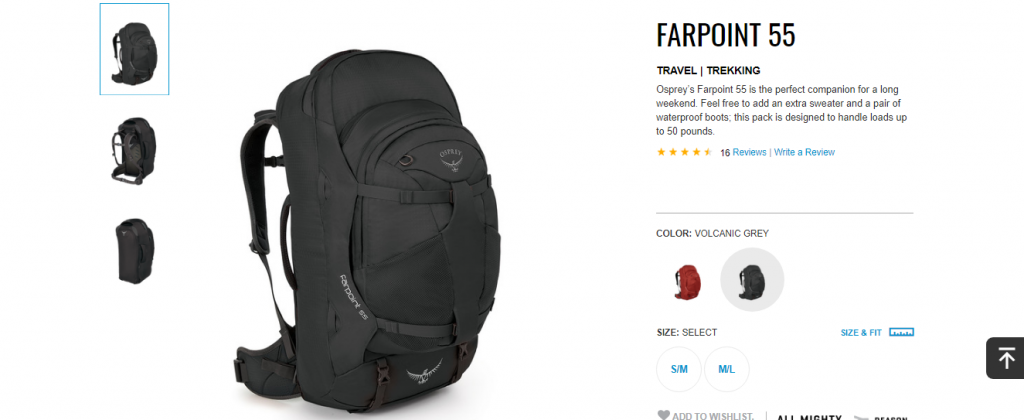 I had a cheap backpack at first which was uncomfortable and broke after a week or so. Also top loading backpacks get annoying quickly as you have to take everything out every time you need something. The backpack I travel with now is an Osprey Farpoint 55 Backpack. The detachable day pack is really handy and while there are some backpacks that are designed specifically for women, if you are a smaller woman you might find those better but I find that the unisex Osprey is a comfortable, good quality, lightweight, great all rounder backpack.  I usually also use some packing cubes which keep your things organised inside the bag and make it easier to find things in a hurry.
I also have a Cabin Zero bag which is great for traveling cabin baggage only on weekend getaways or week long trips to places like Thailand but won't be big enough for a long backpacking trip around India. 
Sleeping Bag Liner – Unless you are planning on hiking a lot in the mountains you probably won't need a full weight sleeping bag but I've always found traveling with a sleeping bag liner is really useful. They are small, lightweight and easy to pack and great to use as a sheet, especially if you are travelling on an overnight bus or train, and I also often use a sleeping bag liner when staying in a backpacker hostel or cheap guesthouse where the sheets are sometimes not provided or often not as clean as you would like. I have this sleeping bag liner from Mountain Warehouse.
 Travel Pillow – a small travel pillow is also really useful for using on flights, buses, trains and in cheaper hotels where the pillows are sometimes not so nice. I have this small, foldaway soft pillow from Mountain Warehouse – for me its more like a proper pillow and more comfortable than the blow up ones you put around your neck.
 Microfiber Travel Towel – Another thing I could not travel without is my microfiber travel towel. They are great for on the go, as they dry very quickly and fold up small. Often cheaper hotels don't provide towels or they are old and slightly dirty so I always prefer to carry and use my own. It's also good to have a towel on long-distance bus and train rides so that you can wash (or rinse) your face as traveling around India can get dusty. You might want to make sure you get one big enough to cover your whole body to avoid any awkward moments in the hostel corridor though! I have this large travel towel from Mountain Warehouse.
India Guidebook – A good guidebook can be super useful. The Lonely Planet India Guidebook is my favourite, its a huge guide for all over India packed with useful maps, things to do, places to stay and eat as well as many useful information and practical tips. The paperback book is quite heavy but you can save space by downloading the E Book version for your phone or tablet or if you are just concentrating one 1 region they also have smaller, regional guidebooks.

Lock and Chain – It's a good idea to take a good quality lock both to lock doors of cheaper guesthouses and also when travelling sleeper class on the train it's a good idea to chain and lock your rucksack to the seat while you sleep. Locks are also good to have as spares in case the lock on your guesthouse room is not so great.
Money Belt – You might also want to pick up a travel security belt with an hidden inner security pocket where you can hide your money and passport under your clothes. You can get a money belt like this or for something less touristy this normal belt with a hidden sleeve is cool.
Small torch – Super handy for the many power cuts that happen in India or for walking at night on badly light streets, beaches, paths etc. I like keyring torches as they don't get lost so easily.
Eye mask and ear plugs – another essential for getting some sleep on long flights, overnight bus and train rides and in hostel dorms or noisy hotel rooms. Sometimes the airline gives them to you for free but not always and they are cheap so I usually carry a set anyway.
Dry Bag/ Backpack Rain Cover – If you will be traveling in monsoon season then you'll definitely want to get something to make sure your stuff doesn't get wet – when it rains it really does pour! Something like dry bag keeps your valuables dry and a raincover for your backpack is good for keeping your backpack dry – its best to buy this with your backpack if you can so you know you've got the right size and fit – there's nothing worse than a bag full of wet clothes and broken electronics.
Clothing for backpacking India
Especially for women, it can be confusing to know what to wear in in India as its a hot but conservative country – so when packing for India you'll probably want to think more about clothes that are comfortable while not revealing too much rather than fashion.
You can pick up many things when you get to India, like cheap, loose, lightweight and comfortable kurtas (long tops) shawls and scarfs and many backpackers like to wear comfy, baggy, 'ali baba' harem style hippie trousers/pants.
Never pack your bag full because you'll want to save space for picking up souvenirs and cheap clothing while you're backpacking India but take enough good quality stuff because the cheap stuff you buy in India often isn't great quality, sometimes things I've bought break after just 1 or 2 days, and you'll have to be prepared to haggle to get a decent price.
Here's what clothing you should have in your India packing list:
Comfy trousers/pants – Cargos/trekking pants or loose cotton trousers are best, jeans may be too hot but if you are traveling to the mountains then I would add jeans or warmer trousers. Whatever you feel comfortable spending an entire day in. I have these trekking pants from Mountain Warehouse as they are comfy with loads of pockets and you can also zip off the bottoms and turn them into shorts.
Leggings/ Yoga Pants – India is the home of yoga so if you are anything like me then you will want to try at least 1 yoga class while backpacking India! Leggings are also small and lightweight and great to use for layering if you are heading to the mountains or to wear as leggings under a skirt. I normally just wear plain leggings under an Indian kurta (long top) similar to what the local women wear.
Long Skirt/Dress – Depending on where you are going, you could get this while there. But you should definitely have at least one with you for walking around and visiting temples.
I live in my Ali Baba pants when I'm backpacking India. If you don't already have some baggy pants there are many places to buy them once you get to India and they come in lots of crazy colours and patterns. I normally have a couple of pairs because they are super comfy, lightweight, don't crease and cover me up without getting too hot. If you want to buy some before you go (or just look to see what they are like) there are some hippie pants on Amazon.
Tops – I normally bring a couple of loose, lightweight T shirts and some vest tops. In South India and beach places like Goa you should be OK wearing vest tops but in many other places in India leave the vest tops for layering as its better to cover up with a looser t shirt. Loose, cotton tunic and kaftan tops are popular and comfy to wear in India and you can buy these cheaply here. A thin long sleeved sweater/ cardigan/ blouse or cover up is also always useful to have. You can shop for cheap Indian tops and kurtas in the markets or big stores like Reliance and Max have lots of cheap clothing.
Scarf/ Sarong – You can easily buy this in India and its so handy because it doubles up as a scarf, a sarong, a shawl to cover your head in temples, your mouth in traffic/dust, can be used to sit on the beach and even as a towel.
Warm Jumper/Fleece/Hoodie or Jacket – Even though India is a hot country it can still get cold at Winter (which is the most popular season for backpacking India) If you are heading to the mountains you will need a couple of jumpers and a jacket, even Delhi and the deserts of Rajasthan can get cold at night in the winter. Also sometimes the air conditioning on buses and trains and in hostel or hotel rooms can be freezing cold and riding a motorbike at night in Goa in the winter can also feel pretty chilly so bringing some warm clothing to India is essential. I have this jacket from Mountain Warehouse, its lightweight and packs down pretty small but is still warm and water resistant. This jacket is perfect for winter but probably too warm and not waterproof enough for monsoon.
Lightweight RainCoat – especially if you are travelling during the monsoon season. I have this one.
Underwear – I normally bring at least 7 pairs of knickers so you have enough underwear for a week. I prefer to wear comfortable cotton underwear in the heat or for doing any hiking. I also bring a comfy/sports bra as well as everyday bras.
Socks – For socks, the amount depends on what you are doing. If you are hiking, you want to be sure to have a few good pairs of good quality hiking socks. If you are not hiking but are going to be in the mountains, you will want 2-3 pairs of warm socks. If I am mainly traveling in warm places you probably won't need many pairs of socks as I prefer to wear sandals most of the time.
Pyjamas/ Nightwear – if you really want to save space you can just wear ali baba pants and a vest to bed but that might be a bit gross if you were wearing them all day! 
Swimsuit – If you are going to spend time on the beaches of Goa or Kerala then you don't want to forget to pack a swimsuit or bikini. I find that its hard to get decent bikinis or swimsuits here (traditionally Indian women go in the water fully clothed) so you'll want to bring a couple if you are planning on spending a lot of time by the sea. Even if you're not going to the beach many higher end hotels in India have swimming pools and some will let you use the pool for a small fee even if you are not staying there so I always bring a swimsuit just in case the opportunity to swim arises!
If you are going to be spending a lot of time in Goa then you might also want to pack sundresses, shorts or going out tops/dresses, but in the rest of India you probably won't wear these much.
Shoes for backpacking India
Shoes take up a lot of space in your backpack and are heavy so minimising the amount of footwear that you bring is important but its also really important to have comfy footwear – the wrong shoes can really ruin your trip if you can't enjoy your travels because your feet hurt too much!
Sandals/ Flip Flops – India is generally a warm country and you have to remove your shoes very often to go into temples, houses and some shops, restaurants, hotels etc so I live in my flip flops while traveling as its comfy, cool in the heat and just easier. I can't live out my Havaianas Flip Flops – its really important to have comfy and durable shoes and these last for years and never give me a blister!
You can't buy genuine Havaianas in India so I buy before I go and they usually last me for years. I have 2 pairs – a normal pair (I like the animal print ones the best) and I also love the Luna ones which have extra straps which give a bit more support. I call these my hiking flip flops and have actually trekked in the Himalayas in them! 
Other people find hiking sandals more comfortable. Chaco , Teva and Keen are the best brands to go for. Chaco make practical and comfy sandals that look a bit more stylish and Teva also do some nicer sandals that are comfy but are more stylish and don't look too clunky like the Teva Capri Sandal.
Trainers/ Shoes – It's also a good idea to take some proper shoes not just sandals and flipflops. If you are planning on going hiking then a good pair of walking shoes or hiking boots is essential. Remember to start breaking new boots in before your trip!
For general sightseeing I find breathable, lightweight trainers are comfortable and practical. Try to get ones like  Toms espadrilles are also great shoes for traveling and Sketchers Go Walk shoes are pretty good too.
Toiletries for backpacking India
For women backpacking India, bringing some toiletries and some basic medicines is essential. In the major cities and tourist destinations you can easily buy some toiletries but you will want to have a few to start you off. When buying toiletries in India I like the Himalayan Herbals brand the best.
Some things aren't so easy to find in India, especially if you are particular about the brand you want and many products have whitening cream in them so its best to bring your favourite products along with you.
I also always travel with a small first aid kit and some basic medicines like Paracetamol, Imodium and Ciproflaxin in case of any stomach upsets or small illnesses but there are many pharmacies you can buy many things in India over the counter. Don't drink the tap water in India – only drink bottled water. You can take purification tablets if your worried but bottled water is sold almost everywhere. 
Hanging toiletry organisers are really useful to keep all your toiletries in one handy place.
Travel sized shampoo, toothpaste and body wash – You can buy more as you travel from the main global brands.
Toothbrush – if you don't want to take a bulky electric toothbrush
Wet wipes and tissues
Your favourite face cream or moisturiser – most sold in India have whitening cream so you'll probably want to bring your own
Deodorant – again many in India are whitening and it can be hard to find the roll on types.
Sunscreen
Insect/mosquito repellent – get one like this with a high level of DEET. Some people prefer to wear the mosquito repellant bands. You can also buy in India but different brands and I think the Western brands are more effective. 
Lip balm – I always use one with SPF in it.
Tampons or Moon Cup – You can get pads all over India but tampons are harder to find – only in the major cites and places like Goa they have OB brand tampons in not  applicators ones so if you need these then you should pack them. Even better be kind to the environment and your body and pick up a Moon Cup before you leave. More tips here from Alice Teacake about traveling on your period.
Hand sanitizer – super handy and easy when there is no soap. Ideal for using on long journeys or before eating with your hands! I like the mini hand sanitizers that have a handy clip so you can attach them to your bag.
Makeup (if you can't go without it, personally I don't bother wearing much makeup when traveling, especially in the heat)
Contact lenses and solution (if you wear them) – You can also buy these in India if you run out but its best to take enough as they are not sold everywhere. It's also a good idea to bring some eye drops to refresh your eyes as it can get dusty in India.
Glasses and Sunglasses – India can be quite dusty so prescription sunglasses are a good investment if you need them.
Condoms – again not so easy to find. Better to be prepared and bring some just in case!
Prescription medicines
Electronics for backpacking India
How many electronics you take when backpacking India is up to you, because I'm blogging and freelance writing while on the road I tend to take quite a lot of gadgets. If you're not planning on blogging or working then you should be OK just with a decent unlocked smartphone, adaptor and power bank.
Travel adaptor – This one is important or none of your electronics will work for long! India uses a different plug system from anywhere else with 3 pins (but sometimes only 2 pins like American/ Europe plugs sometimes work in India.) You can buy adaptors in India but often they are not very good quality and don't work very well. Better to order a couple like these before you go.
Unlocked Smartphone – As a woman traveling alone in India I feel much safer with a local sim card and my smartphone. Make sure its unlocked so you can put a local sim inside. Having a phone is invaluable for the maps so you don't get lost or ripped off by rickshaw drivers. You can also use your phone as a camera, music player, alarm clock, a torch, read your guidebook on it, look up information, book hotels, keep in touch with people back home and even to make phone calls!
Getting a sim card in India can be a complicated and time consuming process but to save time and hassle you can preorder a local simcard and smartphone plan from Trabug and have it delivered to your first hotel when you arrive complete with a sim card and a package of local and international calling minutes, texts and data. If you are going to be in India for a few months then its worth getting your own sim card (see here how to do it) but if are only backpacking India for a few weeks then its not worth the hassle – its much easier to go with Trabug then spend days of your trip messing around trying to get a sim card. Check out my review of the Trabug service – it's so much more than just a sim card as the phone is packed with handy sightseeing and safety features especially for travellers! Also, Global Gallivanting readers can get an extra 1GB of data for free by quoting the code GG1GBEXTRA.
Power Bank – Does anyones battery even last the whole day these days? Having a power bank is really useful to keep your gadgets charged up on the go especially when there are frequent powercuts and on the lower classes of bus and trains there are none/limited powerpoints. Anker Powercore are the best for powerbanks, I have this one by Anker which is a lifesaver.
Headphones – not just good for listening to music or movies on your phone or tablet – its also nice just to shut the world out for a while if people are hassling you.
Camera and case – If you're not super into photography then you can probably just use your phone. I travel with a compact camera and a DSLR for my blog. I have a Panasonic Lumix TZ70 (but if I was buying again now I would get the Sony Cybershot RX100 III because it has a tiltable screen much better for selfies lol but I couldn't afford it at the time) and a Canon EOS 700D DSLR Camera. Don't forget a case to take care of your camera. See more here on the best compact cameras ideal for traveling.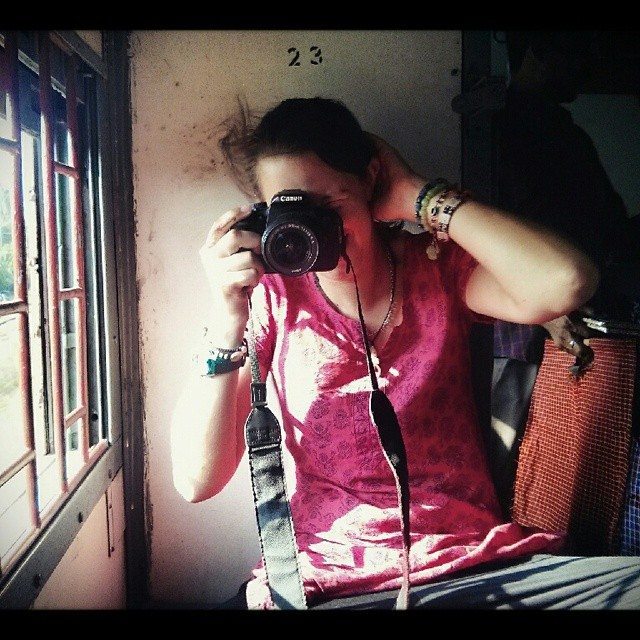 Music player/ipod – (if you don't have one on your phone)
Kindle/ Tablet/ iPad – A kindle is great for reading books while traveling – it saves so much space and you can get any book, in any language, at any time, the battery last a long time and you can read on the train, beach or anywhere. There are also lots of English language books that you can buy in India and often on the trains they come round selling books in English.
I also have an ASUS Zenpad tablet which I love because its much easier to whip out and do some work, play games, watch movies or read a book on a plane or bus than a full size laptop so now I just take my tablet as it does everything expect its not so good as a kindle for reading on the beach.
Laptop – if you are going to be blogging or for digital nomads who are working as they travel then a laptop is essential. I had a Dell for a few years which broke, now I have a Lenovo Yoga at the moment which is pretty good but not the fastest. Everyone says I should upgrade to a Mac Book Pro.
Don't forget things like USB flash drive, memory cards and SD cards and I also always travel with a durable Transcend 1TB External Hard Drive. Even if you don't have work to do you can store loads of photos and movies on the hard drive, great for keeping entertained on long layovers or journeys.  
What not to bring
I tend to avoid wearing white or light coloured clothing in India as it gets dirty and dusty so quickly and never seems to get clean again (even though nowadays it's often quite easy to find laundry done by machine) I also prefer cotton and breathable materials in the heat.
I don't worry too much about theft in India and I travel with alot of gadgets nowadays but I still wouldn't bring any expensive and inessential items like jewellery or designer watches, clothes, bags etc that you really don't want to lose or any clothes you don't want to get dirty.
I think I've covered everything on my India packing list. What do you think – have I forgotten anything essential to pack for backpacking India? 
You might also want to check out this comprehensive packing list for solo female travelers suitable for traveling anywhere in the world.
Pin me and help another traveller 🙂