Nowhere else on the planet has so much rich culture, history, food and scenery so close together as Europe. This diversity makes it ones of the most exciting destinations on the planet and there's also many amazing places to do yoga teacher training in Europe. If you're considering doing yoga teacher training abroad, Europe should certainly be on your list.
Reasons to do Yoga Teacher Training in Europe
As yoga has truly spread across the world there are some amazing yoga retreats and options for yoga teacher training in Europe. Some yoga schools have even moved over from Asia to Europe so now you don't have to go far to get your yoga fix!
Whether you've just got into yoga as a way to exercise during lockdown and want to learn more or if you want to invest in a healthy and rewarding career for the future doing a YTT is a transformative experience and you can find the perfect yoga teacher training in Europe.
People from all walks of life and all levels of experience take yoga teacher training in Europe –  you don't need to be an expert yogi or plan to change your career.
If you need some more tips before taking the plunge check out these useful articles: –
Pin Me 😉 
Tips for Choosing a Yoga Teacher Training Course in Europe
There are YTTCs held in nearly every country in Europe and they all offer a unique and beautiful experience but Spain has double the amount of yoga teacher training courses in Europe than any other country.
The best countries for a YTTC in Europe are Spain, Portugal, Greece, Italy and France. These countries all offer good weather, stunning beaches, fascinating history, delicious food and a wide range of excellent yoga teacher training courses that will take your practice to the next level and allow you to become a registered yoga teacher.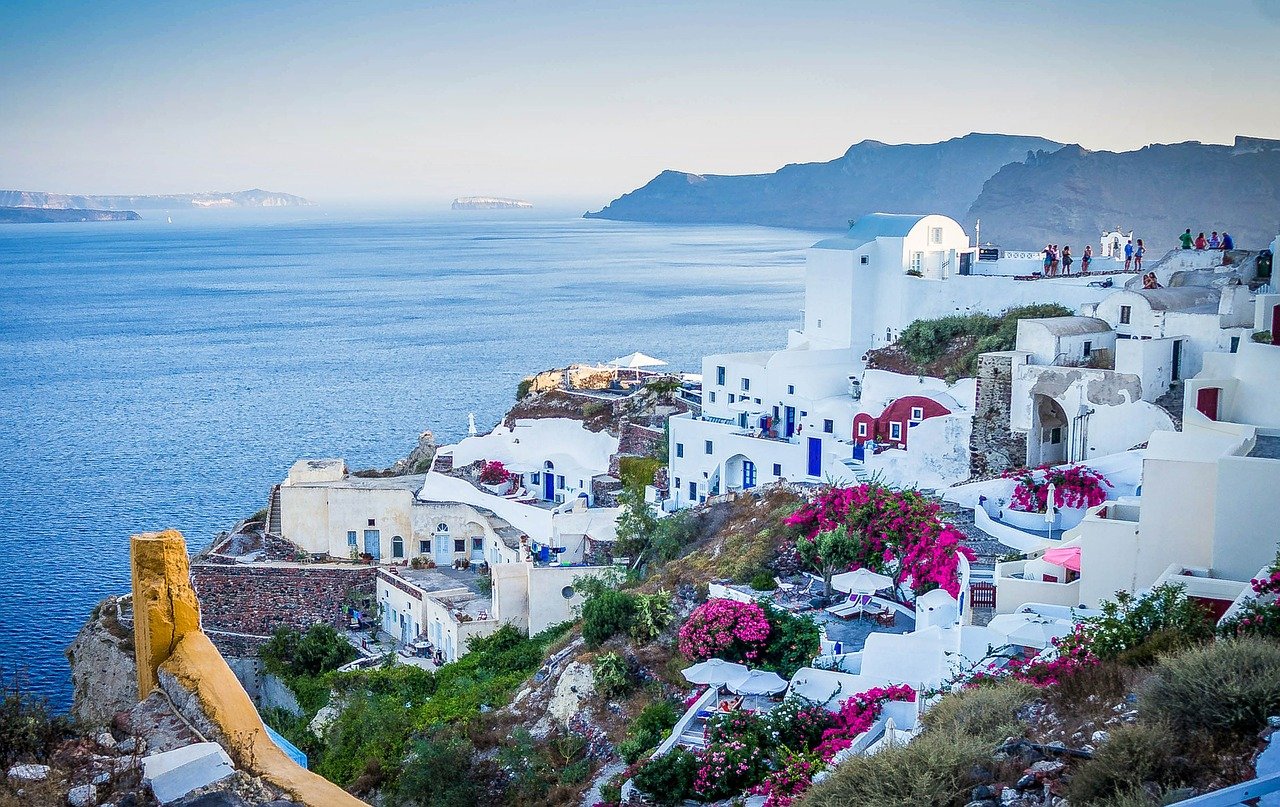 Doing any yoga teacher training course is a big investment of your finances and time so make sure to do your research before you book to ensure that the course and style of yoga taught is suitable for what you wish to teach in the future.
I'd also recommend considering the course with the longest duration you can as you'll have more time to absorb all the information you're learning, relax those sore muscles and explore the location.
Always make sure your YTT is Yoga Alliance approved. While most schools have a similar curriculum, quality can vary a lot and its more important than ever to get reviews from previous students before you book your yoga teacher training in Europe.
I find sites like www.bookyogaretreats.com and www.bookyogateachertraining.com really useful as you can read reviews from previous students as well as getting all the information you need about the style of yoga, instructors and daily schedule.
Also read this article for more tips on things to look out for when choosing a yoga teacher training course.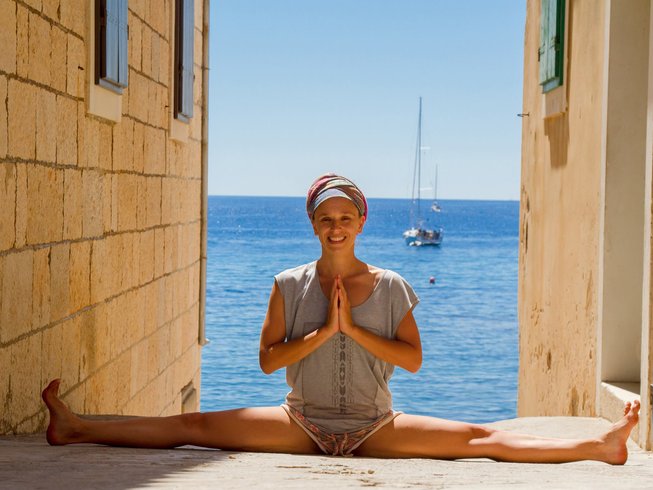 Yoga teacher training is physically, spiritually, mentally and emotionally challenging but also very rewarding and could really change your life. If you just want a relaxing yoga retreat then check out my pick of the best yoga retreats in Europe 
So without further ado, here are my recommendations for the best places for yoga teacher training in Europe to make it easier for you to pick your perfect YTTC.
The Best Programs for Yoga Teacher Training in Europe
Originally started in Goa, India, the fantastic Green Yoga International is now offering yoga teacher training in Europe on the beautiful Spanish Baleric island of Mallorca.
The magic all happens at Shanti Niketan Yoga Ashram & Wellness retreat, which is located in a typical Mallorcan village. It's the perfect setting for concentrating on your yoga teacher training, finding inner peace, learning more about yourself and Indian yogic philosophy by building a bridge between East and West.
This 21 day yoga teacher training in Spain will train you to teach multiple styles of yoga, including Hatha, Vinyasa, Ashtanga, Sivananda, Restorative, Aerial, Acro, Yin and Yoga Nidra. You will even have the option of taking a SUP yoga workshop.
Days will start with a meditation session, followed by a morning yoga class. In the afternoon, you will learn about philosophy, adjustments, anatomy and practicum before practicing yoga again in the evening.
Also included is a special Ayurveda workshop, delicious daily vegan meals and accommodation in a stone room or glamping bell tent in the peaceful and eco friendly ashram complete with a saltwater swimming pool.
Even if you can't travel to India you can still receive the same yoga teacher training in Spain! This is one of the best yoga teacher training in Europe for those who want to explore all styles of yoga and receive authentic teaching from Indian yoga masters. This is a comprehensive and intense course for those who want to become a great yoga teacher. Click here for more info, dates, prices, reviews and to book your place.
Read More: The Best Yoga Teacher Training Courses in Spain
This 17 day, 200-hour yoga teacher training in Portugal is the perfect balance between countryside relaxation and the lively beach life that the Algarve is known for. This is one of the best yoga teacher training in Europe as it brings ancient teachings into a contemporary context.
You'll learn various forms of meditation, pranayama and yoga, focusing on Ashtanga and Vinyasa Flow, plus a bonus certified 8 hour Ayurveda massage course and an optional Reiki attunement session. You'll also delve deep into the study of the eight limbs, ethics and philosophy of Yoga.
The contemporary side of things will teach you how to run a yoga studio, teacher branding and how to find students making it a great investment for those wanting to run a yoga business.
You will be staying at the 4 star Flor da Rocha Hotel, which is a five-minute walk away from Praia da Rocha beach, and has a large swimming pool and spa. Healthy vegetarian meals are also included.
Yoga training will be at the Bend it like Buddha Yoga studio, which is just 2 minutes away. This offers participants the opportunity to enjoy both their training and the beach, as well as everything that Praia da Rocha has to offer. Click here for more info, dates, prices, to read reviews and to book.
Read More: The Best Yoga Teacher Training Courses in Portugal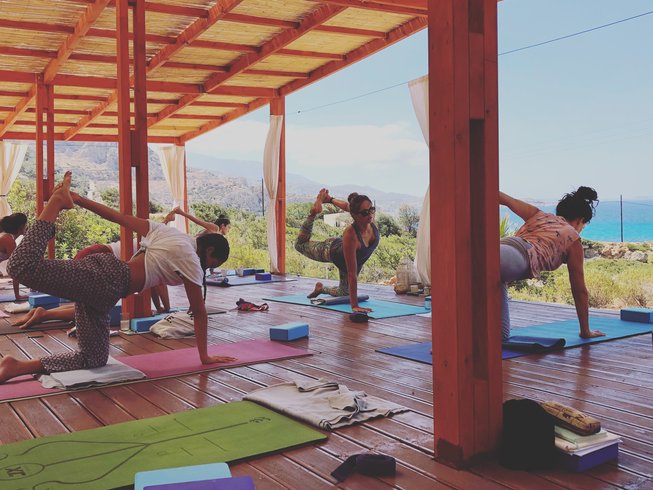 Stay at Kathy's Island Retreat while doing this fantastic 22 day 200 hour yoga teacher training in Greece held on a stunning Greek island.
One of the most impressive things about this course is the huge and well equipped yoga terrace that overlooks the Aegean sea. It's the perfect setting for meditation and pranayama, learning the eight limbs of yoga, yoga anatomy, the scientific benefits of yoga and, of course, practicing Hatha and Vinyasa yoga, which you will do twice a day.
After yoga sessions, you can go for a swim in the sea, relax on your private terrace or get a massage. There are also 3 included excursions to historic sites and beautiful beaches allowing you to explore the island easily.
This is much more than a yoga course, there's also things including sound healing and personal energy, mental and sentimental healing designed to bring about a shift in consciousness
Healthy Mediterranean vegetarian and vegan brunch, dinner and snacks are all included, as is tea and water throughout the day. Raw food diets can also be accommodated.
You'll stay in stunning accommodation, with newly renovated rooms boasting a fridge and a terrace that overlooks the sea. They are perfectly designed for relaxing in between your training and experiencing the bliss of falling asleep to the sound of the waves and waking up to views of the glistening Aegean sea.
Airport transfers are also provided making this a great value all inclusive European yoga teacher training program. To read reviews, see dates and prices, get more info or to book, click here.
Read More: The best yoga teacher training courses in Greece
Expand your heart and consciousness while becoming a proficient yoga teacher on beautiful Vis Island – the most enigmatic of the inhabited Croatian islands. You'll be guided on this 16 day 200 hour YTTC journey by knowledgeable, heart centered teachers with over 15 years of experience in yoga.
As well as daily Hatha, Ashtanga and Yin yoga classes, mediation and pranayama you'll also learn all about yogic philosophy, anatomy, alignment and the art of teaching.
Off the mat you'll enjoy meditation on the beach, 2 SUP yoga classes and an introduction to stand up paddle boarding on the sparkling Adriatic sea.
A trip to ancient pirate town of Komiza and the blue cave on the island of Bisevo is also included so you get the best of both worlds – immersing yourself in yoga teacher training and still exploring the highlights of this Mediterranean island paradise.
You'll be staying in comfortable, fully equipped apartments at the magical 'Estate under the Paintbrush' and experience living in harmony with nature within walking distance from some stunning beaches.
A generous organic Mediterranean buffet style breakfast and 4 course lunch made with locally sourced ingredients is also included. This is one of the best yoga teacher training in Europe for the heart centered approach and Mediterranean island paradise location. Click here for more details, prices, dates, reviews and to book.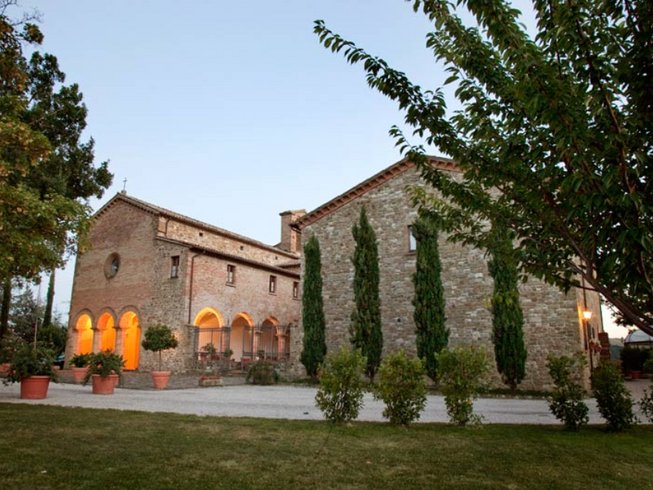 YogaMea offers yoga teacher training courses in both Rishikesh, India and Italy. Experience a unique 28 day 200 hour yoga teacher training in Italy held in an Italian Renaissance era monastery with views over the rolling Italian countryside. You'll be immersed in the historic, mystical and spiritual atmosphere of this monastery making for a really special and unique YTT experience.
There are 2 daily Hatha and Ashtanga yoga classes which are often held outside in the cloisters and lush gardens of the monastery. This comprehensive YTTC also includes pranayama, yogic cleaning techniques and mantra chanting as well as yoga philosophy, anatomy, physiology and the art of yoga teacher and the yogic lifestyle.
3 daily organic Ayurvedic vegetarian meals and comfortable accommodation in the historic and impressive monastery that dates back to 1503 are also included.
YogaMea also hold a YTTC at the beach side town of Misano in Rimini but this is one of the best yoga teacher training in Europe if you want an immersive and unique spiritual experience. Click here for more info, dates, prices to read reviews and to book.
I hope this blog has helped to find your ideal European yoga teacher training course. If you're still undecided check out my other posts or this article about yoga teacher training abroad for more tips and recommendations.
Read more blogs about yoga teacher training:
Have you been on a great yoga teacher training course in Europe?
I'd love to hear about your experiences in the comments below.