There's many beautiful places in the UK to explore and staycations are a great opportunity to explore the beauty of your own country, reconnect with our roots and enjoy the little things we take for granted on our own doorsteps.
I was born and brought up in Suffolk and have loved re-exploring my beautiful home county. Suffolk is a great option for a relaxing countryside post lockdown holiday in the UK and the perfect place to stay for a post lockdown escape is one of the cute holiday cottages in Suffolk!
Why stay in a Suffolk Holiday Cottage
Pin Me! 😉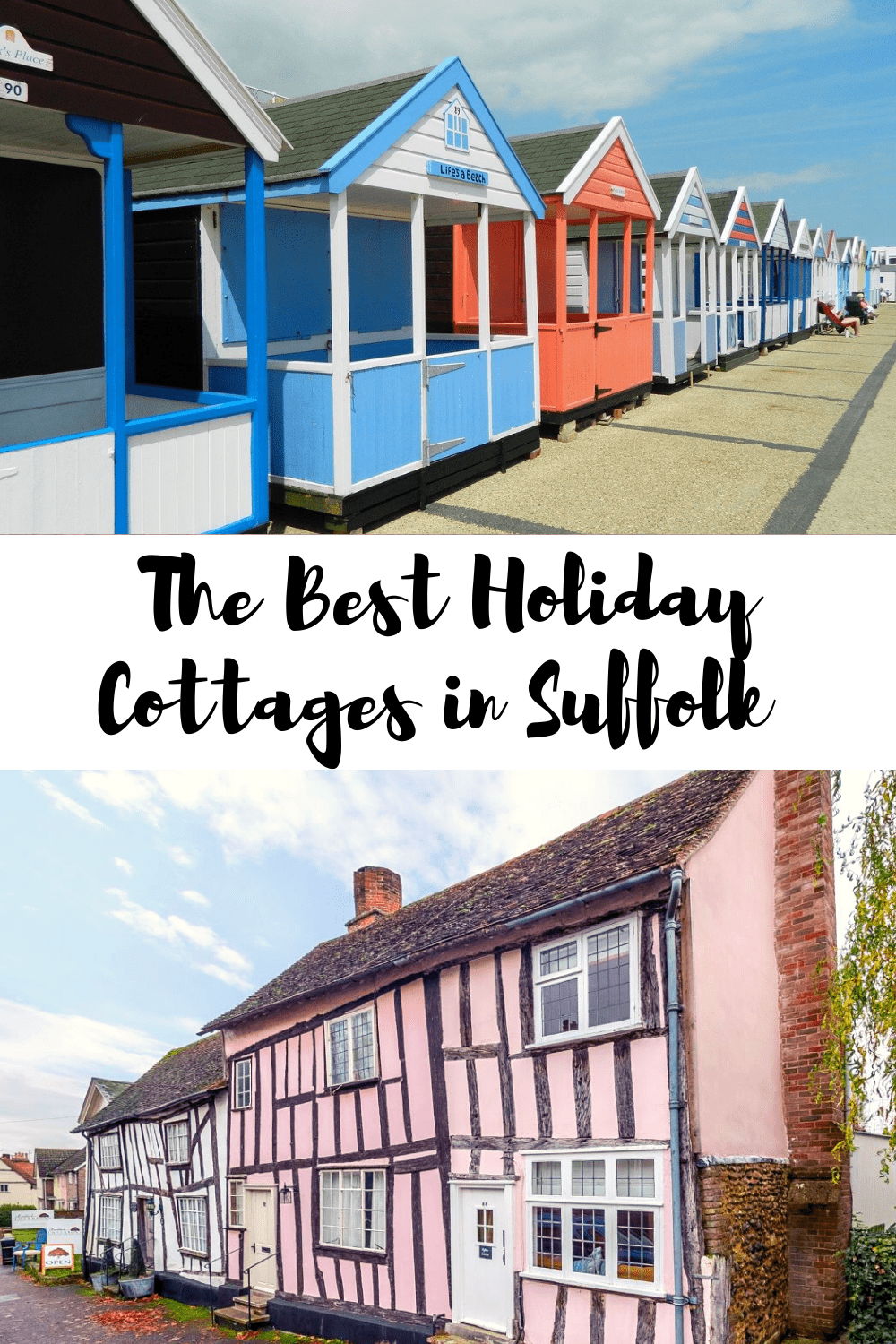 Suffolk is one of England's most enchanting counties and has so much to offer for a rural escape not far from London.
Suffolk has everything from pretty medieval villages and castles to natural beauty spots that have inspired great artists and a blissfully undeveloped coastline with plenty of space, countryside and wide open skies.
The Suffolk countryside is the perfect place to get away from it all while still having plenty to explore. Check out my post on The Best Places to Visit in Suffolk – by a Local!
Staying in a holiday cottage in Suffolk could be the ideal post lockdown escape
With so much space Suffolk makes an ideal choice for a post lockdown holiday in the UK and renting a holiday cottage in Suffolk is the perfect way to enjoy a romantic couples break or family holiday. You'll have the cottage to yourself so you can have all the comforts of home and don't have to worry about distancing from other guests like you would in a hotel.
Plus, you'll feel more like a local when you stay in a holiday cottage in Suffolk than if you stayed in a hotel and you'll get to explore some wonderfully offbeat natural beauty spots. One of the best things about holiday cottages is that they are all unique. Many holiday cottages in Suffolk even allow you to bring your pets – your dog will love all the new walks and some even have hot tubs if you want to treat yourself for a romantic couples break.
With the UK government announcing that from April 12th self-contained accommodation such as campsites and holiday lets will be allowed to reopen its the perfect time to rent a holiday cottage in Suffolk and take a much needed getaway after this difficult year. UK staycations and holiday cottages will be popular so better to book in advance and take advantage of
Here's my picks of the best holiday cottages in Suffolk. My favourite places to find more holiday cottages are www.ruralretreats.co.uk,  www.suffolkhideaways.co.uk, www.skyesholidaycottages.co.uk and www.holidaycottages.co.uk.
This post is written from my own local knowledge and is not sponsored by any of these companies mentioned but if you choose to book through the links I've provided I can earn a small commission at no extra cost to you which would really help as it's been a very bad year to be a travel blogger!
My Pick of the Best Holiday Cottages in Suffolk
Kersey is one of the prettiest historic villages in Suffolk and this spacious, beautifully converted studio is full of character and makes a perfect romantic getaway. The studio at Ayres End is a 15th century thatched building with a large feature fireplace set within the charming, landscaped gardens of Ayres End House – once the inspiration-giving work place of author, Hammond Innes. Highlights include the mahogany super king size bed, under floor heating, clever self contained kitchen that can be folded up when not in use and the gardens. You'll get exclusive access to the medieval-style summer house which makes the perfect spot for soaking up the sun with morning coffee or drinks in the evenings.
Kersey is only 30 mins drive from Ipswich and makes a good base for exploring South Suffolk. There's also a fantastic pub, The Bell Inn, just 400 yards from Ayres End Studio which offers home cooked food in a traditional pub setting. This quaint holiday cottage in Suffolk has 1 bedroom and sleep 2 people so it's ideal for a romantic getaway but sadly pets are not allowed in this property. Click here for more info, photos, prices and to book!
Read More: The Best Places to Visit in Suffolk (by a local!)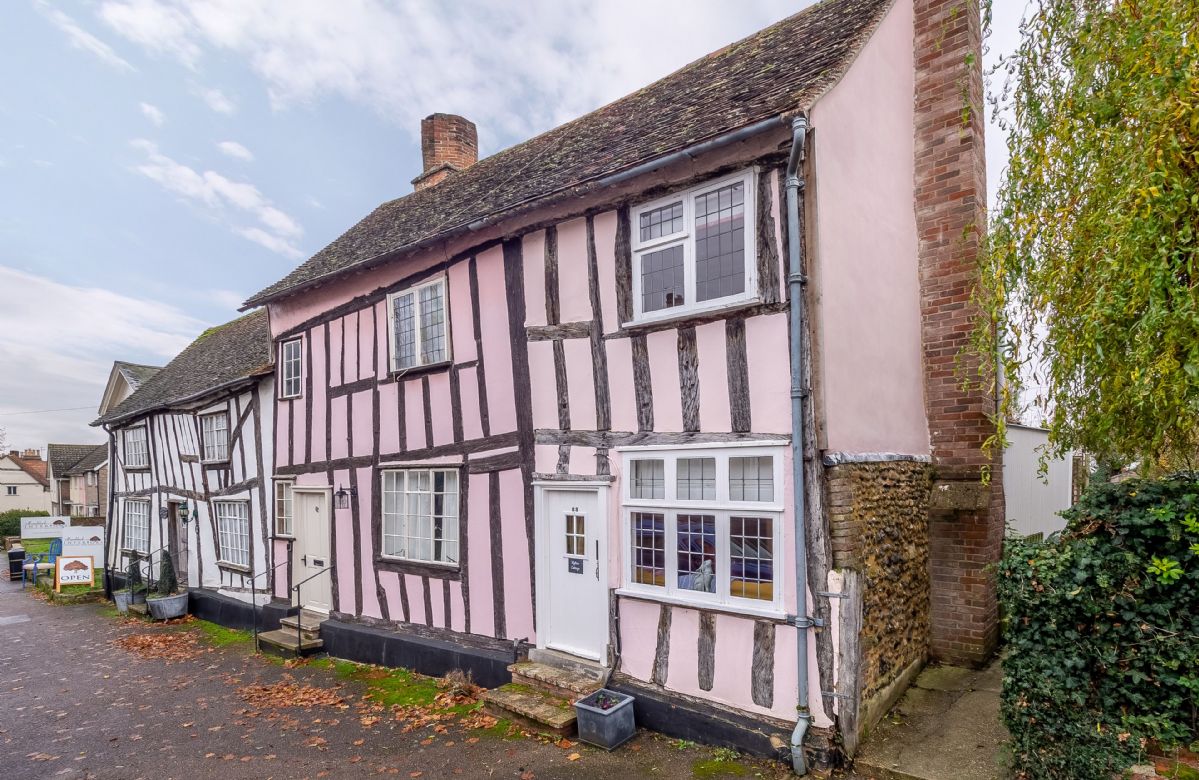 Lavenham is one of the best preserved medieval villages in all of England with it's colourful, Tudor timber framed, chocolate box houses. The village has even appeared in films like Harry Potter. If you stay at Hylton Cottage with its beautiful, distinctive Tudor-style frontage and period features you can really immerse yourself in this glorious heritage. 2 adults and 1 dog can stay in this super cute holiday cottage in the heart of this historic but still lively village close to all the amenities including shops, tea rooms and excellent traditional pubs.
The semi-detached historic Suffolk holiday cottage oozes history, charm and character with plenty of elegant timber framework, whilst still including all the home comforts you might expect, like a sumptuous sofa and comfortable bedroom to relax in after a day exploring the local sights, a bespoke well-equipped kitchen and tranquil, enclosed garden. Lavenham is the heart of historic Suffolk and offers easy access to explore the rest of the county. Click here to see more info, photos and prices and to book!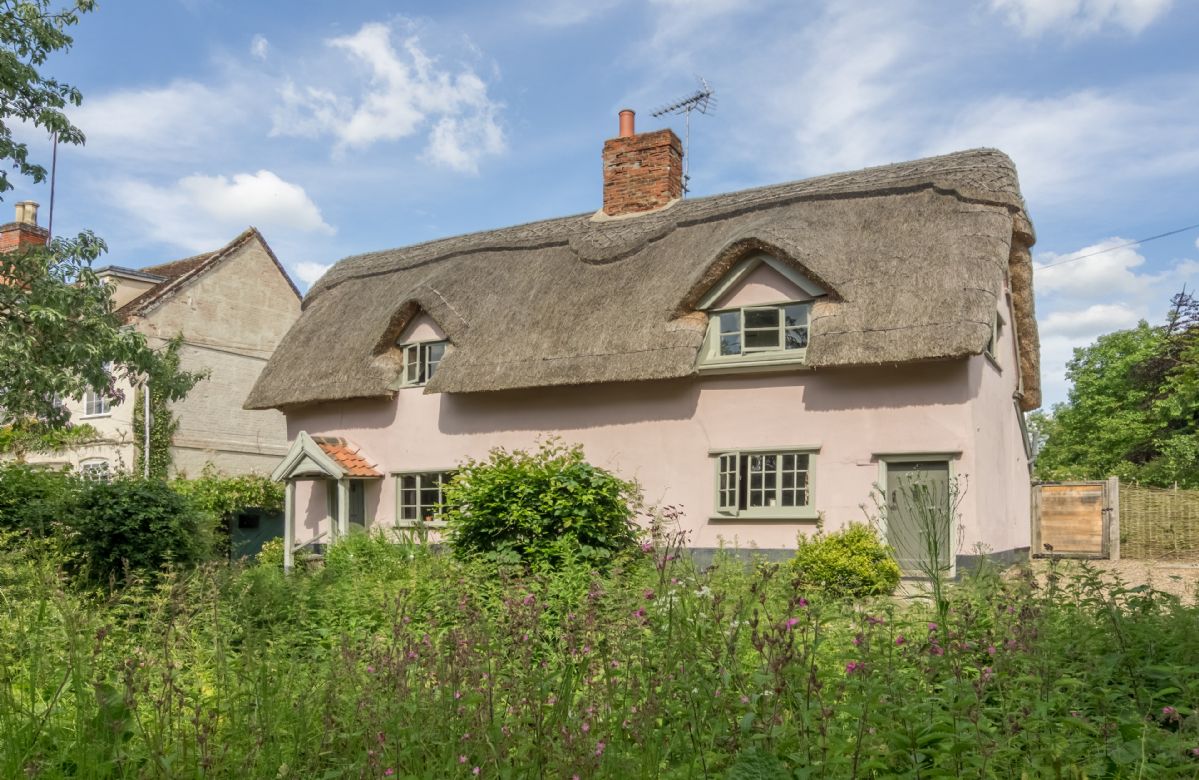 One of the cutest, and most historic, holiday cottages in Suffolk is Gardener's Cottage, a charming, Grade II listed, 17th century thatched timber framed cottage that sleeps 4 in the village of Thornham Magna.
The village has a pub, thatched roof church, cafe, restaurant and photographer's gallery and is only 30 minutes drive east to Framlingham Castle or west to the historic market town of Bury St Edmunds. Gardener's Cottage also sits on the edge of the Thornham Estate which offers 12 miles of wonderful walks through beautiful parkland and ancient woodland.
This cottage has been wonderfully updated and still contains many of it's beautiful original features including exposed wooden beams, pamment floors and an Inglenook fireplace. I also love the cute stable door. The property has a modern kitchen, cosy living room and dining room full of character.
There is 1 double bedroom and 1 with twin single beds, both are accessed by quirky individual staircases and have en-suite bathrooms. This chocolate box Suffolk cottage also has a lovely garden with a large terrace and wild flower orchard. Dogs also also welcome. Click here for more photos, info, prices and to book! 
This large, recently converted barn with lofty vaulted ceilings, wooden feature walls and plenty of natural light makes a great home from home for 4 guests in the historic village of Hoxne near Eye in North Suffolk with easy access to the Suffolk Coast. Downbridge Lodge was built in 2020 so it's super new and modern but still has plenty of character. Relax in the spacious, open plan living space complete with a contemporary wood burning stove, modern kitchen, sociable dining area.
Folding doors open out to the large stone terrace that boasts a fire pit, barbecue and lovely countryside views. There's also a covered outdoor seating area that ca be enjoyed whatever the weather. There are 2 bedrooms, both with en-suite bathrooms and smart TVs and super king size beds, which can also be configured as single beds upon request making this holiday cottage in Suffolk great for families or groups of friends but pets are not permitted. Click here to see more photos, info, prices and to book!
Also consider: I also love Black Swan Barn, a super stylish, modern barn conversion with huge floor to ceiling windows letting in heaps of natural light and exposed brickwork feature walls that sleeps 6 people nearby in the village of Fornham Magna. It's a bit more pricey but it's really stunning!
This enchanting Suffolk country cottage is located in the village of Friston, only 7 minutes drive from the quaint and quirky seaside villages of Aldeburgh and Thorpeness and with easy access to the Suffolk Coast and Health Area of Outstanding Natural Beauty. Myrtle Cottage has a perfect mix of period features and contemporary home comforts with plenty of natural light.
The spacious open plan kitchen and conservatory dining area boasts huge windows and lots of light. The living room and 3 bedrooms are cosy and bright with exposed wooden beams and stylish furniture. There is a master bedroom with super king size bed and 2 twin bedrooms making this holiday cottage in Suffolk perfect for a large family. Myrtle Cottage also has a lovely, large, enclosed garden with a nice terrace area perfect for alfresco dining and dogs are also allowed. Click here for more photos, info, prices and to book!
Snow Hall Barn, Peasenhall
Relax and dine on the balcony of this unique barn conversion overlooking the peaceful private grounds, farmland and Suffolk countryside beyond. Snow Hall Barn is a beautiful renovated, quirky and unique barn located near to the village of Peasenhall (famed for its roaming peacocks) and only 20 minutes drive to the popular Suffolk seaside town of Southwold. It's the perfect location to unwind surrounded by nature with easy access to Suffolk's 'Sunrise' Coast.
Snow Hall Barn is situated next to the owner's 15th century farmhouse in private grounds and can sleep 4 guests. This quirky barn offers oodles of wood features and has 2 double bedrooms and a bathroom on the ground floor. The highlight of this Suffolk holiday cottage is the spacious and comfortable open plan living area upstairs complete with wood burning stove and French doors that open out onto a lovely decked balcony where you can soak up those wonderful countryside views.  Dogs are also welcome. Click here to see more info, photos, prices and to book!
I hope this post has helped you discover the perfect holiday cottage in Suffolk for your post lockdown escape! Have fun and stay safe 🙂