My Pick of the 7 Best Yoga Retreats in the Canary Islands for 2023
These 7 sunny Spanish islands off the west coast of Northern Africa have long been popular with holiday makers soaking up the best winter sun in Europe, but there's so much more to discover for the more adventurous and active traveller.
The Canary Islands boast not only fantastic beaches and all year round warm weather, but also a rich culture, unique and diverse scenery and plenty of outdoor sports and activities. The islands are popular for cycling, scuba diving, surfing and hiking, and there's also many excellent surf camps and yoga retreats in the Canary Islands.
The 7 Canary Islands all have unique scenery and something different to offer. Gran Canaria, Tenerife, Lanzarote and Fuerteventura are the most popular but also don't forget about smaller and more offbeat La Palma, La Gomera and El' Heirro too.
Check out this article for more on how to chose the best Canary Island for you. Or perhaps, just choose the yoga retreat you like the best and head to that island.
   Pin Me 😉
Like hotels, not all yoga retreats are equal, so it's important to do some research to make sure your Canary Island yoga retreat is a memorable experience for all the right reasons!
I find www.bookyogaretreats.com, really useful. It's like the Booking.com for yoga retreats! It's great to be able to read reviews of the yoga retreats from people who've already been there.
To help you pick your perfect retreat holiday in the sunshine are my recommendations for the best yoga retreats in the Canary Islands.
The Best Yoga Retreats in the Canary Islands

Best Yoga Retreat in Fuerteventura – 7 Lemons House
To the north of the beautiful island of Fuerteventura, nestled between two volcanoes, 7 Lemons House welcomes spiritual seekers and surf souls to their beautiful eco property. Fuerteventura is known for being one of the best surf spots in Europe, and this retreat combines adventure on the waves with self-connection on the mat.
In the mornings, you'll receive personalised surf tuition, tailored to your level. This is followed by vinyasa and hatha yoga, to ease out any tight muscles from your time out surfing. You can also indulge in a therapeutic massage to truly unwind. Between classes you'll take hikes through volcanos and around the coast, taking in amazing views across the island making this one of the best active retreats in the Canary Islands.
Read More: Best Yoga Retreats in Portugal
Spend a week in paradise surfing and practicing yoga on the beach on the uniquely stunning Lanzarote island.  With at least 4 hours a day of surfing and 1 hour of Hatha, Kundalini or Vinyasa yoga right on the beach you'll definitely be feeling more invigorated and in touch with nature after this surf and yoga retreat in the Canary Islands!
Packages include accommodation in a surf-house that's directly facing the beach. Food is not included, but the house is self-catering, complete with a kitchen and everything that you need to prepare your own meals. It's also a short, easily walk to a variety of nearby local restaurants that serve everything from Spanish tapas to healthy vegan cuisine. You will also have time to relax and enjoy the magnificent natural surroundings.
Read More: Best Surf Camps in the Canary Islands
Run by Azulfit, Surya Yoga and Pilates Retreat is enjoyed in a Spanish villa nestled amongst greenery, complete with a lush courtyard, lounging areas with hammocks, large swimming pool and hot tub. It's the perfect place to relax, rejuvenate and practice yoga while enjoying the views of the beautiful surrounding countryside.
Run by Rachel Blunt, Surya Retreat offers both yoga and pilates everyday, as well as additional Q&A classes, essential oil workshops and meditation. You can even sign up for a nutrition course. In addition to this, brunch and dinner are included at this Canary Island yoga retreat, both of which are prepared with with balanced, plant based ingredients by their in-house chefs. This is one of the best yoga retreats in the Canary Islands for all round fitness.
Read More: Best Yoga and Surf Camps in Fuerteventura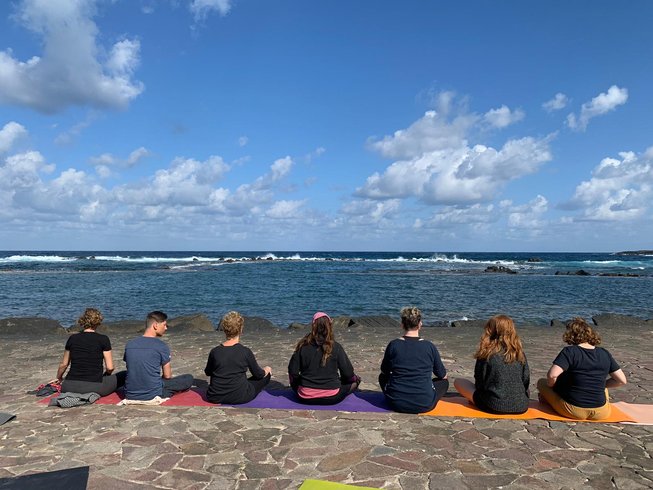 Best Yoga Retreat in Gran Canaria – La Tajena
The dramatic volcanic landscapes of Gran Canaria are ripe for exploration and a great setting for inner reflection. This is one of the best yoga retreats in the Canary Islands as it combines guided hikes with daily meditation and yoga practice.
The retreat experience includes yoga dance and restorative yoga sessions, to raise your energy and calm the mind. Group sizes are kept small, to foster a sense of sharing and community. Between workshops, enjoy a siesta in a poolside hammock, or take a moment for self reflection in the meditation garden. 
Excursions include visits to local villages, as well as an afternoon in vibrant Las Palmas, capital of the island. Back at base, your hosts will prepare three healthy meals each day, to fuel your adventures.
Read More: Best Yoga Retreats in all of Spain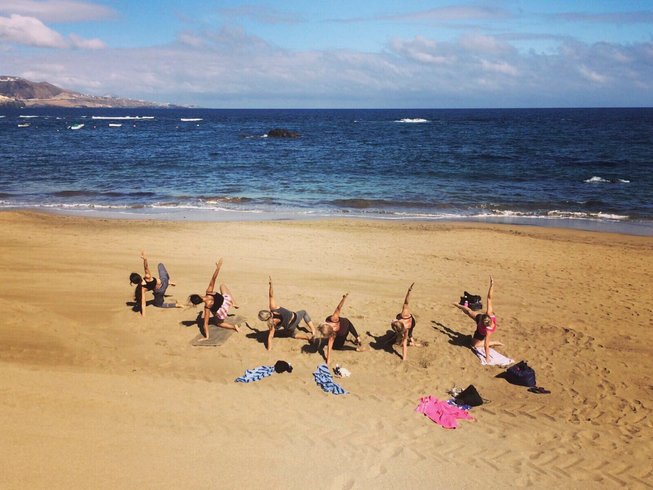 See Yoga is a lovely yoga studio in the colourful city of Las Palmas and just 10 minutes away from the beach. Hatha and Vinyasa yoga classes are taught every morning in the studio, as well as a few evenings per week.
In between classes there are some great activities to do like surfing, massages and workshops. There's also an included day trip through the volcanic landscapes of Gran Canaria and a tree planting as a way to give back to the island and plenty of free time to do your own thing if you prefer.
One of the great things about this Canary Island yoga retreat is that you can stay in a hostel, a private apartment or a hotel, all with sea views, choosing the option that best suits your budget.
You can also bring a partner even if they don't want to join the yoga retreat. They'll even get one free yoga class if they are curious to join. Meals aren't included though but the location is close to many of Las Palmas's excellent restaurants which I'm sure you'll enjoy trying.
The location means it's super easy to stroll around and explore the charming city of Las Palmas, sample some of the city's excellent cuisine or go surfing. Afterwards, relax on the hostel's rooftop deck, the balcony of your private apartment or in your cozy hotel room. This is one of the best yoga retreats in the Canary Islands if you want to incorporate both yoga, beach and city exploration into your holiday.
Read More: Best Yoga Teacher Training courses in Spain
Surrounded by banana fields, 800 metres from the beach, your home for the week is a traditional Canarian mansion with a welcoming family atmosphere. The ideal setting to align body, mind, and spirit, as well as forming a deep connection with nature. 
Your itinerary on this Tenerife yoga retreat includes two yoga classes per day, in kundalini, yin, kriya, and thai styles. You'll also be instructed in ancient yoga philosophy through mantra, pranayama, and healing meditations. 
In your free time, you can float in the outdoor pool, join forest hikes, or take a picnic on the beaches. Other activities include fireside dance celebrations, healing sessions, and personalised treatments.
Read More: Best Yoga and Surf Camps in Tenerife 
Windsurfing and Yoga Retreat in Fuerteventura – WindSurfYoga, Corralejo
If you like water sports then the Canary Islands are also a great spot for windsurfing and WindSurfYoga offers wonderful windsurfing and yoga retreats in Fuerteventura suitable for everyone from complete beginners to experienced yogis and windsurfers.
You'll enjoy an energizing morning Vinyasa yoga class, spend the day on the beach with windsurfing lessons and wind down in the evening with a Yin yoga class. Yoga classes are held on the roof terrace or the beach so you'll have plenty of time to reconnect with nature and feel energized, relaxed and refreshed after this retreat. WindSurfYoga can also help you organise many other activities like hiking, biking, kite surfing, canoeing, SUP, massage and day trips of the islands.
Accommodation is included in choose between staying in a laid-back Spanish villa in a local village or in a sociable shared room at a local guesthouse in Corralejo close to the beach and main street. Meals are not included but the accommodation has kitchen for guests to use and you can sample the many restaurants nearby.
Have you been on an amazing yoga retreats in the Canary Islands?
I'd love to hear about your experiences in the comments below
Read More: