Nightlife in Goa: The Best NightClubs, Pubs, Raves and Beach Parties in Goa + Where to Stay. Updated for 2023
Nightlife in Goa is legendary, from cocktails at sunset with live music, stylish nightclubs, lively pubs and instagrammable bars to all night psytrance raves, beach parties and buzzing night markets – there's a good reason why Goa is called India's nightlife capital!
Goa was famous at the birthplace of Goa trance in the hippie days. There are still some amazing psytrance parties and raves but nowadays Goa's nightlife has something to offer everyone no matter what style of music your into.
Experiencing the legendary Goa nightlife is something you don't want to miss when you visit Goa but requires a little research and forward planning to make sure you're in the right place at the right time.
I've been living in Anjuna for 7 years, so it was about time I updated this post with all the hottest new nightclubs and parties in Goa. And, because where you stay can really make or break your trip, I've also included my recommendations for the best hotels and places to stay in Goa for nightlife.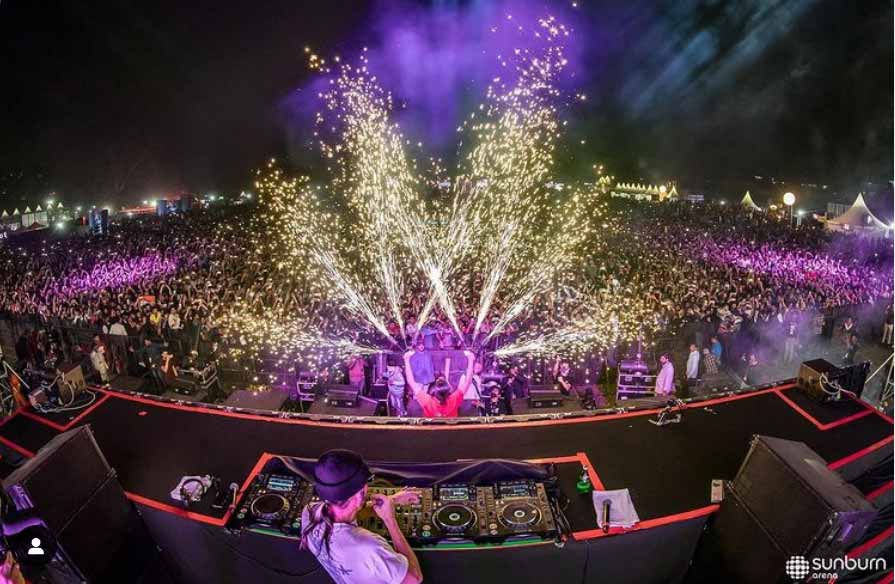 My Top Tips for Nightlife in Goa
The Best Time to Visit Goa for Nightlife
The best time to visit Goa to party is Christmas and New Year and throughout the peak tourist season between December to April when there are parties on nearly every night. However, not every party is on every night so check out the nightclubs website or social media to see what's on for your dates.
Over Christmas and New Year Goa is crazy busy, there are so many parties on and North Goa is just buzzing all day and night! There are also massive 3 day festivals like Sunburn between Christmas and New Year.
New Year's Eve in Goa is super popular but it's also really busy, traffic is crazy and everything is more expensive. Check out my insider tips for celebrating New Year in Goa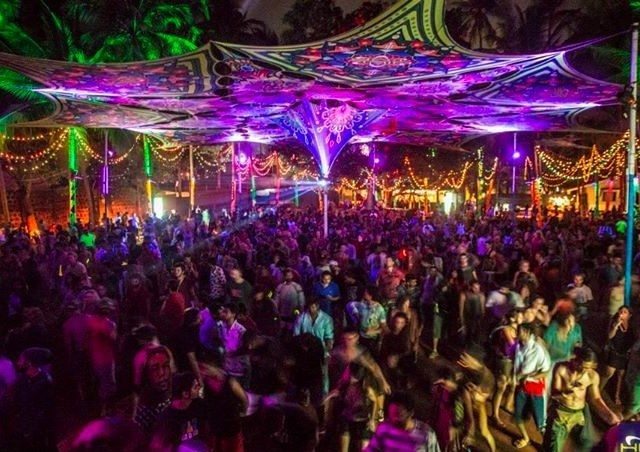 You must book your hotel in advance for New Years Eve or any holiday weekend in peak season as it get crazy busy! For big events you should book your tickets online in advance to avoid missing out!
Goa Carnival is Goa's biggest street party and a unique event in India as it dates back to the times when Goa was a Portuguese colony. The streets of Goa's capital Panjim come alive with colourful floats and a buzzing party parade. Carnival is usually held before Lent in February or March. Book your stay well in advance.
To find out what's on in Goa during your dates download the Party Hunt App and check out What's Up Goa to find out what's on during your dates.
Entry prices for Goa parties depend on the artist, venue and season. There's are normally different charges for couples, entry and stags. Some clubs include drinks in the cover charge but some don't so check with the venue.
For some of the big festivals and parties you can get a cheaper price by booking your tickets in advance online on MadVibes or Book My Show.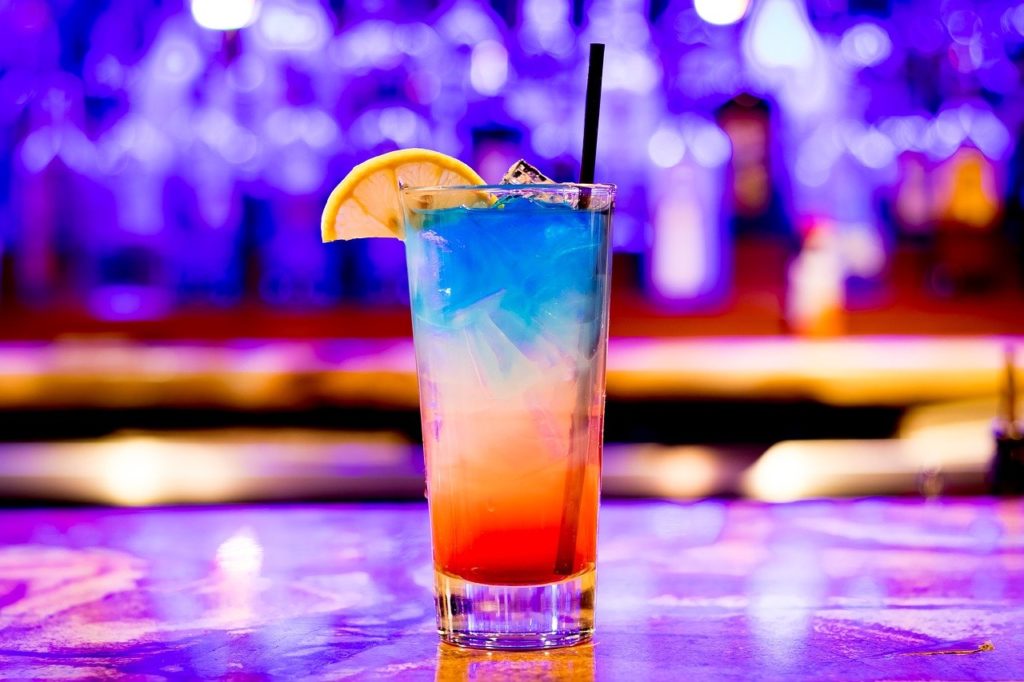 The Best Places to Stay in Goa for Nightlife
To make the most of your time in Goa it's best to book a hotel to stay near the parties you want to go to – so you don't need to worry about how to get back when after you've enjoyed some drinks. Taxis can be expensive in Goa and Never Drink and Drive!
Many of the best party places in Goa are part of party resorts where you can stay, relax and party all in one resort! The best beach and place to stay for nightlife in Goa depends on what kind of music you're into –
Baga, Calangute and Arpora are best for fun Bollywood music and commercial nightclubs, pubs, bars. Especially around infamous Tito's Lane in Baga.
Anjuna and Vagator are best for psytrance raves and beach parties. There are many hostels and beach party resorts you can stay in here.
Ashvem and Morjim are best for classy clubbing and party resorts with swanky techno and house nightclubs.
The Best Nightclubs, Pubs, Bars, Raves and Beach Parties in Goa.
There's so many nightclubs, bars, pubs, restaurants, beach parties and raves in Goa that I can't mention them all in one post. But here's a few of the best and my personal favourites.
Tito's Lane, Baga
On the popular Baga beach, Tito's Lane is the most famous clubbing strip in Goa. Tito's Lane is lined with nightclubs, bars, pubs, restaurants, tattooists and souvenir shops blasting out the latest commercial and Bollywood hits.
Visit Cocktails and Dreams, Cape Town Café, iconic Tito's and it's sister club Café Mambo's. Entrance and drinks are free for ladies every night at Tito's! For more info check out Tito's website and Instagram @clubtitosgoa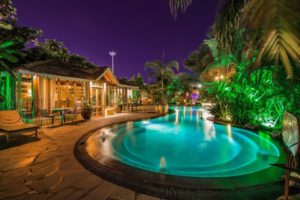 Beautiful beach resort with a swimming pool in tropical gardens and a good restaurant just steps from the buzzing nightlife on Tito's Lane in Baga.
LPK Waterfront, Nerul near Candolim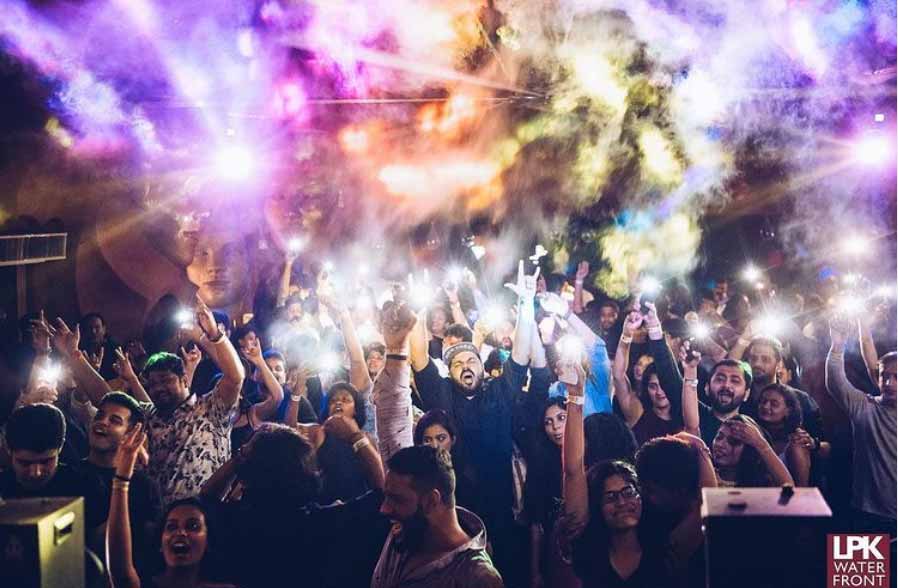 LPK (Love Passion Karma) is a unique venue set on the banks of the Nerul River near Candolim home to India's first super club.
With incredible and unusual architecture this is an amazing, opulent waterfront nightclub playing all the latest commercial, house and Bollywood hits on LPK's specially sculpted indoor dance floor with a backdrop of a Portuguese church. A strict entry policy keeps the crowd decent and classy. Check out their instagram @lpkwaterfront to know more.
Also check out SinQ in Calangute. It's one of the longest running party resorts in Goa. A stylish resort with a beach club, indoor and outdoor party places, swimming pool and lounge bar and state of the art nightclub. You can stay in their suites to make the most of this one stop party destination. Check SinQ room prices here.
SinQ got so popular now there's 2 venues – SinQ in Calangute and a new one on Ashvem beach next to popular Marbella.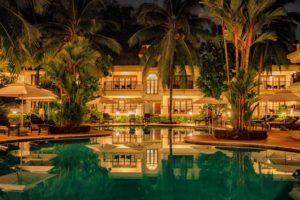 Elegant suites and apartments that can accommodate larger groups around a swimming pool with a variety of dinning and drinking options near the beach in Candolim and the LPK ticket office.
Club Cubana, Arpora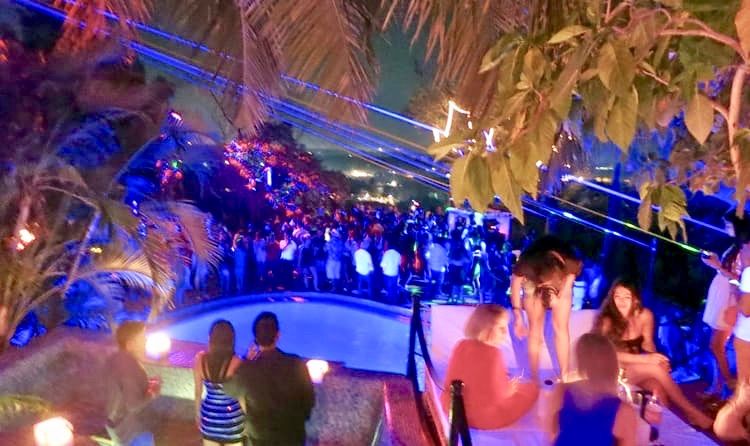 Club Cubana is one of the best nightclubs, not just in Goa but in the whole of Asia! This huge, multi level, open air night club is situated between Baga and Anjuna on the Arpora Hill and is known as 'the night club in the sky.'
Club Cubana has numerous dance floors and plays varied music, stylish chill out areas under twinkling lights and even a swimming pool. The cover charge includes unlimited drinks so it's sure to be a big night out.
Wednesday is Ladies night, the club's biggest evening that offers free entry and drinks for girls. Check their instagram @clubcubana to know more.
There's also Hammerzz Nightclub nearby – another of Goa's most popular and buzzing open air nightclubs.
A beautiful Portuguese villa turned into a sociable hostel in Arpora near the hottest nightclubs like Club Cubana and Hammerzz. There's a pool, shady gardens and chill out areas. This location also gives easy access to all the nightlife in Baga and Anjuna.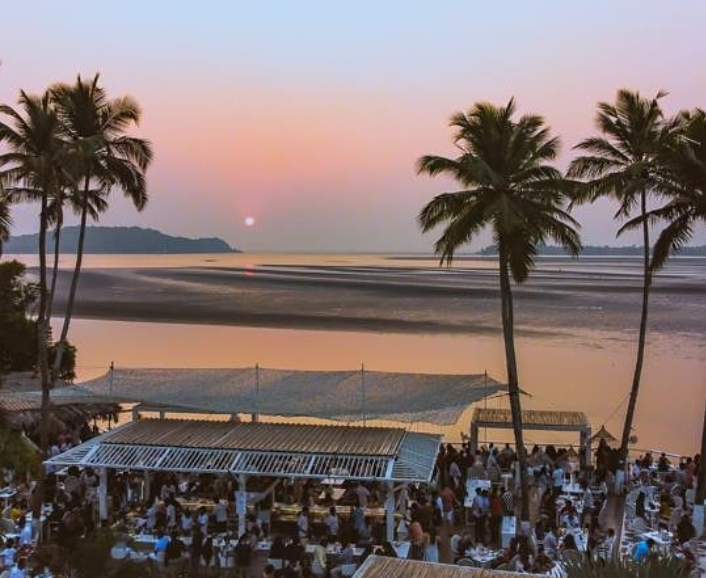 Thalassa, Siolim
Thalassa is a Greek restaurant with amazing views over the water that has become one of the most famous, popular and instagrammable restaurants in Goa. With stunning sunsets, delicious Greek food, unique ambience, stylish crowd and traditional Greek live performances and fire shows,
Thalassa is one of the best nightlife experiences in Goa in one of the most spectacular locations. You must book in advance in peak season to reserve your table. See their website to know more and reserve your table.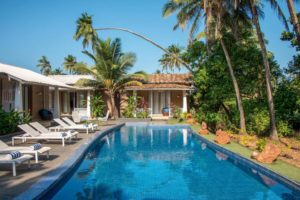 Chic rooms in a villa perched on the top of Vagator cliff with stunning views and a swimming pool. Close to all the party places in Vagator and a 10 minute drive to Thalassa.
Sunburn Festival, Vagator
No post about nightlife in Goa would be complete without mentioning the Sunburn Festival! Held every year in the days just before New Years Eve, Sunburn is Asia's biggest and loudest 3 day EDM festival. There's often other festivals and after parties held around the same time that Sunburn Festival is on so the party never stops.
Sunburn is usually held in Vagator and attracts a huge crowd so you must book your tickets and accommodation well in advance as things get fully booked. But it can move locations so check their website and follow on Instagram @sunburnfestival 
Located in Vagator this luxurious, fun and young resort has a variety of rooms including double and quadrable rooms as well as luxurious dormitory rooms for large groups. Start the party around the pool before heading out to all the hottest party places nearby.
Hilltop, Vagator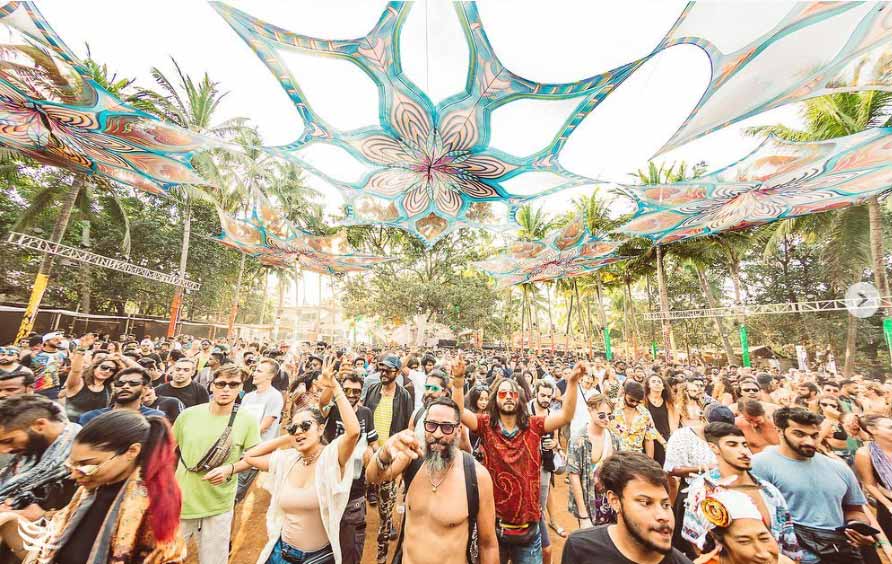 Hilltop is Goa's legendary, iconic psytrance party place that all trance lovers simply must check out when in Goa. Every Sunday Hilltop hosts a pumping party where you can dance under the neon palm trees while international DJs play the pulsing beats of Goa trance.
On special events like Christmas and New Years Hilltop hosts epic psychedelic raves that last for more than 24 hours and attract thousands of party people. There's also the Hilltop Festival that happens every year in February.
Nowadays it's not just psytrance, Hilltop also hosts big name international DJ's and a chill out festival called Chill Top. There's also a popular Friday Night Market with boutique shopping from international designers, live music, food stalls and a party atmosphere. Check out their Instagram to know more.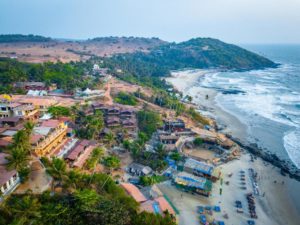 Good value wooden beach huts and rooms on a cliffside resort overlooking Ozran Beach with a games room and small pool 5 mins from Hilltop.
Antares, Vagator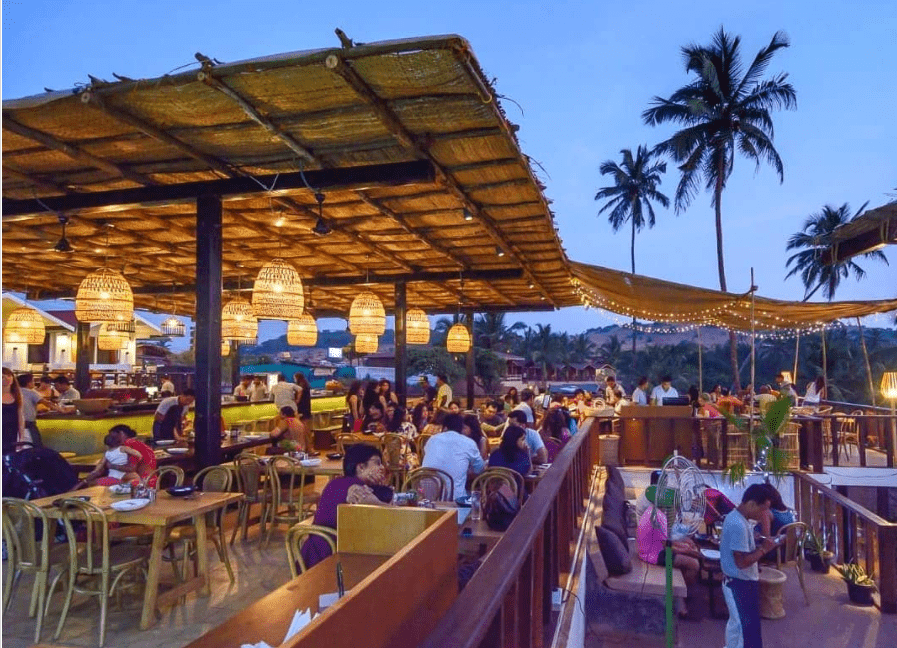 The famous restaurant, bar, beach club and party resort on Vagator's cliffs owned by Australian Master Chef winner and celebrity chef Sarah Todd.
The menu is an innovative fusion of Asian and Australian-inspired cuisine with fancy cocktails, music and sunset parties that go late into the night at weekends. Stay in one of their party huts for the full experience.  Check out their menu on their website.
This area has become one of the most happening nightlife spots in Goa with many more famous bars and clubs nearby like Titlie, 11:Eleven, Re:Fresh, 9 Bar, Pinakin and Glory (formerly known as Chronicle)
Stay in a wooden party hut at the famous resort itself. There's stunning sea views, a pool and it's super close to all the bars in one of the most happening areas of Vagator.
Curlies and Shiva Valley, Anjuna Beach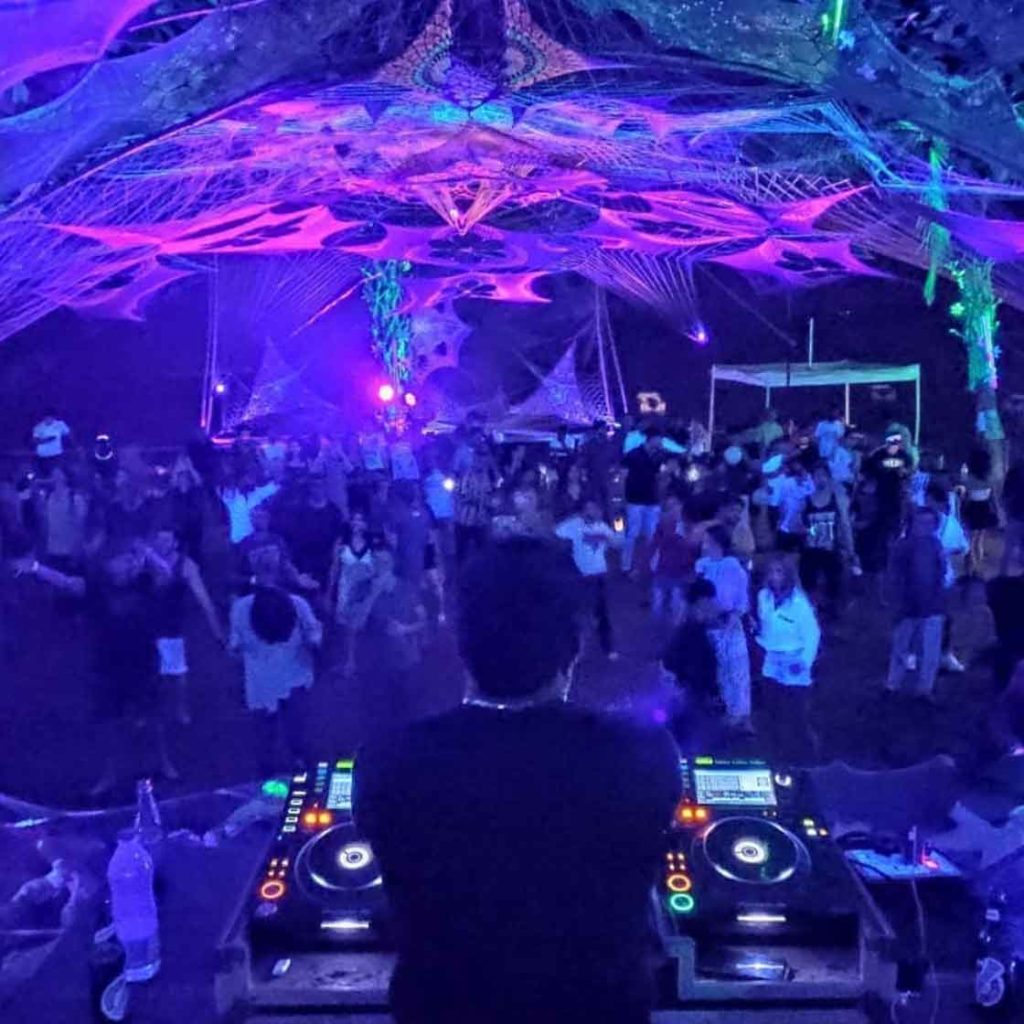 Curlies and Shiva Valley, on South Anjuna Beach, are two of the original and most famous beach party places in Goa. At sunset Curlies really starts to come alive, there is a huge menu covering all cuisines. Chill out on the deck area on top or in the cabanas or dance under the florescent deco until sunrise.
Curlies has techno nights on Monday and psytrance nights on Thursdays but it's always a popular spot with something going on. Check their Instagram @goa_curlies to know more.
Shiva Valley next door holds a popular, long running, all night psytrance rave on the beach every Tuesday.
*Update 2023: Curlies has closed it's doors, Shiva Valley is still open*
More beach party places around Anjuna include Guru Bar, Purple Martini, UV Bar, Café Lilliput and Aura.
Comfy cottages in lush gardens just steps away from the famous all night psytrance raves and beach parties at Curlies and Shiva Valley on Anjuna beach.
Marbela Beach Resort, Ashvem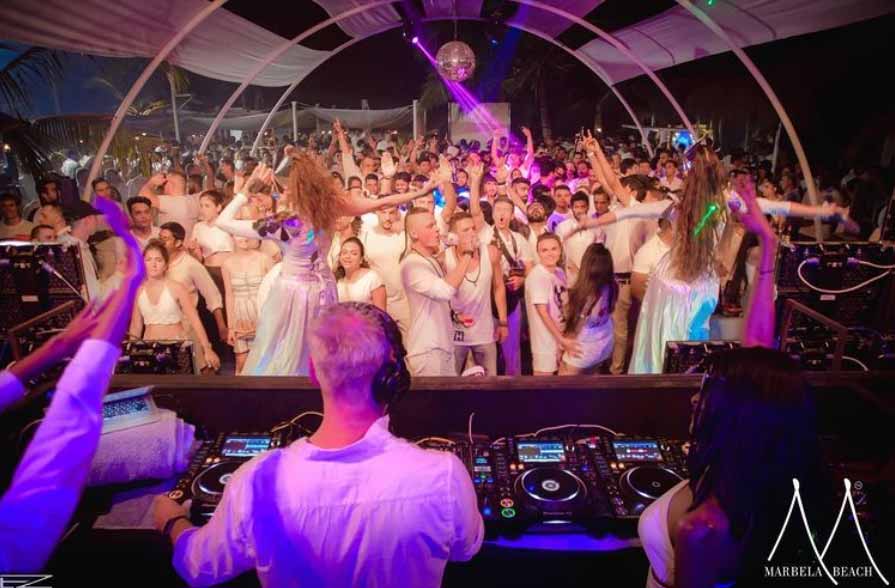 A swish Mediterranean themed beach club resort with a bar, pool and spa on uncrowded and trendy Ashvem Beach. Marbela is famous for it's 'White Parties' and hosts famous, international DJs for swanky techno parties around the pool. Stay in the resort itself for a hedonistic holiday. Click here for prices. Check out their Instagram @marbelabeach to see what's on.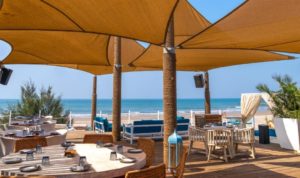 A short walk along the uncrowded beach from nightclubs like Marbella and SinQ is this classy new resort with cute chalets and tropical gardens. The suite rooms even have a jacuzzi in the private garden area!
Riva Beach Resort, Mandrem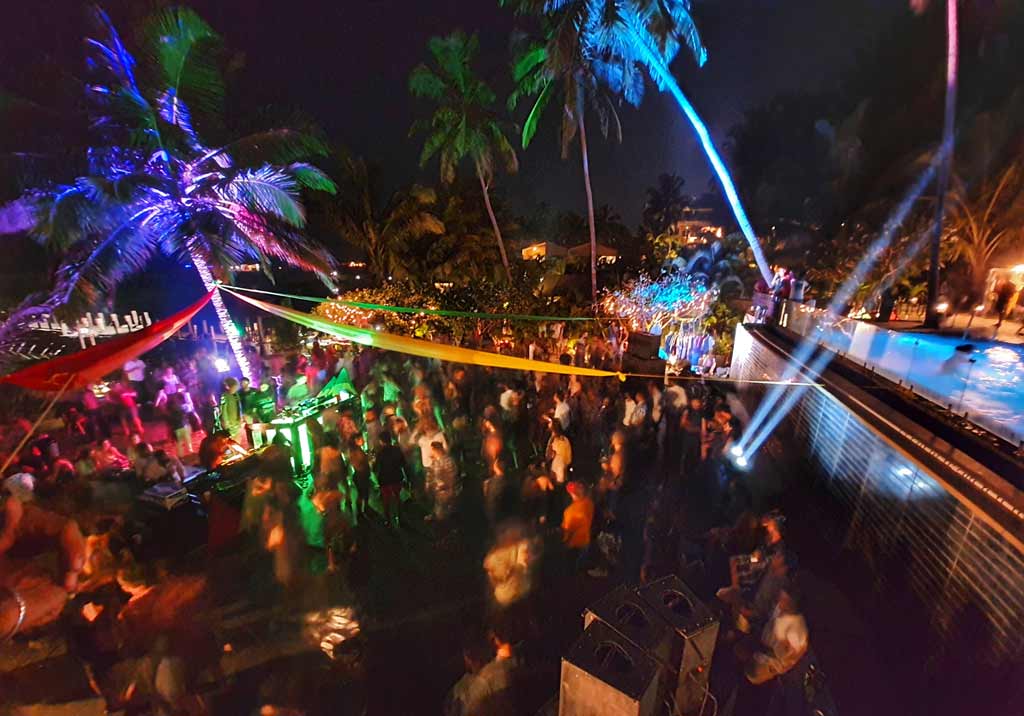 Riva is famous for it's laidback Sunday reggae parties on the lawn and around the infinity pool. It's also the location for the Goa Sunsplash Festival and the Lemonade Festival around New Years.
Stay in the spacious beach resort itself in luxurious, ocean-facing beach huts with landscaped gardens and swimming pool with views over the uncrowded beach.
Leopard Valley, nr Palolem, South Goa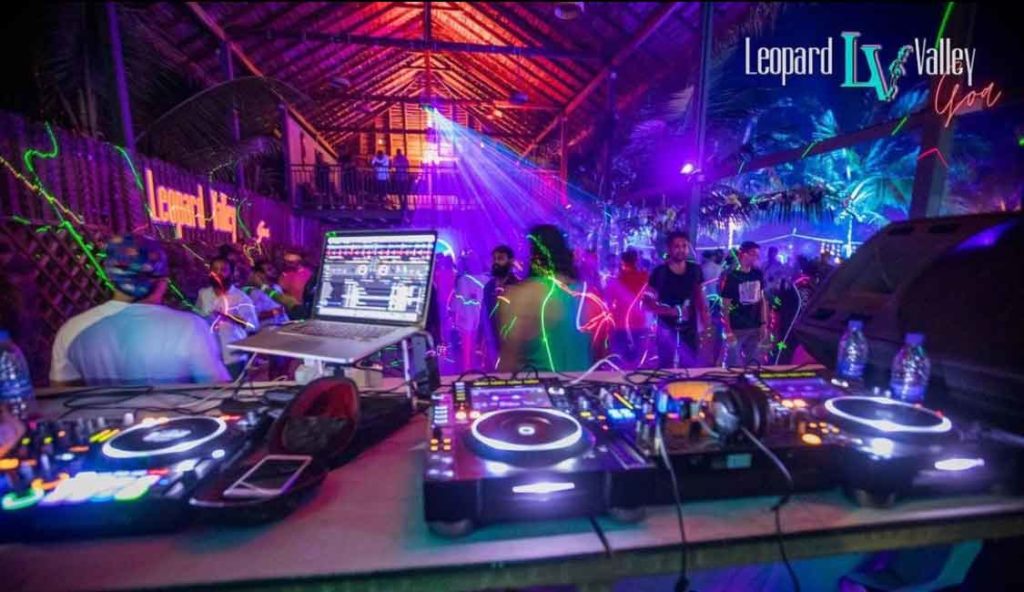 Leopard Valley is a large open air night club and party venue located between Agonda and Palolem Beach. It opened in 2013 and has grown into South Goa's biggest and best nightlife spot. Parties happen most Friday and Saturday nights in season with international DJs playing EDM and exciting fire shows and pyrotechnics. Check what's happening on instagram @leopardvalleygoa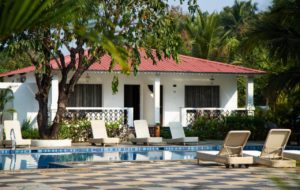 This is the nearest resort to Leopard Valley with comfortable white washed rooms, a pool and live music on Saturday nights.
Soro Village Pub, Assagao
For a cosy pub experience with the ambience of a traditional Goan bar check out Soro located in Assagao on the road between Vagator and Siolim. Did you know 'Soro' means alcoholic beverage in Konkani. Play some pool, jam to live music or just enjoy the food and drinks in the cosy atmosphere inside or relax outside. It's a fun pub that's become popular among locals. Follow them on Instagram@soro_goa to know more.
A collection of modern white suites around a pool with a bar, restaurant and evening entertainment located close to Soro Village Pub.
Underground Parties and Raves in Goa
While the days of free hippie parties on the beaches are kind of over now and partying in Goa gets more expensive every year there are still some more underground parties and all night beach raves mostly in the Vagator,  Anjuna and Chapora area.
Ask around and look out for the posters and flyers or join the Goa nightlife Facebook and Whatsapp groups on check Instgram@goa_rave_community to find out what underground parties and raves are happening.
Old school Goa trance party. Photo Credit: Last fm
More things you should know about nightlife in Goa
Be aware that when elections are happening the Code of Conduct comes in to effect (usually in February). This means venues are not allowed to sell alcohol or party after 10 pm for 40 days before the election. There are a few totally dry days around election day. So the nightlife in Goa has to calm down a bit at these times.
But don't cancel your trip due to the code of conduct – there are still fun day parties where you can dance the day away on the beach but the party has to stop at 10pm.
In this post I'm describing what's on during season time (December – April.) As many of the big parties are outside many only happen in season time and alot of the party places are closed in monsoon.
Indoor night clubs and most of the bars in Titos' Lane in Baga are still open in monsoon and there are special events and big parties around holidays like Independence Day. But be aware that Goa's not thumping every night in monsoon like it does in season time.
Read more: My Ultimate Guide to Goa in Monsoon
Hope you have an amazing time partying in Goa!
For more Goa tips check out my Insider's Guide to Goa.  
Like This? Pin Me!