With wide open skies, beautiful countryside, rich history, pretty medieval villages and a stunning coastline there are so many things to do and beautiful places to visit and stay in Suffolk, England.
This quaint and relaxed county in the East of England makes the perfect place for a staycation in the United Kingdom, ideal for a weekend break or a longer holiday away from the crowds.
Suffolk really has a lot to offer, it's one of the most beautiful places to visit in the UK and makes a wonderful countryside escape within quick and easy reach from London.
The Best Places to Visit and Stay in Suffolk, UK (By a Local)
Suffolk holds a special place in my heart as it's my home county! I was born and brought up here and want to share my local tips for the best places to visit in Suffolk and my recommendations for the best places to stay in Suffolk so that more people can discover and enjoy this underrated area.
From quaint villages largely unchanged since medieval times, castles and stately homes to seaside towns, rejuvenating walks, excellent museums and natural beauty spots that have inspired great artists, you'd easily fill a weeks holiday with the diverse range of things to do and beautiful places to visit in Suffolk.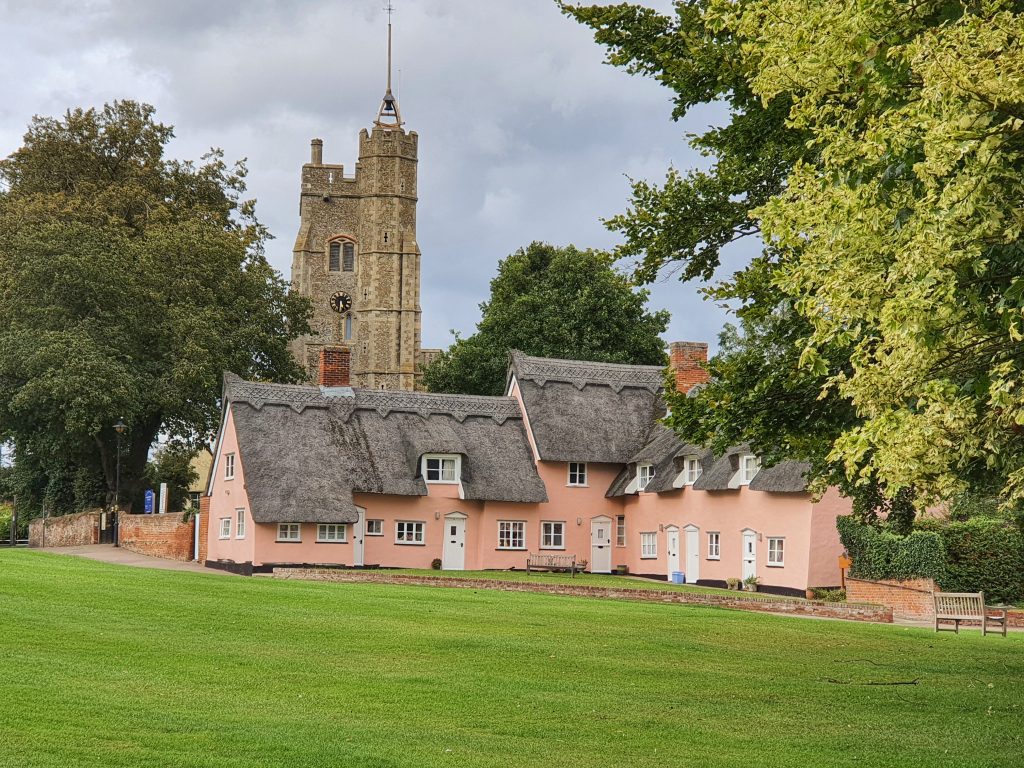 In this blog post, as well as telling you all about the best things to do and places to visit and stay in Suffolk, I've also been a little cheeky and included two places which are just over the borders into the neighbouring counties of Norfolk and Cambridgeshire. They are still only 1 hours drive from Bury St Edmunds (where I live and a good place to stay) and shouldn't be missed when visiting the area.
The British weather is always unpredictable but did you know that Suffolk is one of the driest places in the UK! This means you're more likely to have dry, sunny weather here than in most other places in the country! There are also many free things to do in Suffolk like walks in the beautiful countryside and on the beaches making it a good budget holiday choice.
While international travel is still difficult at least we can explore closer to home and see things that we used to take for granted with new eyes.
So, while I'm taking the time to connect to my roots and exploring closer to home instead of jetting off somewhere exotic, I wanted to also share my insider tips and Suffolk secrets for my beautiful home county in this ultimate Suffolk travel guide!
Tips for Visiting Suffolk
How to get to Suffolk and get around.
Suffolk is located in East Anglia and is within easy reach of both London and the Midlands. The train takes only 1.5 hours from London to Cambridge, Ipswich or Bury St Edmunds. There are also National Express coaches which are often cheaper than taking the train.
As Suffolk is a rural area public transport is not the most convenient way to get around. So to get the most out of your trip and to be able to explore all the best places to visit in Suffolk you'll need your own wheels.
So it's best to either bring your own car and drive to Suffolk or arrive by train and then hire a car. For car hire I recommend checking out Discover Cars as you can see all the best rates from all the car hire companies in one place.
All the best places to visit in Suffolk (and the cheeky ones I've added that are actually just over the border) are only about 1 hours drive from Bury St Edmunds so that makes a good base to explore all this area has to offer.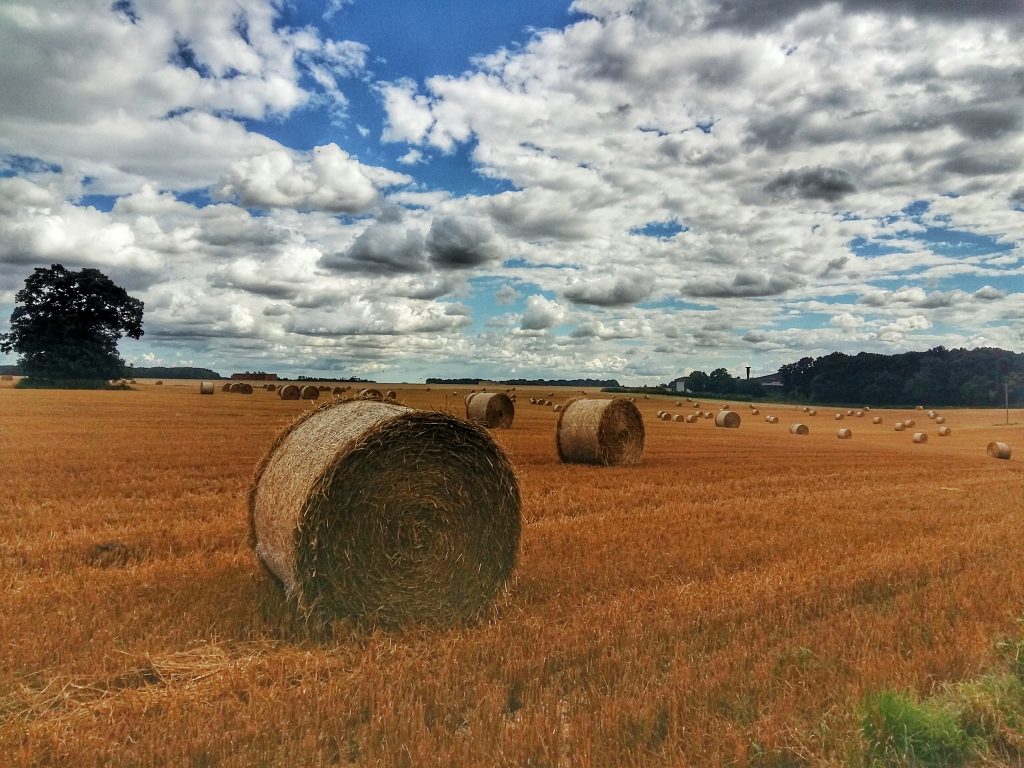 Where to Stay in Suffolk
There's a wide variety of accommodation and places to stay in Suffolk including luxury and boutique hotels, country house hotels, quaint self catering cottages full of historic charm and character, cosy pubs, homely B&Bs, caravan parks, campsites and quirky glamping sites – some with hot tubs.
Suffolk is quite a spread out, rural county so you'll need to consider what you want to see and where to stay in Suffolk in order to make the most of your time here.
Have a look at the Suffolk map below to get an idea of where the major towns and tourist attractions in Suffolk are located to help you decide where to stay.
I'll also include my top accommodation recommendations for each place later on in this article.
Suffolk Map
The Best Places to Stay in Suffolk
My hometown, Bury St Edmunds, is a charming, historic market town which makes a convenient base from which to explore all the best places to visit in Suffolk – everywhere on this list is only about 1 hours drive from Bury.
The best hotel in Bury St Edmunds is undoubtedly The Angel Hotel. An elegant 15th century ivy-clad award winning hotel situated in a super convenient and picturesque location in the town center. Get more info here.
There are also many nice places to stay on the Suffolk Coast like Southwold, Aldeburgh and Thorpeness. My top pick for the coast is fabulous The Swan Hotel in Southwold which has 2 award winning restaurants and is owned by Adnams, the local brewery. Perfect for a seaside escape, but you would be a little further away from the other places to visit in Suffolk.
If you want to explore the best Suffolk has to offer you could base yourself in one town, like Bury St Edmunds, Ipswich or Southwold and take day trips from there, or rent a holiday cottage in the Suffolk countryside and use that as your base. Another option would be to take a road trip around Suffolk and stay in a few different places.
Suffolk is also a great place to go glamping, check out Hidden Meadows near Beccles and Secret Meadows near Woodbridge. Both have a quirky selection of luxury safari tents, shepherds huts and even gypsy caravans with hot tubs situated in wild flower meadows.
Pin Me! 😉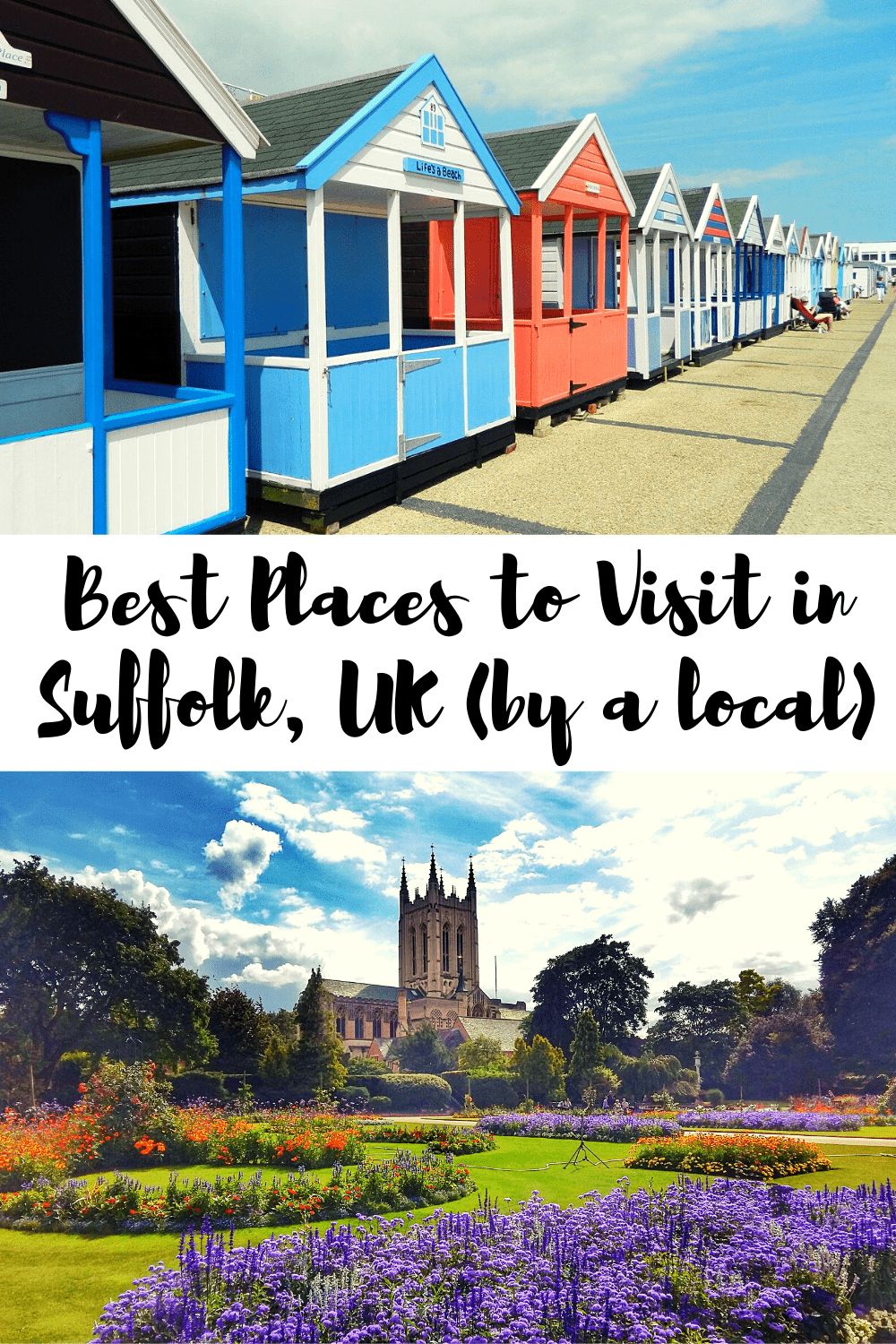 Holiday Cottages in Suffolk
One of the most popular accommodation options is to stay in a self catering holiday cottage in Suffolk. There is a wide selection of charming and characterful traditional Suffolk cottages available for rent out in the countryside or near the coast. Many are very historic and pretty and will immerse you in the laid back Suffolk countryside lifestyle.
The advantage of renting a self catering cottage is that you get all the comforts, facilities, space and privacy of home and feel more like a local than a tourist. Many are also dog friendly! Dogs will love all the walks, wide open spaces and beaches of Suffolk and holiday cottages are the best places to stay in Suffolk with dogs.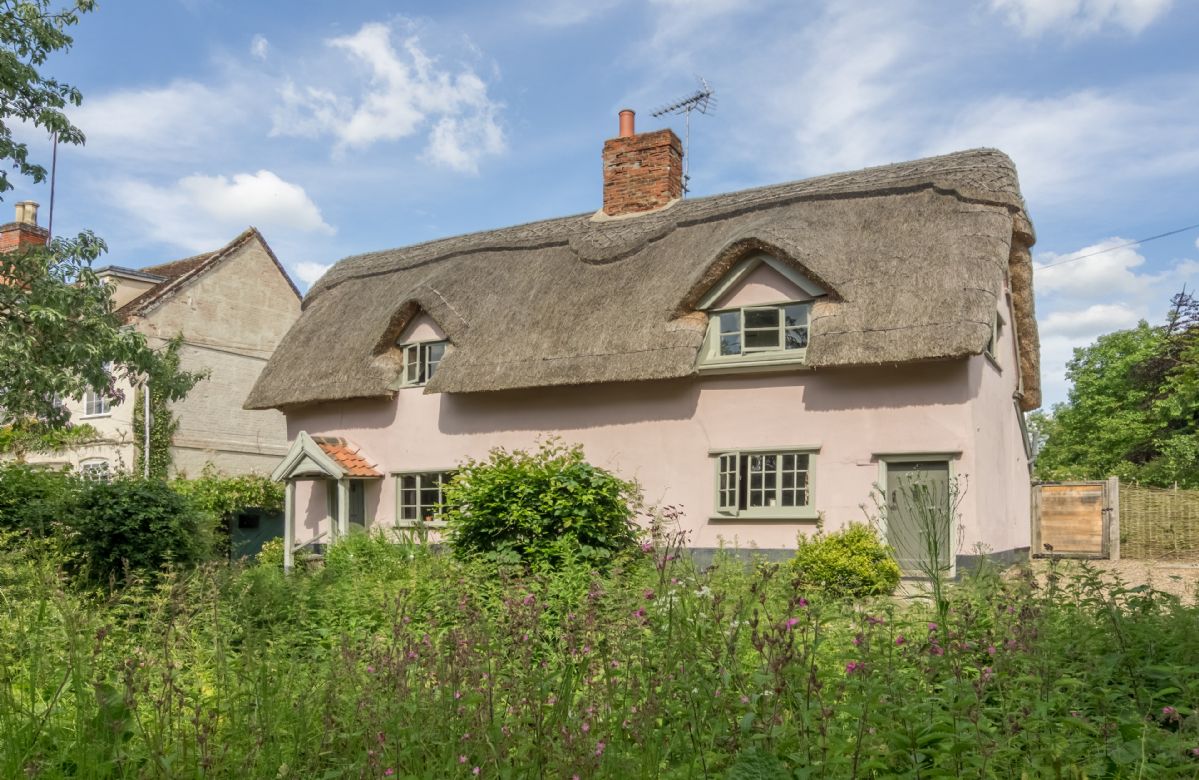 My favourite Suffolk holiday cottage is Gardner's Cottage A charming, Grade II listed, 17th century thatched timber framed cottage that sleeps 4 in the centrally located village of Thornham Magna only 30 mins drive to Bury St Edmunds. The village has a pub, thatched roof church, cafe, restaurant and photographer's gallery.
Gardener's Cottage has been lovingly updated with modern facilities while still retaining many beautiful original features and character including exposed wooden beams, pamment floors and an Inglenook fireplace. I also love the cute stable door and how the 2 bedrooms (with ensuite bathrooms) are accessed by quirky individual staircases.
This chocolate box Suffolk cottage is also dog friendly and has a lovely garden, large terrace and wild flower orchard. It sits on the edge of the Thornham Estate which offers 12 miles of wonderful walks through beautiful parkland and ancient woodland. Click here for more photos, info, prices and to book! 
Read More: My Pick of the Best Holiday Cottages in Suffolk
The Best Places to Visit and Stay in Suffolk
Bury St Edmunds
My hometown! The small historic market town of Bury St Edmunds was the home of Saint Edmund, the original patron Saint of England, and often also referred to as Bury Saint Edmunds or just Bury by the locals.
Bury offers 1000 years of history with plenty of things to do and makes a great base for exploring Suffolk. Bury's motto 'Shrine of a King, Cradle of the Law' refers to it's two most important moments in history.
Best Places to Visit in Bury St Edmunds
Bury's most famous landmark is the Abbey Gardens; impressive, crumbling abbey ruins and delightful gardens that are best accessed through the imposing 14th century gateway tower from Angel Hill and overlooked by St Edmundsbury Cathedral, the only cathedral in Suffolk.
The abbey was built around a shrine to Saint Edmund – the Anglo Saxon King and martyred original Patron Saint of England. For centuries the abbey was one of the most powerful monasteries in medieval Europe and a famous place of pilgrimage.
It is also the place where the Barons met and drew up the petition that formed the basis of the Magna Carta / swore an oath to force King John to accept the need for the 'Magna Carta,' the charter of liberties.
Bury St Edmunds is also home to the Greene King Brewery where you can take an interesting tour of the brewery and taste the beers. You can also visit The Nutshell Pub nearby – a tiny, quirky pub which is the proud record holder of Britian's smallest pub.
Bury's Theatre Royal is the only surviving Regency playhouse in Britain where you can experience what going to the theatre was like in pre-Victorian times. My Mum often volunteers here too! There's also a small museum, Moyse's Hall, which displays local history and archaeology.
Just outside Bury St Edmunds Ickworth House, an Italiante palace and gardens, and West Stow Anglo Saxon Village and Country Park make a nice day out. I loved going on school trips to the Anglo Saxon recreation days at West Stow and I have fond memories of horse riding at Ickworth Park.
Best Places to Stay in Bury St Edmunds
This award winning, elegant 15th century ivy-clad hotel situated in the most picturesque square opposite the Abbey Gardens has accommodated many famous people, kings and queens including Charles Dickens who mentioned The Angel Hotel in The Pickwick Papers. Check availability, rates, reviews and book here
An opulent country house hotel set in a country estate just outside Bury St Edmunds with plenty of period features. Check availability, rates, reviews and book here
Lavenham and Long Melford
Villages don't come more chocolate-box than Lavenham. Just 20 minutes drive south of Bury St Edmunds lies the best preserved medieval village in England and one of Britain's most historic and picturesque places.
Best Places to Visit in Lavenham and Long Melford
Lavenham was the prosperous center of Suffolk's wool trade between the 14th and 16th centuries and has changed very little since then. The village is a treasure trove of crooked, pastel painted, timber framed medieval houses and 300 of the village's buildings are listed.
This makes Lavenham one of the most colourful and prettiest places in Suffolk. Some of the historic buildings in Lavenham were even featured in the Harry Potter films and you can even stay in Godric's Hollow, the birthplace of Harry Potter. (Book here on Air BnB and use this link to get £25 off)
You can spend a pleasant day wandering around this picturesque village, join the Lavenham guided walking tour, peruse the boutique shops and galleries, enjoy lunch in a historic pub, the most popular and famous is The Swan, or afternoon tea in one of the tea rooms.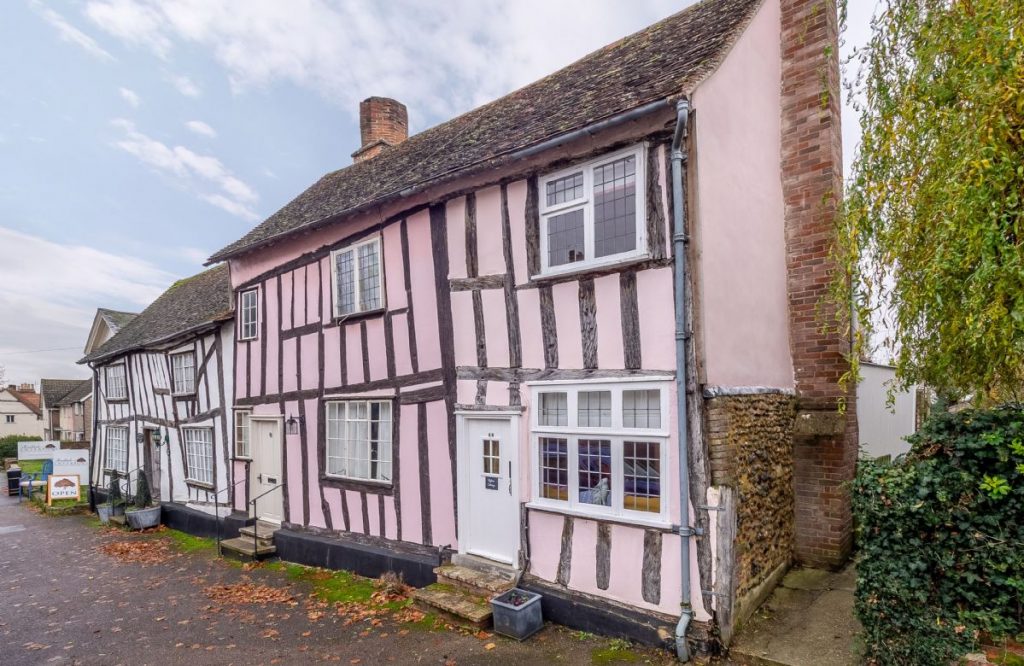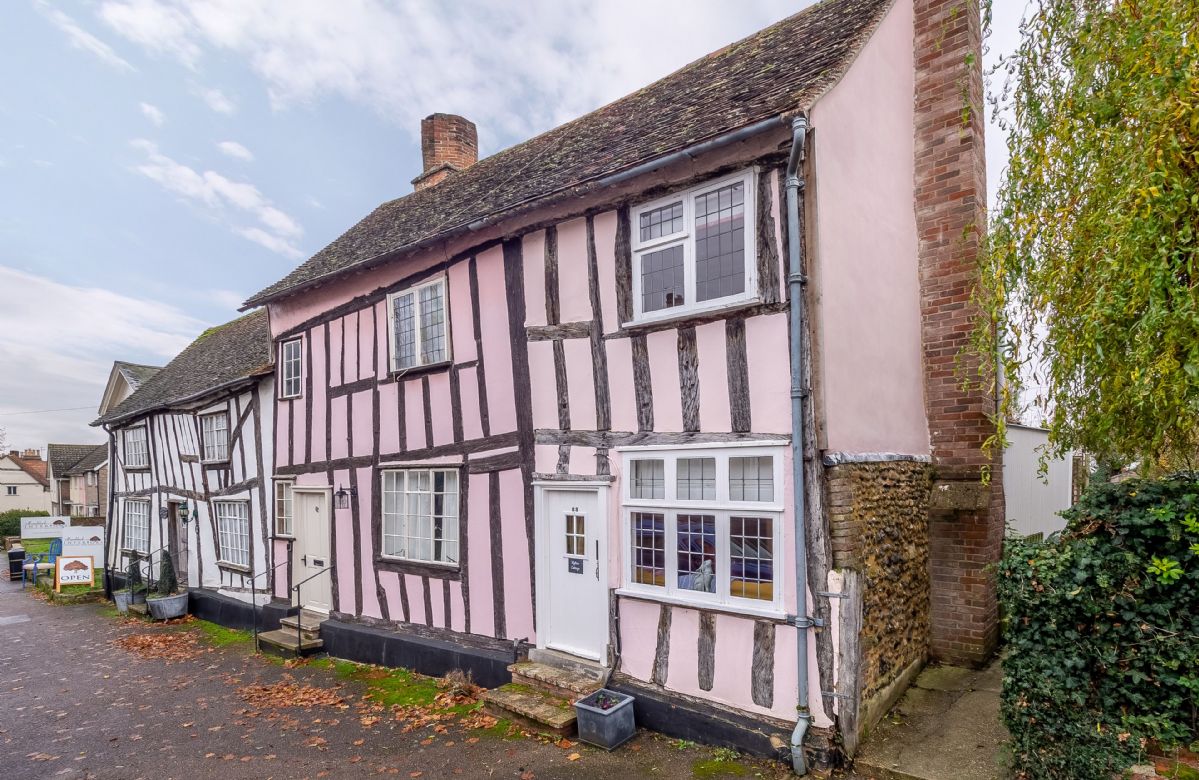 Just 5 miles away is another quaint, historic village called Long Melford, home to two Tudor stately homes, many antique shops and the Holy Trinity Church, the most splendid church in Suffolk with fabulous 500 year old stained glass windows.
Kentwell Hall is a beautiful moated Tudor house with magical gardens and hosts regular tudor re-enactment days – my favourite school trips! 500 year old Melford Hall has an eclectic history and is also worth a visit.
Best Places to Stay in Lavenham and Long Melford
Another of my favourite Suffolk hotels! Staying at this historic 15th century timbered pub with 2 AA rosette restaurant will immerse you in the unique charm and history of pretty Lavenham – the best preserved tudor village in the UK. Check availability, rates, reviews and book here
This pink, tudor, timber framed, 1 bedroom cottage in the heart of Lavenham village oozes history, charm and character while still including all the modern home comforts you need. It's also dog friendly, has an enclosed garden and in a good location to explore the rest of Suffolk. Check availability, rates, reviews and book here
Newmarket
Newmarket is famous as the home or headquarters of horse racing. Newmarket holds a special place in my heart as I worked at Newmarket Racecourse for many years. You can see the horse racing influence all over this unique town that even has pavements just for horses! If you drive through Newmarket in the morning you will see racehorses being exercised on the gallops and may have to stop at a horse crossing.
The history of horse racing goes back to 1666. Anyone who is interested in horses and horse racing should not miss visiting Newmarket – the home of racing and one of the best places to visit in Suffolk!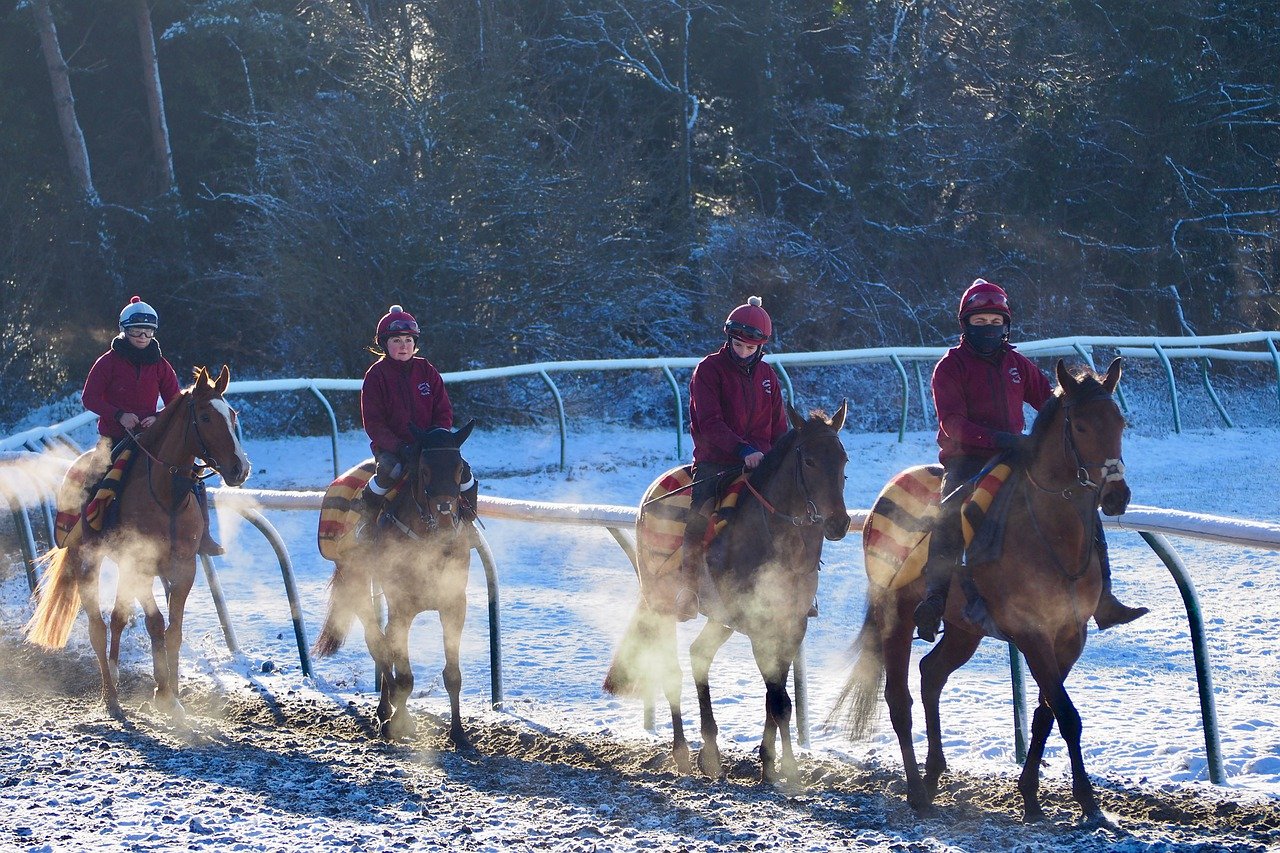 Best Places to Visit in Newmarket
Try to time your visit to Suffolk to coincide with a race meeting at Newmarket Racecourse. There are actually 2 racecourses in Newmarket and the racing season goes from April to October.
The modern Rowley Mile Racecourses hosts Spring and Autumn race fixtures while the quaint July course hosts summer race meetings – a highlight of these are the Newmarket Nights that host live music from famous artists after the racing. Find out more information on the Newmarket Racecourses website here.
And it's not just the racecourses, there are many more equine attractions in Newmarket including the National Horse Racing Museum and The National Stud. There are also a variety of Discover Newmarket Tours you can join where you'll explore hallowed grounds such as the Jockey Club Rooms, Tattersalls – the world's oldest auction house, trainers' yards and the famed gallops.
The fantastic National Horseracing Museum tells the story of horse racing from its earliest origins to the world-wide phenomenon it is today. It's one of the best attractions and museums in Suffolk which also features an art gallery and chance to meet former racehorses. The National Stud is the only working commercial stud farm to run behind the scenes tours where you'll get to meet the stallions, mares and foals and learn about thoroughbred breeding.
Best Places to Stay in Newmarket
A luxurious 4 star Georgian hotel with rose gardens, an excellent health club and spa and award winning restaurant close to Newmarket town center and the racecourse. Check availability, rates, reviews and book here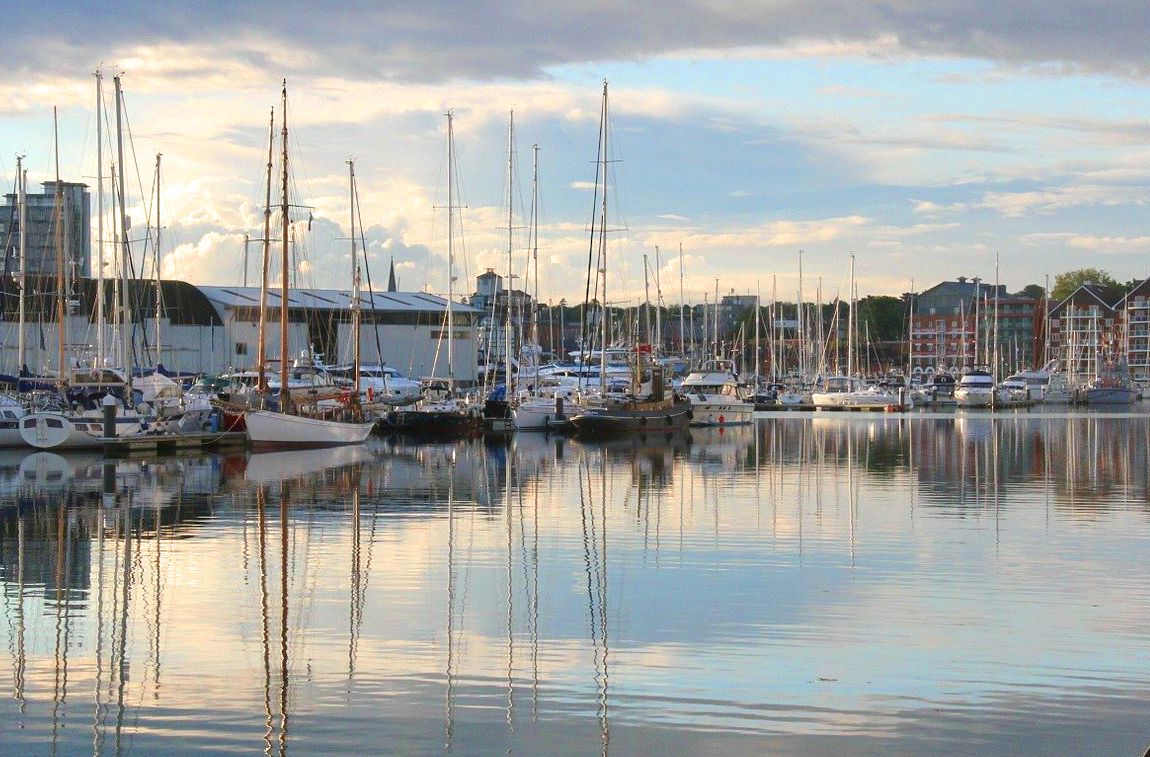 Ipswich
A article about the best places to visit in Suffolk wouldn't be complete without a mention of Ipswich – the county town of Suffolk and the largest town. There's plenty of accommodation options, hotels and places to stay in Ipswich.  To be honest, I don't visit Ipswich all that much, it's not the most beautiful or exciting town in the world but it does have it's charms and several attractions.
Best Places to Visit in Ipswich
The vibrant, recently redeveloped marina and waterfront has many nice eating and drinking spots including the boutique Salthouse Harbour Hotel and is a lovely place to relax on a sunny day. From here you can also take a cruise along the River Orwell to the picturesque Shotley Peninsula, an area famous with birdwatchers.
Christchurch Park is a nice stroll and holds an excellent art collection at Christchurch Mansion displaying works of local painters like John Constable and Thomas Gainsborough in a fine 16th century Tudor mansion. Foodies will also want to visit the Suffolk Food Hall which showcases the best of local produce and visit the The Suffolk Craft Society to shop for interesting crafts, souvenirs and gifts.
A few miles from Ipswich is Jimmy's Farm, which became famous from the TV show and has developed into a top attraction with an award-winning restaurant, farm shop, nature trail, glamping site and hosts several family friendly festivals throughout the year.
Best Places to Stay in Ipswich
My favourite place to stay in Ipswich. This stylishly renovated old dockland building has a wonderful location on the waterfront and it's easy to walk into town. Luxurious rooms have lovely views and there's also an excellent restaurant. Check availability, rates, reviews and book here.
Constable Country
Suffolk's bucolic landscapes were made famous by John Constable's paintings in the 18th century. As Britain's foremost landscape artist of the time, Constable painted many idyllic views which are still recognisable today.
Walk and explore the picturesque Stour Valley and Dedham Vale, the birthplace of Constable, where you can visit the famous Flatford Mill and Willy Lott's House, the site of The Hay Wain painting, which is mostly unchanged since Constable's days.
Constable Country makes a easy day trip from Ipswich. Art lovers may also want to visit Thomas Gainsborough's House in Sudbury.
Best Places to Visit on the Suffolk Coast
Suffolk's Coast is one of the most beguiling and mysterious in England dotted with charming and underrated seaside towns and stretches of natural beauty. Suffolk's best seaside towns of Southwold and Aldeburgh avoided becoming tacky seaside tourist towns and a largely unspoilt retaining much of their authentic and unique charms. Much of the Suffolk Coast has been declared an Area of Outstanding Natural Beauty although most of the beaches are pebble and shingle not sand.
While heading across to the Suffolk Coast you could stop at the impressive and imposing 12th century Framlingham Castle.  I still have fond memories of dressing up as a princess here on a school trips and more recently Suffolk's most famous current resident, Ed Sheeren, wrote 'Castle on the Hill' inspired by this castle in his home town. If you want to know more about Ed Sheeren's childhood in Suffolk there's also an exhibition at Christchurch Mansion in Ipswich.

Southwold
Southwold is my favourite town on the Suffolk Coast. A serene and picturesque Georgian town with painted old houses and maritime inns and a lighthouse overlooking a shingle beach with a Victorian pier and colourful beach huts.
Instead of tacky amusements, Southwold's pier has a restaurant, cute little shops and vintage-style coin-operated machines that have helped win it "Pier of Year". The lighthouse dates back to 1890 and is still working today. You can climb the 92 steps to the top to enjoy the views. Southwold is also home to the Adnams Brewery which runs tours.
A pleasant 20 minute stroll over the common and footbridge or unique foot ferry bring you to the quaint Georgian village of Walberswick – a popular spot for crabbing, painting, pub lunches and beach walks.
Best Places to Stay in Southwold
If you want to stay on the Suffolk Coast then one of the best places to stay is Southwold. Choose from boutique hotels and B&Bs on the coast, quaint self catering holiday cottages and camping and caravanning sites. Southwold is a small seaside town so budget accommodation is limited and most places get sold out in the summer months. So make sure you book well in advance to avoid disappointment.
My favourite place to stay in Southwold is The Swan Hotel owned by Adnams – the local brewery. This award winning 18th century 4 star hotel is just 200 meters from the sea and combines period features with modern comforts. There's two fabulous restaurants, four poster beds and the garden rooms have a private patio and a view of Southwold Lighthouse. You can also book onto a special brewery tour for residents. Check availability, rates, reviews and book here. 
Dunwich
Take a walk along the wild Dunwich Heath and Beach and see if you can spot the church spires of the sunken village poking up from below the ocean.
There's not much to see nowadays but during the Anglo Saxon era Dunwich was the capital of the Kingdom of the East Angles and one of the largest towns in England with an important harbour and seven churches.
Due to coastal erosion most of the town has fallen into the sea. There is a small but interesting Dunwich Museum that tells the story of the lost village.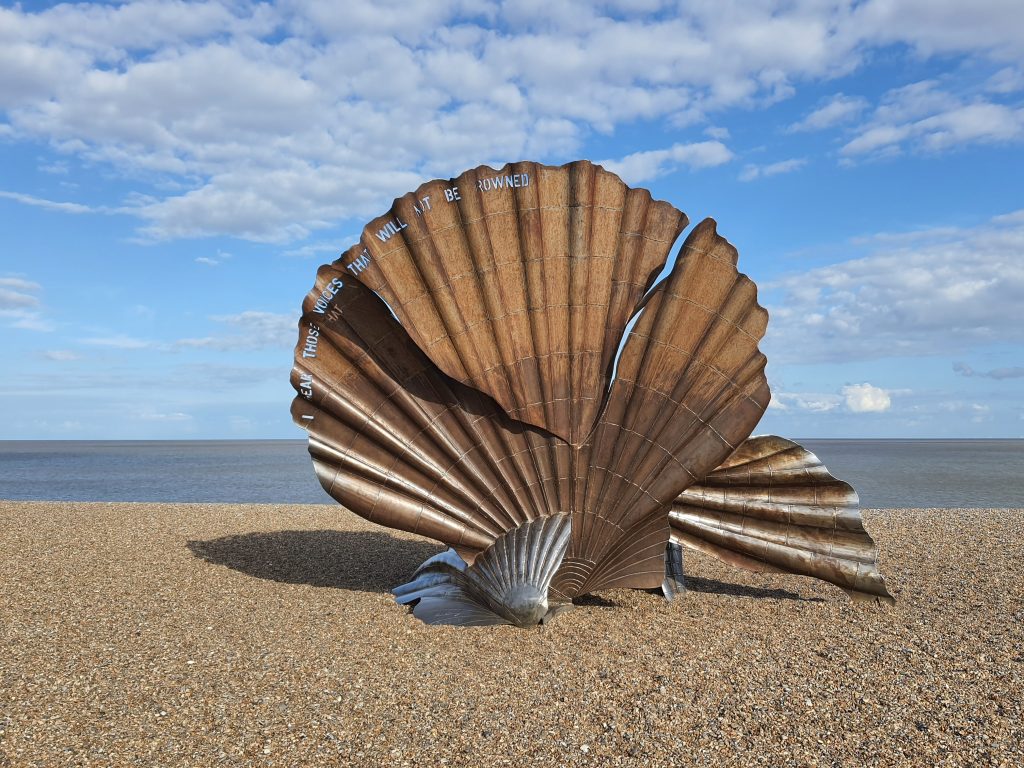 Aldeburgh and Thorpeness
Head further South down the Suffolk Coast to explore Aldeburgh, an even more more low key seaside town. You can stroll along the long pebbly beach, see the famous Scallop sculpture and eat super fresh fish and chips straight from the boat.
Aldeburgh was famous as home to the Aldeburgh music festival, founded by Suffolk-born composer Benjamin Britten, which is now held at nearby Snape Maltings.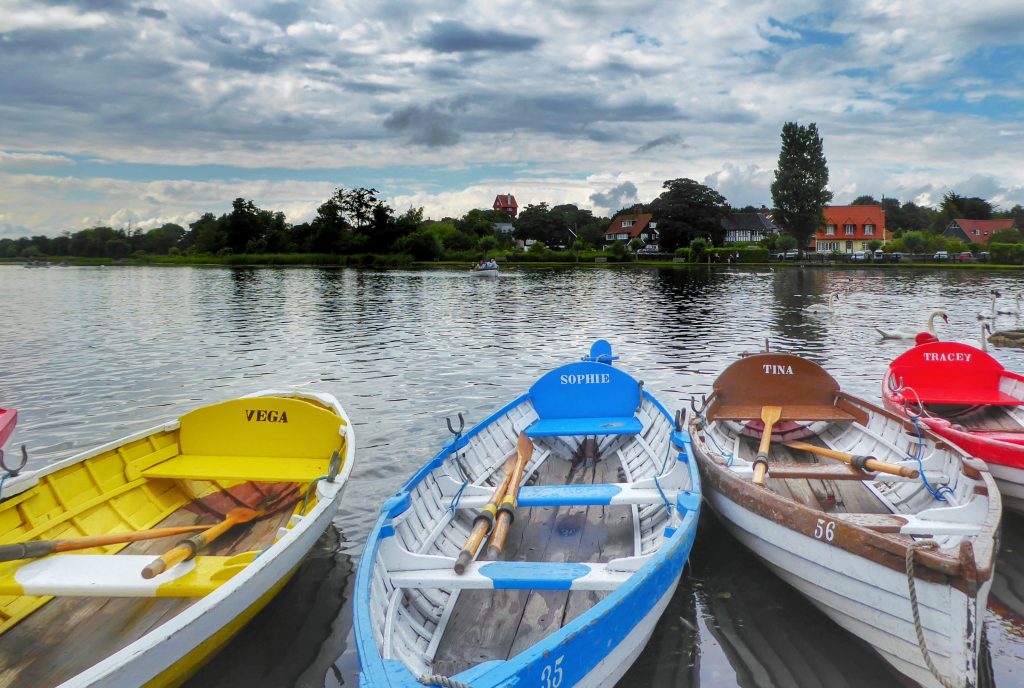 Nearby is enchanting Thorpeness – purpose built in the 1920's as a fantasy holiday village to recreate the medieval atmosphere of 'merrie olde englande' and inspired by Peter Pan. Enjoy the tea rooms and golf course, search for treasure in the eccentric emporium and splash around on Thorpeness Meere, a boating lake discovering islands like 'The Pirate's Lair' and 'Wendy's Island'.
Places to Stay in Aldeburgh and Thorpeness
A lovely traditional hotel opposite Aldeburgh's shingle beach with comfortable rooms, an oak panelled restaurants as well as an informal beach facing bar serving real ales and fresh Suffolk produce. Book well in advance to get a room with a sea view some of the rooms have far-reaching sea views. Check availability, rates, reviews and book here.
One of the most iconic landmarks of Suffolk. This water tower turned into a unique and spacious holiday home with 5 bedrooms spread over 5 floors and surrounded by 1 acre of private grounds with the finest living rooms views in Suffolk! Book well in advance! Check availability and request to book here.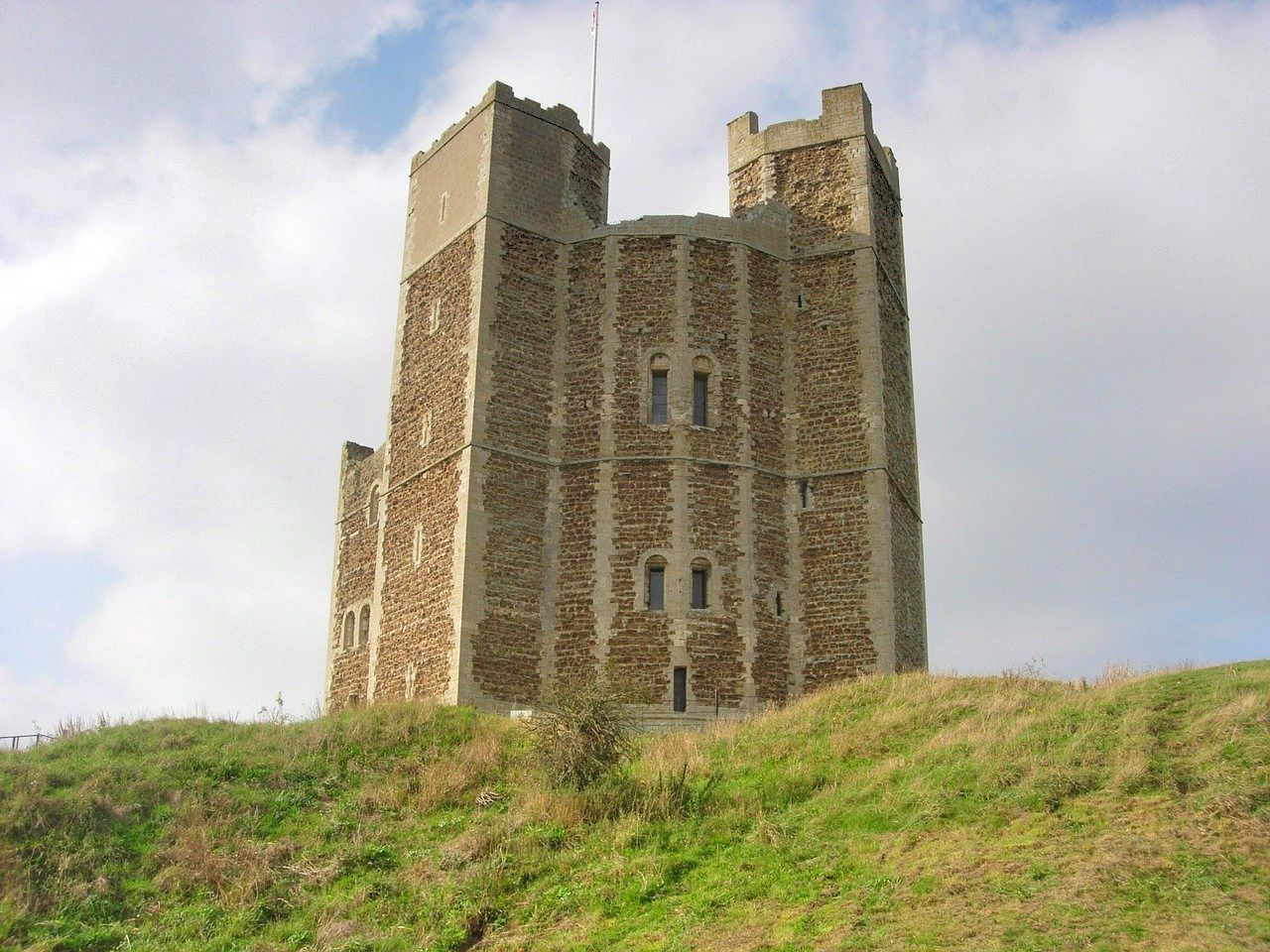 Orford
A little South from Aldeburgh is another village vying for the title of the prettiest village on the Suffolk Coast. Orford is a gem with an impressive castle, cute cottages, pubs and a picturesque quay offering river cruises.
The well preserved keep of 12th century Orford Castle soars over the town and offers views over Orford Ness and is home to the village museum. Orford Ness Nature Reserve is a ten mile long shingle spit with marsh, lagoons, waterways and an interesting, secretive military history. Sadly, the iconic Orfordness Lighthouse built in 1792 was recently demolished.
Woodbridge
Woodbridge is a pretty, vibrant, market town on the banks of the River Deben. Stroll along the riverside path and quayside to visit the Tide Mill. This historic mill is over 850 years old and is one of the only tide mills in the world whose water wheel still turns and grinds wholemeal flour.
Nearby is Sutton Hoo, an Anglo Saxon burial site home to one of the greatest archaeological discoveries of all time. The ancient burial mounds held the ship burial of an Anglo-Saxon king 1,400 years ago, probably Kind Raedwald, and his treasured possessions.
If you are a horse lover like me then visit the Suffolk Punch Trust that protects the oldest English breed of working horse which is now endangered. As well as meeting the horses and foals you can learn about the agricultural history of Suffolk in the Heritage Museum.
Best Places to Stay in Woodbridge
A charmingly renovated former granary is now a 2 bedroom grade II listed holiday cottage with lovely riverside views. Check availability, rates, reviews and book here!
This beautiful, historic, manor house dates back to 1530 and offers great value pet friendly accommodation with plenty of period features, landscaped grounds, a swimming pool and spa and restaurant serving fresh food with many of the herbs, fruits and vegetables grown in their own garden. Check availability, rates, reviews and book here!
Lowestoft
Lowestoft is another popular seaside resort in North Suffolk with a golden sandy beach, family fun and seafront amusements. It's also close to Suffolk's tourist attractions for families like Pleasurewood Hills Theme Park, a family theme park where we used to go for childhood birthday parties, Africa Alive, a sprawling Africa themed wildlife safari park,  East Anglia Transport Museum, the only place in the UK where you can ride on working vintage trams, trolley buses and narrow gauge railway. There's also Somerleyton Hall one of the finest Victorian stately homes in the UK with the finest gardens in East Anglia.
Best Places to Stay in Lowestoft
This historic Victorian hotel with comfortable and quirky modern furnishings overlooking Lowestoft's award-winning blue flag beach offers free parking and makes a good base for exploring the area. Check availability, rates, reviews and book here!
Also don't miss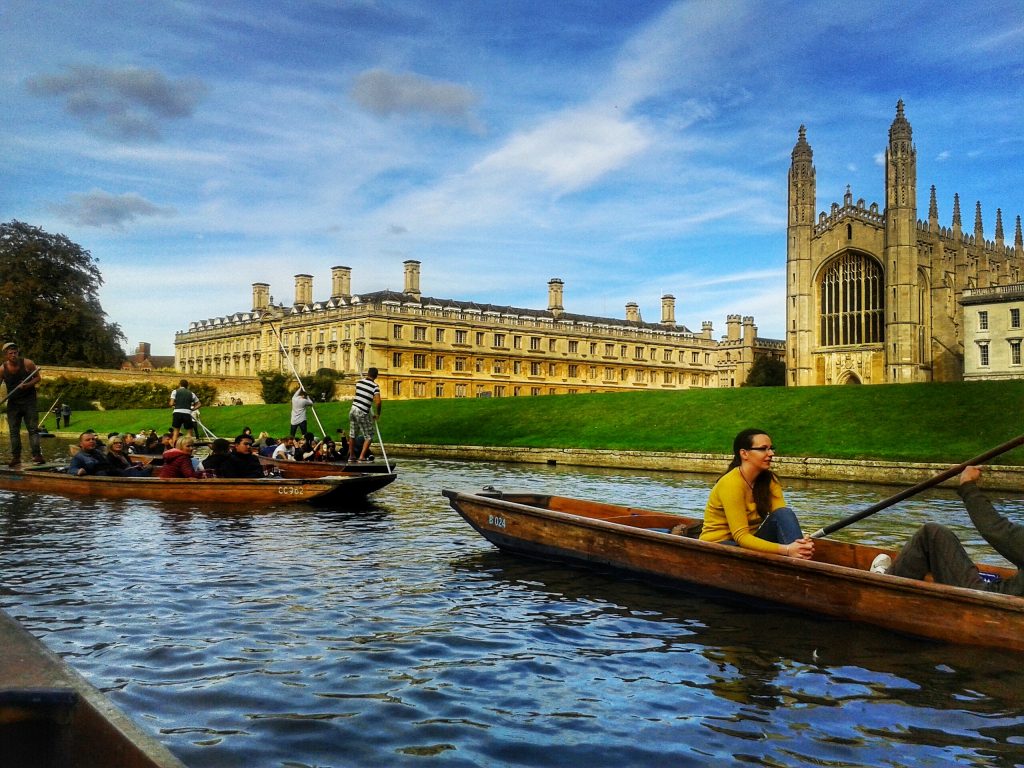 Cambridge
OK, strictly speaking Cambridge is not in Suffolk but in Cambridgeshire, but it's less than 30 mins from Newmarket and you shouldn't miss visiting this historic and beautiful famous university town.
Things to do in Cambridge
Cambridge boasts ancient colleges, idyllic 'backs', lovely parks and pubs, world class museums and a lively student scene. The very best way to experience Cambridge is punting on the River Cam along the backs of the famous colleges. You can either join a guided punting tour or pack a picnic and some bubbly and try out punting yourself – it's harder than it looks but alot of fun.
Back on dry land visit the bewitching and world famous Cambridge University buildings, a highlight is Kings College, one of England's finest examples of Perpendicular Gothic architecture, and explore the Botanic Gardens. One of the best ways to explore Cambridge is on a walking tour lead by the university students themselves.
Cambridge also boasts fascinating museums including the Fitzwilliam Museum, which holds an impressive half a million works of art and antiquities, the Museum of Cambridge, where you can learn all about the city in a lovely 17th-century building, and discover world-class art and artefacts from all over the world at the Museum of Archaeology and Anthropology.
Not far from Cambridge is also the Imperial War Museum Duxford – Europe's largest air museum which houses over 200 aircraft and military exhibits and one of my favourite school trips.
Best Places to Stay in Cambridge
If you're visiting Cambridge in the summer outside of the university term times then what better place to stay than in one of the famous and historic Cambridge University colleges! Christ's College offers comfortable accommodation in one of the UK's most historic university buildings with scenic college gardens in the heart of Cambridge city centre. Click here for availability, rates, reviews and to book! 
Wonderful 4 star hotel with 'Harry Potter' vibes, restaurant, bar, a shared lounge and garden in a great location near the university colleges.  Check availability, rates, reviews and book here!
The Norfolk Broads
I know! Another sneaky entry that's not actually in Suffolk but over the border in Norfolk but it's still only 1 hours drive from Bury St Edmunds and one of my favourite places in the UK. The Broads is a network of 127 miles of navigable, lock free waterways, rivers and lakes that twist through big sky countryside of reedbeds and marshland dotted with ruined windmills and picturesque villages.
The Broads were formed by the flooding of peat workings and are now a national park and a popular destination for boating holidays. You can hire a boat and cruise for a blissful week, rent out a boat for the day or join a tour.
I went with Broads Tours. A good, if slightly tacky, entry point to the Broads is Wroxham which has many opportunities to get on the water. It's also a terminus for the Bure Valley Railway, an 18-mile round trip on a steam locomotive. Oulton Broad near Lowestoft is another gateway to the Broads from Suffolk.
Best Places to Stay on the Norfolk Broads
The best place to stay on the Norfolk Broads is, of course, on a boat! A good place to hire Broads Cruisers is on Norfolk Broads Direct.
There's also some lovely hotels and pubs overlooking the waterways around Wroxham, Horning, Reedham and Beccles.
One of my favourite hotels is the Waveney House Hotel, in Beccles in Suffolk. Also check out The Hotel Wroxham or The Innkeepers Lodge in Horning.
For a beautiful self catering Norfolk Broads holiday cottage on the water try The Wherry in Wroxham.
So there's all my favourite places to visit in Suffolk from a lifetime of living here! I hope you're feeling inspired to visit the under rated gem that is Suffolk! The beautiful countryside, historic towns, pretty villages, coastline and open spaces of untouristy Suffolk could be perfect if you are looking to getaway for a weekend break, staycation or holiday in the UK.
For more information visit the official Visit Suffolk tourism website.
Have you visited Suffolk? Anything else I should add to my list of the best places to visit in Suffolk?