Seville, or Sevilla, is undoubtedly one of Spain's most flamboyant, passionate, magical and captivating cities. The sunny Andalusian capital is overflowing with history, culture, beauty and amazing food and makes an amazing city break.
There are so many things to see and do, that you'll need to spend at least 3 days in Seville to soak it all up. To help you plan your trip, here's the perfect Seville itinerary with all the tips you need, including the best time to visit, the best places to visit, stay and eat in Seville, Spain and much more.
The Perfect 3 Day Seville Itinerary
Why Visit Seville
Seville is nestled on the banks of Guadalquivir River in the Andalusian region of southern Spain. It's a city of grand monuments, palaces, cathedrals and bustling ancient alleyways with hidden shops and tapas bars tucked inside the walls.
A heady scent of jasmine and citrus fills the air as you walk along streets and plazas towards Seville Cathedral and Real Alcázar, and lush parks offer perfect picnic spots or places to enjoy a stroll or leisurely bike ride.
There are abundant museums, art galleries and bell towers with incredible views to discover, and riverboat rides to enjoy at sunset as the city illuminates.
Pin Me for later! 😉
Seville is also steeped in traditions – it was the birthplace of Flamenco, and on any given day you can still hear the picking of a nylon string guitar and singing punctuated by intermittent claps from buildings across the river in Triana.By the river at night, on Calle Betis, tapas bars serve raciones of croquetas caseras and jugs of sangria by the litre to locals and tourists as twinkling lights shimmer on the water.
Whether you wish to learn how to dance flamenco, delve into the heritage of New World explorers, discover Moorish architecture, take an Andalusian cooking class or browse at your leisure indulging in tapas and cerveza as you do so, this 3 day Seville itinerary will give plenty of ideas and tips for how to spend an amazing 3 days in Seville!
Seville was my favourite place on our epic Spain and Portugal road trip and I hope this post will give you all the tips you need to love it as much as we did!
How Many Days in Seville?
Ideally you need at least three days for your Seville itinerary to be able to see the major tourist attractions in Seville, such as Giralda Bell Tower, Seville Cathedral and the more recent Metropol Parasol.
To make the most of your time I recommend booking a guided tour or skip the line tickets in advance for the major attractions.  With 3 days in Seville you have plenty of time to wander through local barrios (neighbourhoods) delving into local living, you can enjoy guided or solo walks and bike tours and even an authentic Spanish cooking class.
However, if you prefer a more laid-back exploration or wish to discover areas outside Seville, five days to a week will give you enough time to venture to nearby Jerez de la Frontera, (Spain's sherry capital), see the 'Pueblos Blancos' – pretty white mountain villages of Andalusia and lounge on white sandy beaches of the Costa de la Luz.
Day trips to Cordoba and Granada are also possible, I'll include more ideas and tips for day trips from Seville later on in this itinerary.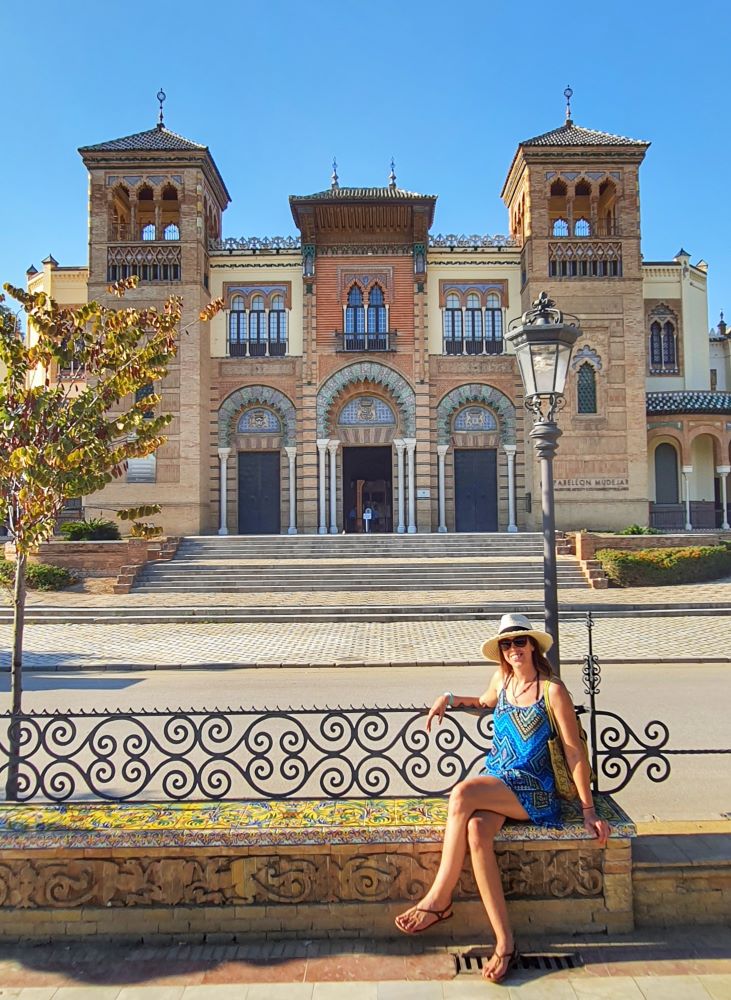 When is The Best Time to Visit Seville?
Seville can be visited any time of year. If you're planning a trip to Seville in summer pack plenty of light clothing. This city is HOT in the summer, particularly between the months of July and August when temperatures soar to highs of over 37°C (100°F) or usually a little more.
During these months temperatures can remain in excess of 32°C (90°F) after midnight. It's not unusual to see city stores placing awnings over shop fronts and spraying water on passers-by to keep them cool as they browse. It's also wise to choose accommodation with good air-conditioning at these times of the year!
If you're not a fan of the heat and prefer to explore the city in a more temperate climate then the best time to visit Seville in is Spring, Autumn and Winter as the weather is much more pleasant. March, September and October, give you decent weather, cheaper hotel rates and flights, and winter months between December and February are even cheaper. However, if you're on a budget, avoid Christmas and the first week in January, as holidays can push prices up quite considerably.
To experience Seville in all of its traditional glory, plan your Seville itinerary for April to coincide with the Seville Feria. This huge annual fair attracts visitors from all around the world. The festivities last for days and involve lots of delicious Andalusian food and drink set inside stalls and tents beside Guadalquivir River. Days blend into nights with live music and dancing and women dressed in full Flamenco attire. It's a photographer's dream and gives an authentic glimpse into Andalusian culture you won't want to miss.
Where to Stay in Seville
When planning a trip to Seville one of the most important decisions that can make or break your trip is where to stay in Seville so it's worth doing a bit of research into the different neighbourhoods of Seville and accommodation options.
One of the absolute best places to stay in Seville is the luxury Hotel Alfonso XIII. This grand historic hotel is somewhat of a Seville icon and is located next to the Real Alcázar and within easy walking distance of all Seville's attractions. Staying at Hotel Alfonso XIII immerses you in opulent, traditional Arabic-Andalusian style with arched towers, mosaic archways and internal courtyards, a swimming pool, cocktail bar and dining on the outdoor terrace. Click here to check reviews, rates and availability for Hotel Alfonso XIII. 
But don't worry if your budget doesn't quite stretch, there is a good range of beautiful Seville hotels for all budgets, from heritage hotels full of character and charm to modern and budget friendly hotels, apartments and hostels. I'll describe the different neighbourhoods briefly and then give some hotel recommendations for each budget range.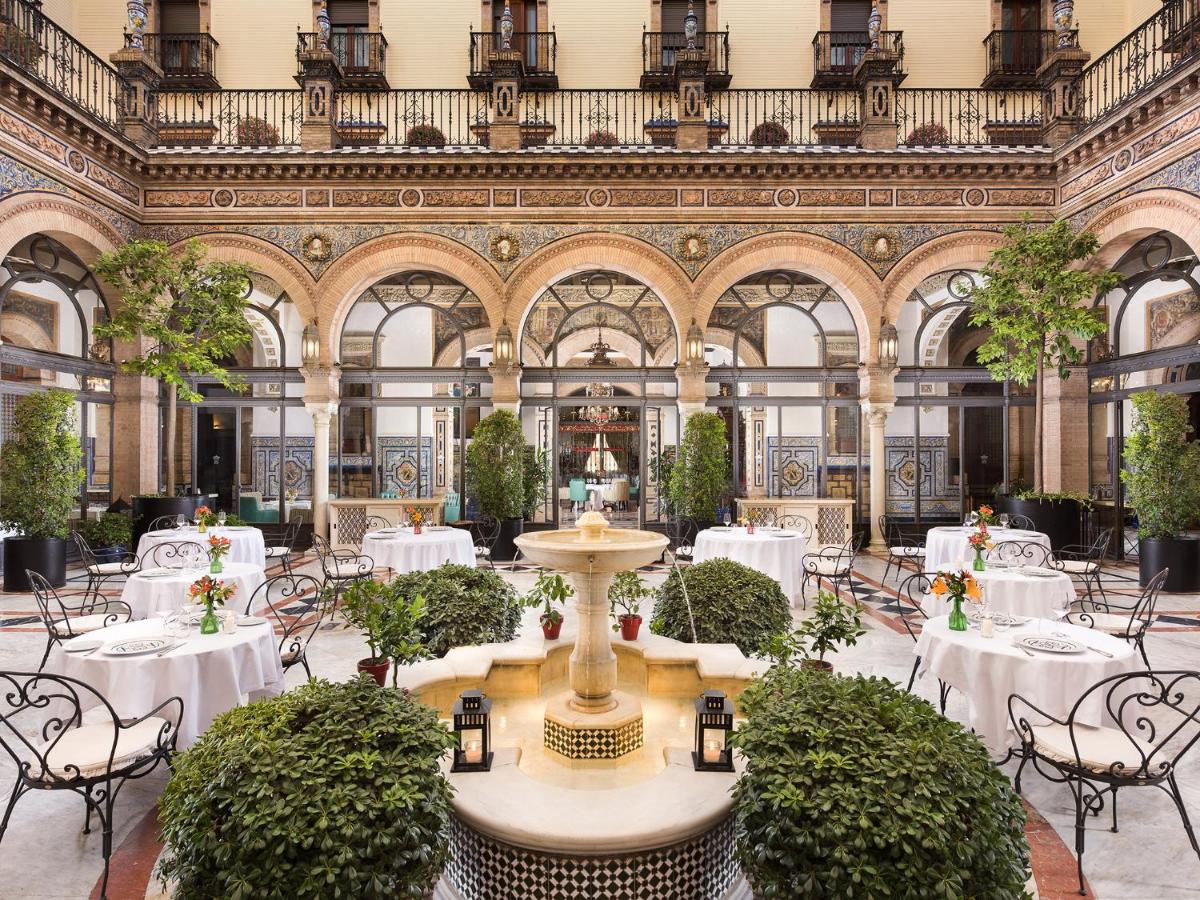 Best Neighbourhoods to Stay in Seville
If you're travelling to Seville to immerse yourself in local culture, see the sights and sample delicious cuisine, it's always good to know the best neighbourhoods (or barrios) to stay in, so that you can gain the most from your 3 days in Seville itinerary.
Bustling Santa Cruz is the beating heart of the city and the best place to stay in Seville. Although hotels can be a little more expensive here, it's a perfect place to spend 3 days in Seville with historic sites, tapas bars, shops and relaxing gardens within a few minutes' walk of each other.
Another top option is to stay on the banks of Guadalquivir River in El Arenal, a cosmopolitan neighbourhood, bursting with life and a great place to learn about the history of Seville.
If you're on a budget and are interested in reducing costs, stay a little further outside the historic centre in San Bartolome, an area brimming with leafy plazas and historic churches, or across the river in Triana, a birthplace of the flamenco movement.
Alternatively, Encarnacion Regina is the neighbourhood of Metropole Parasol and Palacio de la Condesa de Lebrija and close to the Museum of Bellas Artes plus, it boasts an abundance of trendy bars and local produce markets.
If you're looking for some ideas of where to stay for your 3 day Seville Itinerary, the five accommodations I recommend below, cater to every price range, and will hopefully give you some inspiration!
The Best Hotels in Seville
Luxury: EME Catedral Hotel – Best Views in the City Overlooking Seville Cathedral
Located next to Seville Cathedral and Giralda Bell Tower, these 5-star hotel rooms are modern with hints of Old Seville (exposed stone walls and Moorish ceiling reliefs) there's also free WiFi, a luxurious spa and alfresco dining in La Esquina de Bacalao. Highlights include the rooftop swimming pool and La Terraza EME offering outstanding views of Seville's finest landmarks making this one of the very best places to stay in Seville.
Check prices, reviews and book here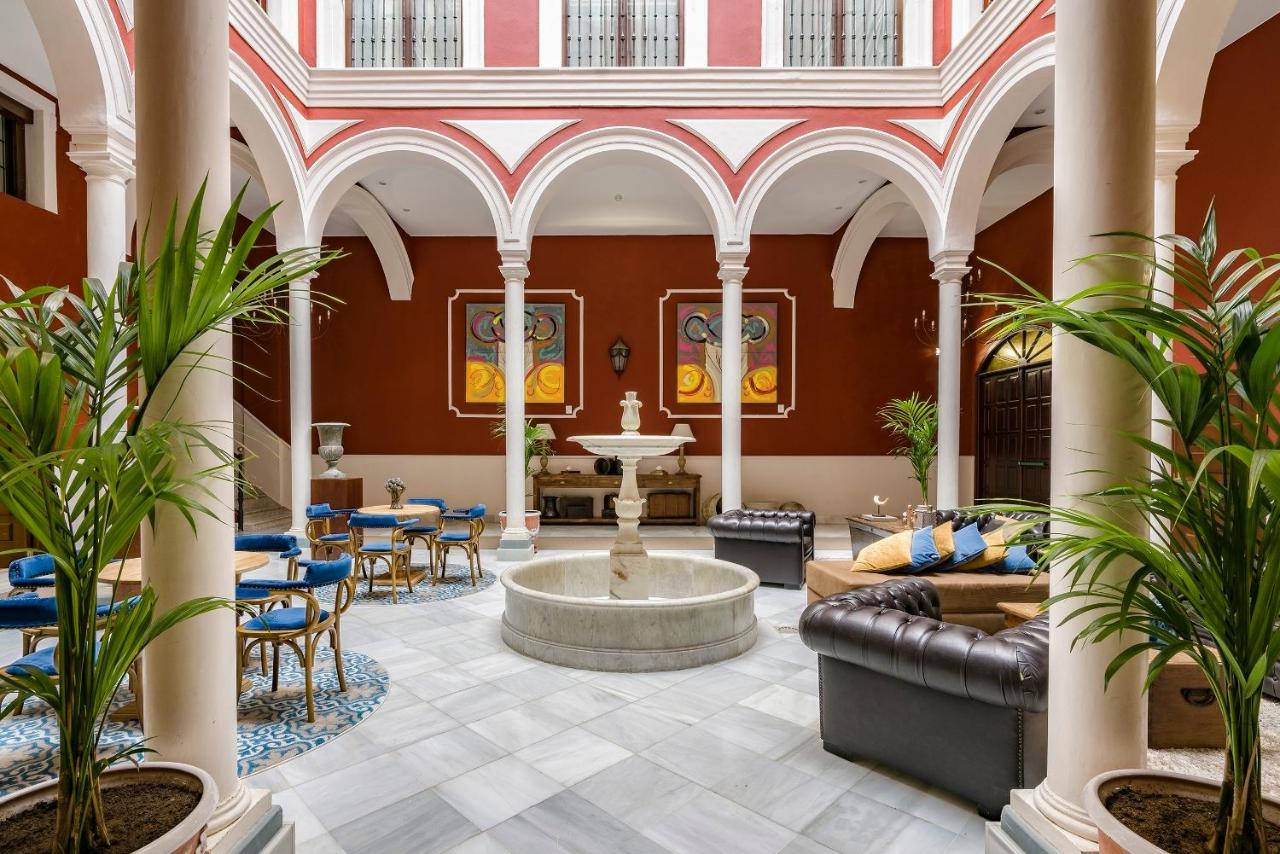 Mid: Hotel Vincci La Rabida – Beautiful Historic Hotel with Giralda Views
This 4-star hotel overlooks La Giralda and is set inside an historic 18th century mansion, just 450 yards from Seville Cathedral making it my favourite heritage hotel in Seville. With original features, colourful tiles, French balconies and stone archways, the charming hotel with an inside courtyard is a wonderful place to base your Seville itinerary close to many of Seville's iconic attractions.
Check prices, reviews and book here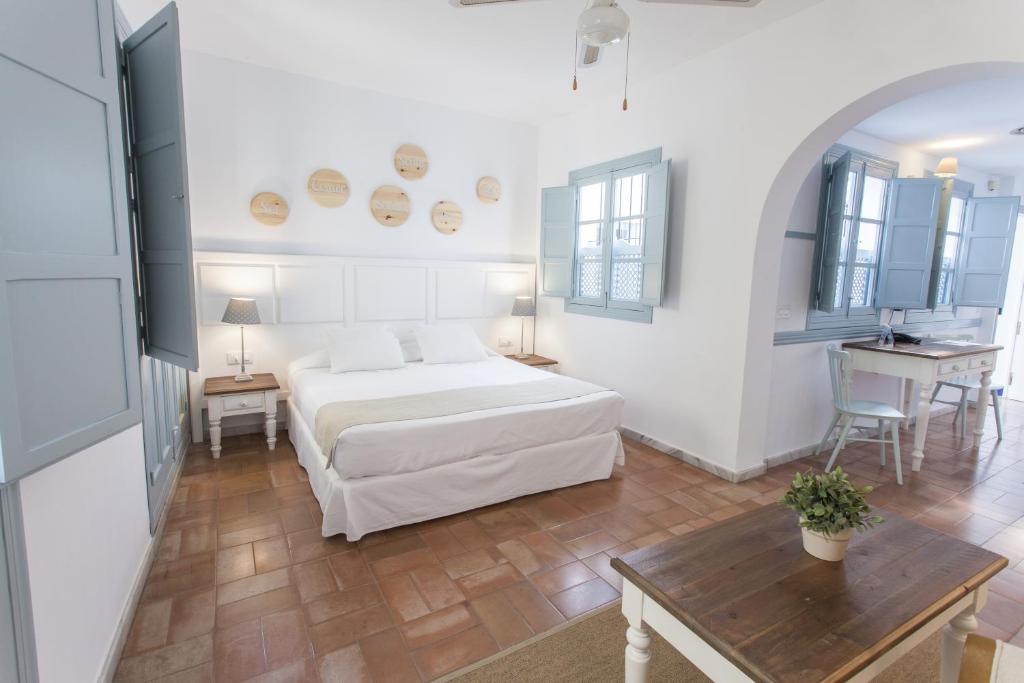 Just 100 yards from the Gardens of the Real Alcázar and two minutes' walk away from the Cathedral of Seville and Giralda Tower on a quiet pedestrian street, these apartments are equipped with everything you need for a comfortable stay. Each unit has a basic kitchen, lounge and free WiFi is offered.
Check prices, reviews and book here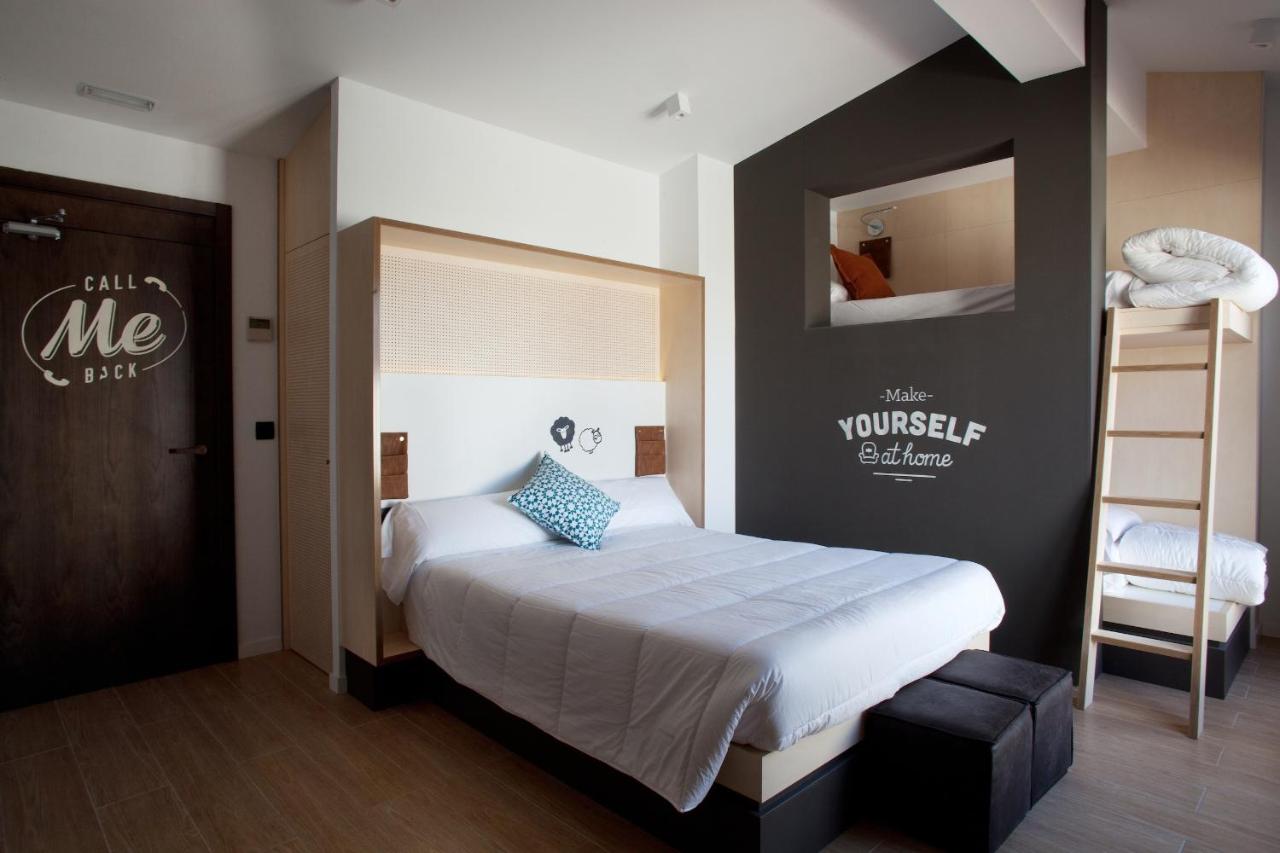 Budget: TOC Hostel Sevilla – Cheap Accommodation Close to UNESCO World Heritage Site
Located across the street from UNESCO World Heritage Site Archivo de Indias, this charming guest house features private double rooms, family rooms and shared dormitories all with private bathrooms. There's also a shared lounge with TV, 24 hour reception and tour desk if you wish to explore Seville and the city's famous cathedral is just 200 yards away. A great place to stay in Seville for budget travellers – not just for backpackers but also for families or friends on a budget.
Check prices, reviews and book here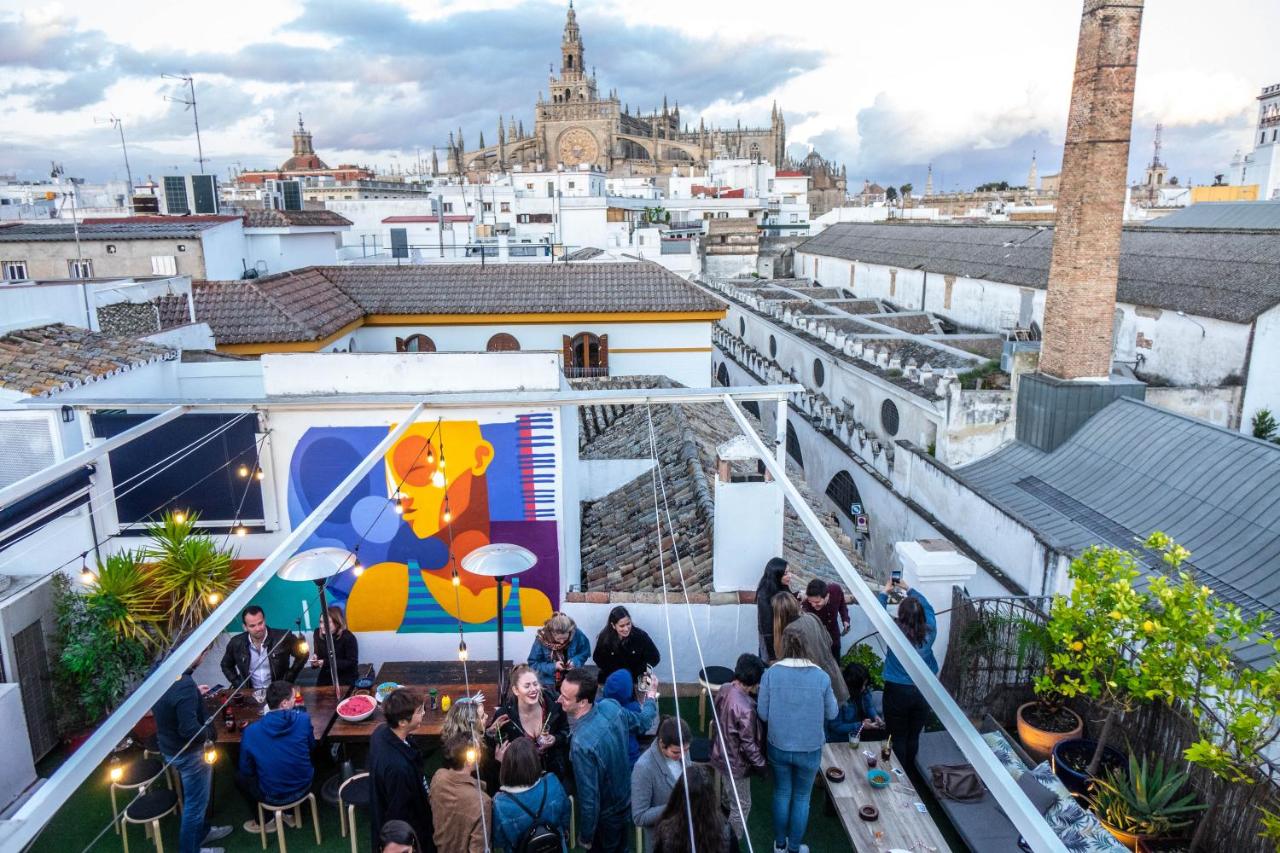 Backpacker: La Banda Rooftop Hostel – Fun Hostel with a Rooftop Terrace & Walking Tours
La Banda is the best backpacker hostel in Seville with views of Seville Cathedral from a large rooftop chillout terrace and fun, friendly vibes! It's a perfect choice if you're travelling solo or with a group of friends on a budget. The hostel benefits from air conditioned dorms, WiFi, lockable storage for valuables, a communal kitchen so you can save money by cooking your own meals and a 24-hour reception.
Check prices, reviews and book here
So now hopefully you've found the perfect place to base yourself for exploring Seville let's get on with my perfect 3 day Seville Itinerary.
How to Spend 3 Days in Seville: My Perfect 3 Day Seville Itinerary
Pin Me! 😉
Seville Itinerary Day 1
On day one, begin your three days Seville itinerary early in the morning in the heart of the city, exploring UNESCO World Heritage Sites and some of the city's most famous landmarks – Seville Cathedral and La Giralda, before taking a leisurely 10 minute walk to Real Alcazar (the Royal Palace) in the afternoon and ending this exciting day with a relaxing sunset cruise on the Guadalquivir River.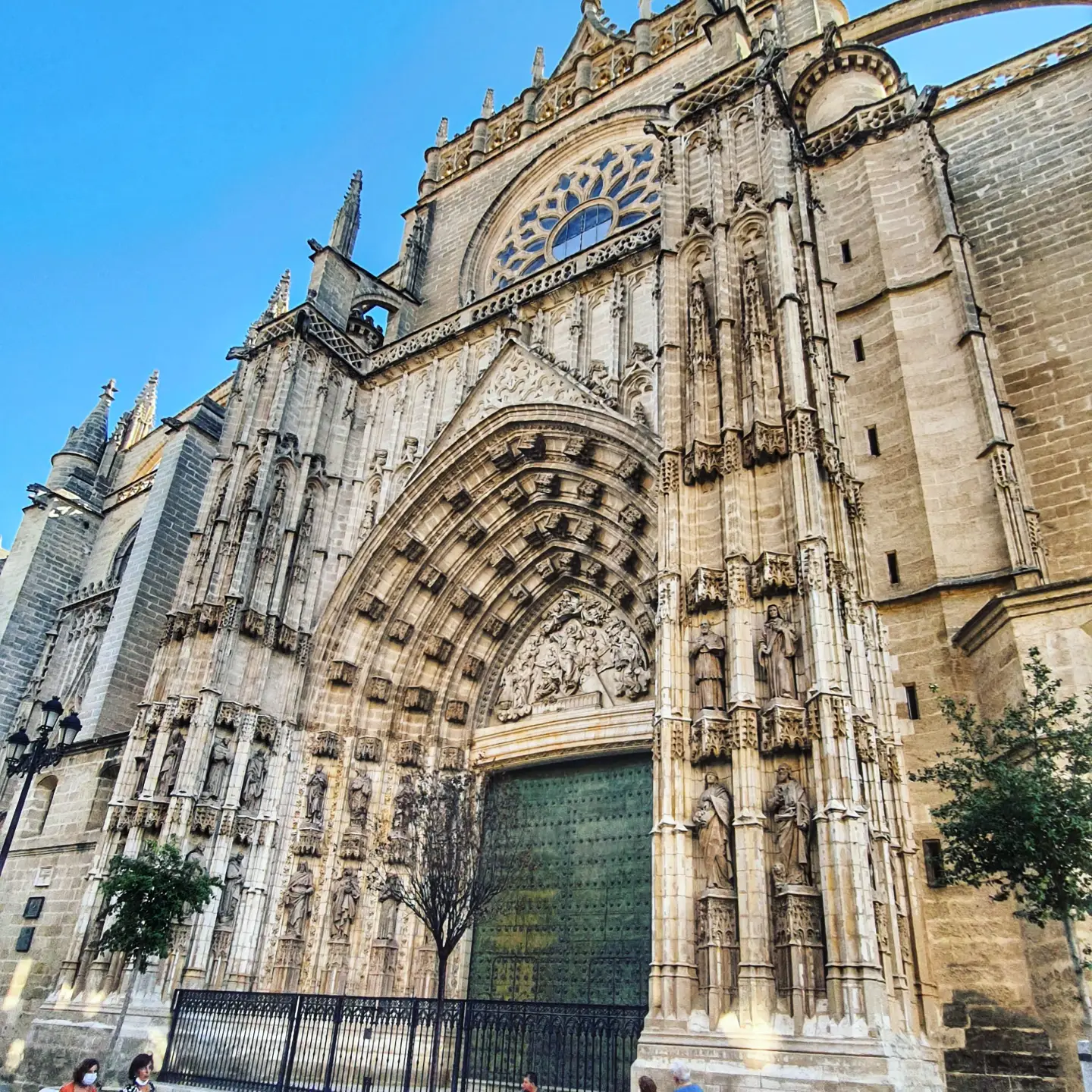 Visit Seville Cathedral & La Giralda Bell Tower
One of the best ways to see Seville Cathedral is on a guided tour. Not only do you learn about the history and architecture of the world's largest Gothic cathedral and UNESCO World Heritage Site, you also get to skip the queue and discover the interior before hordes of tourists arrive! However you do it, this is a place you don't want to miss from your Seville itinerary.
Highlights of the Cathedral include the Main Chapel, Royal Chapel, the Sacristy & Treasury and Patio de los Naranjos – a pretty courtyard with orange trees on the site where a 12th century mosque once stood. Inside you can also see the tomb of explorer Christopher Columbus, the longest nave of any Spanish Cathedral and an impressive Gothic retablo carved with biblical scenes!
All visitors to Seville won't fail to notice the bell tower that sits aside the Gothic cathedral. This is La Giralda – a minaret of the former Arab mosque (it has a twin in Marrakesh). Its name comes from the weathervane which sits on top which is a symbol of Seville. It has the greatest number of bells – 24, of any cathedral, and can be climbed to an observation platform to achieve magnificent vistas of the city and surrounding Andalusian countryside.
Get your skip the queue tickets here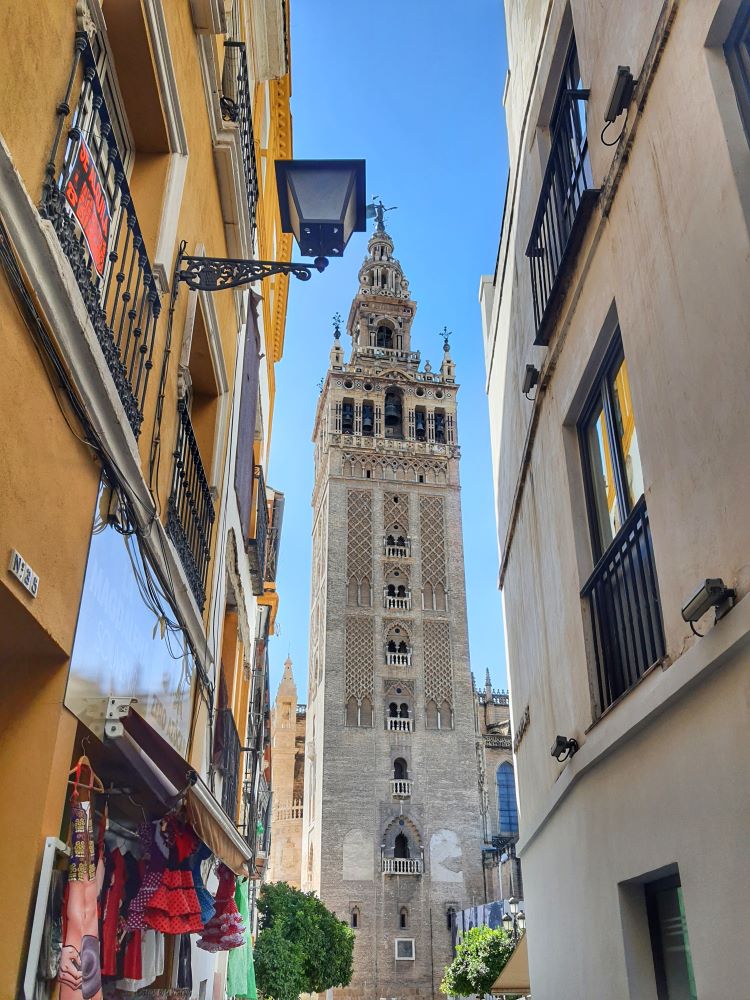 Explore Santa Cruz Neighbourhood
After visiting La Giralda and Seville Cathedral explore the rest of the historic Santa Cruz neighbourhood – the old Jewish Quarter of the city.
Wander along the labyrinth of narrow cobbled alleyways which open out into orange tree lined squares, stop for a tapas lunch or drinks in Cerveceria Giralda Bar set inside a building that houses the remains of a 12th century hammam.
The tapas bar has recently been restored to showcase ancient tile frescoes, and delicious tapas incorporate Sevillian delicacies such as Iberian sausages and shitake mushrooms stuffed with pico de gallo. You also have the opportunity to sample wines from various regions of Spain including Rioja, Andalusia and Ribera.
Alternatively, take time to browse artisan products in the side streets and see how locals live in the heart of the city.
Before you move away from Barrio Santa Cruz to enjoy afternoon activities, explore Plaza del Triunfo and Archivo de Indias. The latter is one of the most important centres relating to the 'Age of Discovery' and houses many interesting documents relating to the first expeditions to the New World.
Walking distance from Seville Cathedral to Barrio Santa Cruz – less than 1 minute.

Visit The Real Alcázar
When you've concluded lunch in Santa Cruz and explored Archivo de Indias, stroll to the Real Alcazar and Jardines de Murillo in the afternoon. You can also 'skip the line' here and take a guided tour or incorporate it with a ticket combining the earlier tour of Seville Cathedral and La Giralda if you prefer. (Click here to get your tickets)
The beautiful medieval palace is a fusion of Spanish and Moorish architecture that was originally developed as a fort for the governors of Cordoba who lived in Seville. The palace has been home to several monarchs and boasts some of the most beautiful gardens you'll ever see. The Real Alcazar is another of Seville's top attractions and something no Seville itinerary would be complete without.
Should you wish to stop for a beverage after your tour, pop into Teteria Al Sultan on Calle San Fernando, just outside the palace. This Moorish tea room in Seville has hookah pipes on the tables and a typical Moroccan ambience serving a variety of flavoured teas and pastries.
Get your skip the queue tickets here
Walking Distance from Archivo de Indias to Real Alcazar – 1 minute.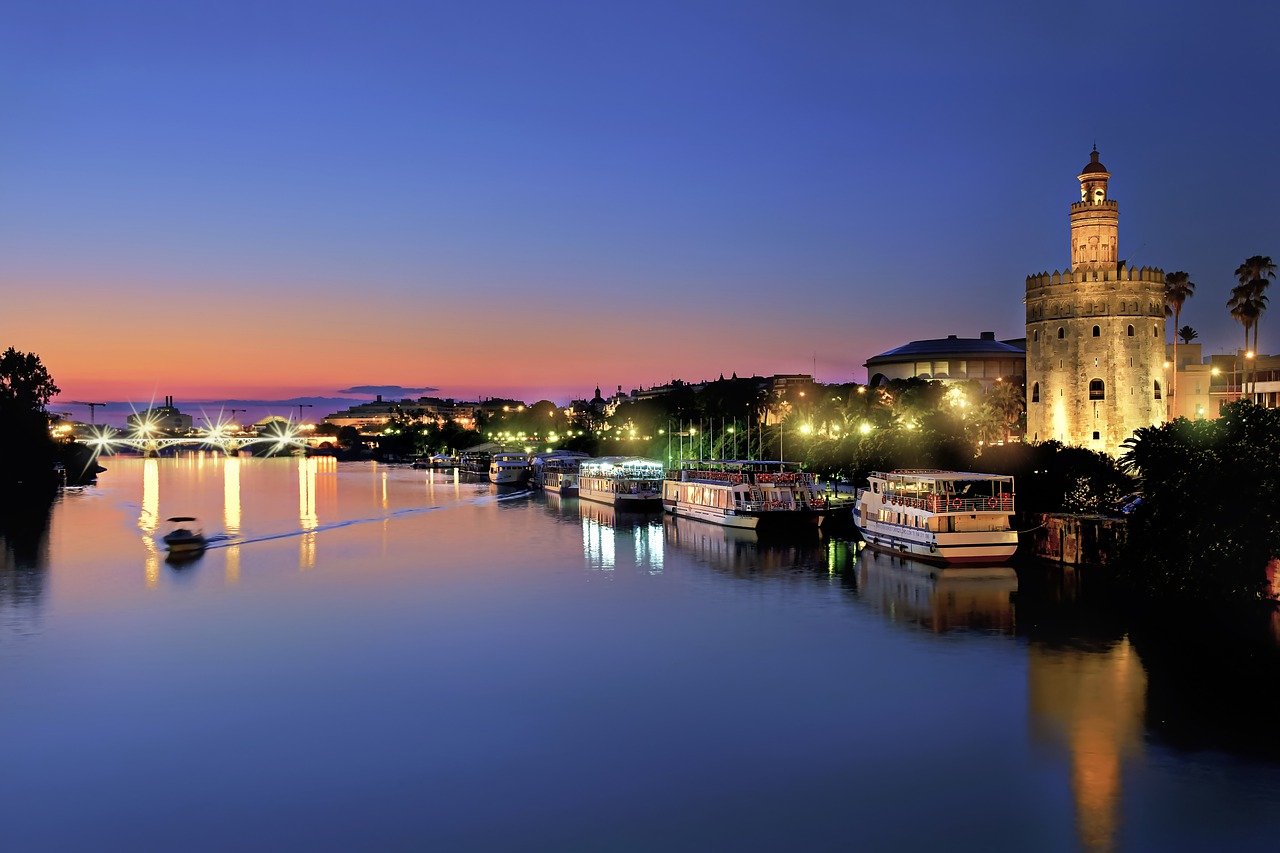 Enjoy a Guadalquivir River Cruise
In the evening, give your legs a rest and see the city from a different perspective on a Seville river cruise. The river was once a trading route for ships exporting grains, wool, leather, cheese and metals sailing from the interior to the Mediterranean Sea and Atlantic Ocean.
The 657 kilometre long river flows through the provinces of Jaen, Cordoba and Seville to the Gulf of Cadiz. It's a popular way to learn about Seville's economic history, see the city's major landmarks and give your legs a break from walking for an hour or two!
There are many cruises available ranging from sunset to tapas and flamenco show cruises but whichever one you choose it's likely to be one of the highlights of your Seville itinerary.
Check out the different options and book your river cruise here
Walking Distance from Real Alcazar to Guadalquivir River – 10-15 minutes (route depending).
Seville Itinerary Day 2
On day 2 of your Seville itinerary combine park life picnics with sightseeing tours, sunset walks along giant wooden structures, followed by delicious tapas in the city's oldest bar.
Parque Maria Luisa & Plaza Espana
A really fun way to explore Seville in the morning before it gets too hot is by bike, and on a bike tour you can see all of the top sites with a guide in 2.5 – 3 hours. Choose from electric bikes or pedal power through beautiful Maria Luisa Park, cycle along Guadalquivir River passing Real Maestranza and see iconic Plaza Espana, which was constructed for the Ibero-American Exposition in 1929.
At Plaza de Espana allow plenty of time for photographs and admire the semi-circular plaza with Andalusian tiles dedicated to different provinces of Spain. See the Vicente Traver water fountain and if you're visiting in summer, there are boats that run trips along the canal.
If you stop at a local market before your day out, you can enjoy your picnic at Parque Maria Luisa. This tranquil park is the city's largest green space and was donated to the public in Seville in 1893.
It's a lush park with shaded pathways, manicured gardens and water fountains. The Archaeological Museum of Seville is inside the park as is Teatro Lope de Vega, which hosts performances throughout the year.
Check out the different options and book your bike tour here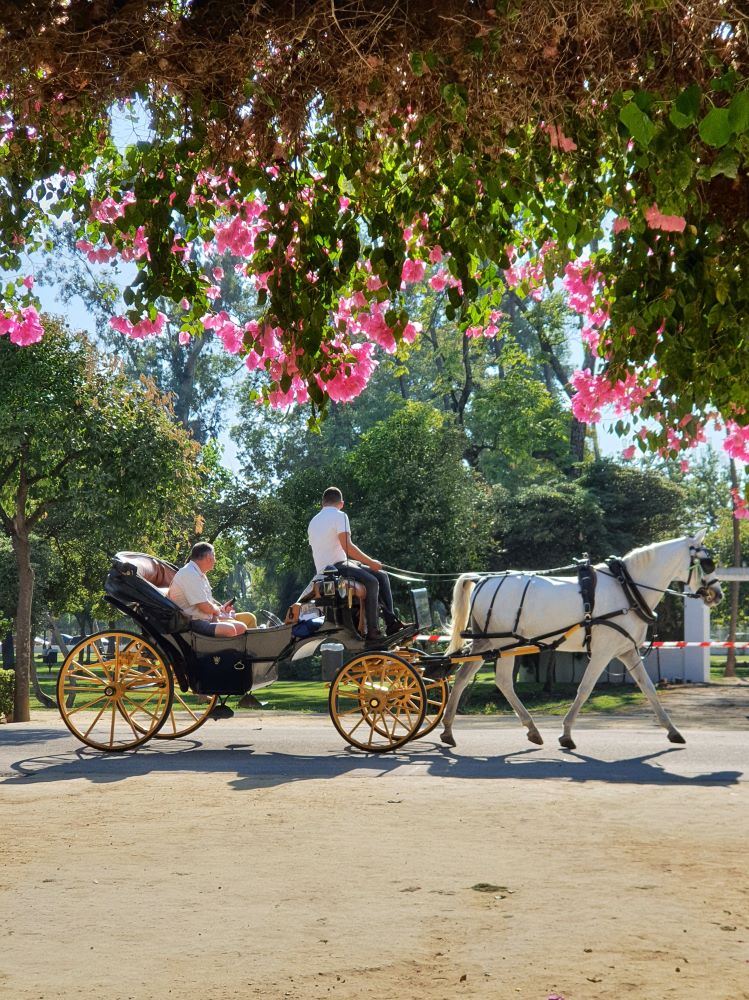 Stop for Lunch on Route to Casa de Pilatos
Just a few minutes' walk from the bike drop-off station, is the atmospheric Perro Viejo tapas bar on Calle Arguijo. This charming bar serves the most delicious international fusion tapas in a delightful room with tiled floors and exposed stone walls. Try the tuna ceviche, gyozas and chicken tapas before moving around the corner to Helados La Abuela gelato shop for handmade artisan ice cream!
Walking Distance from Bike Drop Off Point to Perro Viejo Tapas Bar – 4 minutes.
Casa de Pilatos
When you've enjoyed lunch, walk to another of Seville's top attractions. Casa de Pilatos is an ornate Andalusian style palace dating back to the 16th century and it features an impressive example of Italian Renaissance, Mudejar and Gothic architecture.
It has one of the largest Azulejo Spanish tile collections in the world and boasts pretty Italian style courtyards adorned in ochre colours with sculpted trees, tiled fountains and bougainvillea.
Guided tours are available to see the busts of Greek gods and Roman emperors and you'll gain a glimpse as to how Spanish aristocrats used to live. Get your tickets here.
Walking Distance from Helados La Abuela to Casa de Pilatos – 9 minutes.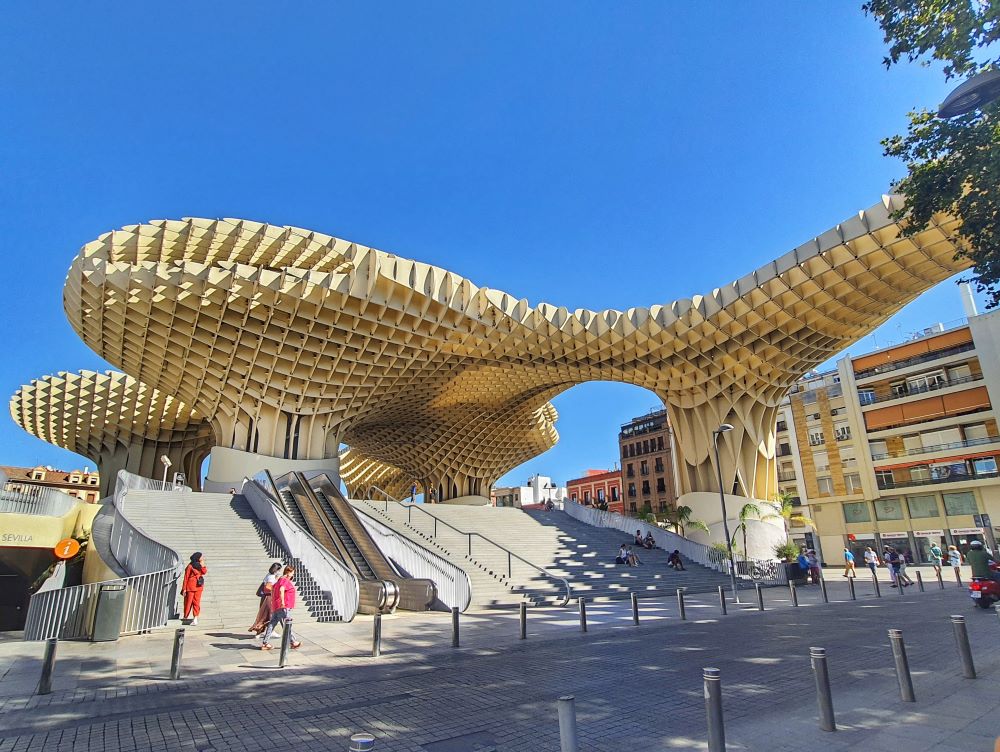 See the Metropole Parasol (Las Setas)
Following your visit to Casa de Pilatos, and a spot of retail therapy on route, head for Las Setas or the Metropole Parasol. This is the world's largest wooden structure. It was designed as an interconnecting walkway that to the onlooker, looks like giant mushrooms – hence the name 'Las Setas'.
It's a recent city addition, having just being completed in 2011, but the vistas from the top are simply breath-taking, with 360 degree views over the city – La Giralda, Seville Cathedral and the river in view.
During construction, ancient Roman ruins were discovered. These are now housed in the Antiquarium below – also worth a visit if you have time. Plan your Seville itinerary so you arrive at Metropole Parasol at sunset for incredible vistas.
Walking Distance from Casa de Pilatos to Las Setas is 7 minutes.
Visit Seville's Oldest Tapas Bar El Rinconcillo
If you've never been to Seville before and have never tried traditional tapas, venture to El Rinconcillo for dinner – the city's oldest bar dating back to 1670. It's only a short walk from Las Setas (above), therefore an ideal activity for after your sightseeing.
This bar focuses on Sevillian cuisine, with popular delicious tapas typical of Andalusian-Mozarabic food. The best way to enjoy the experience is at the bar. Pull up a stool and feast on homemade croquettes, Iberian ham, clams and local cheese with quince jelly, while also sampling the wine selection stacked on shelves behind the counter…It's a must-visit on your Seville itinerary.
Walking Distance from Las Setas (Metropole Parasol) to El Rinconcillo – 4 minutes.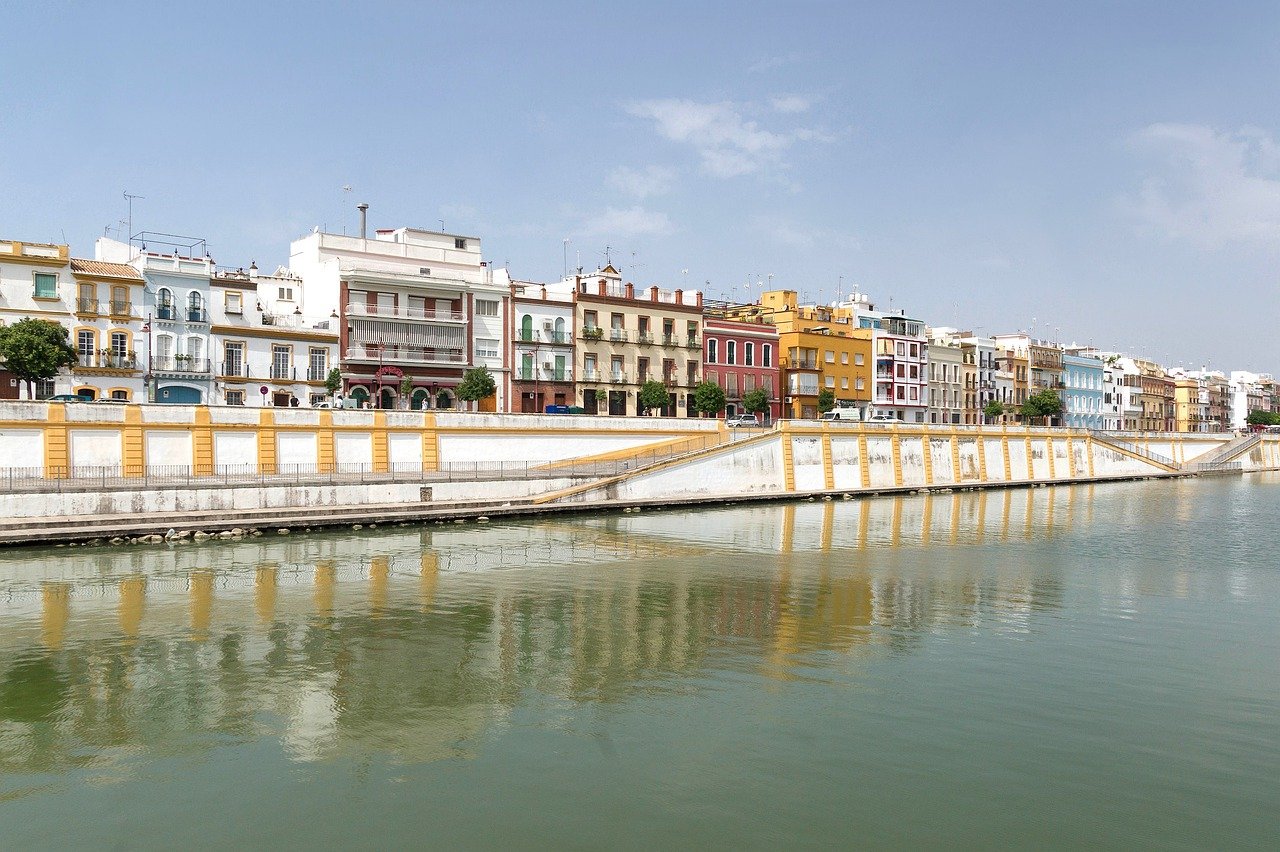 Seville Itinerary Day 3
On the last day of your 3 days in Seville, walk to Triana to explore one of the city's most fascinating neighbourhoods.
Triana lies across the river from the historic centre of Seville and was one of the birthplaces of the flamenco movement. It's also known for its Andalusian ceramic production and colourful food markets!
Enjoy a morning cooking class, before discovering the history of the Seville ceramics trade in the afternoon, and as the sun sets, enjoy a flamenco class and show!
Take a Spanish Cooking Class in Triana
If you're a bit of a foodie, there's no better way to spend a few hours on your final morning in Seville than learning how to cook authentic Andalusian dishes during a Spanish cooking class in Triana.
You begin your tour shopping for fresh ingredients in Triana market, then head to the kitchen to prepare a gourmet Spanish feast. The menu you can make includes: salmorejo (chilled tomato soup), spinach with chickpeas, traditional Paella and a scrumptious dessert! Sit down to enjoy a meal you cooked yourself for lunch and meet new friends in the process.
Book your Spanish cooking class here
Walking Distance from Torre del Oro across the river to Triana Market – 13 minutes.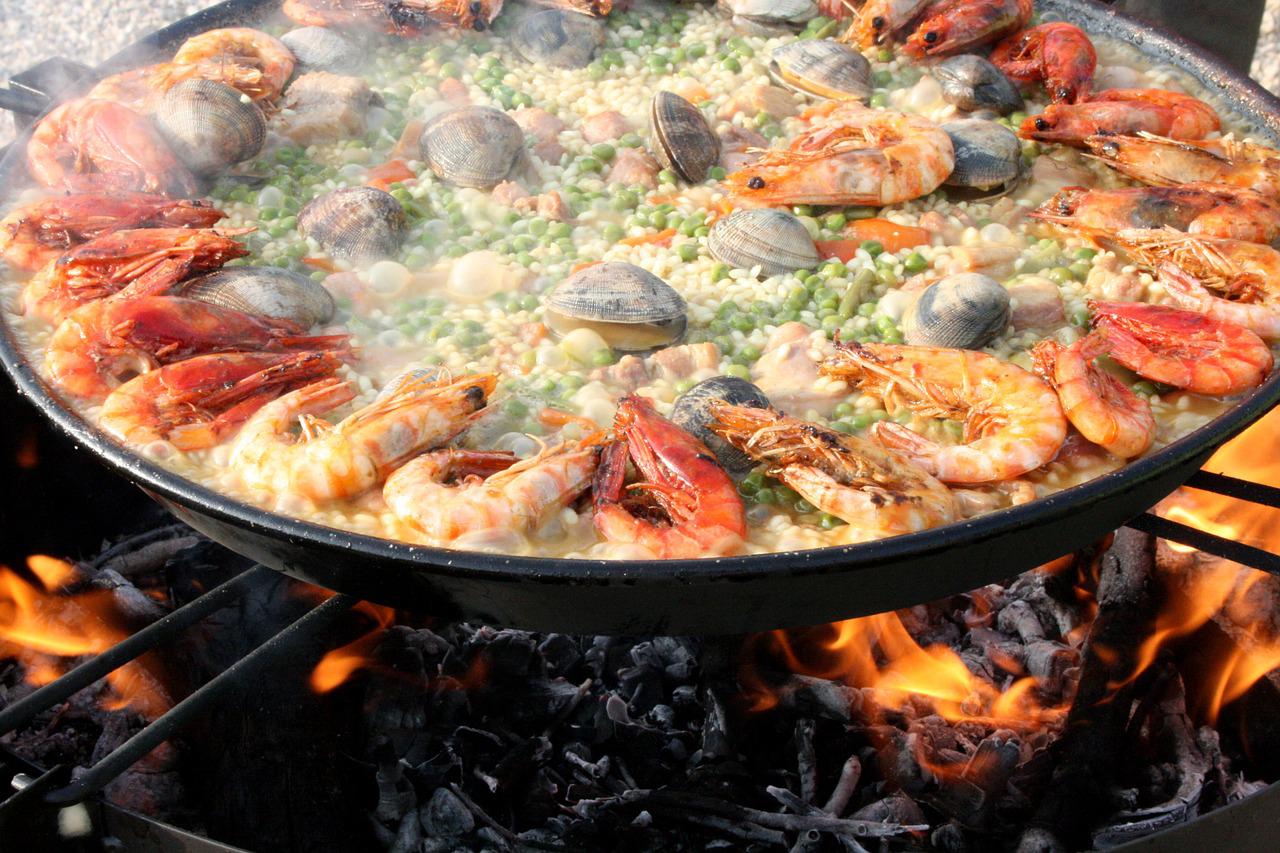 Visit the Local Ceramics Centre
Following your cooking class, enjoy a short walk to Centro Ceramicas Triana. This district is famed for its painted ceramics, so it's a great place to learn about the art, its production process and see the permanent collection dating from the 12th to 20th centuries.
Walking Distance from Triana Market Lunch to Centro Ceramicas Triana – 2 minutes.
Learn to Flamenco Dance
Triana was the birthplace of flamenco and you can embrace it by taking a flamenco class late in the afternoon. There are classes in Triana, within walking distance of the ceramics centre which take around an hour. It's a great activity to undertake prior to seeing a professional show, as you truly begin to appreciate the rich history of the craft. There's also the Museo del Baile Flamencoa (the flamenco museum) in Seville if you want to learn more about the dance and it's cultural traditions.
Book your flamenco dance lesson here
Walking Distance from Centros Ceramicas Triana to Flamenco Class – 5 minutes.
See an Authentic Flamenco Show
No stay in Seville would be complete without seeing a lively flamenco show. They are held in several intimate theatres throughout Seville including Los Gallos Tablao Flamenco  – the city's oldest venue.
Set inside an historic house, performances include singing, dancing, and flamenco guitar renditions, in addition to copious amounts of sangria, tapas and cocktails! It's a great way to round off the evening at the end of your 3 days in Seville.
See more info and book your tickets here.
Walking Distance from Triana Flamenco Class – 25 minutes.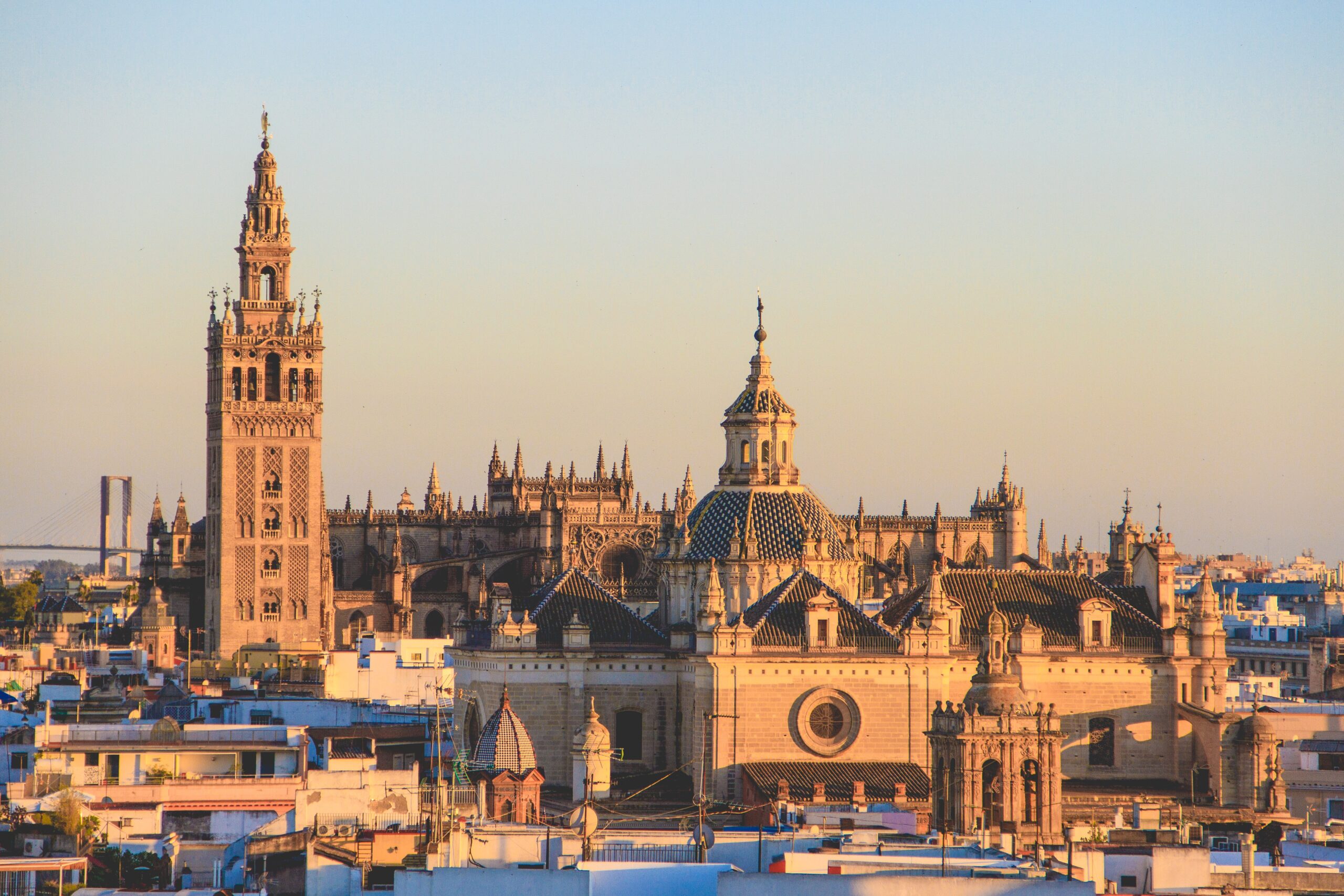 Seville Day Trips and Tours
As the capital of Andalusia, one of my favourite regions of Spain, Seville offers a gateway to exploring so many beautiful places nearby. If you can find time in your Seville itinerary I highly recommend spending some time exploring the surrounding areas.
If you plan to see Seville in 3 days and don't want to organise your own itinerary or figure out transport then the easiest and quickest way to do this would be a to take an organised day trip or day tour.
If you're planning to stay in Andalusia a little longer you could rent a car and take an epic Andalusia and Southern Spain road trip!
Here's some ideas of possible day trips from Seville for some inspiration:
Visit the White Villages and Ronda
Hop aboard a coach on a day trip to Ronda and Andalusia's famous 'Pueblos Blancos'. Ronda is a town with a turbulent history with tales of warriors, rebels and bandits. It sits atop beautiful El Tajo gorge with spectacular vistas of the patchwork landscape below.
The town is a veritable labyrinth of winding streets brimming with shops and small open, riad style courtyards with restaurants in the centre. It also has one of the oldest bullrings in Spain which is worth seeing from an architectural perspective.
There's plenty of time to photograph landscapes, dine and shop, before venturing to the pretty white villages perched on hilltops where birds of prey soar above. Enjoy sipping coffee with locals in the plazas and browsing for handicrafts while gaining a glimpse into how life is for many residents of rural Andalusia.
Distance by car from Seville to Ronda – 133km (1 hour 45 minutes).
See more details about this day trip here.
Take a Trip to Cordoba & La Mezquita
There's plenty of things to see and do in Cordoba but if you've only got one day you can't miss La Mezquita – an amazing mosque-cathedral.
On this fascinating day trip to Cordoba from Seville, you'll learn about the many civilizations that lived in Cordoba throughout the centuries and get the opportunity to visit La Mezquita, or Mosque Cathedral.
The 10th century attraction is a sight to behold with unusual striped columns and arches inside that symbolise the culture of the time. Also inside, there's a Christian cathedral built later in the 16th century, displaying the city's changing religious and cultural affiliations across several centuries.
Afterwards visit the picturesque village of Carmona with its 15th century watchtower, fragrant orange squares and rich traditions. Head to the top of the Alcazar for fabulous views of the countryside.
Cordoba is also famed for its flower festival. Each year during the first week of May you can enjoy 'Los Patios de Cordoba', when every house in the city decorates its courtyards with colourful flowers.
See more details about this Cordoba day trip here
Distance by car from Seville to Cordoba – 141km (1hour 40 minutes) and Seville to Carmona – 34 km (37 minutes).
Discover the Magic of Granada & Alhambra Palace
A day trip to visit Granada and the Alhambra is also possible. Granada is one of the most underrated cities in Andalusia. The winding streets of the Albaicin, opening up to large squares with lively tapas bars and shops selling crafts envelop you completely into Andalusian life.
Visiting Alhambra Palace and the Generalife Gardens are highlights of this trip. As you stroll through courtyards, admiring statues, intricate archways and ceiling reliefs you begin to appreciate the work that went into every carving and piece of stone work.
The museum on the south side of Palacio de Carlos V is filled with archaeological findings across several halls and several must-see locations include the Medina, the Alcazaba (great views across Granada), Nasrid Palace (spectacular architecture) and Partal Gardens.
If you plan to stay longer than a day in Granada, you will also have the opportunity to take in Sacromonte in the shadow of the mountains, a place where traditional flamenco dancing and music takes place in rustic cave houses.
Also venture to Mirador San Nicolas, arguably the best viewpoint in Granada. Overlooking Alhambra Palace at sunset as the walls illuminate, gypsies play Spanish guitar, and locals bring wine, many dancing and celebrating life and traditions in this magical corner of Spain.
Also don't forget to visit Granada's Calle Navas and begin the 'Tapas Trail'. Bars in this city give away free tapas every time you purchase a drink and this street has many, it's the perfect conclusion to the day.
Get more details about the Granada day trip here.
Distance by car from Seville to Granada – 250km (2 hours 40 minutes) and Granada to Sierra Nevada (skiing) – 40km (50 minutes).
Top Tip: If you visit Granada in winter, combine your trip with a ski stay in the nearby mountains of Sierra Nevada. This laid-back ski resort is popular with Spanish visitors and has some amazing runs for beginners, intermediates and more seasoned skiers.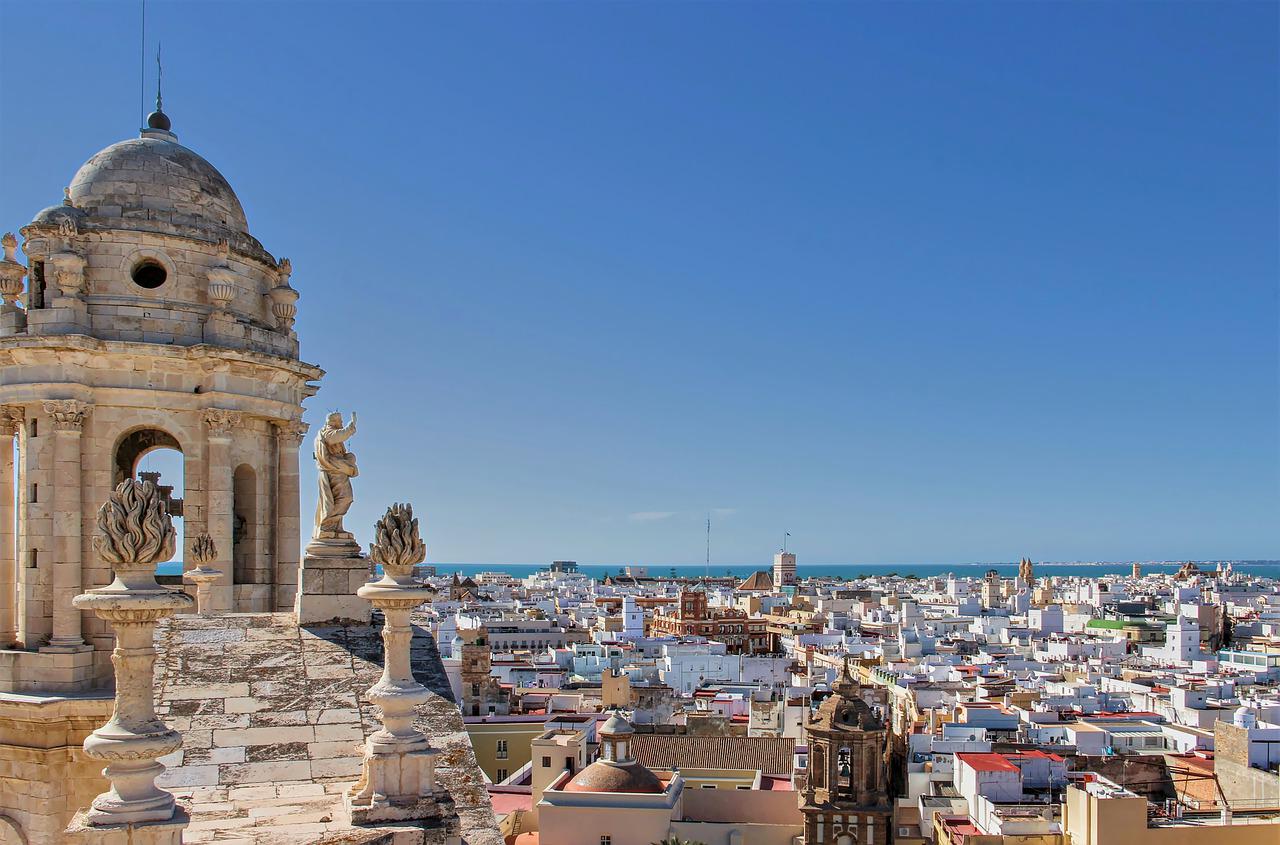 Enjoy the Seaside City of Cadiz & Sherry Capital Jerez
An easy day trip from Seville is to Cadiz and Jerez de la Frontera. Cadiz is a fascinating city of two halves – one side with an old walled town jutting out into the sea with cathedrals, shops, tapas bars and pretty plazas, and the other side with hotels, restaurants along the beach front and long stretches of white sand, where locals and tourists soak up the sun and enjoy the water.
Highlights of Cadiz include the 16th century square of San Juan de Dios, once the historic heart of the city as it was nearest to the port. Here, in days gone by, exotic spices and products arrived from the east and were traded in the square.
Then, there's the Roman theatre dated from late 1st century BC which was only discovered in the 1980s! Also don't forget to visit Cadiz Cathedral, recognisable by its golden dome by the sea. Head to the top of Torre de Poniente inside to gain a fantastic panorama of the city and coastline.
Afterwards, before returning to Seville, stop at Jerez de la Frontera, famous for its sherry production. The old 'Fino' factories house hundreds of barrels which you can visit and explore on a sherry tasting tour.
Jerez is also famous for its beautiful white horses which you can see performing their mesmerising displays at the Royal Andalusian School of Equestrian Art, one of the most prestigious riding academies in the world.
This exciting and informative trip takes in two very different cities in a day, Cadiz and Jerez de la Frontera, and it has the least travelling time too!
Get more info on the Cadiz day trip here.
Distance by car from Seville to Cadiz – 120km (1 hour 20 minutes) Seville to Jerez – 91 km (1 hour 10 minutes).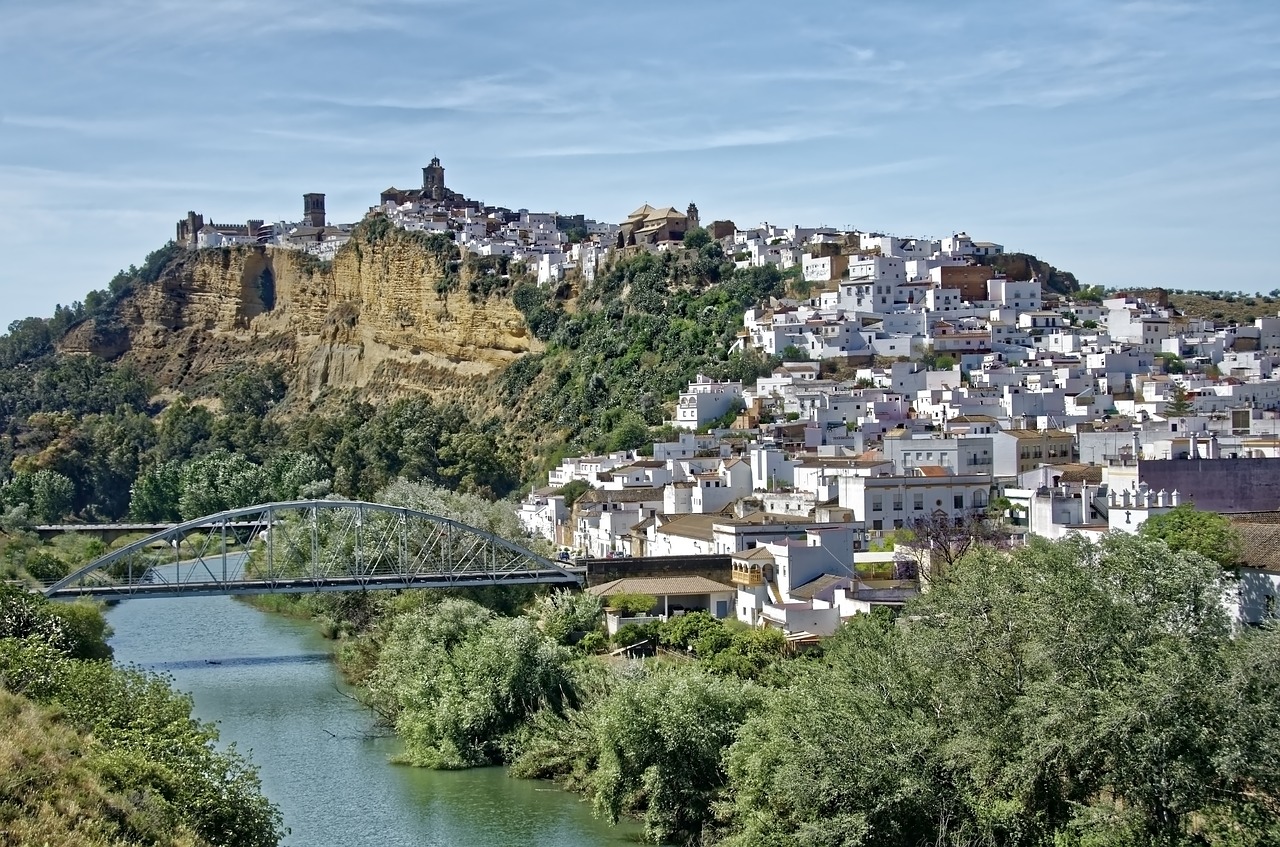 Discover the History and Vistas of Arcos de la Frontera
If you prefer to hire a car for your Seville itinerary and travel independently, drive further to the interior and visit offbeat hidden gems like Arcos de la Frontera. This very special town atop a mountainside deep in the heart of Andalusia has a plethora of history to discover and is set above some of the most beautiful scenery in the region.
The road leading to Arcos is peppered with purple jacaranda trees and fields filled with bright yellow sunflowers in springtime, curating a magnificent patchwork landscape of colour that can be seen while enjoying coffee from the Parador at the summit of the town.
From this vantage point you can see for almost 20 miles in each direction on a clear day. The town is home to an historic castle and the two churches of St. Mary and St. Peter.
The towns narrow winding streets lead to myriad viewpoints punctuated with laid-back tapas bars, parasols and tables outside, making the most of the incredible vistas. Arcos is also on the edge of Los Alcornocales Natural Park known for its network of streams, birds of prey and its cork and strawberry trees.
One tip if you plan to visit Arcos de la Frontera – hire a small compact car, it's really difficult to navigate the narrow streets and reach the car park at the top of the town with anything larger!
Distance by car from Seville to Arcos de la Frontera – 116 km (1 hour 20 minutes).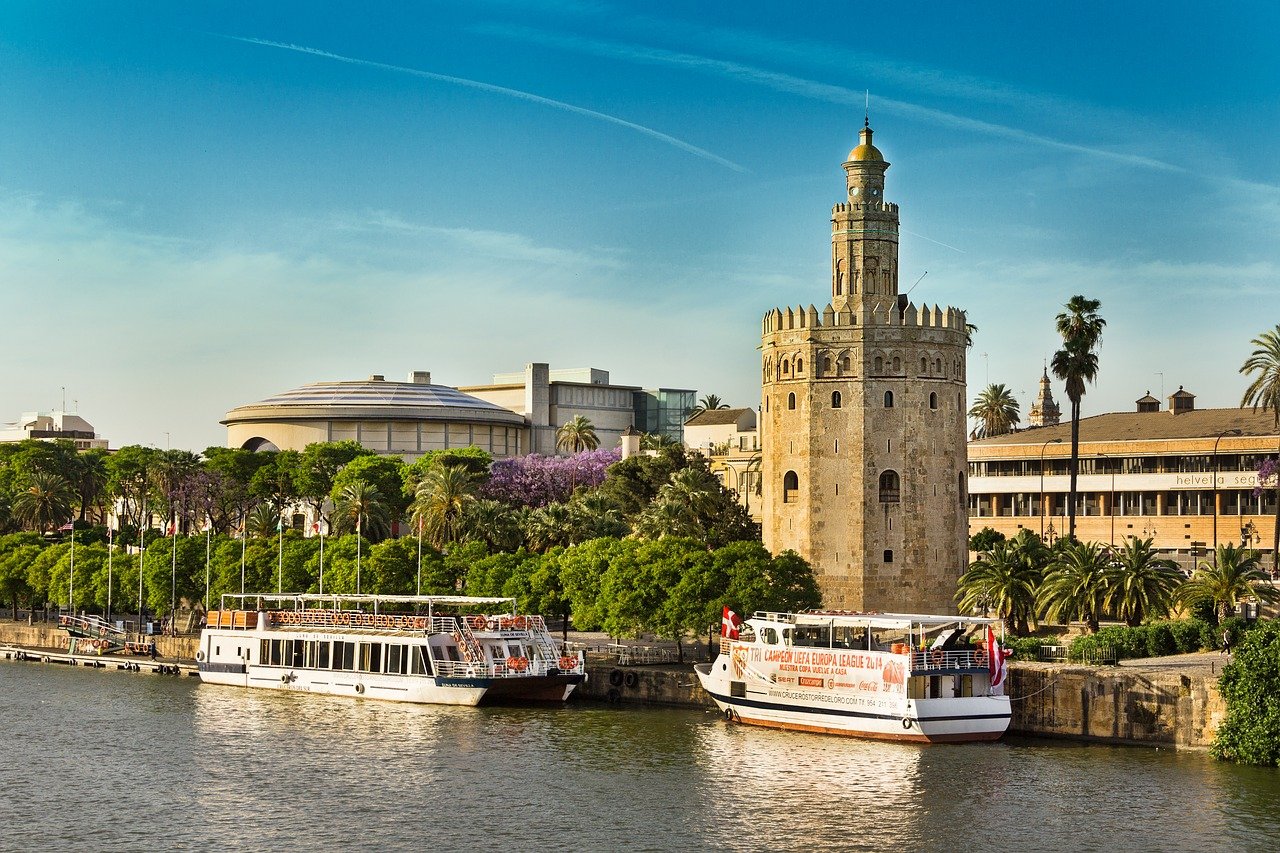 More Seville Travel Tips
It's always good to know a little inside information, especially when you're visiting a new city, so here are a few more Seville travel tips which may be helpful during your stay or when planning your own Seville itinerary.
Real Alcázar is Free to Enter on Mondays
Plan a late Monday visit between 18-19.00 between April and September and entrance is free. If you're travelling in October, November or December, it's also free to enter on Monday's between 16 and 17.00 hours.
Take a Free Guided Walking Tour
There are several companies in Seville offering free walking tours to the main historic sites in Triana and Santa Cruz neighbourhood. If you're on a budget, they are a fantastic introduction to the city, and although you won't get into to the structures, you can always visit the ones that interest you the most later in your trip. If you enjoy the tour you should leave a tip for the guide.
There's also a range of Seville guided tours available which give a fascinating insight into the history and culture of the city. For the best deal I'd recommend getting a combo ticket which gives you a guided tour and skip the line access to the top 3 unmissable Seville attractions – the Seville Cathedral, La Giralda and Real Alcazar. See more details and book your tour here.
Buy a 'Skip the Queue' Ticket
If you only have 3 days in Seville then you don't want to waste time queuing to enter Seville's top attractions in the searing heat. Fortunately, it's possible to 'skip the queue' in Seville Cathedral and Real Alcázar when you book your tickets in advance online with Get Your Guide.
It may be a little more expensive, but if you're short on time in the city and want to visit many hotspots as you can, it's a great option for just a few euros more. You also get the added benefit of an experienced guide who can tell you about the history and stories of each location and enrich your experience.
Get your Skip the Line tickets here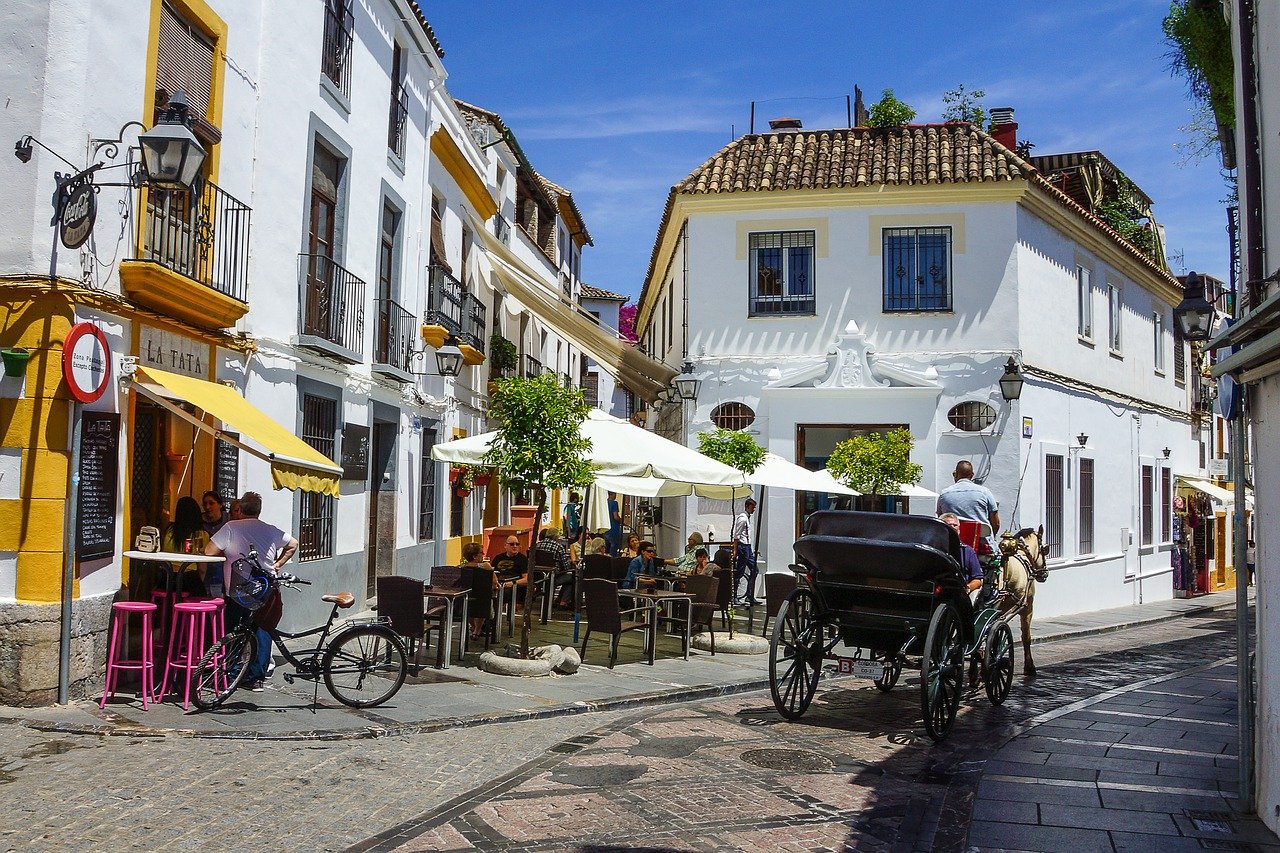 Watch Your Wallet in Busy Areas
It's the same in most cities, and not unique to Seville, however, if someone comes up to you trying to sell you a flower or sprig of rosemary or lavender in the street, it's usually a distraction technique as they go for your purse or wallet. Keep an eye out for this in crowded areas and try to wear a money belt and reduce the valuables you carry.
Get to Plaza de España Early
Plaza España is free to visit and open 24/7. If you're on foot or have rented a bike for a couple of days, arrive super early in the morning to avoid the crowds and explore without the tourists.
Explore the Rooftops of Seville Cathedral
If you wish to see the city from a different perspective, Seville cathedral also offers a night time rooftop tour, which begins at 17.00 hours from Monday to Friday. It affords you the most incredible views of the city at sunset and gives you access to areas that most tourists don't see.
Bring Your Own Bottle
Reduce your plastic use by bringing a reusable water bottle with you and filling it up before you head out for the day. The water is safe to drink in Seville, however, its recommended to use a bottle that has a built-in filter just in case you have a delicate stomach.
Essential Seville Travel Tips
How to Get to Seville
Getting to Seville is easy. There are regular domestic flights and a few European flights into Seville Airport (SVQ) that sits around 10 kilometres outside the city centre. Some low-cost airlines also fly into Jerez de la Frontera (XRY) around 50 minutes' drive away. Search on Skyscanner to find the best deals.
Alternatively, if you're arriving from northern Europe and planning to hire a car, Gibraltar (GIB) is another good option. From other countries around the world, it's possible to fly into capital Madrid (MAD) and catch the high speed AVE train from Puerto de Atocha to Seville Santa Justa station which takes just over 2.5 hours. Prices can vary depending on how far in advance you book.
The high speed AVE trains can also transport you from Barcelona, Cordoba and Valencia to Seville, if you are planning a two or three-centre holiday.
Buses also operate from all across Spain to Seville or you can opt to hire a car and extend your stay to explore further afield.
Getting from Seville Airport into the City
If you do plan to fly into Seville Airport and want to access the city centre easily a bus stop is located just outside the arrivals lounge and runs services every half hour into Seville. It stops at Santa Justa Railway Station, Avenida Carlos V and Plaza de Armas, west of the city centre.
The journey via bus takes around 30 minutes, depending on traffic and can cost around €4.
Airport transfers by taxi are also available, costing around €23-25 with a journey time of 20 minutes.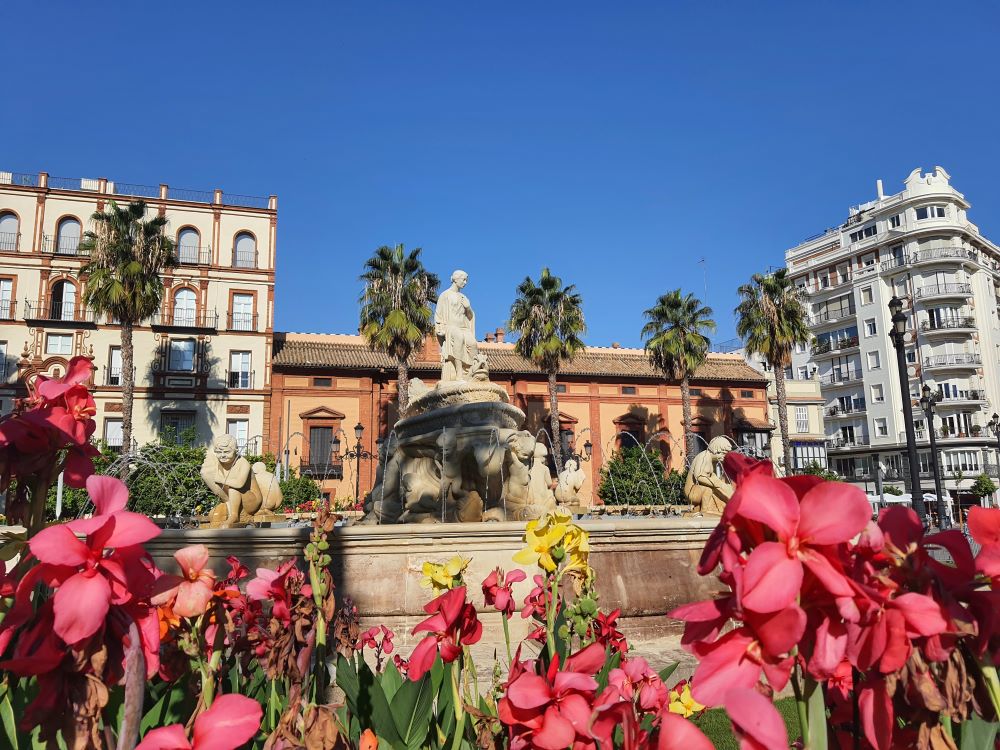 Getting Around Seville
There are lots of ways to get around Seville, on foot, by bus, bike, taxi, trams, ridesharing and car.
Seville's public transport is impressive. It has an extensive bus route that takes you from one area to the other in no time at all. Tickets are reasonably priced if you're just hopping on for a single trip, however, if you plan to travel throughout the city during your stay, invest in a 1 or 3 day ticket which works out a lot cheaper.
Seville also has a Hop on Hop Off sightseeing bus which offers a convenient way to explore Seville's attractions at your own pace with a 24- or 48-hour ticket.
Alternatively, hop on the tram. Seville's modern tram network MetroCentro only has a few stops but does transport you past some of the major tourist sites in the historic centre.
Another great way to see Seville is by bike. They cost anything from around €15-20 euros per day, but you can rent for shorter periods if you simply want to cycle by the river or around a city park or take a guided tour on a traditional pedal bike or electric bike. See your options for bike tours here.
Taxis are not too expensive either, with a starting price of around €2,50-3,00 and additional euros added per kilometre that you travel. They can be a good option if you're travelling in a group scenario and wish to split the price. Uber is available in Seville, however, it's no cheaper than taxis or the bus.
If you plan to rent a vehicle, they can be hired at the airport, through your hotel or booked online to collect from a rental office in the city. I recommend Discover Cars as they compare availability and prices from all the major car rental companies to get you the best deal.
Hiring a car is the ideal way to explore the rest of Andalucía and Southern Spain. However, it's worth noting that for 3 days in Seville, a car is not really necessary, as you'll be able to walk most places or can rely on public transport for short journeys.
Where to Eat in Seville
Seville has some outstanding restaurants. I mentioned El Rinconcillo earlier, the oldest bar in Seville that serves delicious traditional tapas, however there are other tapas bars in the city which also shouldn't be overlooked.
Pop along to the river's edge and explore the food offerings at Mercado Lonja del Barranco. This upscale gourmet market is set inside an 1880s former fish market and serves small dishes and tasty seafood in an elegant food court.
La Brunilda's menu is brimming with mixed Spanish tapas favourites ranging from croquettes with ham and salmorejo soup, with fusion dishes on the menu too, and Bodequita Romerol near the cathedral offers excellent, reasonably priced montaditos (small sandwiches) and salads.
For special occasions, Canabota is a delightful Michelin star establishment. Chefs cook fresh seafood on the grill in an open kitchen and it has a lively, upscale atmosphere perfect for birthdays, anniversaries and celebrations. If you happen to be staying in, or near Hotel Alfonso XIII, Restaurante San Fernando offers an enchanting dining space in an Andalusian courtyard with biophilia and delicious Spanish cuisine with a modern twist.
For those with a sweet tooth, La Campana on Calle Sierpes is a favourite pastry shop in the heart of the city. Alternatively, if you're staying near Alfalfa, Ofelia Bakery serve mouth-watering cakes and also organise pastry courses!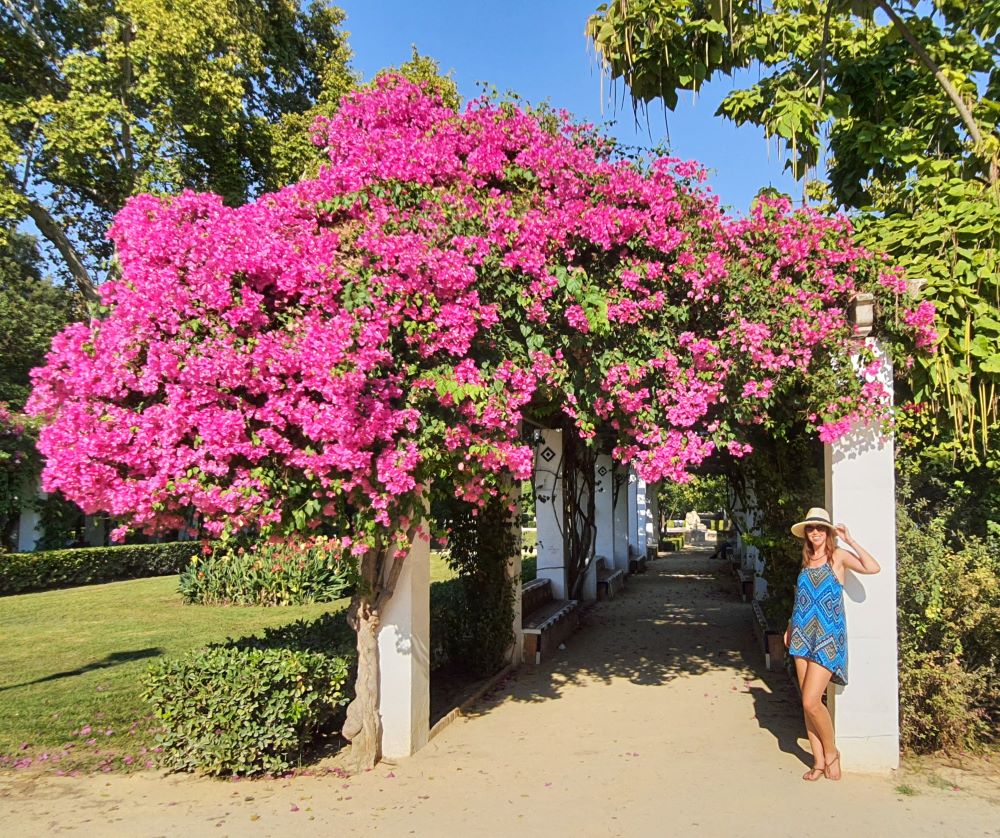 We hope you found this Seville Itinerary useful and enjoy your 3 days in Seville as much as we did. For more tips on exploring Spain and Portugal check out our 1 month Spain and Portugal road trip itinerary.
If you want to support us and like our hotel and tour recommendations then if you purchase anything using the links provided we can earn a small affiliate commission at no extra cost to you which helps us to keep traveling and creating useful and unbiased travel guides and tips. Thank you!
If you feel that we've missed anything, please let us know, or otherwise, enjoy your stay in this intriguing, colourful and magical Andalusian city!