The stunning paradise islands of the Maldives are somewhere that most people think is only a very expensive luxury honeymoon destination – not many people know that it's even possible to have a cheap Maldives holiday, let alone go backpacking in the Maldives!
Budget and independent travel and backpacking in the Maldives has only been allowed since 2009. So while those iconic Maldives overwater bungalows and luxurious private island resorts are certainly not cheap, nowadays it is easier than ever to travel the Maldives on a budget!
So, without further ado, let me show you how to plan a budget Maldives backpacking trip!
Pin this for later!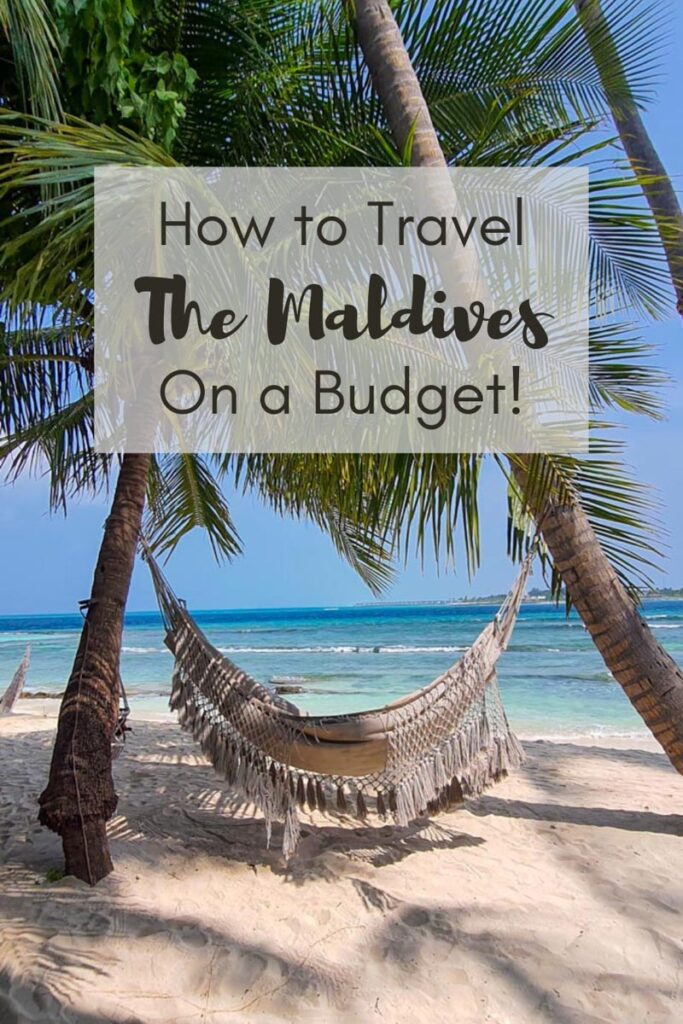 A Complete Guide to Backpacking the Maldives on a Budget in 2023
In this Maldives backpacking and budget trip guide I'll tell you everything you need to know about how to plan a cheap Maldives holiday. Including:
How to use the local ferries and go island hopping on a budget,
The best local islands to visit not far from the airport,
The best places to stay for backpackers and budget travellers
How to save money on food and excursions,
How to find cheap flights to the Maldives and accommodation
Essential things you need to know before visiting the Maldives.
Is Backpacking in the Maldives Possible?
This honeymooners island paradise isn't your typical backpacking destination but, yes, it is definitely possible to backpack the Maldives!
Backpacking the Maldives is quite a different experience to backpacking Thailand, for example, and does require a bit of research to make budget friendly choices but the beauty of the islands means it's totally worth it.
While the Maldives backpacking scene is increasing in popularity there are not many backpacker hostels as such, although you may find shared dormitory rooms in the surf camps.
Also, being a dry country, you won't find a big party vibe here so it's not so easy to meet other backpackers as it is on places like Thailand, but the islands are small so you soon end up bumping into the same people.
The yoga and surf camps offer the best social scene for solo travellers and backpackers as well as affordable accommodation and fun activities.
About The Maldives
So now you know it's possible to backpack the Maldives, here's what to need to know to make your island paradise dreams a reality without breaking the bank!
First you'll need to know a bit more about this beautiful and unique island nation in the Indian Ocean. The Maldives is made up of 1,192 tiny islands clustered into 26 atolls that stretches over 90,000 square kilometres.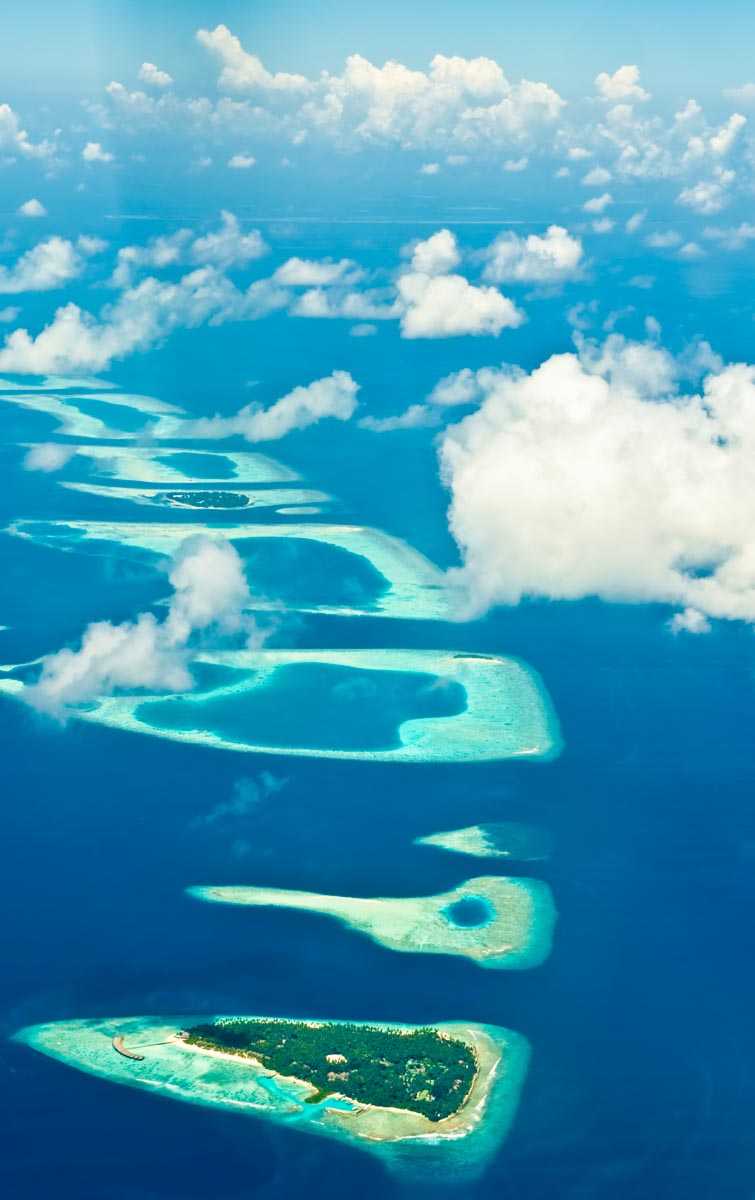 The island nation is comprised of atolls that were formed from coral reefs that developed around the top of sunken extinct prehistoric volcanoes.
As the ocean floor subsided with the volcano, corals grew around it forming a fringed reef and sand banks that became tiny islands surrounding a lagoon in the middle.
This article explains the process of how the Maldives atolls were formed – with pictures.
My Top Money Saving Tips for a Budget Friendly Maldives Trip
Out of the 1,192 islands of the Maldives, 200 are inhabited local islands and there are approximately 132 resort islands.
If you're planning to backpack the Maldives on a budget trip the top way to save money is to avoid the expensive luxury resorts – stay in guesthouses on the inhabited local islands, eat at local restaurants and take the local ferries instead.
When visiting the local islands you should know that the Maldives is a Muslim country and alcohol is banned. If you want an alcoholic drink you'll have to visit the resort islands or take a trip out to a floating bar boat.
Also, to respect the local culture, be aware that bikinis and skimpy clothing should only be worn on the designated bikini beaches and you should cover up when walking around the village. I'll go into more detail about this later on in the article.
Where to Stay in The Maldives on a Budget: Private Resort Islands vs Cheaper Local Islands
Maldives Resort Islands
Tourism in the Maldives has traditionally been focused on luxury resorts since the first Maldives resort, Kurunba, welcomed the first tourists in the early 1970s. The overwater villas and luxury resorts on private islands will set you back anything from a couple of hundred to a couple of thousand dollars per night and make for very expensive vacation!
There are some more affordable Maldives resorts but check what's included – half board or all inclusive packages are often better value because food and activities can be expensive on a private island resort and it's not like you can easily leave to find something cheaper. Also watch out for the taxes and extra charges.
The resort islands are also not accessible by the local public ferries. This means you'll also have to shell out a couple of hundred for private speedboat or seaplane transfer to reach the island. The cheapest Maldives resorts are often located a long way from the airport so, after the cost of the transfer, may not be such a cheap deal after all.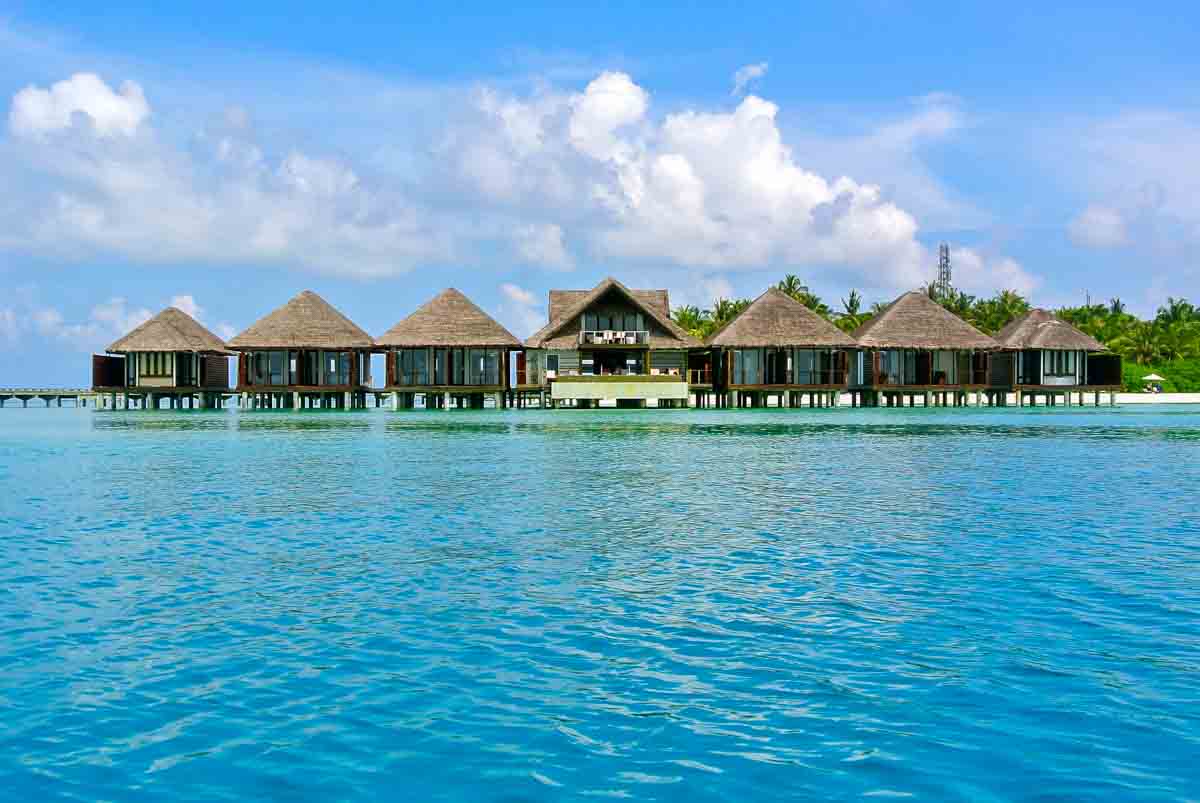 The Cheapest Maldives Resorts
Staying on the local islands is by far the best place to stay in the Maldives on a budget as most of the resorts are quite expensive. But if you really want that resort experience these are the cheapest resorts in the Maldives:
Maldives Local Islands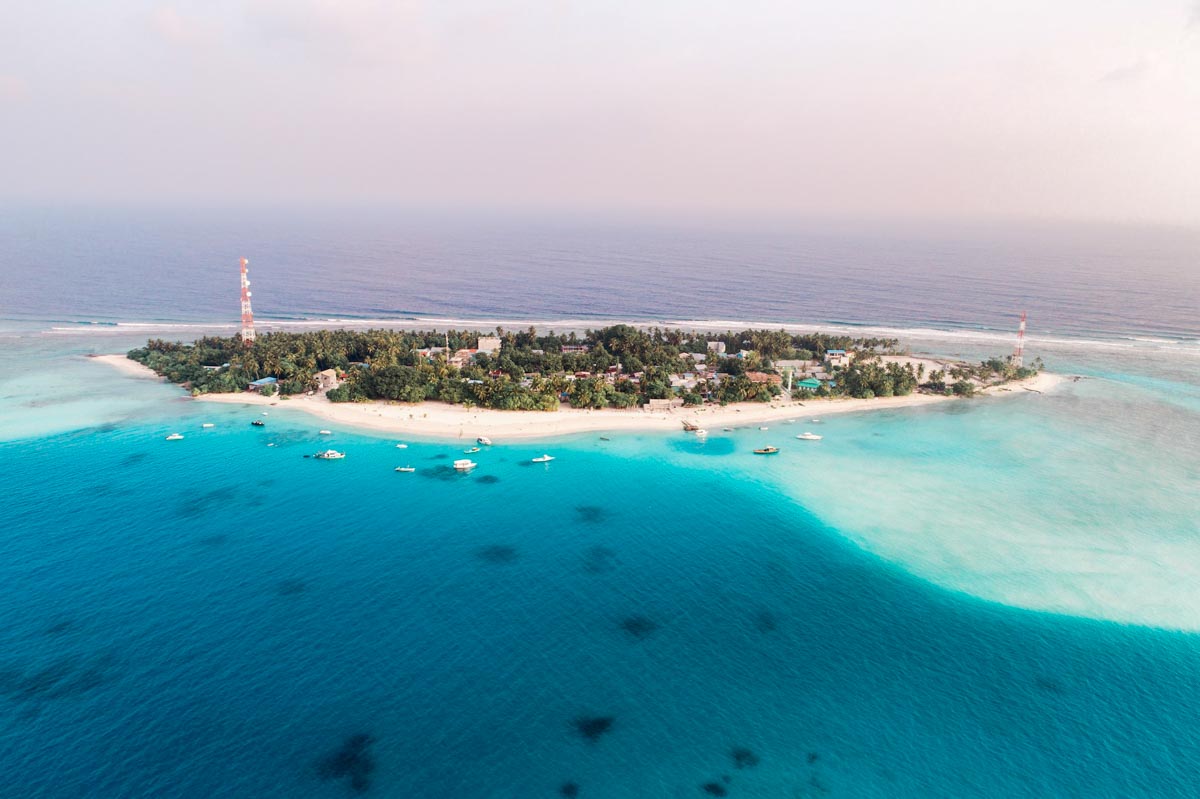 Since the law changed in 2009 to allow independent and budget travel, tourists and backpackers can visit, and stay on, the inhabited local islands. There is a growing range of budget accommodation in the Maldives and plenty of beautiful islands to choose from.
Now that tourists and travelers are no longer constrained to only the luxury resorts it's become totally possible to save money and enjoy backpacking the Maldives on a budget if you stay on the local islands instead of the fancy resorts.
The local islands usually have a mosque, school, playground, pharmacy, administrative buildings and a couple of shops and local cafes and offer an interesting insight into local life.
While there aren't many traditional backpacker hostels in the Maldives there are now a good range of budget hotels, guesthouses and homestays available on the local islands. They offer accommodation, local eateries and excursions for a fraction of the price of the resorts so now it's possible to enjoy a cheap Maldives holiday!
Traveling around the island nation can get expensive but you can save money by taking the local public ferries to the local islands which only cost a couple of dollars.
Not only does visiting the Maldives local islands make it possible to backpack the Maldives on a budget, it also gives you a fascinating insight into the real Maldives and the lives of people who live in this unique country. Plus your money goes directly into the pockets of the local people not international luxury hotel chains.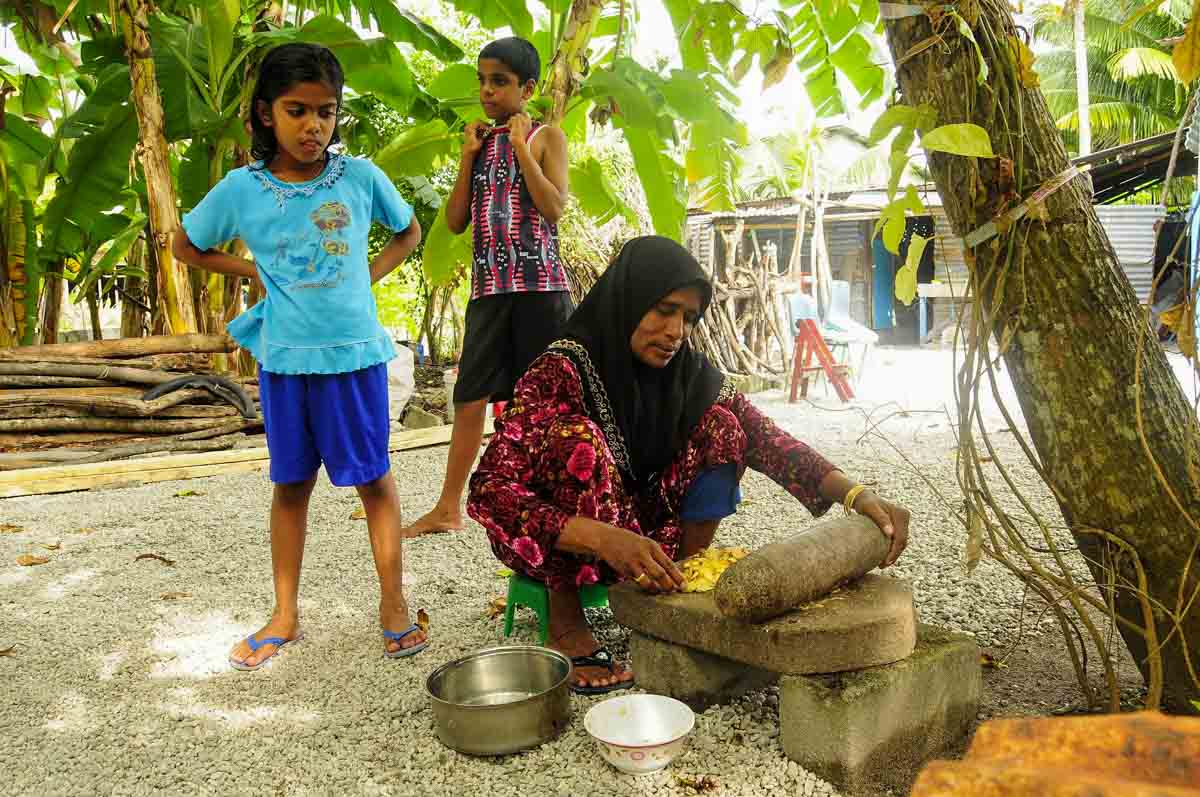 The Best Maldives Local Islands To Stay On
Planning a budget Maldives trip does require a bit of research as there are 200 inhabited local islands in the Maldives stretching across 90,000 kilometres of the Indian Ocean so you can't expect to see them all in one trip.
When your choosing which for Maldives local island to stay on be aware that the further away from the airport and Male City the more expensive and time consuming it will be to get to your chosen island.
Some of the closest atolls to the airport are Kaafu Atoll (also called Male Atoll and split into North Male Atoll and South Male Atoll) and Vaavu Atoll.
Each island has a slightly different vibe and there's a few that you might not live up to your dreams of a tropical paradise, which I'll mention in this blog post.
If you want to do a bit of island hopping in the Maldives on a budget using the local ferry it's totally possible with a bit of forward planning as the ferries usually only run once a day. It's a good idea to pick islands in the same atoll as they are on the same ferry route so you don't have to go back to Male to change ferries.
Here's a quick rundown of some of the best local islands in the Maldives and the best places to stay in the Maldives on a budget.
Male and Hulumale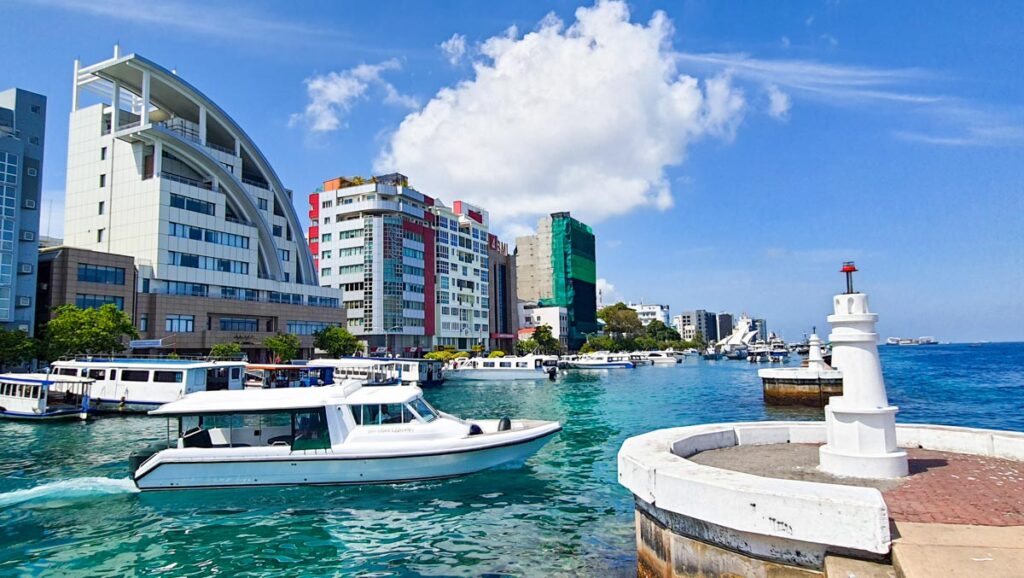 Male City is the capital of the Maldives and one of the most densely populated cities on earth! It's probably not your idea of a tropical paradise but the mosques, fish market, park and museum make an interesting visit.
Male is just across the water from Male international airport and most budget travelers will have to go through Male at some point to catch the ferries to the islands. If you arrive late, or have an early flight, you may need to stay near the airport in Male or Hulumale.
I recommend the Amina Residency if you are looking for a comfortable and affordable hotel in Male close to the ferry terminals and all the attractions in Male City.
Next to the airport and Male is Hulumale – another very built up island with high rise residential and industrial buildings. The island is reclaimed from the ocean and built at 2 meters above sea level to withstand rising sea levels. When finished, it will be able to house 100,000 people. It's an interesting project and convenient for a night close to the airport, but probably not your idea of Maldives beach bliss.
If you have to stay near the airport Hulumale is a more peaceful choice. Beach Breeze is a nice budget hotel located on the beachfront with really helpful staff and a 24 hour check in. The best rooms have an ocean view.
North Male Atoll
Located just north of the airport in the same Atoll as Male, the local islands of Himmafushi, Huraa, Thulusdhoo, Dhiffushi make an easy and fun budget Maldives trip.
Himmafushi and Thulusdhoo are popular with surfers as they are close to some of the best surf breaks in the Maldives. You can even join a fun, and budget friendly, surf and yoga camp.
The main reason to stay on Himmafushi island is for the surfing and Jail Break Surf Inn is the best place to stay there. Check out this complete guide to Himmafushi for more.
For Thulusdhoo, we stayed at Villa Kudi which we loved. There are also some stylish options right on the bikini beach like Samura if you want to spend a little more. The coffee, smoothie bowls and pizzas at Indulge Thulusdhoo were some of the best we tried in the Maldives.
The main draw for Dhiffushi is the three beautiful bikini beaches. We stayed at Dhiffushi Inn as it has the best location right next to the best bikini beach on the island. The owners were really friendly and helpful and they also have a beach bar and restaurant and organise good value excursions.
South Male Atoll
Just South of Male are the local islands of Gulhi and Maafushi are ideal for budget travelers. Maafushi is the most popular island for a cheap Maldives holiday while tiny Gulhi offers a more peaceful escape.
Gulhi is a small, peaceful, tropical, island with two bikini beaches. The best place to stay is Beach Stone, a friendly guesthouse located right on the beach with lovely ocean views from the terrace. Read this Guide to Gulhi island for more.
Maafushi island is the biggest, most developed and most popular local island for those traveling the Maldives on a budget. There's plenty of accommodation, eating and excursion options for suit all budgets and Maafushi has the liveliest atmosphere of the local islands. Check out this Guide to Maafushi Island for more info.
The best place to stay in a budget is Island Ambience, a new guesthouse where the staff will go out their way to help you. If you want something a bit more luxurious without the resort price tag Maafushi has plenty of options. Kaani Palm Beach is our favourite because of the location on the beach front and the stunning ocean views from the rooms and the rooftop infinity swimming pool.
Vaavu Atoll
Further South from South Male Atoll is Vaavu Atoll which offers some of the most exciting snorkelling and diving in the Maldives where you can explore shipwrecks and swim, dive or snorkel with nurse sharks and manta rays! 
The best local islands to visit in Vaavu Atoll include Fulidhoo, Thinadhoo, Felidhoo and Keyodhoo.
Fulidhoo is many budget traveller's favourite local island because of the great bikini beach, relaxed vibes and the chance to see and even feed nurse sharks and sting rays right from the beach. Check out this Guide to Fulidhoo Island for more info.
Fulidhoo is the largest island in this atoll and the closest to Male with the most options for accommodation and eating in Vaavu Atol. The best budget pick are the comfortable rooms surrounded by tropical greenery at the Bougainvillea Inn. Or stay in a sea view balcony room at The Pearl Sea View. They also have a great restaurant and offer a full board option.
You can catch the ferry from Male city or from Maafushi island to reach these islands (but the ferry doesn't operate every day)
Other good local islands to consider include Rasdhoo and Ukulhas in Alif Alif Atoll. Rasdhoo is close to some famous dive sites and offers excursions to sand banks and picnic island while Ukulhas is known as the cleanest and most eco friendly island in the Maldives.
See more here on the local islands of the Maldives
The Costs for a Budget Maldives Trip
You might be surprised at how affordable visiting the Maldives on a budget can be! If you stay in guesthouses on the local islands, visit local eateries and take public ferries you can travel in the Maldives on a budget of less than $100 per person per day.
Here's a round up of our average costs for our Maldives budget trip in 2023:
Accommodation: $50 – $70 per night for a double private AC room with ensuite bathroom
Food: $10 per dish
Coffee and Soft Drinks: $5 each
Local Ferries: $1.50 each
Shared Speedboat: $25 per person
Excursions: $35 for a turtle snorkelling trip
How to Find Cheap Accommodation in the Maldives
You want to choose your accommodation carefully because you will probably eat at and arrange excursions and transfers with your guesthouse so it will have a big impact on your whole experience.
As I said before there aren't many backpacker hostels but you can find shared dorms in surf camps. The cost for a decent private room in a good guesthouse or budget hotel starts from around $40 – $50 a night. When you book in advance they will help you with getting to the island and may pick you up for free from the harbour.
Choosing a hotel that includes breakfast will save you money. Most guest houses have decent wifi, air conditioning, hot water, and will give you free drinking water – so you can save money and the planet by not buying plastic water bottles!
You can find, read reviews and book budget hotels and guest houses online on Booking.com. As there are alot of expensive resorts in the Maldives sort the listings by the lowest price first and start there.
Pay attention to which island the guesthouse is on. Don't just book the cheapest hotel you find before checking on the map to see how far away it is from Male. If it's on a very remote island it could end up being difficult and costly to reach. I'll recommend some good local islands that are easy and cheap to access later on in this guide.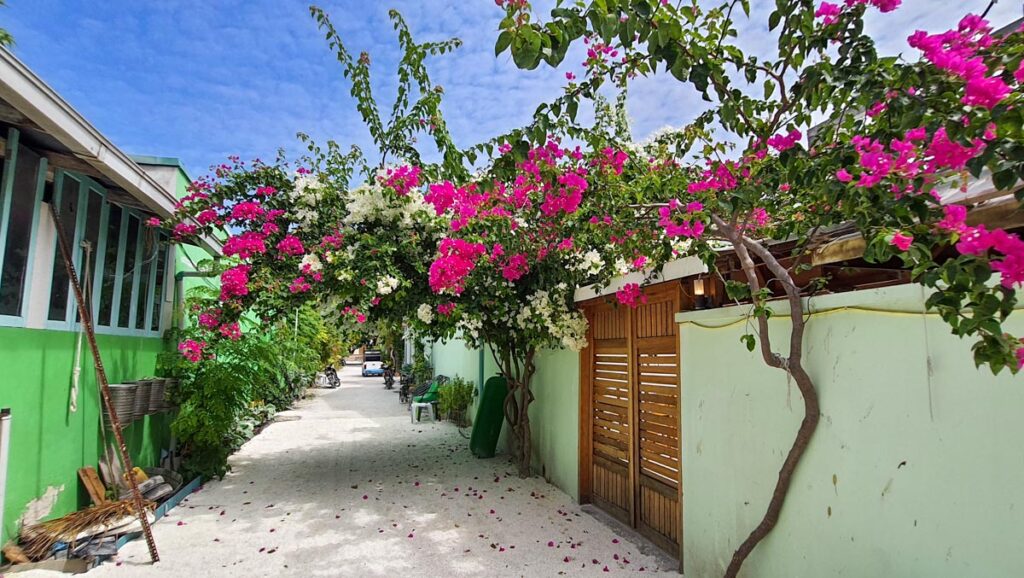 How to Find Cheap Food in the Maldives
We usually like to stay in hostels or apartments with kitchens and go self catering to save money on food but we didn't find any apartment style accommodation with cooking facilities apart from in the capital city of Male.
Some of the surf camps are like backpacker hostels and offer use of a shared kitchen so you can save money by cooking your own food. Most islands have small grocery shops where you can buy snacks, soft drinks and even beach essentials. But, as everything has to be shipped in, the prices aren't cheap, so self catering probably wouldn't save you that much money anyway.
The best place to find cheap food is in the local eateries which typically serve Maldivian food like tuna, fish curry and rice and roshi (like Indian roti.) Maldivians food has influences from nearby India and Sri Lanka and contains alot of tuna and other seafood.
Guesthouses often have restaurants aimed at tourists and most local islands also have a couple of restaurants that serve Western foods like sandwiches, salads, pasta and pizza with prices ranging between $8 – 15 per dish. Some offer a set meal for around $12 which includes salad, pasta, chicken, water, tea/coffee and fruit.
The local currency of the Maldives is the Maldivian Rufiyaa but many businesses accept US Dollars and some also accept Euros. Be sure to take plenty of cash with you as not all guest houses can accept cards and not all islands have ATMs (and those that do have one don't always work.)
Often you will pay in US Dollars and get your change in the local currency but, from our experience, we recommend having both Dollars and Rufiyaa.
Things To Do in The Maldives on a Budget
When you imagine a Maldives vacation relaxing on some of the world's most beautiful beaches is probably the first thing on your mind. Even if your visiting the Maldives on a budget you won't have to miss out on this.
There are also plenty of activities and things to do in the Maldives. Being an island nation naturally most of the activities are water based. The activities available will depend on which island you stay on.
The good news for backpackers and budget travelers is that excursions are much more affordable when arranged on the local islands instead of the expensive resorts. Most guesthouses can help you arrange any activities and excursions you want.
Relax and swim on the bikini beach
Most of the local islands have designated areas called 'bikini beaches' where tourists can relax and enjoy the beach in swimwear and some of these beaches are no less stunning than the ones found at the expensive resorts.
There's free sunbeds and shade on the bikini beaches and no-one tried to hassle us or sell us anything (unlike in Goa and other nearby beach destinations in Asia!)
Make sure you watch the spectacular Maldives sunrises and sunsets too as the sky turns into impossible shades of pinks and purples.
Water sports
There's a huge array of water sports activities you can try in the crystal clears waters which are a highlight of any Maldives holiday.
Choose from snorkelling, diving, kayaking, stand up paddle boarding, surfing, parasailing, jet skiing, banana boating, fishing trips and much more.
Boat trips
There's also many boat trips you can take, from a huge variety of fishing trips to sunset dolphin cruises and trips to visit other islands. One of the best things to do in the Maldives is to get dropped off with a picnic on an isolated sandbank in the middle of the Indian ocean.
You can get a day pass to visit a nearby resort island if you want to have a cocktail and get a glimpse of how the other half live! Some local islands now even have a spa so you can relax with a massage or spa treatments for a lot less than at the fancy resorts.
Another way to have an alcoholic drink is to hop aboard the bar boat found at some of the more popular islands like Maafushi. If you go at sunset you get to enjoy your drinks from the boat while watching the sunset over the ocean.
Some beaches have a stall where you can arrange water sports, activities and excursions right from the beach but your guest house should also be able to help you most of these things to do.
Snorkeling and diving
Snorkeling and scuba diving are some of the best things you can do in the Maldives. The diversity of ocean life and the visibility in the warm, clear, turquoise water is incredible.
Many resorts and islands have a house reef where you can snorkel off the beach without the need for an excursion. Most guest houses and dive shops rent snorkelling gear and you can save money by bringing your own snorkelling gear with you.
If you want to snorkel with turtles, manta rays and sharks, or see more pristine coral gardens, then you'll need to take an excursion further out to see. Snorkelling trips start at $25 when organised by the local guesthouses.
Surfing
The Maldives is an amazing surfing destination with some world class surf spots. Some of the best surf breaks include Cokes and Chickens, near Thulusdhoo island, while Jailbreaks is near Himmafushi island.
Most of these reef breaks are only for experienced surfers, but there are also some surf and yoga camps that can teach beginners the ropes. Even if you're not into surfing you may be able to drop in and enjoy a sunset yoga class. 
Check out this article for more about surfing in the Maldives.
Getting To and Around the Maldives on a Budget
How to Find Cheap Flights to the Maldives
Flights are always one of the most expensive parts of any trip, but there are plenty of cheap flights to the Maldives. The cheapest direct flights to the Maldives are from India and Sri Lanka and the flight takes only an hour or so.
So if you're already traveling in South Asia then you're in the perfect place to take advantage of the cheap flights and explore the Maldives on a budget too! There are also affordable flights from other hubs in Southeast Asia and the Middle East.
If you're coming from Europe budget airline Wizz Air have a direct flight from Abu Dhabi and cheap connections to Europe. Check Skyscanner to find the best deals on flights to the Maldives from where you are.
Tourists do not need a visa to visit the Maldives for stays of less than 30 days so that's another saving.
How to Get Around the Maldives on a Budget
Getting around a country of thousands of tiny islands will either take a bit of time or a bit of money. For those in a rush with money to spare, private speedboat transfers and seaplanes can get to the most remote Maldivian islands but transportation costs can really add up this way. If your traveling the Maldives on a budget then you'll need to get acquainted with the local ferries.
The airport ferry
When you arrive at the international airport you'll need to take a public ferry over to Male. It runs every 15 minutes and costs $1.
It will drop you at the ferry terminal where you'll be able to connect to other ferry services or walk along the jetty to find the shared speed boats.
There's cafes above the ferry terminal which make a good place to wait and watch the planes and ferries coming in.
Local public ferries
If you're backpacking the Maldives on a budget and want to save money on transportation then the local public ferries are a very affordable option, but you'll need to have a bit of patience and forward planning.
Local public ferries connect each atoll of local inhabited islands with the capital at Male. There's no need to pre-book and the ride only costs a couple of dollars.
The local ferries can be slow and you'll need to check the schedule as they usually only run once a day at most taking islanders into Male in the morning and getting them back to the islands before nightfall. You can check the ferry schedules on the MTCC website here.
If your flight arrives after 3 or 4pm you may have to stay in Male and wait for the ferry the next morning or take a shared speedboat transfer. Also be aware that public services are very limited on Fridays as this is the Islamic holiday, so it's better to avoid traveling on a Friday in the Maldives.
Shared speedboat transfers
There's also the option of a shared speed boat transfer. These often run 3 or 4 times a day with the last boats leaving at around 10pm. The shared speedboats are a lot quicker than the public ferries and much cheaper than a private speedboat transfer.
You'll need to pre-book your seat but your guest house can usually help you arrange this. The cost is between $20 – $35 per person depending on the destination.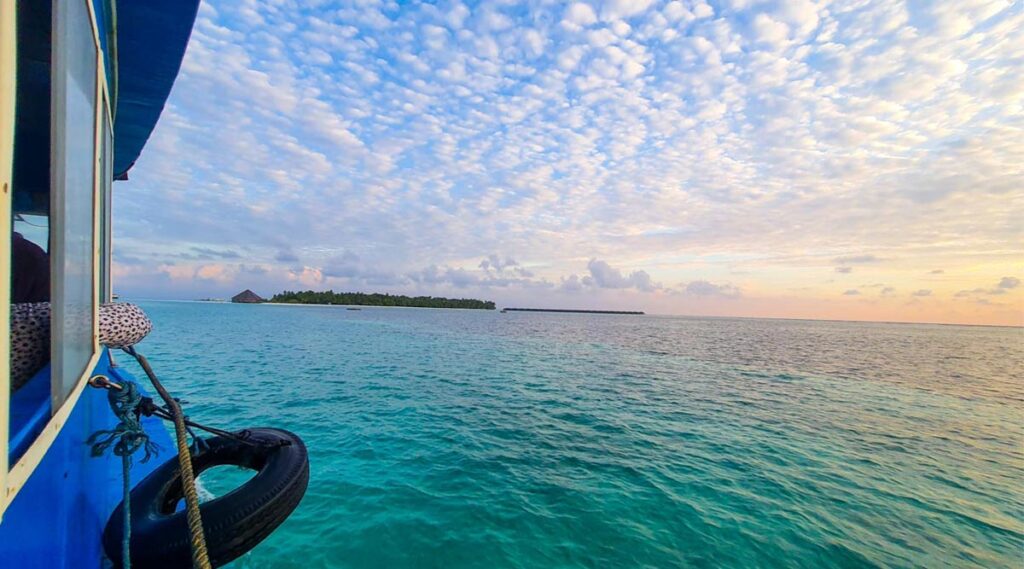 When to Visit the Maldives
The best time to visit the Maldives is between December to April in the dry season. Traveling in the low season does mean cheaper prices so may be tempting but there's also a high chance of monsoon rain between June and October. Do you really want to be on a tropical island in pouring rain?
3 Important things you must know before visiting the Maldives local islands
Our budget backpacking trip to the Maldives was a highlight of my 10 years of full time travel. The Maldives is a unique, fascinating and beautiful place. It was great to see the 'real' Maldives beyond the luxury resorts and meet the local people who were all very kind and helpful.
But if you are interested in backpacking the Maldives then there are some things you must know about the country before you visit:
The Maldives is a strict Muslim country. 
This means that no alcohol, or pork is permitted in the country, except at the private resort islands. Don't buy alcohol at duty free because you will not be allowed to bring it into the country.
You will find many cafes offering a good range of coffees, juices, soft drinks and mocktails but if you want an alcoholic drink you'll have to go to a resort or onto one of the floating bar boats. 
Dogs are also banned in the Maldives!
2. As the Maldives is an Islamic county you should respect their culture and cover up when not on the designated bikini beaches.
I asked the guesthouse owners about what was acceptable to wear as I'd heard I should cover shoulders and knees but they seemed more relaxed on the dress code.
They said tourists don't need to be fully covered up – wearing a t shirt and shorts or sarong over your swimsuit is ok,  they just don't want people wandering around the village in tiny bikinis and trunks.
3. Be aware that not all the local ferries run every day. Also many things like local ferries and shops are closed on Friday – the Islamic holiday.
You'll hear the call to prayer multiple times a day from the mosques. Luckily every place I stayed at was quite well sound proofed so it didn't wake me up in the morning.
Remember that these rules only apply to the local islands – if you are in a fancy resort you can wear whatever you want and drink cocktails all day too – but it won't be a budget friendly trip and you won't get to see the real Maldives.
Final Thoughts on Backpacking The Maldives
So know you know how to backpack the Maldives! I hope I've shown you that the Maldives is so much more than just expensive, luxury, resorts and that it is possible, fun, affordable and even more rewarding to visit on a budget and experience a more local side of island life – the beaches are just as beautiful!
Pin this post for later
I hope you've found my Maldives blog and budget travel guide useful and have learned how to plan your own backpacking or budget trip to the beautiful Maldives!
Have you experienced backpacking Maldives or visited on a budget? I'd love to know if you have any more tips. Or let me know if you have any questions – I'd love to help more people visit this dream destination!