Lisbon, or Lisboa to the locals, is one of Europe's most distinctive, charming, historic and colourful cities.
Old yellow trams rattle and screech up and down along the winding cobbled streets, terracotta rooftops sprawl across the hillsides, while azulejo (tile) covered and pastel coloured buildings part to reveal glimpses of the shimmering Tagus River (Rio Tejo).
It's hard not to fall in love with Lisbon, but with so many different historical districts to choose from, it's difficult to decide where to stay in Lisbon, especially if it's your first time visiting.
Where to Stay in Lisbon: The Best Neighborhoods, Areas and Hotels for First Time Visitors
Choosing where to stay in Lisbon is one of the most important decisions to make when planning your trip to Lisbon as your choice of neighbourhood and accommodation can make or break your trip. So you need to do some research into the different areas of Lisbon to make sure you get the most out of your visit.
As the capital of Portugal, Lisbon is packed full of historical and cultural treasures and consists of many different neighbourhoods, areas and districts, all with a different atmosphere. Each Lisbon neighbourhood presents travellers with amazing architectural delights, interesting historic landmarks and range of accommodation for all budgets.
To help you plan your Lisbon trip this blog post will give you a mini Lisbon travel guide with an outline of the best areas, neighbourhoods, hotels and best places to stay in Lisbon for first timers.
I'll also include the essential Lisbon travel tips you'll need including how many days to spend in Lisbon, the best time to visit and how to get to Lisbon and get around..
Lisbon is one of my favourite cities in Europe so I hope you find this blog post useful and that you love your time in this fascinating city as much as I did!
Where to Stay in Lisbon for First Time Visitors
Choosing where to stay in Lisbon is the first step when planning your trip. There's a good range of accommodation to suit all budgets including luxury, heritage and boutique hotels to modern spacious apartments, budget hotels and hostels. But first you need to decide on the location. While central Lisbon is very accessible and walkable, there are different atmospheres in each district and no two are the same.
To help you tailor a trip that's right for you, here's a summary of the best areas to stay in Lisbon and my quick picks of the best places to stay in Lisbon depending on your reason for visiting, whether it's your first time, a romantic couples trip, family holiday or a trip with friends to experience Lisbon's nightlife. Then I'll go into more detail about each area and give hotel recommendations for each neighbourhood.
The Best Areas to Stay in Lisbon for First Time Visitors
The city of Lisbon is set out in a semicircle, spreading outwards from the millennia-old historic central districts towards the newer, more modern neighbourhoods. Lisbon is separated from southern Portugal by the Tagus River, which feeds into the Atlantic Ocean, and is encircled by the A36 highway.
Lisbon is comprised of dozens of neighbourhoods, with many popular districts located within the central area and surrounding the Avenida da Liberdade. Lisbon's downtown area includes Baixa, Cais do Sodré, Bairro Alto, Rossio, Principe Real and Alfama, with Alfama being the oldest district in the capital. Outside of the A36, you can also find some historic areas of interest, such as the Belém district.
If you want to take advantage of the warm Portuguese climate and stay near the beach while still being able to visit all the attractions of Lisbon then staying along the coastlines of Cascais and Estoril is a great option. The two towns to the east of Lisbon are famous for their sandy Atlantic beaches.
Anyone needing to stay near Lisbon Airport should book a room in the Bairro do Oriente district, which is in close proximity to the airport, offers easy access to the centre of Lisbon, and also has a fabulous marina.
Pin Me! 😉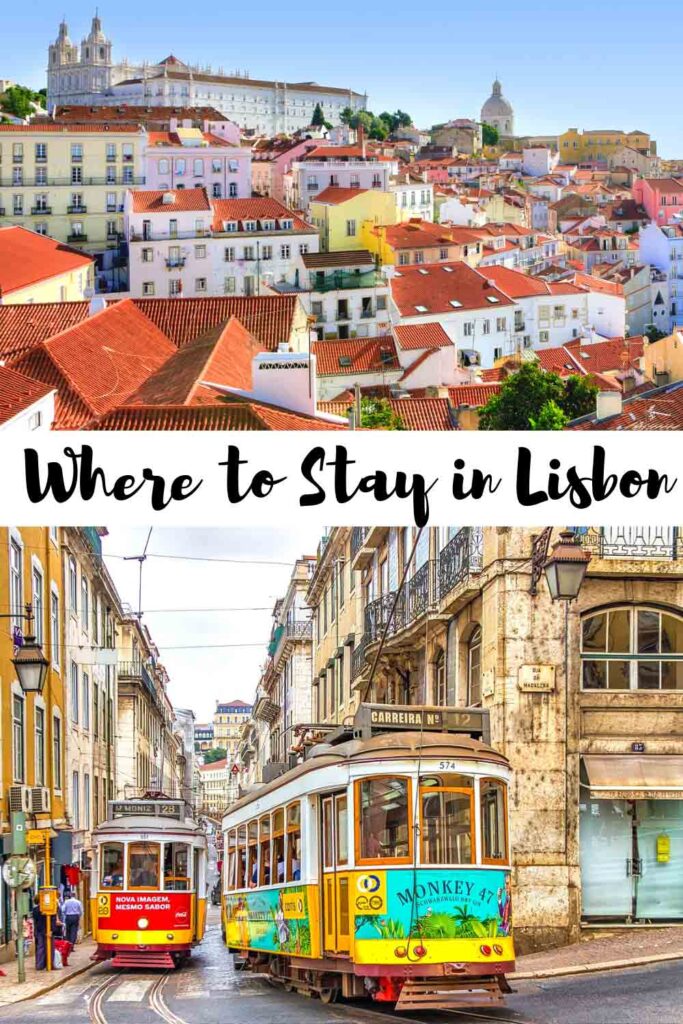 The Best Places to Stay in Lisbon
Whether you're planning on visiting Lisbon for business or leisure, with family, friends or a romantic couples trip, there's a perfect Lisbon neighbourhood for everyone!
Here's a quick summary – carry on reading for more information about each area, things to to there and hotel recommendations for each place
Best Place to Stay in Lisbon for a First Time Visitor –  Baixa, Chiado, Rossio & Prίncipe Real

Best Place to Stay in Lisbon for History and Culture – Chiado, Alfama

Best Place to Stay in Lisbon for Nightlife – Bairro Alto

Best Place to Stay in Lisbon for Couples – Belém, Avenida da Liberdade

Best Places to Stay in Lisbon with Family – Baixa, Avenida da Liberdade 

Best Place to Stay in Lisbon to live like a Local – Alfama

Best Place to Stay in Lisbon on a Budget – Cais do Sodré

Best Place to Stay in Lisbon near Beaches – Cascais & Estoril

Best Place to Stay in Lisbon near the Airport – Bairro de Oriente
The Best Lisbon Hotels
The Best Areas to Stay in Lisbon and Recommended Hotels
Chiado – Best for History, Shopping & Entertainment
This historic district in Lisbon was once the meeting spot for artists and intellectuals. This comes as no surprise when you arrive in Chiado and see the many ornate galleries and museums dotted along the main avenue 'Rue Garrett'. Colourful boutiques, from upscale international brands to the world's oldest bookshop, are scattered around the hilly district.
Even the streets themselves draw you in, with ornate mosaic patterns decorating the sunny squares. Theatre lovers can enjoy a traditional show at the National São Carlos or Trinidade Theatres. Chiado also boasts some incredible architecture, the best of which can be seen at the Basílica dos Mártires and the interior of the Loreto Church.
There's plenty to explore within walking distance and the Baixa-Chiado metro station offers easy access to the rest of the city. If you're looking for where to stay in Lisbon to soak up the history and culture whilst still being close to all the amenities, or a convenient base for first time visitors, then Chiado is a great choice.
The Best Places to Stay in Chiado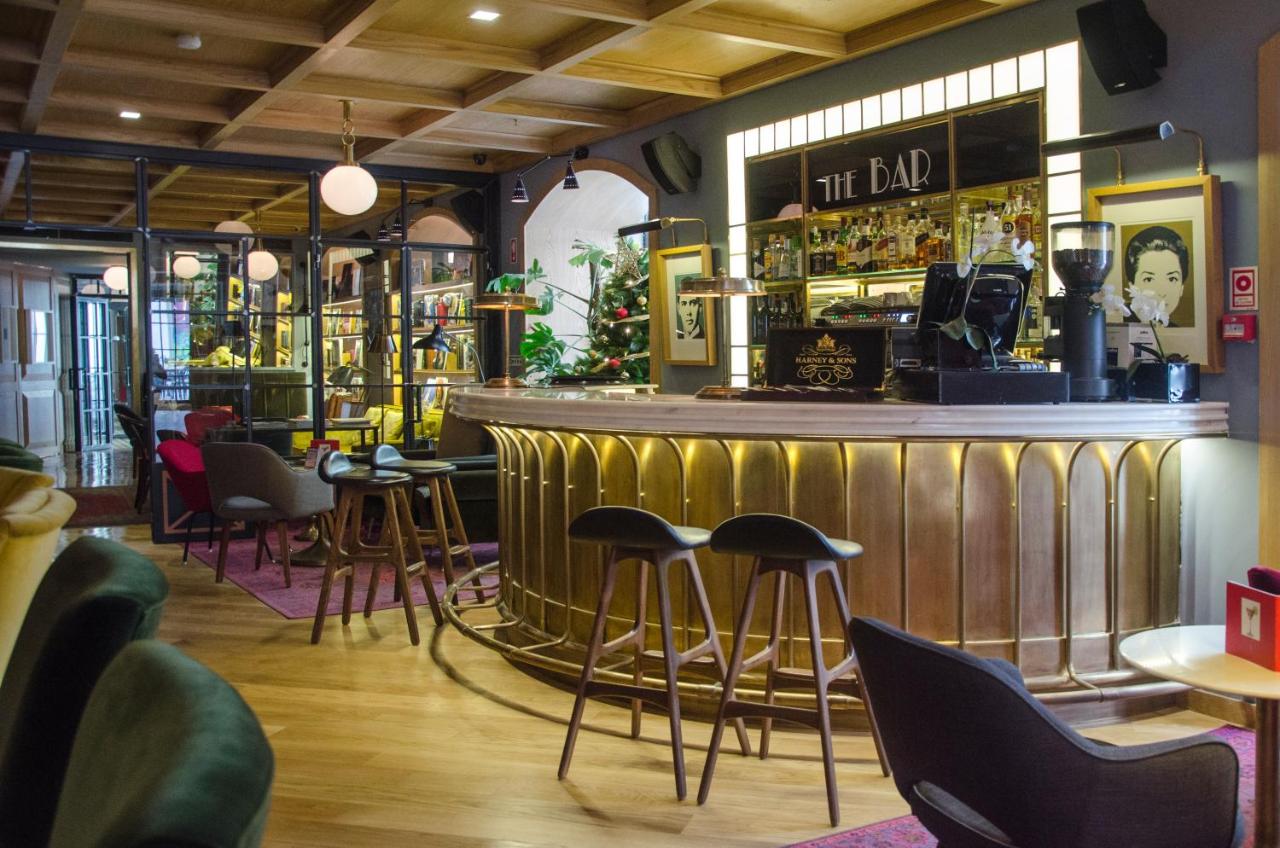 This eclectic hotel, set in a renovated 18th-century building, features a colorful clash of postmodern furniture and decorative pictures and trinkets. Each room, complete with a marble bathroom, feels homely and comforting, with comfy beds, a smart TV and Bluetooth sound system for guests to enjoy.
There is also a trendy bar and restaurant in the hotel, but no swimming facilities. There is, however, a concierge service and Browns Hotel organizes walking, cycling, and horse riding day trips in and around Lisbon, upon request.
Click here to check prices, reviews and to book
Lisb'on Hostel – For a classy, centrally located, budget stay
This renovated Baroque-style guesthouse and hostel is perfectly positioned to provide easy access to the Chiado, Cais do Sodré, and Bairro Alto districts. Most of the available beds are in classic hostel dormitories, but there are some single and double private rooms on offer making it a good choice for both backpackers and budget travellers.
Each large room is air-conditioned and free WiFi is available throughout the hostel. There is a fully equipped communal kitchen and dining area and local drinks are served at the in-house bar. With all of Lisbon's attractions within just a few minutes walk this is one of the best places to stay in Lisbon on a budget.
Click here to check prices, reviews and to book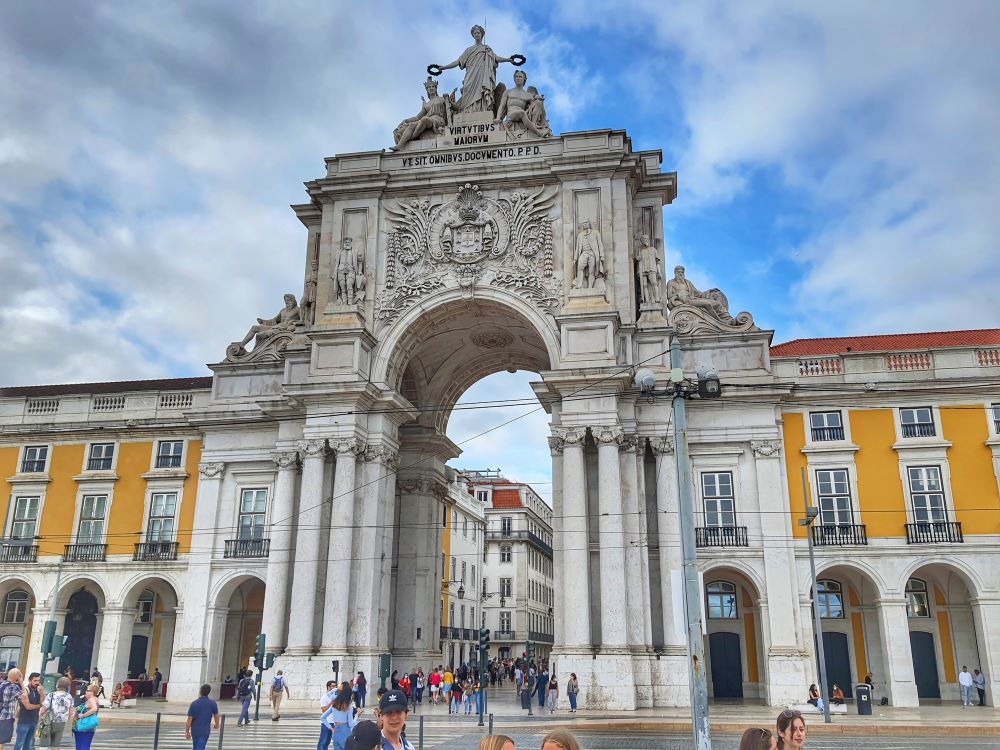 Baixa & Cais do Sodré – Best for Food and Architecture lovers
The Baixa and Cais do Sodré districts occupy the waterfront in central Lisbon. Baixa is an incredibly colourful and beautiful area, where the streets are lined with patterned tiles and the buildings try to outshine each other in levels of ornate design.
The best place to start is the vast Praça do Comércio (Commerce Square) that falls between the Tagus River and the bright yellow Ministry of Justice, intersected by the towering Arco da Rua Augusta. Moving onwards through the arch, you will find yourself on the historic Augusta Road.  This pedestrian street provides tourists with Lisboan delicacies and regional trinkets.
The highlight of Cais do Sodré is the amazing indoor TimeOut Food Market, where over thirty tiny restaurants serve world-class food and Portuguese cuisine, using both regional and international recipes. This is an absolute must-visit place for any foodies for the opportunity to sample the staggering array of delicious dishes. While eating, you have the option to share a table in the large open market hall or bring your food to the waterside for a peaceful meal.
Cais do Sodré also has a train station and metro station making it a convenient base and offering easy access to the rest of the city as well as the district of Belem and the beach towns of Cascais and Estoril.
The Best Places to Stay in Baixa & Cais do Sodré
Hotel da Baixa – For a modern stay in historic Lisbon
Within walking distance of most of the city center's main attractions, including the famous Santa Justa Elevator, the 4* Hotel da Baixa has a classy and colorful green-tile facade and is a good choice for families or couples.
The interior is not what you might expect from the classic rustic hotel, each room is designed to be modern and spacious, and the light-colored decor gives off a feeling of cleanliness. The spacious rooms come with a 4K TV and a Bluetooth sound system and the hotel restaurant features a range of local and international dishes.
Click here to check prices, reviews and to book
Corpo Santo Hotel – For lovers of historic and luxury
This famous five star hotel is situated directly between the Baixa and Cais do Sodré neighbourhoods, within walking distance of most of downtown Lisbon. The Historic Corpo Santo Hotel includes sections of the 14th-century Muralha Fernandina (the old city walls), but its modern interior provides a comfortable atmosphere for the hotel guests.
There is a Spa & Wellness area where you can relax in a pool or hot tub, or order a massage, and a business center for any guests to use. The hotel's concierge service and tour desk can help you arrange tours of the city, or you can simply enjoy the nearby attractions. There's even spacious family rooms and suites and offers babysitting services making this hotel a great choice for a family trip.
Click here to check prices, reviews and to book
Located right next to the Cais do Sodré train station, this contemporary hostel offers clean and comfortable rooms for backpackers and those on a tight budget. There are limited kitchen facilities, but an in-house chef prepares dinners for guests and the vibrant nightlife of Pink Street is just a 2 minute walk away.
The highlight of the Sunset Destination Hostel is a rooftop pool and terrace bar with Tagus river views. The location makes it super easy to access using the rail and metro network. Rental bicycles are also available for day trips and the friendly staff organize daytime and evening activities for the hostel's temporary residents.
Click here to check prices, reviews and to book
Rossio & Prίncipe Real – Best for walking and first time visitors
Rossio is an old district in the centre of Lisbon with many fascinating architectural curiosities to see within just a minutes walk. Rossio Plaza, also known as Praça Dom Pedro IV, is a sight to behold with its elegant fountain and trippy mosaic floors, and it lies right next to the historic Rossio train station and Rossio metro station.
If you walk along the pedestrianised tiled streets towards the Baixa district, you will encounter the famous gothic-style Elevador de Santa Justa (Santa Justa Elevator) which carries tourists and locals into the hilltop Bairro Alto area. Near the elevator, you can also the skeletal ruins of the 14th-century Carmo Convent.
The Principe Real district lies just to the east of Rossio and is characterized by the stunning parks and botanical gardens that fill the area making this one of the most elegant districts of Lisbon. Rato metro station provides easy access to the rest of the city.
Staying in either Rossio or Principe Real is a great choice for a centrally located base from which to explore the city by foot or public transport. If you're wondering where to stay in Lisbon for your first visit these areas are the best places to stay in Lisbon for you.
The Best Places to Stay in Rossio & Principe Real
Memmo Prίncipe Real – Elegant rooms and a pool with a view
This central modern hotel features an authentic Portuguese restaurant with a terrace overlooking the stunning city. The Memmo Principe Real is designed in a tasteful contemporary style and each room comes equipped with air conditioning, wifi, modern bathrooms and comfortable bathrobes for guests to use.
There's a small outdoor pool located on a panoramic terrace with stunning city views and surrounded by leafy ferns and trees, giving it a pleasant, natural atmosphere. The location in Principe Real, is one of the most exclusive and elegant districts in Lisbon, and Bairro Alto and Avenida da Liberdade are both within a 10-minute walk.
Click here to check prices, reviews and to book
The grandeur of the building only hints at the old-world luxury and historic charm to be found inside the Hotel Avenida Palace. Each room has elegant furnishings and marble bathrooms. Meals can be had in the grand Palace Lounge under a delicate chandelier.
This 19th-century building is located at the southern end of Principe Real near the Avenida da Liberdade and overlooks Restauradores Square with views of St. George's Castle. Free valet parking and proximity to central metro stations make it easy to access and the air-conditioned rooms are comfortable at any time of the day. A fitness room and massage services are available for guests.
Click here to check prices, reviews and to book 
Bairro Alto – Best for nightlife
The buzzing Bairro Alto district is a pleasant area characterized by tiny tramways that crisscross along the old cobblestone streets. The winding streets here are narrow and, in the daytime, you can peruse the tiny restaurants, coffee shops and craft shops pocketed around the district.
At night, however, Bairro Alto truly comes alive as the various wine bars and clubs open their doors to locals and tourists alike making this the best place to stay in Lisbon for nightlife. The nightlife here is electric and the parties spill out into the narrow streets as bars set up tables right in the middle of the cobblestone roads.
There are plenty of drink deals offered by the local watering holes and the hills of Bairro Alto offer a lovely opportunity to view Lisbon in the dark. If you're wondering where to stay in Lisbon for nightlife then look no further than Bairro Alto.
The Best Places to Stay in Bairro Alto
Bairro Alto Hotel – For a perfect blend of business and leisure
This historic 5 star boutique hotel is set in a graceful 18th-century building right in the heart of the Bairro Alto neighbourhood meaning it's just a short walk away from exploring all of Lisbon.
Each room and suite in this historic building has stylish, comfortable furniture, tea and coffee makers and colourful bathrooms. The Bairro Hotel has a dining terrace, overlooking the River Tejo and the Lisbon old town, where award-winning Chefs prepare local and international dishes.
The hotel also has four meeting rooms that can be rented out for business or party events and there's even a private entrance for event-goers.
Click here to check prices, reviews and to book
This secret sunny spot in the middle of the vibrant Bairro Alto district offers a variety of accommodation. Rooms vary from typical modern hotel rooms to private apartments, studios and shared dormitories.
There is a local restaurant on-site and communal kitchens are available for anyone hoping to practice their Portuguese culinary skills. In the hotel courtyard lies a swimming pool and sun terrace for guests to enjoy. There's also a coworking space and regular events making this the best place to stay in Lisbon for digital nomads.
Within close proximity to Bairro Alto and Chiado, the Selina Secret Garden acts as a perfect starting point for any adventure into the centre of Lisbon.
Click here to check prices, reviews and to book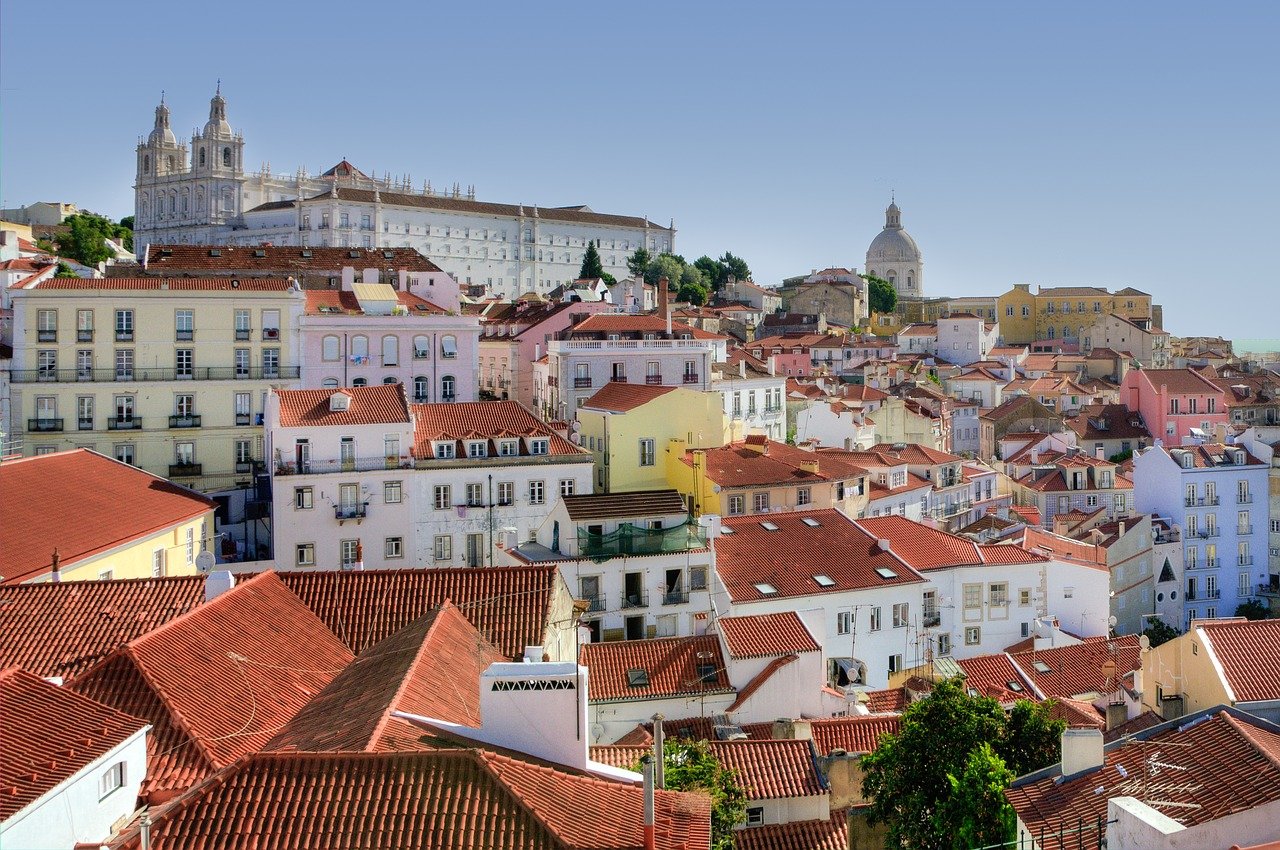 Alfama, Mouraria & Graça – Best for the History & Local Atmosphere
The Alfama district is the oldest neighborhood in Lisbon city and its old-world charm and winding cobblestone streets draws in many visitors who are searching for a traditional Lisboan atmosphere.
Based between the Tagus River and the hilltop fortress that is São Jorge Castle, Alfama's winding cobblestone narrow streets draw you in and the curious shops and local cafes make for a fascinating exploration.
The oldest sections of the Castelo de São Jorge castle walls and gardens date back over 1500 years and a trip through the narrow cobbled lanes up to São Jorge Hill offers spectacular views over Lisbon. You'll also find the thousand-year-old Lisbon Cathedral in Alfama.
The neighbouring districts of Mouraria and Graça are also wonderful examples of historic Lisbon. Set away from the tourist areas, these are residential neighborhoods where locals hang out. That being said, there's still plenty to see in Mouraria and Graça, like the enormous Monastery of São Vicente de Fora or the gleaming Graça Convent.
The Best Places to Stay in Alfama, Mouraria & Graça
Memmo Alfama – For an infinity pool with a view
The rooms in this refurbished contemporary hotel are light and airy, with free WiFi, a flat-screen TV, and Egyptian linen bedding. There is a large communal lounge, where you can find a concierge waiting to see to all your needs.
The highlight of the Memmo Alfama is the sun terrace which features a wine bar and an infinity pool that offers city and river views. The hotel also hosts walking tours around Lisbon, which are free to join but must be reserved in advance.
Click here to check prices, reviews and to book
Nearby the great São Jorge Castle, this contemporary hotel is built into a former convent. The modern rooms are light and air-conditioned and offer panoramic views of the city and the river from the a lovely garden and sun terrace.
The Hotel Convento do Solvador has meeting rooms available for business guests and a concierge desk to help you find your way around. São Jorge Castle, Sé Cathedral and the National Pantheon are only a 5 minute walk away.
Click here to check prices, reviews and to book
Avenida da Liberdade & Marquês de Pombal  – Great connections to the rest of the city
Although there is a constant stream of cars rushing along the long Avenida da Liberdade, or Liberty Avenue, staying near the verdant Parque Eduardo VII offers the best range of luxury and boutique hotels and a moment of calm in the ever-busy Lisbon city.
The Avenida da Liberdade started as an 18th-century park but has since become a fashionable boulevard lined with luxury shops and hotels. The wide pedestrian garden, that sits in the middle of the avenue, is lush and green and decorated with statues and even a waterfall.
One end of the Avenida da Liberdade opens into the Rossio district and the other transforms into the Parque Eduardo VII via the Marquês de Pombal square and roundabout which features a monument to the eponymous Marquis who rebuilt Lisbon after the devasting earthquake.
This roundabout also serves as the meeting point for several main boulevards that run through the city and offers a metro station and public transport connections across the whole city making it a super convenient place to stay in Lisbon.
The Best Places to Stay near Avenida da Liberdade & Marquês de Pombal
Situated halfway up the busy Avenida da Liberdade, the Tivoli Avenida Liberdade's basic facade offers no hints of the scale of grandeur found within the hotel. The spacious public lounges are the epitome of class and elegance while the contemporary rooms and marble bathrooms are cosy and equipped with everything you need.
The highlight of the Tivoli is the 360º rooftop bar which offers spectacular views over city and the Parque Eduardo VII, especially at sunset. The terraced pool is surrounded by luscious greenery and there's also a spa, complete with massage treatments. The top-floor restaurant of the Tivoli features international dishes and an extensive wine list. It's not surprising that this is one of the best luxury hotels in Lisbon and one of the very best places to stay in Lisbon.
Click here to check prices, reviews and to book
A modern 4* hotel, the Inspira Liberdade Boutique Hotel offers travelers comfort and convenience in the heart of the Centro area. The hotel prides itself on its ecological practices and organic restaurant. Anyone who needs some relaxation time can make use of the spa, which includes saunas, a hot tub, and treatment rooms, or use the hotel gym.
Click here to check prices, reviews and to book 
Lux Lisboa Park – For a modern setting with natural sunlight
A 10 minute walk from the Marques de Pombal Square, Avenida da Liberdade, and Eduardo VII Park lies the Lux Lisboa Park. This modern hotel, with a wood and glass facade, contains stylish rooms with large windows that fill the space with sunlight.
The Lux Lisboa Park has business facilities and a concierge service to help cater to the needs of every traveler. The hotel also has a fantastic roof-top terrace with a heated pool and hot tub that lets you soak in the water as you soak up the views over Lisbon. Family rooms and a babysitting service are also available.
Click here to check prices, reviews and to book
Only a few minutes walk from the well-known Marquês de Pombal roundabout and Liberty Avenue sits the Legendary Lisboa Suites. The wood-paneled rooms come with flat-screen TVs and there is an outdoor pool that opens in the spring. Although an on-site restaurant is available, the suites are equipped with kitchenettes so you can purchase ingredients from local markets and try making Portuguese food. 
Click here to check prices, reviews and to book
The lovely district of Belém borders the Tagus River to the east of central Lisbon. Although it is set outside the main city, it is definitely worth a visit. Even if you don't stay in Belem you shouldn't miss this district off your Lisbon itinerary.
The biggest, and most famous, attraction is the Jerónimos Monastery. This bright, gothic-style building can be toured, but seeing it from the outside is impressive enough. Opposite the Monastery, across the verdant gardens of Praça do Império (Empire Square) sits the looming Padrão dos Descobrimentos. This Monument of Discoveries overlooks the River Tejo and is dedicated to the Portuguese explorers of old.
Another nearby landmark, set almost in the river, is the Belém Tower which has stood as a port fixture for over 500 years. The district of Belém is also filled with green parks and botanical gardens where you can escape from the rush of the city for an afternoon.
Belem is connected to the centre of Lisbon by trains, buses and modern trams. The train from Cais de Sodre takes only 8 minutes. It's a wonderful, peaceful place to explore with plenty to do and is my favourite one of the best places to stay in Lisbon.
The Best Places to Stay in Belém
A luxury, waterfront five star hotel, the Altis Belem Hotel & Spa only offers the best for its guests. The rooms here are large and comfortable but most of your time will be spent in the soothing waters of the indoor infinity pool or the rooftop open-air pool.
If you prefer to soak rather than swim, be sure to try out the luxury Turkish baths or spend some time in the sauna. Spa and massage treatments are of course available, as well as a Michelin star restaurant, making this one of the best places to stay in Lisbon for couples and those looking for a romantic and luxurious experience.
Click here to check prices, reviews and to book
The Palacio do Governador is situated near the Belém Tower and offers easy access to the district's attractions. The rooms are large and pleasant to stay in and the hotel has private parking for anyone driving to Lisbon.
There is a Spa & Wellness center onsite, as well as a lounge area and library. Guests can relax in the heated indoor pool or the terraced outdoor pool. A 24-hour concierge desk helps see to your needs, and the hotel restaurant serves regional dinners every evening.
Click here to check prices, reviews and to book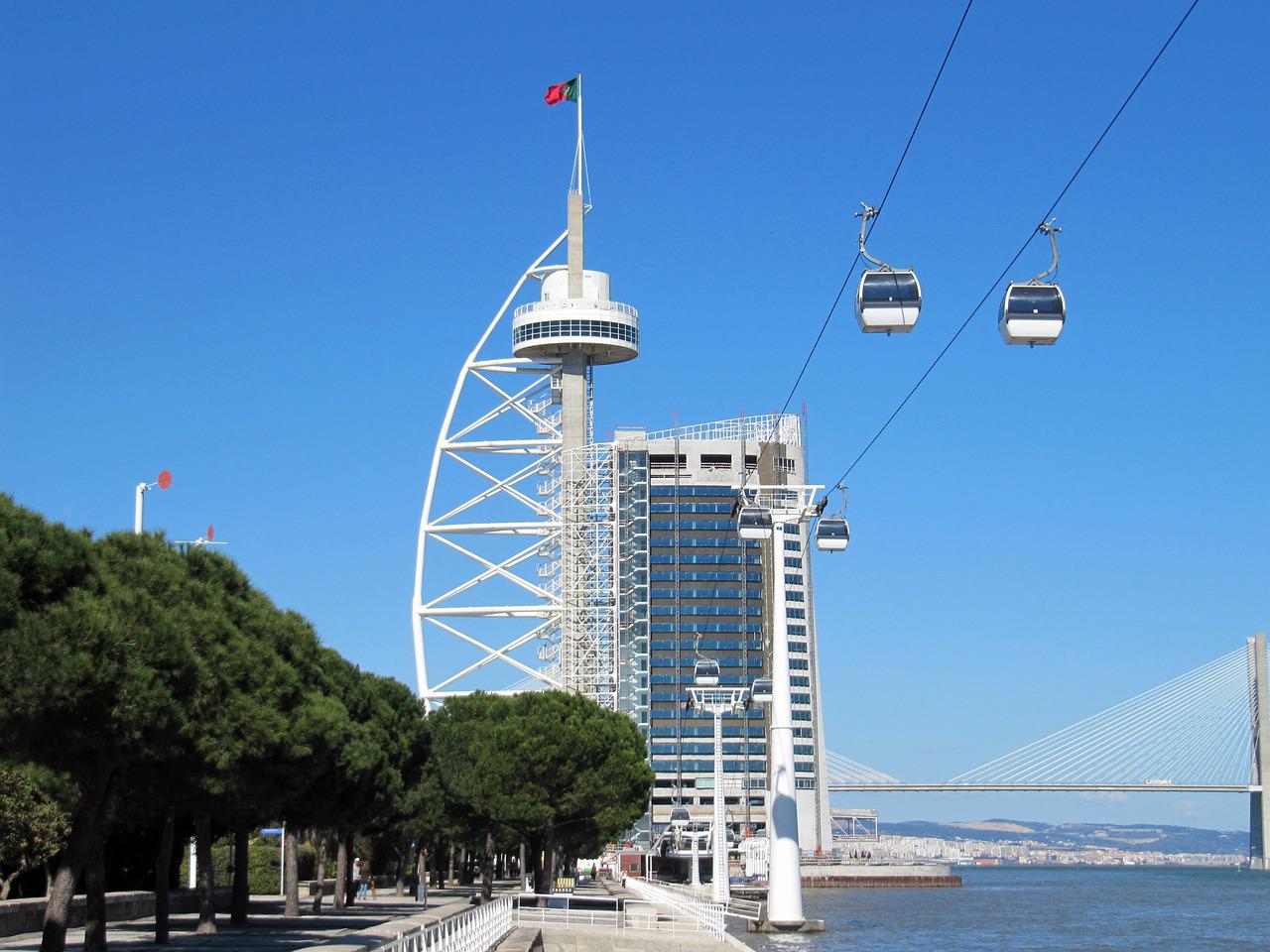 Bairro do Oriente – For marina views and close to the airport
Bairro do Oriente is positioned outside the main city centre on the western side and is the closest neighbourhood on this list to the airport, at only 7 minutes away. Highlights of this modern district include the Marina Parque das Nações, the biggest Marina in Lisbon, and the Lisbon Aquarium and the Vasco Da Gama Mall.
If you're wondering where to stay in Lisbon near the airport and with easy access to the city centre then a hotel in Bairro do Oriente is the best option. Trains from Oriente metro station to the airport take only 6 minutes and there's even a cable car that provides a fun way to see this neighbourhood from the air.
The Best Places to Stay in Bairro do Oriente
Situated directly next to the Bairro do Orient train station, within a few minutes' ride from Lisbon Airport, lies the luxury Tivoli Oriente Hotel. The newly renovated rooms are stylish, with views over the city and river.
The highlight of the Tivlo Oriente is its rooftop Sky Bar which allows you to sip a cocktail as you take in the city sights. A large indoor pool and accompanying hot tub blend with the hotel's fitness center to offer guests a chance to unwind. A business center and meeting room are also available for any business travelers to the hotel. This is by far the best hotel in Lisbon near the airport.
Click here to check prices, reviews and to book
Based in the Marina Parque das Nações, this contemporary luxurious hotel has a vibrant design with large rooms overlooking the River Tejo. There are spa and gym facilities in the MYRIAD, including an indoor pool.
The hotel also has a high-class restaurant that serves both local and international dishes and a cocktail bar. An events center is available to rent out for business conferences or parties and a tour desk in the hotel lobby can help you organize your stay.
Click here to check prices, reviews and to book
Also Consider
Corinthia Lisbon, Sete Rios district – For a high-class stay away from the rush
This grand international hotel is a little further from the city centre but conveniently located on a quiet street near the Lisbon Zoo train station just a 5-minute metro ride from Avenida da Liberdade. The Corinthia offers one of the best luxury stays in Lisbon with 2 restaurants, relaxing gardens and the largest spa in Lisbon. Each room features clean and comfortable furniture with a rustic color scheme.
The Corinthia Lisbon takes pride in its leisure activities which include a fully equipped gym, pools and hot tubs, and a range of massage and beauty treatments. They offer family rooms, a baby sitting service and are also pet friendly. The hotel also features a business centre and a bar with panoramic views over the city and a restaurant that supplies Lisbon-inspired dishes.
Click here to check prices, reviews and to book
Cascais & Estoril – Best for the Beaches
If you are wondering where to stay in Lisbon to enjoy the beaches as well as the historic sights then consider staying in Cascais and Estoril. While Lisbon has an expansive waterfront, the seaside beaches are found outside the main city making Cascais and Estoril the best places to stay near the beaches.
Cascais and Estoril are two nearby seaside towns that are accessed by train via Cais do Sodré station. Both have lovely historic centers that can be explored, but their main attractions are the long, sandy Atlantic coastlines.
The main beaches of Estoril are Tamariz and Poça, but these are relatively small and can get crowded in the summer. Cascais has longer beaches that stretch north, away from Lisbon, for miles and miles.
Portugal is one of the best places to surf in Europe and you can combine surfing with sightseeing in Lisbon and visiting the fairy tale castles at Sintra when you stay in Cascais. The Atlantic Ocean is a lot colder than the Mediterranean, but it is a perfect temperature to escape the summer heat.
The Best Places to Stay in Cascais & Estoril
Situated almost directly on one of Cascais' small beaches, the Westlight Cascais Chalet is a great base for anyone who wants to swim, fish, or dive in the Atlantic. The rooms here are airy and light, and sea-facing rooms enjoy a perfect sunrise each morning.
There is a sun terrace and garden for guests to use, but there is no swimming pool due to the hotel's proximity to the water. A continental breakfast is available each morning, but meals must be had at one of the many nearby cafés and restaurants. The hotel offers a car rental service and a paid shuttle is available to transport guests to and from Lisbon's airport.
Click here to check prices, reviews and to book
Located on the cliffs overlooking Cascais Bay, the Albatroz Hotel offers nautical-themed rooms in either the historic wing or the newly refurbished building. Guests can enjoy views over the Atlantic as they relax in the outdoor swimming pool and sun terrace.
A bar and restaurant serve food and drink throughout the day and wine tastings and cooking events are available on selected days. The hotel also offers bikes to rent so guests can explore the magnificent coastline.
Click here to check prices, reviews and to book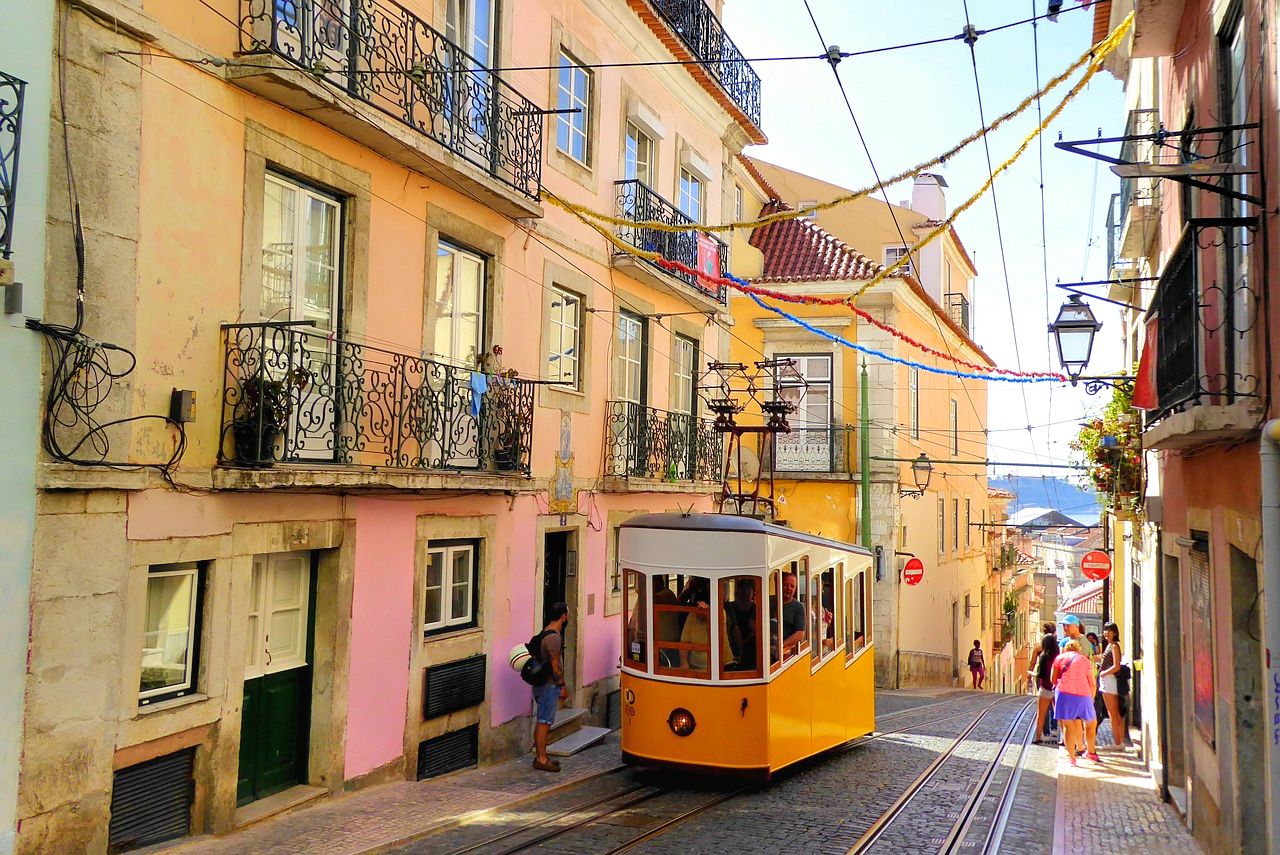 Essential Lisbon Travel Tips
Now that you've found the perfect place to stay in Lisbon finish planning your perfect Lisbon trip with these other essential Lisbon travel tips.
Best time to visit Lisbon
Lisbon's pleasant climate and vibrant city life make it a great city to visit all year round but, in my opinion, the best time to visit Lisbon is from May – September.
In the busy summer months, you may find the temperatures climbing to 28°C (82°F) as the nearby Atlantic Ocean rises to 20°C (68°F). Summer also brings with it many exciting events and festivals, like the Lisbon Festivities, which celebrates the month of Patron Saints in June, and the Rock In Rio Lisboa rock concert, the NOS Alive art and musical festival, and the Jazz em Agosto jazz festival.
Traveling to Lisbon in the spring or autumn/fall tends to be cheaper, the weather is a milder 20°C (68°F) and there's still plenty of things to do, away from the summer crowds. A visit to Lisbon in March would tempt you into the amazing Lisboa Fashion Week.
Or maybe go in April to see the brig lights of the IndieLisboa International Film Festival. You can also join in a guided tour of the old Roman and medieval sites of Lisbon during the European Heritage Day at the end of September.
A winter trip comes with all the joys of the various Lisbon Christmas markets and winter illuminations. Although the weather is cooler, it doesn't necessarily get cold, with temperatures averaging 15°C (59°F).
Lisbon is great to visit any time of the year and there's always something exciting to do, on top of the many historic landmarks and cultural sites scattered around the capital.
How many days to spend in Lisbon
Lisbon is a very easy place to visit as a lot of the main attractions and historic landmarks are within walking distance of each other. When deciding where to stay in Lisbon and putting together your Lisbon itinerary you also need to take into account how much time you have to spend in Lisbon.
If you are visiting to explore the historical and cultural gems of charming Portugal or to sample the Portuguese cuisine and join in the nightlife, then finding a place in downtown Lisbon is important. From your centrally located base, visiting everything on your list can be done in a long weekend, so spending three days and two nights in Lisbon would be ideal. 
Anyone hoping to spend some time on the Atlantic beaches, learning to surf or taking the many day trips from Lisbon like to the UNESCO listed colourful castles at Sintra, will need to add more time to their visit.
Staying in Lisbon for five to seven days would give you enough time for sightseeing between relaxed beach days or surf lessons. I'd recommend booking accommodation in the city centre of Lisbon for three to five days, before finding a place in Cascais or Estoril for the rest of your trip.
How to get to Lisbon and get around
The easiest way to get to Lisbon is to fly directly to the convenient Humberto Delgado Airport (LIS), often just referred to as Lisbon airport, which is based in the city itself.
Although the airport is outside the central area, there is a metro station at the airport and trains and buses run between the airport and the downtown, providing 30-minute access to the entire capital. Some hotels even offer shuttle buses that pick up or drop off guests.
International train stations in Lisbon include Santa Apolonia and Gare do Oriente. If you're arriving from somewhere else in Portugal, then you would probably arrive at one of these two stations as well, or the Sete Rios or Rossio train station.
Once you're inside the capital, trains departing from Cais do Sodré will bring you along the Atlantic coast to Cascais and Estoril while Rossio train station offers convenient trains to Sintra. There is also a vast network of metro stations, trains, trams, and buses which provide easy transport to every Lisbon neighborhood.
The historic, iconic yellow Lisbon trams have become a popular tourist attraction so get pretty crowded but offer a fun and unique way to explore the city. The most famous tram is tram 28 which runs fromPraça Martim Moniz to Graça, Estrela and Campo de Ourique through many of the most interesting and historic parts of Lisbon.
It is also possible, of course, to drive to Lisbon. However, its position on the far west coast of Europe means that it may be a long drive with stops in France or Spain along the way. If you're thinking of taking a Spain and Portugal road trip check out the epic route we took here!
Is Lisbon cheap?
For a while Portugal was touted as one of the cheapest countries in Europe. But, while Lisbon is cheaper and much better value than many other Western European capitals, I wouldn't say it is a cheap destination anymore, especially if you compare it to Eastern Europe, Asia and many other parts of the world.
But for Europe, Portugal still offers a distinctly different experience to that of neighbouring Spain. There aren't so many big ticket attractions in Lisbon and many happy days can be spent on a budget by simply wandering the charming streets, using public transport like the famous trams, staying at hostels and budget hotels and eating in local cafes or shopping in local markets. However there's not much of a street food or takeaway scene making cheap eats on the go harder to find. Check out this post out for more of the cost of things in Lisbon.
Pin me and save me for later
I hope I've covered everything you need to know about the best areas to stay in Lisbon and I hope you will love your time in Lisbon as much as I did! If I've missed anything out then just let me know in the comments.
I hope you found this post useful – if you did and you want to book any of the Lisbon hotels I've recommended if you use the affiliate links provided in this post then I can earn a small commission at no extra cost to you which helps me to keep on traveling and exploring and writing useful travel tips so thank you!