Bali is undeniably beautiful, the stunning scenery, unique culture and wonderful hospitality make it one of the most popular vacation destinations in the world. The island's popularity does mean that Bali's main tourist areas are now very busy, developed and commercial, but there's still plenty of laidback Bali to explore if you know where to go!
Why Nusa Lembongan is my New Favorite Place in Bali
I was looking for something more laid back so I got a speedboat just 30 minutes from Sanur on mainland Bali across to the small island of Nusa Lembongan. Now this was the island life I'd be looking for, I spent a month doing yoga teacher training here and it quickly become my new favorite place in Bali!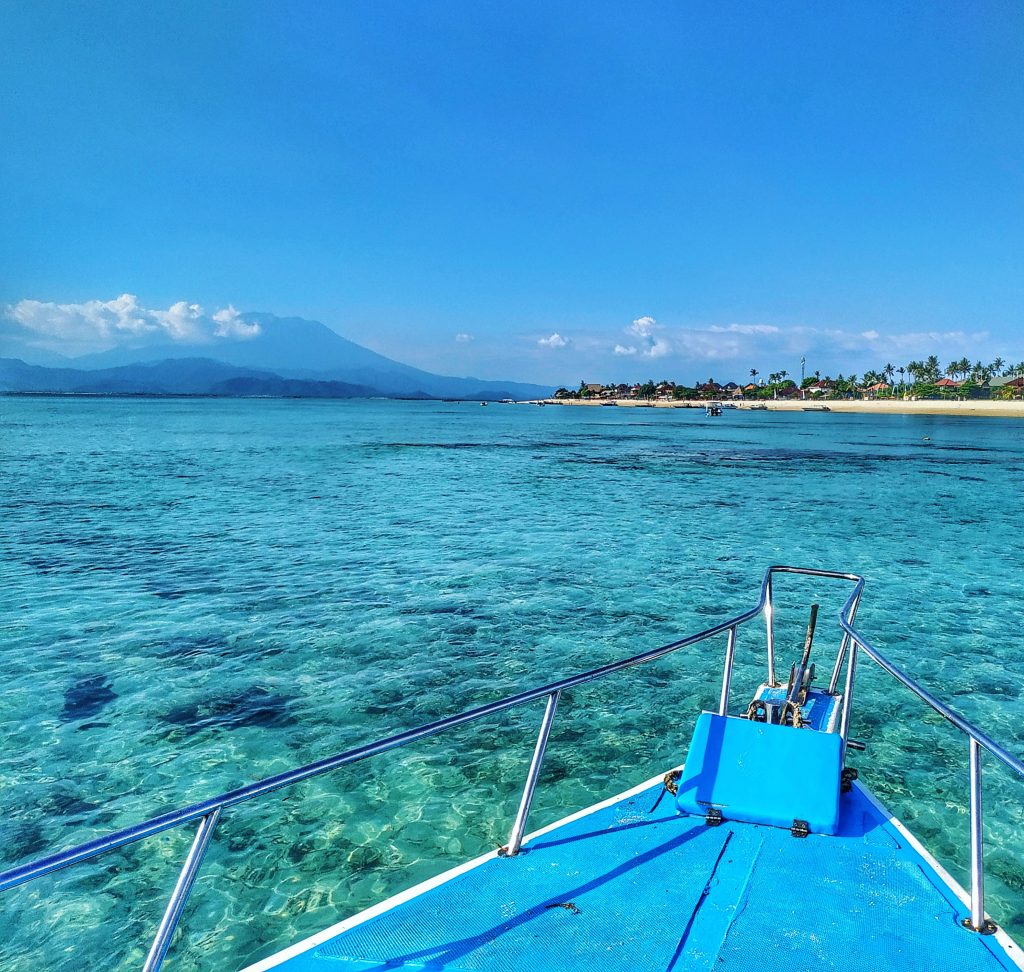 I love Nusa Lembongan because it's more like the chilled out, tropical Bali I dreamed off and a far cry from the noisy, developed, traffic clogged, busy streets of places like Kuta.
Previously I'd been disappointed with some of Bali's beaches but the beaches on Nusa Lembongan are uncrowded and idyllic with soft white sand and the water is a breathtakingly clear and bright turquoise blue.
Not surprisingly this island, and along with neighbouring Nusa Ceningan and Nusa Pendia, are becoming ever more popular and are now considered some of the best places to visit in Bali, and perhaps even the whole world, for snorkeling and ping with giant manta rays.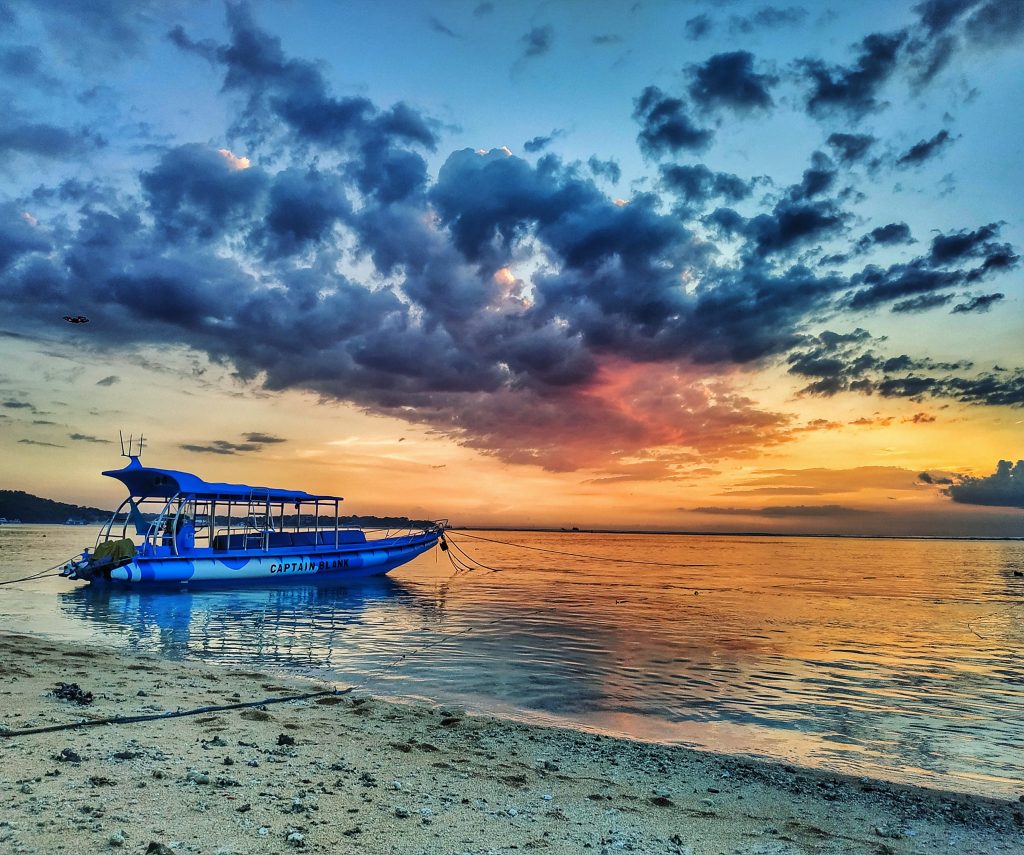 Add to that the views of majestic Mount Agnung on mainland Bali in the distance from Jungut Batu beach, the boats bobbing up and down and sunsets that streak the sky with hundreds of colours and you've got a really idyllic Bali island escape without the crowds.
Driving around on a scooter through the tropical greenery is still fun here as the traffic isn't as hectic here as on Bali.  There's still plenty of lush green nature and mangroves so far most development is low key although there are still some beautiful places to stay in Nusa Lembongan that suit all budgets and enough restaurants serving both Indonesian dishes and food from all over the world to keep your taste buds happy at reasonable prices.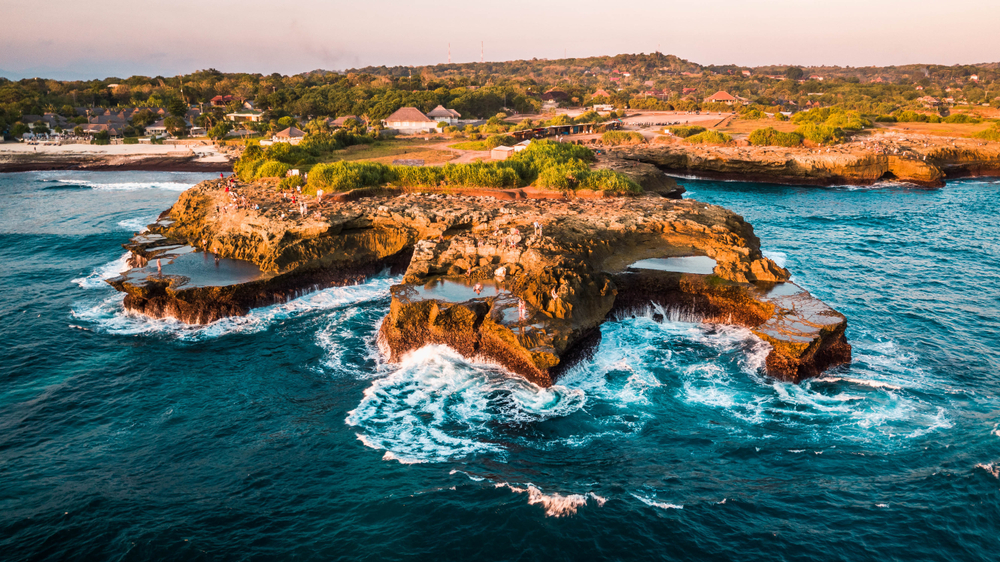 Things to do in Nusa Lembongan
And even though it's a small island there's plenty of things to do in Nusa Lembongan. The island has plenty of natural beauty spots to explore like Devils Tears, Dream Beach, Sandy Bay and Mushroom Bay. You can also explore the mangrove forests, tide pools and cliff jumps.
There's also good surf here although it's a reef break so it's more suitable for intermediate surfers. Beginner surfers could join a surf camp to learn the ropes and watching the waves break on the horizon is a meditation in itself. It's also becoming a popular place for yoga retreats and yoga teacher training courses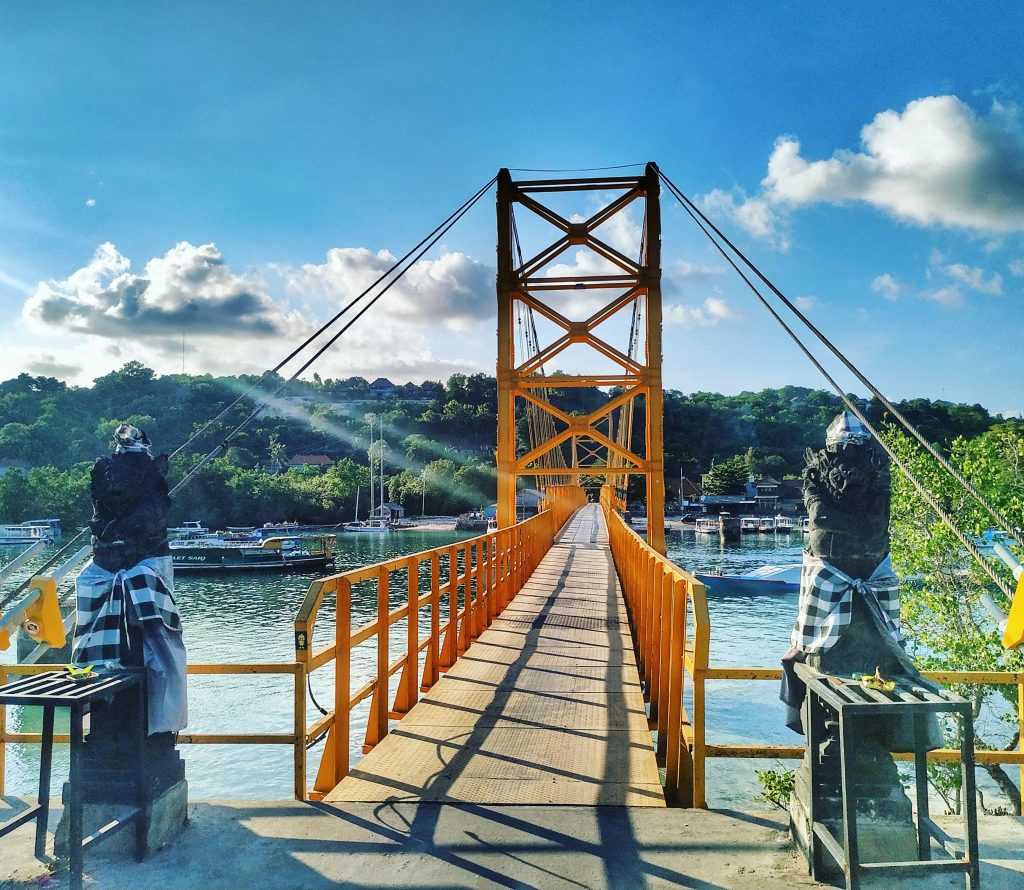 Exploring Nusa Ceningan and Nusa Penida
Once you've explored Nusa Lembongan simply cross the photogenic, little yellow bridge over to explore tiny Nusa Ceningan – don't miss the Blue Lagoon, Mahana Point, Secret Beach and the zip wire.
It's also easy to take a boat over to explore Nusa Penida as well. This island used to be a penal colony and is known to locals as the 'black magic island.'
Nusa Penida is still largely untouched by tourism apart from the crowds of day trippers that gather at some of Bali's most instagrammable spots like Kelingking Beach with it's stunning coast line that looks like a T-Rex.
There's also many waterfalls, beaches, viewpoints and places of outstanding and unique natural beauty to discover including Broken Beach, Crystal Bay and don't miss the spectacular Angel's Billabong and Pura Goa Giri Putri Cave.
There's loads more to see on Nusa Penida so you might want to spend a few nights there if you have more time. It's a pretty large island and the roads are pretty bad so getting around takes time so it's worth doing a bit of research into the best places to stay in Nusa Penida before you book. You could even stay in this treehouse which has been made famous by Instagram.
Why I Loved Nusa Lembogan, Bali
What I really love about Nusa Lembogan is that there is a still thriving local Balinese culture and life.
I've visited the Gili Islands a couple of times and while they make a picture postcard beautiful tropical island escape they are also very small. You can walk around the whole island in about an hour and I would find myself getting a bit bored and having island fever after a few days.
The Gili islands are nearer to Lombok than Bali and so most of the islands local inhabitants are Muslim so I missed the beautiful Hindu architecture, temples, culture and rituals of the Balinese.
In Nusa Lembongan you can still soak up the beautiful Balinese culture, visit the spectacular temples, see the locals dressed in traditional clothing on their way to a temple festival,  hear the tinkering sounds of the gamelen in the distance.
I love how the penyor (ornamental bamboo poles) bowed down with garlands of flowers wave in the breeze arching over the roads along with the palm trees and you can smell the incense as you step over the cute canang offerings outside every house and business in the morning.
The Balinese just make everything so beautiful! Every building has a small temple or shrine and most of the guest houses and homestays are beautifully decorated with that unique Balinese spirituality and style.  Not to mention the people are some of the friendless and most genuine I ever met.
The Future of Nusa Lembongan
The island still has quite a low key, rustic, local feel its not yet overrun with tourism and it's not hard to find reasonably priced homestays and local warung if your on a budget.  There's still shacks with local fishing communities living near the beach and mangroves.
I imagine this will change quickly as the island grows in popularity as Bali's new hot spot, so if you want to experience why Nusa Lembongan is my new favorite place in Bali you had better go soon before everyone else does!
How to get to Nusa Lembongan: Getting to the island is a quick, easy boat ride from Sanur in mainland Bali. You can book online on Bookaway.
Where to stay in Nusa Lembongan: There's a wide range of accommodation on the island to suit all budgets. Check out my post on the best places to stay in Nusa Lembongan.
Where's your favourite place in Bali?  Have you been to Nusa Lembongan?
Pin Me 🙂 
Cover Photo Credit: View of Nusa Lembongan from Panorama Point by  I. Noyan Yilmaz and Shutterstock 
Read More Bali Blogs: