5 of the Best Surf Camps in Nicaragua for 2023
Sitting between the Caribbean and the Pacific, Nicaragua is still more offbeat than some of the big global surf hotspots and is the unsung hero of Central American surf. With warm water, consistent surf, and uncrowded beaches, Nicaragua is a rising surf hot spot and the awesome surf camps in Nicaragua are some of the best and most affordable in the world!
When to surf in Nicaragua
Anytime of year is a good time to surf in Nicaragua and the water stays warm all year round so you won't need a wetsuit. For beginners, the best time to surf in Nicaragua is between November and April while more experienced surfers may enjoy the challenge of the bigger swells between May and October.
Pin me for later! 😉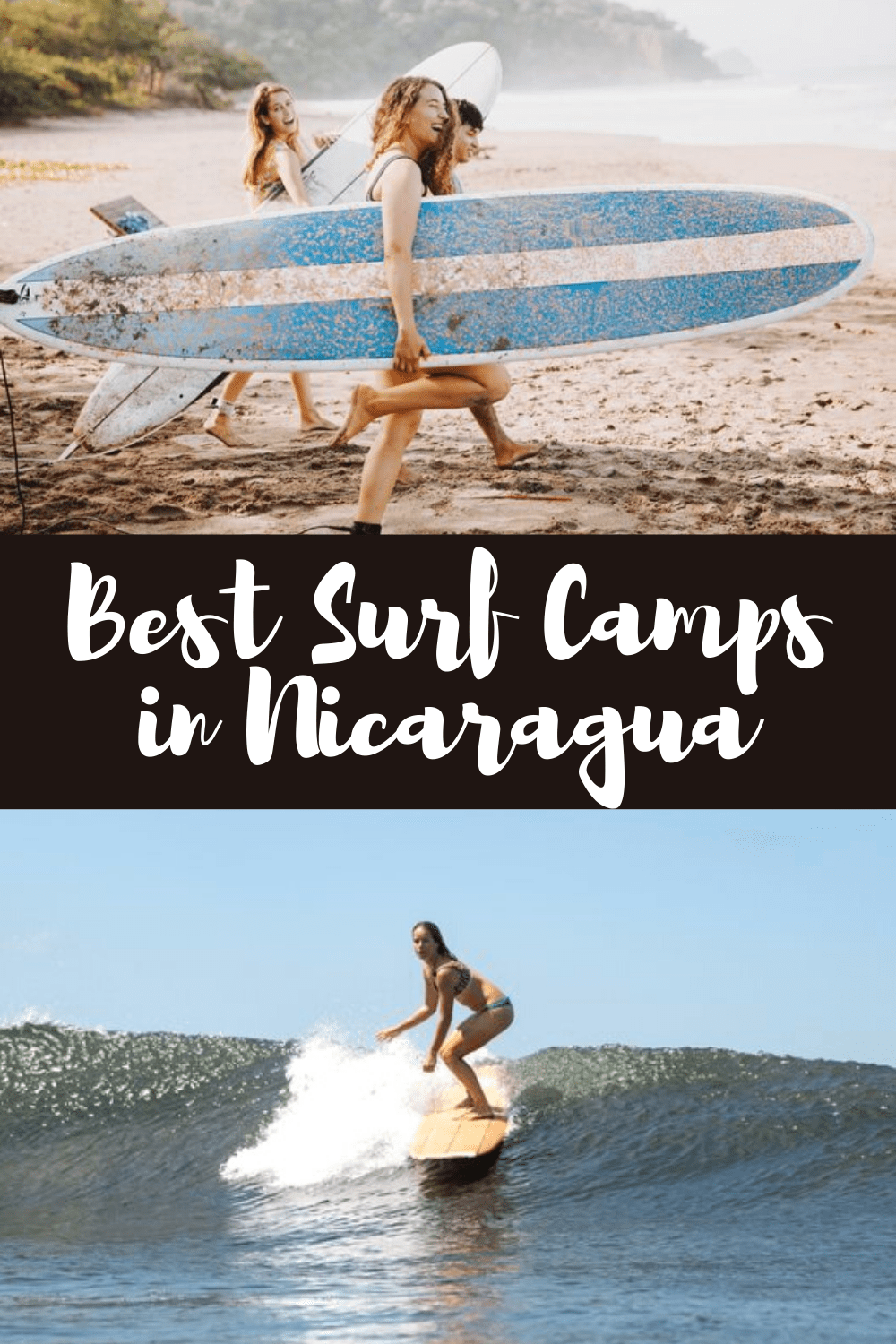 Where to find surf camps in Nicaragua
With 250 km of Coastline along both the Caribbean and Pacific Ocean, there's no shortage of surf spots and easy going surf towns to hang out in Nicaragua. The best can be found on the South Pacific Coast surrounding the laidback yet still lively hub of San Juan del Sur. Some of the best surf spots for beginners nearby include Playa Hermosa and Playa Maderas, while more experienced surfers enjoy Popoyo and nearby Playa Colorado.
With surf camps, wellness resorts and yoga retreats popping up along the coast, it can be a challenge to know which surf experience is best for you. With this in mind, I've put together my top five surf camps in Nicaragua.
It's more important than ever to properly research your travels. I love booksurfcamps.com as you can read real reviews and testimonials from previous guests before booking your place and make sure your surf camp is memorable for all the right reasons!
COVID-19 Update: Nicaragua is open for tourism but be aware that pandemic-related travel permissions and government advice can change at any moment and be dependent on your nationality. Check out the Nicaragua Tourism website and your government travel guidelines for the most up to date information. Make sure you have travel insurance which covers Covid related cancellations. Mine is with Safety Wing and they cover you even if you are traveling against your government's advice. 
Here is my pick of the 5 Best Surf Camps in Nicaragua
Everything is taken care of from the moment you arrive at the welcoming, all inclusive Las Dunas Surf Resort. As well as surf tuition, you can enjoy daily yoga to stretch out your surfing muscles and even book a complimentary massage.
Your surf instructors will provide custom tuition according to your level, and take you to a variety of beaches so you can try a variety of breaks. You'll also get photos of your best surf moments so you can look back on your achievements or share them on social media.
The package here is one of the best all inclusive surf camps in Nicaragua as it also includes an interesting variety of excursions and activities to make the most of your time in Nicaragua, including horseback riding, a visit to the nearby volcano, and the beautiful colonial city of Leon. As a guest of the resort, you have access to all amenities, from the beach bar to the paddleboards.
You'll stay in a colourful and comfortable thatched hut private bungalow with views over the swimming pool, private bathroom and air conditioning, to keep you cool and comfortable at night.
See more details, dates, prices, reviews and book here!

To get away from it all head to Los Clavos Surf Camp in El Viejo, Northern Nicaragua. This remote camp has a very authentic vibe and feels untouched by tourism. The 7km of uncrowded sandy beaches are perfect for newbie and intermediate surfers, and your welcoming hosts will make sure the best spots are chosen for the day's surf tuition.
The four beach-facing bungalows are made of wood and palm trees, giving this surf camp an intimate, authentic, rustic feel. The yoga shala and swimming pool overlook a deserted bay offering the perfect space to relax and unwind.
Stay in a spacious bungalow with ensuite bathroom and terrace that sleeps 4 people in twin beds (not bunk beds) for a budget friendly stay. Or choose a private bungalow and enjoy the shared communal spaces and the balance between solitude and socialising is easily struck. Sip a fresh juice or cold beer as you watch the sunset from the deck with your fellow retreaters.
Your surf tuition is complemented by a daily vinyasa or restorative yoga practice, and other optional activities include horse riding and a boat trip. For an escape from the hustle and bustle at an affordable price this remote retreat is ideal.
See more details, dates, prices, reviews and book here!

Miramar Surf Camp is a large complex with incredibly varied amenities, from a skate park to a hammock deck making it one of the best surf camps in Nicaragua for for both beginners who need guidance to pop up, and intermediate surfers who want to hone their skills.
Boat trips will take you out to the best breaks of the day, and groups are kept to a maximum of four, to ensure personalised attention. Other optional activities to add to your experience include horse riding, beach parties, salsa night, and volcano boarding.
The on-site chef is known for producing excellent dishes, to keep you fuelled on the waves. Choose from an ocean-view room or a more budget-friendly option. Either way, your quarters will be comfortable and well-equipped.
See more details, dates, prices, reviews and book here!

If you're looking for somewhere you can feel really inspired from while working remotely consider the Costa Dulce Retreat. For four weeks, wake up to beautiful sea views and a yoga session, before settling into a couple of hours work. Head out onto the waves in the afternoon, followed by a beach barbecue, sweat lodge ceremony, or cocktail experience in the evening.
All meals are freshly prepared with plant-based ingredients to boost your energy, and each week includes a different spa treatment or massage. And of course, there's the surf. There are four beaches nearby, all with excellent breaks suitable for different levels.
Fall asleep listening to the waves, and rest in the knowledge that despite all this adventure and relaxation, you managed to clear your email inbox.
See more details, dates, prices, reviews and book here!

Verdad Nicaragua is nestled in the hills, overlooking the sandy beach of Playa Escameca. This experience was designed for fitness fans who want to take their wellness to the next level while on holiday, but don't want to compromise on luxury beach surroundings.
Daily surf tuition and fitness classes will encourage you to reach personal goals and learn new techniques to add to your workouts. You'll also explore the stunning San Juan area with active excursions, including a nature hike and stand up paddle river tour.
Less strenuous activities included in your visit range from a massage to a visit to the nearby turtle sanctuary. There's also 24-hour access to the lounge, pool and honesty bar, so social time with your new friends needn't be cut short.
See more details, dates, prices, reviews and book here!
Have you been on any amazing surf camps in Nicaragua?
Leave your recommendations in the comments below the post and help out other surfers and travellers! 😊
Read More:
Best Yoga Retreats in Nicaragua
Best Surf Camps in Mexico
Best Surf Camps in Costa Rica
Best Surf Camps and Yoga Retreats in Hawaii
Best Surf Camps in Sri Lanka
Best Surf Camps in the Canary Islands