The Beautiful Backwaters of Kerala
Cruising the backwaters of Kerala is one of the most serene, beautiful and peaceful things I have been lucky enough to experience in the whole of India and an highlight of my time in Kerala.
The Kerala backwaters is a system of canals stretching 900 km across Kerala incorporating rivers, lakes and lagoons all lined by palm tress of a thousand shades of green, paddy fields and colorful houses and a way of life that seems romantically unchanged for centuries.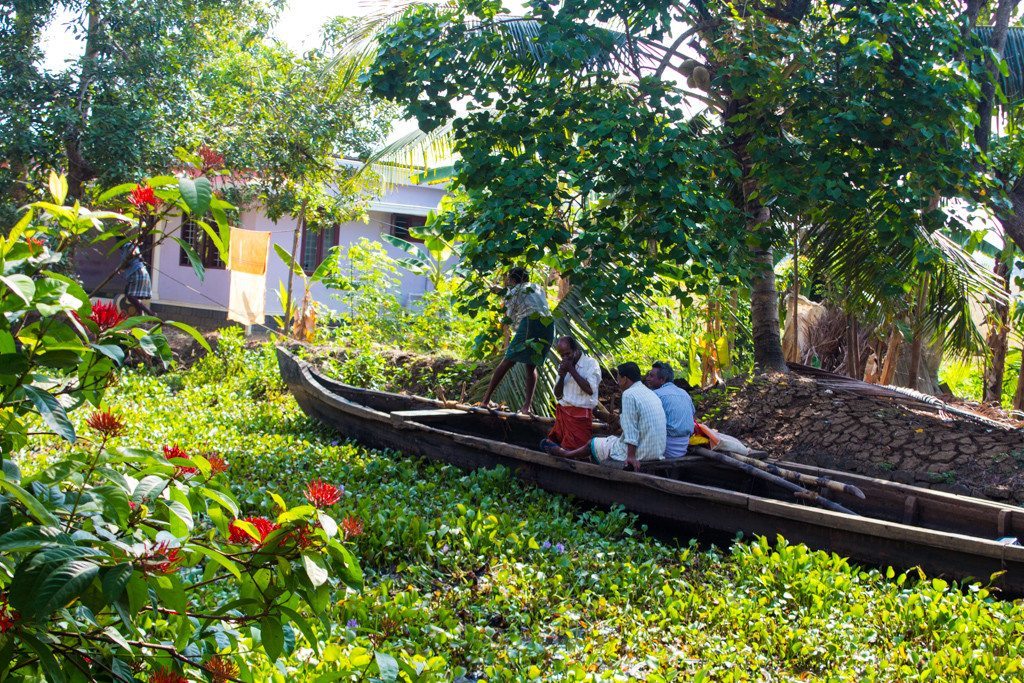 But these water ways have changed. Originally the backwaters were the main form of transport in this region that was so important for the spice trade. Thatched barges called kettuvallams would carry spices like towards the ports of Kochin and Muzuris on the Arabian sea, which in their heyday were among the busiest in the world.
Nowadays most of the kettuvallams have been transformed into house boats that carry tourists as they softly traverse these languid and beautiful backwaters.
Houseboat Heaven
My visit was organised as part of the Kerala Blog Express and I boarded a house boat at Alleppey. Also known as Alappuzha, this is the gateway to the backwaters as it is a popular place for renting a house boat and there are many operators to chose from.
I went with Lakes and Lagoons and I was really impressed by the service and comfort they managed to fit onto a house boat.
The boat was beautiful with lots of wooden features, inside were 2 bedrooms with ensuite, air conditioning and everything we needed for a comfortable night. However, we spent most of our time lounging on the front of the boat making the most of the cooling breezes and stunning scenery that we drifted past.
All we had to do was relax and soak up the beautiful nature all around us and wave to the odd fisherman or house wife doing here washing in the river while our staff served us a delicious meal of fresh fish and tropical fruits.
In the late afternoon we stepped off the boat and explored a gorgeous church where the sound of voices raised in devotion wafted out as school children walked home from school and the village went about its life as it must have done for so long.
The boat moored up for the night and we took in a spectacular, impossibly red sunset before tucking into another delicious meal served on the boat, gazing up at the moon and the stars and heading for bed.
We awoke the next morning to an even more amazing sunrise. Seriously, sunrises in India can actually be more stunning and colourful than the amazing sunsets! While eating breakfast the boat glided through the glassy waters in the early morning mist while all around the twittering of birds meant that nature was also rising for another day in glorious gods own country.
The backwater village life experience
At Kumarakom, we switched to a smaller boat to explore the narrower channels that the house boat couldn't fit through to get a better insight into rural life along these backwaters by visiting the backwater village life experience.
We got off the boat at a backwater village where we were shown traditional crafts like weaving baskets and coil making.
The highlight was the toddy tapping where we watched a man shimmer up a palm tree using only his bare feet and hands and collected a cloudy nectar that is fermented to contain alcohol. We tried the toddy but let's just say it wouldn't beat a cool beer or glass of wine.
One of my favourite days in India, and certainly the most relaxing, sadly came to an end as we docked  at our departure point in Kumarakom, I don't think anyone in the group wanted to leave the mesmerizing peace and beauty of the backwaters.
So how much does a houseboat cost?
Spending some time cruising the backwater of Kerala in a house boat is definitely an essential Kerala experience although it doesn't come cheap, if you can stretch to it it is definitely worth splashing out on.
The cost of hiring a house boat depends on the size, facilities and comfort level of the house boat. House boats are usually hired for 24 hours and include meals.
A nice one bedroom houseboat without AC for 2 people could start at 5,500 Rupees about $90 or you could spend 30,000 Rupees ($480) on an luxury AC 5 bedroom houseboat that hold 10 people!
But don't worry, even if you cant stretch to hiring a houseboat you can still enjoy the backwaters on a budget by taking a day tour. On my first visit to India I took a day trip from Kochi for 600 rupees ($10) where we meandered along the backwaters, getting off to see local life and cottage industries and enjoyed a traditional vegetarian meal served on a banana leaf. You can read more here about my budget backwater cruise
Of course, however much you pay the real highlight is the nature which is still just as beautiful whether you paid $10 or $1000 for the boat. But, whichever one you do, you really can't visit Kerala without cruising along the backwaters.
My houseboat experience was sponsored as part of the Kerala Blog Express but all views are my own and you can experience the beauty of the backwaters for only $10.