My Worst Ever Experience in India – How I got Scammed in Delhi.
Read this before you visit and avoid making the same mistakes!
It was past midnight and I was completely lost and disorientated somewhere in Delhi that looked like it could have been a set for a post apocalyptic film.
I had fallen for textbook scam and now I was terrified, it was only a few weeks after the horrific Delhi rape case, the street was dark and dusty, littered with rubbish, haphazard shacks, stray dogs, discarded rickety cycle rickshaws and hand carts. The sewers and the road merged into one and people dressed in rags huddled around fires in the mud.
The most frustrating thing was that I was aware that Delhi was infamous for scams, I had already been in India for a month and thought I was acclimatized to India and thought I had make arrangements to avoid getting in this sort of situation, but still managed to get entangled in an elaborate but classic Delhi scam.
How I got Scammed arriving in Delhi
The problems started as our flight from Kochi to Delhi was delayed by more than 4 hours so we arrived at midnight. We knew of the taxi scams coming from Delhi airport so, as planned, we took the new airport link metro to New Delhi station near to our already booked hotel in Parahganj and from where we had planned out walking route that would avoid the scammers.
Don't trust anyone – not even those in uniform
A security guard at the metro station told us that it was not safe to walk around at night and made the mistake of trusting this figure of authority, he then made arrangements with a rickshaw driver. We got in the rickshaw and after driving for a while, another man, dressed in a 'security' uniform, blocked the road saying it was closed and so were all the hotels.
We realised that we had been set up for a classic scam. They tried to take us to a scam tourist office (after midnight!) and when we protested he drove us around for a while, disorientating us, before dumping us in a ramshackle area and demanding money.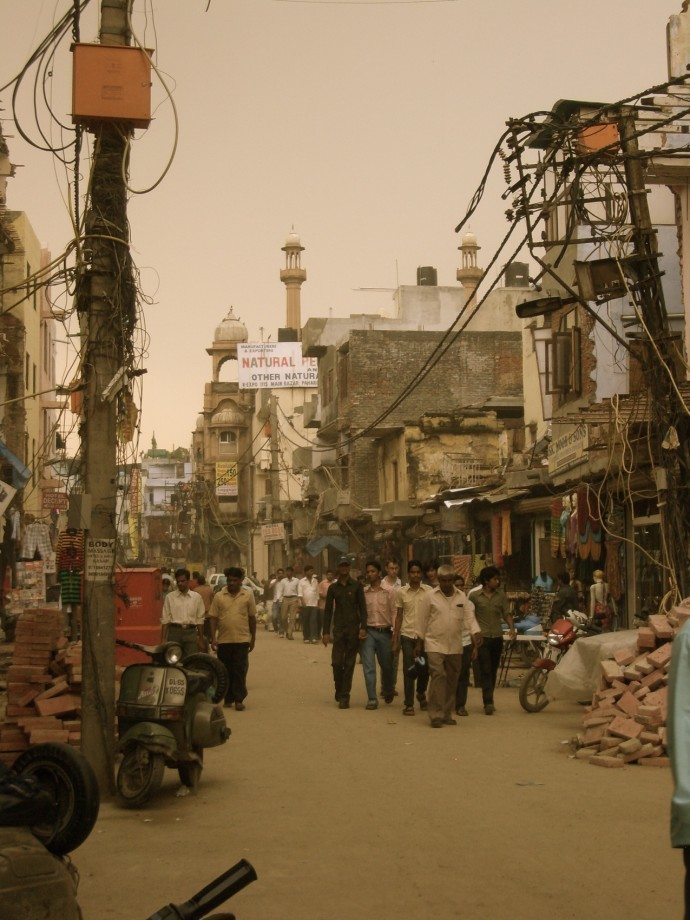 Lost in Delhi
I was half relieved to be free of the scamming rickshaw driver's control, but half absolutely terrified at being dropped off in this disgusting area where we had no idea of where we were going. After walking for ages and not finding anything that looked like a hotel I was worried that I was going to become the next Delhi rape case (it only happened 2 weeks ago) or at least get mugged of all my possessions.
We meet a man said he would show us to a hotel, I was reluctant to trust anyone after what had just happened but I didn't want to wander the dark streets all night.  Tentatively, we followed him as he started to wind through narrow, dark, stinking alleyways until we came to a hotel.
The room was disgusting and may have been a crack den or a brothel. We barricaded ourselves in as the door didn't lock and tried to sleep despite people running up and down stairs, shouting all night and slamming doors but it was better than roaming the streets.
Paharganj, Delhi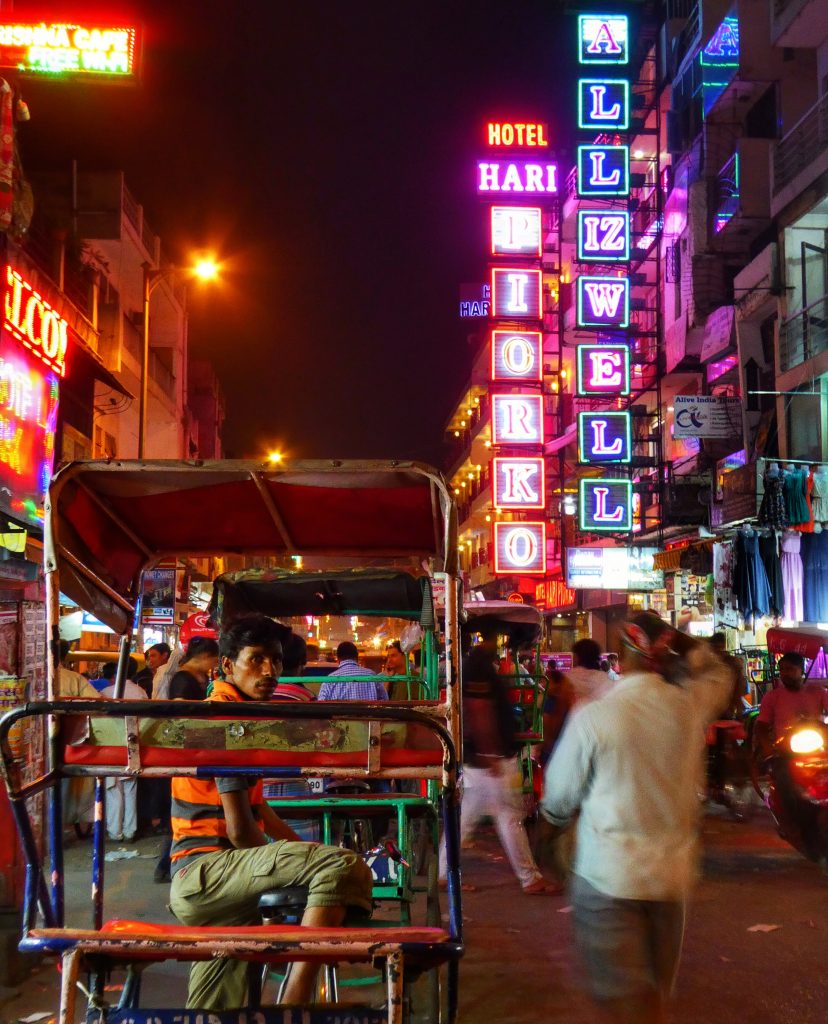 As soon as day light came the next morning we escaped, but not before an argument because the 'hotel' tried to scam us to get us to pay for an airport transfer that we obviously hadn't had!
The area didn't look any better in the daylight. A smoggy, polluted haze hung over the city and the alleyways were littered with rats, rubbish and human excrement. We dodged faeces, people and ox carts through the narrow streets and eventually found more suitable accommodation at Cottage Yes Please in a nicer area of Paharganj.
Paharganj was still pretty grotty but the hotel was clean and felt safe and we took the edge off with a beer at a nearby rooftop restaurant. After, when we ventured out onto the street we saw that at 7pm this part of Paharganj wasn't too bad and not half as scary.
It was still crowded, dirty, polluted and noisy but there were people from all over the world shopping in the cheap shops and street stalls, things were light up and we felt safety in numbers so my faith in Delhi was restored a little and I resolved to explore more of Delhi the next day and was glad that I did as I found many interesting things to discover.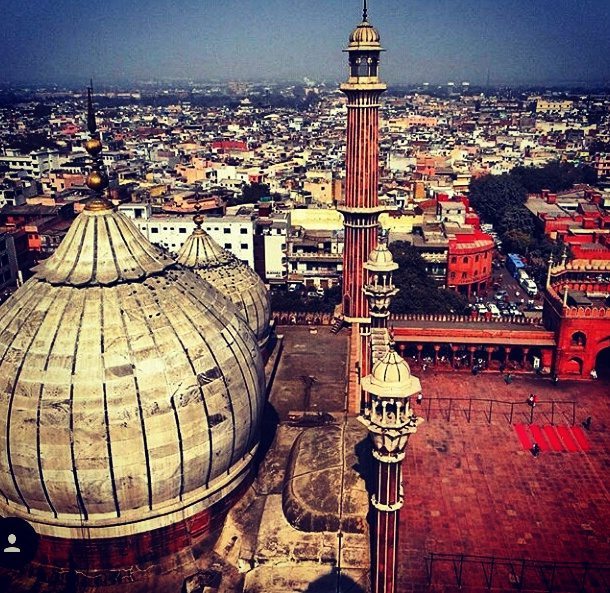 How to avoid getting scammed in India :-
It's such a shame that scams and things like this happen, I had been in India for a month so it was not even my first stop in India and I had read up on the scams but made the mistake of trusted someone is a position of authority and because I was tired I probably wasn't thinking enough. This whole episode had a very detrimental affect on our impressions of Delhi  and it's something to be aware of when visiting Delhi so that you can avoid this hassle.
India is such an incredible country to explore unfortunately traveling here does bring more than it's fair share of scams and hassles. After traveling in India for a while you will find it easier to tell who is genuine and who isn't and learn to trust your gut instinct.
Try to get a flight that arrives in daylight,
Avoid touts and people who approach you at airports, train and bus stations where you are the most vulnerable or around popular tourist spots.
Don't trust anyone, not even people in uniforms or positons of authority.
Don't believe anyone that says your hotel is closed, full, burnt down and then offer to take you to another hotel or a tourist office these people are on commission and  are scamming you.
Remember to always bargain or haggle on the price, ask a local how much something should be if unsure and always agree on a price before getting in a rickshaw or taxi.
Avoid paying upfront and always check your change properly.
Get a lonely planet guide book so you can read up on your destination and about the common scams.
Book a hotel that offers an airport transfer, you'll pay more but sometimes its worth it to avoid the hassle and stress when you've just arrived of a long flight.
Read More
How to avoid the scams and survive your first time in Delhi
Pin me and help another traveller