My first time living in Berlin was in the summer of 2007 when I flew over from Ireland to spend the summer to improve my German. My plan was to find a summer job in Berlin, which I failed at entirely. That was okay, though, because my rent in a one bedroom apartment was only 150 euros per month.
For a long time, this low cost of living coupled with the extraordinary array of nightclubs, squats, artist projects and off-the-wall tech companies attracted hoards of digital nomads to Berlin.
Tim Ferriss even listed Berlin in his famous "Four Hour Work Week" book as a perfect place for digital nomad "lifestyle" arbitrage: living in a low-cost country while earning in a high-wage country.
The prices have, predictably, risen in Berlin, but it still remains a perfect place to spend a few months as a digital nomad. These days you'll find Berlin is full of exciting tech start-ups, new art exhibitions and countless meet ups with fellow digital nomads so you can swap notes with.
As of right now, I can count about seven friends who are currently Berlin digital nomads that I met in at the KoHub coworking space in Koh Lanta, Thailand.
If you're also thinking about Berlin for digital nomads then read on as we'll dig into everything you need to know about how you can spend a month as a digital nomad in Berlin in my Berlin Digital Nomad Guide.
Digital Nomad's Guide to Berlin
Pin me and help out another aspiring digital nomad! 🙂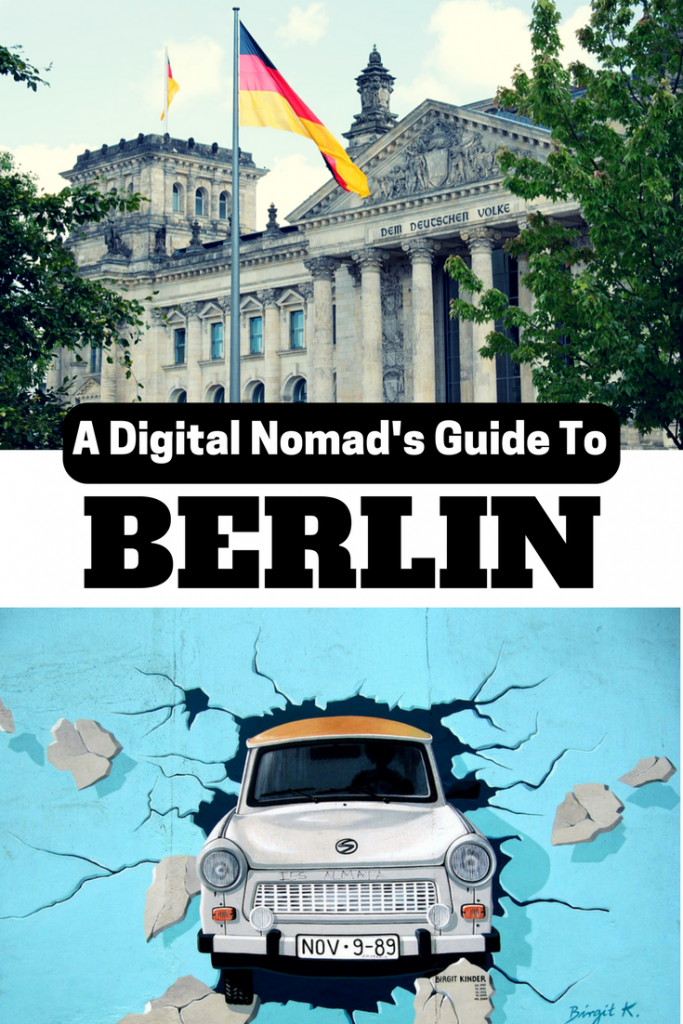 Digital Nomad Accommodation in Berlin
When I first arrived in Berlin in 2008, I actually found a short-term furnished let via a real estate agent of all things. Thankfully, you no longer have to deal with real estate agents.
Typical neighborhoods that attract digital nomads in Berlin include Neuköln, Kreuzberg or Friedrichshain. Prenzlauer Berg and Mitte are also popular, although they're both more expensive these days.
Finally, Wedding is an attractive neighborhood if you're on a budget, as it's situated just north of Prenzlauer Berg on the city ring light train line.
Airbnb for Digital Nomads in Berlin
Airbnb is the most hassle-free way for Berlin digital nomads to get a place if you're staying for a few days to a few weeks, but it's not the cheapest.
Airbnb has had some troubles in the last couple of years, as Berlin clamps down on illegal holiday rentals. Now, there are tough restrictions on short-term rentals, so it's harder to find places to rent than before. Rentals have gone way up in cost.
A 1-bedroom flat in one of the trendier neighborhoods starts at $1500 for one month and quickly rises from there. When I checked for August 2017, Airbnb said that the average price per month for Berlin is $2,818.
A room in a shared flat on Airbnb is cheaper, with Airbnb saying that the average price per month was $1418 USD.
Other options for accommodation in Berlin that are worth checking out include Nestpick, 9Flats, or Wimdu.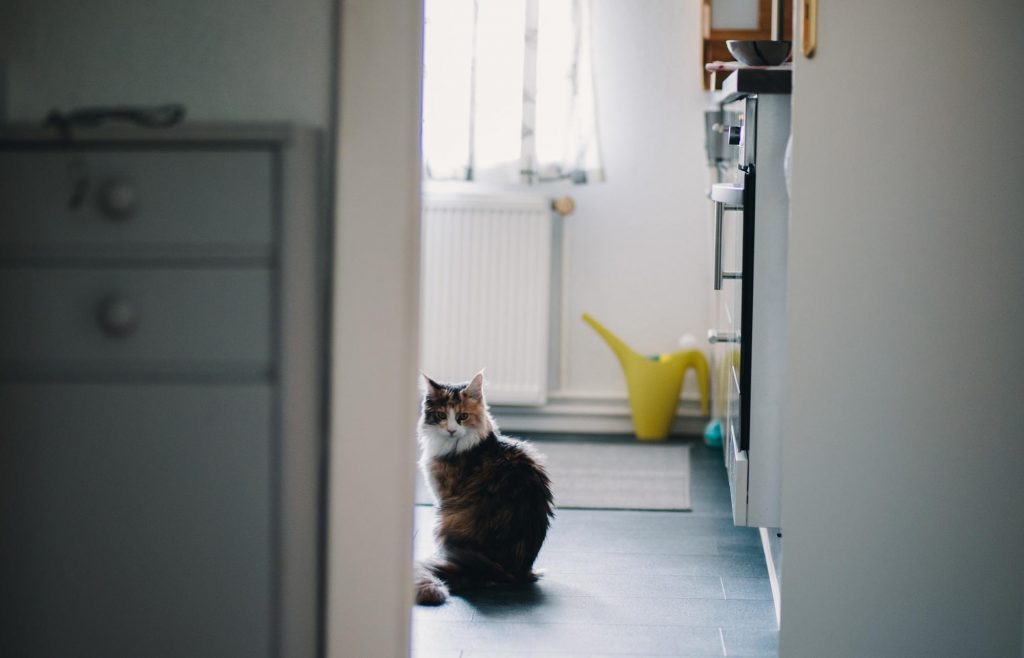 Credit: Hector Bermudez
Sublets for Digital Nomads in Berlin
Airbnb rates might well be outside of your budget so it pays to do a little work on lesser known websites such as WG-Gesucht.de.
On these websites, you'll find lots of students who rent out their room in a shared flat from anywhere from a couple of weeks to a year. Typically, they are doing an exchange year or an internship abroad, but they don't want to give up their flat.
Therefore, you can often sublet their room for anywhere from 300 – 600 dollars/month in prime locations, which is far cheaper than Airbnb.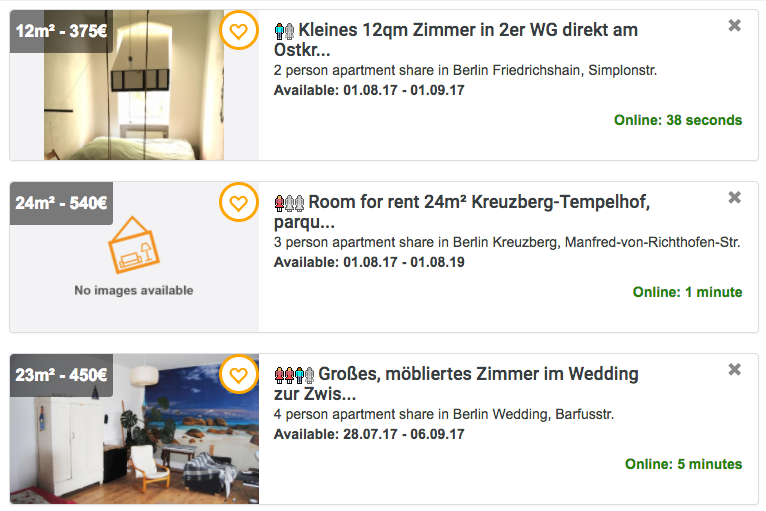 Examples of short-term lets available on more informal sites
The informal nature of these sub-lets means that they'll need to have a lot of trust in you, so the more information they have about you, the better.
I've found that you'll have the most chances of success if you send over a link to your Facebook profile, personal blog, and give them a good sense of who you are in your email. I usually also sent a link to my Airbnb references, as well.
Be warned, however, that some Berlin sub-lets will hold a "casting" session to see who should get the room. My first time at a casting session was quite weird: I had to sit in a circle of about ten other interested people as we all introduced ourselves and what we were about.
One of the other people introduced himself as a DJ who was just back from Nepal where he'd helped out at a children's orphanage. He seemed so cool even I felt he should get it!
It's also harder to rent one of these rooms if you're not already in Berlin, so plan a week stay in a hostel while you're looking.
Best Hostels for Digital Nomads in Berlin
Often it's best to book your first few nights as a digital nomad in Berlin in a hostel which gives you an affordable base from which to explore the city and find an apartment.
There are numerous backpacker hostels in Berlin but here's some of the best hostels I recommend in Berlin for digital nomads:
Heart of Gold Hostel – in a central location in Mitte close to the Central Station, museum island and main sights with plenty of activities going on and comfy areas for socialising including a bar downstairs. They have private rooms (including single rooms) and dorms. Book here.
The Circus Hostel – It's easy to see why this is one of Berlin's most popular and highly rated hostels. It's in a great location only 50 yards from Rosentalerplatz U Bahn Station and close to everything. Rooms are spacious, clean and smart and the staff are really helpful. You can rent bicycles and even ipads and there is a nice cafe/bar on site. Click here to book
Generator Berlin Mitte – Super cool and modern hostel with a colourful, funky and minimalist interior design and a sociable bar. They also have a hostel in Prenzlauer Berg. Book here.
A&O Hostels – This is a big chain of hostels with several locations around Berlin, including one just 5 mins walk from the Central Train Station and also one in Mitte, one in Friedrichshain and more. They are clean, well equipped hostels but they are really big so have less character. On the plus side, they usually have free spaces even during busy times and are super cheap. Click here for more info and bookings.
36 Rooms is a great place to stay in the hip Kreuzberg district near to the park and all the shops and close to Berlin's nightlife. More info here
Rosa Luxemburg Platz at Night in Central Berlin
Credit: Jörg Schubert licensed under CC BY 2.0
Long Term Rentals for Digital Nomads in Berlin
The market for longer term rents in Berlin is quite competitive, as thousands of new people move here every year. Consequently, apartments have become scarce on the ground.
Tenants enjoy excellent protections under German law, so landlords tend to have quite exacting standards for renting out apartments in terms of credit rating, a full-time job and evidence of paying the rent in the past. In addition, apartments often come entirely unfurnished right down to the light fittings and without any kitchen.
For these reasons, I don't recommend longer term rentals for digital nomads in Berlin if you are only planning on staying a few months at most.
When I moved back to Berlin in 2015, I rented a place on Airbnb for a month before subletting an apartment for 1 year from a couple who moved abroad before finally getting my own long term rent once I had all the extensive paperwork required.
Be watchful for scams. Generally, anyone who wants you send money sight unseen due to "being out of the country right now" shouldn't be trusted.
Coliving in Berlin
A great place to find convenient, hassle free, flexible digital nomad accommodation and coliving spaces in Berlin is Anyplace.com 
They have buzzing coliving spaces and fabulous fully furnished apartments set up especially with remote workers in mind, not only in Berlin, but all over the world.
Coliving spaces usually include coworking spaces, fully equipped shared kitchens, private bedrooms or dorms, and social areas and events so you have all the facilities you need to get work done while also making it easy to meet other like minded digital nomads.
The benefit of using Anyplace over trying to rent an regular apartment yourself is that it's flexible meaning you can live month-to-month in any city. It's easy to find and apply for apartments online and there's no hassle as the properties are fully furnished and ready to move in to and are all inclusive as utilities, WiFi and often weekly cleaning are included too.
How do Digital Nomads work in Berlin?
As Germany is part of the Schengen agreement, citizens of other Schengen member states can travel, stay and work visa free throughout the whole territory. If you're not from the Schengen zone then you will need to apply for a Schengen Visa which will allow you to visit for 90 days within a 180 days period.
While the lifestyle of a digital nomad is exciting, getting the paperwork correct to run a location independent business in Germany can be difficult.  In order to start a business here, one must go through heaps of paperwork, physically go to different government offices and later face complicated taxation procedures. 
Luckily, there's a simpler way. I recently found out about a company called Xolo which was created to solve this problem exactly. Xolo helps digital nomads and freelancers to start their location independent businesses.
There are two options to choose from: 
To get started, I would recommend the second option as you don't have to make the commitment of owning a company but have access to all of the features of an actual company: VAT-compliant invoicing, a business bank account and an expense reporting system. 
Where do Digital Nomads Work in Berlin?
Unlike more expensive cities such as Paris or London, it's easy to find inexpensive co-working spaces and highly tolerant cafes in Berlin to work from.
Best Cafes in Berlin to Work From
Of course there are many, many cafes in Berlin, but there are some that are especially good for digital nomads to work from. Here's a few of my favourite digital nomad cafes in Berlin.
The St Oberholz cafe in Mitte is famous as the birthplace of the audio-streaming giant SoundCloud. You can hang out there amongst the creative set working on your laptop, as long as you occasionally order a coffee.
My personal cafe to hang out at is Szimpla on Boxhagner Platz. Other favourites include The Visit, Silo Coffee, Father Carpenter or Nano Coffee.
Coworking Spaces in Berlin
The Betahaus Co-Working Space
Credit: Tim Pritlove licensed under CC BY 2.0
Berlin has no shortage of coworking spaces. Conveniently, you can often buy day passes or monthly passes which will suit digital nomads staying for a shorter period of time.
The most famous coworking space is Betahaus in Kreuzberg. It combines a great cafe on the ground floor with hackerspaces and a coworking space on the upper floors. I'd recommend just working out of the ground-floor cafe, as you'll meet more people there.
The Factory up in Prenzlauer Berg is a Google-backed startup space and innovation community that has over 800 people working out it, including companies such as Uber, Twitter, and SoundCloud.
Other options include the Co-Up coworking space in Kreuzberg that hosts almost daily tech meetups in the evening, or the quieter Launch/co in Friedrichshain, famous for the first coworking space in Europe to accept Bitcoins.
Meetups to Meet Fellow Digital Nomads in Berlin
The Berlin digital nomad scene is full of so many meet ups it can be hard to keep track of them: from cryptocurrency meetups with the co-founder of Ethereum to Couch Surfing meetups with backpackers from around the world or co-working sessions designed to help you stay productive, there's many ways to meet locals and other digital nomads in Berlin.
I keep an eye out on Meetup.com for interesting professional events. Couchsurfing events are also great for meeting people who are into backpacking, music, and arts. There are multiple CouchSurfing events every week, including an Ultimate Frisbee game every Saturday in Treptower Park. Otherwise, Eventbrite can be a great source of interesting events.
Other Things to do in Berlin
Berlin is a vast playground from the chic neighborhoods to the more gritty, urban sectors to more sleepy suburbs. There're lots of places to explore, here are some of my personal recommendations for the best things to do in Berlin for digital nomads.
RAW Gelände
Graffiti in the RAW Gelände
Credit: Guillén Pérez under CC BY-ND 2.0
This long stretch of industrial buildings was once a train repair station but now has turned into an eclectic mix of clubs, skateboarding parks, gourmet food trucks, and flea markets.  You'll even find a Vegas-style day club nestling amongst the graffitied industrial factory buildings.
Every evening at 9:30 pm in the summer you can catch a film at the outdoor cinema at Cassiopeia. On Sunday you'll find a second-hand, open air flea market.
Teufelsberg
Teufelsberg
Credit: Matt Biddulph licensed under CC BY-SA 2.0
Teufelsberg, or Devil's Mountain in English, is home to a former US espionage station during the Cold War. Now, it's a magnet for graffiti artists. The 80 meter climb up is rewarded with views of Berlin to one side and the Brandenburg countryside to the other. It's also a nice day trip for hiking or mountain biking, as it's one of the few hills in Berlin.
Markthalle Neun
The Thursday Night Food Market at Markhalle Neun
Credit: Alper Çuğun licensed under CC BY 2.0
Foodies will love the various markets held in the Markthalle Neun building. Every day from Tuesdays to Thursdays it's a regular grocery market with vegetables, meat, and speciality gro. On Thursday evening, however, it's transformed into a street food market with food from all over the world.
My personal favourite is the Breakfast Market held every third Sunday in the month. Berliners don't like getting up very early, so it's open until 5 pm in the evening.
Tempelhof Airport
Walking down the abandoned runway!
Credit: Andrey Belenko licensed under CC BY 2.0
This Airport was crucial in resupplying Berlin during the Berlin Blockade right after the Second World War.  Now, the airport has been shut down and turned into one gigantic park. You can longboard down the runways or sunbathe on the grassy areas in between. It's perfect for a picnic or BBQ in the summer.
How to Stay Longer in Berlin
Like me and many other digital nomads you might end up falling in love with Berlin and decide to stay longer term.
The good news is that getting a work visa for non-EU citizens in Berlin is not too difficult. You can even apply for an artistic/ freelancer visa if you're planning on working in the arts without any full-time job and this is a route many digital nomads in Berlin take.
On the other hand, Berlin was notorious in the past for high unemployment rates and low wages to go along with the cheap cost of living. That's changing, as the German economy has been booming for years now and, thanks to the large tech industry, people with tech, product design or marketing skills won't find it too difficult to find jobs that don't require German fluency. You'll find many of the jobs advertised on Berlin Startup Jobs.
Most people in Berlin speak good English but if you want to stay longer in Berlin then learning German will make your day-to-day life so much easier, as you won't have to ask a German friend to accompany you on every small administrative task.
You'll find that Berlin life comes with its fair share of bureaucracy from endless queues to register your address to paying various taxes and fees or filing tax returns. You'll find plenty of options for German courses, including public subsidized beginner courses starting at roughly $2/class.
Otherwise, Reddit is a fantastic resource for learning more about living in Berlin. The Berlin sub-reddit has a great wiki with answers to almost anything you could want to know. And if not, there's quite a friendly community who are happy to answer questions not answered in the wiki.
Do you have any tips for digital nomads in Berlin? Let us know in the comments below.
Want more ideas for ways to make money as a digital nomad? Check out my interview series with all kinds of digital nomads and get more ways to work and travel here. 
Author: Thomas Carney is an ultralight traveller based in Berlin, Germany. He writes about minimalist backpacking and merino wool.
Pin Me 🙂