Mystical, Halong Bay is one of the world's new 7 natural wonders and high on the bucket list of most visitors to Vietnam and Southeast Asia.
Most visitors visit Halong Bay on a rushed cruise tour from Hanoi, but did you know you can avoid the tour boats and tourist crowds and enjoy Halong Bay at your pace and save money while doing it!
In this post I'll show you how to visit Halong Bay with a tour and avoid the tourists from your base on beautiful Cat Ba island.
Why you need to visit Halong Bay
The best way to experience the stunning karst landscape of Halong Bay is by boat; cruising through serene emerald waters, as towering limestone karst peaks covered in green foliage rise up around on all sides, becoming fainter in the distance before blending into the blue skies.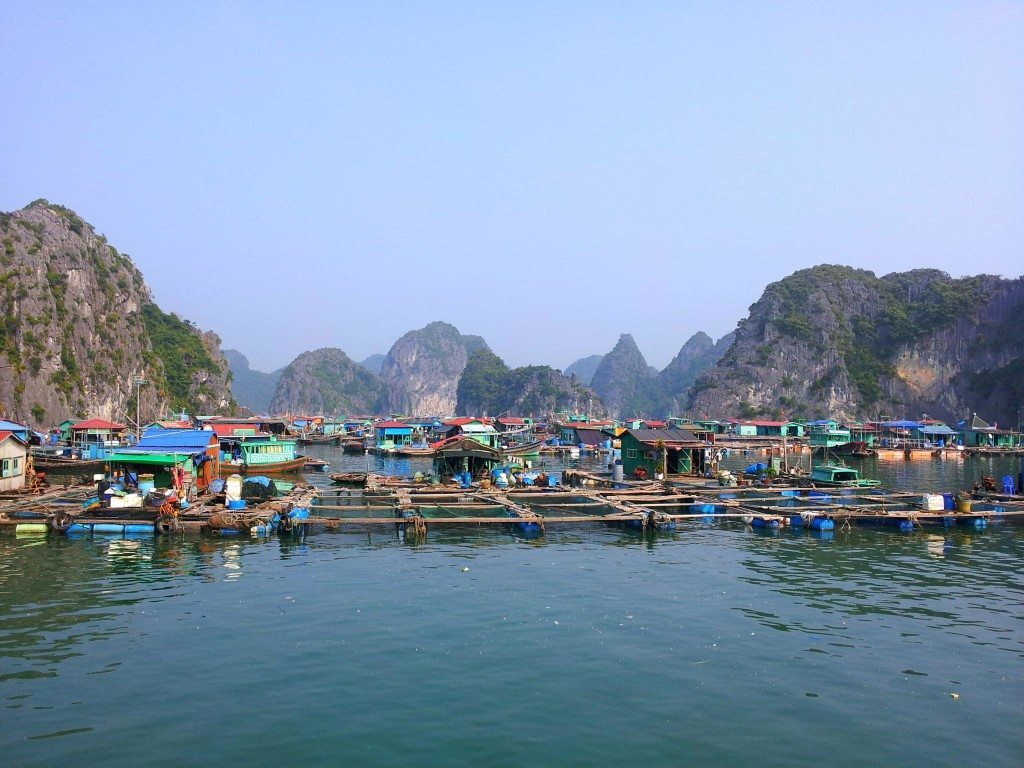 Passing floating fishing villages clustered around the rocks and colourful little floating houses surrounded by nets of fish, watching women in conical hats hauling fishing nets and going about their daily lives in canoes in the midst of this amazing landscape and jumping into swim in the cool, gorgeous emerald waters.
How to see Halong Bay without a tour
Halong Bay is in north Vietnam, just a few hours from the atmospheric capital of Hanoi. It's no wonder that Halong Bay is a must do in Vietnam, but how to make sure you do this spectacular sight justice and ensure it is a memorable experience for all the right reasons?
There are countless travel agents and tour operators who will want to sell you a Halong Bay tour in Hanoi, but just as many tour horror stories about dirty, dodgy, rat infested boats, rushed itineraries, overcharging, scams, poor food, noisy karaoke and bad service.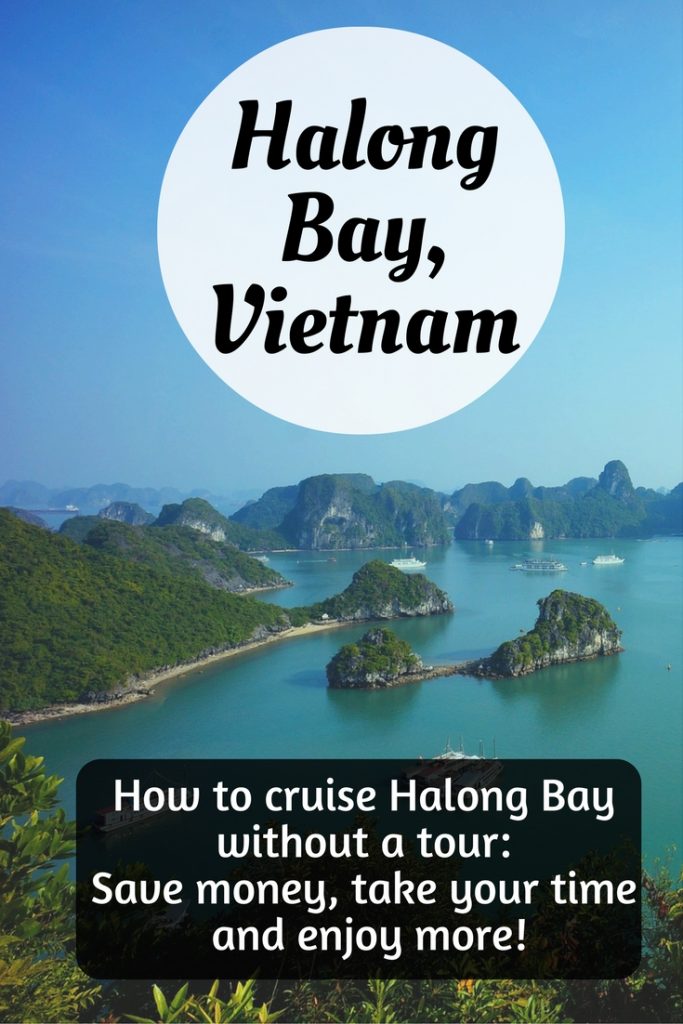 But it really isn't difficult to enjoy Halong Bay without a tour and avoid the crowds by staying on beautiful Cat Ba Island!
You can save money, take your time and avoid the rushed, crowded tours from Hanoi and go independently to Cat Ba island, stay there a few days and take a day boat trip around the less touristy parts of Halong Bay and explore this beautiful island.
Cat Ba Island
Cat Ba is one of the best islands in Vietnam to visit and is emerging as an adventure and eco tourism hub.
The iconic limestone cliffs continue on land on Cat Ba island, which is also a designated National Park and there's plenty to do on the beautiful island itself – relax on the beach, explore by motorbike, trek through national park to viewpoints, explore old forts and caves and go rock climbing.
Cat Ba Island is also the best place to base yourself for exploring the lesser known and less touristy part of Halong Bay – Lan Ha Bay.  As well as cruising Halong Bay, there's also many other things to do on Cat Ba island itself.
Cruise around Halong Bay
I know this post is called 'How to see Halong Bay without a tour' but unless your traveling with your own boat or kayak you'll want to take a boat trip or day tour to really see and experience the emerald waters and limestone pinnacles.
Luckily it's cheap and easy to see Halong Bay from Cat Ba island, simply take a boat trip for only about $30 – $40 a day where you'll cruise around Lan Ha Bay. This is the less touristy part of Halong Bay, where the sounds of noisy karaoke tourist boats are replaced with the puter putter of small fishermans boat engines as the only sound that breaks up the serene stillness.
We went on an amazing budget friendly boat trip with Cat Ba Adventures which including not only cruising around Lan Ha Bay and soaking up the stunning scenery. We also visited a traditional floating fishing village, stopped at some beautiful beaches for a swim, explored the lagoons and caves on a kayak and enjoyed lunch on the boat. You can book the boat trip we took here.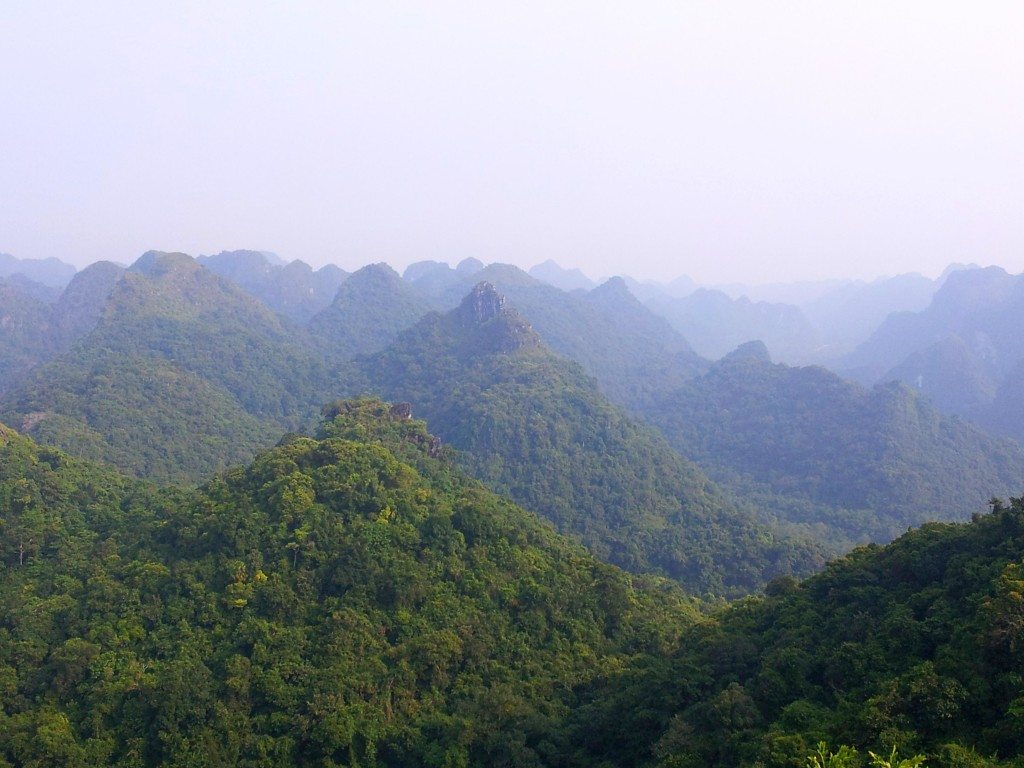 Other Things to do on Cat Ba Island
Most of Cat Ba Island is quite untouched by tourists and the best way to explore the island is by hiring a scooter or motorbike, we paid only $5 a day.
The Hospital Cave used by the Viet Cong is worth investigating, and the WWII Japanese built Fort Cannon also offers a cafe with gorgeous views overlooking Halong Bay.
I enjoyed exploring Cat Ba National Park trekking through sticky jungle, keeping an eye out for the golden headed langur, the world's most endangered primate, and climbing up to a viewpoint to be rewarded with stunning views.
Eating and Drinking on Cat Ba Island
When hunger strikes, you can find all the usual Vietnamese favourites and seafood restaurants around the harbour in Cat Ba town or go on a floating restaurant for something a little different.
Our highlight was enjoying an amazing seafood BBQ buffet for only $10 at Le Pont, a ship themed open air floating restaurant overlooking the harbour that also turns into a nightclub later on.
For drinks on a budget check out the cheap Bai Hoi joints that are set up along the promenade at night.
Where to Stay on Cat Ba Island
Cat Ba is a pretty big island but most of the accommodation is based around the harbour front of Cat Ba town and it's easy to find rooms for under $20.
I took a room at Huong Cang Sea View Hotel with a balcony and amazing views over the harbour and Halong Bay and spent time taking in the amazing scenery. It was also the perfect location for being close to the shops and restaurants and easy to jump on a boat tour from the harbour. You can book it here on Booking.com.
I'd recommend staying 3 nights although you could easily spend a week on Cat Ba island, relaxing on the island's beaches, soaking up the scenery and exploring Halong Bay independently.
How to get from Hanoi to Cat Ba Island
However, traveling from Halong City to Cat Ba can also be fraught with scams and hassle so the best way to get to Cat Ba without the hassle is to get a combined bus – boat – bus ticket. You get picked up Hanoi's Old Quarter and drop you off in Cat Ba Town. It runs 3 times a day which takes about 4 ½ hours and is the easiest way to get there.
So now you know how to get to Cat Ba island, where to stay and what to do, why not avoid the crowds and dodgy tours, save some money, spend longer soaking in the spectacular scenery and have an amazing experience, it's easy to enjoy Halong Bay without a tour!
Pin Me 🙂