Tips for saving money on your holiday to Bali
Bali is one of the most popular holiday destinations in the world and it's not hard to see why. Despite its relatively small size, this tropical island has so much to offer, from stunning natural beauty to world class surfing, diving and yoga, beautiful temples, rich culture and spirituality, wonderfully hospitable locals and so many eating, shopping, drinking and partying options.
In fact, it's hard to imagine another island that has so much to offer. There is something for everyone in Bali – couples, families, groups, backpackers, spiritual seekers and luxury travellers will all find something to suit them in Bali and the sheer number of things to see and do in Bali keeps people coming back to this gorgeous island time and time again.
Bali is also a highly spiritual and cultured island, known as 'The Island of the Gods.' This rich cultural and religious heritage is visible everywhere, in the temples, festivals, art, drama, music and dance as well as in the captivating daily rituals of the endearingly hospitable Balinese people.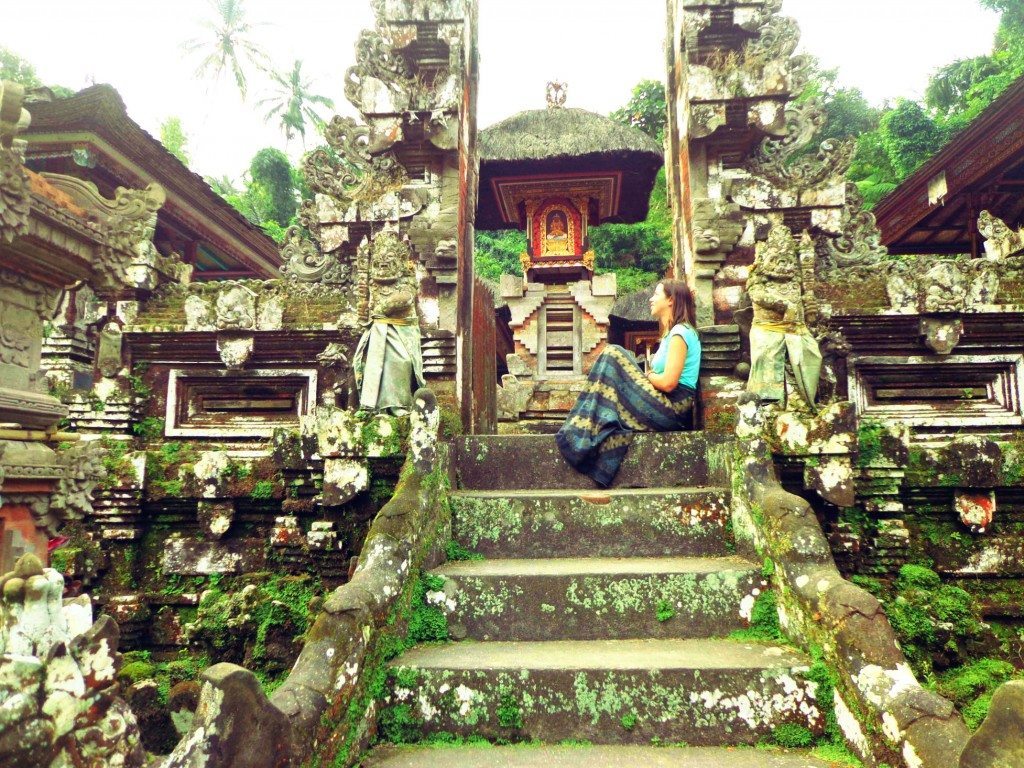 Traditionally Bali was a real bargain, compared to most Western countries, However, as Bali has grown in popularity and more luxury resorts and fancy bars and restaurants have sprung up, the cost of visiting here has also increased meaning that Bali isn't as cheap as it used to be.
But don't worry, you can still find some great deals and savvy travellers will find many ways to save money and get flights and accommodation for the best possible price while still having a great time in Bali.
Pin this and help another traveller  😉 
Here's how you can save money on holiday in Bali:
Tips for saving money getting to Bali
Bali is located in the Indonesian archipelago and its proximity to Australia means that it's a perennially popular destination for Aussies who can take advantage of great offers and discounted fares throughout the year. Sales come and go quickly so to avoiding missing them sign up to the mailing lists for airlines and booking sites and follow them on social media so that you never miss a deal.
If you're coming from further afield will often find cheaper fares flying into places like Jakarta, Singapore, Bangkok or Kuala Lumpur. You can then book a cheap on going flight to Bali Denpasar through low cost carriers like Air Asia.
As always, check Skyscanner to compare and find the cheapest prices on flights and if you can be flexible about the dates you travel and the number of stop overs you can take advantage of cheaper prices.
Good news is that, since March 2016, citizens from 140 countries are now eligible for a free tourist visa on arrival in Bali valid for 30 days. This includes citizens of the Australia, USA, UK, New Zealand, Canada, most European countries and even India!
Tips for saving money on accommodation in Bali
When travelling one of the biggest expenses is always accommodation. Bali has a huge range of accommodation from ultra luxury, to family friendly resorts, mid range hotels, to cheap guesthouses and backpacker hostel but it's always worth spending time doing some research to get the best deal on your accommodation to make your holiday to Bali more affordable.
Those on a tight budget can find cheap but basic guesthouses and hostels in the backpacker areas around Poppies Lane in Kuta or Jalan Kajeng in Ubud. Sometimes you can find a cheap room by walking in but often prices can be cheaper online. You also have the advantage of being able to easily compare prices and booking in advance also has the benefit that the accommodation may include a shuttle transfer services to the airport saving you time, money and hassle.
A really great way to save money on your holiday to Bali is by going for a Bali holiday package. By using the purchasing power a leading travel agent, like TravelOnline, you can get some great deals at tried and trusted hotels and resorts and save money by bundling your flights, transfers, accommodation, meals and tours into one convenient transaction.
TravelOnline is a leading online travel agent who have won a collection of tourism awards, including the multi award-winning Great Barrier Reef Visitors Bureau. They specialise in Australia, New Zealand, Asia, the Pacific, Europe, USA and the Middle East and offer Bali holiday packages from only a couple of hundred dollars. By combining flights, accommodation and transfers etc their deals work out much cheaper than buying each individual piece on its own.
Sometimes you can even get complimentary room upgrades and free nights often all for a cheaper price than would be possible if you arranged all these separately on your own. You can usually customise packages to create your own perfect holiday.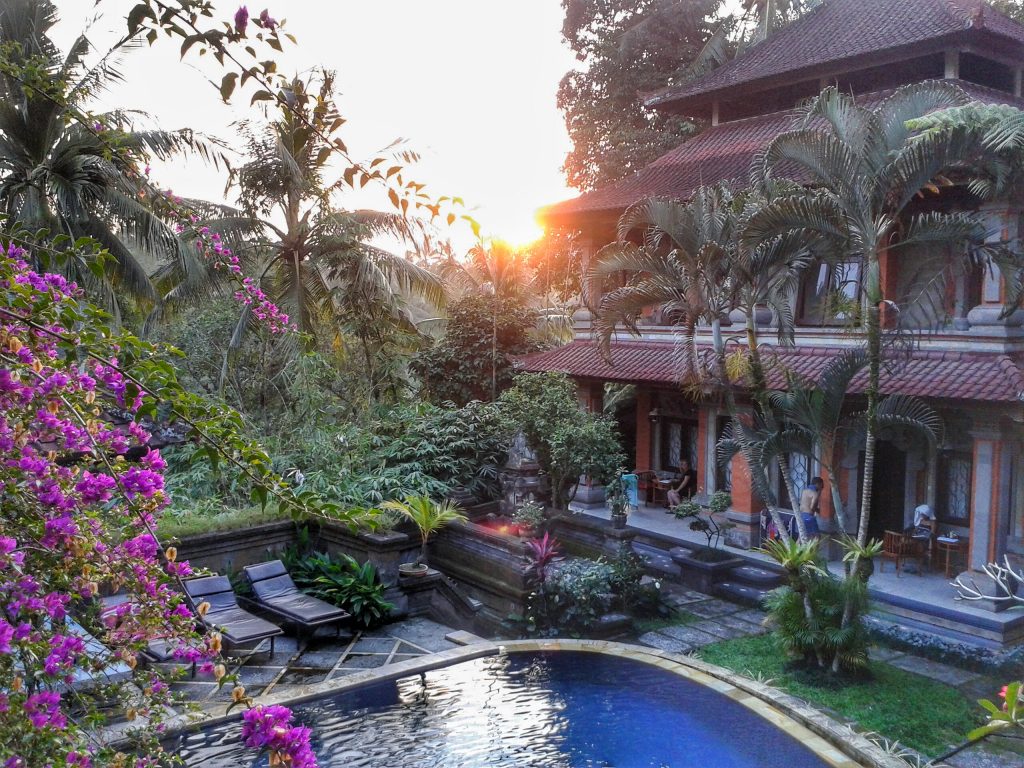 Tips for saving money on eating and drinking in Bali
Bali has so many great dining options, from fancy fine dining restaurants and trendy beach clubs but if you want to save money then it's a good idea to eat where the locals do. You'll pay a premium for Western food but Balinese food is fresh, cheap, safe and tasty. Local restaurants and street side cafes in Indonesia are called warungs and you can try Indonesian local food like the Nasi Campur and Mie Goreng for a fraction of the price of what you pay in touristy restaurant. You can eat a simple meal for only about 10,000 – 20,000 rupiah (less than $1.50) and save money and have a more cultural experience at the same time. Here's some of my favourites warungs and local food to try in Bali.
Alcohol is also not cheap in Bali, wine and imported spirits are heavily taxed and partying in trendy nightclubs is expensive and therefore are best avoiding if you are on a tight budget. Instead drink the local beer, Bintang is very popular.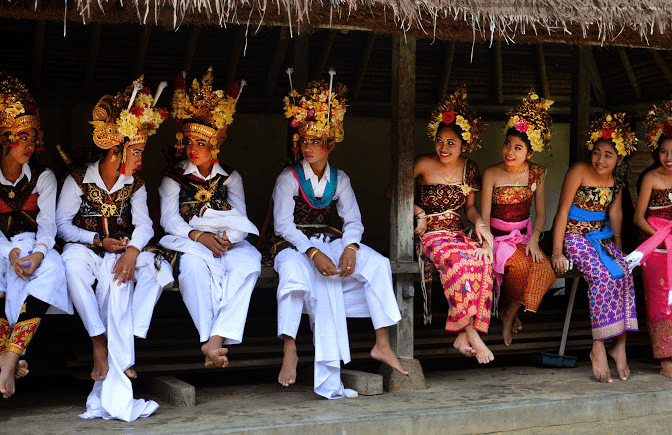 Tips for saving money on transport in Bali
Bali's doesn't have a very tourist friendly public transport system. Bemos and local buses are cheap but the routes and timings are not very convenient for tourists. Taxis around Bali are relatively cheap, a half an hour ride should be around $10 but still, paying for taxis all the time can add up.
The best option for getting around Bali and saving money at the same time is to hire a scooter or motorbike (20,000 to 40,000 rupiah per day) or car (200,000 to 450,000 rupiah per day) which also gives you the freedom to go where you want, when you want and to get off the beaten track.
Hiring a scooter is easy and by having your own transport you can also save money by staying a bit further away from the main tourist areas and can skip expensive sightseeing tours and just drive yourself around. There are lots of free and low cost activities to enjoy in Bali, spending the day on one of Bali's stunning beaches, soaking up the mountain and rice field vistas and visiting the temples doesn't need to cost a thing.
Be aware that You should have an international license to drive a motorbike or scooter in Indonesia, the police often target tourists for fines and if you don't have an international licence you could get an on the spot fine of 50,000 rupiah. Also check that your travel insurance will cover you and exercise caution as you won't be familiar with all of the road rules.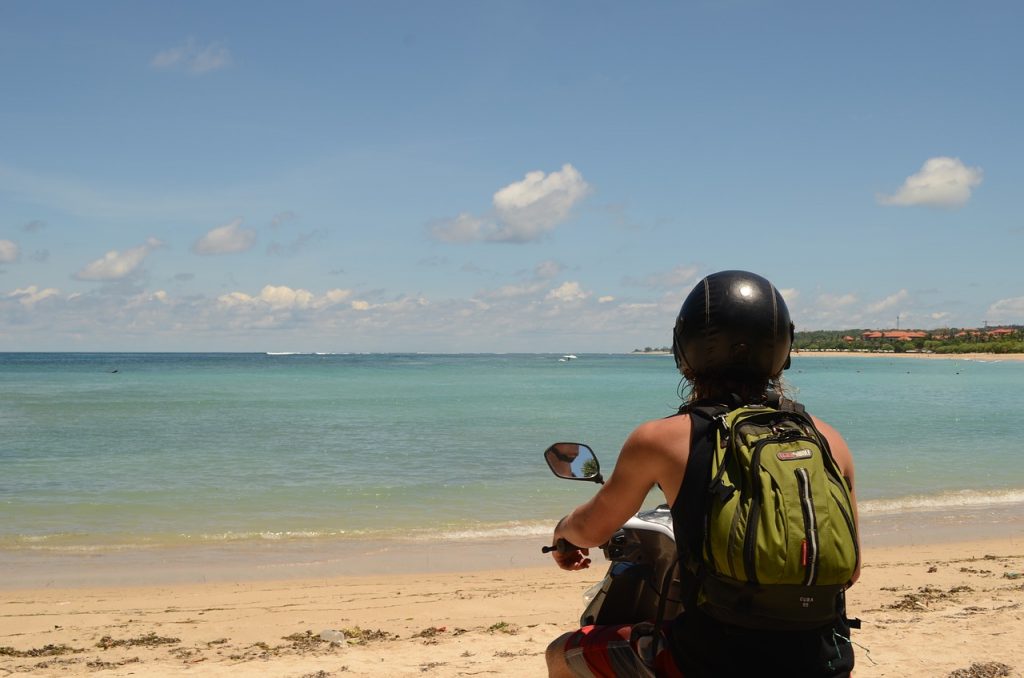 More tips for saving money in Bali
Remember that often the price is negotiable so don't forget to haggle, especially when shopping in the markets and for souvenirs. The first price quoted is usually 3 or more times higher than the price the locals pay, it's in the culture to haggle so don't be shy and push hard to get some bargains.
Bali is famous for its fabulous spas and massages but you can get a great massage on the beach by a skilled masseuse for a fraction of the price.
The high season in Bali is May – October and the Christmas/ New Year period, if you can travel outside these times you can get a better deal. Also, its better to book early as you can find early bird specials but last-minute discounts aren't so common. The price of flights usually gets more expensive closer to the departure date, so lock them in as early as you can. It's also cheaper to fly in the weekday and hotels sometimes offer mid week deals. If you can stay longer you can sometimes even get a special weekly rate on accommodation or even free nights special deals.
Also think about your destination carefully, if you can tear yourself away from the most popular tourist areas you can save a lot of money. For example, surfers could skip Kuta and Legian and head to Balangan, Padang Padang, Bingin or Uluwatu on the Bukit Pensilua or Balian or Medewi in West Bali instead where things are cheaper. You can swap Ubud for Sidemen or Munduk, instead of going to Sanur or Nusa Dua for diving and snorkelling head out to Candi Dasa, Amed or Pemuteran
So, as you can see there are many ways to make your holiday in Bali more affordable.
Do you have any more tips for saving money in Bali?
Leave a comment below and help another traveller 🙂