Kaziranga National Park – the last refuge of the one horned rhino
The fertile plains of Assam, North East India, are known for their tea and for being the home of Kaziranga National Park – the last refuge of the endangered one horned rhino. This the best place to spot these interesting and ancient creatures in their natural habit!
Kaziranga National Park is a UNESCO World Heritage site and is home to over 2000 rhinos – the world's largest population of one-horned rhinoceroses.
In fact, two thirds of the remaining population of rhinos live in Kaziranga and that means visitors are pretty much guaranteed to spot a rhino. When I visited for just one day as part of a tour of Arunachal Pradesh and Assam with Holiday Scout we were lucky enough to see 7 rhinos, some at an amazingly close distance.
And it's not just rhinos in Kaziranga, this national park is also home to  many other animals, including 1,300 Asian Elephants, 1,800 Wild Buffaloes and many deer, sambar and other small mammals like the jungle cat, rare hares, mongooses, civets, pangolins, sloth beers, badgers, foxes and squirrels. There are also thousands of birds and even tigers!
Kaziranga boasts the highest density of tigers among protected areas in the world (one per five km2) and was declared a Tiger Reserve in 2006 but don't get your hopes up too much of seeing a tiger – Kaziranga covers a huge area of grass and marshland and tropical forest, tigers are elusive creatures and so sadly I didn't manage to spot any tigers but was told there were 118 there.
There are a couple of ways you can explore Kaziranga and try to spot rhinos – by foot, by jeep on by elephant.
One of the most popular is the early morning elephant safari which offers the best chance of seeing rhinos and an unparalleled opportunity to get really close to the rhinos, which don't seem phased by the elephants, while enjoying a magical sunrise over the misty grasslands.
There's no doubt the elephant safari offers the closest encounter with these intriguing rhinos but you'll have to judge for yourself the morality of riding the elephants, all the elephants that I saw did look in good condition and well cared for, but that's a debate for another time!
Trekking is also popular in Kaziranga, or for those who want to cover more quickly there is a jeep safari which starts later in the day and takes you through the forests and along tracks by the river.
On the jeep safari I saw monkeys, deer, water buffalo some lazing in the river to cool off or lounging in the grass while birds give them a good clean and get a snack whilst doing it. We also spotted many rhinos, by the river banks and in the grassland and a random elephant that just wandered past.
Tips for visiting Kaziranga National Park
Kaziranga National Park is located in Assam, North East India. The remote, tribal regions of North East India are some of the least explored areas of India although Assam is the most accessible of the 7 north east states.
You don't need a permit to visit Assam, the airport and train station at Guwahati is well connected and there is a good public transport system in Assam including bus transport from Guwahati ( about 6hrs away) to the park.
I visited Kaziranga as part of an amazing tour around Arunachal Pradesh and Assam with a great local company called Holiday Scout and I can highly recommend the Monastery and Tribal Discovery Tour that I took.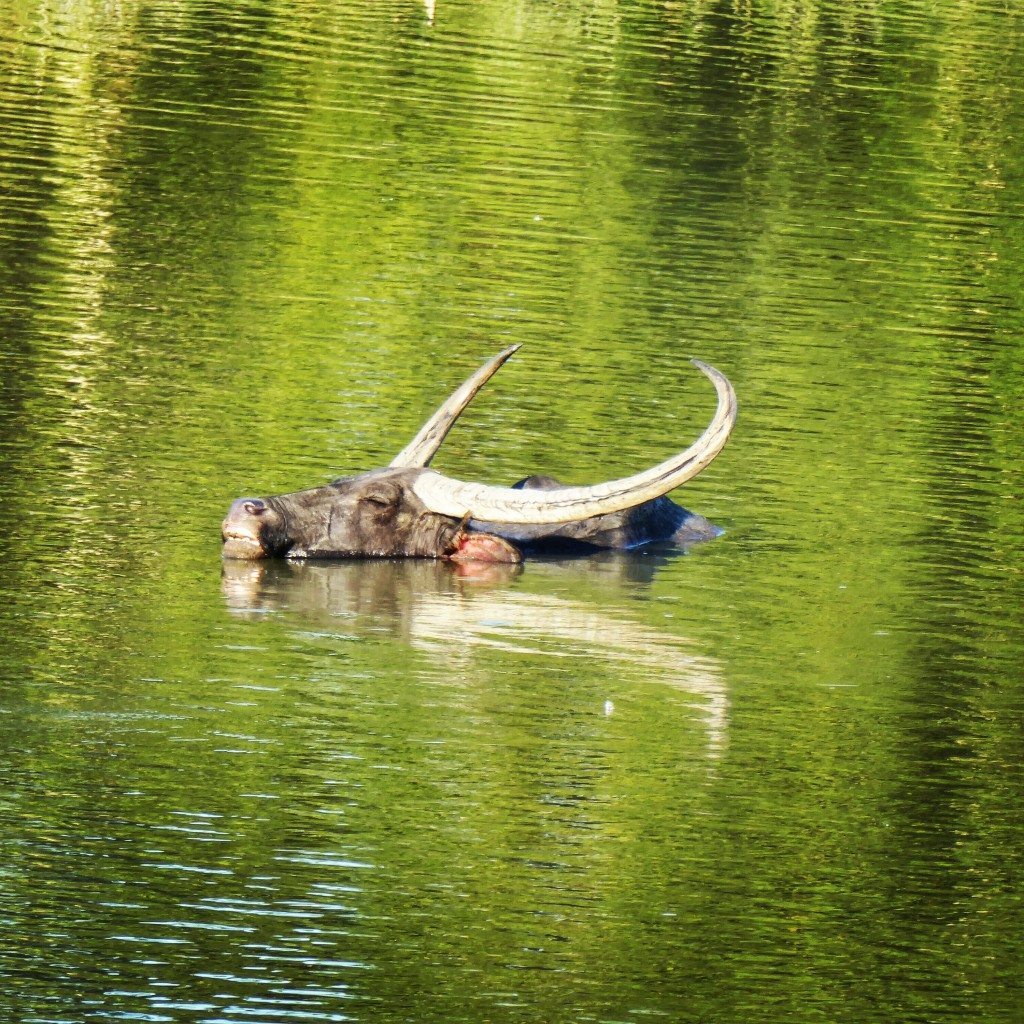 The Kaziranga National Park is only open to tourists between 1st November and 30 April. There is a whole array of charges for entering the park, for the different safaris and camera charges.
Entry to the park is 100 Rupees for Indians and 650 rupees for Foreigners. The elephant safari costs 750 rupees for Indians and 1250 Rupees for Foreigners and the road toll for the jeep safari is 300 rupees and a guard fee of 100 rupees also applies.  Check here for the latest full list of fees.
Where to stay when visiting Kaziranga
Kaziranga is pretty well set up for tourists, I stayed at the nearby Jupuri Ghar and loved the cute traditional style Assamese bamboo bungalows which gave the perfect blend of comfort and culture. IORA – The Retreat is one of the popular hotels in Kaziranga and the Wild Grass Lodge is also good. Nature Hunt Eco Camp is a good budget option.