There's nothing like local knowledge to get to know a city beyond the tourist hotspots. So in this new series I find out all the insider info and hidden gems from the people who really know a place – the locals!
Local Secrets Guide to Hanoi, Vietnam
Sarah Attaway is originally from Phoenix, Arizona but most recently moved to Hanoi, Vietnam from Charleston, South Carolina, where she attended College of Charleston in one of the most charming cities in the United States.
Sarah is a children's English teacher at a learning center in Hanoi, founder of travel blog, Global Gal, and freelance writer for Trip101.
As a twenty-three year old expat, Sarah is finding a balance between travelling in Vietnam and Southeast Asia as much as possible, while still maintaining a steady paycheck. One her days off from teaching, you'll most likely find Sarah drinking Vietnamese coffee, trying new food and exploring new-to-her areas of the Vietnamese capital.
You can follow Sarah's adventures on her blog Global Gal or on Twitter @globalgalsarah, Instagram: @globalgalsarah, Facebook: www.facebook.com/globalgalsarah and Pinterest: www.pinterest.com/globalgalsarah/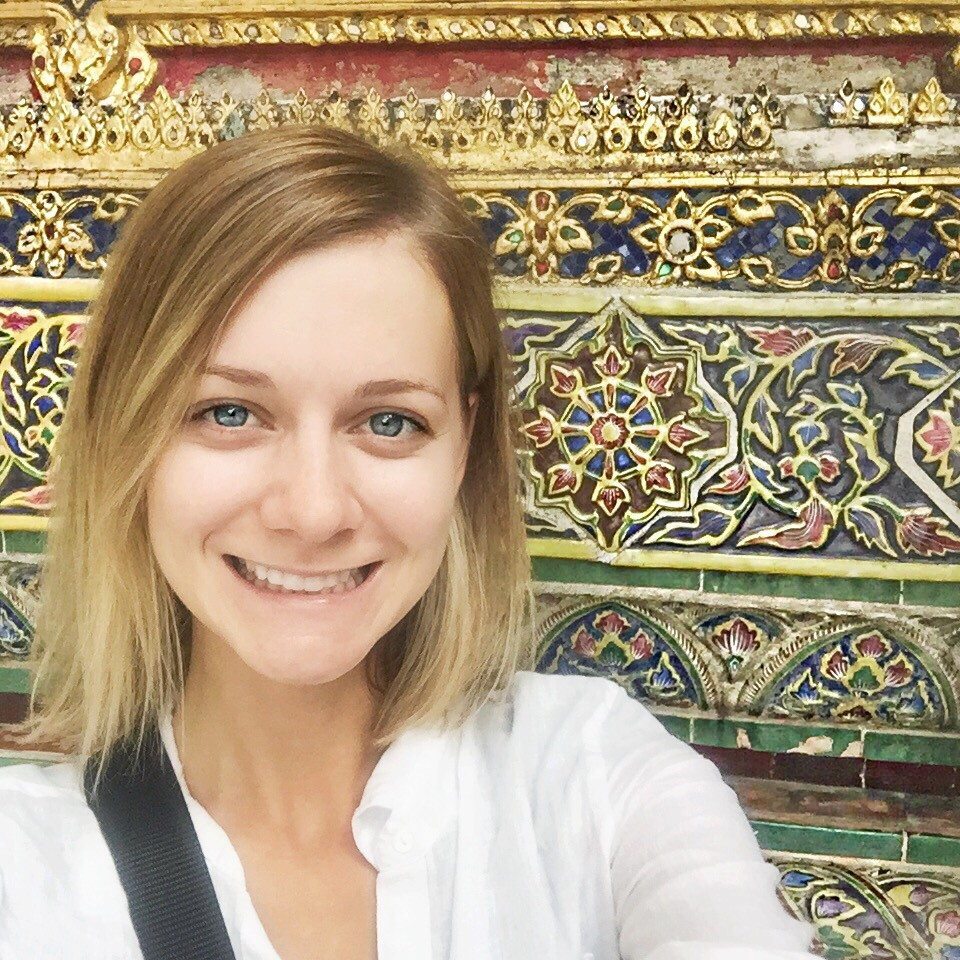 So Sarah, why do you love Hanoi and why should we visit!?
I love Hanoi because it is a mix of energy and relaxation within one city. Heck, within one block of a street! Hundreds of motorbikes whiz throughout the city streets (and sidewalks!), honking non-stop as they go. On the other hand, locals lounge on street corners for hours drinking coffee, eating street food or playing a friendly game of checkers. The opposite energies of the city create a charm, which is enhanced by the temples dotted throughout the streets, the French influence (yay for baguettes!), and the smiling faces of the locals.
Additionally, there is always something new to find in Hanoi. While it's a large city, Hanoi is also very walkable. I've been living in Hanoi for over two months now and I still discover new things in the winding alleys of the Old Quarter or a new street food vendor in my neighborhood. This also changes with the time of day. For example, in the morning and early afternoon Ta Hien Street in the Old Quarter is rather quiet. It then transforms into one of the busiest street corners in the whole city at night when people flock to drink here at "Bia Hoi Corner."
What are your 5 must see things in Hanoi?
The Temple of Literature was Vietnam's first national university. Built in 1070, the temple is dedicated to Confucius and honors Confucian scholars. Students flocked to the capital to study literature, poetry and Confucianism. Today, students come to the Temple of Literature before big school exams to pray that they will pass the exam.
Hoan Kiem Lake is located in the city center of Hanoi. It's one of many lakes that are scattered throughout the city but this lake is definitely the most populated because a small, green park has been erected around the lake. Ngoc Son temple also sits on a small island in the middle of Hoan Kiem Lake, which is the most visited temple in the city.
The Old Quarter is the most historic part of Hanoi. Originally, the Old Quarter was the commerce hub of Hanoi, with each street named after the guild that was located on that street or named for the product that was sold on the street. Now, you could spend days getting lost in the narrow, winding streets.
Since areas of Hanoi are very walkable it's often easy to forget how large of a city Hanoi really is, until you visit The Observation Deck at Lotte Center. Located on the 65th floor of the Lotte Center, floor-to-ceiling windows provide 360º views of Hanoi.
Egg coffee, or "ca phe trung" in Vietmaese, was created in Hanoi by Mr. Nguyen Giang in 1946. He then went on to open Giang Café, although the current Giang Café on 39 Nguyen Huu Huan is not the original café. Vietnamese coffee is amazing but egg coffee is a Hanoian specialty! You simply cannot leave Hanoi without trying ca phe trung at its original birthplace.
Check out this post for more cool things to do in Hanoi.
And what's your top local secret? (Tell us something we won't find in the guidebooks!)
Fitness is a big part of many locals' day. However, Hanoi is so hot and humid most of the year that locals do not workout during the day. Instead, they wake up around 5am or stay up late to work out. I suggest waking up early with the locals and heading to Hoan Kiem Lake. Join in during a tai chi class, go on a run around the lake, or grab a coffee and just take it all in!
What's your top recommendation for eating out in Hanoi and is there a local dish we must try?
Hanoi is famous for it's street food. Most places only serve one dish because they have minimal cooking space; this just means that they specialize in that dish so it's always good! You'll have to be a bit brave at first in order to eat street food because they aren't any menus; however, I have rarely been disappointed.
The most famous dish in Hanoi is bun cha, which is grilled pork, rice noodles, broth and a side of herbs. You'll find bun cha all over the city. While I do love bun cha, my favorite street food option is nem lui. Nem lui consists of pork grilled on lemongrass skewers, and a platter of lettuce, mint, cucumber, and rice paper. The cook will provide you with a pair of scissors to cut the pork off the skewers; then you roll all the ingredients into the rice paper and dip into the sauce before eating!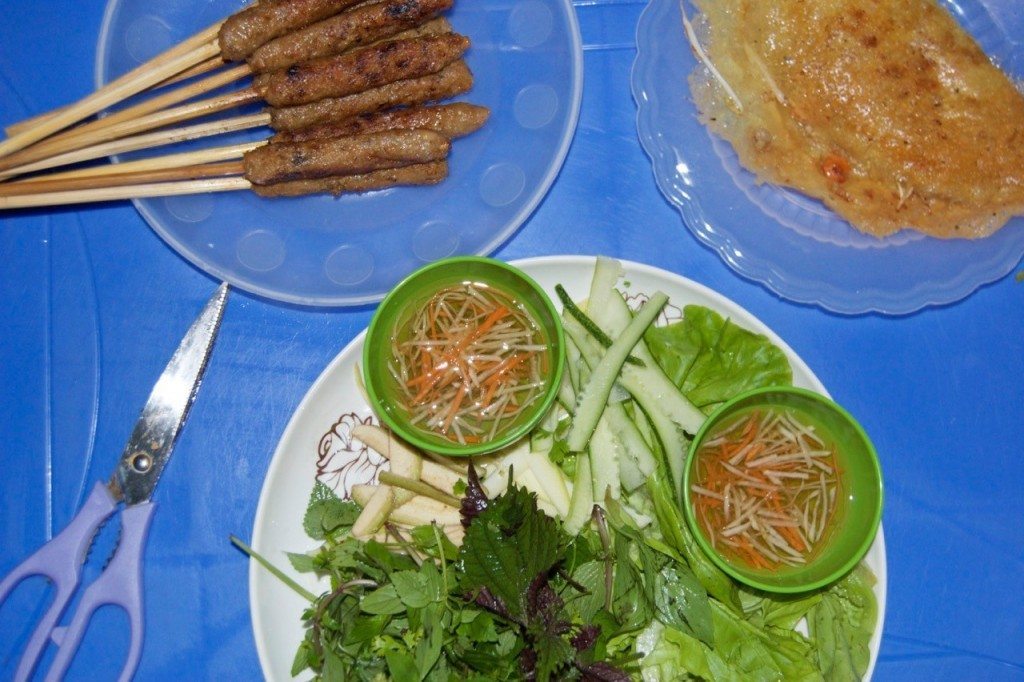 The other best way to eat out in Hanoi is at a bia hoi! For your first time I'd suggest finding a bia hoi that has an English menu. The menus are split into food categories to make the large menu a bit more manageable: rice, vegetables, beef, shrimp, goat, frog, etc. Bia hois are perfect for sharing plates with a group of friends! And of course for drinking lots of cheap beer. Think 0.30 USD per beer. Bia hoi (beer) is brewed every evening and delivered to bia hois (the restaurant) throughout Hanoi each morning. It's called the "freshest beer" because it does not have preservatives and must be drunk within 24 hours of it being made. Bia hois are very easy to come across in Hanoi. So far, one of my favorite bia hois with an English menu is located at 2 Duong Thanh. My favorite dish here is the tofu with tomato sauce (đậu sôt cà chua).
Pin me!
And where is the most happening night out/ bar right now in Hanoi?
Hanoi is interesting in terms of nightlife because there is a midnight curfew. However, the curfew is only partially enforced. You are allowed to be out in the city past midnight, although most establishments will close. Others will remain open secretly until police shut them down for the evening. There are also a handful of bars that the cops allow to remain open.
Rastaman in Tay Ho is a relatively low-key spot that stays open late-night. It is located right on West Lake and is a major expat spot. You have the option to sit at a table outside or dance inside. It is a small bar so you'll most likely run into someone you know if you are in Hanoi long enough.
If you want to go dancing, head to Beer Hero. Western music dating from 10+ years ago brings locals and expats to the dance floor into the early morning hours!
Sidewalk has one long bar and an outdoor patio with tables of various sizes. A small stage hosts djs that spin anything from Calvin Harris to the Beatles depending on the evening. On weeknights, expect a relaxed vibe perfect for grabbing a few drinks. On weekends, expect the crowd to be a bit more vibrant and of course, a bit of dancing will break out.
Do you have any recommendations for where visitors to Hanoi should stay?
I think visitors should stay in the Old Quarter or in Hoan Kiem district. The Old Quarter is known for budget hotels and hostels, and is often referred to as "the backpackers' district" and there are some good budget hotels and lively and fun backpacker hostels in Hoan Kiem as well as upscale, luxury hotels here, such as the impressive Sofitel Metropole. Both the Old Quarter and Hoan Kiem are central in the city and it's easy to walk around the city from here!
And finally, do you have any other tips for people visiting Hanoi?
The biggest tip I can give you is how to cross the street! Traffic laws in Hanoi are more of a suggestion than hard rules. For this reason, one-way streets often aren't one-way. Red lights don't really mean stop and pedestrians walk whenever they want. Motorbike drivers will gauge your speed and will move around you! For this reason, be sure to keep the same slow pace as you cross the street. If you stop walking completely or start running the motorbike drivers will be surprised and might not be able to swerve out of the way! If you are too scared to cross, as many people are at first, try to cross the street next to a local and copy what he or she does!
Thanks so much Sarah for a great guide to Hanoi and for sharing your insider tips! – Anna