My trip to Langkawi, Malaysia
Far away from the bustle of the modern metropolis of Kuala Lumpur the tropical island of Langkawi rises up out of the turquoise seas, the dramatic mountainous interior glistening with a hundred shades of green.
Malaysia might not be your first port of call when you think of tropical islands but its shores can rival many of those in the region. Langkawi is the most touristed island in Malaysia but, fitting with the slogan Naturally Langkawi, it has not suffered the rampant ruin of over development like some of Thailand's islands.
Unlike the hard partying islands of Thailand the vibe on the beaches is more family friendly. Beach life in multicultural Malaysia means Bikini wearers are in the minority and the soft white sand beaches and warm gentle turquoise waters are strangely deserted of sun bathers in the heat of the day.
The beach comes alive at sunset as Malay families whoop and laugh as they splash around fully clothed, complete with head scarves, in the shallow tide of the evening.
Jet skis and banana boats race across the water as para gliders float above the sea, silhouetted against the setting sun ,as families watch on before filling up in malay, seafood and Chinese steam boat restaurants.
Langkawi is surprisingly large but can be explored by motorbike or hiring a car. The island is also duty free and a popular shopping destination with malls near the port and airport but the majority of Langkawi is actually still a national park complete with monkeys, waterfalls and jungles to explore.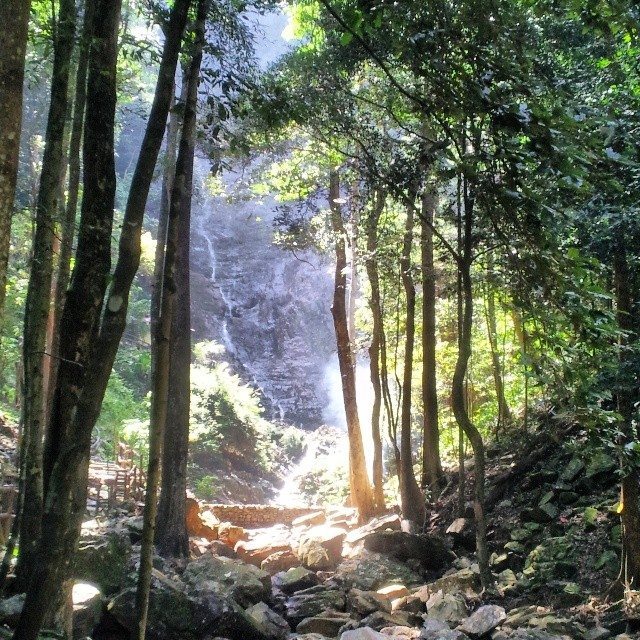 Some top end exclusive resorts are tucked away in remote areas of the island and the island is mainly geared toward families but Langkawi still offers some budget accommodation options.
Sometimes islands can feel devoid of local culture but, once off the the main beaches the scene turns more traditional with Malay kampungs, oil lamps, mosques, villages, jungles, natural hot springs, black sand beaches and fishing villages.
Of the 99 islands surrounding Langkawi only 4 are inhabited and the area has been declared a geopark by UNESCO that makes for a gorgeous and interesting boat trip.
We are told some of the many legends and tales of the island as the boat weaved in and out of the beautiful, small, rocky, forested islands, stopping for you to dip into freshwater lakes and on paradise beaches, while eagles, the icon and legend of Langkawi, swoop down amongst the mangroves to catch food.
One of the highlights of Langkawi is a trip up the tallest peak by cable car. Once up here you can walk across the jungley peaks below along the skybridge and marvel at the stunning views as far as the islands of Thailand; over forested Langkawi and across the turquoise archipelago where smaller islands dot the Andaman sea like delicate emerald encrusted gems.