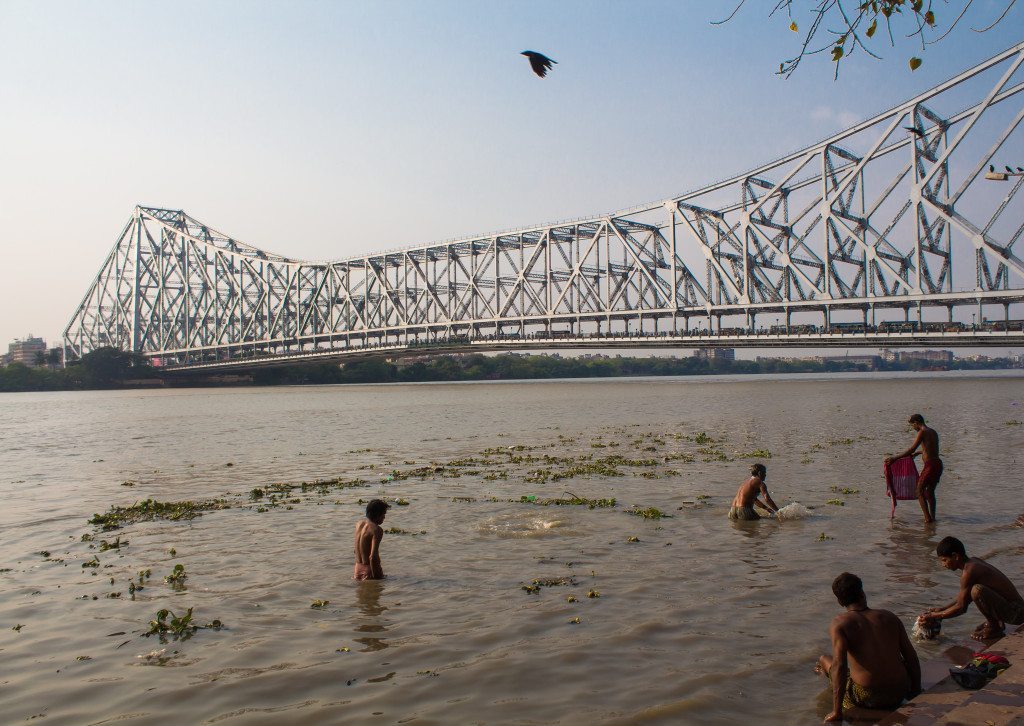 Welcome to Calcutta?
Calcutta, perhaps the name still conjures up images of poverty, suffering and Mother Teresa?
Calcutta, now called Kolkata, is the second largest city in India and perhaps India's contrasts and extremes are nowhere more evident than here, the contrast of rich and poor, modern and old, is really in your face here, even more compared to the rest of India.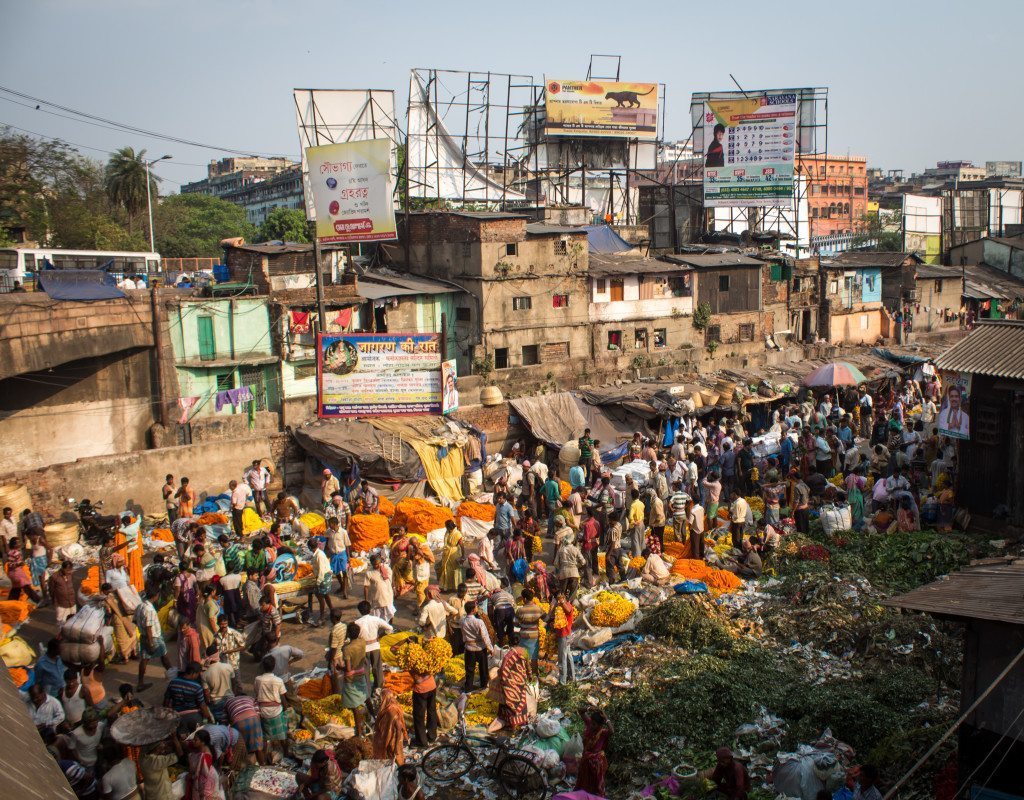 Kolkata is not really a easy city to visit or fall in love with, and its not a city where you can nip around taking in the sights and feel like you have 'done' it in a day.
I was told it's more a city that you feel but as I roamed the streets all I could feel was the crush of humanity, the heat, dirt and sweat and my ear drums ringing with the deafening noise of the incredulous traffic jams leading to a rather overwhelming and exhausting experience.I came here wanting to change this negative perception. I tried to like Calcutta I really did, but sadly I can't honestly say that I enjoyed my visit here. I found it hard to see why in India it is often referred too as the 'the city of joy'! when hardly a street is untouched by grime, dirt, decay and chaos.
The last bastion of the Hand Pulled Rickshaw
The poverty in India has broken my heart a thousand times and one of the things that I found most disconcerting about Calcutta were the hand pulled rickshaws. This old mode of transport is now unique to Kolkata and has almost become an icon of this city, like the Howrah Bridge and the Victoria Memorial.
What is strange about Kolkata is that this is a city with the first metro in India (in the 1980's more than 20 years before the rest of India caught on) and Asia's first luxury hotel yet it is also the last bastion of the hand pulled rickshaw and there are still about 8,000 of the streets of Calcutta that form the livelihoods of an estimated 35,000 people. 
In 2006 the authorities tried to ban hand-pulled rickshaws but these poor men, often pavement dwellers from other, even poorer, states like Bihar and Jharkhand, contributed from their meager earnings (about 100 rupees a day or about $1.50 ) towards a union to oppose the ban in the high court.
Despite what looks like shocking inhumanity to a Western mind, hand pulled rickshaws are reputed to the best form of transport in the monsoon when flooded streets are impassable in a taxi. Hand pulled rickshaws also provide an invaluable service for those Calcutta residents who could not be able to afford a taxi or auto rickshaw, the serve areas where buses would not be able to fit in the narrow, haphazard streets, and of course they are eco friendly!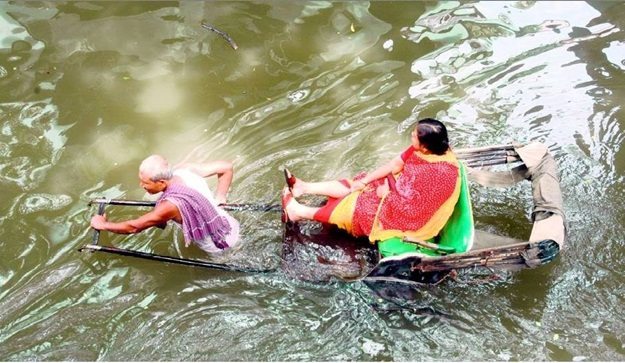 So, despite the ban you can't go far in Calcutta without seeing these old men, hanging around on the corners, touting for business. And you can't ignore them – they approach and plead for business despite the look of disgust on my face as I watch a healthy man in his twenties nonchalantly being pulled along by an old man with no shoes or teeth and a weathered face.
So, should you use a Hand Pulled Rickshaw?
Whilst I don't believe it's right to visit a country and try to inflict my culture or ideas on them, taking a hand pulled rickshaw just didn't feel right to me.
But I could not decide what was worse, for a perfectly able young person to be pulled by a barefoot old man through the dirty streets of Calcutta or is it crueler still to deny him the chance to earn some money?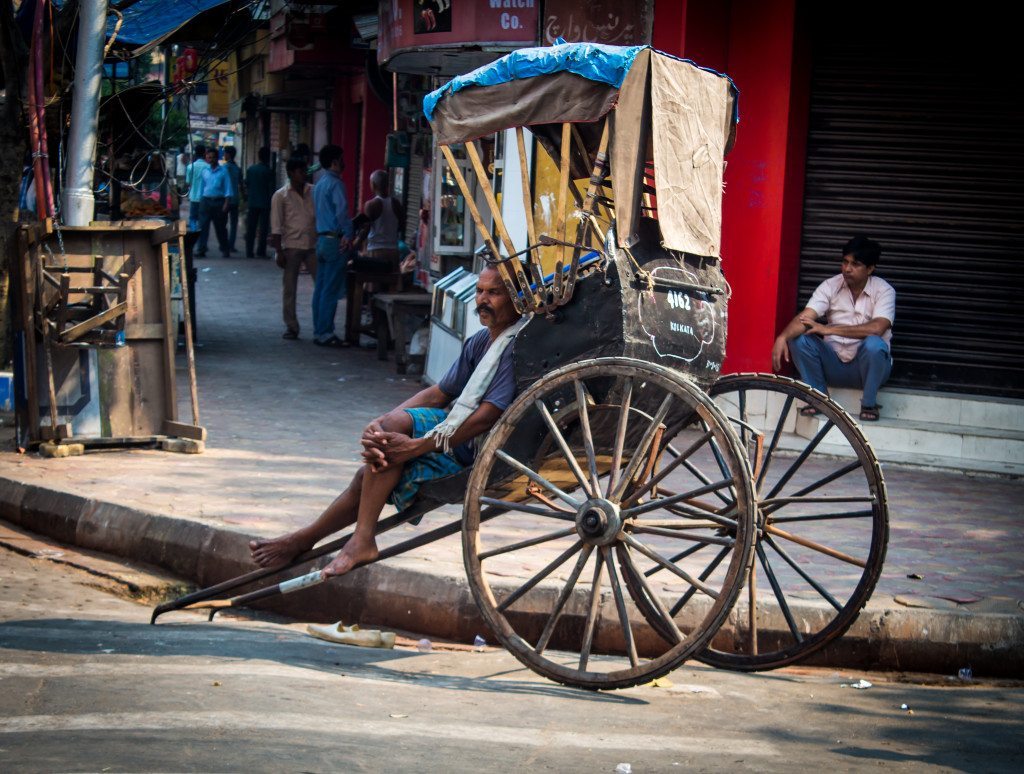 Or should I have just given him some money and not taken the ride, perhaps bought him a pair of shoes or a chai, but that would have been treating him like a beggar when he is just trying to do a honest days work, perhaps that would that have been offensive to him? Or would it lead to more problems with beggars?
What should I do? Leave me a comment below and tell me if you would take a hand pulled rickshaw?