As the cultural and historical capital of Northern Thailand there are endless things to do in Chiang Mai, but my favourite activity was simply wandering, exploring and temple hopping in Chiang Mai's old city.
Chiang Mai is sprinkled with elaborate golden temples and wears its heritage as capital of the ancient Lanna kingdom with pride.
It is a relaxed, culturally rich city where saffron robed monks pray inside the over 300 elaborate, golden temples; surrounded by jungle and mountains home to elephant sanctuaries and hill tribe communities.
Wat Doi Suthep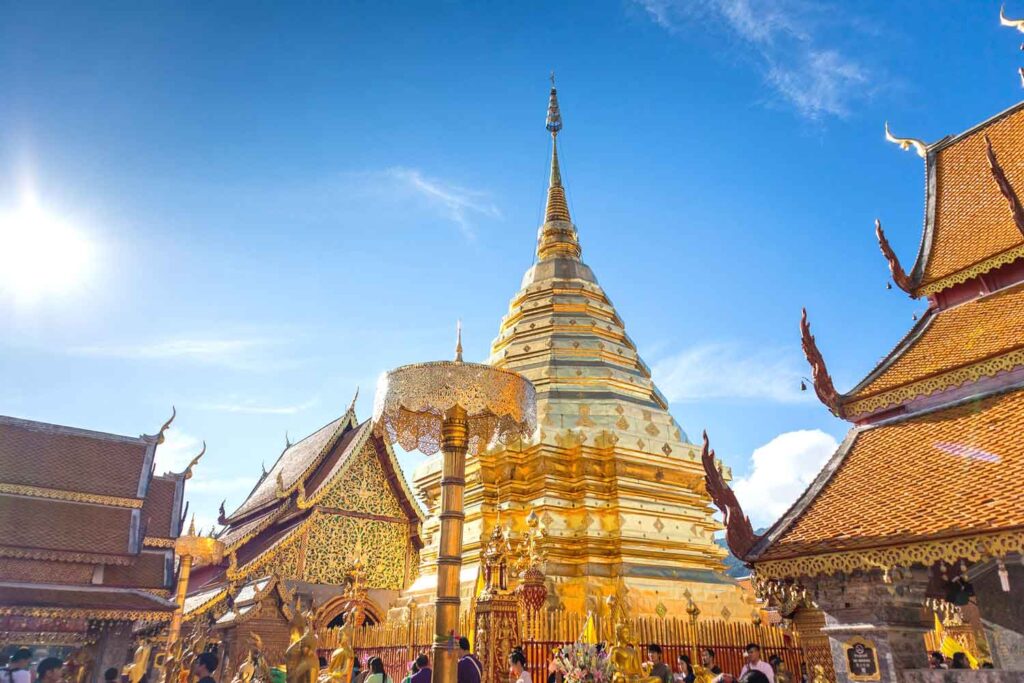 The jewel of Chiang Mai's temples is Wat Doi Suthep that rises above the town perched on a misty, forested mountainside. This is one of the most sacred temples in Northern Thailand and the views stretch across the mountainside back down over the city.
The location is believed to have been chosen in the 14th century when an auspicious white elephant carrying a buddha relic on its back died there.  A pair of multi headed, mosaic covered nagas (sea serpents) greet you at the foot of the steps up the hill.
Once inside the temple gleams blindingly brightly with an abundance of gold. Numerous buddha images in a poses for every day of the week, elaborate temples and beautifully bright, fragrant flowers surround a huge golden central chedi while cute little bells tinkle in the breeze adding to the serene atmosphere.
I was mesmerised by the beauty and atmosphere of this golden temple while engrossed in watching the faithful circulate around the chedi, hands clasped together holding flowers. Devotees also light candles and incense; kneeling and praying in front of the many Buddha idols.
I find it fascinating learning about different religions, especially in such devout and spiritual countries where religious values and rituals have so much impact over everyday life.
Exploring Chiang Mai's Old City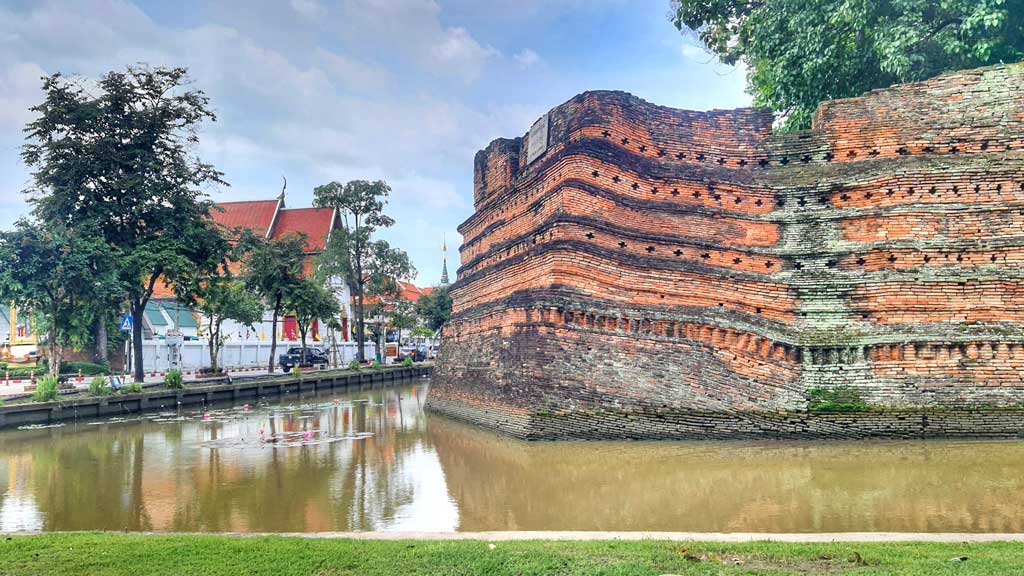 The Old City of Chiang Mai is neatly packed into a square mile surrounded by a moat and the remnants of the ancient old city wall.
Slowly meandering round the narrower sois (lanes) pausing to wonder at the many temples I stumbled across is a great way to spend a day temple hopping in Chiang Mai.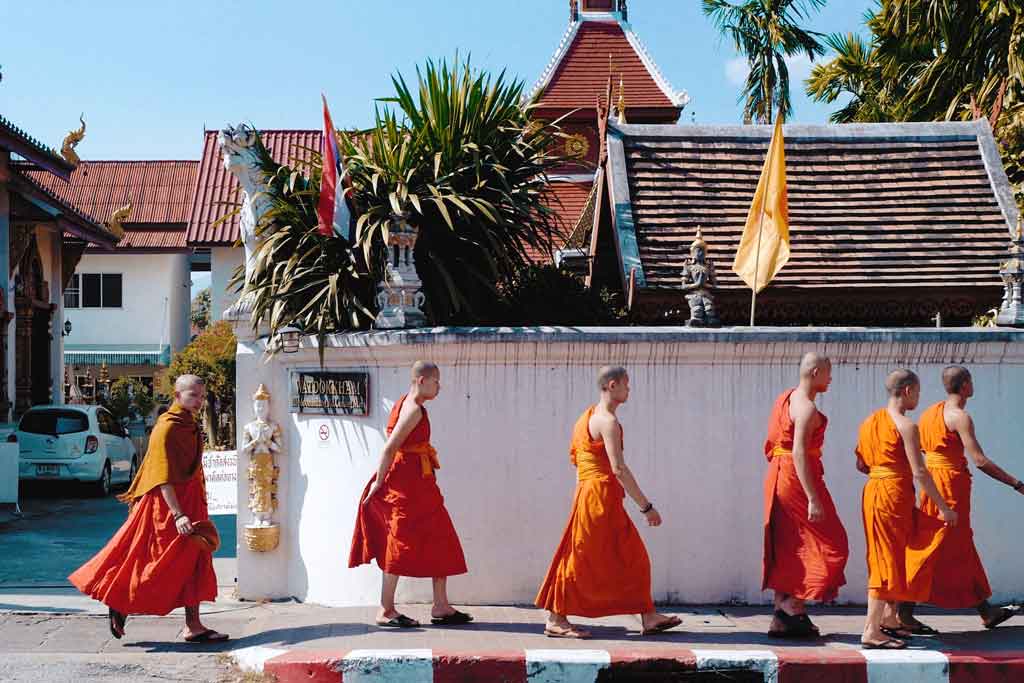 All the temples in Chiang Mai differ in some ways and have interesting stories to tell as well as beautiful architecture to admire.
There are too many temples to mention here, some of the most famous and unmissable temples in the Old City are Wat Phra Singh and Wat Chedi Luang, but also make time to wander off the beaten track and discover some hidden gems that might just turn out to be your favourite temple.
Wat Phra Singh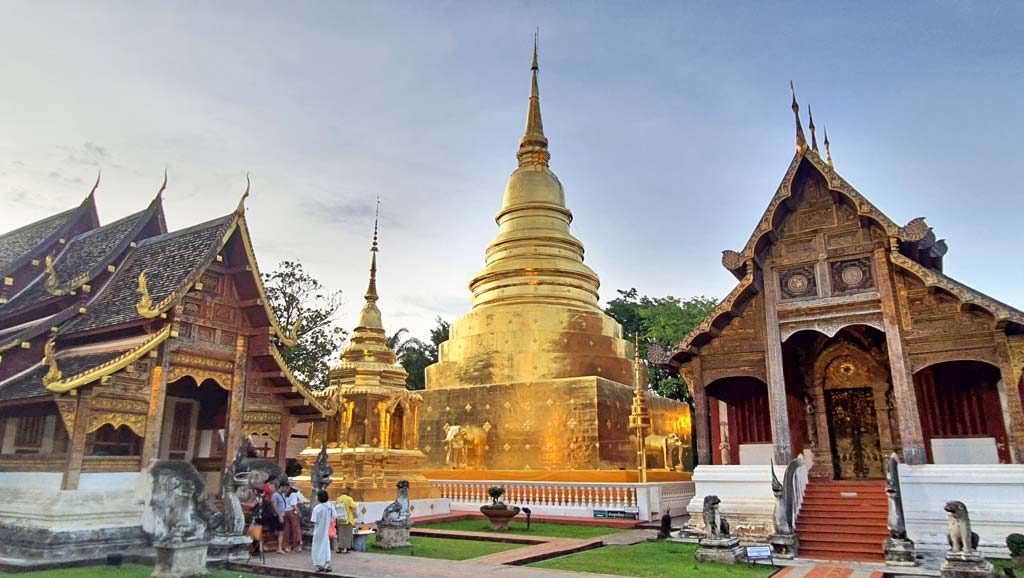 The beautiful Lanna architecture of Wat Phra Singh makes it the most famous temples in Chiang Mai's old city with the most revered of the city's buddha images.
Around the back of the temple I enjoyed the shade as I watched people who came to pray and then hung colourful banners up that provided a stunning, bright contrast against the large white chedi.
Wat Chedi Luang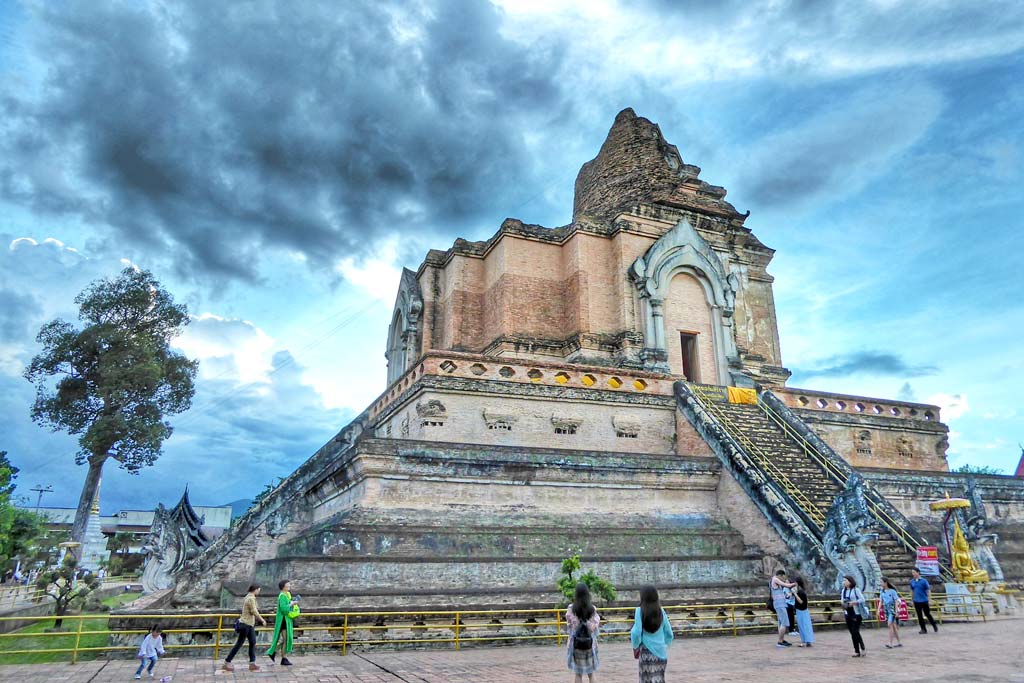 Wat Chedi Luang is another beautiful temple It also contains the imposing but ruined remains of a huge chedi dating from 1441, it was one of the tallest structures in Chiang Mai and once housed the famous emerald buddha that is now in Bangkok.
It was mostly destroyed, perhaps by an earthquake in the 16th or 18th century, no one really knows for sure but it is an interesting place to chill in the shade or chat to a monk.
Wat Chiang Man is the oldest temple in Chiang Mai, erected by the city's founder King Mengrai in 1296 and houses a crystal buddha believed to have the power to bring the rains.
Temple Hopping and Street Food Snacking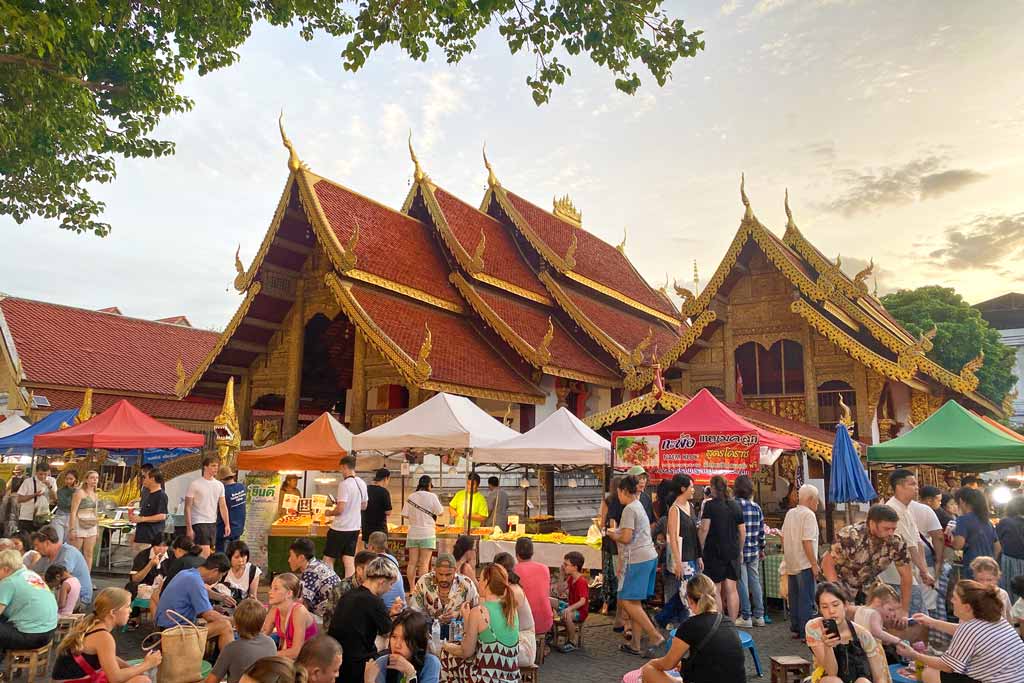 On Sundays almost the whole of the old town comes alive with the Sunday Walking Street Market. Many of the temples in Chiang Mai's Old City host food stalls in their courtyards so you can combine temple hopping and snacking on tasty, cheap street food at the same time!
When temple hopping in Chiang Mai it doesn't even matter if you get lost as you will soon stumble across another ancient temple that surprises and delights.
You'll discover temples adorned and dripping with gold, intricately carved gabled roofs, colourful, glittering mosaics with singha lions or naga sea serpents guarding the entrances and octagonal chedi rising proudly high into the sky – temple hopping is definitely the best way to spend a day in Chiang Mai.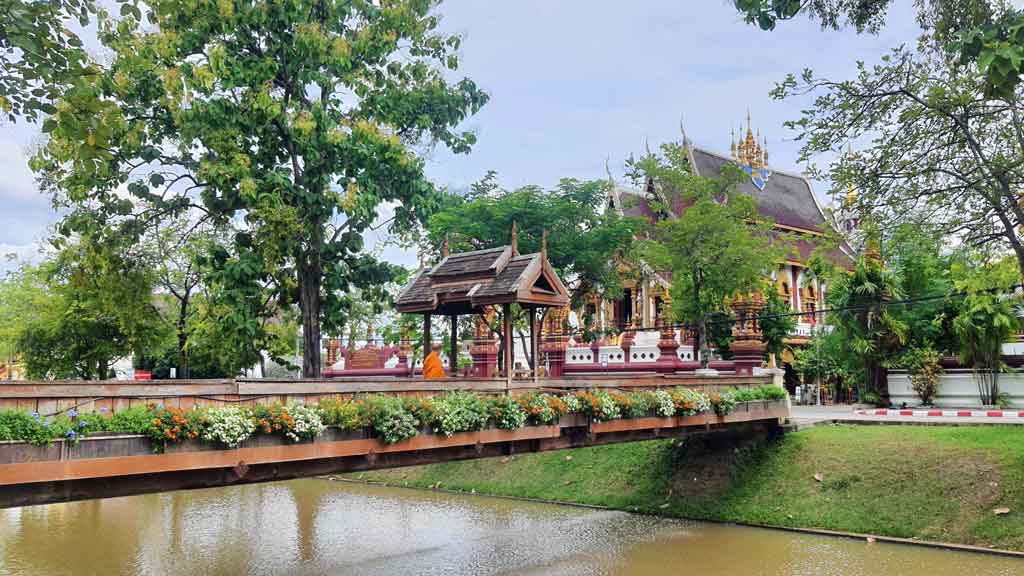 For more tips for planning your own trip check out my blog on where to stay in Chiang Mai.