Where to Stay in Rome: The Best Areas, Hotels and Places to Stay in Rome.
Rome, also known as 'The Eternal City,' has been a must-see destination for literally hundreds of years. Some make their way to the Italian capital to take in the mastery of structures that have survived 2000 years since the heyday of ancient Rome. Others come on pilgrimages to see some of Christianity's most important locations, while still more come to enjoy la dolce vita, with excellent food and wine around every sunny corner.
As your accommodation choice can make or break a trip knowing where to stay in Rome is vital. In this post I'll guide you through all of Rome's accommodation options describing all the different neighbourhoods and areas of this historic city and sharing my pick of the best hotels in each as well as all the essential travel tips to help you plan your trip.
Read on and soon you will know all of the best places to stay in Rome!
Where to Stay in Rome – A Quick Rundown of the different neighbourhoods
Each of Rome's different areas and neighbourhoods have pros and cons and will appeal to different people and different types of travellers meaning that the best place to stay in Rome will depend on the reasons you're travelling here.
Here's a quick run down of the different areas by holiday type and the best Rome hotels and carry on reading as I'll describe the neighbourhoods and hotels in more detail.
Best Places to Stay for History, Sightseeing and First Time Visitors – Centro Storico, Spagna
Best Place to Stay for Nightlife and Atmosphere – Trastevere
Best Place to Stay for Couples, Luxury or Romantic Getaways – Prati, Spagna
Best Place to Stay for Family and Local Life- Testaccio, Monti 
Best Place to Stay for Budget Travellers – Esquilino (Termini)
Safest Places to Stay in Rome – Monti and Prati
Pin Me! 🙂
The Best Rome Hotels – My Quick Picks
Best Views – Eitch Borromini Palazzo Pamphilj
Best Luxury Experience – Hotel Eden
Most Romantic Hotel – Rocco Forte de la Ville
Best Historic Hotel – Donna Camilla Savelli 
Best Family Friendly Hotel – Rome Cavalieri
Best Budget Hotel – Roma Centrale Fidelis
Best Apartment – Testaccio Historic House
The Best Places to Stay in Rome: Best Neighbourhoods and Areas
Before deciding on the perfect place to stay in Rome you need to know a bit more about the city and it's different neighbourhoods and areas so you can decide where to stay.
Rome is Italy's capital and largest city, home to around 3 million people. The city is located in the Lazio region, situated close to but not quite touching the coast, and oozes history as it has been a thriving metropolis for at least 2500 years (tradition dates its founding to 21 April 753 BC) Rome is undeniably one of the most fascinating cities to visit in the whole world!
Traditionally Rome is said to have been built on seven hills and contains many interesting neighbourhoods to explore. The exact boundaries of each neighbourhood can shift by a street or two depending on who you speak to. The most obvious modern geographical way to get your bearings is with the river Tiber (or 'Tevere' on Italian-language maps) which runs with several twists and turns north-south across the city.
Rome's Centro Storico, or historic centre, is located on the eastern side of the Tiber, with the impressive temple turned church the Pantheon usually considered its centre point. Other attractions in the area include the Trevi Fountain and ancient Imperial Forum. It was declared a World Heritage Site by UNESCO in 1980 and makes one of the best places to stay for history lovers and first time visitors alike. Some include the Spanish Steps on Piazza di Spagna as part of the centro storico, but I'll deal with that part of the city separately.
Trastevere, roughly translating as 'beyond the Tiber', is on the river's westernmost banks a short distance south of the Colosseum and centro storico. It is arguably even more charming than the historic centre with its souvenir stalls and men dressed as gladiators. By comparison, Trastevere has cobbled alleyways which often follow Roman roots and a bohemian feel that makes itself known in a flurry of independently owned shops, cafés and trattoria (bistros). It's therefore one of the best places to stay in Rome for atmosphere.
Wedged between the Colosseum to the west and Roma Termini train station – the city's busiest (with regular trains to Florence and Venice) – Monti can be a bit of a trek to other attractions such as the Vatican Museums if you're a dedicated pavement treader but it's one of the safest places to stay in Rome.  However, the metro system is cheap and simple to use and the neighbourhood does have its own attractions in the church of Santa Maria Maggiore, as well as the Domus Aurea, the excavated palace of the Emperor Nero. Its private lake was so large it would eventually become the foundations of the Colosseum.
With a stellar position between river, Vatican City (where there are no hotels) and Castel Sant'Angelo, Prati is another good option. Arguably, the top place in stay in Rome for couples, it's regulation grid of streets may be a little bland compared to the cobbles of Trastevere further south. But this upmarket area does itself proud when it comes to rooftop bar views and places to stay within walking distance of the top sights.
Sometimes simply referred to as Termini but officially known as Esquilino, this neighbourhood of Rome doesn't historically have the best of reputations. However, it's undergone a facelift over recent years and is perfectly safe to stay in, although it has few attractions of its own. Because of its proximity to the railway station there's a good number of hotels to choose between and is one of the best places to stay for budget travellers and those on flying visits.
One the opposite side of the Tiber to Trastevere you'll find our last neighbourhood Testaccio. Offering a more local vibe than the centro storico, hotels are thinner on the ground but there are some great places to eat and drink. What's more, Piramide metro station is also within walking distance, making Testaccio a great Rome accommodation option for families or those wanting to live more like a local than a tourist.
The Best Rome Hotels by Neighbourhood

Centro Storico – Best for History, Sightseeing and First Time Visits to Rome
As a first-time visitor to Rome, you'll want to spend a much time as possible at the city's major attractions and as little time as possible travelling to them. Basing yourself in the centro storico is an unbelievable experience, with world-famous sights only ever a short stroll away.
And what sights they are with Piazza Navona and the Pantheon competing for attention with the Colosseum and 'wedding cake' Altara della Patria, as well as the Imperial Forum. Centro Storico is the best place to stay in Rome for a first time visitor and thankfully, there's plenty of great places to stay in the area.
The Best Places to Stay in Rome's Centro Storico
With an exquisite design both inside and out, this paradise of a hotel is perfectly named. Guests are able to enjoy a rooftop terrace with views stretching across the city, as well as a Michelin-starred La Terrazza restaurant onsite. The spacious rooms have a touch of the art deco to them without it becoming a gimmick, while still managing to be light and airy. There's also a spa and wellness centre.
The Eitch Borromini Palazzo Pamphilj allows you to draw back the curtains each morning and face the grandeur of the Piazza Navona, one of Rome's most important squares. Dating back to the 1600s, its historic corridors have been carefully modernised so they lose none of their charm, while many rooms come complete with double-height windows and open fireplaces. There's also a panoramic rooftop terrace with views to the Pantheon and St Peter's Basilica in the Vatican. This is one of the best places to stay in Rome for the views alone.
The term budget in central Rome is comparative, and you'll still need a relatively healthy bank balance for the Navona Essence Hotel to be a proposition for your vacation. However, its proximity to the top sights makes it a bit of a bargain in my eyes. Rooms are simply decorated, and shared spaces kept as wonderfully as the breakfasts taste.
Spagna and the Spanish Steps – Best for Shopping, Parks and Convenience
Commissioned by France's Louis XII, the Spanish Steps take their name from the fact the Vatican's Spanish embassy has been located here since the 1600s. The steps themselves were constructed in three tiers, known as the Holy Trinity, in the 1700s in the rococo style. Although busy with tourists, it is one of the most famous addresses in Rome and one you won't want to miss.
Spagna has some of the best shopping in Rome as well as plenty of luxury accommodation and fine dining restaurants. Staying in Spagna also means you're only about 15 minutes walk to all the sights in the Centro Storico and you're close to the Metro station so this area gives convenient access to the whole city.
For a relaxing escape from crowds stroll around the beautiful Villa Borghese – Rome's central park stretches for over 100 acres with lovely gardens to relax in and great museums to explore. All this makes Spagna one of the best places to stay in Rome.
The Best Places to Stay in Spagna
Walking distance from the Villa Borghese gardens and Trevi Fountain, Rocco Forte Hotel de la Ville has a prime location at the top of the Spanish Steps in an area sometimes called Spagna. Styled to combine a seventeenth-century look with modern-day comforts, you'll want a room with city rather than courtyard views. The luxury then continues with a well-equipped spa, restaurants overseen by celebrity chef Fulvio Pierangelini and no less than three bars in which to relax.
Hassler Roma – For Stays Fit for a King
Luxury hotels in Rome don't get much better than Hassler Roma, which combines the Spanish Steps location of the Rocco Forte hotel and sumptuousness of the Hotel Eden. Its palatial interiors are stuffed with antiques and artworks leading to highly-rated suites and another of the city's Michelin-starred restaurants, Imago. Complimentary use of the wellness area's Turkish bath and sauna will help you relax having made use of the hotel's electric shuttle to shop till you drop.
Trastevere – Best for Nightlife and Bohemian Atmosphere
Once a down at heel working class district no self-respecting tourist would be recommended to visit, Trastevere now gives the Centro Storico a run for its money when it comes to the best places to stay in Rome for historic charm and atmosphere.
Smartened up but still maintaining its distinct ambience, the neighbourhood is awash with historic buildings, some dating back to medieval times. With rents cheaper than elsewhere in the city, it is popular with artists and other independently-minded residents. It's cobblestones also host a much-loved flea market at the Porta Portese on Sunday mornings and there's plenty of independent shops, cafes, bars and restaurants to check out.
The Best Places to Stay in Trastevere
The incredible Donna Camilla Savelli Hotel by VRetreats is a baroque-era structure created by one of the most important architects of their day, Borromini. Once a monastery, its spaces are filled with history. Guests can also enjoy time in the hotel's very own private gardens. The Church of Santa Maria a five-minute walk away and the Imperial Forum just a short distance across the river.
Feeling very much like an authentic Roman home (it was once a convent), guests at Hotel Santa Maria can sit beneath the shade of a citrus tree in the afternoon sun before returning to simply furnished rooms. They face into an internal courtyard, giving a residential feel, with the hotel's public areas having a fun mix of original features. Family-friendly and incredibly welcoming, it's just around the corner from one of Trastevere's main squares, that of Santa Maria.
Monti – The Safest Neighbourhood to Stay in Rome
Monti is one of Rome's more diverse neighbourhoods. Not only do students, expats and everyday Romans call the area there home, but there is an intriguing mix of architectural styles too. Ancient Rome isn't absence due to the presence of Trajan's Market and the Domus Aurea, while modern shopping experiences can be had around Via Cavour and Via Nazionale.
There are a good number of places to stay, eat and drink in between primarily aimed at locals rather than tourists. It may not be as glamorous as other neighbourhoods, but Monti is one of the safest places to stay in Rome and one where you can feel more like a local and less like a tourist.
The Best Places to Stay in Monti
Hotel Bolivar – For an Alternative to the Centro Storico
With a range of attractions within a 15-minute walking radius, Hotel Bolivar feels more like it's in the centro storico. Situated in an archetypal Roman building of cornerstones and painted plasterwork, there's an old-world charm to this hotel which fits perfectly with what the Italian capital is all about. Many rooms have fine views, and there's also a cocktail bar should you be too tired to leave the hotel after a day of exploring.
Conti House – Best for Connectivity on a Budget
Simple but effective is the perfect description of Conti House, whose rooms provide everything the modern traveller can want without the costly thrills, including family rooms. Very well maintained by the hard-working staff, there's a small terrace giving you a sense of the street life below. When it comes to transport, Conti House sits roughly equally between two metro stations and tram route 8, which concludes at Roma Termini train station.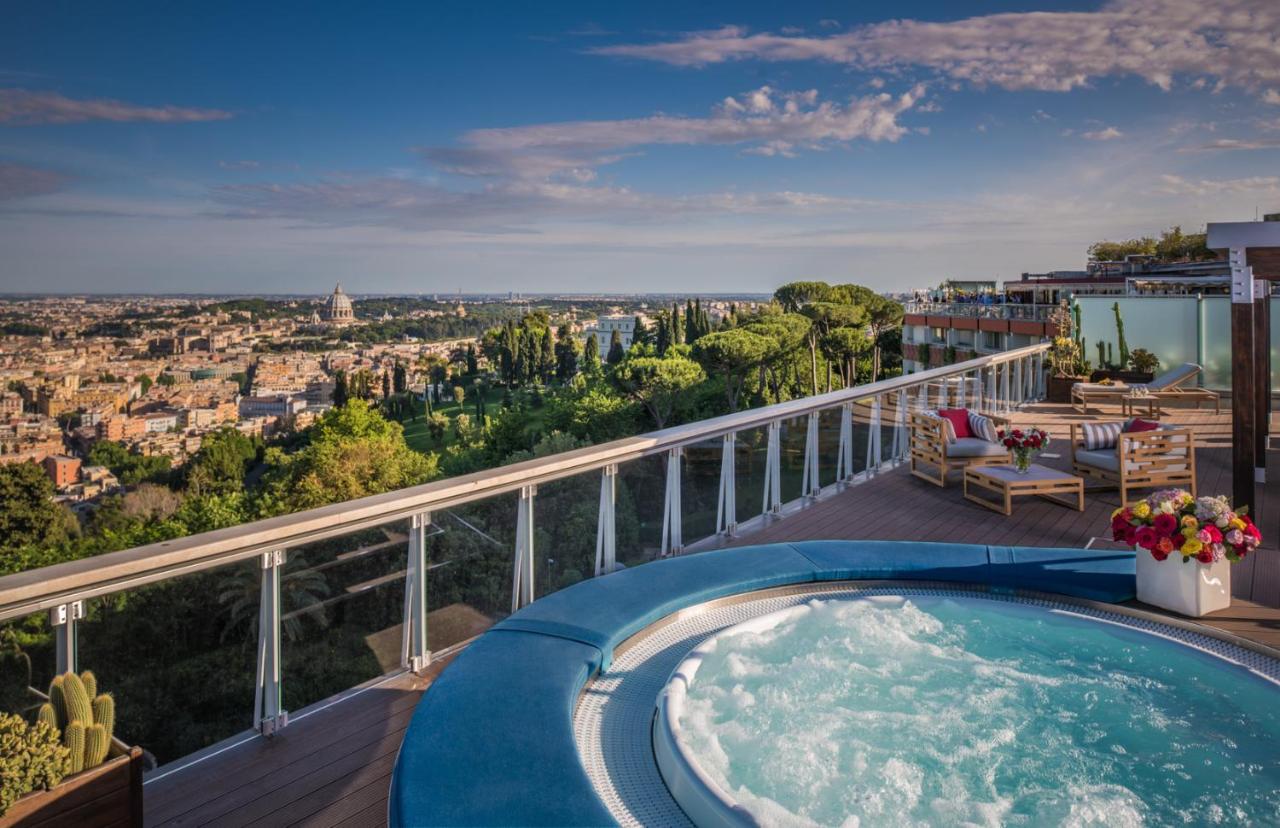 The pool area at the Rome Cavalieri has amazing views over the city
Prati – Near the Vatican and the Best Area of Rome for Couples
Rome's most upmarket neighbourhood, Prati remains the best part of Rome for couples. It is bounded by the Tiber on one side and the Vatican City on another, making it an international border of sorts, although you don't have to worry about taking your passport with you anywhere.
It's boulevard-style streets are known for their art nouveau buildings and high-end shopping boutiques. A major location for big business too, it quietens down slightly over the weekend, and remains relatively unknown to those who travel to the city for pleasure.
The Best Places to Stay in Prati
Rome Cavalieri, A Waldorf Astoria Hotel is one of just a handful of Rome hotels with a pool, making it a great pick for Rome's hot summer afternoons and a good choice for families. Located on Montemario hill, it has a commanding position over Rome and the Vatican, which guests can enjoy from private balconies. The rooftop features a three-Michelin star restaurant, the highest award possible, called La Pergola, with another found beside the extensive outdoor pool terrace and Mediterranean gardens. If that wasn't enough, there's also a large wellness centre on site too.
The Boutique Hotel provides a fine night's rest just 700 metres from St Peter's Basilica in the Vatican. Rooms have been given a modern look with herring bone patterned flooring, beautiful chandeliers and spaces which comfortably fit the large double beds. Natural light pours in from the windows, and international calls are included as standard, making this a sensible choice for those who may need to contact home.
Esquilino (Termini) – Best Place to Stay in Rome for Budget Travellers
A relatively small area of the city, Esquilino (otherwise known simply as Termini) shouldn't be discounted when considering where to stay in Rome. Particularly if being within close proximity of the city's primary railway station and metro station, Roma Termini train station, may be useful, such as an early morning train to Venice.
Accommodation in the neighbourhood tends to be a little more basic which makes it the best place in Rome for budget travellers. It's also one of the best areas of Rome to find Asian and African flavours. Sights include the Porta Maggiore and the Church of Santa Maria Maggiore, one of the catholic faith's most important and impressive.
The Best Places to Stay in Esquilino (Termini)
Hotel Best Roma – A Rare High-end Option in Esquilino
Staying in Esquilino doesn't mean doing away with the luxury completely as the Hotel Best Roma proves. In fact, the antique-style décor of the rooms and contrasting contemporary outdoor terrace have a lot going for them. Not only are they within easy reach of the train station, but also one of the historic gateways to the city. They sit close to several major attractions including the Trevi Fountain too. When it comes to eating and drinking, the Via del Pigneto pedestrianized zone has plenty to keep you occupied come evening.
You can still stay in satisfying accommodation on a tight budget thanks to the Roma Centrale Fidelis. It's small number of rooms gives it an exclusive feel usually reserved for the boutique hotels of Prati, while rooms have been beautifully modernised with a mix of hard floors, feature walls and neutral tones. Another good place to stay in Rome for families, kid will love the smart TVs and adults will appreciate the feeling of calm that comes over them every time they step across the threshold.
Testaccio – The Best Area to Stay in Rome for Families and Foodies
Testaccio is one of Rome's least-well known centrally-located neighbourhoods, but that's no bad thing when looking for good accommodation. Described by some as both edgy and daring, this may be taking it a bit far in conservative Italy.
In fact, Testaccio is one of the best areas to stay in Rome for families and foodies. Tucked into this underrated little neighbourhood are some fine things to do including the MACRO Modern Art Museum and some of the best theatres and nightclubs the city has to offer.
Testaccio is also famous for it's foodie scene so don't miss checking out the Testaccio Market, the street food stalls and the many eateries.
The Best Places to Stay in Testaccio
San Anselmo – Best for a Touch of Class
This rather chic option in Testaccio started life as a villa and surrounding gardens in the 1800s. Minimalists may find the rooms here a touch over the top, but I love the intricate detailing that has gone into creating each space. Guests are able to have breakfast on the terrace in fine weather, or cosy up together at the tiny bar on cooler evenings before returning to the richly ornate privacy of your room or suite.
Guests at Testaccio Historic House are able to choose between a one bedroom and a two-bedroom apartment. Each incorporate a living room and feature a well-equipped kitchen should you decide to put all you've learned about Italian cookery to the test. Add to this some charming original features, and you're all set for a home away from home.
Keep reading for all the essential info you'll need when planning a trip to Rome including the best time to visit, how to get around and how many days to spend in Rome.
Essential Tips for Planning a Trip to Rome
The Best Time to Visit Rome
Rome can be visited at any time of year. Even so, both the Lazio weather and its traditional vacation periods can have an impact on your holiday plans. For me, the best time to visit Rome is either between April and June or in September and October. This way you'll avoid the hottest temperatures and biggest crowds of Summer.
During April, May and the beginning of June the weather in Rome is generally good. Although you should be prepared for some quick spring showers, temperatures are already averaging 16°C, meaning you'll need little more than a light jacket for the evenings. Smaller attractions open their doors for the first time in the year, while the big attractions have shorter queues to enter than in July and August.
Come in early April and you've also got the chance of absorbing the city's Easter traditions. With so many attractions linked to early Christianity, as well as the Vatican City, it makes Easter a very special time to visit. You'll want to book your accommodation in good time as a result. September and October are usually similar to spring with regards to the weather.
If you're limited to travelling during the school summer holidays of July and August you can still visit Rome and have a fantastic time. Be aware that temperatures can regularly hit 30°C, so the middle of the day will be best saved for relaxing rather than rushing between tourists attractions.
Because it's the holiday period you will also face longer queues for sights such as the Vatican Museums and Colosseum, although it's now possible to pre-book timed slots and skip the lines at the Sistine Chapel and many more. The downside of travelling during these months is that many smaller family-owned businesses shut down for the month as they take their own annual vacation.
Travel to Rome over the winter months can also be very rewarding. To see the top things to do in Rome without the crowds is a special experience, and there's also the benefit of considerably lower prices on flights and accommodation. Christmas is another potential draw. You're unlikely to see any snow though, with average daily temperatures still in double figures at around 10°C.
How to Get to Rome and Get Around
By far the majority of visitors to Rome arrive and depart from Rome's international airports. The primary airport is Leonardo da Vinci – Fiumicino. It's located slightly further from the city centre than Rome's other international base, but if anything, transport options to the best hotels in Rome is better.
Both express and regular trains run throughout the day from Fiumicino Aeroporto train station. Shuttle buses are another option, with Terravision and TAM being the main players. And of course, there are taxis too. Prices are fixed, but not the cheapest, with the journey to within the city's centuries-old walls costing roughly 50 Euros. Pre book your transfer here for a hassle free experience.
It tends to be the low-cost carriers such as Ryanair and Wizzair that use Rome's second airport, Ciampino. Around 50 cities in 20-plus countries can still be reached by passing through its departure hall. An Airlink service operated by Trenitalia connects passengers directly with the nearest railway station at Ciampino Town, from where it's a short train journey to central Rome. Terravision also runs a shuttle bus service from Ciampino, while a private taxi will cost you around $35 or pre book a transfer here.
Once in Rome walking provides a great way of experiencing the city from street level as I've already mentioned. But it's not possible to walk everywhere every day. Thankfully there are plenty of additional options and good public transport.
The Rome Metro consists of three lines that between them cover all the major locations in the Italian capital. Line A (coloured orange) and line B (coloured blue) are the most useful for visitors. Both connect with Termini train station. Stations are recognisable from a white M on a red background. Services on lines are safe, reliable and inexpensive. They are also easy to use for those who don't speak Italian thanks to plenty of signage and automated ticket kiosks with multiple language options.
By contrast, the bus network is a little trickier to use simply because it's harder to know exactly which roads a bus will travel on without knowing Rome well. Some have onboard information, but you shouldn't rely on it. Drivers do not sell tickets. You need to purchase them before boarding from a newsagent's stall or tobacconists. You'll usually find one close by. You will also need to validate your ticket using one of the yellow boxes on the bus or face stiff penalties from roving inspectors.
There is also a six-line tram network, numbered non-consequentially as 2, 3, 5, 8, 14 and 19, but they are of limited use to most visitors.
The Ideal Rome Itinerary – How Many Days to Spend in Rome
Rome is a destination that will have you mesmerized however long you stay and however many times you visit. But don't worry if you can only spare a couple of days in the Eternal City. It's still possible to get the essence of what the city is all about over a weekend. You can check out exactly how much you can squeeze into just two days with my video diary of the perfect weekend in Rome.
If Rome is going to be part of a larger Italy trip, I'd say three nights and four days is the right amount of time to spend in the Italian capital. That way you'll have a good amount of time to dedicate to the big museums and historical sights, as well as being able to relax in one of the city's public parks with a gelato without feeling like you should be doing something more productive. It also means you'll have time to walk between many of the city's sights, seeing hidden gems along the way. Walking in Rome is definitely one of the best ways of capturing its atmosphere.
Stays in Rome of between five and seven days shouldn't be discounted either, especially if you're keen to experience all your luxurious hotel has to offer or tick off the city's top restaurants and nightspots. You could even take a day trip to the villa of the Emperor Hadrian at Tivoli or Rome's ancient port at Ostia or even Pompeii and Mount Vesuvius. 
I hope this guide helps you to plan an amazing trip to Rome and I hope you love this fascinating city as much as I do! Ciao! 🙂 
If you find our articles useful please use the links to book your hotels as we can earn a small affiliate commission, at no extra cost to you, which helps us to keep traveling and to keep bringing you real and useful travel tips. Thanks for reading and Happy Travels! 
Read More:
My Perfect Weekend in Rome Itinerary 
How to Skip the Queue at The Vatican and Sistine Chapel
Exploring Underground at the Colosseum