10 Eco Friendly Travel Tips & Ways to be a More Responsible Traveller
As I travel I often revisit some of my favourite destinations and I'm often saddened to see beautiful places that I love becoming overcrowded with tourists and trash and can't help feeling that, as a travel blogger who wants to inspire others to travel more, I have a bit of a responsibility to share not just the pretty, fun sides of traveling but also to highlight ways that we can be a more responsible traveller and share more eco friendly travel tips because other wise we run the risk the ruining the very same beautiful places that we travel so far to see.
It's great that in today's world, travelling has become vastly more accessible to people and will continue on this path, with increasingly competitive airfares probably being the most influential, contributing factor. This has spurred huge growth in the worlds tourism industries, and travellers are increasingly able to reach, previously more difficult to access and remote destinations.
Pin me 🙂
Whilst on one hand, this may sound very positive, both to those people who have a great interest in travel, and to those who are benefiting from the growth in tourism, there are unfortunately some downfalls of the increase in travel, such as over tourism in some destinations that have been highly popular for decades already, and there are community and ecological impacts to consider as well.
Green travel has become a hot topic of conversation lately and it certainly sounds catchy. One of the easiest ways to be a more mindful, responsible traveller is to look at the bigger picture overall and consider ways that you can participate in more eco friendly travel.
Here are my top 10 eco friendly travel tips and ways to be a responsible traveller :
1. Shop at local markets
One of the easiest ways to be more mindful, eco friendly and responsible traveller is to look at the bigger picture when making your everyday purchases. Instead of supporting the larger supermarkets and chain stores, if you choose to make purchases from smaller operators and stall holders where possible, you can play a part in redirecting income to those who need it most in communities.
This practice can have a significant impact in the lives of the locals in the places you choose to visit. Rather than your money going to big corporations and wealthier businesses, your seemingly small purchase could mean a world of difference. Plus, going to shop at the local market produces less waste and air miles and is a fun way to get better immersed into the local culture.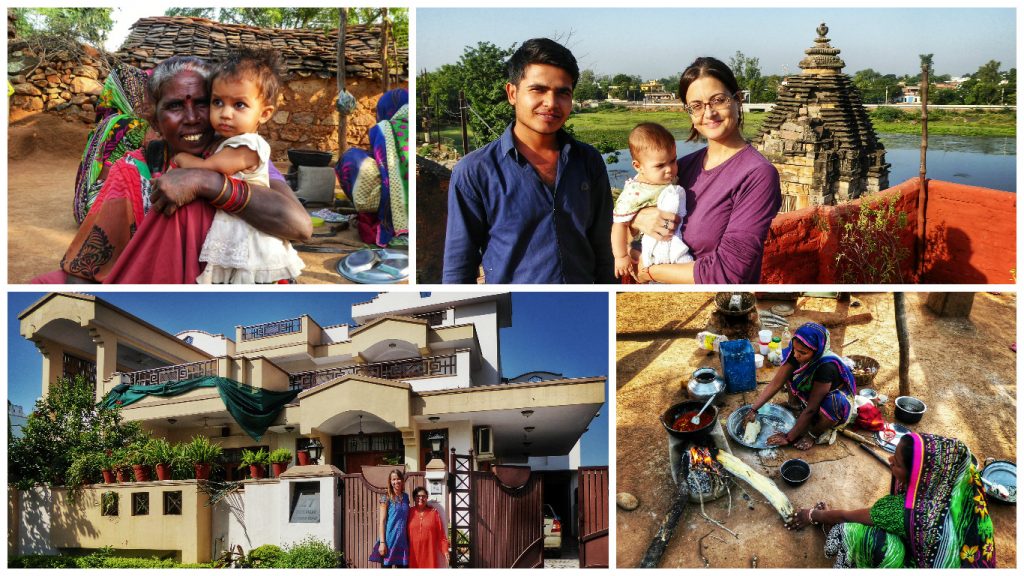 2. Stay in local guesthouses
Another key way to be more a more eco friendly and responsible traveller with your choices is by supporting families and choosing to stay in local family owned and operated guesthouses, rather than chain hotels when it's possible. Often you'll find that your experiences can be enriched in such a decision, as local families will often go above and beyond to make you feel welcome, offer more authentic home cooking, and there is an opportunity to interact with the family and learn more about their daily life and culture.
Local guesthouses are also much more eco friendly than staying in massive luxury hotels – the building of which often leaves a huge carbon footprint, ruins the same beautiful landscapes you came to see and the profits rarely stay within the local community. Whichever accommodation option you go for you can be more eco friendly by reusing sheets and towels rather than having them washed every single day, using the fan instead of the air conditioner, bringing your own toiletries and refillable water bottle and using the hose instead of toilet paper (it's cleaner anyway!)
Read More: 10 reasons to stay in a homestay in India 
3. Fly less to reduce your carbon emissions
The carbon emissions produced by planes is huge in comparison to other modes of transport and contributes to about 3% of total global emissions. Where it's possible to do so, part of being a responsible traveller can mean opting for overland train and bus travel. This will cut down your carbon footprint significantly and is quite often a more leisurely and comfortable way to travel. You can avoid the hassles of the excessive security screening that airports conduct (such as x-ray scanning!) and you'll also get to see more of the local scenery whilst you are seated comfortably for your journey. Trains quite often have in-house dining carts and cafes on-board too, and bus journeys usually have planned stops along the way which often include more sightseeing opportunities.
Did you know that it's the takeoffs and landings that create most of an airplane's carbon emissions. It's more eco friendly to try to book non-stop flights whenever you can and avoid being tempted by low fare offers and taking quick weekend breaks and travel for longer if you can – you'll get a much better insight into the destination if you can visit for longer instead of making a whistle stop tour – it's more cost effective, more eco friendly and more fun to travel slower and for longer if you can get enough time off.
4. Reduce your plastic waste
Another part of being a responsible traveller and engaging in eco friendly travel is putting in the effort to reduce your plastic waste as much as possible wherever you go. This is also something you should do in your home country, not just when you are on the move. And if you do have any rubbish, always make sure you can dispose of it properly – no one likes a litterer!
The good news is, products that help eliminate single-use plastics are increasing on the rise, so there's really not much of an excuse left for single-use plastics these days. You can easily carry reusable cloth shopping bags with you at all times, they don't take up much space in your bag, you can carry your own refillable water bottle and water filtering device (such as a life straw) and other things that are easy to carry such as a reusable straw and cutlery set, a reusable food container (the collapsible ones are perfect for throwing in your backpack!)
5. Always respect the local culture
Even if you don't agree with the rules and local customs of a place you are visiting, part of being a responsible traveller is respecting and adhering to the laws, beliefs, customs, traditions, and code of conduct of the locals. It's a really good idea to take some time to learn about and understand these things even before arriving at your destination.
Once you have arrived, it is respectful to follow instructions on how to behave and conduct yourself, and doing as the locals do. Likewise, if you put in an effort to be respectful, the locals will be much more warming and comfortable about your presence. Things such as dress codes and rules around religious traditions and places of worship are probably the most import to follow to make sure that you do not upset locals, or worse find yourself in trouble with the law.
Read More: Tips for female travellers in India 
6. Be mindful of the activities you choose to participate in
If there is one thing I could emphasize most on this list, please don't support animal tourism, it's just plain cruel. It is very wise, and the key to being a responsible traveller to educate yourself on this matter. Take the time to understand that animals that are enslaved for the purpose of animal tourism related activities are most often physically tortured, kept in squalor conditions and underfed.
The best way to see wild animals is always in their natural habitats, and there are many conservation focused and eco travel friendly tour operators who can take you on a safely guided trip to see animals in the wild.
Read More: Why elephant riding should be removed from your bucket list  
7. Be mindful of over tourism in certain mainstream destinations
With travel becoming increasingly accessible and affordable, it's important to understand how this influx of people arriving into these places may be encroaching on the locals' way of life and having environmental impacts. Many places that have reached a point where they simply cannot manage the influx of visitors and have had to put limits on the number of people who can visit.
Over tourism has unfortunately led to the degradation of some natural, religious or heritage sites and measures have had to be put in place to maintain and preserve these places. To be a more responsible traveller and balance out these negative impacts of the rapidly increasing numbers of visitors to destinations there are a few things you can do, such as visiting popular destinations in the off-seasons/shoulder seasons (which will also often save you money!), heading off the beaten track and exploring lesser known places.
Read More: 36 alternative European city break destinations 
8. Be mindful when bartering
Buying locally made souvenirs when you're traveling provides a valuable and much needed income to local people and whilst bartering is the way of transacting for many places in the world, it is important to be fair when bartering and respect this is the livelihood of the locals. Whilst everyone loves a bargain, and many people are travelling on a budget, at some point, you must ask yourself what's the benefit of arguing over a few cents or a few dollars. Being mindful not to over barter is part of being a respectful, responsible traveller and you may just find you have a much more warming and pleasant experience through this act of awareness too.
9. Avoid giving in to beggars
The sight of a beggar on the street will certainly pull your heartstrings close, and you may feel compelled to help, it's natural, the good in us, sees suffering and we want to reach out and help. However, the reality is that in giving in to begging, this only promotes more begging. It only creates more harm than good and doesn't really solve the beggar's problems long term. In touristic places particular it has become a way to earn money and discourages people from looking for more meaningful long-term work solutions.
Similar could be said about feeding the animals in natures, that it discourages them to not hunt and look for food. Often parents will even leave very small children unsupervised, vulnerable, and with no food or water all day on the street in some places, so that the child may do the begging work. This is particularly heart wrenching to see, however, if you really want to give something, give bananas or some street snacks to these children instead. So as hard or controversial this one may seem, another part of being a responsible traveller means its best to avoid encouraging parents to do such things by giving into street beggars.
Read More: How giving money to child beggars does more harm than good
10. Support a tree-planting project
One way to reduce your carbon footprint, make your travels more sustainable and do something good for the environment when you are travelling is by supporting a tree-planting initiative like B'n'Tree.  They use the advertising credits offered by travel companies like Expedia, Hostelworld and Skyscanner to plant trees in places hit hard by deforestation.
Each tree planted helps our planet by removing harmful CO2 from the atmosphere. B'n'Tree's reforestation projects also make a real difference on a local level by helping to protect wildlife and create sustainable work for local people in places such as Ghana, Thailand and the Philippines.
Every booking you make using one of the links on the B'n'Tree portal plants a tree. It doesn't cost anything to use the service, and by the time you have booked your flights, accommodation and transport, you'll have planted a small grove of trees that will continue to offset carbon emissions for years to come! Check out more details here – https://clickatree.com/en/plant/travel
11. Spread the word and encourage others to be a responsible traveller too!
If everyone does their part we can collectively reduce the negative impacts of the increasing travel and movement of people around the world. We can all make an effort to influence those around us at home and abroad by doing differently, being the positive change ourselves, and making it a topic of conversation.
That's why I wrote this post – I'm not perfect and as a travel blogger I definitely worry about my carbon footprint but we do have to find ways to protect our precious and beautiful planet and hopefully every little helps.
By encouraging your friends and family, and anyone you meet along your travels to be a responsible traveller and make eco friendly travel based choices, we can all ensure that the planet will be able to sustain all the explorations for generations to come.
Have you got any tips for being a more responsible traveller and engaging in eco friendly travel?
Read more:
What is 'green travel,' anyway? A beginner's guide to eco friendly travel planning.
Ultimate guide to green travel tips and sustainable travel. 
What to know about green travel?
Why travelling is good for you