Reflecting on an amazing 2nd year of full time travel at Belur Temple, Karnataka, India. Photo Credit: Claudia Emanuel Photography
14 Travel Highlights of 2014
2014 was my 2nd year as a full time traveller after deciding to live my life to the full. In Dec 2012 I gave up everything to travel the world because I believe life is not about amassing titles, money and material goods. I believe life is a journey; living is about the experiences you have, the people you met and places you visit, the things you learn and discover and the memories you make and wow I have made some amazing memories!
2013 was an incredible year with so many amazing experiences ticked of my Bucket List. This year, instead of rushing around and visiting so many countries as I did in 2013 I spent longer in each place, including over 6 months just in Australia, getting to know the locals to understand the culture better and developing a more meaningful connection.
Here's 14 Highlights of 2014:
Road Tripping the Australian Outback
Feeling the thrill of the open road and the allure of the Outback exploring Australia on an Outback Road Trip in my own campervan
Reunited with my Mum in Singapore
After more than a year apart, I met my Mum in Singapore – a perfect introduction for her to the different cultures and cuisines of Asia, a region that I love so much.
Exploring an abandoned temple of Communism 
Exploring the abandoned, UFO like Buzludzha – the former Communist Party Headquarters on a lonely hill in Bulgaria
Wonderful Whitehaven Beach
Having a picnic on the unbelievably silica white sand of one of the world's most beautiful beaches – Whitehaven Beach, Whitsunday Islands, Australia
Eat, Pray, Love in Bali
Feeling the spirit of Bali on a holiday with my Mum. From the beaches to the rice terraces – there's something special about the 'island of the gods' once you escape Kuta.
Working as an Aussie Bar Maid
Being at the center of the community, getting to know everyone and feeling at home in sugar cane country while working in a Queensland country pub in Australia
Giving Back in India
Returning to India at last, a country that had been pulling on my heartstrings to return, and giving something back while volunteering in Bangalore
Road Tripping the Great Ocean Road
Our first trip in our new campervan! – Road Tripping the spectacular Great Ocean Road in Australia and taking time to soak it all in.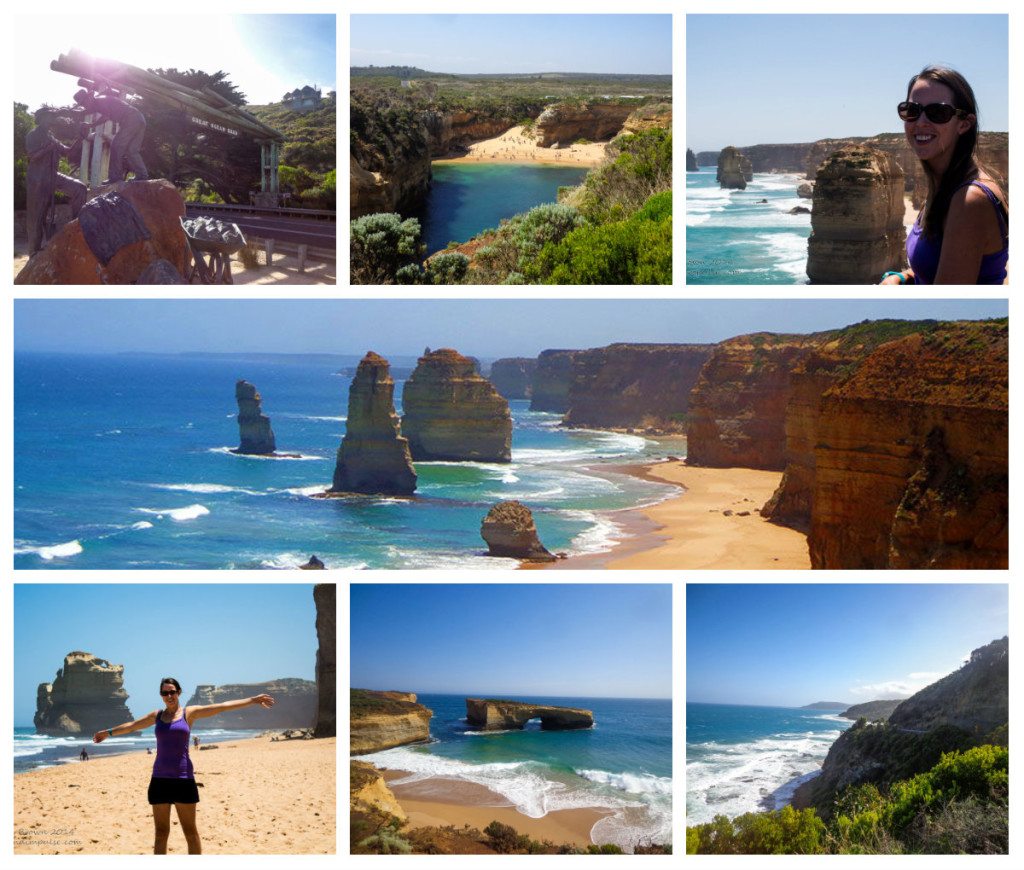 The Mighty Acropolis
Seeing probably the most important monument of the history of Western civilization – the over 2,500 year old crumbling but still mighty Acropolis in Athens, Greece.
The Gorgeous Gili Islands
Relaxing on the gorgeous Gili Islands, Indonesia. There is no motorized transport, you can snorkel right off the beach and stroll around the whole island
Majestic Mysore Palace
Visiting the majestic Mysore Palace in India that drips with grandeur both inside and out and is especially spectacular when illuminated at night.
Magical Meteora
Hiking up to monasteries perched high on the rocks and taking in the stunning views of Meteora, Greece.
Manic Mumbai
Returning to Mumbai for the 3rd time and still finding so much to love and explore in this crazily captivating, buzzing and endlessly fascinating city of dreams and contrasts.
2014 was another amazing year of exploration, thanks so much for all your support. I start 2015 back in India – see my 2015 Travel Wish List for more on my upcoming adventures of the next year ahead.
I'd love to hear your travel plans for 2015 and help you to plan your great adventures! Also make sure to follow along on facebook, instagram and twitter or subscribe to get the free newsletter with exclusive news.