Festivals in India you must experience at least once in your lifetime
What better way to experience the rich culture, vibrant spirituality and crazy celebrations that India is famous for by immersing yourself in the colour, joy and religious fervour at one of the craziest, sensory-busting festivals in India .
Many Indian festivals have a common theme of the celebration of victory of good over evil and brightness over darkness and are based around the Indian epic the Ramayana – read it before you go and you'll understand so much more about Indian culture, history and religion.
Pin Me! 🙂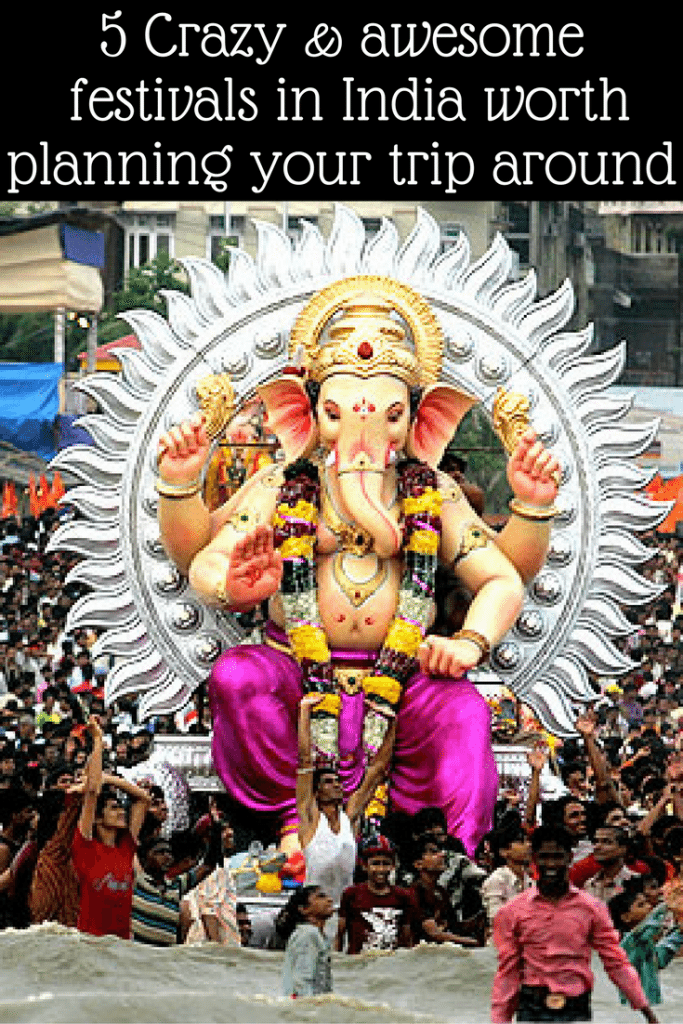 If you want to time your visit to take in some of the biggest and best Indian festivals then visiting between late September, October and November are a good time. This is also a good time to travel as the temperature is relativity cool.
5 of the best festivals in India worth timing your trip around.
There are so many festivals in India that sometimes it feels like there's a celebration on every day but here the biggest and best festivals in India to add to your bucket list if you're looking for an unforgettable and once in a lifetime experience.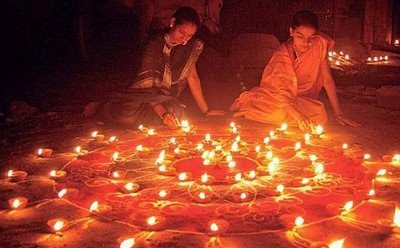 Diwali – The Festival of Light
Diwali is celebrated across the whole country and is the biggest festivals in India. Diwali is a five day festival, held in October or November, that celebrates the victory of good over evil. Diwali is known as the "Festival of Lights" and is the Indian equivalent to Christmas, everyone goes home to visit their families to share gifts and feast. Thousands of little clay lamps and candles are lit and fireworks are set off to represent the victory of brightness over darkness and to help guide Lakshmi, the goddess of wealth, into people's homes.
Diwali is not as crazy as some of the other festivals but it is a heart warming celebration to participate and the flickering candlelight gives everywhere a warm and atmospheric feeling, just be careful of the fire crackers that get set off everywhere.
Dates:  28th October – 1st November 2016 and on 17th – 21st October in 2017
Where to Celebrate: Diwali is celebrated all over India but is better in the North. Around this time, the whole country is on the move to be with family so it's best to avoid traveling too much during this period and just enjoy the festivities wherever you are.
Holi – A crazy festival of colours
Holi is one of the most famous and crazy Indian festivals. Holi celebrates the arrival of spring and is the first major festival of the year. Holi is known as 'the festival of colours' as people wildly throw coloured powder and water all over each other and have wild parties and dancing. They also traditionally consume a potent drink called Bhang (which is made from cannabis) during the celebrations.
Holi is a crazy, colourful festival that's great fun to participate in as long as you don't mind getting wet and dirty. Wearing a white t shirt is a great way to show off all the colours you'll accumulate but don't wear your best clothes as they will get ruined.
Dates:  March 13th 2017 or 2nd March 2018
Best places to Celebrate: Holi is celebrated most exuberantly in North India. Delhi and Rajasthan have colourful festivities and holy cities like Varanasi, Mathura and Vrindavan (home of Krishna and not far from Agra, the home of the Taj Mahal) Read more 10 best places to celebrate Holi festival.
Navaratri, Dussehra, and Durga Puja –  Worshipping the fierce some Goddess Durga
Every year in September/ October time Hindus observe 10 days of ceremonies, fasts, feasts and other rituals in honour of the rather fierce some looking Goddess Durga. Navaratri, Dussehra and Durga Puja are all separate festivals that are celebrated slightly differently in different regions of India but they are all very closely linked so I've rolled them into one for the purpose of keeping this post quick.
The first 9 days of this extravaganza are known as Navaratri, a festival of dance. The 10th day is called Dussehra, which celebrates the victory of good over evil with huge burning effigies of the demon king Ravana.
In Eastern India the festival is known as Durga Puja where life size statues of the Goddess Durga are made and displayed in Pandals. Durga Puja is a really social and theatrical event and there are also drama, dance, and cultural performances help until the finale where the Durga statues are immersed in the River.
Dates: 1st– 11th October 2016 or  21st – 30th September 2017.
Where to celebrate: Kolkata (Calcutta) is without a doubt the place to be for Durga Puja. (Read more here about celebrating Durga rPija in Calcutta.)  Mysore in Karnataka has a huge Dussehra parades and celebrations and the Mysore Palace is spectacularly illuminated and Navaratri is best celebrated in Gujarat.
Ganesh Chaturthi – The festival of the elephant headed god.
One of the most beloved Hindu gods is Ganesha – the elephant headed god. Ganesh Chaturthi is a spectacular 11 day festival that celebrates his birth. Huge, elaborately crafted statutes of Ganesha are specially constructed for the festival and, after being worshipped in homes, they are paraded through the streets, accompanied by wild dancing and singing, until they are submerged in the ocean.
Dates: September 5, 2016 or August 25, 2017
Where to Celebrate:Mumbai (Bombay)has the biggest Ganesh Chaturthi celebrations, there are thousands of statues displayed around the city and a huge procession takes place from the Siddhivinayak Temple to the sea to immerse the statues.
Pushkar Camel Fair – A carnival like livestock fair and religious festival
The tiny holy desert town of Pushkar in Rajasthan sees an astonishing 30,000 camels converge for the famous annual Pushkar Camel Fair. The camels are dressed up, paraded around and traded. It's a great chance to witness an old, traditional style Indian festival. There are also many side shows including, camel races and beauty contests, folk and classical music and dancing, arts and crafts bazaars and even moustache competitions. After the camel fair there is also a religious festival called Kartik Purnima where pilgrims bathe in the holy Pushkar Lake.
Date: The official dates are 8th – 14th November 2016 but camels start arriving earlier and pilgrims stay later.
Where to Celebrate: The camel fair is held at Puskhar in Rajasthan, but there is also a less touristy camel fair in nearby Bikaner that is held in January.
 Have you been to any of these festivals in India? How was your experience? Any other Indian festivals to add to the list? Please comment below 🙂 
Liked this? Pin Me! 🙂