Mysore Travel Guide
Why visit Mysore?
Mysore is one of the most flamboyant places in South India, bustling with the history of its glittering royal heritage and famous for exquisite silk saris, elaborate architecture, sandlewood and yoga amongst many other things. The Lonely Planet claims that "if you haven't been to Mysore, you just haven't been to South India" Carry on reading my Mysore travel guide for the best things to do in Mysore, places to stay and eat and more tips.
Mysore is most famous for the majestic Mysore Palace, undoubtedly one of India's most spectacular royal buildings. But don't just visit the palace – there is much more to explore in Mysore. Mysore is especially vibrant during the grand spectacle of the Dussehra Festival, but even if you visit after this time Mysore is still an essential stop on any South Indian itinerary. Allow 2 – 3 days to explore.
Pin Me 🙂
Daily Budget for Mysore: 1,000 – 2,000 Indian Rupees per day (US$15 – 30)
See more on the typical costs for traveling in India here
Top Things to do in Mysore

Visit Mysore Palace
Most visitors understandably make a beeline for the unbelievably opulent Mysore Palace, the seat of the Wodeyar maharajahs who ruled the kingdom from 1399 to 1950. The palace you see today was actually built in 1912 after a fire destroyed the first palace and it is a beautiful example of Indo-Saracenic architecture, a fusion of styles that creates a really spectacular sight.
Inside the palace really drips with extravagant opulence and fine details, each new room you discover seems to surpass the last in terms of rich colours, fine paintings, elaborate architecture, fine wood carved doors, mosaic floors and stained glassed windows.
On Sundays, public holidays and during the Dussehra festival the palace it spectacularly illuminated at 7pm however, especially at the weekends, don't expect to have this palace to yourself as it gets really crowded. The entrance costs 200 rupees for foreigners and an audio guide is included in the foreigners ticket price which helps to bring this spectacular building to life and highlights details that you might otherwise miss.
Climb Chaumandi Hill
Learn more about the ancient myths and legends of Mysore by climbing up Chaumandi Hill. Once Mysore (Mysuru) was known as Mahishur which means  "the town where the demon buffalo was slain." Mysore was ruled by a demon called Mahishasura who was killed by the Goddess Chamundeshwari ( Chaumandi or known as Durga in North India) This is what gave Mysore its name and the legend is still celebrated enthusiastically during the Dussehra (Dasara) celebrations.
On the top of Chaumandi Hill is the Sri Chamundeswari Temple, visit in the morning and enjoy the colour and buzz around the temples as devotees dressed in the finest, most colourful saris buy coconuts and other offerings for the revered goddess and also check out the statue of the demon Mahishasura.
If you are feeling energetic you can climb the over 1000 steps along with the pilgrims, some of whom painstakingly bless every single step. Or you can take a bus or auto rickshaw all the way up the hill or to just over half way to the big Nandi statue and walk the rest of the way from there. Also make sure to take some time to just enjoy views the cool air and views over Mysore and beyond.
Explore Devaraja Market
Another essential sight in Mysore is the vibrant and atmospheric  Devaraja Market. This market is over 1oo years old and still vibrantly bustles with life, colour, noise and a good dose of chaos. Devaraja Market really is aan essential Indian experience and a photographer's paradise.
Wander the stalls and see stacks of colourful fruits, vegetables and spices, garlands of fragrant flowers, heaps of colourful dyes and rows of sparkling bangles. The sights, sounds and smells of the market are truly a feast for the senses but be prepared to haggle if you intend on making any purchases.
See more: Reasons to visit Devaraja Market: A Photo Essay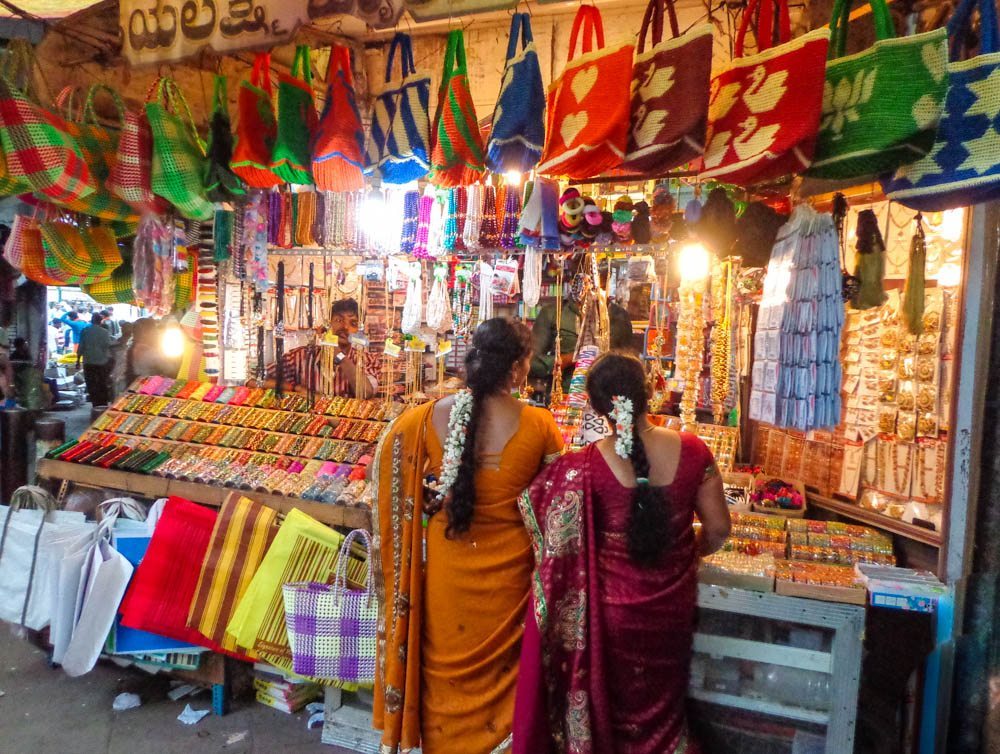 Yoga and Ayurveda Courses in Mysore
Mysore is a worldwide famous centre for ayurveda, the ancient science of Indian herbal medicine and holistic healing, as well as Mysore style Ashtanga yoga and many people come from all over the world to study and practice Yoga here or to train to be a yoga teacher.
The Shri K Pattabhi Jois Ashtanga Yoga Institute is the most famous guru and yoga school in Mysore and it can be difficult to get a place here, Mystic Yoga School is also a popular and well respected choice. Most yoga schools take their practice very seriously and require a one-month commitment.
If you don't have time for a full course, visit the Indus Valley Ayurvedic Centre, a hotel set in lush gardens where the full board package includes a yoga class, a relaxing ayurveda massage and a beauty treatment.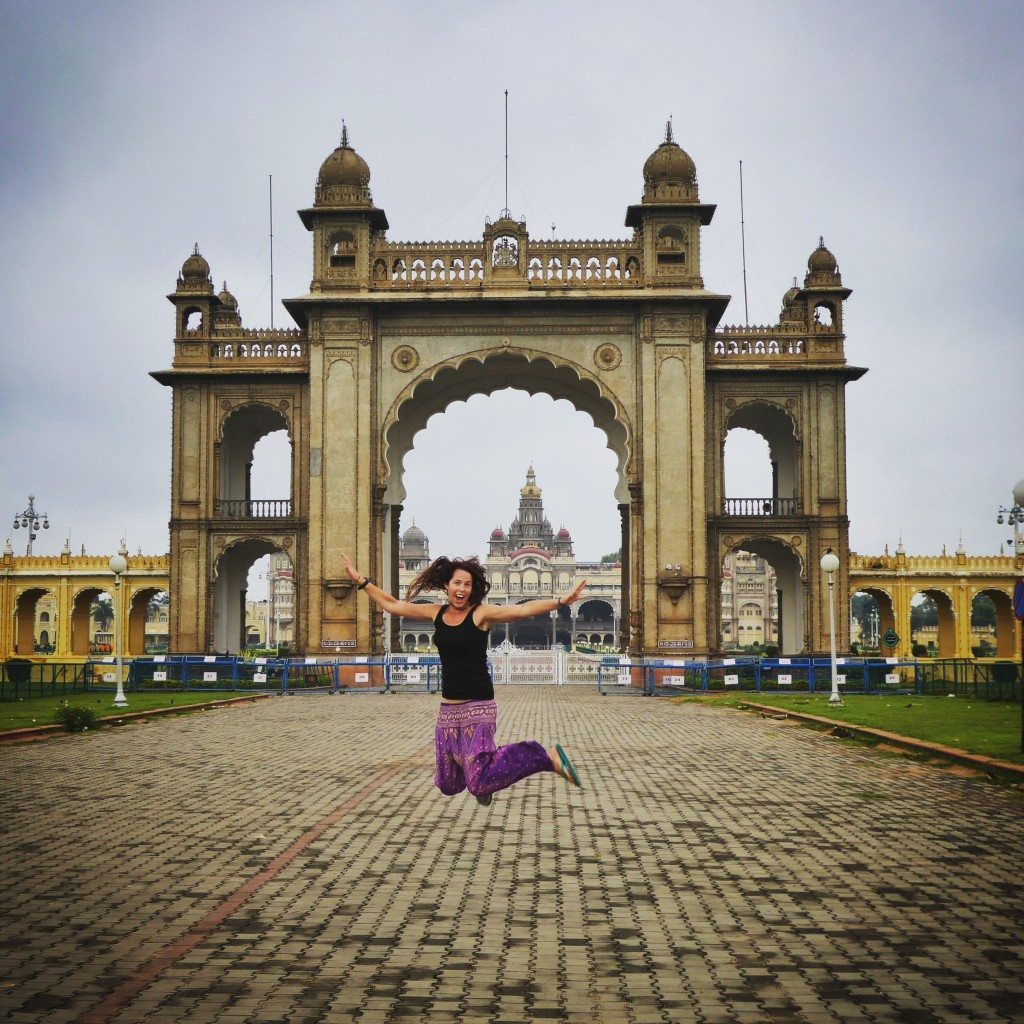 Art Galleries and Museums in Mysore
Mysore has a great range of museums and art galleries. The  Art Gallery, housed in the old Jaganmohan Palace, it features some beautiful paintings and kitschy collections that give you insight into how the Wodeyar dynasty lived. The National Museum of Mankind contains some excellent exhibitions on rural Indian life and crafts. The Jayalakshmi Vilas Complex Museum on the university campus showcases folklore and some really ancient artefacts and for a bit of fun – check out the open-air Rail Museum.
Day Tours of Mysore
I took a Mysore day tour with goMowgli which gave me such a deeper insight into the rich and glittering history of this fascinating town. The morning started with the stories of the myths and legends of Chaumandi Hill before a local dosa breakfast. I felt really lucky to visit the Mysore Silk Factory to see how these famous sarees are made and to the sandalwood oil factory, another of Mysore's famous and highly popular exports.
Visiting the elaborate Mysore Palace was of course a highlight and goMowgli also showed me some off the beaten track museums, I met some talented stone sculptors and wooden inlay artisans who can do magic with pieces of rocks and wood. We found time to enjoy a fabulous traditional meal on a banana leaf for lunch while I probed the goMowgli team for all their local tips for eating and drinking in Mysore and topped off the day with a guided tour through the amazing Devaraja Market and some sweet street food treats! Highly recommended!
Facts about Mysore
Mysore is actually home to 7 palaces and much of the architecture in this flamboyant city looks European. Take time to admire Mysore's unique fusion of architecture at the Government House, the Rangacharlu Memorial Hall, the glittering clock towers and statues in the roundabouts and St Philomena's Cathedral.
The Mysore maharajas were very popular and well loved and they were really quite advanced for their times. It is said that Mysore Palace had electricity even before London's lights were switched on. The maharahjas were also responsible for many public works that benefited the economy and local people.
Mysore is also famous for its production of fine silk, sandalwood and other local products and is the best place to shop for sandalwood oil, incense and exquisite (but expensive) silk saris and other handicrafts. I found visiting the silk factory on the goMowgli tour really fascinating and it's something not many tourists see.
Where to Stay in Mysore
Mysore is a popular destination, especially for Indian tourists, and there is a good range of accommodation available.
Save: The recently opened Sonder Hostel is a great option for backpacker's looking to meet other travellers and stay on a budget. You can also find plenty of budget accommodation options in guesthouses. Hotel Dasprakash and Hotel Galaxy Comforts are good options. You can also find apartments near the Gokulan Road area of town which is popular with Yogis – try Urban Oasis Compact if you want to book in advance.
Splurge: For something a bit more stylish try the popular Park Lane Hotel with comfortable rooms, a good location and a nice beer terrace. Or if you fancy living it up like royalty you can even stay in a former palace built my the same Wodeyar Maharajahs at the Royal Orchid Metropole Hotel. 
Where to Eat and Drink in Mysore
Mysore has plenty of places to eat for all budgets. Near Gandhi Circle Hotel RRR has great veg meals on a banana leaf and biryanis but it can be hard to get a table as it is so popular.  Aramane Cafe, near the Palace, is a good place to get a coffee or vegetarian lunch, Madhava Bhavan is another good pure veg restaurant.
If you want something different try Mezzulluna for good Western and Chinese food (try the steak or kebabs) along with Indian favourites. In Gokulam you can get an amazing vegan thali served on a banana leaf or if it's a beer you are craving the Pelican Pub is popular and The Park Lane Hotel's beer terrace is a great place to hang out, eat and drink.
How to Get to Mysore
Mysore is most easily reached on an approx 3 hours train or bus journey from Bangalore. The nearest airport is in Bangalore and there is also a 'Fly bus' that goes straight from Bangalore airport to Mysore.
Day Trips from Mysore
Karnataka is a fascinating but still under rated and off the beaten track destination. Within a day trip from Mysore you can see authentic, rural Indian life, marvel at the detailed carvings on the Hoysala temples at Somanathapura,  enjoy the refreshing waterfalls at Shivanasamudra falls and see the temples being excavated from the sand of the cursed city of Talakadu See more here 
Or you could climb a rock to gaze up at the huge Jain statue at Shravanabelagola and admire to detailed carvings of the Hoysala temples at Belur and Halebid. See more here.
Where Next after Mysore?
Experience modern India and enjoy the pub scene in India's silicon city – Bangalore
The ancient temples, bewitching myths and surreal, boulder strewn landscapes make Hampi a must see
Explore more of the underrated state of Karnataka and enjoy the nature and coffee plantations in Coorg
Read More India travel guides:
Pin Me 🙂