The Average Daily India Backpacking Budget
India is one of the cheapest places to travel in the world but even so. If you're backpacking India or traveling on a tight budget it's useful to work out an average daily India backpacking budget.
It's useful to know how much things cost in India because, if you can figure out how much you are likely to spend each day when traveling in India, then it's easier to save up and plan for your trip.
I've travelled all over this amazing country many times. So to help you plan your trip to India I've broken down my usual daily expenses to reveal the average daily India backpacking budget. I've also written down some typical costs and lots of tips for traveling India on a budget.
So how much does it cost to backpack in India?
The cost of backpacking in India can vary depending on the level of comfort you need and your style of travelling.
India is changing quickly, and as it modernises the range of options and services for travellers are increasing; you can still travel here dirt cheap or you can also travel in pretty good comfort, or even ultimate luxury, for less than in many part of the world.
The good news for budget travellers is that backpacking in India is still great value and India remains one of the cheapest places to travel in the world.
So what's the average daily India backpacking budget?
It's always hard to generalise because the end cost will be different for everyone depending on the places travelled, the style of travel and comfort and the travellers' skill in haggling!
But, my simple answer is that most budget travellers spend between ₹1,300 – ₹2,300 a day backpacking around India. That's roughly $20 – $35/ £12 – £23  a day (not taking into account initial cost of flights and visas)
So, here's a quick run down of the average costs you are likely to encounter while backpacking around India.
I have displayed costs in local currency  ₹ Indian Rupees, £ British Pounds and US Dollars but be aware that exchange rates and prices can and do change.
The Average Cost of Backpacking India
| | | | |
| --- | --- | --- | --- |
| Item | Average Cost in ₹ Indian Rupees | Approx Cost in GDP £ | Approx Cost in US$ |
| Guesthouse for 2 | ₹  700 | £7.00 | $10.50 |
| Restaurant Meal | ₹ 150 | £1.50 | $2.40 |
| Street Food/ Snacks | ₹ 50 | £0.50 | $0.80 |
| Long Distance (12hr) Bus/Train | ₹ 500 | £5.00 | $7.50 |
| Local Transport & Taxis | ₹ 70 | £0.70 | $1.10 |
| Bottle of Water | ₹ 20 | £0.20 | $0.35 |
| Beer | ₹ 100 | £1.00 | $1.60 |
| Attractions | ₹ 250 | £2.50 | $3.85 |
| | | | |
Update – Most attractions now charge 500 rupees so if you plan to do alot of sightseeing this could push up your daily India backpacking budget
If you found this useful please pin me and help out another traveller! 🙂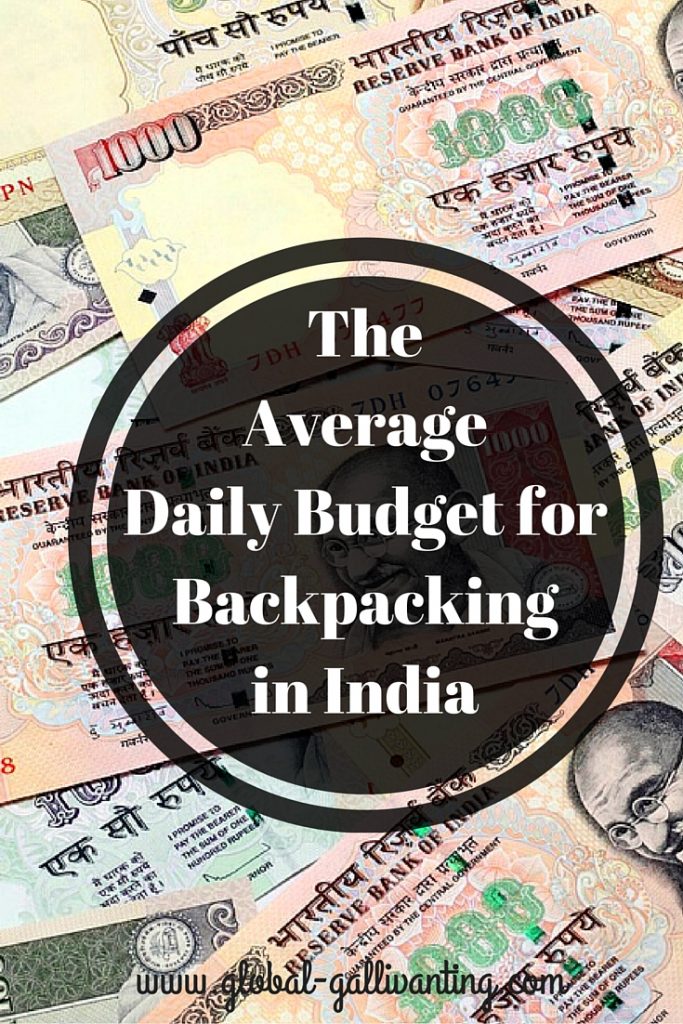 More Budget Tips for Backpacking India
Of course, somedays you will spend more, and somedays you will spend less – fitting in all these activities and expenses into one day you would be pretty exhausted and India is not a place that you will enjoy rushing but this should give you an idea of the common costs to budget for.
Accommodation is the hardest to determine an average price as guesthouses can range between ₹ 300 to ₹ 1000 in a more expensive city like Mumbai or if you are just longing for a bit more comfort. New backpacker hostels are now starting to open up in India but usually a budget guesthouse is cheaper than 2 beds in a hostel.
The fares on local buses and Indian Railways (in the cheapest classes) are great value (but trains can be hard to book see my guide on train travel in India) Deluxe tourist or sleeper buses cost more and traveling long distances quickly is going to eat up a backpacker's budget.
Traveling slow can reduce the costs and hassle factor of backpacking India, although if you were taking a long distance bus or train then you would often travel overnight so you wouldn't need to spend on accommodation that night.
Eating Indian food is always cheaper than Western food and a good way to make your India backpacking budget stretch further while enjoying the amazing local cuisine. Skipping a few beers would save you money (India doesn't really have a big drinking culture anyway) There are also many free or cheaper sightseeing options so you probably wouldn't visit a ₹ 250 attraction every day.
So basically some days you will spend more and some less but the average daily India backpacking budget would be around ₹1,250 per day (£12 or US$18).
For one month backpacking in India I would allow at least ₹ 40,000  ( £400 or US$ 600)
These are the costs for 2 people traveling together, if you were traveling alone then you would be paying the whole cost of the accommodation and taxis yourself, meals are also often made for sharing so you can split the cost of this if traveling together so you would spend more traveling alone.
I average about ₹ 2,000 INR per day if I am traveling solo and often, as a solo female traveler I will opt for a higher class of train or slightly nicer guest house or restaurant if I feel that I need to for safety or sanity. (See my tips for traveling India as a solo female.)
You could backpack India cheaper than this – but you might not enjoy it
It's still definitely possible to backpack India for ₹1000 a day (£10 / $16) – public transport is great value in the lowest classes, street food can be found for next to nothing and there are many dirt cheap guesthouses.
But India can be a challenging place to travel and it's often better to be prepared to spend a little more to make your travels easier and more enjoyable. It's always better to have too much money than not enough so be aware of this when planning your own India backpacking budget.
See a more detailed breakdown of the costs of backpacking India and budget tips here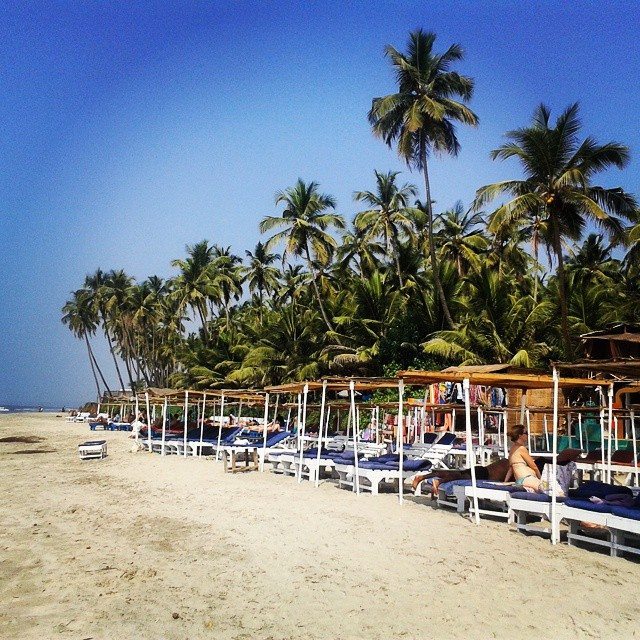 Pin Me! 🙂