Budget Tips for Backpacking in India: How to Backpack India for less than $20 a day.
When you are traveling on a budget then one of the most important things to consider is the cost of travelling in your chosen destination. So when thinking about backpacking in India probably the first thing that you will want to know is how much it will cost!
Luckily, India is still great value and remains one of the cheapest places to travel in the world . However, travellers often end up spending more than budgeted as there are many temptations for you to spend your money on from luxury hotels, fancy restaurants  to hiring a private car and driver.
The reality is that backpacking in India can be as cheap or as expensive as you make it.
I find it's useful to work out a daily budget when planning and saving for a trip, however, it's hard to generalise how much backpacking in India will cost because in the end the cost of the trip will be different for everyone depending on the places traveled, the style of travel and comfort needed and the travellers' skill in haggling!
So whats the average daily budget for backpacking in India?
My simple answer is that most budget travellers spend between ₹1,300 – ₹2,300 a day when backpacking in India. That's roughly $20 – $35 / £12 – £23  a day (not taking into account initial cost of flights and visas)
Some days you will spend more and some less but a good average daily budget for backpacking in India would be around ₹1,250 per day (£12 or US$18).
So for one month backpacking in India I would allow at least ₹ 40,000  ( £400 or US$ 600)
See more information on the average daily budget for backpacking in India. Or, read more for a breakdown of the typical costs and tips for backpacking around India.
Like This – Pin Me! 🙂 
Typical Costs and Budget Tips for Backpacking in India
The Cost of Budget or Backpacker's Accommodation in India
You can have it all in India – you can still travel here for dirt cheap but basic in India means really basic. Luckily traveling India even on a budget is no longer just about cheap and dingy guest houses.
For about ₹ 300 – 500 you should be able to find a cheap but reasonable enough guest house, dorm bed in a new backpacker hostel, or a beach shack. Expect hard beds and a fan, no AC or hot water. Cleanliness is often questionable, so its good to check out a few before deciding and you will probably need your own sheets, towels, toilet paper, toiletries and padlock, although most of the cheap guest houses do have western toilets.
If you can go up to around the ₹ 1000 mark you can get some great mid range options often a modern air conditioned room, wifi that might actually work!, satellite TV, possibly soft beds, sometimes a swimming pool, or go wild and splurge on the grandest most opulent maharajahs palace for ₹ 10,000 and up!
I don't plan too much or pre book accommodation as I find that the cheapest places aren't online and the ones that are – well they often don't look anything like the picture! Instead I prefer to show up, check a few places out, inspect the room, met the staff and negotiate on the price.
I would book accommodation in advance for the first few nights though. If you want to book online try Booking.com for the best rates, (sometimes better than the walk in rates if so I ask if they can match it or quickly nip outside and book it on my phone!) reviews you can trust because they can only be left by real guests who have booked through the site and as you don't pay upfront you can also cancel if you change your mind.
Cost of Food and Drink in India
Food is an area that I'm still careful with in India, in Southeast Asia I'll eat all kinds of street food and juices but in India I tend to stick to restaurants. You can grab a snack off the street for about ₹ 20 or a meal in a budget restaurant starts at around ₹ 100. The beach shacks in Goa turn out amazingly good food for between ₹ 100 – ₹ 300 and I've never been sick from these operations. As a general rule Western food will cost a lot more than simple traditional Indian vegetarian food. Many western fast food brands are available in the big cities in India but there are much cheaper eating options to be found.
In places where I feel hygiene might be suspect I often stick to vegetarian food. And yes, in India you often eat with your hand – carry a hand santizer and you get the hang of it after a while. If you want to try street food go for a stall with a long queue then you know the food hasn't been sitting out for ages and because the place wouldn't be popular if it made its customers sick!
Never drink the tap water in India and always check the seal is not broken on bottled water. Expect to pay about ₹ 20 for large bottle of water. Make sure ice comes from purified water – only take ice at more upmarket places. The price of alcohol varies alot from state to state – Goa is one of the cheapest places to enjoy a drink, you can purchase a small Kingfisher beer from a shop for about ₹ 40 or enjoy one at a beach side shack for ₹ 70.
Cost of Transport in India
India offers multiple ways to get around (albeit often slowly) this massive sub continent. You can get transport to pretty much every corner of India for a very affordable price but you need patience because getting anywhere in India always takes  longer than you think.  My advice is always to take it slow – India is the not enjoyable when rushing around and everything seems to take a lot longer than you think. Trying to cram too much in often leads to a stressful, frustrating and not enjoyable trip.
Domestic Flights
Did you know India has the second largest number of domestic airports in a country after the US. Flights stretch to most reaches of the country now and flying between major cities, especially if booked in advance, can be affordable and save a lot of time. Did you know it takes about 3 days on the train between Delhi and Kerala. Flying domestically around India is increasingly a good option for those strapped for time although it is not as cheap as the low cost routes in South East Asia and Europe. Search deals on Skyscanner. You can find deals from Mumbai to Goa, Chennai or Bangalore from about ₹2,000. 
Indian Railways
The Indian Railways network is vast and super affordable and is my preferred (along with millions of others) method of transport in India. Sleeper train fares for a 12 hour journey can be as low as ₹450 or go in Air conditioned class for about ₹1,100. However trains get booked up fast and working out how to book can be confusing at first. Setting up an account and getting the Clear Trip App on your phone is the easiest way I've found to book trains. See more information here about Indian Railways and how to book trains in India.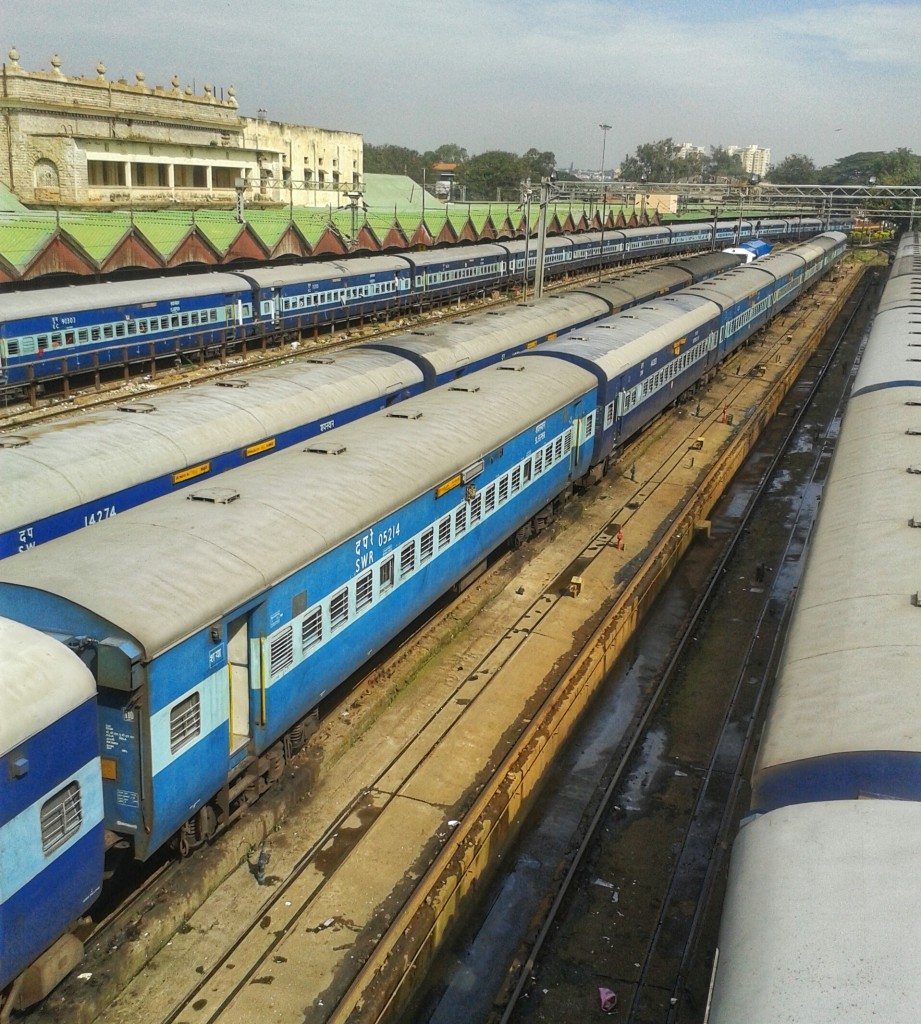 Buses
Other transport options include a wide reaching bus network where the standard ranges from falling apart decrepit, crowded, boner rattlers to more modern, air conditioned long distance buses. I find buses are fine for short hops but for a long, or over night journey I much prefer to go by train as it's much more comfortable, more spacious, usually cheaper, there is less honking and swerving and perhaps most importantly there is a toilet!
However if you didn't book trains in advance you will probably end up having to take the bus at some point  –  You can book bus tickets online at Red Bus for example, the 12 – 15 hour trip from Mumbai to Goa costs from ₹ 700 to ₹ 2000 in an AC bus. 
Taxis and Rickshaws
Taxis and rickshaws are everywhere to India too and affordable even though getting the driver to use a meter is nothing short of a miracle so remember to haggle, agree on a fare and set the price firmly before embarking on the journey. Prices vary (taxis are usually double the cost of an auto rickshaw) but expect to pay about ₹20 for the first 1.5 kilometres and about ₹ 10 per kilometre after that in an auto rickshaw if you don't get overcharged! Google it – there are fare charts for most cities and numbers to call to report a driver if he overcharges you.
Or you can also now book a cab through apps like Ola – it's a bit more expensive but safer as the cab and driver are recorded and tracked and it saves you from haggling!
Motorbike and Car Hire
Scooter and motor bike rental is also widespread, cheap and easy to organise ₹250 –₹350 per day for a scooter is average but higher if you want an iconic Royal Enfield it could be ₹500) Petrol is about ₹80 per litre. The Indian traffic can seem chaotic at first but there is a method in the madness. Self drive car hire is still rare but it is affordable, and recommended, to hire a car with a driver. Rates start at about ₹2000 per day.
As with any destination, your costs will depend on your style of travel and your comfort level.
Usually, I travel on a budget, trying to make the most of my money so that I can travel further and for longer, and I'm passionate about showing you how to travel on a budget too. But, I'm not a rock bottom shoe string backpacker (I guess I'm more of a 'Flashpacker') I like to splash out on nicer accommodation or western food every now and then and if spending 500 or 1000 rupees more on a domestic flight to skip a 14 hour bus or train journey I'll often go for that too because if I'm just going to be tired and grumpy I won't enjoy the trip so I don't see the point in making the cost saving.
I also have to admit I am not the kind of person who obsessively records every penny, cent or rupee I spend. I have a rough daily budget in mind but sometimes I will overspend because – well whats the point in coming all this way and not seeing the Taj Mahal just because it goes a little over my preferred daily budget! Some days I spend more, somedays less – it evens out in the end and even though I'm traveling on a budget here I rarely feel like I'm penny pinching.
So, your costs of travel could be less or more depending on your style of travel and comfort level.  If you travel as a couple or with a friend it is cheaper as you can split accommodation and taxi costs. These costs are for an average guideline only and it is always, always better to take more money to account for incidentals, emergencies, impromptu shopping sprees, extra activities or a splurge on a posh hotel or internal flight. And costs vary between areas – especially rural and urban areas and if you spend a lot of time in Mumbai and Goa then it will push the cost of your trip up.
A little more goes a long way in India
At first traveling in India can be frustrating, challenging and tiring and it's sometimes worth that bit of extra money to stay in more comfort for a few nights, rest up and make your trip that bit easier.
India is changing and modernizing and offers more upscale accommodation options now than ever before, a vast network of domestic flights and upmarket restaurants, western chains and luxury brands are now on offer and may tempt you to part with your money.
Basic in India is really basic, personally I think it's worth spending a little more – it goes a long way here and spending a bit more to have a more comfortable experience can really help ease the culture shock sot that you can enjoy your trip more, especially if you feel overwhelmed or tired at first it's worth to spend a bit more on a hygienic meal or Western comfort food, to get somewhere quicker on a domestic flight or just to get a decent nights sleep!
Travel slower and travel cheaper
India is not the place to rush around, the slower you travel the more you will enjoy this amazing country and the more money you will save. Plus, if you stay longer and rent a house like I did in somewhere like Goa then your costs will be even lower. We enjoyed a great lifestyle in Goa for a few months spending less than ₹ 1000 a day.
Even if not renting a house, you can negotiate for a longer stay and you should always haggle for pretty much everything in India – you will be expected to haggle for most purchases especially taxis, rickshaws and souvenir shopping and you will be overpriced if you don't haggle which over time will add up.
There is also always the chance of getting scammed and ripped off and foreigner pricing is still very much alive – entrance to historic monuments usually cost ₹250 for foreigners (apart from the Taj Mahal which is ₹750  ) while Indian's pay ₹20  so expect to have to part with your cash but try to keep it in perspective it's not worth ruining your day over a little bit of extra money.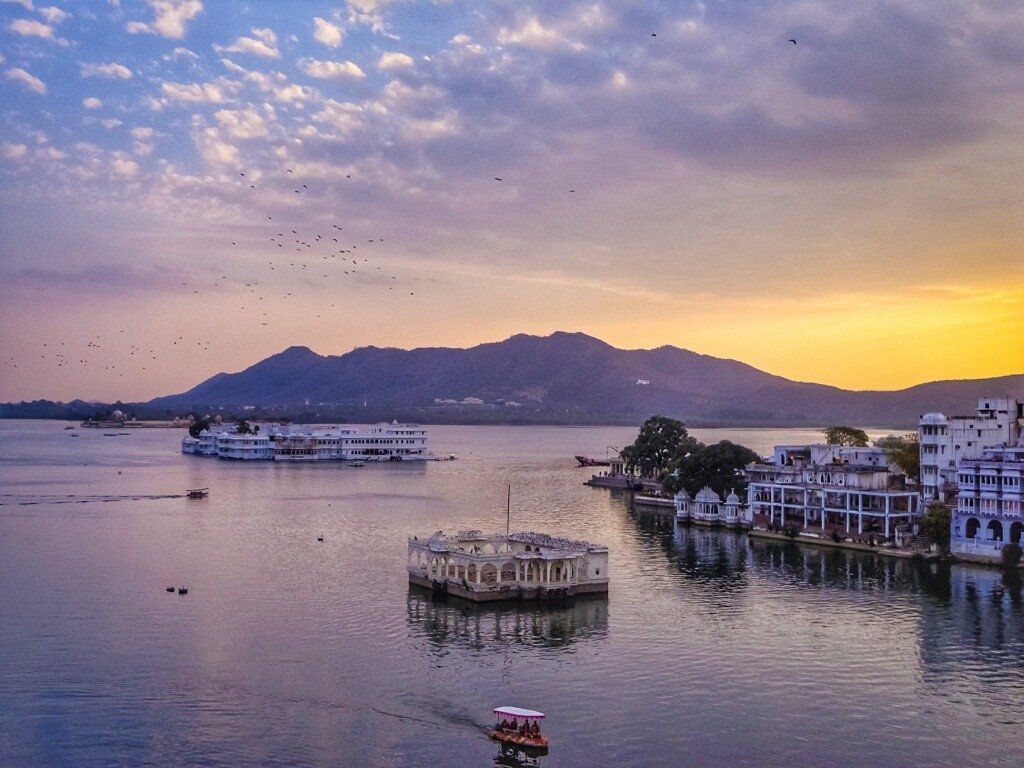 Flights and Visas to India
Flights: When budgeting for your trip don't forget to search for the cheapest flights as that is your main expense. Search for the best deals on Skyscanner, search for the whole month as being flexible on dates will allow you to take advantage of the best deals and cheapest prices.
Visas: Most visitors travel to India on 3 – 6 month Tourist Visas. UK citizens need to budget about £100 for a 6 month visa, but other nationalities pay less. India is even introducing an ETA (Electronic Travel Authority/ Visa on Arrival) for 113 countries – the UK, USA, Australia, Canada and many European countries are now eligible. The ETA visa is $60 (about £39) for 30 days but saves you time, money and hassle if you don't need a 6 month visa. See more on How to Apply for an Indian Visa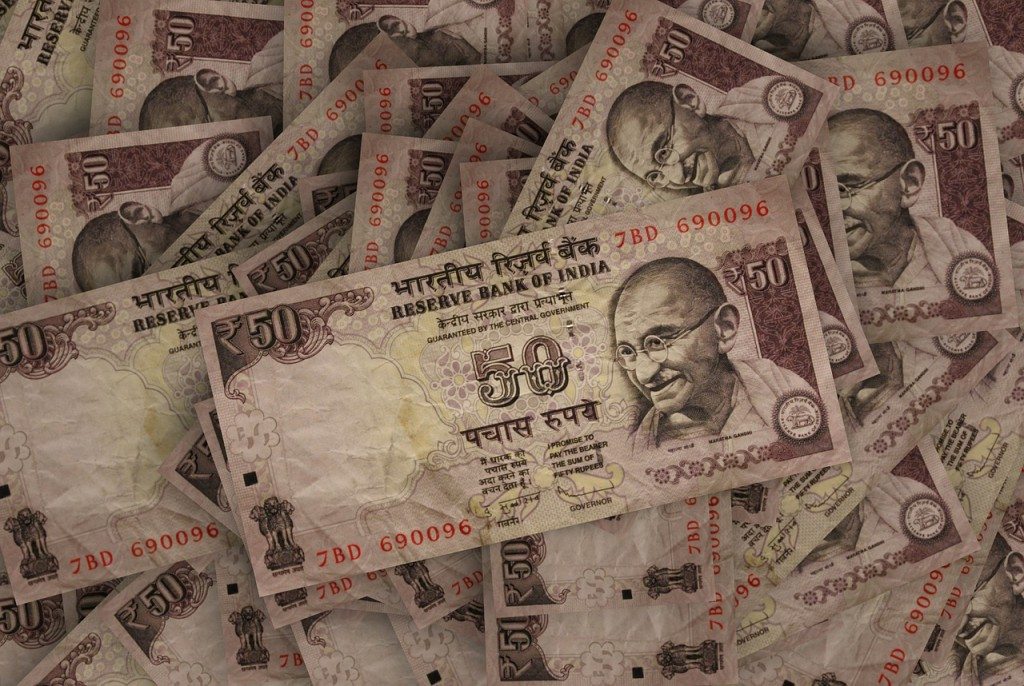 Read more tips for traveling in India:
How to apply for an Indian Visa
How to prepare for a trip to India.
My Top 10 Tips for your First Time Traveling in India
11 Tips for Women Traveling in India
Everyone is different – Have you travelled India? Did you do it alot cheaper than I did? Please comment below with your average daily costs to help other travellers!