The Best Weekend Trips from Mumbai
Mumbai is an amazing, buzzing, exciting city with so much to do. It's my favourite big city in India but everyone needs a break from the busy, bustling city life every now and then. Luckily there are many easy and amazing weekend trips from Mumbai that will give you exciting new places to discover without needed too much time off work or spending too much money.
One of the things that makes India so unique and fascinating is the myriad of diverse and magical places to visit in just one country. There's so much to see in India that it would probably take a lifetime of full time travel to be able to see them all. From the Himalayan mountains to spiritual towns and historic sites, incredible nature and wildlife sanctuaries, enchanting forts and desert landscapes to refreshing hill stations, languid backwaters and tropical beaches – India really does have it all! Check out my pick of the 30 unique, amazing experiences that you can only have in India!
With even more affordable domestic flights than ever adding to the cheap and vast network of trains and buses and accommodation to suit all budgets, there's never been a better time to explore India. Wego India is a great site that I use for planning my trips and finding the best deals on flights and hotels. Wego searches all the other popular booking sites like Make My Trip, Clear Trip, Cheap Ticket, Yatra, Expedia, Booking.com etc as well as all the major airlines so you can browse airfare discounts all on one site. Wego also has cheap hotels and hostels and an inspirational travel blog and useful travel guides.
Pin Me 🙂
Even if you don't have lots of time off work you can still see some amazing places in just a few days. Here are my top 5 weekend trips from Mumbai to get you inspired to pack your bags and explore more of this incredible and unique country.
My Top 5 Weekend Trips from Mumbai
Matheran
The charming colonial hill station of Matheran offers a quick, cool, peaceful and refreshing weekend trip from Mumbai. If you're tired of the city's heat, traffic and noise then escape up to Matheran and enjoy the lush forests, wildlife, walking trails, viewpoints and cool breezes of the hill station. No motorized vehicles are permitted up in Matheran so it's a blissful escape from the city life.
The most popular way of reaching Matheran is on the toy train however it's not currently running. Instead take the train from CST to Nerul Junction (1 ½ hours) and then take a shared taxi or shuttle about 30 mins to Dasturi. From there no motorised vehicles are allowed so you'll take a hand pulled rickshaw or horse to your hotel!
Lonavla
One of the most popular easy weekend trips from Mumbai (and Pune) is Lonavla. This hill station offers so much to do. There's a lot of nature, lush greenery, fresh air, dams, lakes, waterfalls and forts to explore. There are scenic as well as more adventurous treks and hikes you can take, one of the most popular is the hike to the 823 meter high Rajmachi viewpoint.
There are also some good yoga schools and the adventure theme park, wax museum and miniature museum are favourites with families. Also, don't miss visiting the 2nd century Buddhist rock cut Karla and Bhaja caves nearby.
Lonavla is only 83kms from Mumbai and takes about 2 hours to drive there. You can also reach Lonavla by train from Mumbai in 2 ½ – 3 hours or by bus in 2 hours.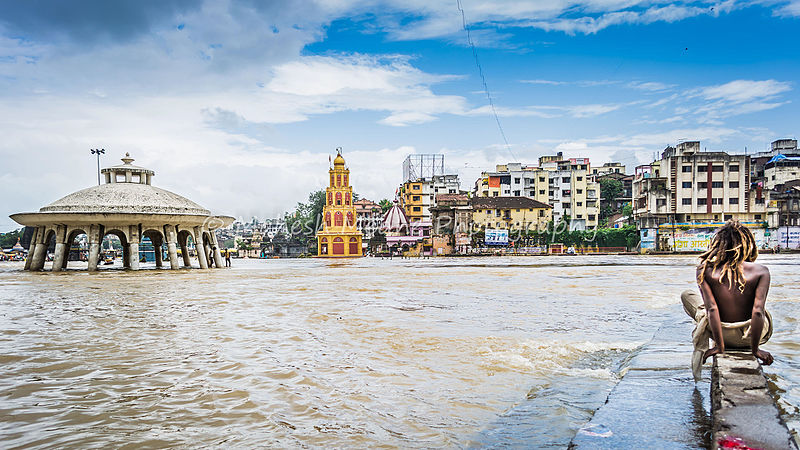 Nasik
Nasik, located on the banks of the holy Godavari river and famous for it's wineries, is one of my favourite weekend trips from Mumbai. Nasik is an ancient holy city, it was mentioned in the Ramayana and hosts the Kumbh Mela every 12 years, but the city's old quarter, hindu temples and bathing ghats are worth visiting anytime. 
Some of India's best wines are produced in the gorgeous rolling countryside surrounding Nasik and touring the wineries is another highlight of visiting Nasik. You can even stay at some of the vineyards. Nasik also hosts SulaFest in February which is one of India's best boutique music festivals.
It's 166 km from Mumbai to Nasik and takes about 4 hours by car. There are 15 trains daily running between Mumbai and Nasik which take about 4 ½ hours to reach or you can also take a bus (4 hours)
Ajantha and Ellora Caves
These magnificent UNESCO world heritage listed rock cut temple caves near Aurangabad are one of the finest sites in all of India and make an incredible weekend trip from Mumbai that history buffs will love. The Ellora and Ajantha caves are the epitome of ancient Indian rock cut architecture that were chipped out by hand over 5 centuries by Buddhist, Hindu and Jain monks.
Exploring the monasteries, temples and churches and seeing the exquisite carvings and sculptures will likely leave you awe struck and will probably take you more than a weekend. Ajantha's caves are set in a remote valley 105 km from Aurangabad and are older with impressive frescoes. But if you only have time to visit one site make it Ellora as it's only 30 km from Aurangabad and contains the Kailasa Temple which is the highlight of the site and the world's largest monolithic structure.
To visit the caves you can drive the 335 kms or take a train from Mumbai to Aurangabad which takes about 6 – 7 ½ hours. There are also flights which only take an hour if you want to save time. Aurangabad is a good base for exploring the caves and buses to Ellora leave every half an hour. It's also a historic city in itself – make sure you check out the famous Bibi Ka Maqbara, a 17th-century structure inspired by the famous Taj Mahal.
Goa
No list of weekend trips from Mumbai would be complete without mentioning Goa. India's smallest state is also the most famous and most popular with tourists and for good reason – miles of sandy beaches, yummy and affordable seafood and drinks served in the beach shacks, stunning sunsets, buzzing markets, historic churches, gorgeous countryside, amazing parties and a captivating blend of Portuguese and Indian culture brings visitors back to Goa year after year.
With flights only taking 1 hour from Mumbai it's so easy to take a weekend trip to Goa. If you want to save money you can also take an overnight train or bus from Mumbai to Goa which will take from 8 – 12 hours. Check out my Insider's Guide to Goa for loads of posts and all the tips you need for an amazing holiday in Goa!
So this is my pick for the best weekend trips from Mumbai. Do you live in Mumbai?
If you've been on any more amazing weekend trips from Mumbai I'd love to hear your experience – please share in the comments below.