Many backpackers start their Australian adventures in Sydney and it is one of the most beautiful cities in the world, home to one of the most iconic views in the world.
There's much more to Sydney than just the Opera house and Harbour Bridge and luckily there are plenty of ways to enjoy this fabulous city even on a backpackers budget.
In my backpacker's travel guide to Sydney I want to show you how to enjoy backpacking Sydney on a budget and make the most of your time in this fabulous city.
A Backpacker's Travel Guide to Sydney
Sydney may be an expensive city, but it's also very welcoming to backpackers and its easy and fun to backpack Sydney on a budget. Even better, most of the best things about Sydney – the beautiful weather, nature and views are all free to enjoy!
In this guide to backpacking Sydney I will let you know about all the free and low cost things to do in Sydney, as well as the best backpacker hostels and tips for eating and drinking on a backpacker budget.
Best Things to do when Backpacking Sydney:
There's so many things to do when backpacking Sydney, from exploring this cosmopolitan modern city and enjoying the food and nightlife, to relaxing on the beaches and soaking up the incredible views of the beautiful harbour.
Take a free walking tour of Sydney
The best way for backpackers in Sydney to get their bearings is by taking the excellent free Sydney walking tour. The tour leaves at 10.30am and 2.30pm everyday from Sydney's Town Hall and provides a great insight into Sydney's history and convict beginnings while taking in some of the best sights of the modern city.
Explore 'The Rocks'
After the walking tour take some more time to explore Sydney's oldest area – 'The Rocks'. This is where Europeans first settled and now you can learn more about the history and people of Sydney at the free Rocks Discovery Museum and explore the steep lane ways and historic houses, shops and pubs.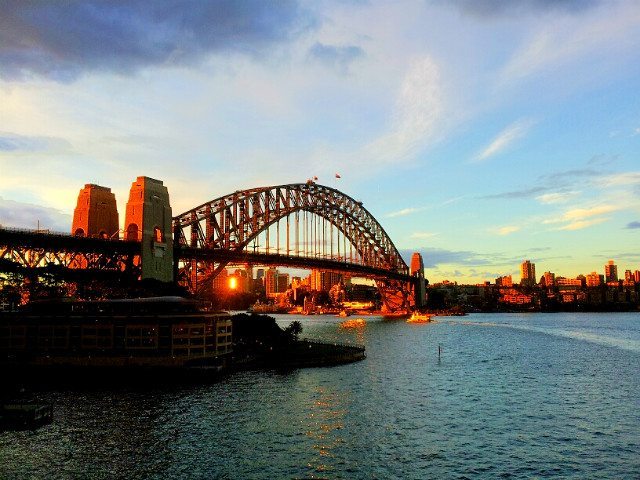 Marvel at the Sydney Opera House and Sydney Harbour Bridge
One of the highlights of backpacking Sydney is simply soaking up one of the most iconic and beautiful views in the world – the Sydney Opera House and Sydney Harbour Bridge.
The Sydney Bridge Climb is a bit too pricey for most backpackers but gets great reviews and is well worth it if you can afford it.
Unfortunately for cash strapped backpackers, the only way to go inside the Sydney Opera House is by taking a guided walking tour or buying a ticket for a performance. However, drinks at the Opera House Bar outside are quite reasonably priced and offer stunning views.
For the best views and photo opportunities take a stroll through the Botanical Gardens to Mrs Macquarie's Point to get that picture postcard perfect iconic view of the Opera House and Harbour Bridge for free!
The iconic site looks beautiful and different from every perspective so you might also want to check out this article which reveals 29 more stunning Sydney Opera House viewpoints.
Relax on Bondi Beach
Australia is famous for its beaches and Sydney does not disappoint so make sure to visit famous Bondi Beach. You can relax on the beach or on the grassy hill that rises above the stunning bay, watch the bronzed surfers or take a surf lesson and try it yourself.
Take a Scenic Walk
One of my favourite things to do when backpacking Sydney was to take the ferry to Manly. Enjoy the ferry ride across the water and the stunning views of the harbour.
Manly is one of the nicest areas of Sydney, browse the shops and cafes, enjoy an ice cream and relax on Manly beach and soak up the seaside vibes and gorgeous views.
You can also stroll along the shore line and admire the boat clubs and glamours houses on the 9km scenic walk from Manly to Spit. or stroll along the shore line, boat clubs and glamorous houses on the
Another great walk is the spectacular cliff top walk from Bondi to Coogee where you can feel the exhilarating force of the waves crashing below and keep your eyes peeled out to sea, maybe you can spot a humpback whale. 
The Best Backpacker Hostels in Sydney
Sydney may be one of the most expensive cities in the world, but luckily backpackers are spoilt for choice with so many cool, modern backpacker hostels in Sydney. Most hostels have freebies and organise social events that make it fun and easy to enjoy backpacking Sydney on a budget.
For a place with a view then check out the Sydney Harbour YHA. This modern backpacker hostel is right in the historic rocks district has a great rooftop with stunning views over Sydney harbour. This is the most affordable hotel in Sydney with harbour views.
Wake Up is another of the most popular backpacker hostels in Sydney and has a good central location, loads of thoughtful extra and super nice staff that arrange events and activities most days. Bounce nearby is also awesome and has a popular bar and restaurant.
Maze Backpackers, has a great central location, sociable atmosphere and plenty of freebies, like BBQ night and pancake Sundays and is a great budget hostel option although not as modern and funky as the others.
Or if you fancy being closer to the beach the Bondi Beach house YHA is a popular choice with heaps of facilities, activities and even lend you all the stuff you need for a great day on the beach.
Read More:  My top 6 backpacker hostels in Sydney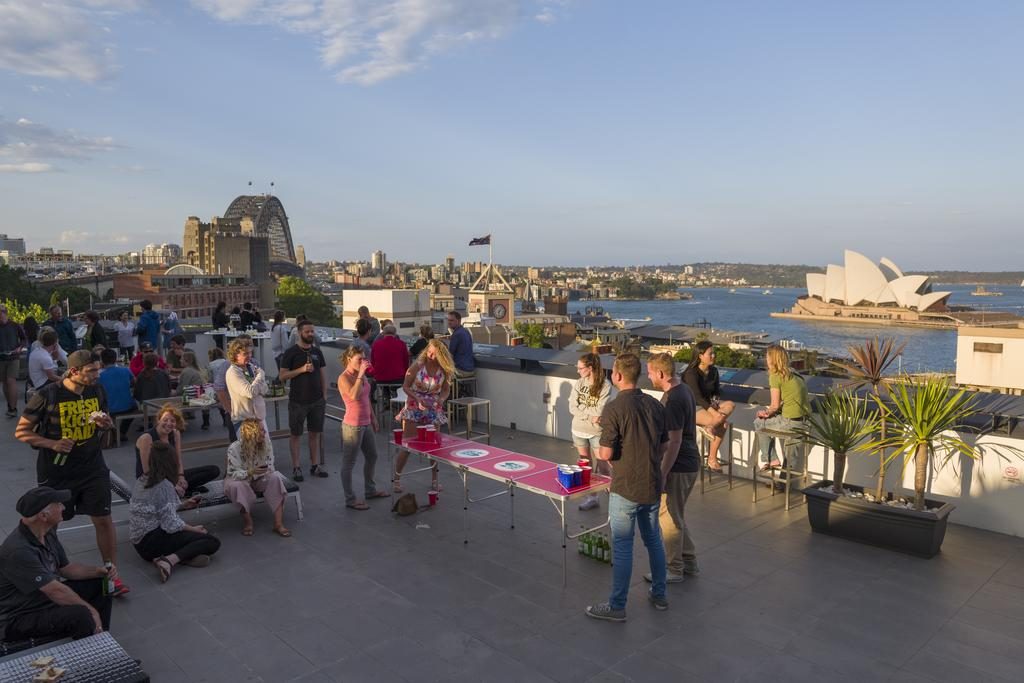 Where to Eat on a Budget in Sydney:
Backpackers in Sydney have plenty of choice for eating on a budget and many backpacker hostels put on free BBQ or pizza nights.
If you're on a really tight budget then pick a hostel with a kitchen. You'll save a lot of money by going to the supermarket and cooking up your own food and drinking your own goon – it's a popular backpacker past time!
For cheap eats while you're out and about check out buzzing Chinatown for cheap and delicious Asian food, or try fresh mussels from the market.
Darling Harbour is a really nice spot for restaurants if there's a special occasion but most are probably too pricey for those on a backpacker budget.
Nightlife in Sydney is great too, try the bars in Surry Hills or the clubs around Kings Cross for a lively night out.
How to Get to Sydney
Sydney is home to one of the busiest airports in Australia and is the entry point for many backpackers. Sydney is well connected by domestic flights, buses and trains to the rest of Australia.
Day Trips from Sydney
There's plenty to explore in the area surrounding Sydney so allow some time for a couple of day trips from Sydney.
The beautiful, UNESCO listed Blue Mountains are a refreshing escape from the city and make an easy day trip from Sydney as it's only an hour away on the train. Enjoy the world's steepest railway at Scenic World and admire Australia's unique animals at Featherdale Wildlife Park.
The wineries and rolling countryside of the Hunter Valley make a nice day trip too. There's plenty of gourmet treats to try from cheese to chocolates and of course fantastic wines, picturesque vineyards and stunning views. You're best off taking a day tour like this one to enable you to get around all the vineyards – you don't want to be driving for this one!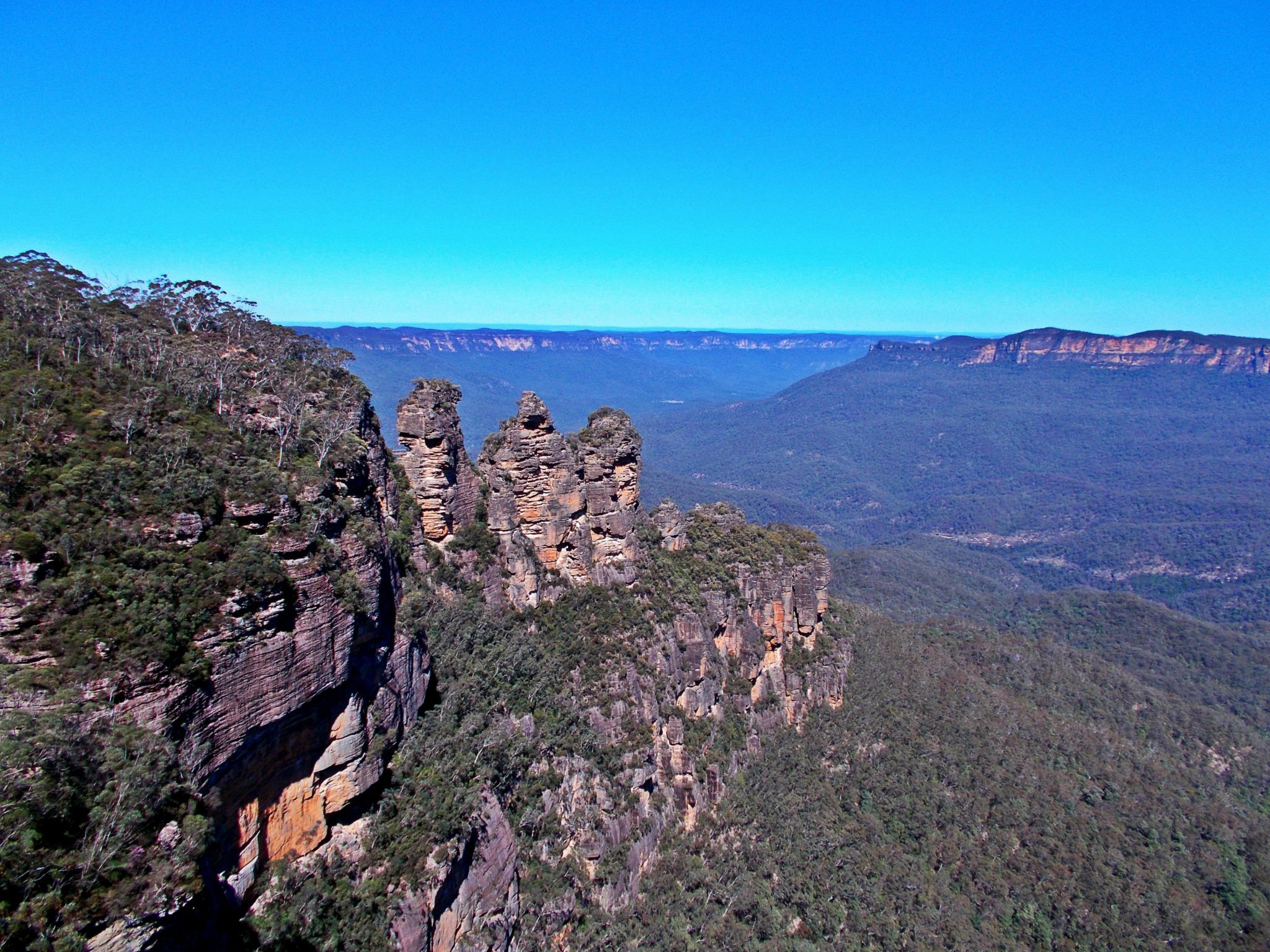 Visas for Australia
And to finish off my backpacker's travel guide to Sydney – the boring but necessarily stuff.
Expect for New Zealanders, all visitors to Australia need to obtain a visa before travelling. But don't worry, this is an easy process.
Tourist visas for Australia are known as Electronic Travel Authority (ETA) visa cover visits of up to 90 days and are quick to process and are electronically linked to your passport so there's no need to send your passport away.
The visa costs $20, apply online through the government website or make the process even quicker and easier by using iVisa.
Daily Sydney Backpacker Budget:   AUD$60 – 80 or approx   US$ 40 – 50
If you want to stay longer and work and backpack around Australia for a year or more then download my free backpacker's guide to see if you are eligible for a working holiday visa 
I hope you found my backpacker's travel guide to Sydney useful.
Let me know in the comments below if you have any more money saving tips for backpacking Sydney!