The Best Yoga Retreats in Canada for 2023
Internationally recognised as home to some of the most beautiful scenery on our planet, Canada offers epic and inspirational mountains, forests, lakes, plains, and rivers aplenty. The range of yoga retreats in Canada are just as diverse, with a wealth of great options to choose from – all sure to leave you feeling relaxed, refreshed and rejuvenated.
From lakeside asana practice to mountaintop meditations, with so many beautiful retreat options in Canada, the hardest part could be choosing the right one for you. To help narrow down your search, I've hand picked 5 of the best yoga retreats in Canada.
Pin Me 😉
Before making a reservation for any yoga retreat or holiday, I always recommend checking out the real reviews and testimonials on www.bookyogaretreats.com – it's like the Booking.com for yoga retreats and reading the reviews from yogis you've already been there can give you peace of mind that your experience will be safe and memorable for all the right reasons! 
COVID-19 Update: Canada is reopening for international tourism. Be aware that pandemic-related travel permissions can change at any moment and be dependent on your nationality. Check out the Canadian travel and tourism website for the most up to date information. Make sure you have travel insurance which covers Covid related cancellations. Mine is with SafteyWing
Here is my pick of the 5 Best Yoga Retreats in Canada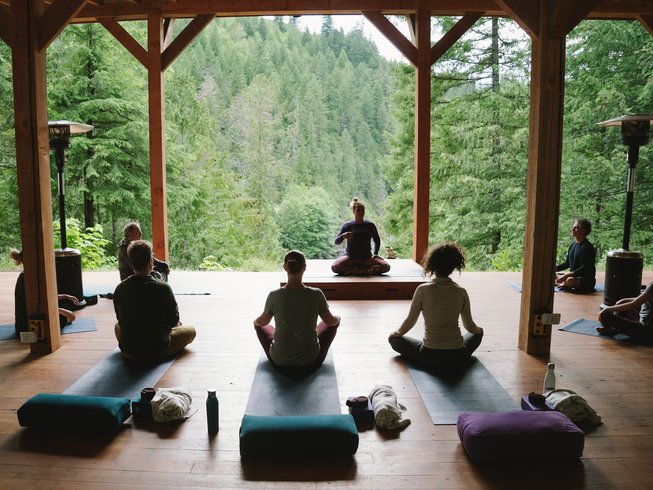 REO Rafting & Yoga Resort, Fraser Valley, British Columbia
If your idea of the perfect yoga retreat is an all-out adventure on a private river-front location, this is the one for you. With plenty of yang to balance the yin of your daily hatha yoga practice, you'll enjoy hikes, whitewater rafting, kayaking, and lake paddling.
Your qualified yoga instructor will guide you through daily outdoor classes, surrounded by remarkable forest and mountain scenes. Meanwhile, your luxe riverside cabin tent, offers you all the home luxuries of glamping, while enveloped by wilderness.
Wine and craft activities are available during 'social hour' events. Otherwise, spend your time listening to nature's soundbath as the Nahatlatch River rushes by.
See more details, dates, prices, reviews and book here!
Harmony House Community, Stowel Lake Organic Farm Wellness Centre, Salt Spring Island, BC
Teachers and hosts Sandi and Jeremy have combined their backgrounds as professional musicians to create this unique method of energy work for singers. They believe that anyone can learn to sing, and through yoga and breathing techniques, you can discover your authentic voice.
As well as community singing workshops, gentle hatha yoga is offset by energising pilates, with a focus on making a sacred connection to guide you in your art and through your spiritual practice. Between workshops, you're invited to follow your own flow and do as you feel, whether a nature walk or simply soaking up the atmosphere.
The four-day retreat is hosted at Stowel Lake Organic Farm Wellness Centre, a magical setting with decades of history as a spiritual retreat. With vegetarian meals freshly prepared using farm produce, you'll enjoy a taste of community farm life. Find your voice and your inner calm on this special retreat experience.
See more details, dates, prices, reviews and book here!
Grail Springs, Bancroft, Ontario
Grail Springs is the holy grail of yoga retreats in Canada and an award-winning holistic health and wellness destination. With retreat packages ranging from a single 'self care' day, to 21-day life transformation retreats, it's easy to see why Grail Springs has been voted Canada's best wellness retreat.
The retreat has a full spa with an abundant menu of offerings, from Canadian seaweed facials to equine therapy. Depending on the retreat package selected, you can also sign up for forest hikes, thermal circuits, reiki, snowshoeing and fire ceremonies. Yoga offerings include yin, hatha, vinyasa, and relaxed yoga.
Accommodation options at the purpose-built retreat are just as stunning as the forest setting. Luxurious river-view rooms are the perfect space to unwind after a busy day of self-restoration.
See more details, dates, prices, reviews and book here!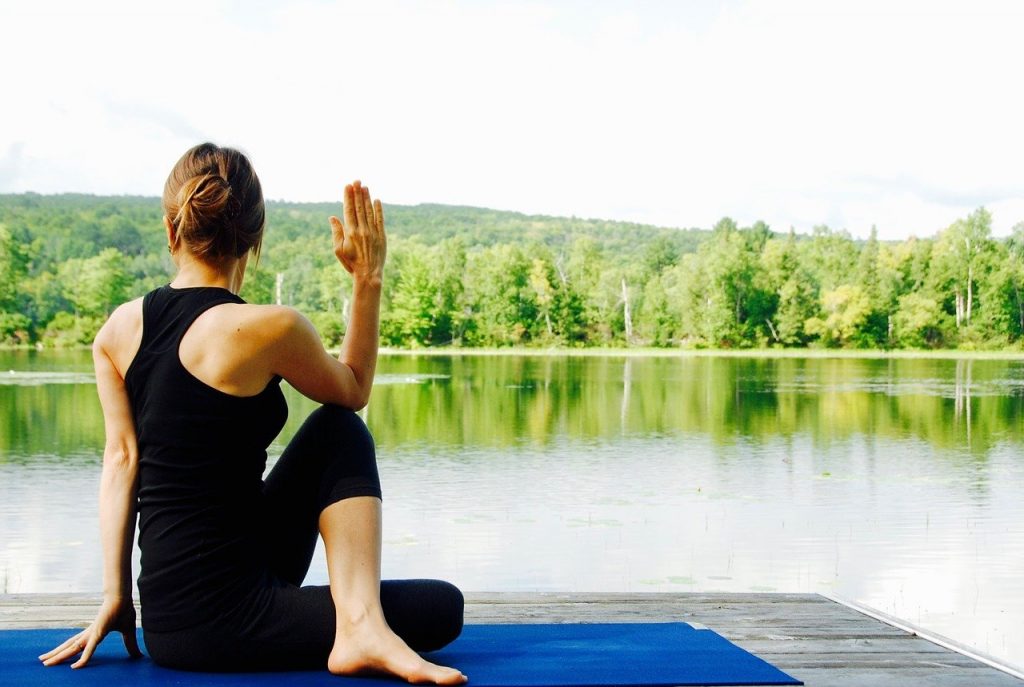 Zen Wellness Center, Bragg Creek, Rocky View County, Alberta
A yoga retreat can be a time of introspection and personal healing. If you'd prefer to do this in private, consider this custom retreat.
As well as a private yoga class, you'll experience 3-4 hours of daily wellness workshops, private coaching and energy healing. Depression anxiety release (D. A. R.) therapy is included as part of the spiritual healing retreat experience. Your private retreat itinerary is fully customisable with extra activities including massage, reiki, angel card readings, and horseback riding.
Riverside Chateau is an impressive traditional log mansion, complete with sumptuous touches. Your private loft accommodation is fully equipped with a kitchen and living area. To facilitate your 'retreat' from daily life, the resort is TV and WiFi-free.
Select your organic, whole foods meals from a custom menu, then reflect on your stay from the veranda.
See more details, dates, prices, reviews and book here!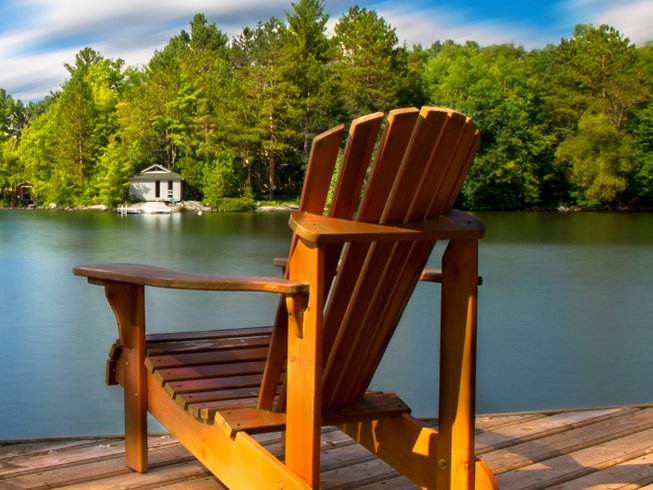 MindFitness Meditation, The Muskoka Lakes, Parry Sound, BC
Daily Sivananda-inspired hatha yoga classes are delivered by host and teacher Moris. A former Vedic monk, Moris has created his own method of meditation, MindFitness, which is shared over the seven-day retreat. The intention is for you to leave with a lifelong meditation framework and self-discovery system.
This deeply immersive experience takes place at the stunning Muskoka Lakes in Parry Sound. Workshops are held in the Main House, surrounded by green spaces to enjoy. Your accommodation for the week is a cottage a couple of minutes drive away, with access to a private lake and sandy beach. Over the seven days, you'll have the option to take hikes in mountains, swims at the beach, and tours of the local area.
Food is an important element of Moris's teachings, with vegetarian 'detox' meals and herbal teas included. You'll also have the opportunity to take cooking lessons from the retreat chef.
See more details, dates, prices, reviews and book here!
Have you been on any amazing yoga retreats in Canada?
Leave your recommendations in the comments below the post and help out other yogis and travellers! 😊
Read More: