America is one of the most culturally and environmentally diverse countries in the world with a so many exciting destinations to visit and some of the best yoga retreats in the world.
The Best Yoga Retreats in the USA for 2023
From the tropical beaches of Hawaii and Florida to the deserts of Arizona and the sunshine state of California – there are many beautiful places that offer amazing yoga retreats in the USA where you can take that much needed break to feel a million miles away from the stresses of everyday life.
From yoga in Yosemite to meditation in Michigan; whatever you're seeking, you're sure to find the perfect yoga retreat in the USA for you. But with such a large country and so many retreats to choose from it can be hard to know where to begin!
So to help you find the perfect USA yoga retreat, I've handpicked 5 of the best. 
Pin Me 😉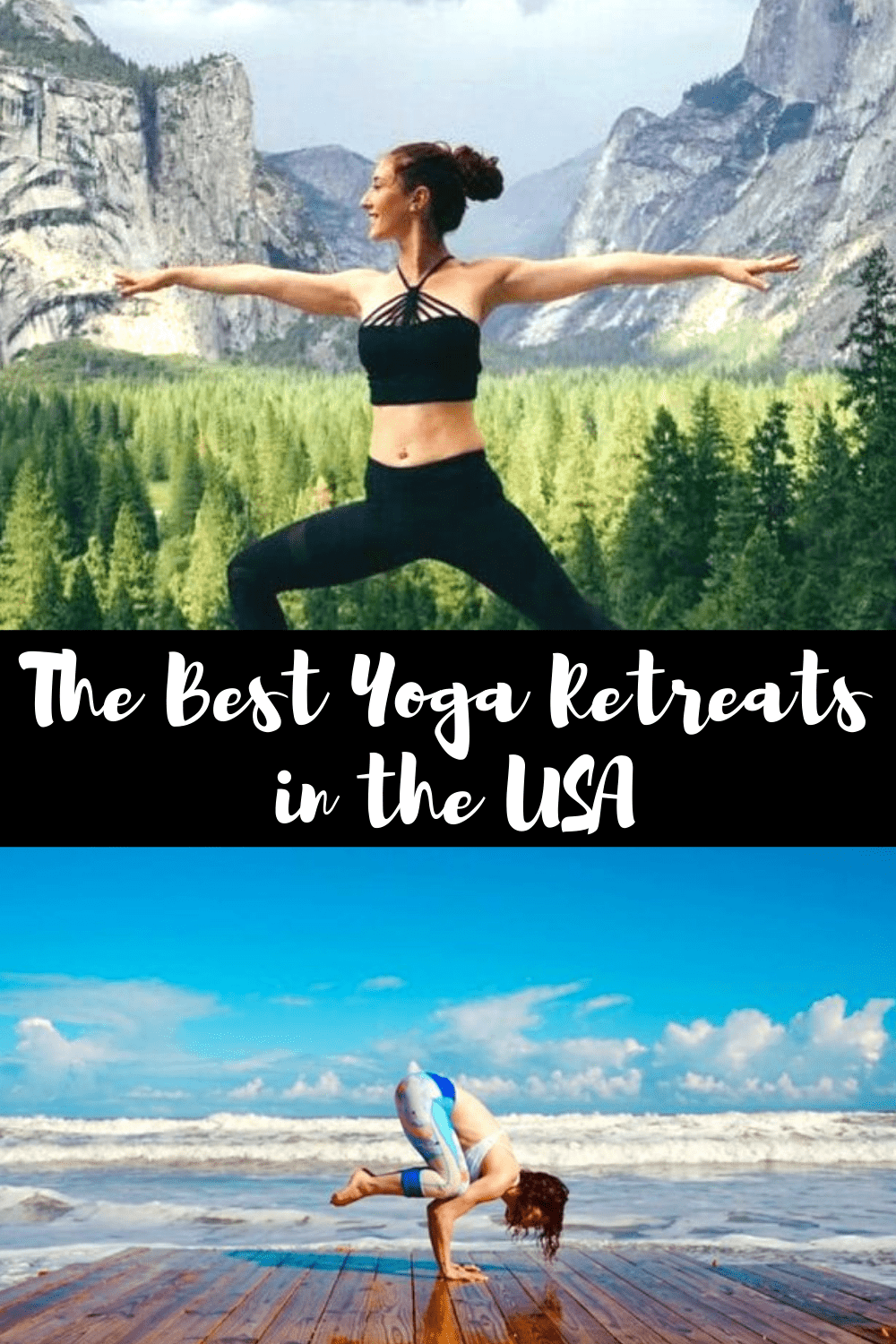 Before signing up to any retreat, it's definitely recommended to check out the real testimonials and reviews on www.bookyogaretreats.com, for peace of mind that your experience and booking are safe and secure and to make sure it's the right level and style of yoga for you.
Here is my pick of the 5 Best Yoga Retreats in the USA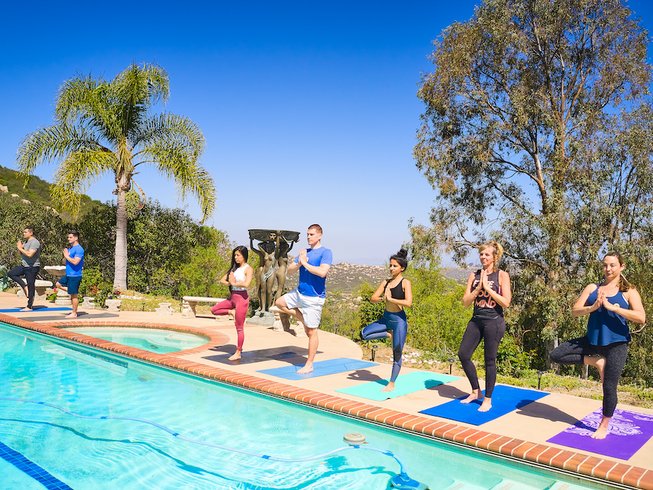 SoCal Wellness Retreats, San Diego, California
How does disconnecting from your devices and reconnecting with yourself and the environment sound? At SoCal Wellness Retreats in San Diego, a digital detox is combined with daily yoga, meditation, and freshly chef-prepared plant-based meals, to have you feeling more you in the space of just 4 days.
As a former NYC news reporter, retreat founder John is the perfect guide as you let go of the rat race and focus on the here and now. In between vinyasa yoga classes and ocean swims, John delivers workshops on breathing exercises, the benefits of plant-based living, and leads two hikes through the astounding wine country.
Your en-suite accommodation at the 9200 square foot estate offers every comfort you could need, to help you to switch off and tune in. See more details, dates, prices, reviews and book here!
Read More: My pick of the best Yoga Retreats in California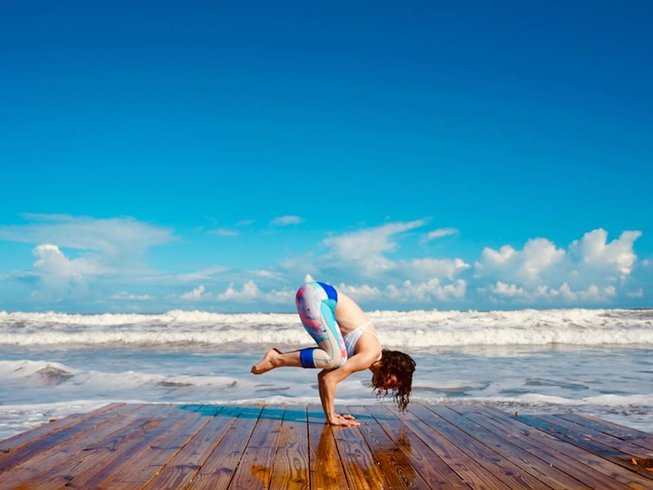 Full Circle Yoga School, Key West, Florida
Enjoy a tropical escape and treat yourself to a 3 day private, personalised yoga, meditation and healing retreat in the beautiful Florida Keys.
Full Circle Yoga School offers some of the most popular yoga retreats in the USA from their stunning location in the heart of Key West. This retreat offers unlimited yoga classes in a variety of styles as well as an extensive list of life-changing and transformative private personalised healing sessions and meditation journeys.
With a menu of healing sessions too long to list here including TRE® – Trauma Release Exercises, Hypnotic meditation and Manifestation techniques it's not surprising to hear that guests often experience healings, the release of past traumas, and cleansing and clearing of the soul during their retreat.
You'll stay in a beautiful bed and breakfast in Key West just a stroll away from the Full Circle studio. Daily breakfast is included and for lunch and dinner you can explore the beaches and excellent local eateries of Key West. See more details, dates, prices, reviews and book here!
Read More: My pick of the best yoga retreats in Canada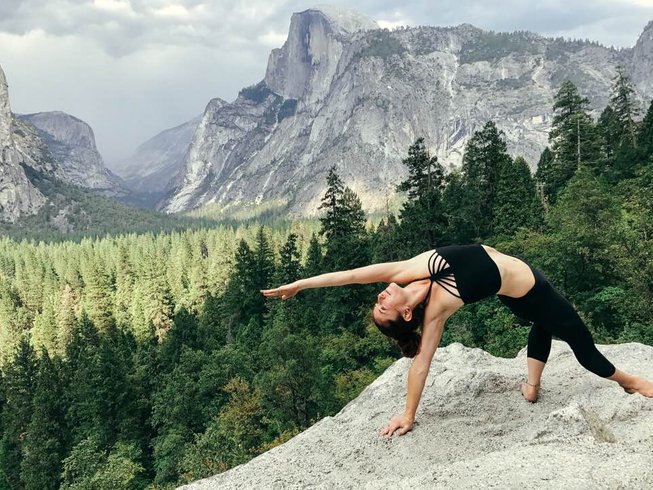 Lasting Adventures, Yosemite National Park, California
If you're short on time but not on energy, a two-night backpacking and vinyasa yoga holiday has what your mind, body and soul need to reset and rejuvenate. The alpine wilderness is not for the faint hearted, but the rewards are abundant. Ridge-top sunset yoga rounds off a day spent hiking, fueled by nourishing cuisine.
You'll need to have intermediate hiking experience to reach the Mount Hoffman peak, and your exertions will be soothed by a delicious restorative yoga practice back at May Lake camp.
Throughout your climbs and chaturangas, you'll be supported by a guide and a yoga instructor. This unique combination of mindful movements are sure to have you feeling exhilarated and centred. All backpacking, camping, and yoga equipment is helpfully provided, so all you have to do is turn up and take part. See more details, dates, prices, reviews and book here! 
Read more – The best yoga retreats in Arizona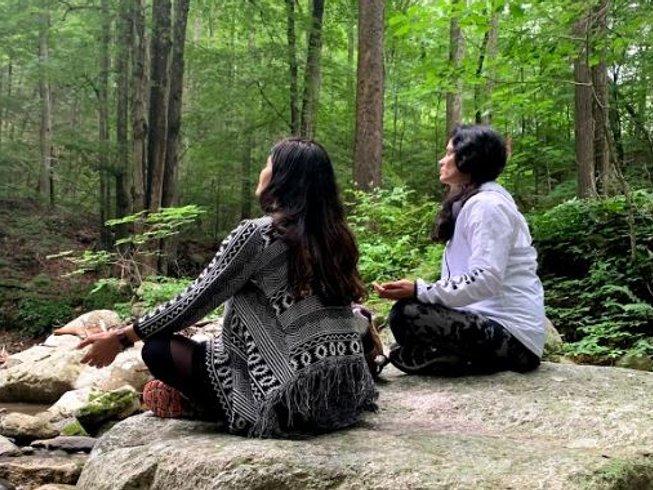 Earth Mind Wellness, Catskills, Ellensville, New York
Discover a transformative experience and learn more about East Asian spirituality in the beautiful Catskills of New York State.
Honor's Haven Retreat is just 90 minutes from New York City but a world away from the hectic city life. This all inclusive 3 day retreat is specially designed to relax and refresh your mind, body and soul.
Earth Mind Wellness are originally from Korea and have put together this retreat to offer a complete wellness experience to fully rejuvenate physically, mentally and energetically through daily yoga and wellness classes, guided hikes and meditations, wellness workshops, meditative walks and plenty of personal free time to enjoy the resorts many amenities. including swimming pools, tennis courts and a spa.
The innovative yoga classes are based on ancient east Asian mind-body practices which also incorporate elements of Qi Gong, Tai Chi and Ki-Energy stretching and relaxation, while the nature walks will leave you feeling refreshed as your worries melt away into the stunning scenery. See more details, dates, prices and reviews and book here!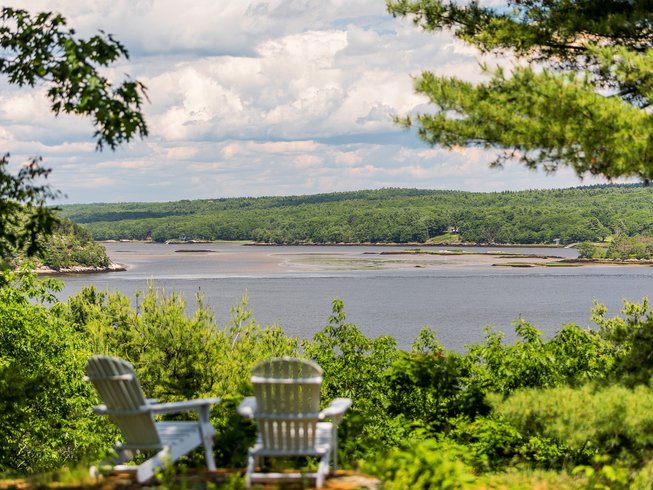 Santosha on the Kennebec, Maine
According to Patanjali's yoga sutras, Santosha can be described as a state of contentment and inner peace. With this in mind, your host JB sets the scene for the perfect yoga, mindfulness and writing retreat.
Santosha is a haven of evocative environments and introspective movement. Blissful hatha yoga classes and guided meditations help you to peel back layers and discover corners of your Self. Meanwhile, heart-led writing workshops, fireside readings, and breathtaking Kennebec River surroundings seep into your stories and fill your pages.
Your creative flow will take you from your mat to honing your craft, all fueled by lovingly-prepared local produce. As if that wasn't appealing enough, you can partake in a wealth of activities including forest bathing, ayurvedic bodywork, and several other healing arts. See more details, dates, prices, reviews and book here!
Have you been on any amazing yoga retreats in the USA?
Leave your recommendations in the comments below the post and help out other yogis and travellers! 😊
Read More about yoga retreats in the US: