My Rishikesh Travel Guide: The Best Places to Visit, Eat and Stay in The Yoga Capital of the World
Why you need to visit Rishikesh
Rishikesh is one of the most spiritual places in India. Nestled along the banks of the holy river Ganges in the foothills of the Himalayas, Rishikesh is most famous for being the 'Yoga Capital of the World' but even non yogis will find alot to love about this beautiful, spiritual town. Just carry on reading my Rishikesh travel guide for a quick lowdown on the best things to do, places to stay and eat in Rishikesh – even if you're not really into yoga it's still an essential stop on any Indian adventure.
When in Rishikesh you can choose to stay at an ashram, take a yoga or meditation retreat, go trekking or white water rafting or just relax along the shore of the River Ganga at one of the many hip and cosy cafes.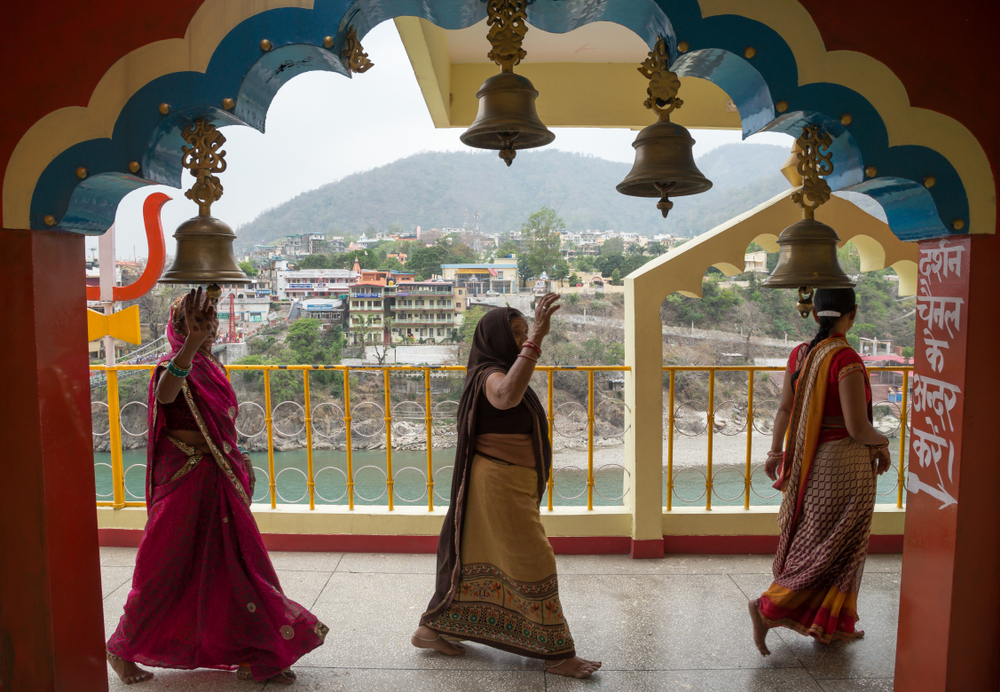 There are so many opportunities to explore things you may have always wanted to, like massage therapy, chakra balancing, and astrology readings. Rishikesh became famous after The Beatles visited the Maharishi Mahesh Yogi Ashram here in the late 1960s and its ruins still stand to this day for you to explore.
You should spend around 3-5 days in Rishikesh, longer if you want to take a yoga or meditation course. The best time to visit Rishikesh is from September to November, or March to April, when the days are warm and comfortable. The Rishikesh International Yoga Festival is held in March making it a great, but busy, time to visit.
Pin Me 🙂
Top Places to visit and things to do in Rishikesh
Yoga: Wether your an experienced yogi wanting to do yoga teacher training in Rishikesh, looking to find out more about yourself with an authentic Indian ashram stay experience or just want to take a rejuvenating break from the stresses of everyday life with a yoga retreat there is something for everyone in the yoga capital of the world. Even if you've never done any yoga before why not take a drop in class to try out yoga for yourself. India is the birthplace of yoga and you never know – it might just change your life! There are posters all over for yoga classes, you could try a few different styles and teachers and see what you prefer.
See my recommendations on the best yoga retreats in Rishikesh here, top Rishikesh ashrams here and my picks for yoga teacher training in Rishikesh here.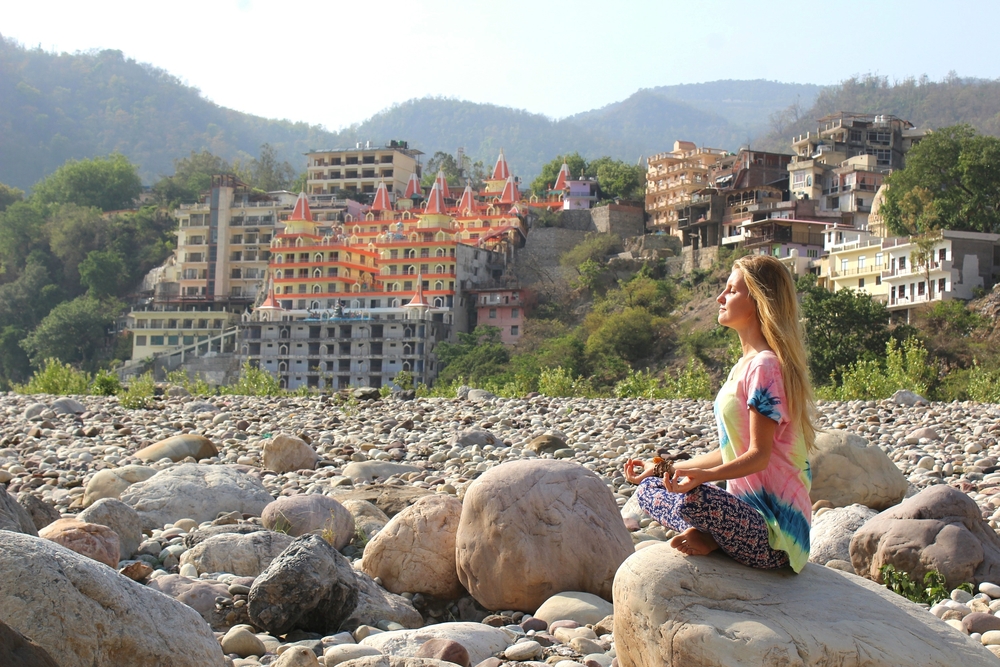 Ram Jhula: If you're staying in Lakshman Jhula, you can easily walk to an area called Ram Jhula. It's where a lot of the yoga and meditation ashrams are located, as well as tons of shops selling stickers, trinkets, and spiritual books are located.
Beatles Ashram: The Beatles came to Rishikesh in the late 1960s and basically made Rishikesh world famous. They stayed at this now abandoned ashram, which is really interesting to roam around and explore and the art and graffiti is really cool. It's 600 rupees for foreigners and 150 rupees for Indians.
Watch the Ganga Aarti: Every evening at the Parmath Niketan Ghat around 6:30 PM, people gather to give offerings to the river and to the Goddess Ganga. It's a beautiful ritual with fire and diya, a small pot with flowers and a candle that you light to float down the River Ganga.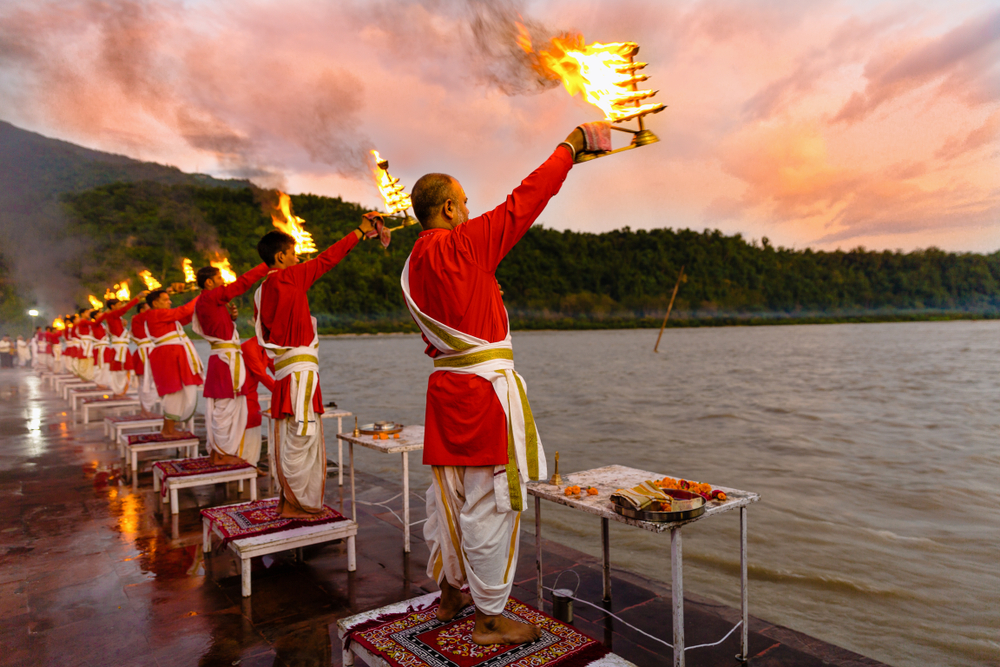 Stay in Parmath Niketan Ashram: This is one of the top Ashrams in India with over 1000 rooms. You'll get three meals and two yoga classes per day.  
Get an Ayurveda Massage: You'll feel relaxed after getting an Ayurveda massage. They use certain oils and pressure points that make these massages different from other ones you may have gotten, and they're extremely affordable!
Trayambakeshwar: This is a striking 13 story Hindu Temple located in Lakshman Jhula.
Triveni Ghat: This is a beautiful Ghat along the River Ganga with spiritual activities. It's a great place to visit to experience the local religious traditions in Rishikesh.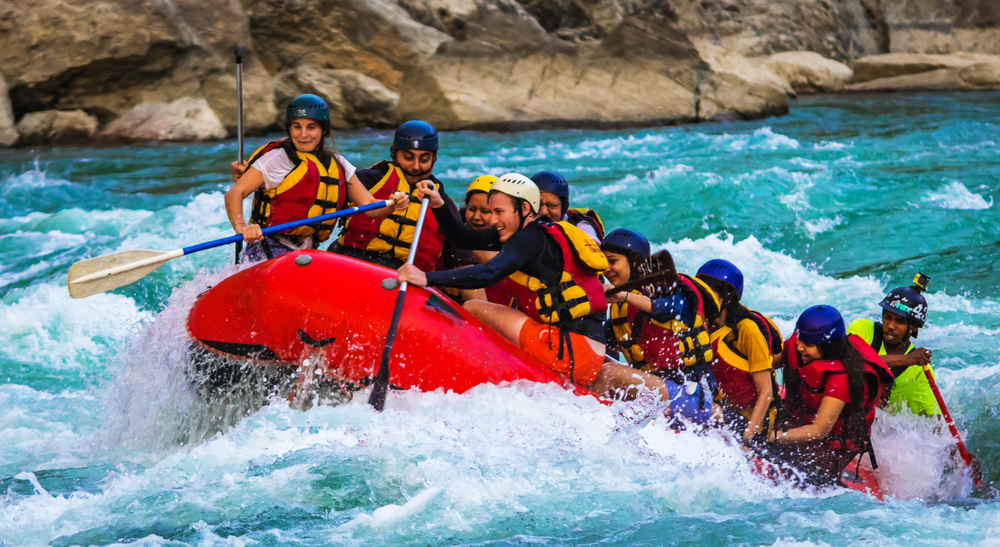 White Water Rafting: Get out onto the beautiful and holy Ganges river and experience stunning views of Rishikesh and the nature beyond whilst on a fun and thrilling white water rafting trip. You can choose between Grade 1-5, depending on the difficulty you want. This is one of the most fun ways to see Rishkiesh and the holy river.
Go Bungee Jumping: For a few thousand rupees, you can go bungee jumping! If you're an adrenaline junkie, this activity may be calling your name.
Neer Garh Waterfall: Rent a motorbike and drive to this waterfall. Spend the afternoon swimming in the cool waters with locals.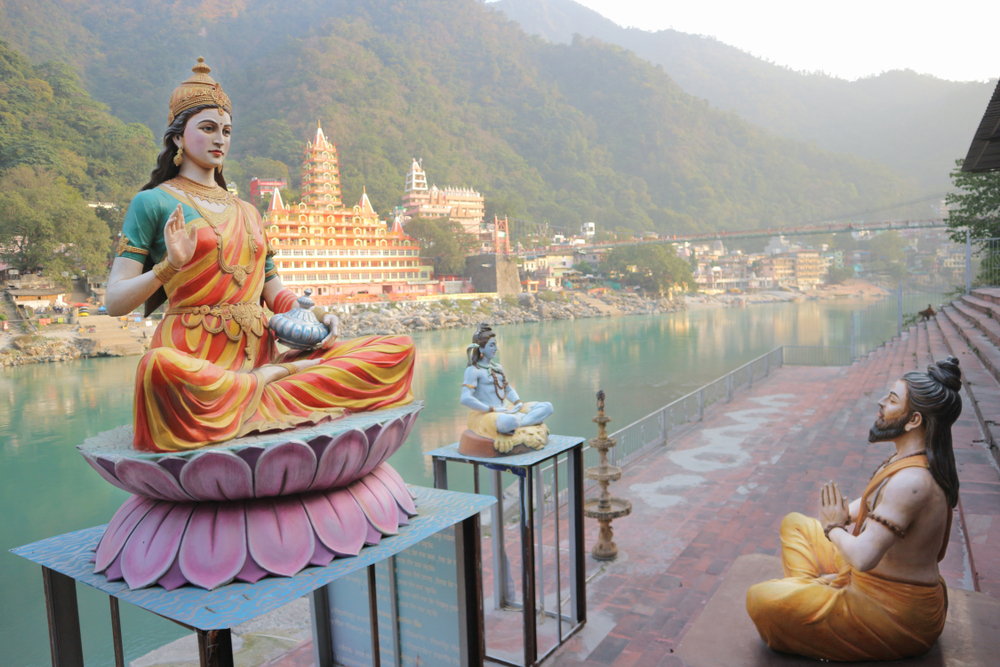 Day Trips from Rishikesh
Haridwar: The spiritual town of Hardiwar is only about 30 mins from Rishikesh. It's much more important spiritually to Indian's than Rishikesh and worth the short trip. Haridwar is an ancient city and important Hindu pilgrimage site and is one of the sites of the Kumbh Mela – the world's largest ever religious gathering. Hindu pilgrims arrive here in droves to take a dip in the holy River Ganges and every night the river comes alive with flickering candle flames as offerings are released and float down the river.
Kanjapuri Devi Temple: This is one of the best viewpoints and day trips from Rishikesh. You can rent a motorbike and drive to the temple yourself. The road winds through the mountains, where halfway up you'll get a gorgeous view of Rishikesh and the River Ganga. Once at the top, you'll have an aerial view of the surrounding mountains and forests.
Valley of Flowers: While this is actually a few days from Rishikesh, the Valley of Flowers is something not to be missed, especially if you're in the area in July and August. This is where you'll find spectacular endemic alpine flowers in bloom in a lush green valley.
Where to Stay in Rishikesh
The best area to stay in Rishikesh for backpackers is Lakshman Jhula. The cafes and abundance of yoga studios make it a great place to practice yoga and also meet other travellers. There are also an increasing amount of more upmarket hotels in Rishkiesh.
The Best Backpacker Hostels and Budget Guesthouses in Rishikesh
Shiv Shakti Guesthouse: This hostel has comfortable air-conditioned rooms, an awesome rooftop to chill on, and free chai and water all day long. The staff are so friendly and always happy. They have Bollywood dance nights, family dinners on Thursdays, and do sunrise and trekking tours. You'll feel right at home the second you step in this hostel. It's such a great place to meet other travellers if you're traveling by yourself. It's in one of the best areas of Rishikesh in Laxmhan Jhula.
Sonu Guesthouse: This characterful guesthouse is located across the bridge in the Laxman Jhula area. It's close to the main road but far enough away that you still get a quiet and calm atmosphere. They offer cold filtered water and tours to various attractions, which is great especially if you're travelling solo! There's a gorgeous terrace and rooftop that's a great place for relaxing and socializing and a yoga studio. There's a communal kitchen too so you can cook your own meals. The staff are genuine and helpful, you'll feel right at home in this guesthouse popular with budget travellers and solo female travellers.
The Best Mid Range Hotels in Rishikesh
Hotel Peepal Tree: Stay here for comfortable and spacious rooms with great views. They have a rooftop restaurant that serves delicious food, air-conditioned rooms, and free Wi-Fi. It's in a great location, only 900 meters from Lakshman Jhula and 800 meters from Ram Jhula. There's a terrace and a homey, comfortable atmosphere.
Seventh Heaven Inn: A newish boutique hotel in the Tapovan area that has already become super popular because of it's fab location, high service standards and beautiful rooms. The spacious rooms have plenty of natural light and balconies with views over the forest and mountains. The decor is a blend of Indian and European styles and the hotel is run by an Indian and English partnership. There's a fabulous rooftop restaurant as well.
Ganga Kinare: A beautiful riverside boutique hotel with it's own garden and ghat. The hotel is a lovely peaceful riverside retreat as its located down the river from the busier parts of Rishikesh.  Most of the comfortable and well equipped rooms have views of the river and there are complimentary yoga, pranayama, and meditation sessions, an Ayurvedic spa and outside jacuzzi. A Ganga aarti is also performed each morning and evening at the hotel's private ghat.
The Best Luxury and Heritage Hotels in Rishikesh
Aloha on the Ganges: With an outdoor pool and wellness centre, this luxurious hotel has amazing views of the River Ganga, nature walks, yoga classes, and amazing staff that will make you feel right at home. Rooms are spacious and clean, and feature private bathrooms and some rooms have a mini bar. It's in a great location, only 2 km from Lakshman Jhula.
Neemrana's Glasshouse on The Ganges: This heritage hotel is about 20 km from Lakshman Jhula. It's located right next to the River Ganges in a serene setting. It offers you peace and tranquillity, since it's just outside of Rishikesh. There's a garden and game room on site, and a restaurant serving healthy and filling food.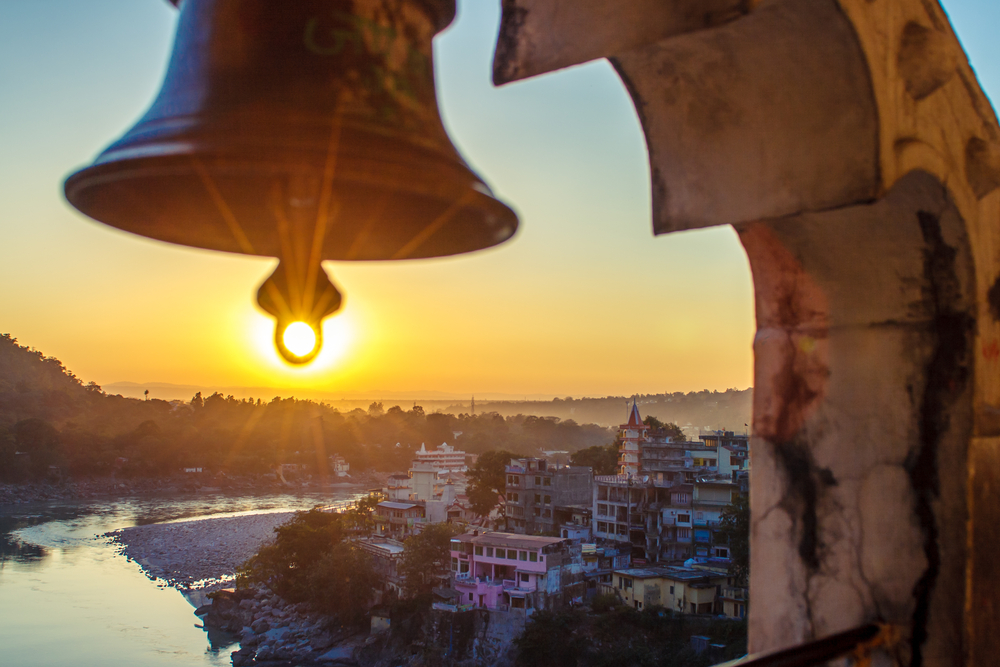 Where to eat and drink in Rishikesh
Rishikesh is a hippie haven with tons of cafes and restaurants serving reasonably priced local and international dishes as well as plenty of vegan and vegetarian food perfect for yogis. Chilling out at a cafe with views over the River Ganges is one of the most relaxing and pleasant ways to spend an afternoon and you'll probably meet some interesting people. You'll find anything from the local northern Indian style dishes like Chana Masala and Kadai Paneer, as well as healthy salads, sandwiches, espresso coffee, pizza, pasta, and platters.
Be aware that as Rishikesh is a holy city no alcohol or meat dishes (including egg) are served. Lakshman Jhula and Tapovan are two areas of Rishikesh known for its plethora of good restaurants and cafes.
Some of the best restaurants in Rishikesh Include :
Little Buddha: This restaurant serves vegan and vegetarian food in a large open café with beautiful views of the Ganga. Their portions are huge and affordable, and their food is some of the best in all of Rishikesh.
Free Spirit Cafe: a small place near to Laksham Jula with river facing tables, relaxed atmosphere, lovely staff and reasonably priced but great quality food cooked with love. Try the falafel burger and pancakes.
Beatles Café: Playing music from the 60s and 70s all day long, some of their specialties include lasagne and burgers. It's the place to visit after exploring the Beatles Ashram.
Royal Café: This café has delicious vegan smoothie breakfast bowls, coffee, and a comfortable seating area on a balcony overlooking the Ganga River.
Pumpernickel Bakery: Some of the best desserts in all of Rishikesh with a lot of places to sit and relax. Make sure you try their vegan Reese's Balls and vegan chocolate banana pie!
Ramana's Organic Garden Cafe: Everything here is fresh, healthy, organic and super tasty. It's a chilled out place with awesome views plus you'll be helping out the kids at the school next door as well as having a delicious meal!
Pure Soul: Lovely, modern, clean, Western cafe and organic kitchen with plenty of gluten free and vegan options. There's a great juice and smoothie menu and decent wifi so its a good place to get some work done. As well as delicious food and great views Pure Soul is eco friendly and supports local farmers and sustainable agriculture.
How to get to Rishikesh
Haridwar train station is a half hour taxi or rickshaw ride away from Rishikesh has many connections to places in India such as Delhi and Varanasi. From Delhi the fastest trains take about 4 and a half hours to Haridwar. You can also take a bus but it takes longer (about 8 and a half hours) You can also fly from Delhi to Dehra Dun airport which is only 20 mins away from Rishkiesh by taxi. You can take an overnight bus from Dharamshala to reach Rishikesh, which takes about 14 hours. You can use Rome to Rio to check the details.
Where Next:
Dharamkot, the hippie village in the Himalayas, above Dharmashala and McCleod Ganj
Manali, the most popular mountain hangout
Read More:
The Ideal Indian Mountains Itinerary 
Top Yoga and Meditation Centers in India 
Best Places to do Yoga Teacher Training in Rishikesh
Best Yoga Retreats and Yoga Teacher Training in Goa 
Cover Photo Credit: Peppy Graphics and Shutterstock