Dharamkot: A Spiritual, Hippie Village in the Indian Himalayas
India has long attracted spiritual seekers for decades since the days of the hippie trail where young people travelled overland from Turkey to places like Goa, India and Kathmandu, Nepal looking for peace, love and enlightenment.
Many travellers to India don't want to just see the sights but come to India for other reasons – many to explore spirituality, do yoga teacher training and just to 'find themselves in India'
There are many spiritual places in India that people come to 'find themselves.' The Beatles famously did it in an ashram in Rishikesh, the yoga capital of the world.
Even nowadays, spiritual places like Varanasi, Dharamshala, Mcleod Ganj and Dharamkot (the home of the Dalai Lama) Pushkar, Hampi and the beaches of Goa still attract spiritual seekers, yogis, hippies, backpackers and all kinds of people looking for a bit more meaning in their life.
There's no shortage of choice when it comes to spiritual destinations in India, but Dharamkot is one of the best if you are looking to learn Buddhism and find yourself in a hippie village in the Himalayan mountains.
Can you really 'find yourself' in Dharamkot?
I know it's a bit of a cliché but India is a country with such a rich culture, history and spiritual heritage that traveling here offers so much more than just a holiday. India is still a place that can teach you a lot about the world, about life and spirituality, and also about yourself.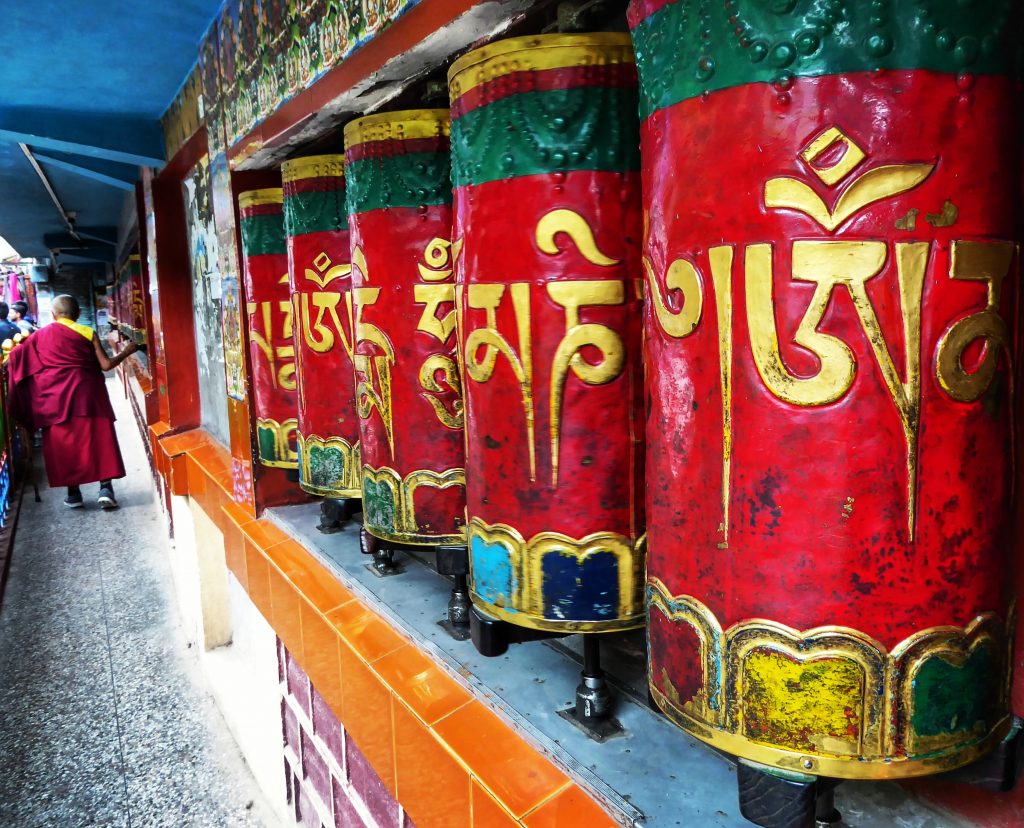 Spirituality is everywhere in India and forms a bit part of daily life. Many of the world's religions were founded in India:
Hinduism with their fascinating pantheon of colourful deities,
The Buddha achieved enlightenment under the Bodi tree in Bodhgaya (not far from Varanasi)
Jainism and Sikhism were also created in India,
There's also Christian and Muslim influences and not forgetting that India is also the birthplace of yoga and Ayurveda.
You'll also learn alot from the culture shock. If you want to explore your spiritual side there's really no better place than India!
Colourful Tibetan prayer flags in Dharamkot
Why Dharamkot is so magical
There are so many places to go in India to expand your consciousness, but after spending a month in the quaint hippie village of Dharamkot near Dharamshala in the Himalayan mountains of Himachal Pradesh, I think that this is probably one of the best places to find yourself in India.
Dharamkot just has a magical, spiritual vibe. The quaint village, nature, fresh air, mountain views, simple life and spiritual energy of the Himalayas set the scene for a great place to meditate, practice yoga, soak up the nature and find peace within yourself.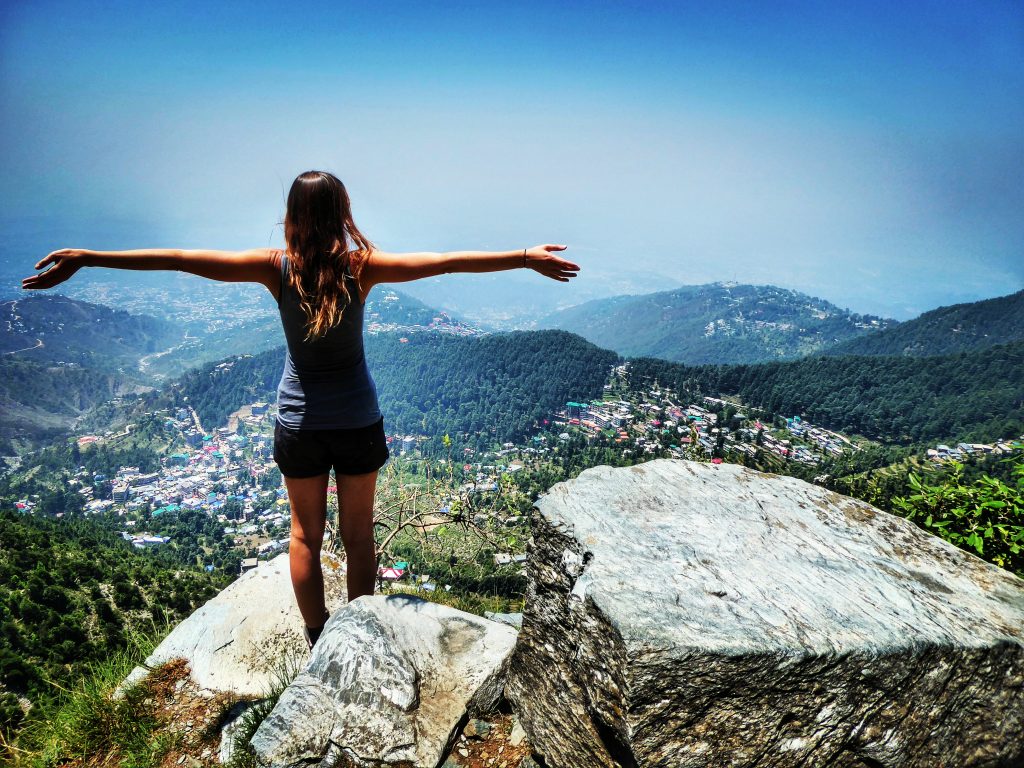 Dharamsala – The Home of the Dalai Lama?
Dharamsala/ Dharamshala is famous for being the home of the Dalai Lama and the Tibetan government in exile since they escaped persecution from the invading Chinese in the 1960's.
Dharamsala itself is a large Indian town that doesn't have all that much to fall in love with (apart from a huge cricket stadium.) If you just go to Dharamshala looking for the Dalai Lama and spiritual vibes you'll probably be disappointed and wonder what all the fuss is about.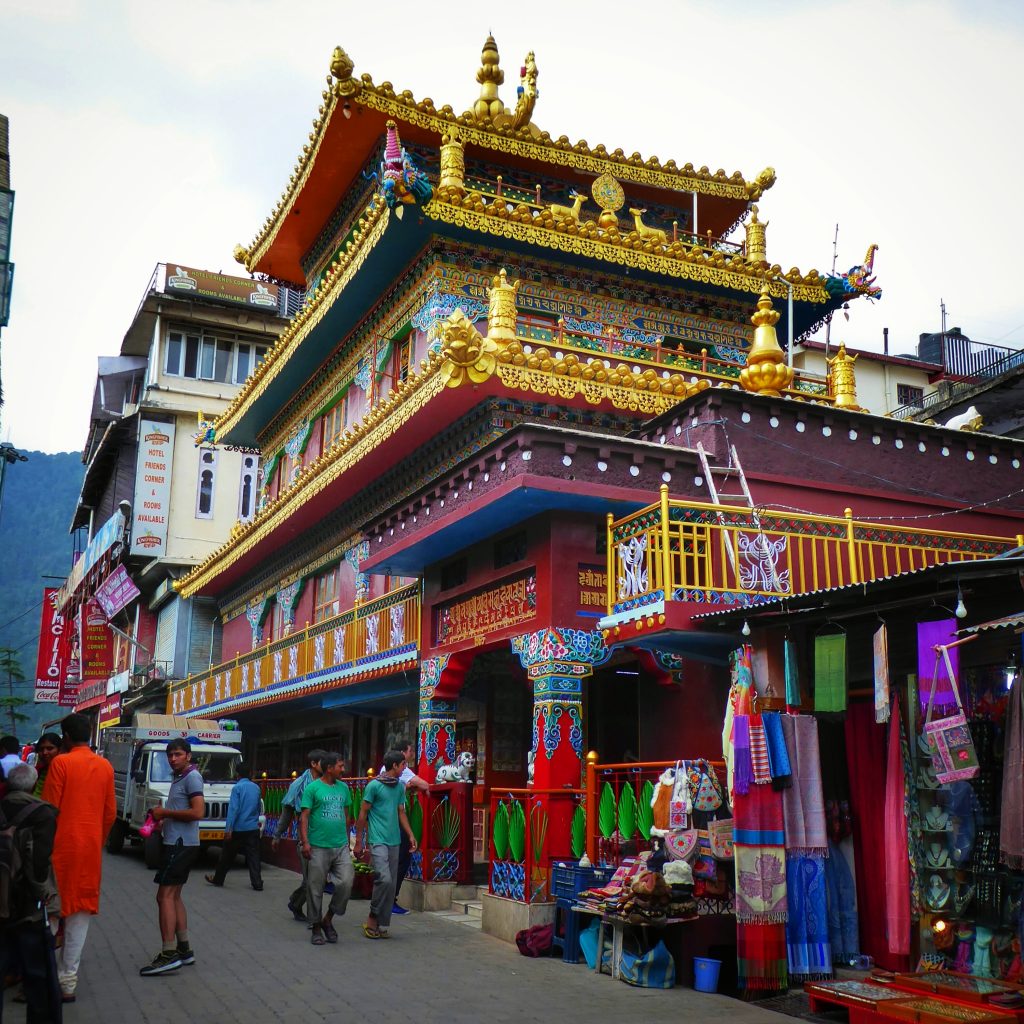 McLeod Ganj
When people talk about going to Dharamsala to see the Dalai Lama, most actually mean heading to the nearby town of McLeod Ganj a bit further up the mountain.
Until recently, the Tibetan influenced small town of McLeod Ganj, sometimes known as 'Little Lhasa'  was the place to be with its Tibetan temples, monks and refugees and a popular backpacker scene.
But nowadays the town is increasingly built up and busy to overflowing with souvenir shops and traffic jams from the huge numbers of domestic tourists that visit at weekends.
So now most spiritual seekers decide to stay further up the mountain again in the smaller and quieter villages of Bhagsu Nag and Dharamkot. (Lower Bhagsu has also become too built up now to find much inner peace so it's worth making the climb up to Upper Bhagsu)
Dharamkot Travel Guide: Top Tips, Things To Do and Places to Stay and Eat
So if you want to find yourself in the Himalays, head to Dharamkot. The best time of year to visit Dharamkot is April – June. Winters can be cold and the monsoon rains come from July – September. October and November could also be a nice time to visit after the rains before the cold of winter.
Things to do in Dharamkot
Meditation, Yoga and Spiritual Workshops in Dharamkot
The village of Dharamkot clings to the mountainside above McLeod Ganj and Bhagsu and offers an almost overwhelming variety of mediation and yoga courses along with a cornucopia of other alternative therapies, courses and workshops.
Tushita Buddhist Meditation Center
Tushita Buddhist Meditation Center is a beautiful, colourful Tibetan style monastery that offers retreats like the popular 10 day discovering Buddhism courses and daily drop in guided mediation everyday at 9.30am in its beautifully decorated Tibetan gompa next to the Dhamma Sikhara Vipassana Meditation Centre.
For both of these the courses and retreats get fully booked in advance but you can try your luck on the waiting list. The drop in mediation at Tushita is by donation and there is a nice library there too and regular talks and movies.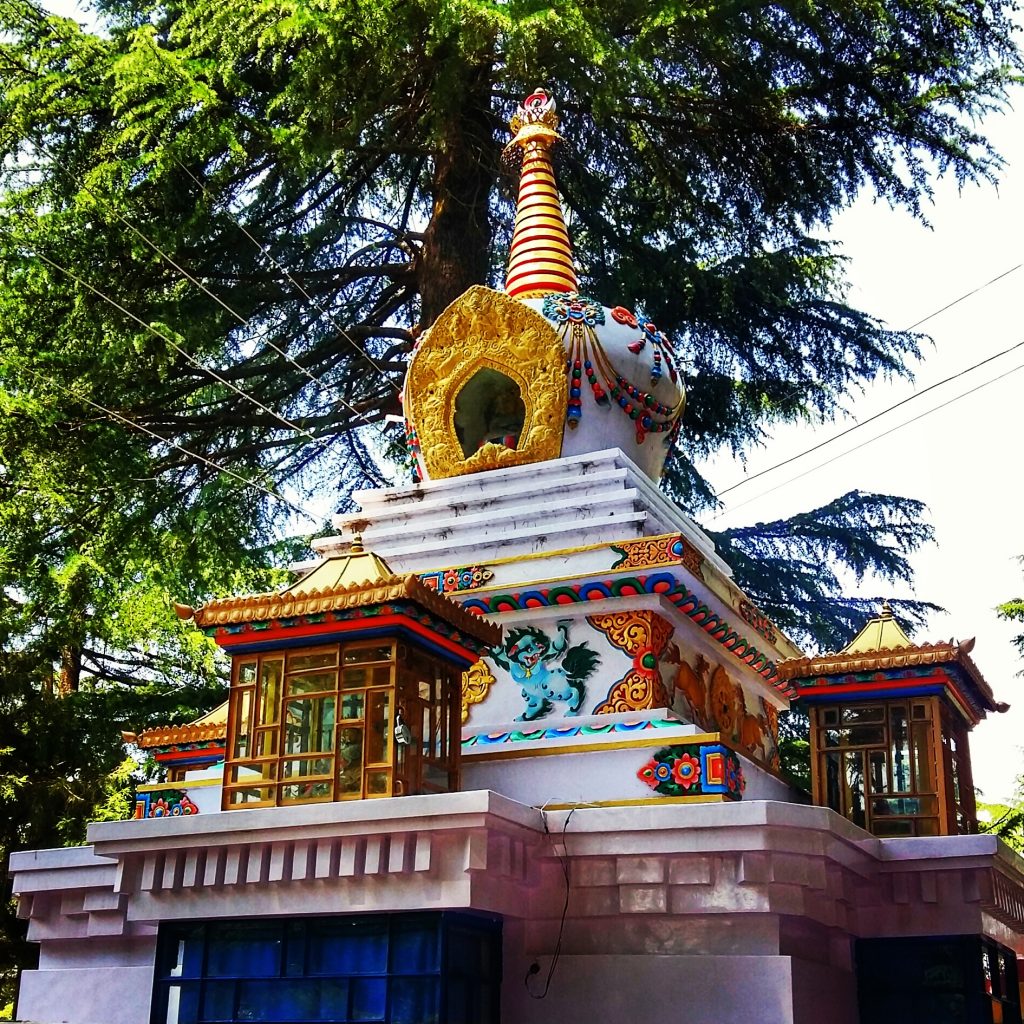 Yoga in Dharamkot
All varieties of yoga classes, yoga teacher training courses and massage courses are also available in Dharamkot.
Many yoga retreats in Goa (and even some shops and restaurants including Arambol's most popular night venue Twice in Nature is up here as Once in Nature) move from Arambol to Dharamkot for the summer season.
The Himayalan Iyengar Yoga Center is a popular and well respected yoga school that runs 5 day Iyengar courses starting every Monday from March- October.
Siddhi Yoga run comprehensive 26 day 200 hour hatha and vinyasa yoga teacher training courses in Dharamkot. Also popular is Alpesh Yoga which teaches hatha and iyengar YTT,  Abhinam Yoga Center YTTC's and Trimutri Yoga Teacher Training.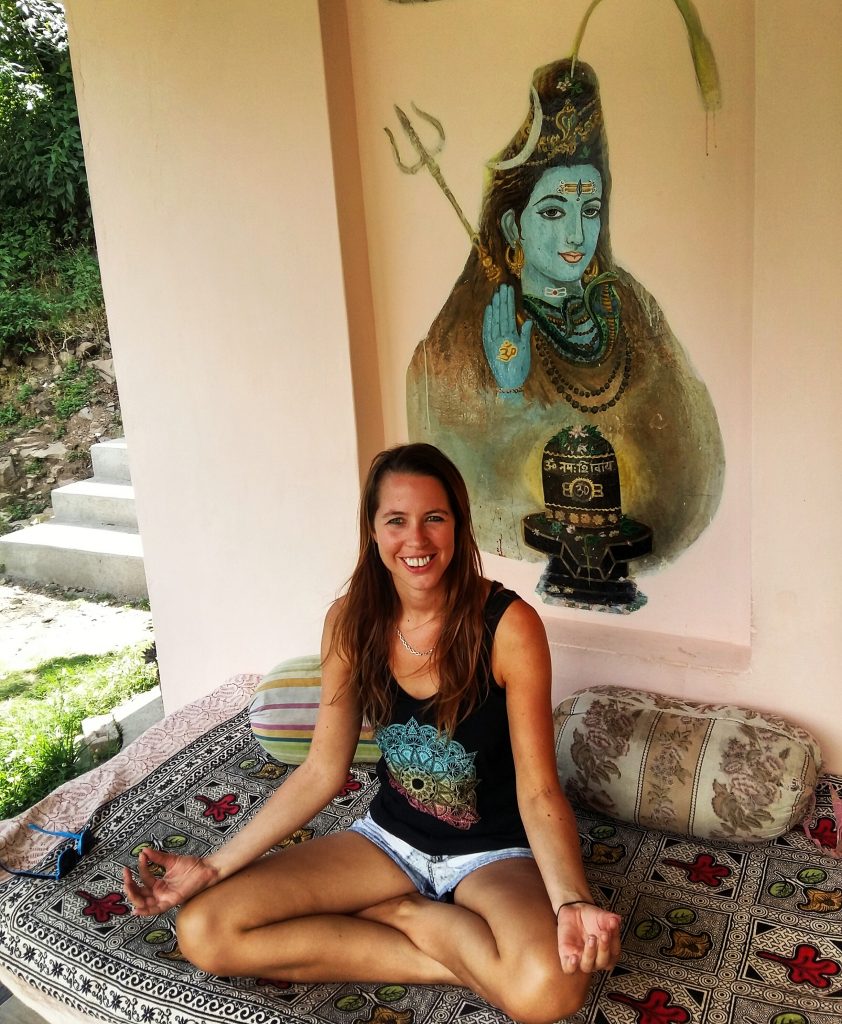 As well as the famous centers there are so many more workshops going on in Dharamkot including reiki, massage, crystal healing, shamanic drumming, kundalini meditation, ecstatic dance, kirtan (bhajans) yoga nidra, panchakarma, tantra, NLP, breath diagnosis, past life regression and also jewellery, macramé and dream catcher making workshops.
The hardest part is finding time to fit it all in! Hence why I ended up staying a while month here. To find what's on look at the posters around the village or on the Dharamkot and Bhagsu community Facebook group.
Trekking and things to do in Dharamkot
Dharamkot is also a great base for treks around the beautiful surrounding countryside and the Dhauladhar range such as Triund, Illaqua and Indrahar Pass where you can see the snow dusting on the mighty Himalayan mountains.
The Triund Trek
Triund is the most popular trek that you must do. It's not too difficult and is only about a 4 hour hike from Dharamkot (Upwards on the way there and mostly down on the way back. It starts off easy but gets pretty step climbing at the end). See this post for more details about the Triund Trek.
You can camp overnight at Triund – there are a couple of chai and maggi noodle shops and if you don't have a tent you can hire one up there if there are any left – but when I was there on a weekend in May (peak season) they were all already taken and sadly the clouds covered the view a bit but I still had a great time.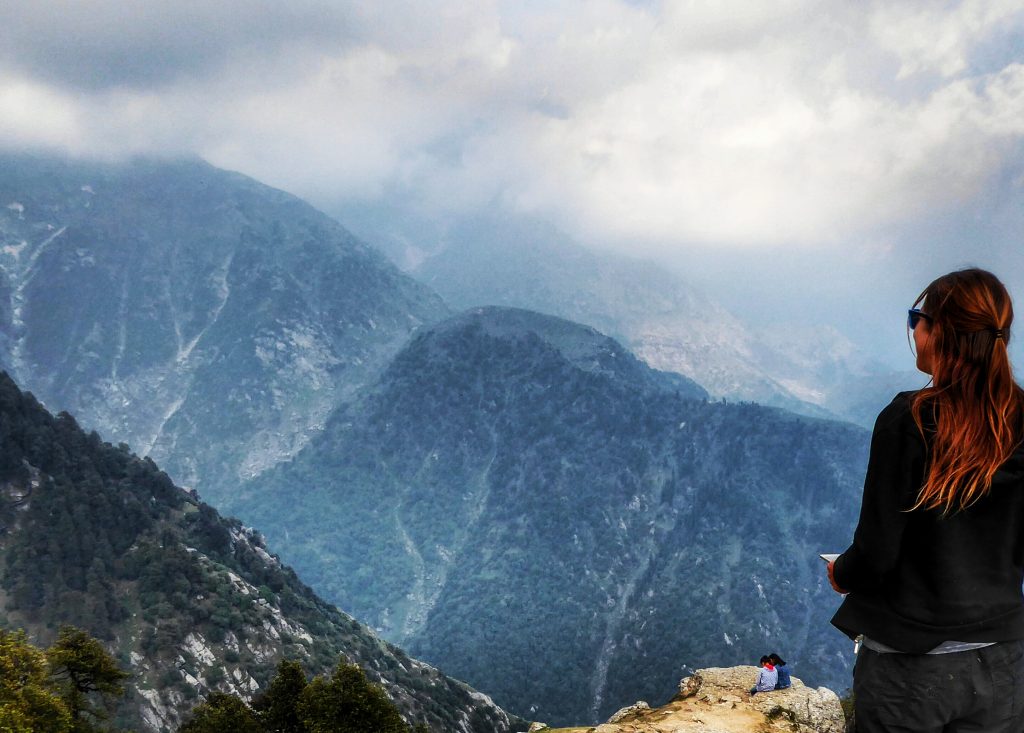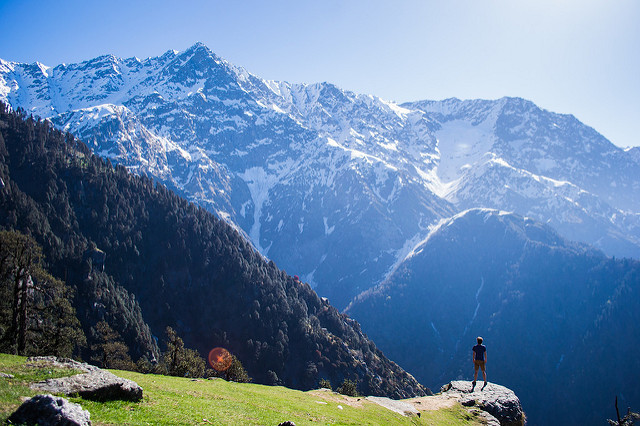 Waterfalls
You can also trek to explore other villages and see the waterfalls – there is a famous one in Bhagsu and a less crowded one near the village of Gallu which also has a temple and amazing views.
There is a short cut from Dharamkot down to Bhagsu which makes a nice walk, once in Bhagsu there is a temple and many cafes and shops. There are also some little shops in Dharamkot selling basic necessities like water, biscuits and cigarettes as well as Kashmir shawls, crystals and jewellery.
The Dalai Lama Monastery
Head down to McLeod Ganj to visit the Dalai Lama Monastery (officially called the Tsuglagkhang Complex.) There's also the Tibetan Museum, you can try eating Tibetan food like momos and thukpa, and volunteer with refugees.
Don't miss the chance to attend an audience with the Dalai Lama if he's in town. Sadly he was not there when I visited so I didn't get the chance to meet him. Check out these tips by Simply Nomadic Life if you want to know what it's like to met the Dalai Lama.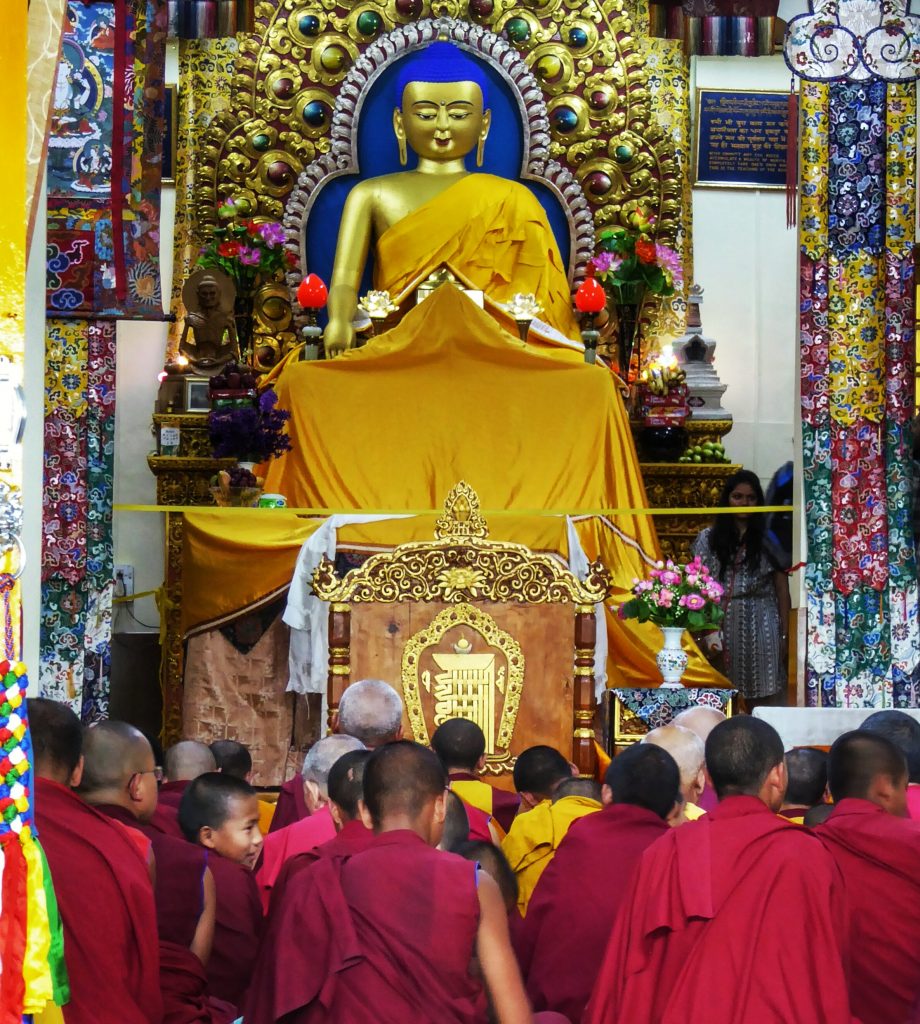 Where to Stay in Dharamkot
The village of Dharamkot is a quaint, traditional Himachali village that now caters for hippies, backpackers and travellers so don't expect any luxuries or modern conveniences, or even much internet.
There are still no roads, just the one that comes up from McLeod Ganj which ends at the start of the village near the popular Trek and Dine café. So you'll get fit staying here walking up and down the mountain all day!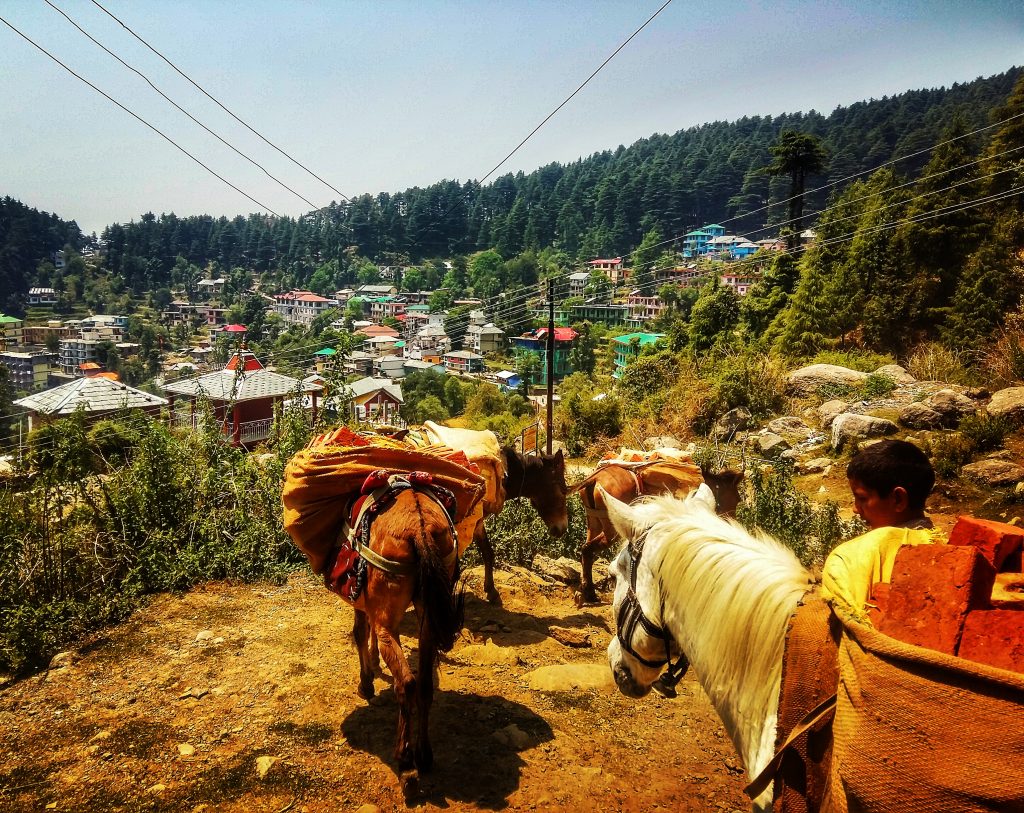 Accommodation in Dharamkot
Accommodation in Dharamkot can be basic, usually it's just rooms in homestays and in village houses. Many only have a shared bathroom with cold water only (some have Western toilets but most only have Indian style squat toilets.)
The places where I stayed didn't even have a name. Rooms get cheaper the further away you walk from the road, most rooms cost between 250 and 500 Rupees a night. Most budget rooms in Dharamkot are not available to book online before you arrive but there are now a few options available to book online.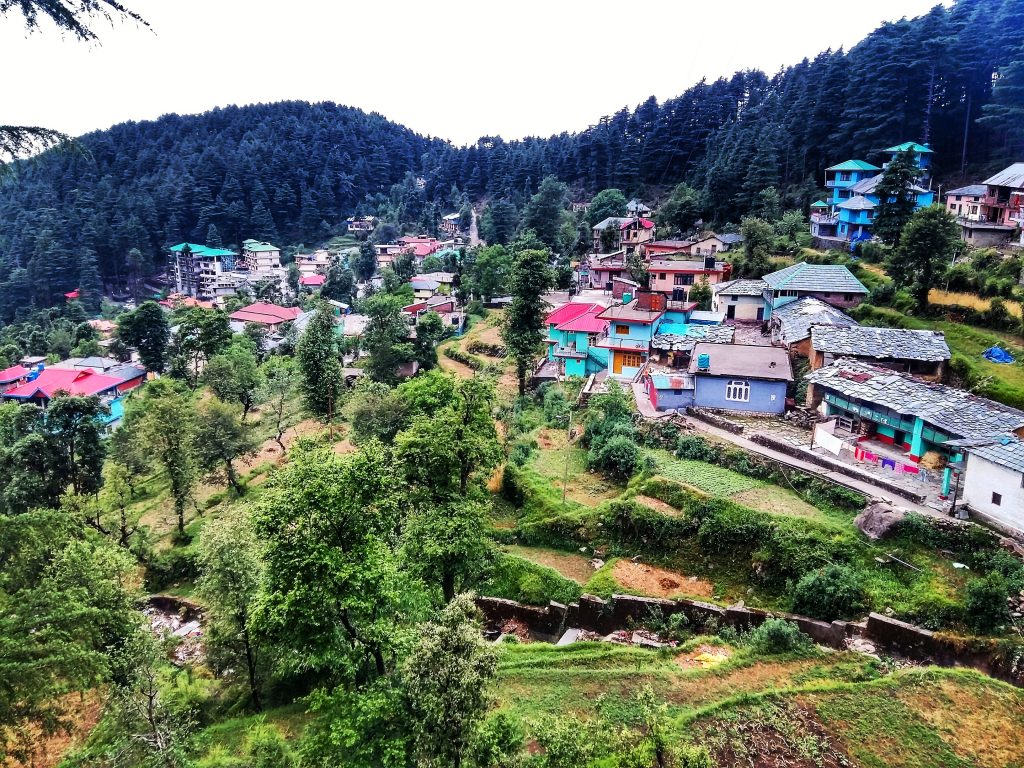 There are some new backpacker hostels and some budget hotel rooms being built on the edge of the village and a couple of Dharamkot homestays available to book online now on Booking.com.
Some of the best places to stay in Dharamkot include:
Eevolve Dharamkot – a new eco hostel near the Himalayan Iyengar Yoga Center with shared dormitory rooms and comfortable private rooms with attached bathrooms, a shared kitchen, terrace with mountain views and wifi. You can book it online here.
Mitra Hostel – colourful private rooms with attached bathrooms, shared dormitory rooms and a sociable common area high up at the top of the village. You can book Mitra Hostel online here.
Mountain and Moon – the best rated guesthouse in Dharamkot that you can book online. It has comfortable double rooms complete with private bathrooms, balconies with nature views and friendly hosts. There's a 4 night minimum stay.
Update 2023! For the WFH crowd and the digital nomads there is even now NomadGoa Coliving and Coworking in Dharamkot! It offers private rooms with a shared kitchen, common area and coworking space.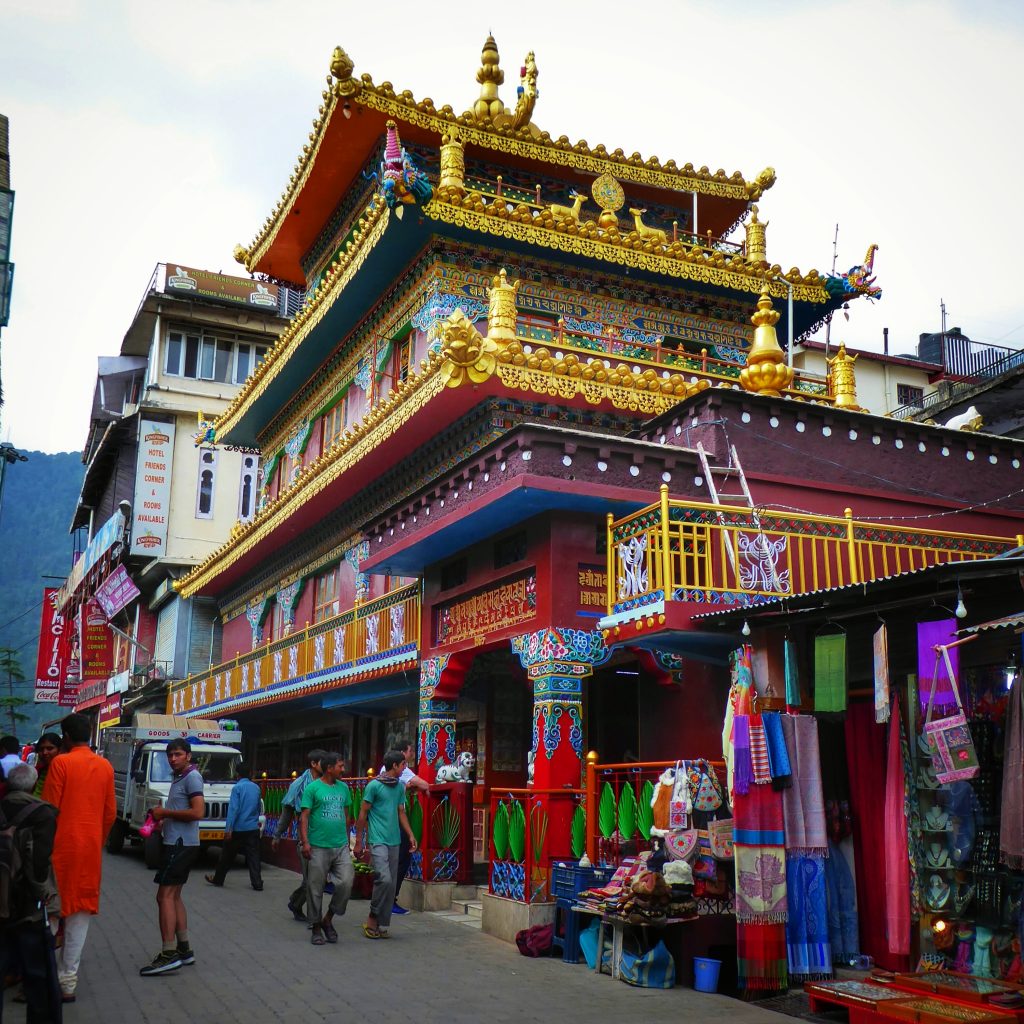 Accommodation in McLeod Ganj
Searching for a room can mean a lot of walking up and down with heavy bags and in peak season it can be difficult to find a room at all.
If you can't find anything online and don't want to just turn up and wing it there are many hotels in nearby McLeod Ganj that you can book in advance and then head up to check out Dharamkot and find somewhere to stay once you get here.
In McLeod Ganj check out Hotel Backpacker's Inn bright, colourful and clean hostel with dorms and private rooms and super views across the mountains from the balconies. Green Hotel is also a good choice and a long time travellers' favourite.
Accommodation in Bhagsu
In Bhagsu check out HosteLaVie in Upper Bhagsu (better than lower) which has comfy dorms.  McLeod Backpacker's which is actually located in Bhagsu near the German Bakery, Silvermoon House is a good centrally located budget guesthouse and Hotel Sky Pie is a popular more upmarket option.
Decent Wifi is also really hard to find in Dharamkot and even the 3G doesn't work very well. McLeod Ganj is better for internet but Trek and Dine in Dharamkot has OK WiFi but gets really busy so its painfully slow at busy times.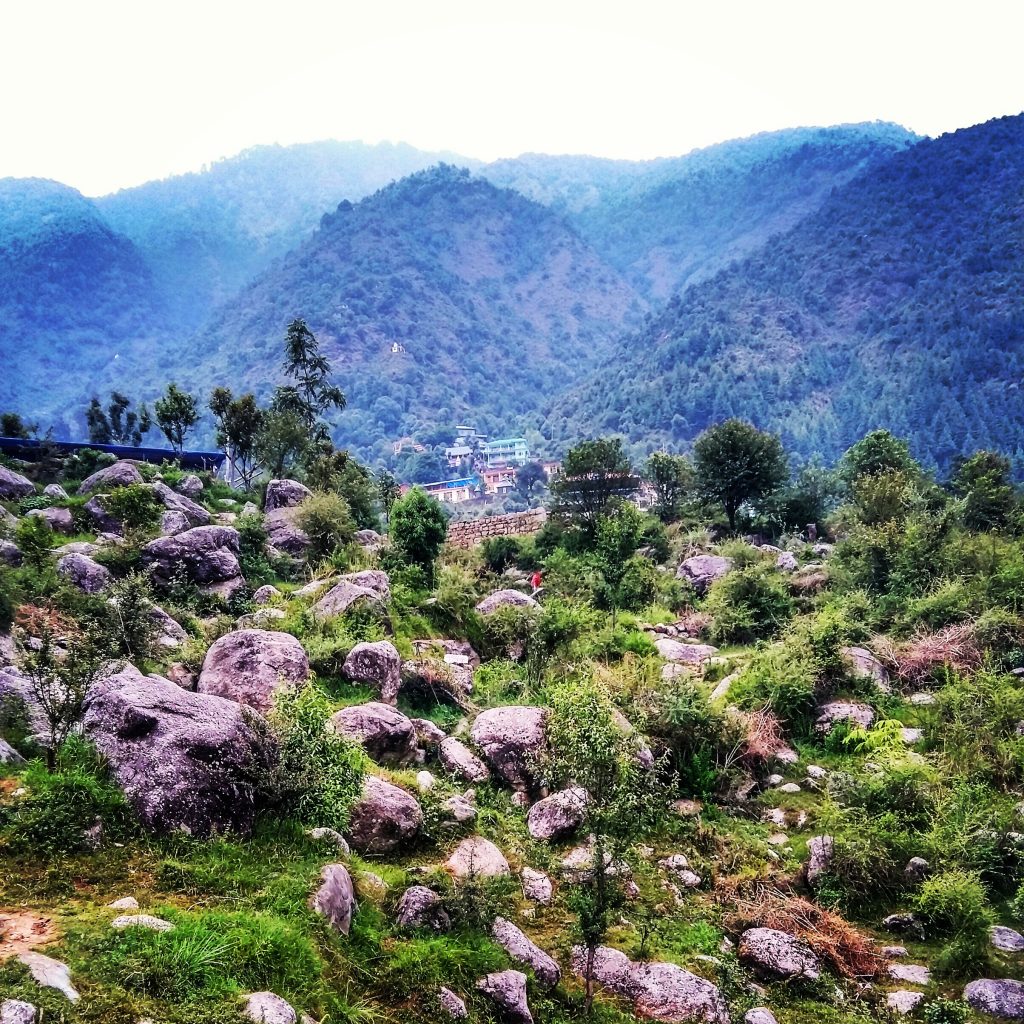 Where to Eat in Dharamkot
For a small mountain village, there are so many good cafes and restaurants serving a range of Indian, Tibetan, Israeli, Western food and multi-cultural traveller favourites including many pure veg and vegan places.
Many signs and menus are in Hebrew due to the large population of Israeli backpackers that come here so it's a great place to try Israeli food if you haven't before. Also make sure you try Bhagsu cake, it reminded me of millionaires shortbread – a crunchy biscuit base layered with caramel toffee and topped with chocolate.
My favourite places to eat in Dharamkot where Trek and Dine, Om Café and Spaced Out (good for gluten free and vegan food) Once in Nature and Cool Talk Cafe. I also had breakfast in the chai shop outside Tushita every morning after meditation as its probably the cheapest place and always lively with a nice crowd after meditation.
In Bhagsu I recommend the German Bakery (the original one further up the hill) and Unity Café. In McLeod Ganj try Tibet Kitchen in the main square for tasty authentic Tibetan food.
Getting to Dharamkot
I went to Dharamkot from Amritsar (well worth checking out the amazing Golden Temple) via Pathankot on local bus and it took pretty much all day.
You can get delux overnight buses to Dharamsala and McLeod Ganj from Delhi. You can also get a bus from Kasol (Parvati Valley) and Manali and other popular Himachal destinations.
Another option is to take an overnight train from Delhi to Pathankot station.  From Pathankot you can take a local bus (4/5 hours) or taxi (2.5 hours) to McLeod Ganj. From McLeod Ganj bus station you can take an auto rickshaw up to Dharamkot or walk via a short cut in about 20 mins.
Dharamkot is connected to Upper Bhagsu (the good bit) by a nice 15 min walk down the mountains and I found myself climbing up and down most days going from one workshop to another so I got really fit but carry a torch because it could be easy to slip over the rocks at night.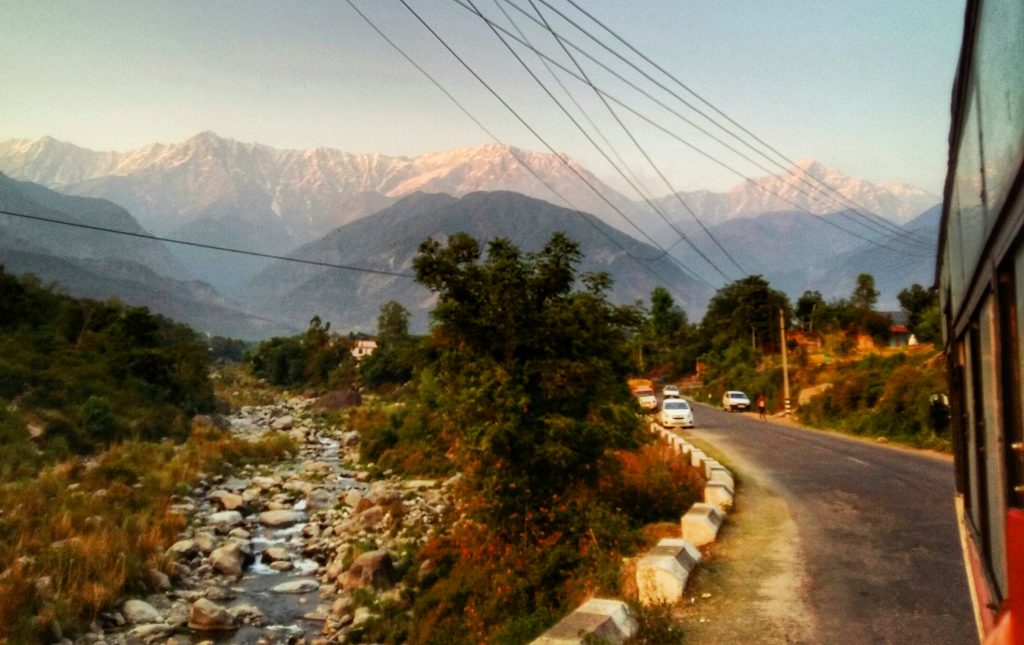 Why I Loved Dharamkot
The gorgeous mountain scenery, laid back nature and plethora of spiritual activities entices many travellers to stay for weeks and even months in Dharamkot and Upper Bhagsu chilling out in the lap of the Himalayas and taking courses to expand their consciousness.
I spent my days happily going from morning mediation at Tushita meditation centre to yoga sessions and then other workshops interspersed with lazy lunches and endless cups of chai or tulsi tea with new friends.
Whatever your looking for, whatever your interest, I'm sure you'll find much to keep you occupied on your spiritual journey in Dharamkot. There's definitely a special energy in these mountains and the people who flock here.
But go soon, because new fancy hotels are already being built which will probably change the essence of this special place forever.
Have you been to Dharamkot or Bhagsu? Did you find yourself in the Himalayas?