As India is the birthplace of yoga where better in the world to take a yoga retreat!
From Rishikesh, 'the yoga capital of the world' at the foot of the Himalayas, to luscious and laidback Kerala – there are no shortage of yoga retreats in India.
If you're a beach lover looking for a yoga holiday in India then consider one of amazing the yoga retreats in Goa!
Tips for choosing a yoga retreat in Goa
Tropical Goa is India's most popular tourist destination for a good reason – miles of gorgeous sandy beaches, warm weather, spectacular sunsets, colourful markets, luxury beach resorts and vibrant nightlife.
It is also home to authentic yoga retreats and a unique blend of Indian and Portuguese culture that makes Goa an easy introduction to India.
North Goa is becoming known as a lively party destination, but in South Goa there are still many relaxing and potentially life changing yoga retreats and yoga teacher training courses in Goa that offer every style of yoga for all levels and budgets.
Pin Me 😉
In North Goa you'll find drop in yoga classes and yoga retreats around Mandrem, Arambol and Assagao, near to Anjuna Beach, which are ideal if you want to mix yoga with experiencing the vibrant Goa nightlife.
If you want a more chilled out experience then you can still escape it all the beautiful, quiet and uncrowded beaches in South Goa. Agonda, Palolem and Patnem are home to some of the best yoga retreats in Goa.
I started my yoga journey on the tropical, colourful beaches of Goa and have been living here for almost 10 years now. I've been lucky enough to experience some of the best yoga in Goa so I wanted to share my favourite yoga retreats in Goa with you to help you decide on the best one for you.
It can be hard to know which yoga retreats in India are good (there are many fake gurus out there!) and solo female travellers need to be especially careful.
I highly recommend checking the reviews from previous guests before hand on www.bookyogaretreats.com to make sure your Goa yoga retreat will be a safe experience and memorable for all the right reasons!
The Best Yoga Retreats in Goa for 2023
Best Beach Yoga Retreat – Bamboo Yoga Retreat
Best Authentic Ashram Experience – Swan Yoga Retreat
Best Ayurvedic and Yoga Retreat – Preksha Yoga Ashram
Best Eco Village Retreat – Earth Yoga Village
Best Yoga Teacher Training – Sarvaguna Yoga
Most Affordable Yoga Retreat – Preksha Yoga Ashram
Best Luxury Yoga Retreat – Ashiyana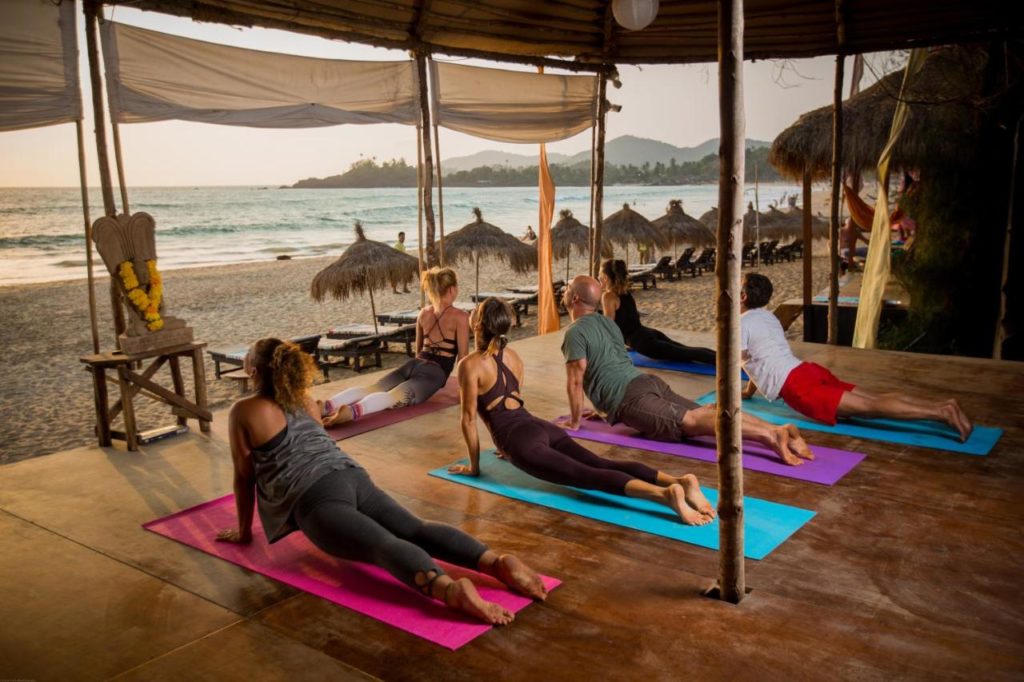 Bamboo is the best beachfront yoga retreat in Goa and one of my personal favourites. Stay in a cute, eco beach hut right in the sand and experience blissful morning and sunset yoga classes from the yoga shala that overlooks the ocean.
Bamboo is situated at the end of peaceful and quiet Polem Beach in the far South of Goa – it feels like a private beach and its a world away from the party beaches in the north. Bamboo offers twice daily yoga classes in a wide range styles, including Ashtanga and Vinyasa Flow, Hatha, Sivananda, Iyengar, and Yin.
After yoga jump into the warm waters of the Arabian sea, curl up with a book in the beach front lounge or relax with a massage. I love the barefoot beach front boho vibes at Bamboo, the views from the beach front yoga shala, the friendly staff and great international yoga teachers. It's easy to see why Conde Naste Traveller magazine voted it as one of the Top 10 Yoga Retreats in India.
Bamboo is suitable for yogis of all levels and is an all inclusive Goa yoga retreat including ensuite accommodation in a beach front cabana, vegetarian meals and airport pick up and drop off for the perfect beach and yoga holiday.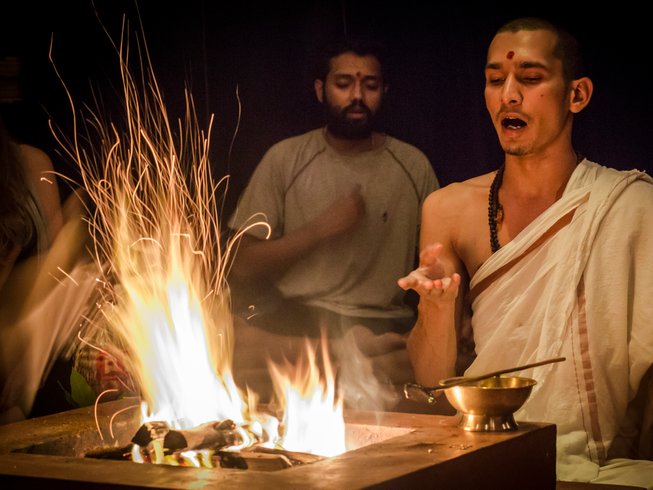 Most yoga retreats in Goa are more resort style than traditional Indian ashram style. So if you're looking for an authentic Goa yoga retreat with an ashram feel then Swan is the best yoga retreat in Goa for you.
At Swan you will learn not only the asanas and physical aspects of yoga, but also the spiritual side and theory of yoga. The main focus here is traditional Hatha Yoga, chanting, meditation, pranayama and kriyas. The retreat is suitable for beginners as well as more advanced practitioners.
The Indian yoga teachers live the yogic lifestyle and will teach you all of the traditional methods of authentic yoga, including breath work, pranayama and kriyas. They offer 14, 21, and 28-day intensive yoga retreats and panchakarma detox Ayurveda programs.
Swan Yoga Retreat is nestled in the jungle of the lovely village of Assagao which is peacefully tucked away from the busy beaches of Anjuna but still within easy access. Accommodations are basic, but eco-friendly and very comfortable. Vegetarian brunch and dinners are also included.
Affordable Yoga & Ayurveda Retreat – Preksha Yoga Ashram, Mandrem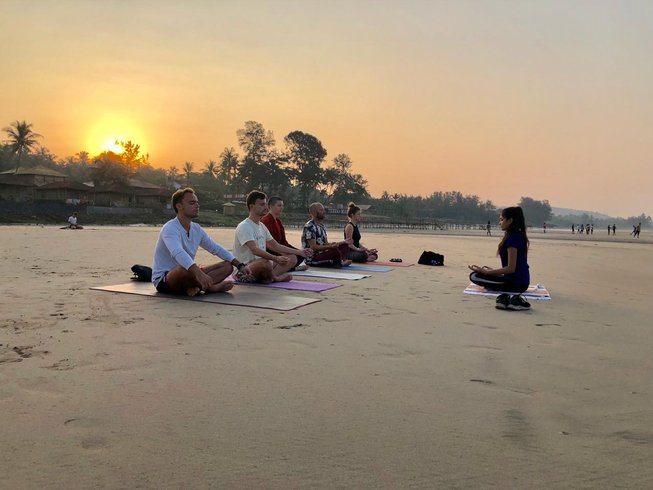 Ayurveda is an ancient holistic Indian life science that is the perfect compliment to yoga. This great value yoga, ayurvedic and wellness retreat centre uses Ayurveda to improve your energy and leave you feeling rejuvenated and revitalised.
There are a variety of options available at Preksha, most retreat packages include daily yoga classes, morning and evening meditation sessions, accommodation in eco-friendly wooden cottages and vegetarian meals. After your consultation with the Ayurvedic doctor you'll receive daily Ayurvedic massage treatments. There's also the option to do a panchakarma detox retreat or yoga teacher training.
Preksha Yoga Ashram is located in the jungle near Mandrem Beach and you'll have plenty of free time to spend at the beach. Mandrem is the most peaceful part of North Goa which offers the best of both worlds – a wide, uncrowded beach and peaceful nights sleep that is also within easy reach of all the action.
With retreats from 5 days to 30 days there's plenty of options and Preksha is also one of the most affordable Goa yoga retreats. Another highlight is that all the yoga teachers are Indian and highly qualified, very experienced and super caring.
Eco Village Community Retreat – Earth Yoga Village, Palolem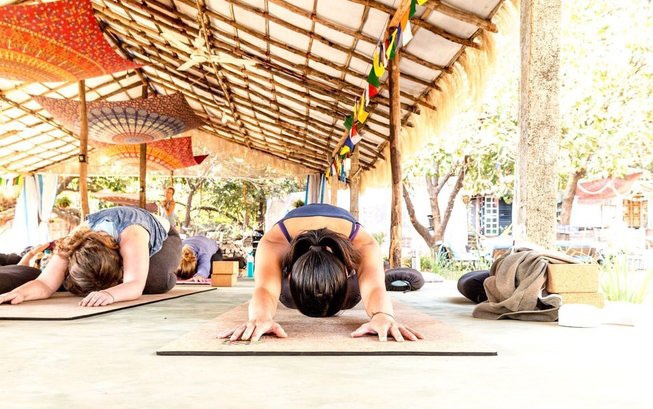 Another of my absolute favourite yoga retreats in Goa is Earth Yoga Village. This eco village community is located in a peaceful spot at the top end of Palolem Beach, the most beautiful beach in Goa.
Earth Yoga Village is an eco-village that, in addition to yoga classes, yoga teacher training and a holistic wellness centre, also hosts workshops about yoga theory and philosophy and spiritual activities in the evenings like kirtan, ecstatic dance or cacao ceremonies.
Yoga holidays and retreats include 3 daily Hatha and Vinyasa yoga classes, pranayama, meditation, and mantra sessions. One of the highlights is the chance to experience community living and explore holistic aspects of life so you'll feel like you are part of one big family.
You'll stay in rustic chic beach huts and enjoy 3 wholesome and nutritious meals. There is a community kitchen, a small library, numerous chill-out areas and hammocks hanging everywhere. Read my friend's full review here.
Best Yoga Teacher Training – Sarvaguna Yoga, Agonda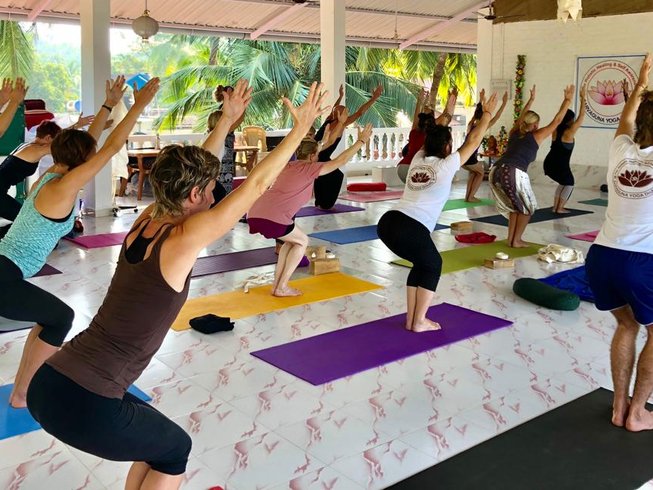 There's no shortage of options for yoga teacher training in Goa. If you're looking for a traditional multi style yoga teacher training course one of the best options is Sarvaguna Yoga who run 200 hour YTTs, 300 hour YTTs and mediation YTTs on beautiful Agonda Beach in South Goa.
The 200 hours yoga teacher training is basic training you need to be a yoga teacher and register with Yoga Alliance. Over 28 days you'll take classes in hatha, vinyasa, yin and restorative yoga asanas and practice teaching and adjusting a class. You'll also learn yoga history, yoga philosophy, anatomy and alignment and teaching methodology to leave with the skills you need both for your own practice and to teach yoga to others.
This YTT doesn't require any previous knowledge and is also great if you just want to deepen your yoga practice, learn yoga in depth and immerse yourself in the yogic lifestyle. Accommodation, vegetarian meals and airport transfers are also included in the package.
Sarvaguna has a beautiful location, situated in a lovely retreat centre full of colourful beach huts and tropical greenery just steps away from the peaceful Agonda Beach in South Goa.
Best Luxury Yoga Retreat – Ashiyana, Mandrem
Ashiyana is not ashram, it's a beautiful, boutique resort and a magical sanctuary set in stunning tropical gardens with a gorgeous natural swimming pool.
Ashiyana means home in Hindi, and that is exactly the vibe that has been created here. Located just off the chilled Mandrem Beach in North Goa, it's long been one of the very best yoga retreats in India.
There's a wide range of retreats and yoga styles to choose from including hatha, vinyasa and iyengar retreats some taught by famous international instructors. In addition to yoga, Ashiyana also has other spiritual activities and workshops as well as a detox program, spa and massage treatments, Ayurveda consultation and cleansing. They also offer 200 and 300 hour teacher training programs.
Best Ashtanga Yoga Retreat – Purple Valley, Assagao
If you're an Ashtangi then look no further than Purple Valley. This is one of the best ashtanga yoga retreats in Goa. The Guardian even listed Purple Valley as one of the best yoga retreats in all India.
All the yoga teachers here learned from Sri K.Pattabhi Jois himself, or his grandson Sharat, at the world's first Ashtanga Yoga school in Mysore. The retreat is also known for its fabulous Ayurveda treatments, which compliments their 14- and 28-day retreats.
Purple Valley is located in peaceful, Assagao but within easy reach of Anjuna's beaches, parties and markets. Everyone that comes here is dedicated to the Ashtanga practice and stay in one of the 'houses' onsite. They also have a centre in Tenerife, Spain.
More Tips for Planning your Yoga Retreat in Goa
Best Time to Visit Goa
The best time to visit Goa for yoga is from Dec – April in the dry, cool (by Indian standards) season. This is also the peak tourist season when all the parties, markets and restaurants will be open.
May is too hot and many yoga schools move up to enjoy the cool mountain air in Dharamshala. June – October is the monsoon season and many yoga schools in Goa are shut during this time.
Getting to Goa
Goa's international airport (GOI) is located at Dabolim roughly in the middle of the state. In the peak season time there are some direct charter flights from the UK, Europe and Russia to Goa's international airport. Goa is also well connected with most major Indian cites like Mumbai and Delhi.
If there's no direct flight you can fly into Mumbai or Delhi and connect to a domestic flight from there. Ask your retreat center if they can provide airport transfers, if not, the pre paid government taxis offer safe transportation from the airport.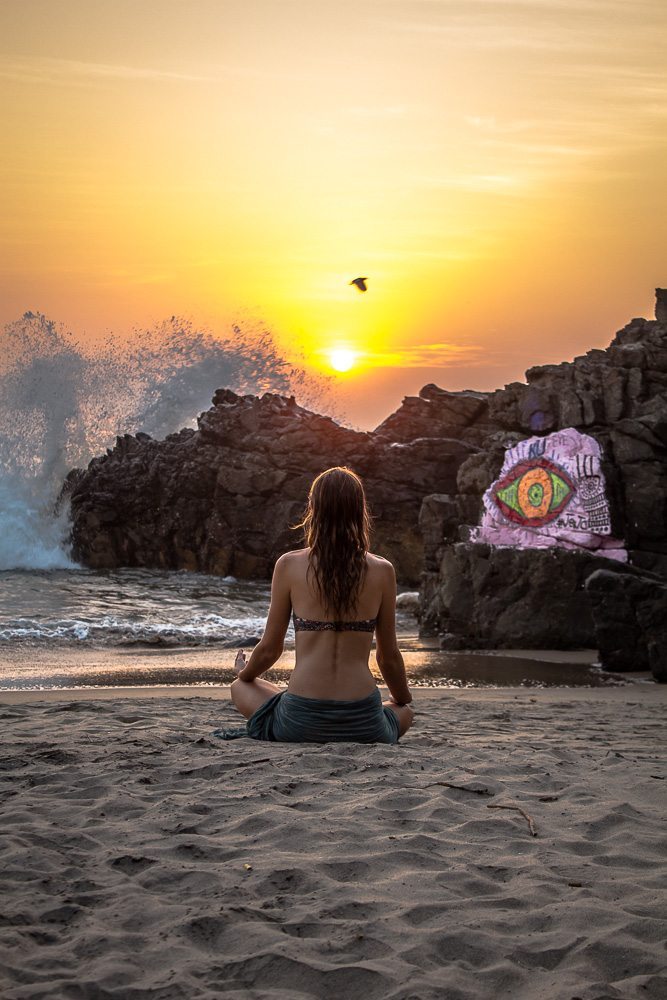 Visas for India
India has reopened for tourism but to visit Goa nearly all nationalities (apart from citizens of Bhutan, Nepal and the Maldives) must apply for an Indian visa before travelling. An E-Visa is available to 156 nationalities including the USA, Australia, New Zealand and most European countries, but you still need to apply online before you travel to India. Get your e-visa here.
Unfortunately E-Visas are currently not available for citizens of the UK or Canada. You need to apply online and attend an appointment in person to obtain a regular/paper Indian visa through VFS. The waiting time to get an appointment in the UK is currently about 1 month. So apply well in advance, but also be aware that the visa is valid from the date of issue not the date of entry.
All international arrivals also need to submit an online self declaration form and upload either a vaccine certificate or negative covid test here before departure. Check the latest covid news and arrival guidelines here
If getting an Indian visa is a problem why not consider a yoga retreat in Sri Lanka instead.
Goa is the most westernised state in India and you don't need to dress so conservatively as you would in other parts of India. Bikinis on the beach are fine and you should bring light clothes to cope with the warm, tropical weather. For more on what to pack check out my yoga retreat packing list.
Also make sure your travel insurance covers you for all the activities you plan to do on your Goa yoga holiday and for any covid related cancellations or illness. I recommend World Nomads
For more info on Goa check out my complete Goa Travel Guide
More Yoga Blog Posts:
I've also spent a lot of time in beautiful, spiritual places like Bali and the island of Koh Phangan in Thailand – some of the best places in the world to practice yoga. Check out my recommendations for: