There's many Goa travel guides out there, but my insider's guide to Goa has everything you need to know to plan your Goa holiday – I've been living here for over 10 years since 2015, so I know my way around more than most!
Goa changes quickly, new places open and close every season, so I have updated this post for 2023 with all the latest information. India is now fully open for tourism after being closed during covid and 2023 looks to be a busy season!
My Goa Travel Guide
In this Goa guide I'll go through everything you need to know to plan the perfect trip to Goa. From when to visit, where to stay and how to get to Goa, to insiders tips on the best beaches and places to visit, things to do, restaurants, nightlife and much more.
Why Visit Goa
Goa is India's smallest state, famous for it's laid back lifestyle, over 101 km of sandy tropical beaches, colourful markets and legendary nightlife all infused with a unique blend of Indian and Portuguese culture.
Goa first became popular in the days of the hippie trail and has now become India's most popular tourist destination, Goa attracts many domestic Indian tourists as well as travellers from all over the world.
Sadly, most tourists haven't read a Goa travel guide so they don't explore beyond the beaches and parties. This is a huge shame because Goa offers so much more to explore, from historic churches and forts to spice plantations, waterfalls and natural beauty spots.
There really is nowhere else quite like Goa and with everything from luxury resorts to cute beach huts, wild nightclubs to mellow yoga retreats – it's not surprising that so many people love Goa. 
Read More Goa Blog Posts: Why I Love and Live in Goa
Pin Me! 🙂
My Insider's Guide to Goa
Goa is a much bigger and more diverse state than most tourists realise. So for the best experience it's really worth doing a bit of research and reading some a Goa travel guides and some Goa blogs like this when planning your trip, especially if it's your first time in Goa.
I fell totally in love with Goa almost 10 years ago now and have spent many years living here, exploring every beach and corner of this beautiful state.
I've put together all my insider's Goa travel tips into this Goa travel guide, from the best beaches, parties, hotels and places to visit to the best places to stay, best time to visit and much more.
I've tried to keep this Goa travel guide concise so if you want to know more click on the links for the full article on each topic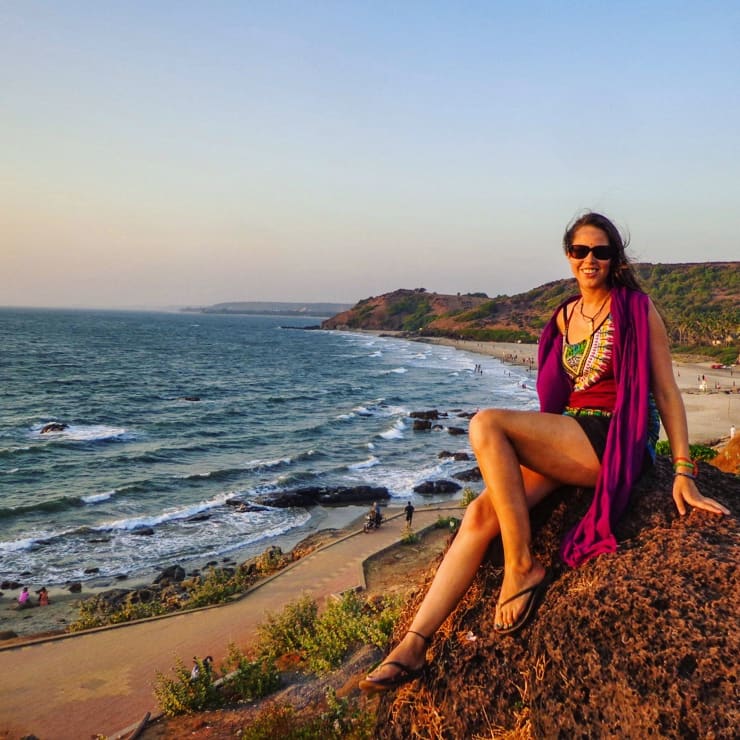 The Best Time to Visit Goa
When planning a trip to Goa, one of the most important things to consider is when to visit.
The best time to visit Goa is in the main tourist season in Goa runs from November – March when the weather is sunny, dry and cool (by Indian standards) and perfect for sightseeing, enjoying the beaches and water sports and the nightlife is buzzing.
Goa is one of the best places to spend Christmas and New Year. The churches are decorated for the festive season and it's the best time to visit Goa for nightlife as there are so many parties around New Year and festivals like Sunburn.
This is also the busiest and most expensive time to visit Goa. Don't come to Goa around New Year without booking your accommodation well in advance as everywhere gets fully booked!
Another great time to visit Goa is for the Carnival! Join in with Goa's biggest party as the streets of the capital Panjim (Panaji) come alive with a riot of colour and noise in mid February before the beginning of lent.
In April and May, the tourism season starts to wind down and prices drop. Goa is still dry but is almost unbearably hot, mangoes and cashews fall from the trees and the locals eagerly await the arrival of the rain.
Monsoon in Goa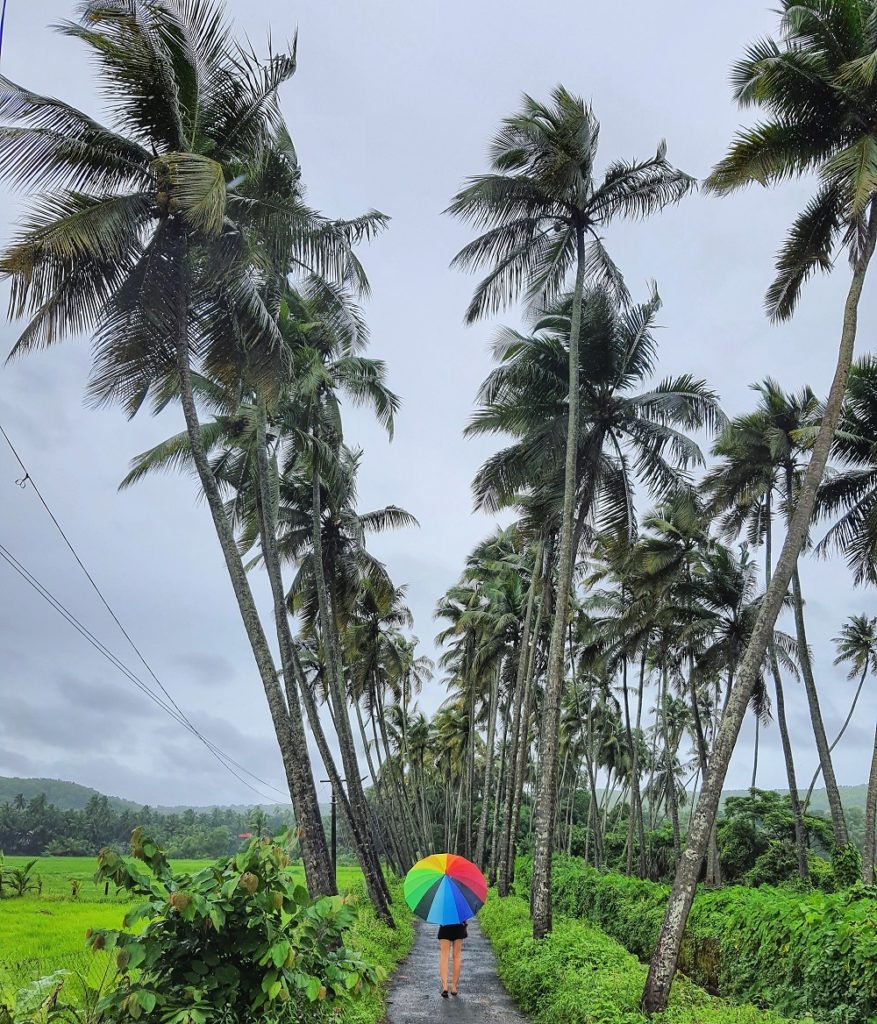 No Goa travel guide would be complete without mentioning Goa in monsoon – visiting in the rainy season is a totally different Goa expereince.
The monsoon rains arrive in June and continue until September/ October and marks the off season in Goa. Many places including open air venues, beach shacks, parties, markets and beach huts close down for the rainy season. But every year more and more facilities remain open.
In many ways Goa is at it's most beautiful in the monsoon season, although the rough seas mean its dangerous to swim or do water sports. The Sao Joao Festival in June is a fun and unique experience. But June and July see the heaviest rain with torrential downpours that can last for days, frequent power outages and flooded roads.
The best time to visit Goa in monsoon is from August to October as the rain becomes less heavy. Enjoy the lush greenery, waterfalls, fewer crowds and lower prices. Just don't expect everything to be open and, apart from Independence Day parties, don't expect a wild nightlife scene in the off season.
Read more about visiting Goa in monsoon
Where to Stay in Goa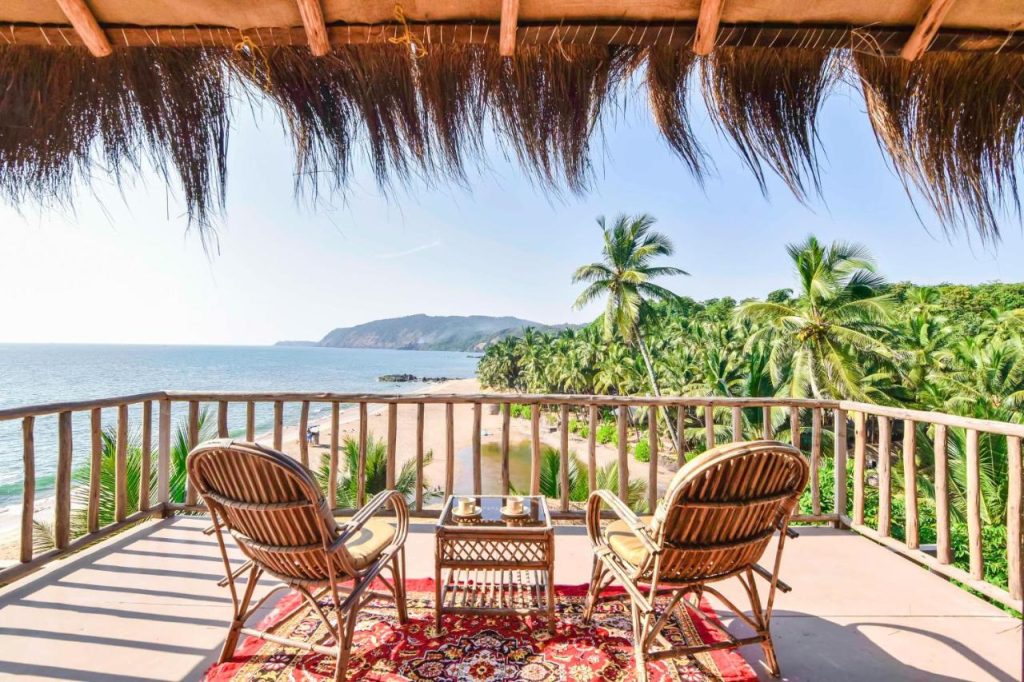 Deciding where to stay in Goa is really important as each beach, city and area has a different vibe and will appeal to different types of travellers.
Whether you're looking to party the night away with friends, take a romantic couples trip or a family friendly holiday you can find the perfect place to stay in Goa.
There's a big variety of accommodation in Goa, from luxury resorts, private villas and yoga retreats to mid range and budget hotels, backpacker hostels and beach huts.
But first you need to decide where to stay in Goa. That's the hard part! My advice is to do read some Goa travel guides and do some research into the different places Then you can find the best hotel for you in your chosen location.
I made this map of Goa to help you see where the most popular beaches and towns are located in relation to Dabolim airport (GOI) and the new Mopa airport (GOX) and Madgaon/Margao train station.
Goa Map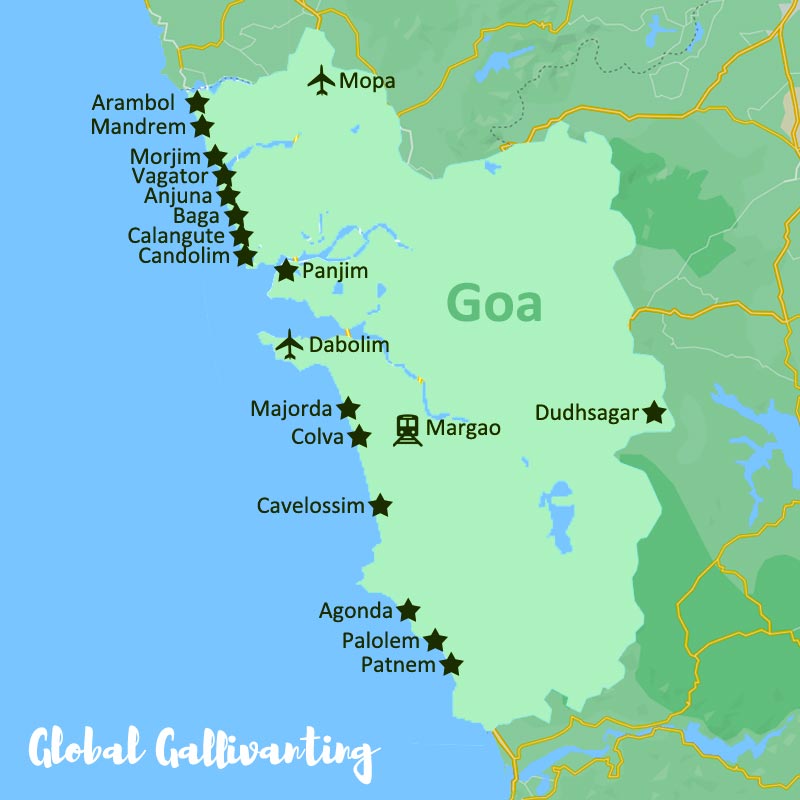 The Best Beaches and Places to Stay in Goa
The best places to stay in Goa are on the beaches and there's no shortage of choice from busy, party beaches in North Goa to long, quiet stretches of sand in South Goa. Whether you want to stay in a Goa beach resort or a basic beach hut, staying on the beach is the best way to experience Goa and is possible whatever your budget.
No Goa trip is complete without spending a blissful day relaxing on the beach, swimming in the warm Arabian sea, enjoying the water sports, eating Goan fish curry in the beach shacks and watching a spectacular sunset.
To help you find the perfect beach in Goa for you, here's a quick round up of the best beaches in Goa and the best hotels and places to stay there. 
Deciding where to stay is probably the most important section of my guide to Goa so check out my comprehensive blog post on where to stay in Goa if you need more info.
North Goa
The North is the busiest area in Goa where most of the attractions, water sports, nightlife, restaurants, markets, shops and hotels are.
The long, sandy stretch of Baga Beach, Calangute Beach and Candolim Beach are the busiest and most popular beaches in Goa with plenty of activities and beach shacks. You can try all sorts of water sports like jet skiing, parasailing and banana boat rides. 
Baga and Calangute are home to the lively pubs and clubs on infamous Tito's Lane and attractions like the Snow Park. This area is good for budget and mid range travellers and has the best range of water sports, although the beaches can get pretty crowded in the peak tourist season.
Candolim lies under the shadow of Fort Aguada and is a more upmarket choice and less crowded but still offers easy access to all the attractions which makes it one of the best places to stay in Goa.
Anjuna Beach and Vagator Beach have smaller, more rocky beaches but are good for nightlife and where you'll find Chapora Fort, Anjuna flea market and the infamous Goa psytrance parties and raves as well as other parties to suit all musical tastes and accommodation to suit all budgets.
In the far north are quieter upcoming Morjim Beach, Ashvem Beach, Mandrem Beach and Arambol Beach. Morjim Beach and Ashvem Beach are wide, natural beaches, once a breeding spot for rare olive ridley turtles, which are now becoming increasingly popular with the influx of new techno nightclubs, trendy boutiques and luxury accommodation.
Mandrem Beach and Arambol Beach are laid back, serene long stretches of sand with mostly budget accommodation for backpackers, hippies and yoga types. Mandrem is very quiet and the nightlife on Arambol Beach is more drum circles and jams than full on parties.
Best Places to Stay in North Goa
A luxury 5 star beach resort located in the most picturesque spot on Candolim Beach underneath Fort Aguada with stunning views over the beach.
Colourful, heritage style luxury villas are nestled in tropical gardens complete with a huge swimming pool, numerous eateries and world class hospitality. 
The resort is situated on an uncrowded part of Candolim beach but still offers easy access to explore all the action in Baga and Calangute.
If your budget doesn't stretch to the Taj then consider the Cavala Seaside Resort, a great mid range resort in a lovely heritage building just 3 minutes walk from popular Baga Beach. 
The resort has spacious and clean AC rooms, a swimming pool surrounded by tropical greenery and an excellent multi cuisine restaurant which hosts live music nights.
Cavala is only 5 minutes drive from Tito's Lane and is also close to the nightlife in Anjuna and Vagator. 
South Goa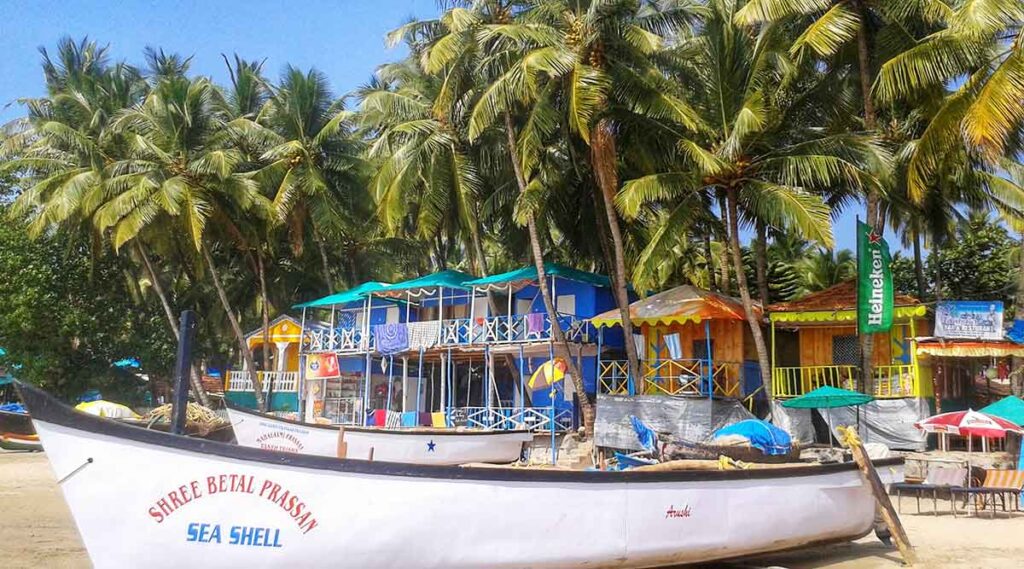 South Goa is quieter and less developed with long, uncrowded beaches, luxury resorts and yoga retreats.
Palolem beach is one of most beautiful beaches in Goa. A white crescent beach fringed by palm trees and colourful beach huts with calm turquoise waters perfect for swimming.
The most developed beaches in South Goa are Colva beach and Varca beach. These are good places to stay with family and have plenty of budget and mid range hotels and amenities.
Majorda beach and Cavelossim beach are home to some of the finest luxury beach resorts in Goa and offer a real escape from it all. Agonda beach is also a good choice for beautiful beach front huts and is quieter than popular Palolem.
Best Places to Stay in South Goa
This elegant, Bali inspired, 5 star beach resort in Majorda has 3 excellent dining options, 2 bars, an Ayurvedic spa and luxurious contemporary rooms. 
The Alila Diwa is located right on Majorda Beach, one of the quietest and cleanest beaches in Goa, and is perfect for a peaceful stay only 30 mins drive from the airport.  
The highlight is the stunning tiered infinity pool that overlooks the green paddy fields. Stay in the Diwa Club rooms for the ultimate luxury and privacy.
Wooden cottages and beach huts located right on the beachfront of gorgeous Palolem Beach – the most beautiful beach in Goa. 
There's a variety of rooms available all with AC and private attached bathrooms. The beach facing cottages, where you can soak up the ocean views and sunsets right from your room and balcony, sell out fast. 
There's also cheaper colourful cottages just behind among the palm groves but whichever you choose, a dip in the ocean is still just a few steps from your beach hut.
Round Cube also has its own beachfront multi cuisine restaurant and bar where you can enjoy sunset cocktails and romantic candlelight dinners on the beach.
Panaji City (Panjim)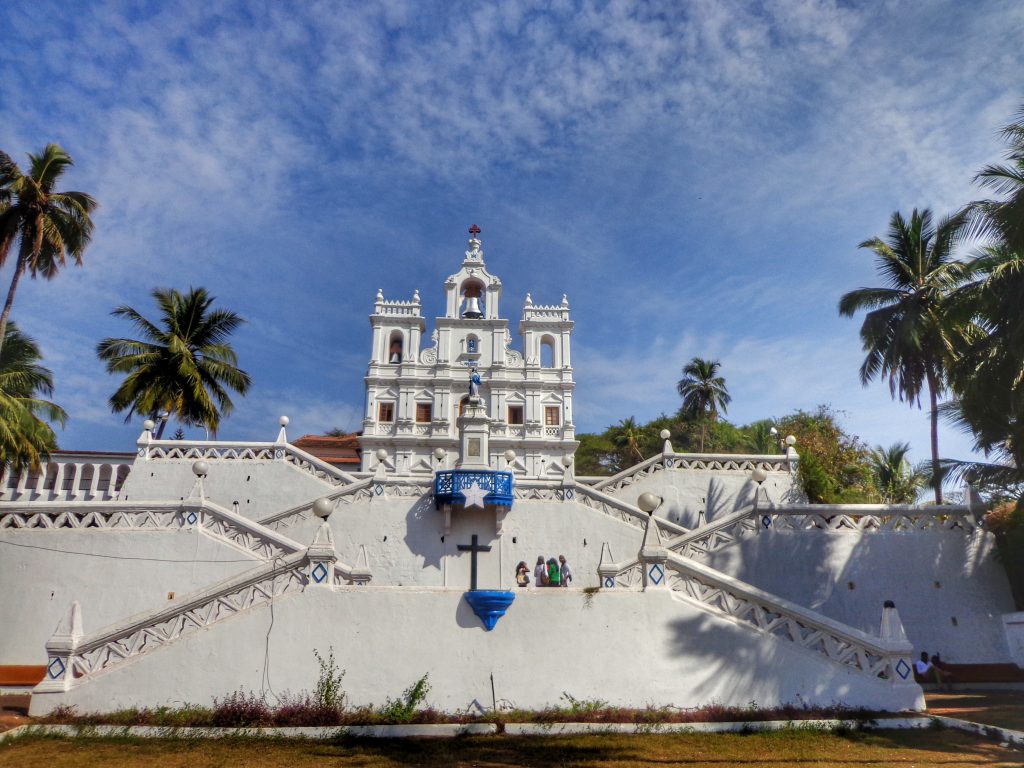 Even though Goa is most often thought of as a beach holiday destination, no guide to Goa would be complete without mentioning Panaji city, still normally referred to by its old name of Panjim, the state capital city of Goa.
While it's not a beach resort it does have a lovely riverside setting, where you'll find Goa's floating casinos and river cruises, and it's super close to Miramar Beach so if you're looking to stay on the beach while exploring the culture of the city, the surprisingly uncrowded Miramar beach is ideal. 
Located in the middle of Goa, Panjim is a good base for culture, history and nature lovers as there's a handy hop on hop off tourist bus that connects Panaji with Old Goa and the spice plantations, wildlife sanctuaries and waterfalls. It's also not far from Goa international airport.
Take a stroll around Fontainhas, the colourful, old Latin Quarter, and visit the Immaculate Conception Church then try some traditional Goan cuisine and even Portuguese food in the restaurants and cafes.
Best Places to Stay in Panjim City
The best modern luxury hotel centrally located in the city center of Panaji. The hotel offers a stunning rooftop swimming pool and views of the Mandovi River and Altinho. 
The Vivanta is within easy walking distance to both the riverside and the old latin quarter and also boasts a spa, 24 hour gym, tour desk, several great eating options and a cocktail bar.
Nestled in the heart of historic Fontainhas, staying at Panjim Inn will immerse you in history. 
This charming heritage hotel offers tastefully refurbished and comfortable rooms that retain their historic character, features and furnishings.  Many are complete with four poster beds and private balconies. 
The Verandah Restaurant serves local and European cuisine and is a lovely place to sit and watch the world go by. Also check out Panjim Pousada, another great heritage hotel. 
There's also many budget hotels and guesthouses in Goa where you can find a basic room for 1000 – 2000 INR but many are not available to book online. If you're visiting Goa in the peak season I'd recommend booking online in advance before you come to avoid stress and disappointment of trying to find a room when you arrive.
There's too many beaches and hotels in Goa to mention them all in this Goa travel guide. So check out my post on where to stay in Goa for more tips.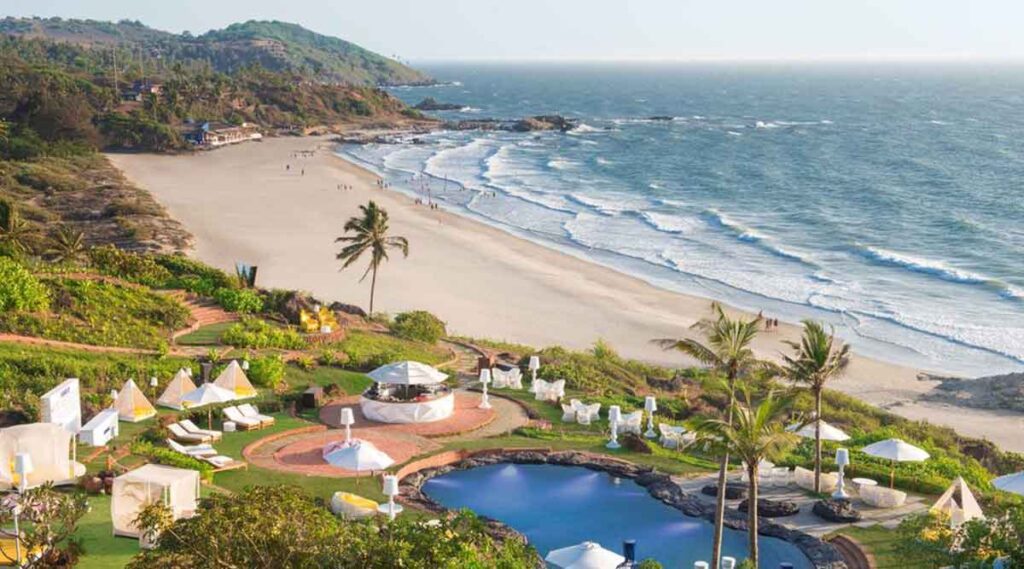 The Best Places to Visit in Goa
From beautiful beaches and colourful markets, buzzing parties to serene yoga retreats, historic churches, temples and forts, spice plantations, waterfalls and wildlife sanctuaries.
There's so many places to visit and so many things to do in Goa that you probably won't be able to fit it all in to just one trip. That's why many people, like me, fall in love with Goa and return every year.
There are simply too many places to mention in this quick Goa travel guide, so I'll summarise the most popular places to visit in Goa for sightseeing and then you can check out this post for more.
The Best Places to Visit in Goa for History, Culture and Sightseeing
Fontainhas, Panjim's Latin Quarter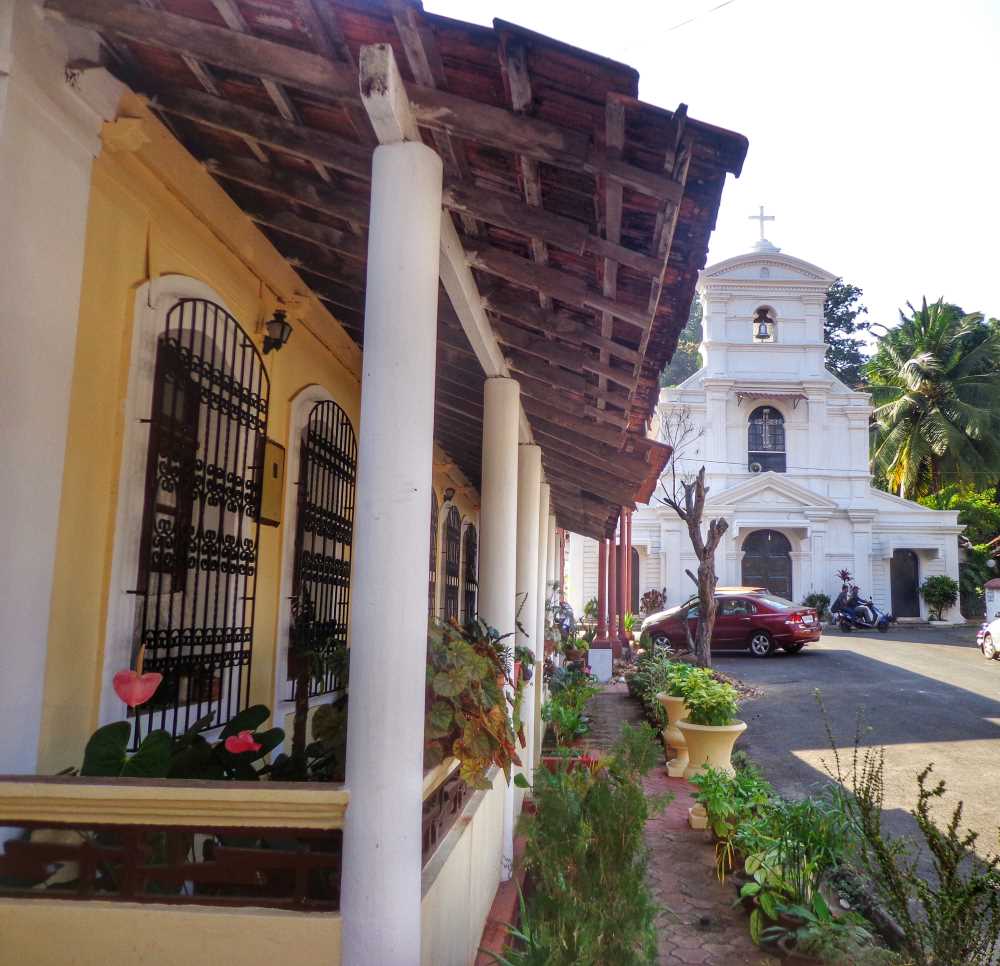 Panjim (Panaji) is not visited by as many tourists as the beaches are but no Goa travel guide would be complete without a mention of the states pretty capital city!
Panjim is a delight to explore with it's picturesque setting on the Mandovi river, flamboyant churches and colourful Portuguese architecture. One of Goa's most iconic and famous sights is the elaborate white Church of Our Lady of the Immaculate Conception.
Don't miss exploring the lanes of Fontainhas, the atmospheric old Latin quarter, which is full of colourful Portuguese colonial buildings, churches, cafes, bars, goan restaurants and the Gitanjali art gallery.
The best way to explore Panjim and learn about it's unique history is with a heritage walking tour
The Churches of Old Goa
The best place to visit for sightseeing and to learn about the history of Goa are the churches of Old Goa. This was the capital of Goa when it was under Portuguese rule. It was so grand and important that it was known as 'the Rome of the East' and rivalled Lisbon until the city was abandoned for the new capital of Panjim in 1843.
Only the churches are left today and have been declared a UNESCO world heritage site. Highlights include Se Cathedral, the largest church in Asia, and the Basilica of Bom Jesus which houses the remains of St Francis Xavier.
Old Goa is a great place to visit if it's your first time in Goa as it will help you to understand more about the history of Goa that makes this state so unique. The picturesque churches are also very instagrammable.
The best way to learn about the history and importance of Old Goa is by taking a guided walking tour that will really help to bring this site alive.
Fort Aguada and Chapora Fort
The Portuguese also built huge forts for defence that overlooked the ocean. Nowadays there's not that much left of many of the forts themselves, apart from the crumbling walls, but they are some of the most popular tourist attractions in Goa due to their stunning views.
Don't miss Fort Aguada, situated above Candolim Beach, where you can admire the impressive lighthouse and the breathtaking views out to sea.
Another popular fort is the crumbling Chapora Fort. Situated above Vagator Beach at the mouth of the Chapora River, it makes a spectacular spot to watch the sunset. It's become quite famous since it was in the movie Dil Chati Hai.
Best Places to Visit in Goa for Nature Lovers
Spice Plantations and Hindu Temples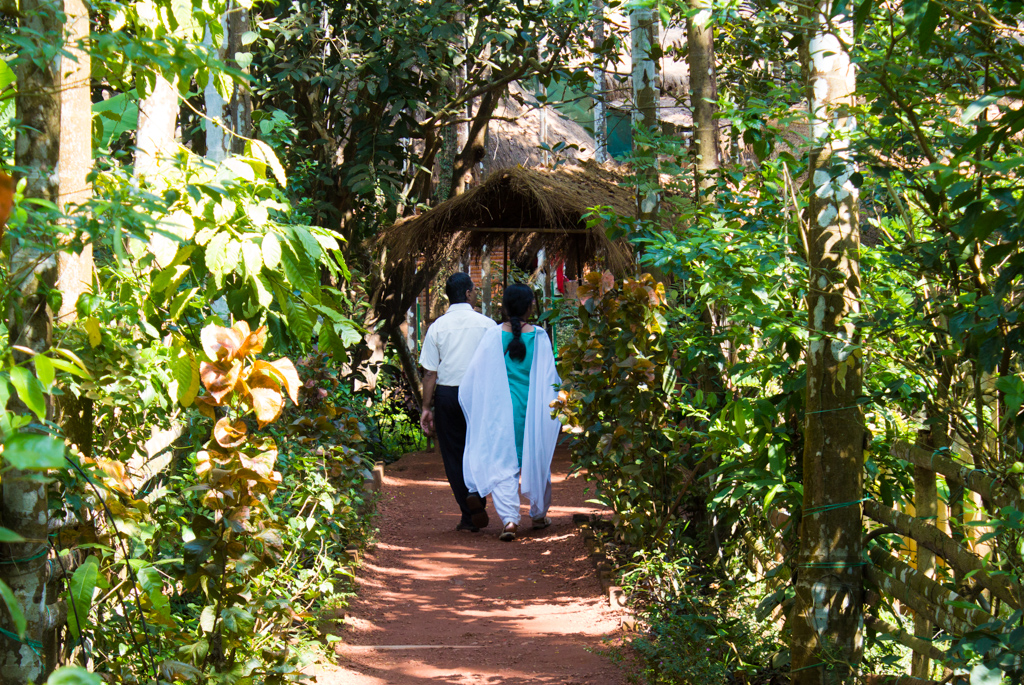 The Ponda area is Goa's Hindu Heartland and is where you'll find Goa spice plantations and most famous Hindu temples.
There's a number of spice farms that you can visit to be immersed in the lush tropical greenery, learn about the plants and how many illnesses and ailments they can treat. Many have elephants that you can bathe or ride but this is cruel and shouldn't be supported. 
The family run organic Savoi Spice Plantation is one of the oldest spice farms in Goa and doesn't abuse elephants. Most spice plantations charge an entry fee of around 500 rupees which includes an entertaining spice plantation tour, buffet lunch and a small sample of some spices. 
You can combine a visit to a spice plantation with visiting some of Goa's most famous Hindu temples like the Shantadurga Temple. The Mangueshi Temple and the Mahalsa Temple are both distinctive temples that are dedicated to Goan deities.
The best way to see the spice plantations in with a guided tour which include transport and a local lunch.
Dudhsagar Waterfall
Goa is home to many national parks and wildlife sanctuaries, but the most famous place for nature lovers to visit is Dudhsagar Falls, situated in the Bhagwan Mahavir Wildlife Sanctuary in the Mollem district of South Goa.
Journey through the jungle with an exciting jeep ride to marvel at India's second highest waterfall, and watch the train pass overhead while swimming in the refreshing waters. Dudhsagar Waterfall is at its fullest during monsoon, but then it's closed to tourists due to safety corners, and there is water all year round. 
The best way to visit Dudhsagar Waterfall is with this guided tour that includes pick up from your hotel, the jeep ride to the waterfalls, a tour of a spice plantation and lunch.
If you want to immerse yourself in the jungle stay at Dudhsagar Plantation. The nature resort has its own spice plantation, nature trails and a relaxing natural swimming pool.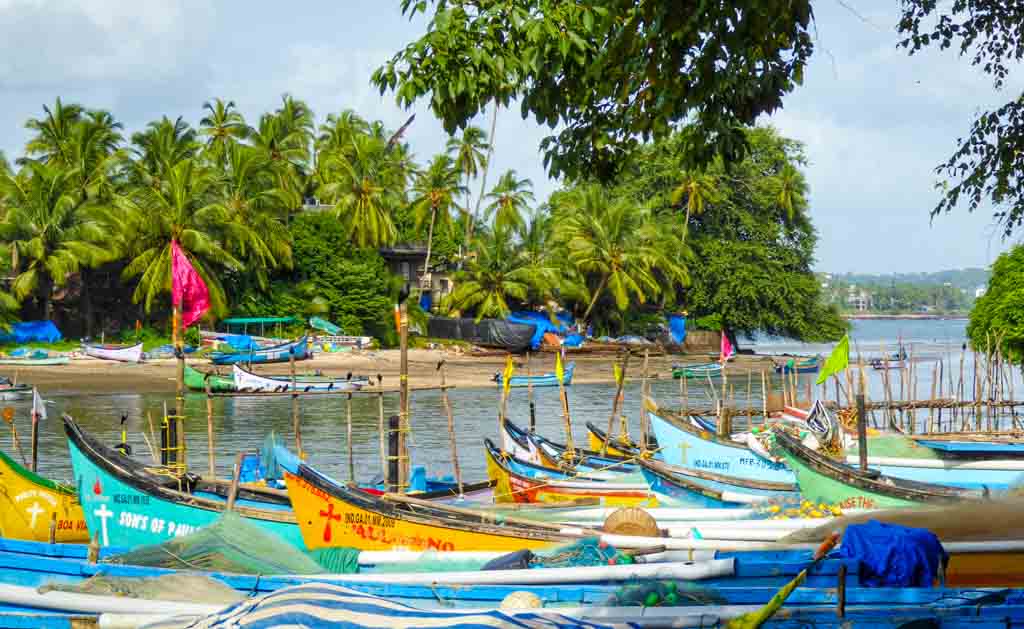 Best Tours of Goa
The easiest way to explore the best places to visit in Goa is by taking a day tour. Having a local driver takes all the stress out of getting around and having a local guide really brings these places to life. The best Goa tours are:
This private full day sightseeing tour will take you to explore the highlights of Goa including the capital Panaji and the charming Latin Quarter, the UNESCO listed churches of Old Goa, an informative spice plantation visit and local lunch.
Get picked up from your hotel and enjoy a jeep ride through the jungle for a refreshing swim in Dudhsagar waterfall. Take a tour of the spice plantations and enjoy a delicious Goan lunch.
Check out more Goa tours on Viator and Get your Guide where you can check reviews and book online.
Best Things to do in Goa
Shop at the Flea Markets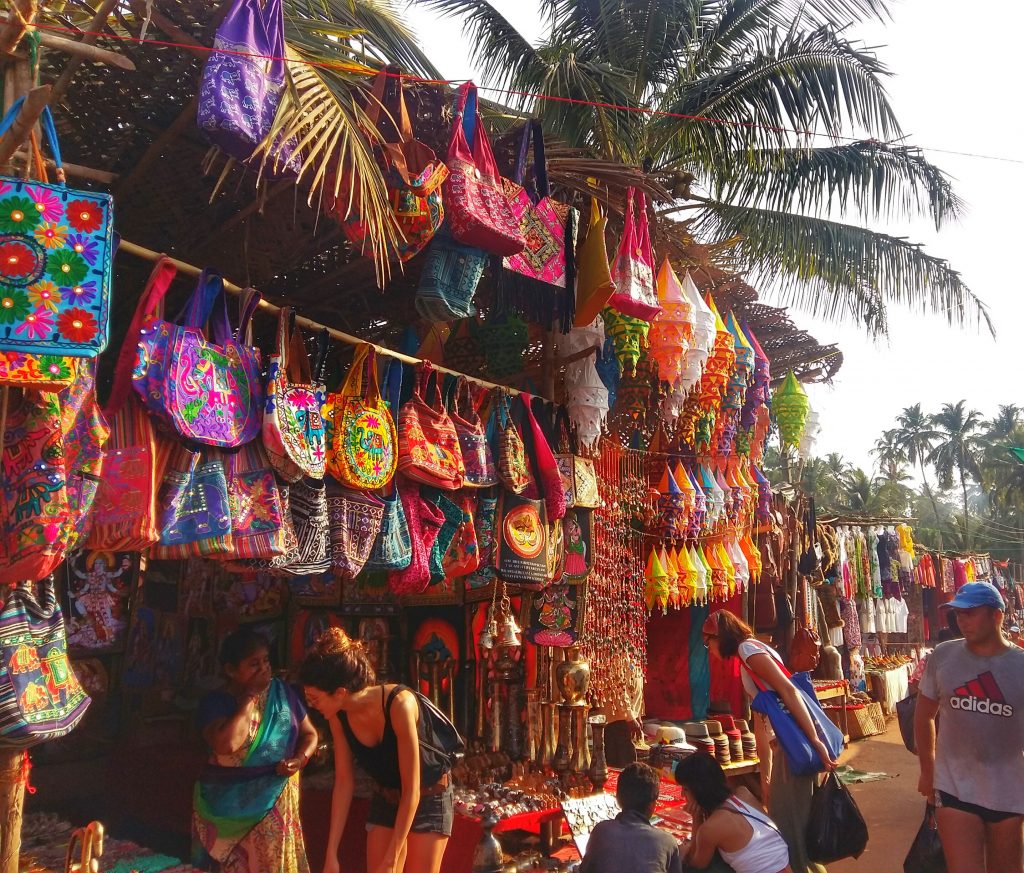 While there are endless shopping opportunities in Goa, visiting the many quirky hippie flea markets is a fun and unique experience. Don't forget to haggle if you want to take home a bargain.
The most famous is the Anjuna Flea Market which takes place on Wednesdays on Anjuna Beach. This colourful market sells everything from hippie clothing and jewellery to Tibetan handicrafts. The Anjuna flea market was started by the hippies back in the 1970s and is now one of the popular things to do in Goa.
Another market to check out is the Arpora Saturday Night Market. This huge market is complete with live music and food stalls and is also a really good night out. There's also a new popular Friday Night Market at Hilltop Nightclub in Vagator.
Take a Yoga Retreat or Train to be a Yoga Teacher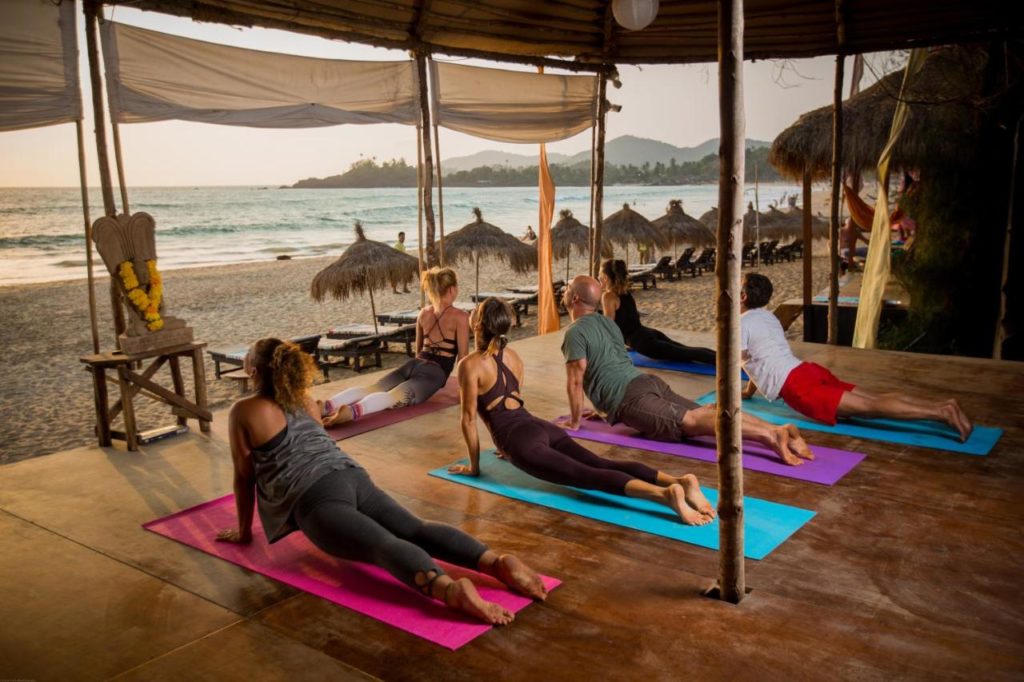 India is the birthplace of yoga, and Goa is one of the most popular places in the country to take a yoga class or join a week long yoga retreat. You'll find drop in yoga classes in all styles across the state, many of which cater to beginners. 
The beaches of Palolem, Agonda and Patnem in chilled out South Goa are the best places for yoga in Goa. There are also retreats and classes in Anjuna, Assagao, Mandrem and Arambol in North Goa.
My favourite yoga retreat in Goa is Bamboo yoga retreat located right on the beach front on peaceful Patnem beach in South Goa.
Many yoga schools offer month-long intensive yoga teacher training courses. Find a full list of yoga teacher training courses in Goa here.
There are also numerous other alternative therapies and workshops to try from breathwork to tai chi to sound baths and ecstatic dance. 
You can also enjoy an Ayurvedic massage. Ayurveda is an ancient life science of plant based natural medicine that originated in Kerala but there are many ayurvedic treatments offered in Goa. Take a complete treatment course or just enjoy a nice, relaxing massage. 
Enjoy a Panjim River Cruise and Visit a Floating Casino
Panjim's unique floating casinos on ships anchored in the Mandovi River have become popular Goa tourist attractions.
The best ones are Deltin Royale and Casino Pride. The entrance fee covers some drinks, snacks, playing chips, music and entertainment. Try your luck on the slot machines or at games like Roulette, Blackjack, Bacarrette, Stud Poker and Rummy. Check out this article for more info on Goa's casinos.
There's several options for a Panjim river cruise including sunset cruises, backwater houseboat cruises, party cruises and dinner cruises with entertainment. You can book the paradise dinner cruise here. You can even book a private party boat to celebrate a special occasion.
Visit Some of Goa's Wildlife Sanctuaries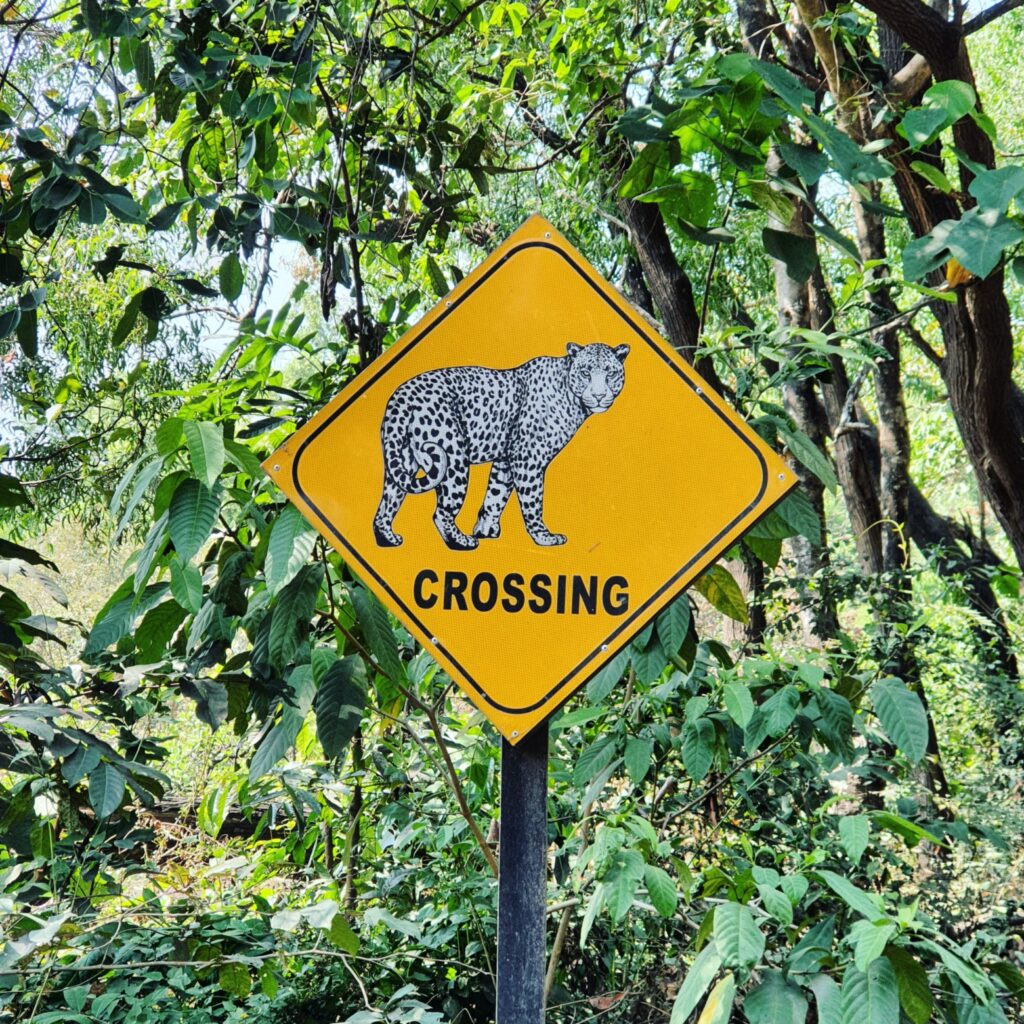 Goa has several wildlife sanctuaries and national parks. The largest one in Mollem is home to Bhagwan Mahavir Wildlife Sanctuary which contains Goa's oldest temple and Dudhsagar falls.
The Dr Salim Ali Bird Sanctuary, near Panjim, offers a unique experience of traveling through the mangroves in a canoe to reach the bird watching tower.
Cotigao Wildlife Sanctuary, near Palolem Beach, is where you can climb up a towering tree house for amazing views over the jungle and your chance to spot wildlife.
Bondla Wildlife Sanctuary is a complete jungle resort with a zoo, deer safari park, botanical gardens and nature interpretation center. It's located near Ponda so you could combine this with a visit to a spice plantation. 
Explore the Colonial Mansions in Chandor
Chandor, in South Goa, was once the most spectacular city on the Konkan Coast. Some of the once grand colonial Portuguese mansions are now a shadow of their former glory but visiting Chandor is still an interesting place for those interested in history and architecture.
A highlight is the Menezes Braganza House which was built in the 17th century. This large house is now divided in two and you can see the contrasts between the grand and decrepit in one house and listen to the stories from the owner's family feuds. The Figueiredo Mansion and the Palácio do Deão are also fascinating to visit.
The best way to visit the Portuguese mansions is on this South Goa Heritage Trail Tour. You'll be picked up from your hotel and taken to explore 3 Portuguese mansions as well the interesting Goa Chitra Museum.
If you want to immerse yourself in this unique history you can even stay in the Figueiredo Mansion which has been tastefully and lovingly refurbished into a wonderful heritage homestay.
More Exciting Activities to Try in Goa
The fun doesn't stop at the beach, as well as watersports and boat trips there's plenty of other exciting activities to try in Goa.
You can paraglide off the cliffs down to the beach if the conditions are right. Taking an ebike tour of offbeat Divar Island or kayaking on the backwaters is a serene way to experience a different side to Goa. 
Thrill seekers might want to do a Bungy Jump and couples can treat themselves to a romantic experience of hoovering high above the palm trees with a hot air balloon ride.
Nightlife and Parties in Goa
No Goa travel guide would be complete without mentioning Goa's nightlife scene.
Goa is famous as one of the best places to party in India and one of the hottest party spots in the whole world! Experiencing Goa's legendary nightlife scene is a must when visiting Goa.
Goa is famous for it's psytrance parties that started during the hippie days, but nowadays there's something to suit everyone – from beach parties and live music jams to thumping nightclubs, trendy bars, lively pubs and fun night markets.
Some of the most lively bars, pubs and nightclubs in Goa can be found on Tito's Lane in Baga, a lively strip of buzzing bars and nightclubs just off popular Baga Beach. There's also LPK Waterfront and SinQ nightclub in Candolim.
Anjuna and Vagator also have epic beach parties and raves, check out the famous Curlies beach shack on Anjuna Beach or Hilltop nightclub in Vagator for crazy psychedelic rave parties.  Ashvem and Morjim are home to classy nightclubs and party resorts like Marbella Beach Resort.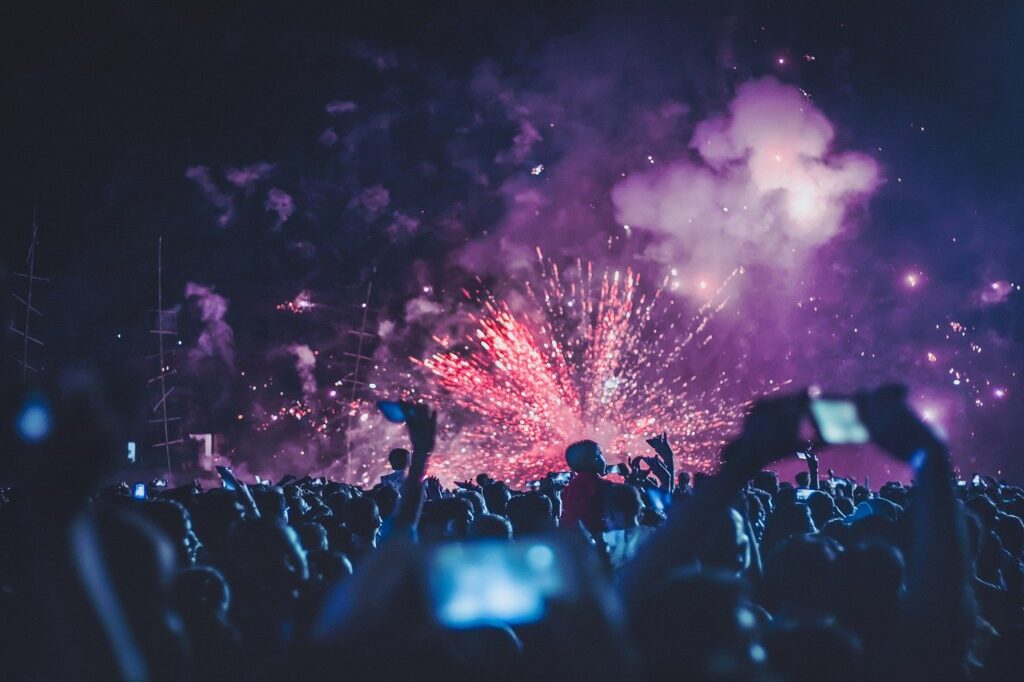 South Goa is much quieter at night but there are silent headphone discos in Palolem and Leopard Valley is South Goa's most happening party spot.
New Year in Goa is celebrated with fireworks on the beach and some of the most epic parties. Check out my tips for partying in Goa at New Year here.
There's too many party places in Goa to mention them all in this Goa travel guide. See more of my nightlife tips here and download the Party Hunt App or check out What's Up Goa to find out what's on.
It's difficult to keep a Goa travel guide updated with all the best party places as they change and move every season but you can keep up to date with what's happening on Goa nightlife social media groups.
You should also be aware though that Goa's parties often get shut down or limited to an early closing time. This happens for various reasons but especially around election times when code of conduct comes in.
Best Restaurants in Goa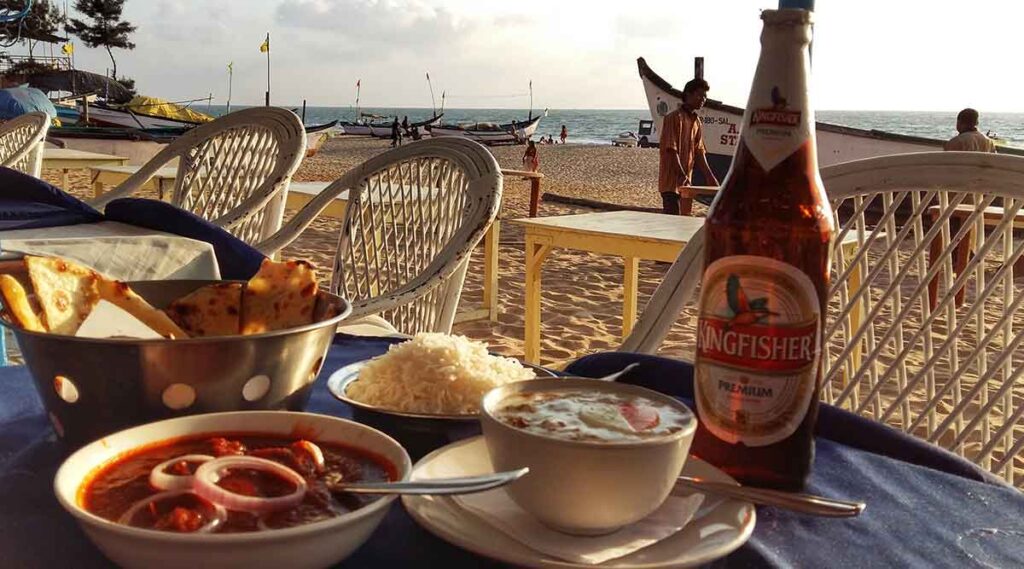 Goa is home to some amazing restaurants, from cheap and cheerful beach shacks to fine dining restaurants that serve up delicious seafood, traditional Goan cuisine, Indian cuisine and food from all over the world.
There's too many great restaurants in Goa to mention them all in this Goa travel guide so here's just some of my favourites. Check out my blog post on the best restaurants in Goa for more recommendations.
You'll find the best traditional and authentic Goan food in Panjim. Hotel Venite has been serving Goan cuisine since 1955 and is one of the most charming restaurants in Panjim's latin quater. Sit on the little balconies and watch the world by while sampling Goan cuisine.
Another must try is Mum's Kitchen, an award winning Goan restaurant famous for it's seafood and for preserving traditional Goan family recipes. Viva Panjim is another top choice.
For South Indian food try Gunpowder, in Assagao, regarded as the best South Indian restaurant in Goa Experience the flavours and tastes of their curries, dosas and idlis in a classy garden ambience.
Fisherman's Wharf, in Cavelossim, South Goa and on Panjim riverside, is one of the best seafood restaurants in Goa. Located on the waterfront with stunning sea views and delicious seafood.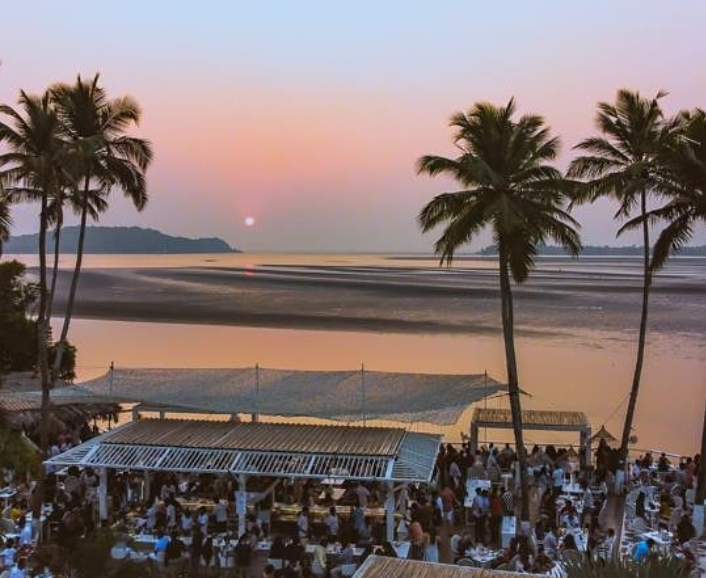 Thalassa, situated on the banks of the Chapora River in Sioilm, is a Greek restaurant with amazing views over the water. With stunning sunsets, delicious Greek food and live performances and fire shows, it's become one of the most famous and popular restaurants in Goa. You must book in advance in peak season to reserve your table. See their website to know more and reserve your table.
Artjuna is a super cute cafe in Anjuna that serves up great Israeli and Mediterranean dishes in a relaxed courtyard garden cafe setting.
Beach shacks are some of the best places to eat in Goa and range from cheap and cheerful to gourmet international cuisine.
Pousada by the Beach, part of the Pousada Tauma Hotel, is my top choice for upscale beach front dining in popular Calangute. Pousada serves a great selection of traditional Goan and Konkani cuisine as well as great pastas and salads in a peaceful spot right on Goa's most popular beach.
La Plage on Ashvem Beach is a gourmet French restaurant with an amazing beach front location that is consistently regarded as one of the very best restaurants in Goa. 
Zeebop is one of the most best beach shacks in South Goa. It's location, on the pristine, white sands of Utorda make it a great place for long lazy lunch or sunset drinks. Not surprisingly the seafood is a highlight.
How Long to Spend in Goa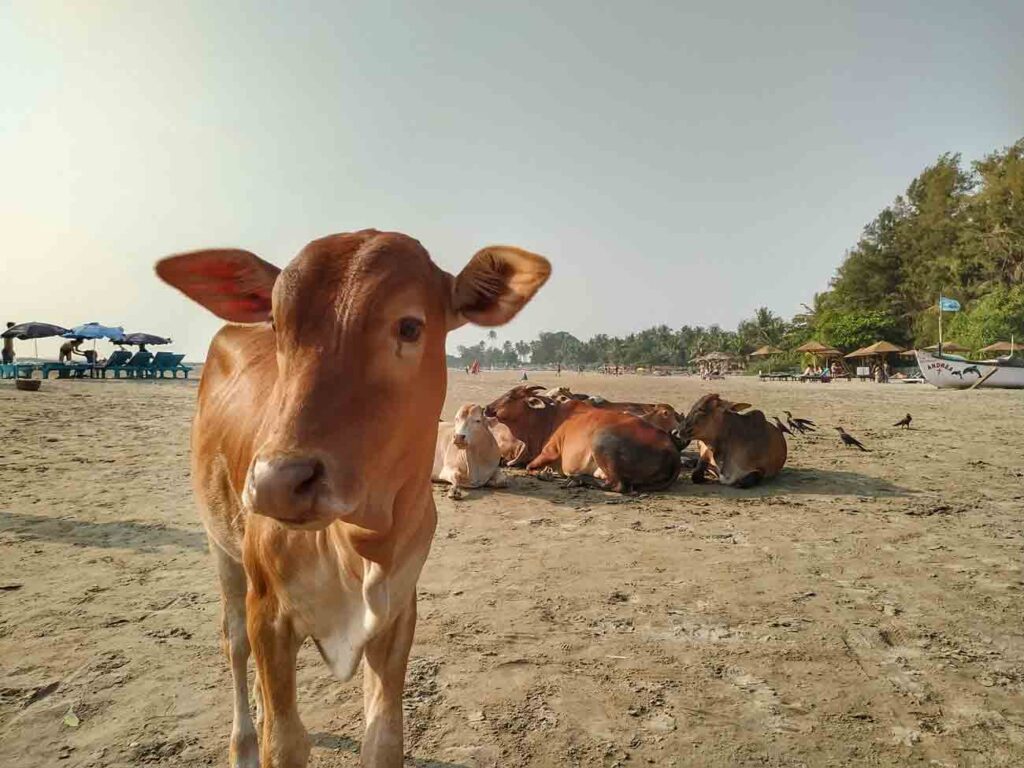 It's difficult to say how long you should spend in Goa. For me, a lifetime is not enough! The laid back lifestyle and beautiful beaches have a way of making many people want to stay forever.
There's plenty of things to do in Goa to spend 1 or 2 weeks, but I know that not everyone has so much vacation time. As a minimum I'd spend at least 3 days in Goa just to get a taste of what Goa has to offer. 4 or 5 days in Goa is better though because then you can see the highlights of both north and south.
It's only a few hours drive between North Goa and South Goa so for the perfect holiday you could spend a few days in both. Enjoy partying in North Goa, relaxing on the beaches in South Goa and take a day trip to Panjim and Old Goa to see everything Goa has to offer in one trip.
Follow my 3 day Goa itinerary to see all of Goa's highlights in a short trip.
How to Get to Goa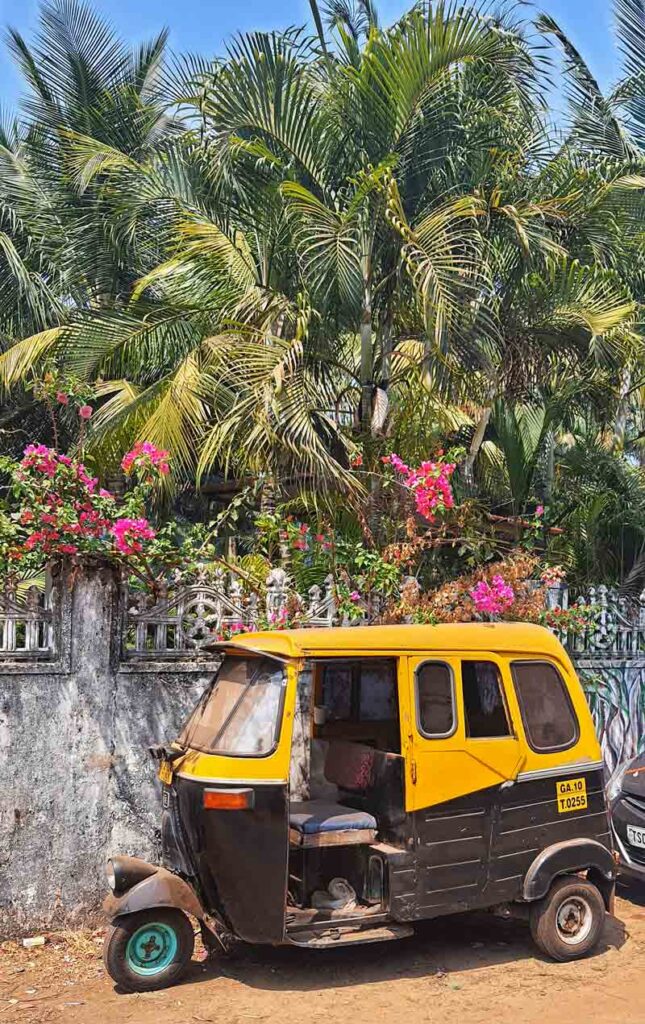 Dabolim International Airport (GOI) is located roughly in the middle of the state and the new airport at Mopa (GOX) in the far north of Goa opened in January 2023.
Goa is well connected with most major Indian cites like Mumbai, Pune, Delhi, Bangalore and Chennai. In the season time there are direct charter flights from the UK, Europe and Russia to Goa's international airport.
International tourists can also fly into Mumbai's (BOM) or Delhi (DEL) and connect to a domestic flight from there. Mumbai offers the quickest, cheapest and most frequent flights to Goa with direct flights only taking about 1 hour from 2,000 INR.
Goa is also easy to reach by rail. Trains from Mumbai to Madgaon (Margao) the main train station for Goa take between 9 – 12 hours. Just make sure to book tickets well in advance because seats sell out quickly. The easiest way to do this online is with 12Go Asia.
Madgoan or Margao is roughly in the middle of South Goa and the closest beach is Benaulim only 5km away. North Goa's beaches are not so well connected by rail.
Other useful train stations in Goa include Vasco da Gama (closest to the airport)  Canacona (for Palolem and the far South) Thivim and Pernem (for North Goa) or Karmali (near Old Goa and the closest to the capital Panjim)
If you can't get a train ticket there's also buses and sleeper buses which take about 12 – 14 hours from Mumbai to Goa but the train is much more comfortable and the flight much quicker. Book at 12Go Asia.
How to Get Around Goa
The best way to get from the airport to your hotel is by using the pre paid taxi stand at the airport. Uber is not permitted in Goa.
There is an app based taxi service called Goa Miles but international tourists will find it hard to use unless you have an Indian phone number and bank account. Besides out of the main cities the coverage is not good.
There are public buses in Goa but the bus and train network isn't really convenient for getting to the beaches or attractions. The buses connect the villages to the towns like Margao, Mapusa and Panjim but getting between beaches and attractions sometimes requires alot of changes if you wanted to get from Arambol to Palolem for example.
There's not so many rickshaws as you find in the rest of India and still no Uber in Goa so taxis charge a ridiculous price. There is a new Hop on Hop off open air tourist bus service that connects the most popular North Goa beaches and Panjim with Old Goa and the temples and spice plantations around Ponda.
So the best way to explore Goa is to rent a car, scooter or motorbike. Most hotels and guesthouses will be able to arrange this but be careful as the narrow country roads around the beaches were not built for so much traffic.
International tourists will need to show an international driving permit as well as their normal driving license if stopped by the police.
How to Get an Indian Visa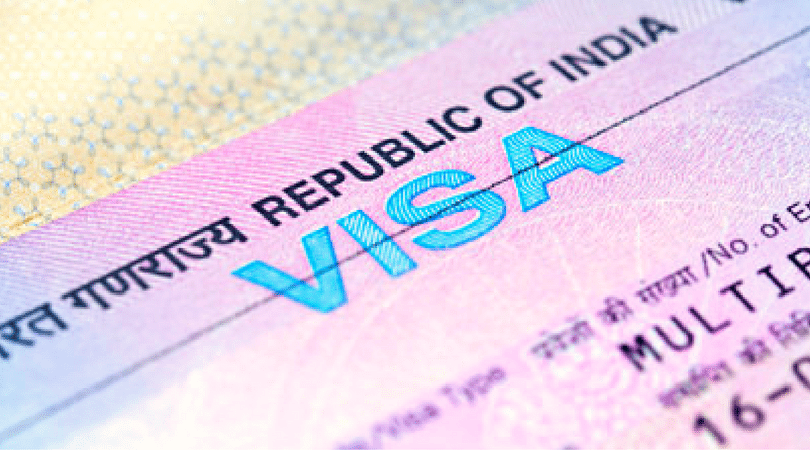 Nearly all nationalities (apart from citizens of Bhutan, Nepal and the Maldives) must apply for an Indian tourist visa before arriving.
An E-Visa is available for most nationalities including the USA, UK, Australia, New Zealand and most European countries, but you do need to apply online before you travel to India.Get your e-visa on the official government website here.
Covid Entry Requirements
As of 22nd November 2022 India is fully open for international tourists and all covid-19 restrictions have been removed.
International arrivals no longer need to submit an online self declaration form or upload a vaccine certificate or negative covid test here before departure. It's best to stay up to date and check the latest covid news and arrival guidelines here
More Goa Guides and Blog Posts
So that's it for this Goa guide – I hope you found it useful! I have many more Goa blog posts and Goa travel guides to help you plan your trip to Goa: