Goa has so much to offer than just beaches and crazy parties. India's favourite holiday destination used to almost shut down completely during the monsoon season, but visiting Goa in monsoon is becoming more popular every year so nowadays more and more places are staying open for the rainy season.
Visiting Goa in monsoon is a totally different experience than in season time – some even say that Goa is at it's most beautiful during the rainy season! As people start to discover the joys of exploring Goa in off season I thought it was about time I wrote a post with everything you need to know about visiting Goa in monsoon!
My Insider's Guide to Visiting Goa in Monsoon
As I've lived in Goa since 2015 I've seen the seasons come and go more than a few times now so in this blog post, my guide to visiting Goa in monsoon, I'll cover everything you need to know.
From when the monsoon season occurs and what the weather is like, pros and cons of visiting during monsoon, where to stay in Goa in monsoon, unique things to do during the rainy season, and more tips so that you can decide whether visiting Goa in the off season is right for you.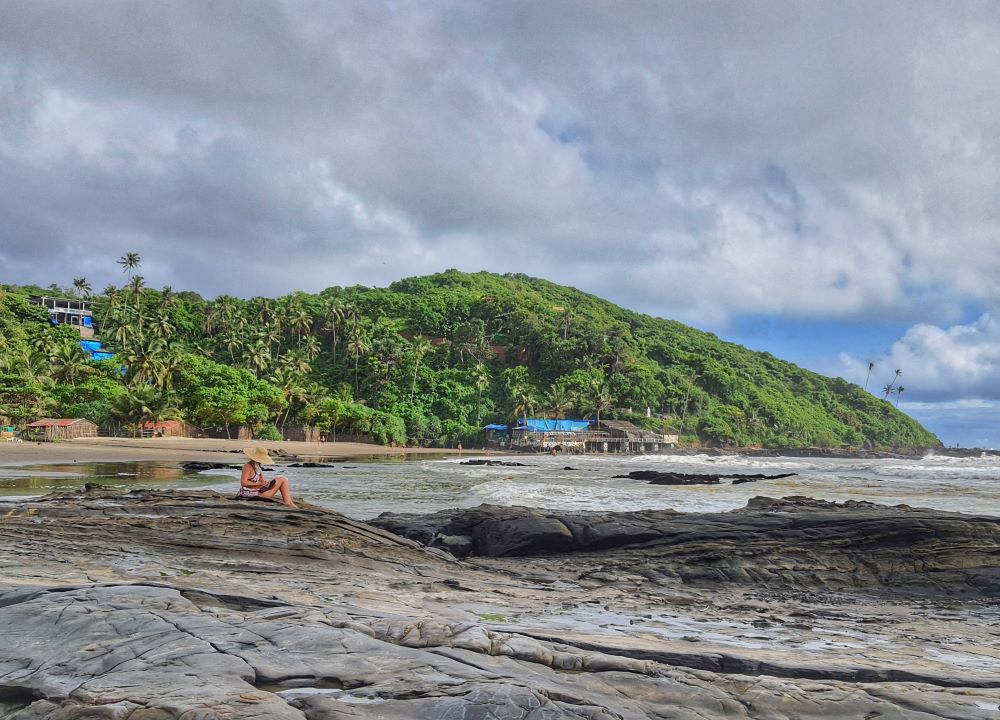 So Should you Visit Goa in Monsoon?
More and more people are discovering that Goa is actually an all year round destination. But should you visit Goa during the rainy season? It's a difficult question to answer because it depends on what you are looking for from your Goa trip.
Yes! If you enjoy the romance of the rains, the drama of the thunderstorms, seeing the countryside erupt in impossibly bright shades of green, the waterfalls in full flow and enjoy a relaxing escape from the crowds then definitely visit Goa during monsoon – even if you have visited Goa in the season time many times, monsoon is a totally different experience.
No! But if you are looking for endless hot and sunny days of sunbathing on the beaches, visiting the flea markets, swimming, watersports and wild parties then don't come to Goa during monsoon because you won't be able to do most of these things.
Wait to visit Goa during the main tourist season between December and April when Goa is sunny and dry, the sea is safe and beautiful for swimming, all the markets and parties are open and the state is buzzing with people and nightlife to enjoy, especially around New Years.
Pin Me! 😉
When is Goa's Monsoon Season and What's the Weather Like?
The first thing you'll need to know when planning any Goa monsoon trip is when the monsoon season arrives, when is the best time to visit and what's it's really like in Goa during the rains…
The weather has gotten more and more unpredictable in recent years but Goa has two distinct seasons that you can plan your travel around. The main, peak season for tourism, when most people consider the best time to visit Goa, is the dry season from November – April.
The off season is still considered to be from May – October. May is an unbearably hot, humid, dusty and dry month but the monsoon rains that arrive in early June bring much needed relief.
The Indian monsoon normally arrives in Kerala on 1st June and hits Goa about a week later around 6th June. Watching the first huge thunderstorms storms roll in is quite dramatic and a lot of fun. It's such a relief when the skies finally open after months of heat and humidity.
Sao Joao is a Catholic festival, a fertility feast and birthday of Saint John the Baptist, which is celebrated on 24th June with music, dancing and food as well as colourful floats on the river and people jumping into wells!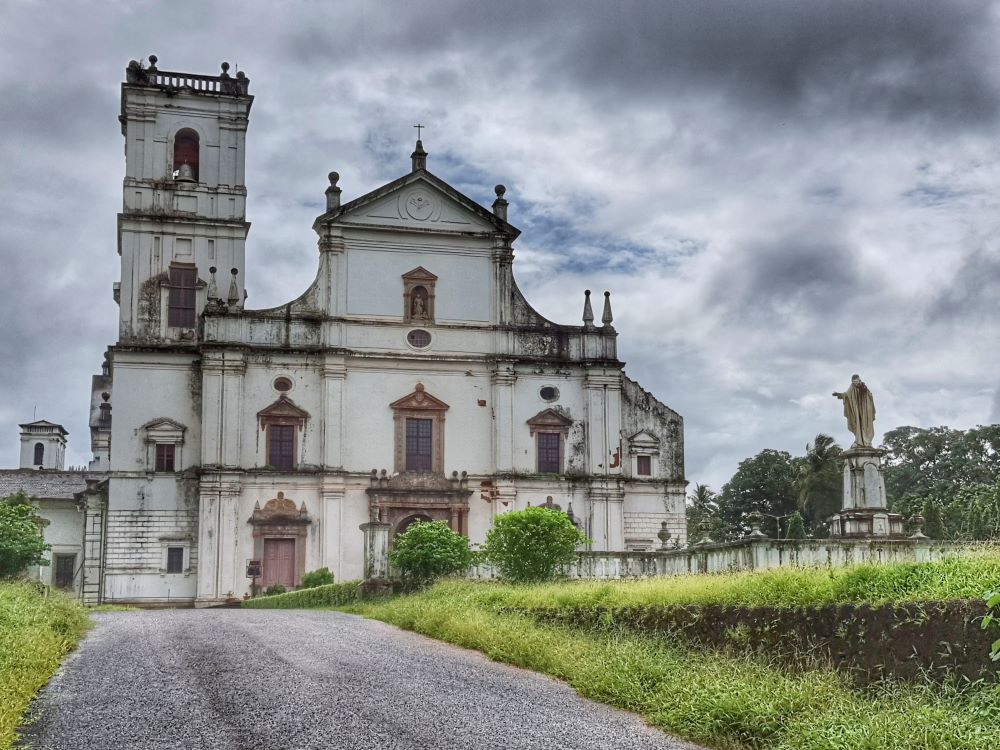 Monsoon in Goa is in full swing through June, July and August, with June and July being the wettest months. By mid June the landscape turns lush and green and vibrant again – it's so beautiful to see after months of dust.
But unlike the rainy season in Southeast Asia, where you often just get a few hours downpour in the afternoon that you can plan your day around, Goa's rains are much more unpredictable.
Sometimes it can pour down with rain for days on end without stopping and often the power goes off during these storms, sometimes for 6 or more hours at a time. Some paddy fields and lie lowing areas can sometimes get flooded but it usually clears up quite quickly once the rain has stopped.
August also sees alot of rain but if you want to party then the Independence Day holiday on the 15th August is a good time to visit Goa. By the end of August and into September there should be plenty of sunny intervals between the rains.
This is a beautiful time to visit Goa as the landscapes are so lush and green from the rains but with less frequent downpours making traveling and sightseeing easier.
While September and October are at the end of the monsoon the weather remains unpredictable. Sometimes it's mostly sunny and dry but some years it can still rain alot which is why the peak tourist season, which coincides with the dry season, doesn't start until November. Ganesh Chaturthi is also observed in Goa in August or September.
Goa's tropical climate means it's never really cold, even in monsoon, although it is refreshingly cooler than in the hot season.
The average high temperature in Goa in monsoon is between 28°C and 30°C, while the average low is around 24°C with August being the coolest month.
The humidity can be from 60 – 95% though so while you'll need to bring raincoats and umbrellas you'll still need to bring light and cool clothing too.
The Pros and Cons of Visiting Goa in Monsoon
There are pros and cons to visiting Goa during the rainy season. Some say that Goa is most beautiful during monsoon – the landscapes are so lush and green, there are alot less crowds.
The rain washes the dust away and brings the heat down and nature starts to flourish again making it the rainy season the best time to visit Goa for nature lovers.
Most of the beach shacks and beach huts are all taken down so you can enjoy a long walks along the unspoilt empty virgin beaches and the cloudy skies can make for spectacular sunsets.
But, if your idea of the perfect Goa trip is all about relaxing in a beach resort, sunbathing on the beaches, swimming in calm seas and enjoying watersports and parties then monsoon is not the best time to visit Goa – the sea is often too rough and dangerous to swim in and many places are closed.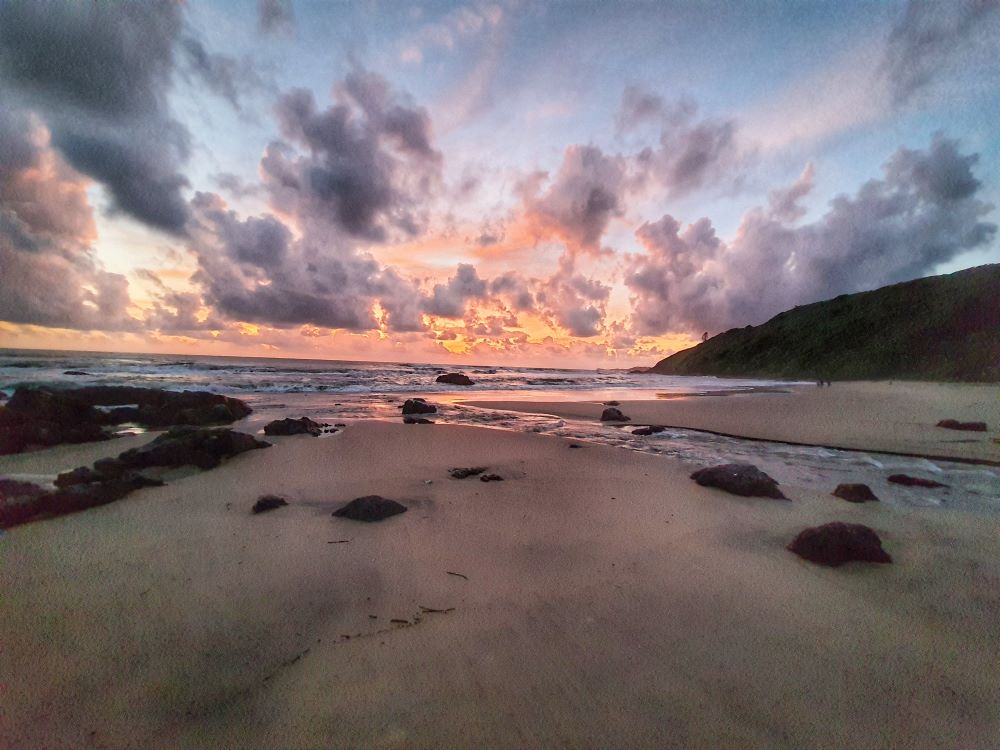 The Advantages of Visiting Goa in Monsoon Season:
Lush, green, beautiful scenery
Lower prices and less crowds
See a more local side of life
A great time to explore the countryside, waterfalls, spice plantations and wildlife sanctuaries
Or just relax, spend time with loved ones and watch the rain – The storms and rains can be quite dramatic and amazing to watch.
The Disadvantages of Visiting Goa in Monsoon Season:
Weather can be unpredictable, heavy rain, thunderstorms and power cuts are likely
Cyclones and flooding, while not common, could happen and would disrupt your travels.
The seas are too rough for swimming and watersports do not operate
Many places shut outside the main tourist season meaning that there is not so much variety of accommodation, restaurants, shopping and partying options available. The tourist markets are not open either – only the local markets.
Where to Stay in Goa in Monsoon
You'll want to think carefully about where to stay in Goa in monsoon as not everywhere is open like it is in the dry season.
Most of the beach shacks and beach huts have to be taken down for monsoon and the night markets, flea markets, watersports and many parties cannot open in the rains, so you need to bear this mind if you're planning to visit Goa in monsoon.
Thunderstorms and heavy rains also mean long power cuts, flooded roads and fields so choose your accommodation carefully, avoid low budget hotels, use a car instead of a scooter or motorbike and make sure you stay in a modern apartment or luxury resort with proper power back up and AC to make sure you have a good experience!
Seriously, sometimes the power can go off for days especially at the start of monsoon so don't underestimate the importance of a good power back up. Whatever accommodation you book double check they have power back up and that it works!
Monsoon is the perfect time to relax and spend time with loved ones and enjoying walks on the quiet beaches and exploring the luscious green countryside.
The rainy season is also a great time to splash out on a bit of luxury as you can get great monsoon deals on luxury resorts, especially in South Goa, perfect for a family holiday or couples trip.
The luxury resorts make a great place to relax and watch the rains in comfort and luxury for a super special experience safe in the knowledge that you won't be plunged into darkness with the next downpour.
The Best Luxury Resorts for Monsoon
My favourite resort in South Goa for monsoon is the Alila Diwa, Majorda. This beautiful Bali inspired 5 star luxury resort is even more stunning in monsoon. Watching the rains bring the green paddy fields to life from the infinity pool is just bliss.
Plus there's an excellent spa, 3 dining options, 2 bars and a butler service the Club rooms. So, apart from romantic walks in the rain along the empty beaches, you don't really to need to leave the resort if you don't want to!
My favourite resort in North Goa is The W, Vagator. This luxury 5 star resort has an amazing location perched overlooking Vagator Beach directly underneath Chapora Fort. The W has some of the most beautiful, uniquely designed, spacious rooms in Goa.
The sunset views over the beach from the rock pool and cocktail bar are just amazing. The W has so many facilities including a spa and fitness center, boutique shops, play area and several pools and dinning options so you don't need to leave the resort but it's also close to Anjuna and Baga if you want to check out the parties and attractions there.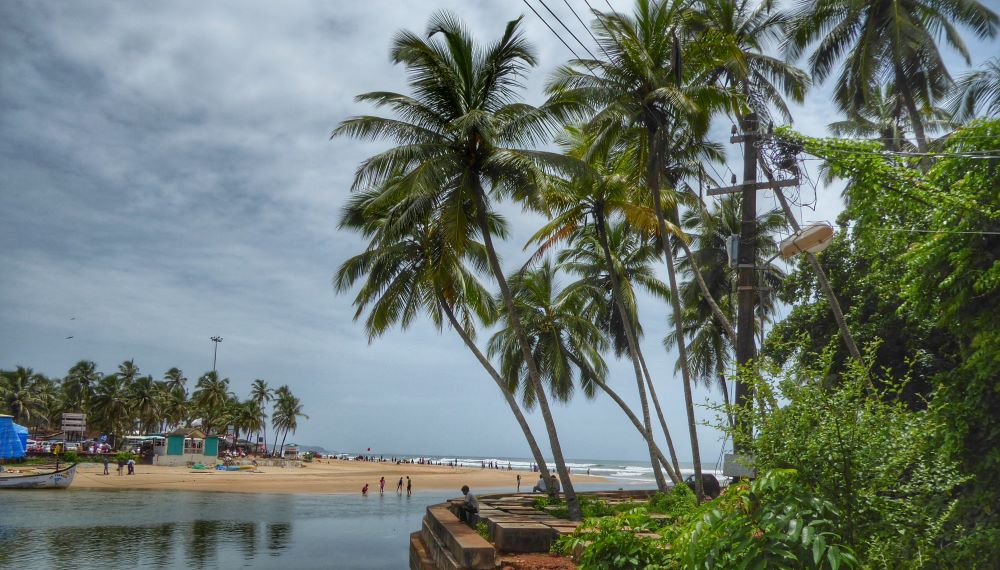 Baga Beach, Calangute Beach and Candolim Beach
If you're traveling to Goa with a group of friends and looking for Goa's famous nightlife then the best places to stay in Goa in monsoon are Baga, Calangute and Candolim.
These are the most developed beaches in Goa so more things stay open during the rainy season. It can be quite busy at weekends, although nowhere near as busy as it is in season time (for me, this is definitely a good thing!)
If you are looking for some nightlife and partying in the rainy season then Baga is your best bet as the bars and clubs around Tito's Lane stay open all year.
The best place to stay in this area is undoubtedly The Taj Fort Aguada, Candolim. The colourful and luxurious heritage style cottages are surrounded by luscious tropical gardens and located on the most picturesque spot on upmarket Candolim Beach.
So you can soak up the stunning ocean views as the clouds gather over the ocean while still being close to all the action in Baga and Calangute. As it's a 5 star Taj property you can expect nothing less than unparalleled hospitality.
There's lots of budget options in Baga and Calangute but don't let your trip be ruined by staying somewhere without power backup! A good value place to stay is Wave Calangute Beach Resort.
These fully equipped modern AC 1 and 2 BHK apartments have 100% power back up and can comfortably sleep upto 8 people so it's great for families and groups of friends. There's nice gardens and a pool to hang out at and close to Calangute, Baga and Candolim.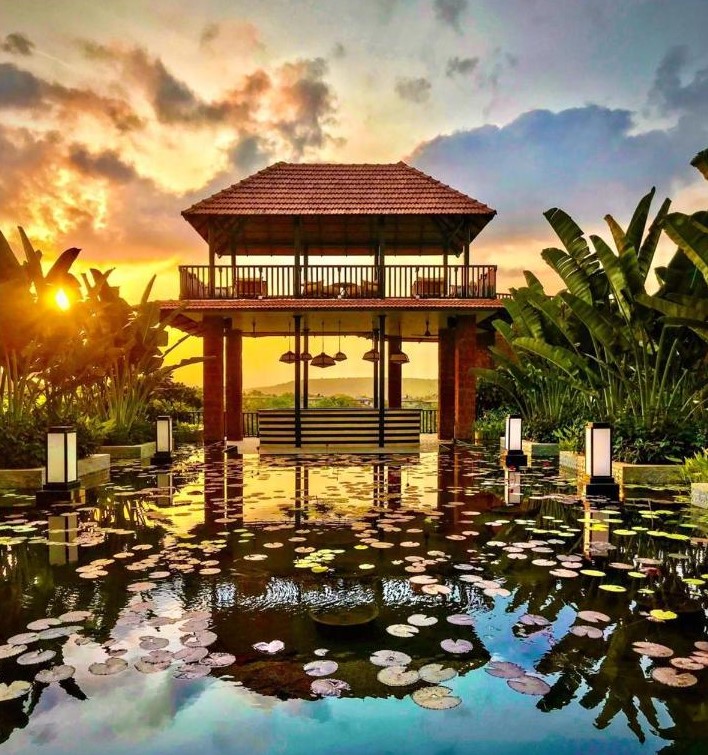 Anjuna Beach and Vagator Beach
There's also some things open in Anjuna and Vagator including the famous Curlies beach shack which stays open during the rains and sometimes has parties on.
Hilltop nightclub has a popular Freedom Blast psytrance rave party on Independence Day too. The popular Artjuna Café stays open during monsoon, Chapora Fort is super atmospheric in the rains and the famous Thalassa restaurant is now open throughout the year too.
The best place to stay in Anjuna is the newly built Westin Anjuna. It's super centrally located for exploring Anjuna and Vagator with comfortable modern rooms, a spa, a year round pool, Bali vibes and the all important power back up.
Best Nature Experience
One of the best things to do in rainy season is explore the spice plantations, waterfalls and nature sanctuaries that are at their most beautiful thanks to the rains.
Nature lovers and those wanting an off beat experience should stay at Dudhsagar Plantation Farmstay for a unique experience deep in Goa's countryside.
The resort is an experience in itself with it's own spice plantation, nature trails and a relaxing natural swimming pool – it's one of the most unique places to stay in Goa and really comes to life in monsoon. Don't miss the chance to experience a fish foot spa in the local river.
Goa's Capital Panaji (Panjim)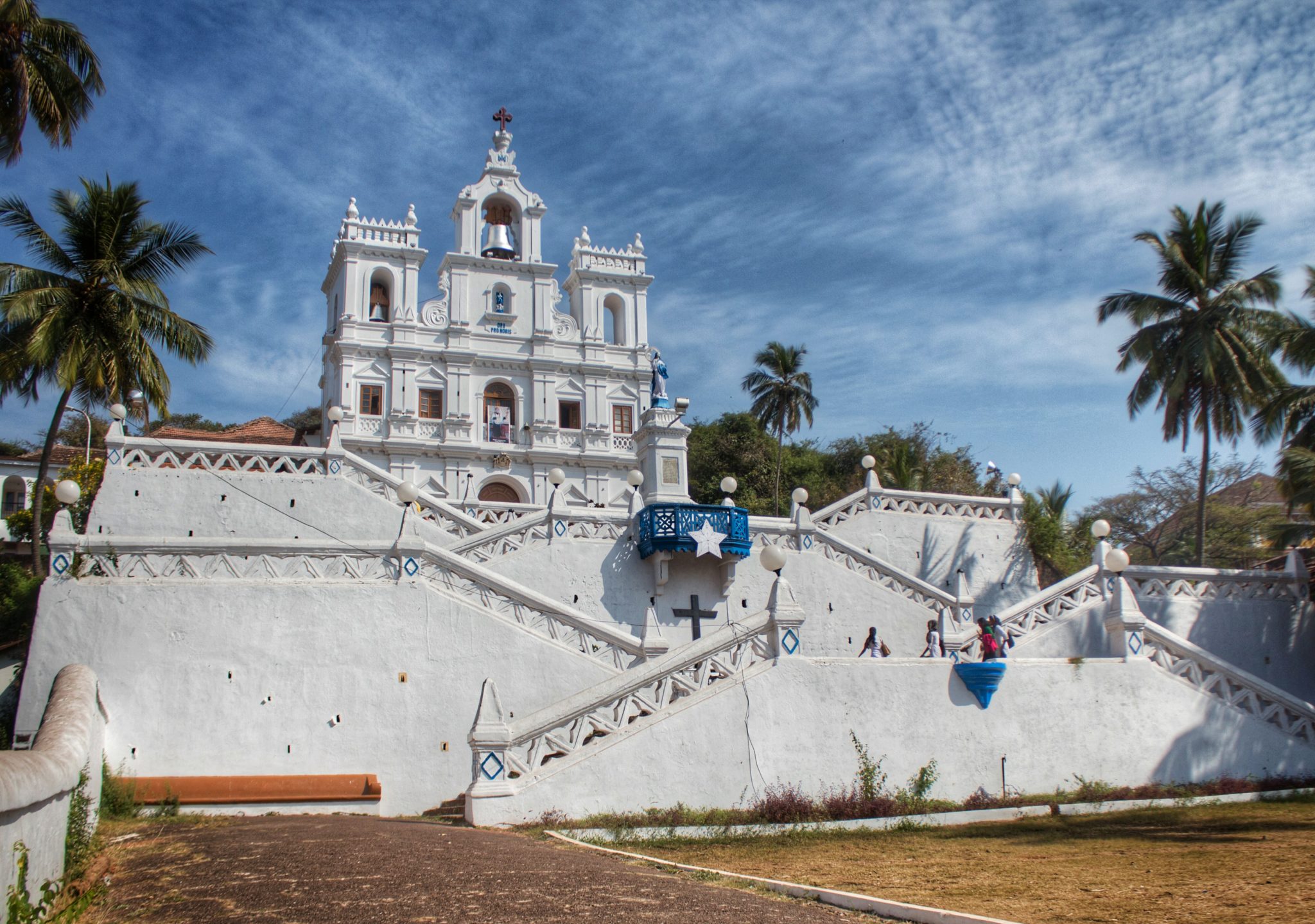 Monsoon is also a great time to explore the unique culture and heritage of Goa. The best place to do this is in Goa's laid back capital Panjim/Panaji with it's pleasant riverside setting and colourful Portuguese architecture.
Don't miss the unique and elaborate Church of Our Lady of the Immaculate Conception and take some time to explore Fontainhas, the Latin quarter with atmospheric, historic, colourful Portuguese colonial buildings and cool cafes.
The best way to explore Panjim and get to know more about it's unique history is with a walking tour. This heritage walking tour of Fontainhas will give you an insight on the Portuguese influence on Goa's architecture, music, food and art. Take a journey of exploration through the oldest and largest Latin quarter in Asia, visiting art galleries and picturesque sights along the way and even stopping by a Goan musicians house to hear songs from a bygone area.
Panjim is also a good base from where you can easily hop aboard the floating casinos, take a fun sunset cruise along the Mandovi River, visit Old Goa, Dr Salim Ali Bird Sanctuary, Divar Island, Miramar Beach and Dona Paula.
The best place to stay in Panaji is the Goa Marriot Resort and Spa. A modern 5 star hotel situated directly on Miramar Beach just 5 mins drive from the historic part of Panjim. Most rooms have a sea view so you can watch the monsoon storms coming in from the comfort of your luxurious room. There's also a casino, outdoor pool, spa, 3 dining options and free parking. The location offers a convenient base from which to visit everywhere in Goa and it's only 40 mins from the airport.
Read More: All the best places to stay in Goa
The Best Things to do and Places to Visit in Goa During Monsoon
Monsoon brings a whole different range of things to do and places to visit that will allow you to explore a totally different side to the state from the famous beaches and parties that Goa is best known for.
For nature, culture and history lovers, and all those who do not like crowds, monsoon is probably the best time for you to visit Goa as the nature is at it's most beautiful and the cultural and historic sights are not crowded.
I'd recommend spending at least 3 days in Goa so you'll have time to relax and enjoy as well as explore some of the best places and things to do here.
Waterfalls, Wildlife Sanctuaries and Spice Plantations
Visiting the waterfalls, wildlife sanctuaries and spice plantations are some of the best things to do in Goa during monsoon. Goa's wildlife sanctuaries are open all year round and offer a peaceful escape in nature that you wouldn't normally associate India's party capital!
Dudhsagar Falls, India's second highest waterfall, is Goa's most famous spot for nature lovers. To see it you need take a bumpy jeep ride deep into jungle in the very far Eastern corner of Goa. During season time you can swim in the refreshing waters at the bottom of the waterfall but it is quite a crowded and popular spot. The waterfall is best viewed just after the monsoon however during monsoon Dudhsagar is not open for tourists due to safety concerns.
But there are many other waterfalls you can check out. Tambdi Sula waterfall is one of the best waterfalls. It's located inside the Bhagwan Mahavir Sanctuary, Goa largest wildlife reserve and requires an uphill trek to reach it but it's worth it. You can also visit the Mahadev Temple, an ancient 12th century temple that is the oldest Hindu temple in Goa and is located within the same park.
Mhadei Wildlife Sanctuary is located near Valpol in the Chorla Ghats region and is famous for its twin waterfalls – Vazra Sakla and Virdi Falls, Shivling Waterfall and Charavane Waterfall. If you want to stay nearby check out The Wildernest Nature Resort an amazing nature retreat complete with infinity pool overlooking the jungle.
Cotiago Wildlife Sanctuary, located close to popular Palolem Beach, is home to Kuske Waterfall and a 25 meter high tree house viewing platform. Netravali Waterfall, also known as Savri falls, and Tansikar Spice Farm are also located nearby. Check out the amazing new Postcard Hideaway Netravali if you want to stay near here.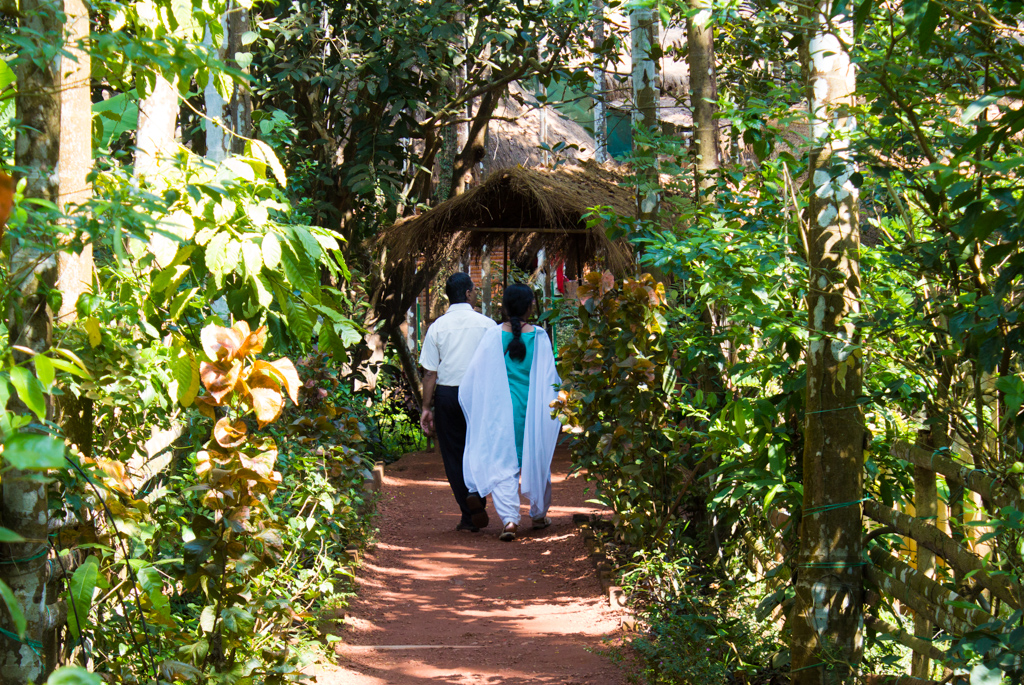 Another top thing to do in Goa in monsoon is visiting the Spice Plantations. Head out to Ponda to explore Goa's Hindu Heartland and visit the temples and spice farms. Goa's spice farms are a chance to be enveloped in beautiful, luscious greenery and you're sure to be in awe of nature when you find out how many different properties plants can contain and how many illnesses and ailments they can treat.
The best spice farms are Sahakari Spice Farm, Savoi Spice Plantation, Tropical Spice Plantation, Pascoal Organic Spice Village and Tansikar Spice Farm. The admission price includes an informative tour, buffet lunch and a small sample of some spices.
An easy day trip from Panjim, Dr. Salim Ali Bird Sanctuary on Chorao Island is a must for bird lovers. Take a canoe trip through the mangroves and soak up the panoramic views while spotting numerous specifics of birds from the 3 story watch tower,.
Even those who don't want to trek far can still get their nature fix. Kesarval Spring Waterfall is conveniently located near the highway at Verna, you can see waterfalls not far from the road at Amboli Ghat and Harvalem Waterfall near Sanquerim is also quite easily accessible.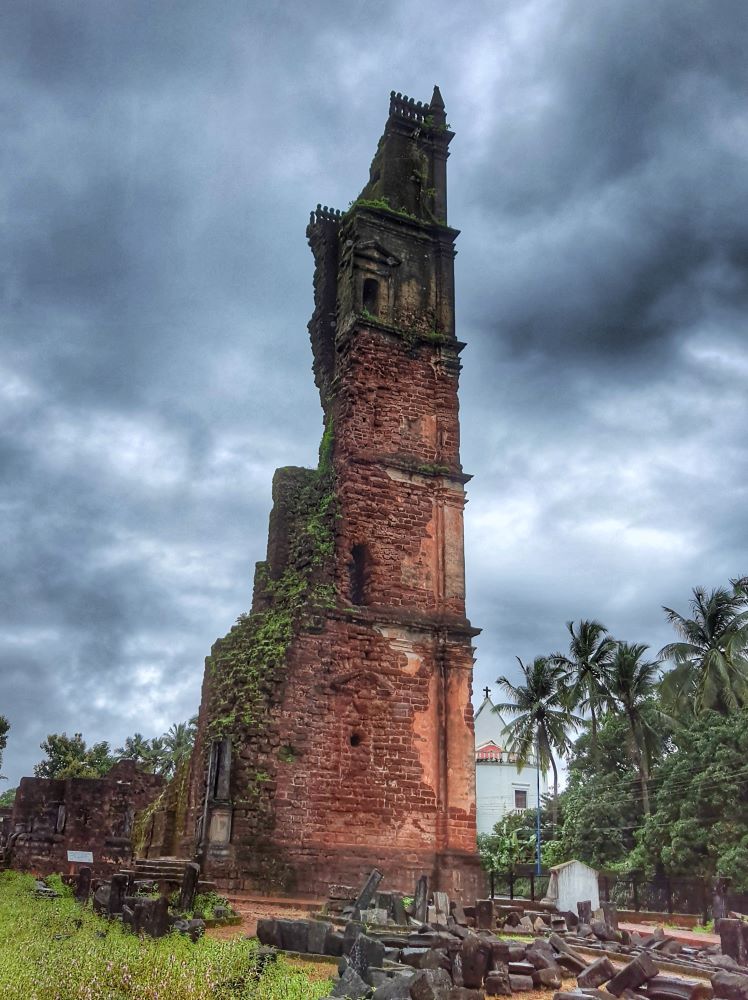 Historic Temples, Forts and Churches
For those who are into culture and history Goa also has plenty to interest you during the monsoon. Taking in the views from atop a crumbling Portuguese fort is even more atmospheric under the cloudy skies and visiting the colourful capital Panjim and the UNESCO listed Portuguese churches of Old Goa without the crowds is blissful.
When visiting the spice farms near Ponda you could also visit some of Goa's oldest and most famous Hindu temples like Shri Manguesh Temple, Shri Mahalsa Temple and Shree Shantadurga Mandir which are all nearby.
The elegant blue coloured Shri Manguesh Temple is Goa's most famous temple, while Shri Mahalasa Temple, is regarded as Goa's most beautiful temple and the Shree Shantadurga Mandir temple, dates back to the 1730s.
For forts check out Fort Aguada near Candolim, Chapora Fort, also known as the 'Dil Chahta Hai' fort, and the impressive Reis Magos Fort just across the water from Panaji. All offer stunning views and photo opportunities.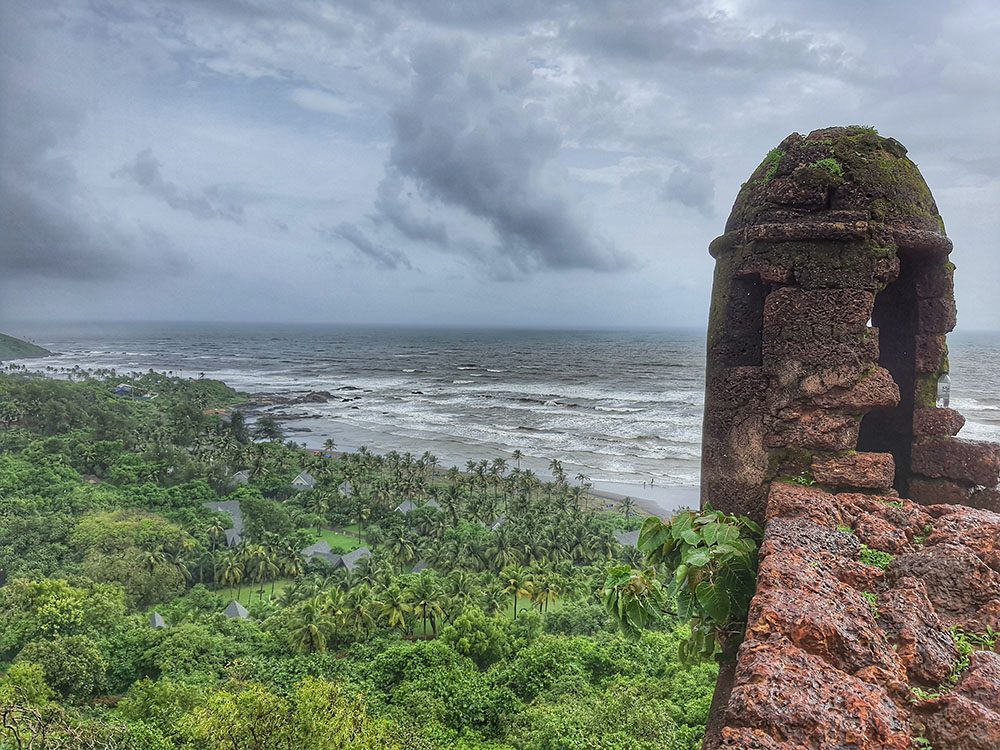 Museums and indoor activities
For really rainy days there are also some nice indoor activities and museums in Goa that are worth visiting.
In North Goa check out the Museum of Goa near Calangute which celebrates Goa's history and people through contemporary art, the Houses of Goa Museum in Porvorim, the Celebrity Wax Museum in Arpora, and the State Museum of Goa in Panaji.
In South Goa, the old colonial mansions in Chandor make an interesting visit and Goa Chitra, in Benaulim, is an engaging ethnographical museum that celebrates Goa's agricultural and traditional lifestyles. You could combine visiting both with this tour.
Ancestral Goa in Loutolim features a recreated ancient Goa village that takes you back to Goan life as it would have been 100 years ago. Definitely worth a visit although the later museum is not all indoors.
Getting to Goa and Getting Around in Monsoon
While direct international charter flights don't run during the offseason international visitors can still reach Goa by flying to Mumbai, Delhi or Bangalore and changing onto a quick domestic flight there.
Domestic flights from Mumbai and Bangalore only take 1 hour and are often cheaper during monsoon. Trains and buses are another option from within India but take alot more time. Super heavy rains and storms can disrupt travel but usually things go to plan.
While renting a scooter or Royal Enfield motorbike is a great way to get around and explore Goa during season time you don't want to be doing this during monsoon season for obvious reasons.
The Hop on Hop off Bus runs all year round to help you reach the most popular places in Goa from Candolim to Vagator and from Dona Paula to the Mangueshi Temple, stopping at places including Panaji, Old Goa and a spice farm on the route.
If you don't have your own transport then taking a day trip tour package that visit's Panjim's Latin Quarter, Old Goa and a spice farm is the best stress free way to make the most of your time and see Goa's top attractions.
But if you want to explore off the beaten track and get out into the nature then the best way to get around Goa during monsoon is with a car. Taxis are expensive so its better to drive to Goa or rent a car while you're here.
Pin Me! 😉
I hope this post has given you an insight into what it's like to visit Goa during monsoon.
While sun seekers and party people may want to wait until the rains have stopped, if you want to experience a different, quieter, greener side to Goa and explore the nature and unique culture then monsoon is actually the best time to visit!
Whether you decide to visit in monsoon or season time I hope you have an amazing time in Goa. If you need any more tips for planning your Goa trip and making the most of your time here check out my other Goa blogs and my complete Goa travel guide. 
Also read more of my blog posts about Goa:
I hope this helps you to know what to expect when visiting Goa in monsoon and hope you have an amazing time whatever you choose to do!